Las Vegas Frequently Asked Questions (FAQ)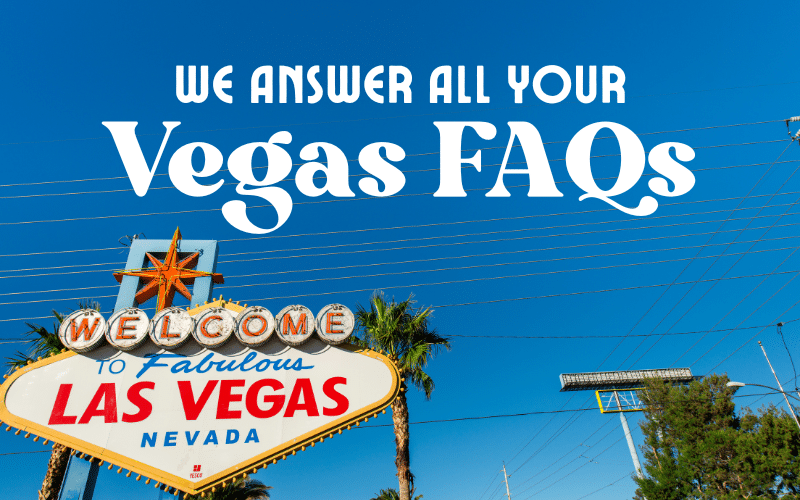 We may receive a commission if you make a purchase.
Las Vegas is a place that's unlike anywhere else in the world, so we understand if you've got some questions! As Las Vegas locals who know the ropes, here are our answers to the most frequently asked questions about Las Vegas.
---
What is the legal age for gambling?
You must be 21 or over to drink or gamble. Those under 21 can walk through the casino, but they cannot stand around the gaming areas, even if accompanied by an adult.
How old do you need to be to book a room in Las Vegas?
Most Vegas hotels require a person to be 21 or over to book a room. However, the other guests staying can be any age. There are some exceptions, such as if you are staying at a hotel that does not have a casino which may allow a person 18 years or older to book a room (check with the hotel first). The Golden Nugget is one of the few major casinos that allow guests to be only 18+ and book a room.
Are masks required in Las Vegas? 
The current guidelines throughout Las Vegas no longer require masks. This means masks are optional at the airport, busses, monorail, hotels, shows, restaurants, clubs, and attractions. However, businesses can still require them.
Can I go into a casino if I'm not staying there?
Yes. You are encouraged to explore all the casinos at any time. Feel free to also take advantage of other casino's free parking and valet services if they are offered. Casinos really want you to visit them.
What are the drinking laws in Las Vegas?
You must be 21 or over to drink. Drinks are served and can be purchased 24 hours a day. Unlike most other cities, in Vegas you are allowed to drink in the street and have an open container. However, drunk driving is highly enforced and you will get a DUI if stopped by police. In addition, a server may choose not to serve you if they feel you have had too much to drink. Have fun, but be sure to drink responsibly. Stay safe!
Are children permitted in the hotels and hotel shows?
Those under 21 can walk through the casino, but they cannot stand around the gaming areas. Some hotels, like Bellagio are even more strict and won't allow anyone under 18 in unless they are a guest and accompanied by an adult. Please check with each casino property for their policy regarding children. Some hotels are more kid friendly and will provide things such as arcades, babysitting, etc. Visitors often do not know this, but the Las Vegas Strip has a strict curfew. Children under 18 are not allowed to be out after 9 PM or 10 PM (depending on location) unless accompanied by a parent or guardian. See our Vegas for Kids guide for more info.

Some shows are really family-friendly, but some have adult content and will not allow children. There has been a recent trend in Las Vegas to bring back more of the sin in "sin city," so stay informed. Our attraction guide has a list of many things to do for kids of all ages.
Are pets permitted on the Strip or in the hotels?
The larger resorts do not generally allow pets. The exception to that rule is if you gamble large amounts of money, you may be able to bring in your pet hippo (check first before you go). However, some hotels will allow pets. They include Bellagio, Mirage, Harrah's, Paris Las Vegas, Trump Las Vegas, Vdara, Delano, The Four Seasons, LINQ, Horseshoe Las Vegas, Golden Nugget, Flamingo, Cosmopolitan, Caesars Palace, and others. There are restrictions and many that accept them only take one or two small pets, so check with the hotel first. See our Vegas and Pets guide for more info.
What type of transportation is available when I get to Las Vegas?
Most people use Ubers to get around Las Vegas. Look for the Uber pickup spot near the Valet area of your hotel. You will need to take an Uber or taxi to get to your hotel from the airport (Uber is considerably cheaper). However, your own feet will be how you are most likely to get around once you get to your hotel. You will often find that you can get to your destination by taking a 15 to 30 minute walk. Also, part of the fun of Las Vegas is exploring new things…there will be plenty to see when you get there almost anywhere on the strip. Walking is one of the best ways to explore Las Vegas. There is also bus service that covers the Las Vegas strip and downtown area. These busses run often and are a good source of transportation. A newer form of transportation is the Las Vegas monorail and trams. They link eight major Las Vegas resorts and nine convention facilities, including the Las Vegas Convention Center. See our strip map for more info. 
How can I get a good deal on hotel prices?
The key to getting a good deal in Vegas is to book during the Las Vegas off-season. Avoid convention dates whenever possible. Book online for the best rates. Calling by phone can sometimes get better rates if the hotel has last minute unsold rooms. Check with the hotel websites and shop around with all the major sites, including the one you are on now (Las Vegas Direct).  Another big way to save is to go during weekdays. Friday and Saturday nights are always priced the highest. See our discount booking guide.
What entertainment is playing at the casinos?
Las Vegas is easily the Entertainment Capital of World with world-class shows playing all the time. See our show tickets section for a complete list, categorized by the types of shows. Take a look at our top 10 list of the best shows in Vegas. There are also great Vegas attractions.
What conventions are scheduled?
See our convention guide for a listing of current conventions. Need a good place to stay while you attend a Las Vegas convention? Here's our list of the best Vegas hotels for convention guests.
Can you suggest what to do for a bachelor or bachelorette celebration?
Vegas is great place for a bachelor party or bachelorette celebration. With 24 hour clubs, bars, dining, strip clubs, and adult entertainment, there is no shortage of things to do. See our Vegas for singles guide.
What is there to do in Las Vegas if you do not gamble?
There are a ton of attractions in Vegas which include hiking, clubs, pools, world-class dining / buffets, shows, art galleries / museums, and much more. Many people visit Vegas without ever planning to gamble these days.
What are the closest hotels to the Las Vegas Convention Center?
Nearby hotels include Courtyard by Marriott, Westgate Las Vegas, Royal Resorts, Renaissance, Las Vegas Marriott, Circus Circus, Encore, SAHARA, Wynn, Palazzo, Trump Las Vegas, Venetian, and Treasure Island. However, with a very convenient monorail system that stops at the convention center, you can also just stay near one of the many stops. See our hotel map for an overview. Also, check out our list of the top 10 hotels for convention guests.
Where can I park in Las Vegas and what is the cost?
Many hotels now charge for parking. However, parking is normally free for the first hour and a few still have free parking. See our Vegas hotel parking guide for details.
Is Las Vegas open all year?
Yes, but some shows may be dark during the winter months. This also applies to swimming pools that are often closed in the winter.
Where can I go shopping?
Many of the hotels have great shopping, like the The Forum Shops at Caesars, The Shops at Crystals in City Center, and stores in Wynn Las Vegas. You also have huge outlet malls for discount shopping. See our shopping guide for more info.
Is it safe in Las Vegas?
Las Vegas is like any other city. The major hotels are considered safe, but you should be careful when wandering off the main Las Vegas strip in sections that don't have a lot of people, or wandering the Strip at 3 in the morning, for example. See our safety tips guide for tips on staying safe.
Can I use the pool at other hotels?
Most hotels are now restricting access to hotel guests. However, you pay a fee at some properties to use their pool. Another option is to rent a cabana, or pay admission to a dayclub pool party.
Is Las Vegas handicap accessible?
Most of the major hotels are handicap accessible, but you should always check first.
What are some great restaurants in Las Vegas?
Vegas has some of the best dining in the world, including Michelin star restaurants, like Guy Savoy and amazing buffets (we suggest Bacchanal Buffet at Caesars Palace). See our restaurant and buffet guide.
What can we do to entertain children in Las Vegas?
Hotels like Circus Circus, Excalibur, and Mandalay Bay have a lot of great entertainment for kids. See our Vegas Kids Guide for details. Also, take a look at our top 10 lists of family-friendly shows.
Who has babysitting services?
You can find them by asking the hotel. Many third-party agencies are available, but you should always use a trusted reference, like asking the hotel front desk. Nannies and Housekeepers U.S.A offers room babysitting services 24 hours per day and they are trusted by a lot of large Vegas hotels. Visit our Vegas Kids section for more information.
How can I get the freebies I hear about from the casinos?
Each casino has its own promotional program and qualifications for providing freebies, or comps as they are known here. Visit the promotions booth in the casino of your choice. They will be able to assist you. You usually need to gamble enough to get them and use a players card every time you play so they can track your progress. Things like a free buffet are relatively easy to get, but larger comps, like free room stays are much more difficult and require being a very big gambler. Take a look at our guide on comps and how to get things for free in Vegas.
How should I dress in Las Vegas?
Las Vegas is a very casual place, but you need to be more dressy for certain clubs and shows. It can get up to 120 degrees in the summertime so you'll need light-colored, loosely-fitting clothing. But it also gets cold in the winter and at night, so dressing in layers is a good idea. See our Dressing Guide.
How much should I tip?
Tip about $1 per drink to waitresses and $1-$3 per bag for bellhops. When you are gambling, around $5 per hour is a good amount for your hardworking dealer. See our Tipping Guide.
What is the weather like?
Vegas is a desert, so expect extremes in weather. Expect temperatures well above 100 (F) in the Summer months. It can even snow at times in the winter and get down to the low 30's, so come prepared. Fortunately, almost all the hotels have excellent heating and air conditioning, so you won't notice the weather, or even the time of day, inside of them. See our Weather Guide.
How do I find a good club?
You will know a good club when you see one with long lines to get in and a happening vibe to it. See our Club Guide.
Is prostitution legal in Vegas?
Prostitution is not legal in Las Vegas. Escort services are technically legal here, however (see our guide on escorts in Vegas) and there are legal brothels, but those are outside of Vegas.
Can I use a cell phone in a casino?
You are allowed to use a cell phones. However, you can't use one while playing any table games, like blackjack or craps.
Do Vegas hotels have free internet / WiFi?
Most hotels offer free hotel room WiFi and include it as part of their resort fee. Just about all hotels have free WiFi in their main lobby.
How can I get directions and a street map of Las Vegas?
Most hotels will have them available. Just ask the front desk. You can also get them at the Las Vegas airport. See our interactive Vegas Hotel Map.
What transportation is available to travel to Las Vegas?
Air – McCarran International Airport is the primary airport serving Vegas. If you live near an airport serviced by Southwest Air, we recommend them for their very competitive pricing and excellent service, but there are many other good airlines you can choose with flights from your city. Some people choose to fly into Los Angeles International (LAX), rent a car, and drive the five hours to Las Vegas. You can also have a great time visiting Los Angeles. Sample flying times to Las Vegas are: from New York, 5 hours; from Dallas, 2 hours; from Chicago, 4 hours; from Los Angeles, 1 hour; from San Francisco, 1 hours; from London, 11 hours; from Sydney, 18 hours. Booking a vacation package is a good option to save money on the airfare and hotel.

Car – About half the visitors come to Vegas by car. The main highway is I-15. If you're going on a weekend, expect very heavy traffic. Long weekends and holidays are even worse. With moderate traffic, one can drive to Las Vegas from Los Angeles in about 4-5 hours. Most visitors leave L.A. between Friday morning and very late Friday night, but everyone heads back to L.A. between noon and 8 p.m. on Sunday. The trip to L.A. is almost always slower than the trip to Vegas. If you can take Monday off and travel then, you'll be traffic free. Many people choose to rent a car for their trip in order to save wear and tear on their vehicle. It may also make the ride more comfortable depending on the car you choose.

Bus – Greyhound offers bus service in and out of Las Vegas. The bus terminal is in downtown Las Vegas. Reservations are not accepted and seating is on a first-come, first-served basis. Greyhound now offers free WiFi and power outlets for your devices. Busses out of Los Angeles leave about every 2 hours. If you go during off times, bus tickets out of L.A. can be around $10-$20 each way, so it can be very economical. You should plan to get there at least 30 minutes early, and an hour early on busy weekends to ensure you get a seat.  

Limo – If you want to really live it up and can afford it, one can arrange to have a limo pick you up at your house and drive you to your hotel in Las Vegas. If you go with a large enough group and share the cost of the limo ride, the cost may not be as much as you think and can be comparable to going by air on a per-person basis.

Train – There have been many attempts at getting train service to Vegas, but for various reasons, it is just in the planning stages now.
What are the must-see attractions in Las Vegas?
Vegas is a city that's filled with incredible attractions, so it's impossible to fit them all into a single trip. We wrote a top 10 list of Las Vegas attractions that will help with planning your itinerary. You can also see all the attractions in Vegas by category here.
How do I find cheap show tickets?
There are a few ways you can save big bucks on Vegas show tickets. We go over all of them in our article on ways to save money in Vegas. You might also want to check out our article on how to get free stuff in Vegas, which tells you ways you might be able to find show tickets that are completely free. We have a selection of shows you can see for under $50.
What Senior/AARP discounts can I get in Las Vegas?
You can get senior and AARP discounts on almost anything in Vegas, from your hotel stay to show tickets and everything in between. We wrote this article to show you how to get senior and AARP discounts while you're visiting Las Vegas.
How about AAA discounts?
Using your AAA membership for a discount can save you money on booking your hotel room. We put together a full list of hotels that offer AAA discounted rates, and we also included shows and attractions that have AAA discounts.
How can I cut costs when it comes to dining in Las Vegas?
There are lots of affordable but delicious restaurants in Las Vegas – most of them are off-Strip, with a few hidden gems right on the Strip. Take a look at our top 10 list of the best cheap eats in Vegas. You may also want to consider booking a hotel room that has a kitchen so that you can prepare your own meals.
Is Vegas an LGBTQ+ Friendly City?
Yes! We're a very open-minded city that puts an emphasis on fabulousness and inclusivity. If you're searching for a queer-friendly hotel to stay at, we put together a top 10 list of the best LGBTQ-friendly hotels in Vegas.
Is Downtown Las Vegas the same as the Las Vegas Strip?
No, they are 2 different places. The Las Vegas Strip is what you normally see in movies about Las Vegas and it's the hub of activity when it comes to mega-resorts, shows, and restaurants. Downtown Las Vegas is a 10-minute drive north of the Strip, and it's a place that's well worth visiting. It's the original, vintage Las Vegas where you can catch a glimpse of what the city used to be like. There you can wander down Fremont Street Experience, eat really good local food, and explore the Arts District. Find out more in our guide to Downtown Las Vegas.
Is marijuana legal in Las Vegas?
Yes! Marijuana has been legalized in the state of Nevada since November 2016. You can find many dispensaries here where you can purchase weed legally, but be careful because hotels won't allow you to smoke it in your room, you can't smoke it publicly, and you can't drive while under the influence. Well… where can you smoke a joint? Cannabis lounges are about to become a big thing in Las Vegas, with Downtown Vegas expected to become like the new Amsterdam.
When's the best time to visit Las Vegas?
The most popular times of year to visit Las Vegas are during the big conventions, Spring Break, New Year's Eve, and the Fourth of July (pretty much any time when partying is on the agenda – because we really know how to throw a party). During these peak times, hotel rates go through the roof. Summers here are the cheapest time of year to get a hotel room, because the temperatures of up to 120 degrees Fahrenheit put a lot of people off. But that's why we have some of the best pools in the world.
Are hotel rooms expensive in Las Vegas?
Hotel rooms are wonderfully affordable in Las Vegas compared to most cities in the US. That means you can get a luxury suite for the same price that a small, standard room would cost in New York City. If you want to save extra money for gambling, we put together this list of the top 10 budget-friendly hotels in Vegas where you can get a good room rate without skimping on quality. In addition, booking your stay well in advance will ensure you get a good price.
Where can I learn how to play table games?
We've created some great guides that will help you get the hang of how table games work. Here are our beginner's guides on how to play craps, baccarat, blackjack, poker, and roulette. You can find our tips and advice for gambling in this article.
Do all Las Vegas hotels have a resort fee?
Most Vegas hotels charge a resort fee in addition to the nightly room rate, but there are a few hotels that don't tack this extra charge onto your bill. Most of these are non-gaming hotels and more family-friendly hotels, with the exception of Four Queens, a casino hotel right on Fremont Street Experience. It's on our list of 10 Las Vegas hotels with no resort fee.
What are some cheap things to do in Las Vegas?
Despite popular belief, there are lots of cool things to do in Vegas for free or under $25. Simply strolling down the Strip or Fremont Street will give you an entertaining experience, with people-watching, famous sights, and street performers galore. We also have a good selection of shows for under $50. If you're doing Vegas on a budget, it's worth taking a look at our article on ways to save money on your trip to Las Vegas.  
How much is a taxi from the airport to my hotel?
Trick question. Don't take a taxi in Vegas, order an Uber. If you don't have the app, get it for your trip to Las Vegas. As an example, a taxi ride from the airport to the Strip will cost you up to $40, while an Uber is normally about $12. From the airport to Downtown Las Vegas, it'll cost you about $15 by Uber, or $50 – $70 by taxi.
How long is the Las Vegas Strip? Is it walkable?
The Strip is 4.2 miles long, so to walk the entire length of it would take about an hour and a half. That's if you don't stop walking. Some of the resorts look very close to each other, but keep in mind that these are mega-resorts that stretch over what would be 4 city blocks in most cities in America. Don't be fooled by glancing at a map and thinking you can quickly walk from Bellagio to Mandalay Bay. Don't do it!
Do I need a rental car in Las Vegas?
It depends on where you're staying. If you're staying on the Las Vegas Strip or in Downtown Las Vegas, having a rental car will be more of a burden than a help, with daily hotel parking fees higher than you'd like to imagine. In these neighborhoods, a scenic walk or a cheap Uber ride will get you to most of the popular sights, shows, attractions, and restaurants. If you're staying off-strip, for example in Henderson or Summerlin, it would be worthwhile having a rental car for exploring the city.
Is Vegas a romantic place to take a date?
Yes! Las Vegas is full of romantic things to see and do, making it an amazing destination for celebrating Valentine's Day, proposing, or going on your honeymoon. Las Vegas has some of the finest restaurants, the best shows in the world, and the most luxurious suites you've ever seen, making it a seriously impressive destination to bring your sweetheart on a date to. Here are some ideas for making your date night in Vegas as romantic as it can possibly be.
How do I purchase tickets for shows and attractions?
We sell competitively-priced tickets for almost all Las Vegas shows and attractions right on this website! Simply browse through our huge selection, pick the ones you like, and book your tickets right here.
Do I need to make restaurant reservations?
Absolutely, yes. Las Vegas is quite different from many US cities in this way, because of the sheer number of visitors we get at any given time. If you don't make restaurant reservations ahead of time (WAY ahead of time for the finest restaurants) you'll find yourself wandering the Strip hungry, being turned away from every packed restaurant you go to.
Do you need lots of money in Vegas?
Yes and no. A visit to Vegas can add up easily with meals at expensive restaurants, tickets to shows, and, of course, gambling. But if you know what you're doing, there are ways you can save in Vegas, and even get things for free, making it possible to have an amazing trip to Las Vegas for cheap!
More Vegas Tips and Advice: Forum Advice Section, 20 Vegas Tips