Top 10 Best Las Vegas Strip Clubs (2023)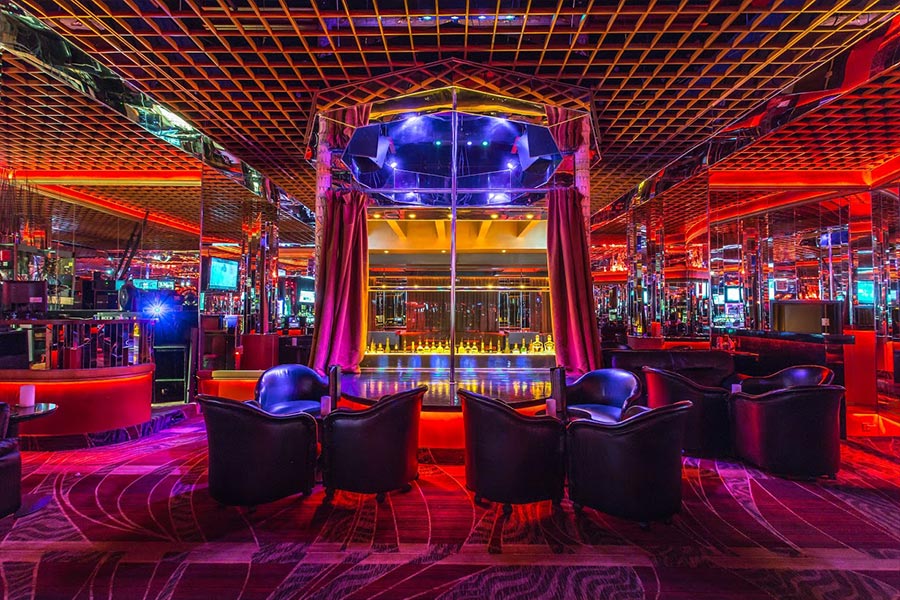 We may receive a commission if you make a purchase.
They call it "Sin City" for a reason. Las Vegas is home to many of the best strip clubs in the country, with top strippers flying in from all over the world to get in on the action. Strip clubs are considered very mainstream these days as part of the Vegas experience, so they're nothing to feel ashamed about. In this article we take a look at the top 10 best Las Vegas strip clubs, as well as advice on dress codes, tipping, club policies, and more.
Dress Code
Many clubs will not allow sweatpants, jersey shirts, tank tops, flip-flops/sandals, or open toed shoes. The general rule is common sense – after all, you're going to be surrounded by beautiful women, so you should at least look the part. Come in looking like a bum and you might get booted out of the place. You should be well groomed and showered as well. Even though they are paid, if you come in smelly, you might not get much entertainment in return.
If you plan on getting a lapdance, there are some important things to consider. Don't have anything sharp in your packets and avoid any hard or extra-large belt buckles. It will make things a lot easier on you and especially the dancers. Jeans or cargo shorts are fine. Just use common sense. Wearing thin jogging pants will make you seem like a total creep and many dancers will just turn down your requests for a lapdance.
Door Charges
Most strip clubs increase their door charge during convention season. In saying that, if you're arriving with a large group of well-behaved and well-dressed patrons, you could try quietly approaching the doorman and bargaining your way past the cover fee. This works especially well if you arrive early (7 – 8pm) and immediately order drinks. In general, the cover charges are modest for what you get. Of course, paying for dances is another matter.
Hot tip: you can often find discounts on cover charges or even free admission when you speak to a club promoter on the Las Vegas Strip.
Hands-Off Rule
Perhaps you've heard tales of wild and reckless abandon taking place in Las Vegas striptease clubs, or perhaps you've seen movies that make them seem like places where anything goes. However, it's important that you understand this: These women are, no matter what it may seem like, working and trying to make a decent living.
Keep your hands to yourself and you'll avoid being ruffed-up by a bouncer and booted out of the club. Leaving the grinding to the gals will result in a better lap dance anyway. You can politely ask a dancer if there are any areas you can touch, but be prepared for "no" as an answer. If a girl moves your hand, take it as a strong hint. It goes without saying, but keep your hands out of your pants. Dancer kissing or licking is not allowed.
Tipping
When it comes to tipping in a strip club, there are some basic rules:
Don't go to a strip club with barely enough cash to cover a round of beers
Don't look repeatedly at a dancer working her stuff without walking up and tipping her
Do not, under any circumstances, sit at side-stage without a pocketful of dollars.
How much will you need for a night? If you're an average drinker, figure at least $30 per hour for a drink or two and stage tipping. Lap dances go for $20 – $30 each, so add that on if you think you'll find the woman of your dreams (You will, so just add it on now). The clubs have ATM machines, but you will pay a premium in fees (15% or more), so it's best to bring your own cash before you arrive.
Lap Dances
A typical dance lasts for a single song. Most dancers will wait for a song to start so you get your full dance. If a dancer asks you if you would like another song and you agree, you will need to pay for another dance. Dancers are typically paid after a dance. Tipping beyond the standard dance cost is not required, but if you get a very good dance, you should definitely tip extra.
Prostitution
Despite what you might think, prostitution is 100 percent illegal in Clark County. Don't solicit, suggest dinner or ask for a date; these women are dancers, not hookers. If you are looking for legal adult services, see our Las Vegas Sex and Brothel Guide and Escort Information page.
Getting To the Clubs
You will need to drive or take a taxi for these clubs, since they are off the main strip (15-20 minutes). Some of the better adult clubs will offer free VIP or taxi limo pickup, especially if you are coming in with a group, but be prepared to offer a generous tip to the drivers.
Our Top 10 Best Las Vegas Strip Clubs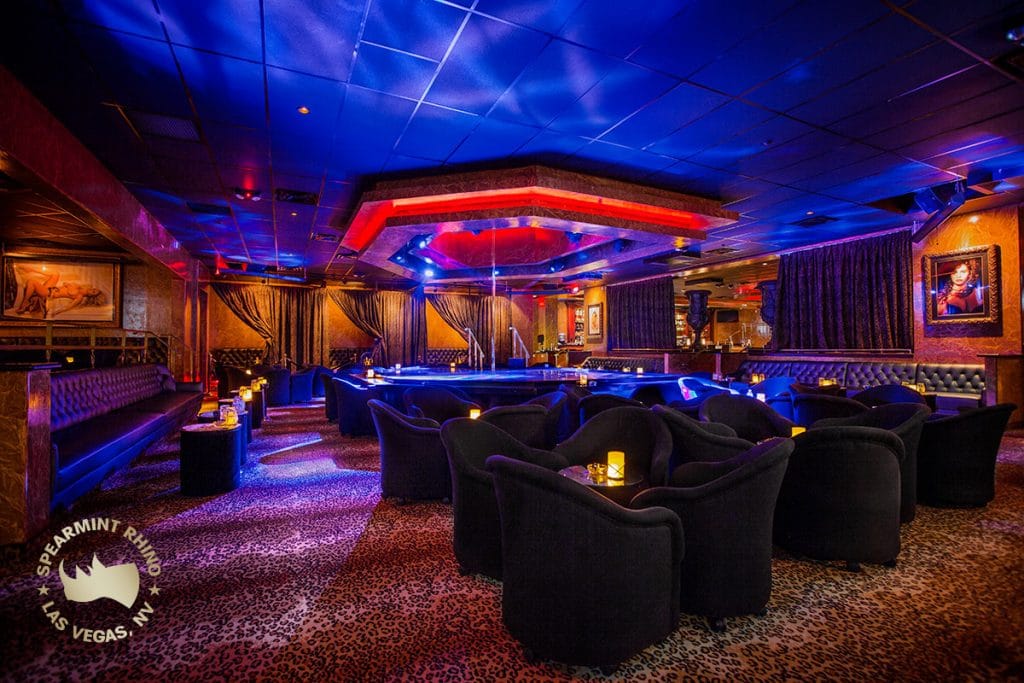 This award-winning club has been voted the best gentlemen's club in the world, so we had to put it right at the top of our list. A recent remodeling expanded the club space to over 37,000 square feet in size, with several fully stocked bars and multiple areas with tipping stages. Hundreds of spectacularly sexy women dance here every night, with many agreeing that this is where you'll find the most beautiful dancers in Vegas.
Forbes says of Spearmint Rhino, "This upscale club has catered to the most famous visitors ever and still impresses with its first-class ambiance and service." Indeed, big celebrities like George Clooney and Howard Stern have been repeat customers here, so this has fast become a club to be seen at. There are several fully stocked bars, and gorgeous cocktail waitresses who are known for friendly service.
The main floor has lots of comfortable seating where you can watch the entertainment and get lap dances, and if you come across the girl of your dreams you can retreat to a luxurious VIP lounge to take in a private dance. Groups will love the VIP cabana rooms, which have curtains that you can open and close depending on whether you want to be part of the main action or make things a little more intimate.
3340 South Highland Drive
Las Vegas, NV 89109
702-796-3600
---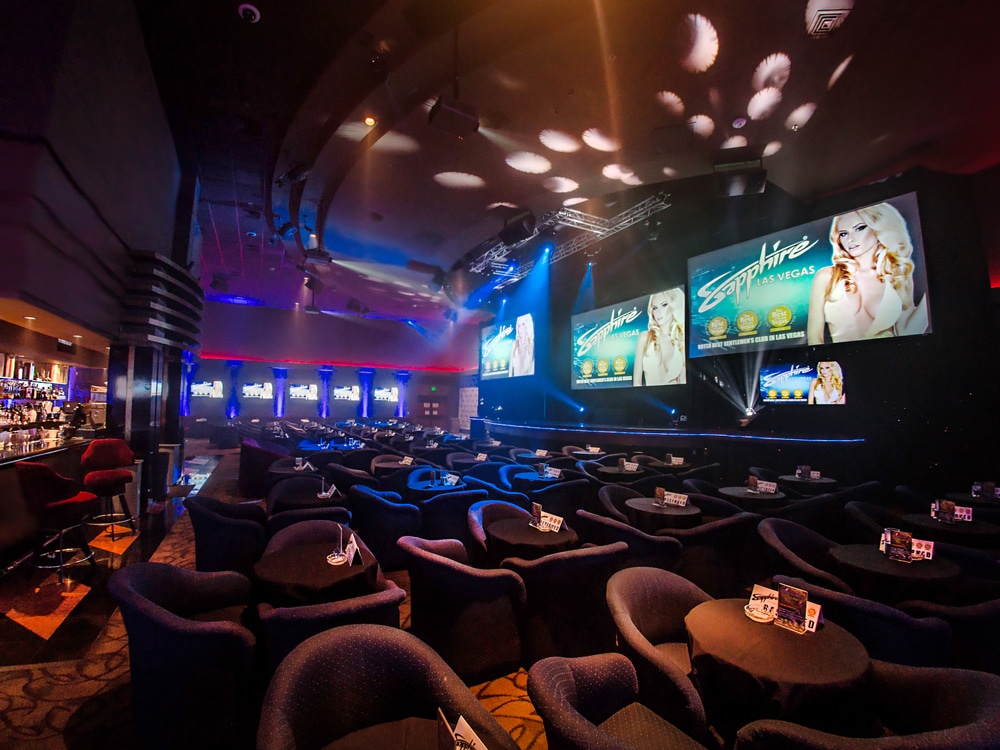 Sapphire has been rated one of the hottest clubs in the U.S., and at 70,000 square feet in club space is the world's largest gentlemen's club. Naturally we had to place this club near the top of our list of best Las Vegas strip clubs. With more than 400 topless girls performing every single night, Sapphire is open 24 hours a day, 7 days a week. You'll be following in the footsteps of the many celebrities who have frequented the club, including Criss Angel, 50 Cent and Floyd Mayweather.
In the main room you'll find 3 stages. The SkyStage has a clear catwalk that leads to the Skyboxes – VIP rooms that give you the ultimate in luxury with a private bar and an awesome view of the main floor below. Underneath the SkyStage, which is made of plexiglass, the Rockstar Lounge is where you'll get your best view on the main floor.
During the day, Sapphire Pool gets you up close and personal with the ladies. Sapphire Day Club is your opportunity to have a real Las Vegas pool party with Sapphire's gorgeous entertainers. Get a lap dance by the pool or rent a cabana, complete with luxury seating, flat screen TV and host.
3025 Sammy Davis Jr. Drive
Las Vegas, NV 89109
702-796-6000
---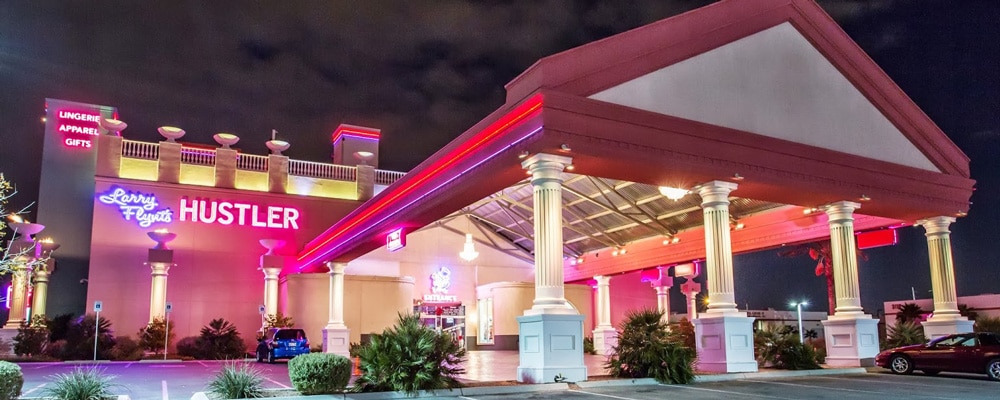 This adult mega club is 70,000 square feet of erotic excitement, and stretches over 3 floors of fun. Owned by the legendary Larry Flynt, you'll probably come expecting an over-the-top experience… and you won't be disappointed. We recommend taking in this adult entertainment complex starting at level 1 and working your way upstairs as your night gets hotter and hotter. Here's what you can expect on each level.
Level 1 is the main floor, which is a good starting point for your night. Here you'll find 2 stages featuring Hustler honeys shaking their stuff, as well as 2 fully stocked bars. This area is better lit than the higher levels, so is great for wandering and taking in the sexy sights.
On level 2 you'll find the VIP bar and VIP stage. A more intimate setting heats things up, as does the see-through glass catwalk that you can view from front-on or underneath (your choice). If you want more privacy, there are luxurious VIP suites available to reserve, called Skyboxes and Honey Suites.
On the uppermost level is an open-air rooftop nightclub where you can dance the night away surrounded by beautiful babes. The atmosphere here is lush and breezy, and the view over the city is spectacular. Lounge in a comfortable VIP table area or get down on the dance floor while top local DJs perform.
6007 Dean Martin Drive
Las Vegas, NV 89118
702-795-3131
---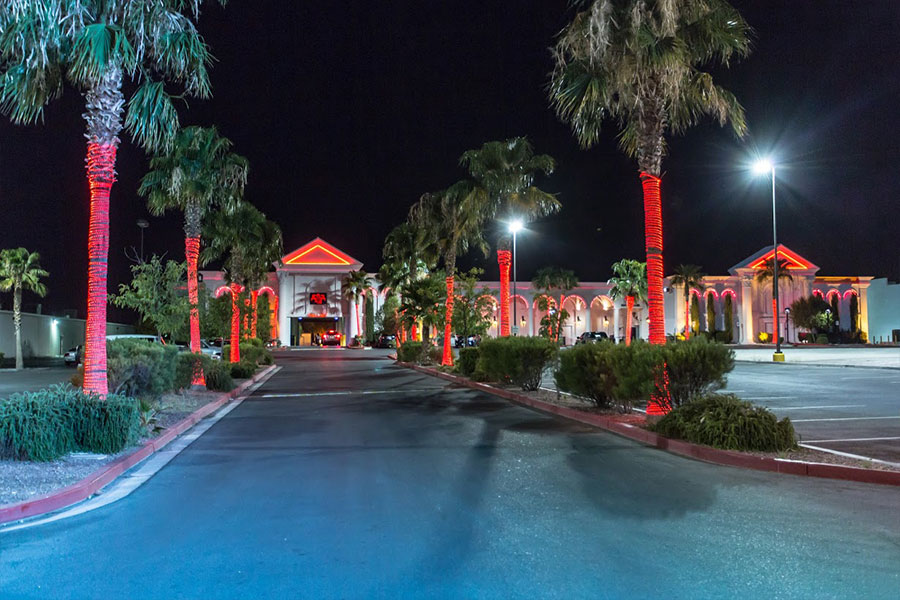 Whether your dream girl is the girl-next-door type or a tattooed honey, you're sure to find her at Crazy Horse III. This club should not be confused with Crazy Horse Too that was closed in 2022 and has completely different owners. More than 250 of the sexiest girls in Vegas dance here exclusively, in a swanky and upscale setting. The stereotype of a seedy strip club is about as opposite as you can get from this club, where you'll be made to feel like a VIP from the moment you walk in.
The main room is expansive, with multiple stages and multiple seating areas to view them from. There's a 50 foot bar serving premium beer, wine and craft cocktails, and they also serve up a killer menu that includes all your favorites like pizza, wings and tacos. There are 30 HD screens with surround sound, as well as world-class DJs spinning pumping party tracks.
If you want a more intimate, VIP experience, you'll want to reserve one of their private VIP suites, where you can enjoy premium bottle service and get a lap dance from the girl of your dreams. Be aware, upscale and fashionable attire is mandatory at this club, but that just adds to the vibe of being a swanky establishment.
3525 W Russell Rd
Las Vegas, NV 89118
702-673-1700
---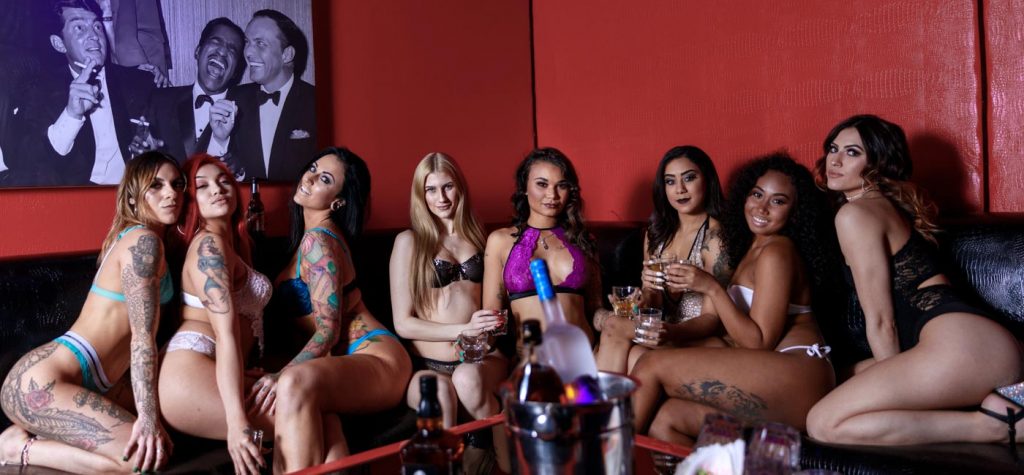 The Palomino Club is the oldest gentlemen's club in Las Vegas, but is anything but dated because of their constant updates and improvements. It's the only strip club in Las Vegas where you can experience full nude entertainment while enjoying alcoholic beverages. And their bottle prices are quite reasonable.
They've been featured on many different TV channels including National Geographic and Discovery, and even had their own reality TV series on Playboy TV, called "King of Clubs". Their expansive 30,000 square foot club features a double-pole stage on the ground floor, then upstairs you'll find a more intimate ultra-lounge.
The Palomino Club's fantasy rooms are a VIP experience you can't get anywhere else. Step into a themed room that looks like a bedroom to get an all-nude lapdance to recreate your wildest fantasies. Be aware you'll need to purchase another bottle in order to set foot in a fantasy room.
1848 Las Vegas Blvd N
North Las Vegas, NV 89030
702-642-2984
---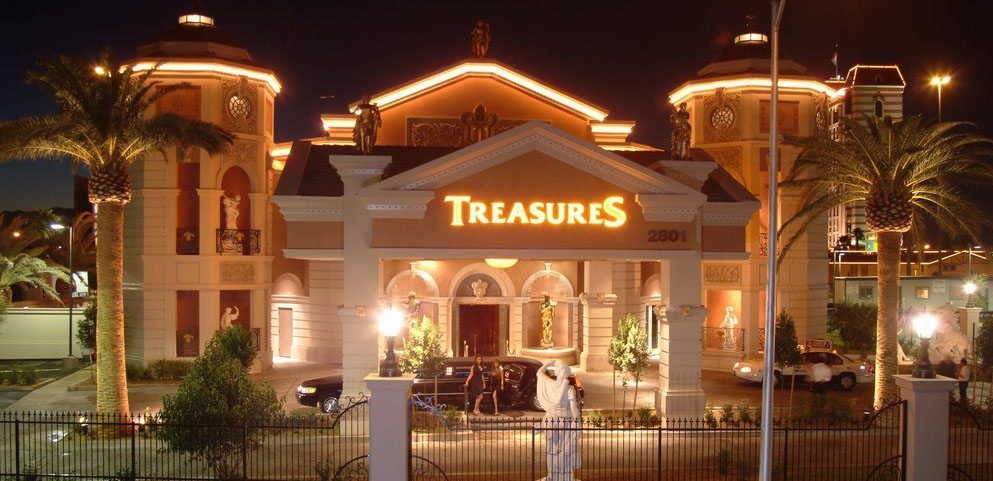 From the moment you step inside Treasures, your senses will be overloaded with decadence. The entryway boasts a dramatic chandelier and winding marble staircase, and the whole club is designed with this luxurious Italian mansion theme in mind. No matter what your type is, you'll find your fantasy girl at Treasures – from girl-next-door types to tattooed bad-girls, this club has them all.
One thing that Treasures has that other Las Vegas strip clubs can't come close to is their Steakhouse. Here you can enjoy one of the best steaks in Vegas in a swanky environment, with the option to dine with a beautiful entertainer.
On the main floor there are 3 stages, and the main stage has a neon go-go pole and some serious special effects. While there is a large bar, we recommend sitting at a table where you can more easily enjoy a lapdance and the friendly waitresses serving you. Upstairs you'll find the Skybox area where you can look down over the action or enjoy another stage and bar. On the second floor is where you'll find the private VIP section for those more intimate lapdances.
2801 Westwood Drive
Las Vegas, NV 89109
702-257-3030
---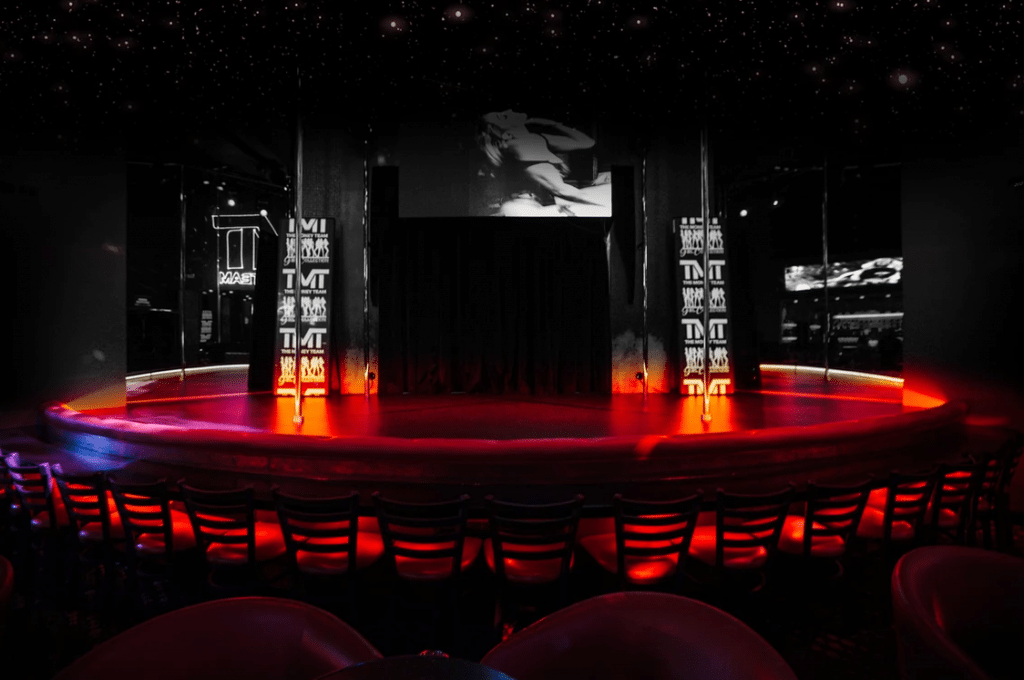 Floyd Mayweather is no newcomer to the Vegas nightlife scene, so it was no surprise when he opened his strip club, Girl Collection, in 2017. This 7000 square foot club has a high-end, classy vibe and clientele, and the main room always feels like a wild party.
Floyd Mayweather spends a lot of his time at the club, as do lots of celebrity names. Pair that with some of the best dancers in the country, and you've got a club that oozes exclusivity. On the weekend it costs $50 – $100 to enter, and a minimum of $5000 for a VIP table. What can we say, you get what you pay for!
2580 S Highland Drive
Las Vegas, NV 89109
844-447-5758
---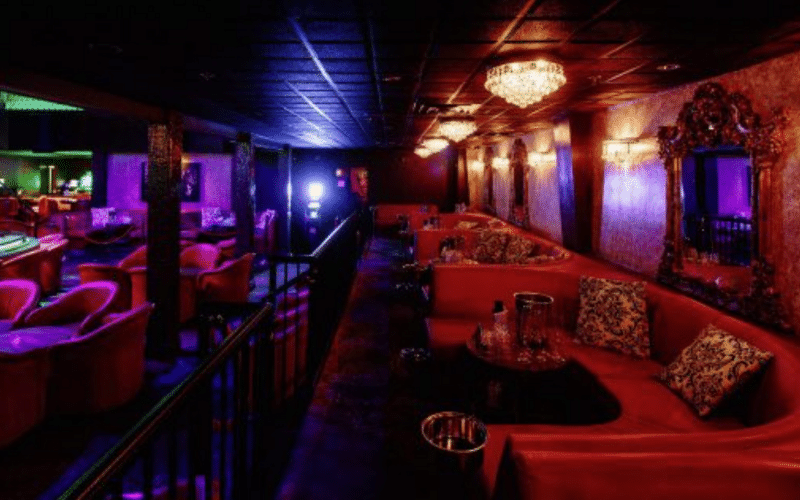 Voted #1 luxury strip club and topless strip club in Las Vegas, Sophia's is a 2 story, 17,000 square-foot club that prides itself on customer service and beautiful dancers. With a topless hookah lounge, cigar lounge and a great happy hour, you'll find that Sophia's is a perfect combination of strip club and luxury lounge.
The main room has a custom stage, and around it there are semi-private VIP seating areas where you can get a more intimate lapdance from the girl of your choice. The upstairs VIP area has a mezzanine area where you can look down on the action, as well as another bar. With elegant décor and a killer sound system, Sophia's is a club worth visiting.
3500 W Naples Drive
Las Vegas, NV 89103
702-982-6777
---
One of the most well-known strip clubs in Sin City is Little Darlings. It's the largest totally nude club in the USA, and the only 18+ totally nude club in Vegas. No alcohol is served on the premises, but with the largest hookah bar in town and hundreds of beautiful dancers entertaining you, you won't be disappointed.
The main room has a large stage with totally nude dancers, or if you want a more intimate experience you can reserve a VIP room – a fantasy room complete with a bed where your dancer can give you a longer, more private dance.
1514 Western Ave
Las Vegas, NV 89102
702-366-1141
---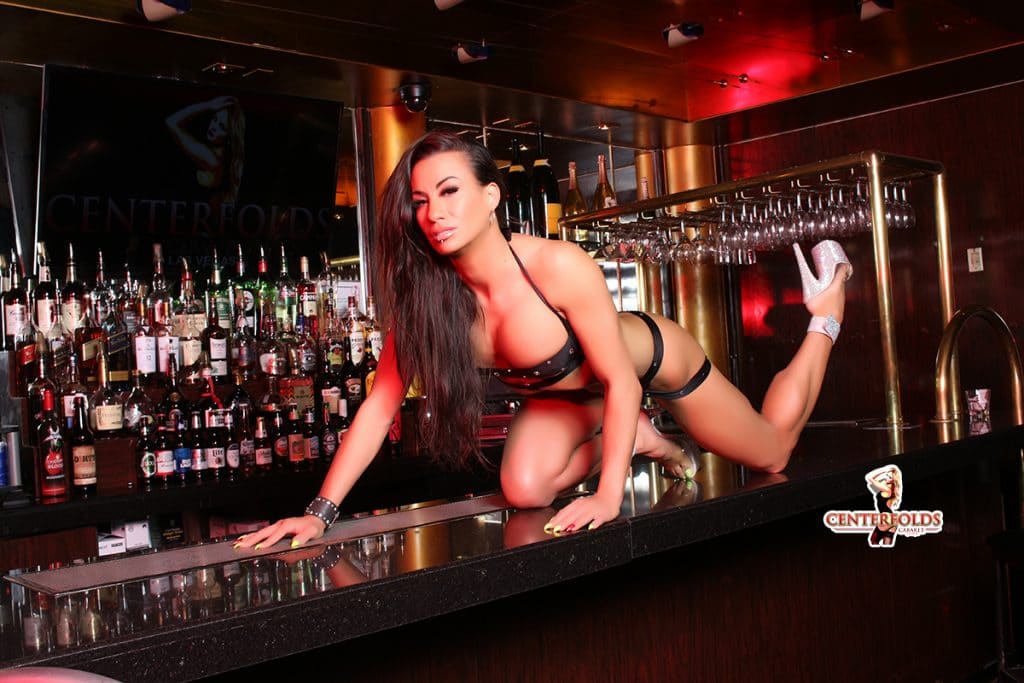 Centerfolds Cabaret prides itself on the hottest shows, the hottest girls, and the most professional staff. Located very close to the Las Vegas Strip, this spacious club has multiple showrooms and private VIP rooms for one-on-one dances. You'll find an eclectic range of gorgeous girls here at Centerfolds, ready to entertain you.
If you want to get away to a more intimate and luxurious environment, the Crystal Room is a fancy adult lounge that gives you a more VIP experience. Centerfolds also has a great hookah bar to enjoy.
Honorable Mentions
One of Sin City's most well-known strip clubs, Déjà vu is a favorite of locals and tourists alike. With a slick, upscale atmosphere and beautiful dancers, you'll have a high-quality experience here.
This 25,000 square foot strip club has an elegant atmosphere and over 300 of the most beautiful women in the city. The marble décor and fireplaces in the VIP rooms will make you feel like a baller.
Club Platinum
This strip club is small, quiet and keeps limited hours (7.00pm – 5am), so it's not a wild party like some of the other clubs in this article. There's no cover to enter, and it's a very short Uber ride from the Strip.
---
Female Adult Revues
An alternative to going to a strip club in Las Vegas is seeing one of the top-notch female adult revue shows that this city has to offer.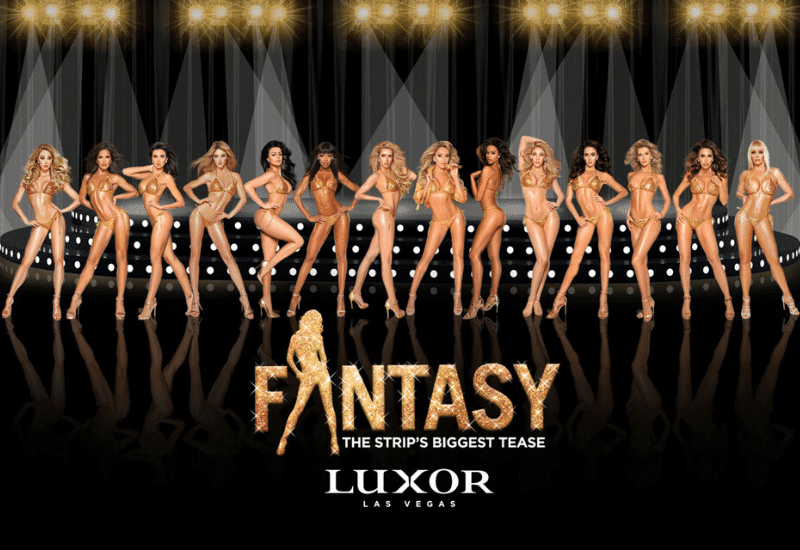 Fantasy, which performs at the Luxor, manages to be simultaneously steamy, classy, fun and charming – an impressive feat. X Burlesque takes inspiration from classic Vegas burlesque style, and combines it with the hottest contemporary music. X Country is the country-and-western offshoot from the creators of X Burlesque. Other popular Vegas adult shows we recommend are ROUGE, Red Velvet, and BurlesQ. See the list of shows below for more suggestions.
---
Strip Clubs for Women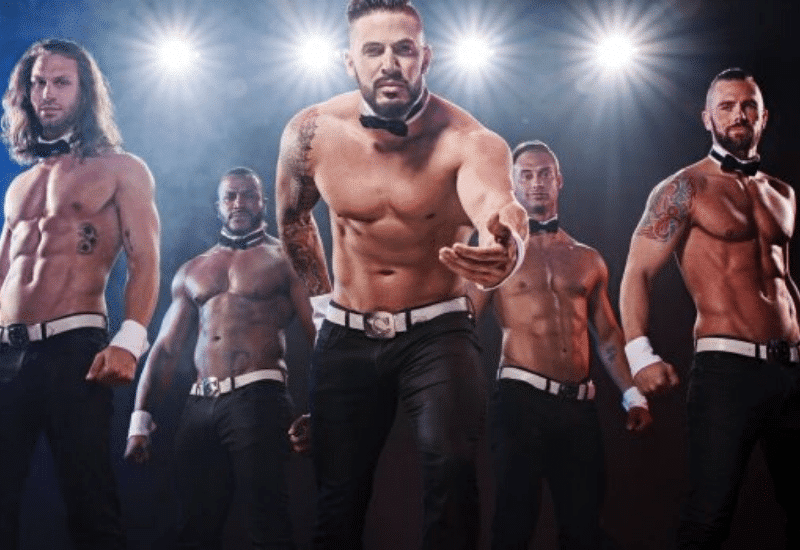 What about strip clubs with male performers for the ladies to enjoy? If you're planning the bachelorette party or just ready to party hard with the girls, there are some awesome strip club experiences waiting for you too in Vegas.
The top floor of Larry Flynt's Hustler Club is quite a location for one of the hottest male strip tease shows in Vegas. You get an unbelievable view of the Las Vegas Strip from the outdoor balcony, a full bar, a great DJ and over a dozen of the hottest male entertainers.
Men of Vegas at Spearmint Rhino
On Friday and Saturday nights you and your girls can catch Men of Vegas in a dedicated showroom at Spearmint Rhino. 5 hours of high-energy dance routines, chiseled bodies and great music will leave you thoroughly entertained (and blushing).
Men of Sapphire
On Thursdays through Sundays, 10pm to 1am, you and your girls can party with some of the hottest male strippers in Las Vegas at Sapphire. In a ladies-only showroom, you'll enjoy hours of well-choreographed, pumping male strip routines. Lap dances are available too!
Male Revues
If you'd rather spend just a portion of your night oogling at hot male bodies (rather than the whole night) you might want to go see one of Las Vegas' incredible male adult revue shows. While Chippendales is the first one that will come to mind, we particularly recommend the all-out party that the boys from Thunder From Down Under bring to their show.
Strip Club Tours
With so many strip clubs, making a decision on just one can be a difficult choice. You might want to consider booking a strip club tour that includes transportation on a fun party bus that serves alcohol drinks, including one with unlimited drinks and stops to multiple popular strip clubs.
Popular Vegas Adult Shows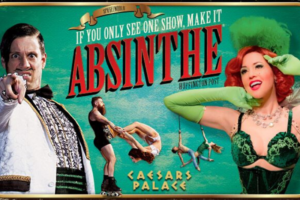 from $131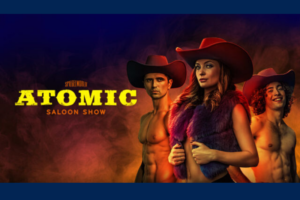 from $71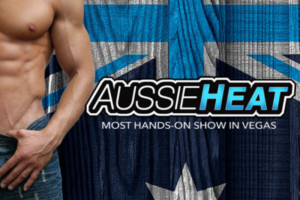 from $47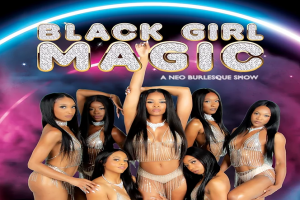 from $38
from $65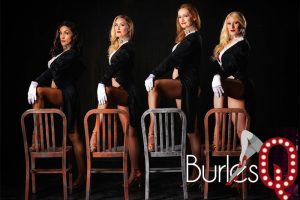 from $38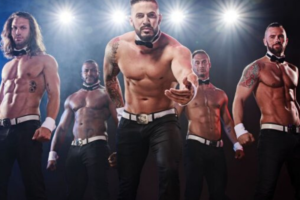 from $45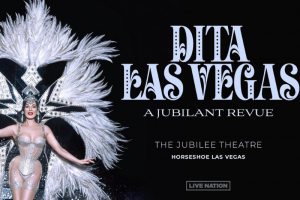 from $56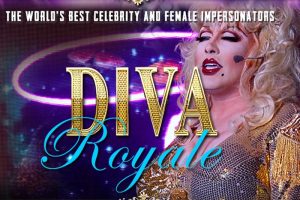 from $32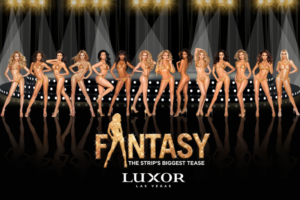 from $51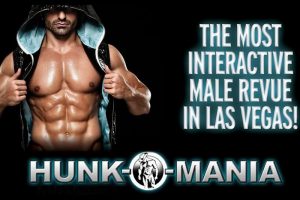 from $32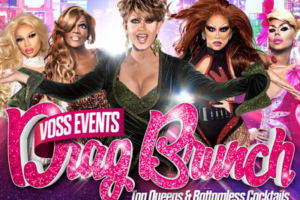 from $90
View More Adult Shows