Your Ultimate Guide To Spring Break in Las Vegas 2023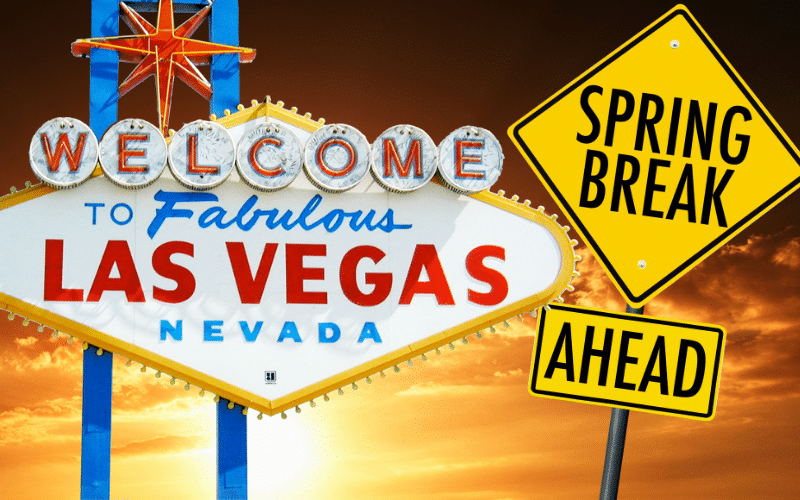 We may receive a commission if you make a purchase.
If you're thinking of coming to Las Vegas for Spring Break, you're onto something good. No one parties like Vegas parties, and it's the beginning of pool season on top of that. With temperatures in the 70s, spring is a beautiful time of year to visit this spectacular city. In Vegas, fun is non-stop – it only ends when you're all partied out. So round up your group of friends and start planning your wildest Spring Break ever in Las Vegas with the help of this ultimate guide.
1. Book a Lavish Suite
When you're planning a trip to Vegas with a group of friends, the first step is to book your accommodations. Because Las Vegas is the city of over-the-top extravagance, that means booking a luxurious suite. This will be your home base where you and your friends can hang out, pre-game, get ready for a night out… and at the end of the night, retreat to. Luckily, you can book a gorgeous suite in Vegas for the price of a standard room in other cities. Here are some of our favorite suites.
Two Bedroom City Suite at Cosmopolitan of Las Vegas
This uber-chic 2 bedroom suite at The Cosmopolitan of Las Vegas offers 1,615 square feet of space to stretch out in, and can sleep up to 6 guests with 1 king bed and 2 queen-sized beds. Floor-to-ceiling windows give dramatic views overlooking the sparkling city below. Modern, stylish furnishings combine with whimsical art on the walls to create a unique, urban-inspired space. Each luxurious bedroom has its own full bathroom, featuring a deep soaking tub and premium bath products. A separate spacious living room has a comfortable sitting area with a sofa, 2 armchairs, and a dining table for 4 – perfect for entertaining guests.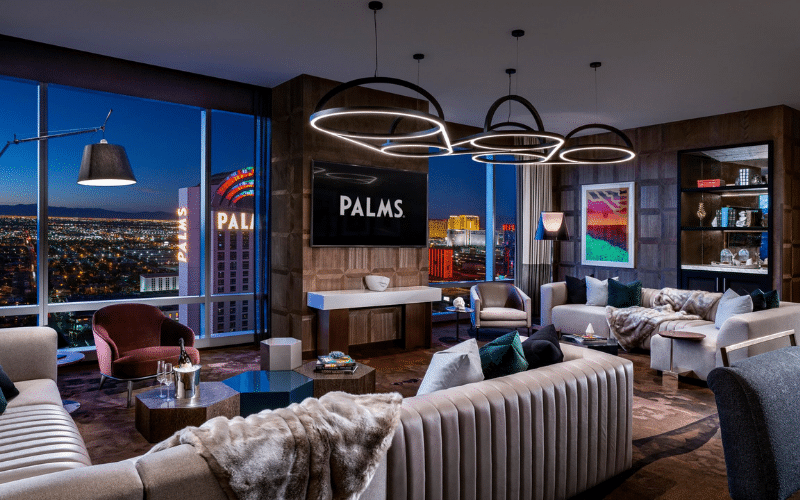 Two-Bedroom Penthouse at Palms Casino Resort
This lavish suite on the uppermost floors of the Palms Casino Resort has so much to offer, you may not even want to go out on the town after all. An expansive living room featuring luxurious, modern sofas and arm chairs is the perfect space for kicking back and relaxing, and floor-to-ceiling windows offer spectacular views of the Las Vegas Strip from high above. Get the night started with cocktails at the suite's 8-seat bar with its own 65 inch HDTV. This suite can accommodate up to 8 guests, with a king in one bedroom and 2 queens in the other. Guests can enjoy round trip airport transportation and VIP check-in when staying in this exclusive suite.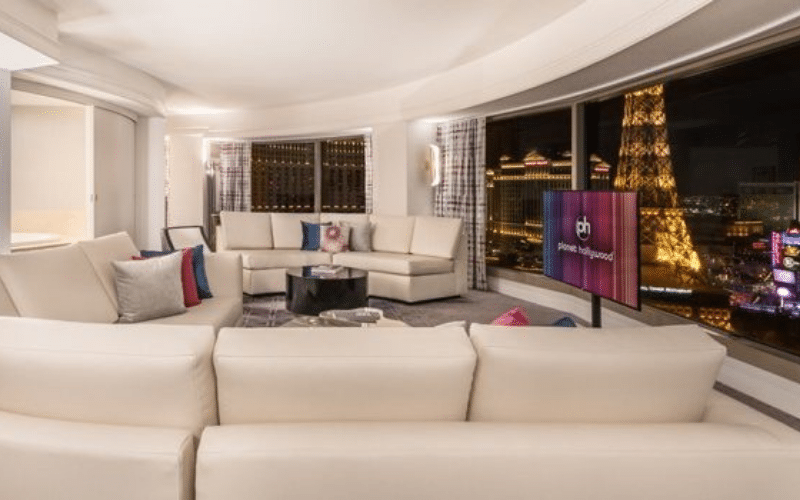 Ultra 2 Bedroom Panorama Suite at Planet Hollywood
This extravagant suite at Planet Hollywood is 1,755 square feet of modern designer furnishings, and gives you sweeping 180 degree views of the Las Vegas Strip below. A formal entranceway opens into a chic living room with sectional sofas and a dining table for 4. You'll have a pillow-top king bed in each of the 2 spacious bedrooms, with the master bedroom featuring an unbelievably hip circular bed with gold satin linens. The master bathroom boasts an oversized hot tub and a vanity where you can get done up for the night. This is the perfect Vegas suite for Spring Break.
---
2. Party in the Pool at a Vegas Dayclub
Las Vegas pool parties are out of this world, with world-class DJs, VIP table service and champagne showers. Dayclubs – similar to nightclubs but in a pool and during the day – are where it's at in Vegas on a warm Spring day. Here are our some of our favorite dayclubs that you have to experience to believe.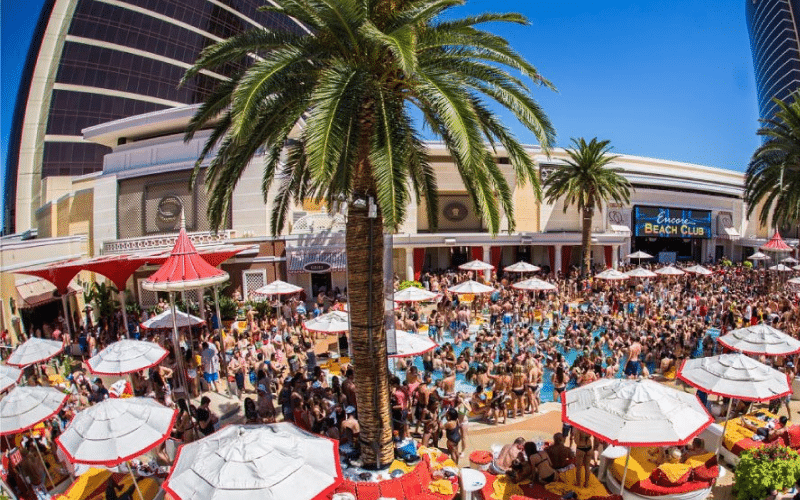 Encore Beach Club (EBC)
Undoubtedly the most bangin' pool party in Vegas (and that says a lot) can be found at Encore Beach Club. Located at the Wynn, this 60,000 square-foot dayclub goes all out to give you a party in the pool you'll never forget. World famous DJs spin upbeat electronic music through a booming sound system while you dance, swim, and sip on cocktails. There are gaming areas right by the pool, plush daybeds to relax in, and VIP tables with bottle service. When you're spending Spring Break in Vegas with your friends, we recommend reserving a VIP cabana where you'll have your own private party area and unparalleled service.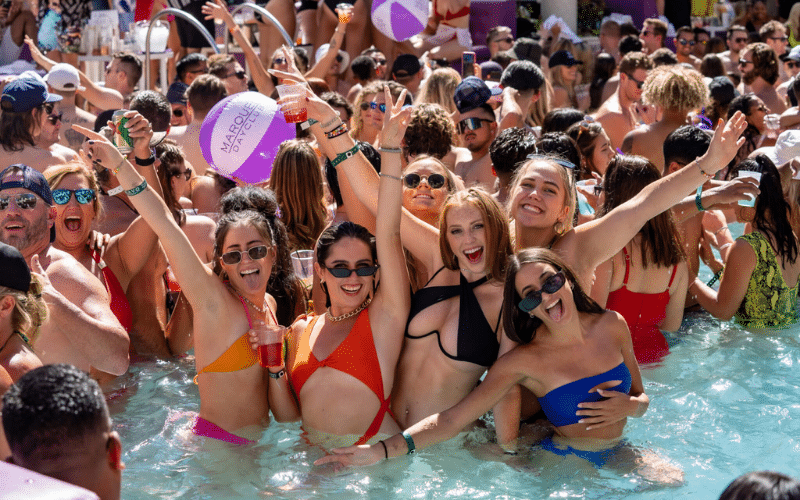 Marquee Dayclub
Located at the uber-chic Cosmopolitan, it's no surprise that Marquee Dayclub is a pool party to be seen at. Resident DJs spin house music through an excellent sound system to a young, hip and beautiful crowd. The gorgeous rooftop Marquee pool sits high above the Las Vegas Strip with glass walls that give you an incredible view of the city. VIP table service lets you enjoy hand-crafted cocktails and delicious bites to eat, while you soak in the sun and good vibes. Reserve a cabana for the full VIP experience, featuring private infinity-edge dipping pools and flat screen TVs.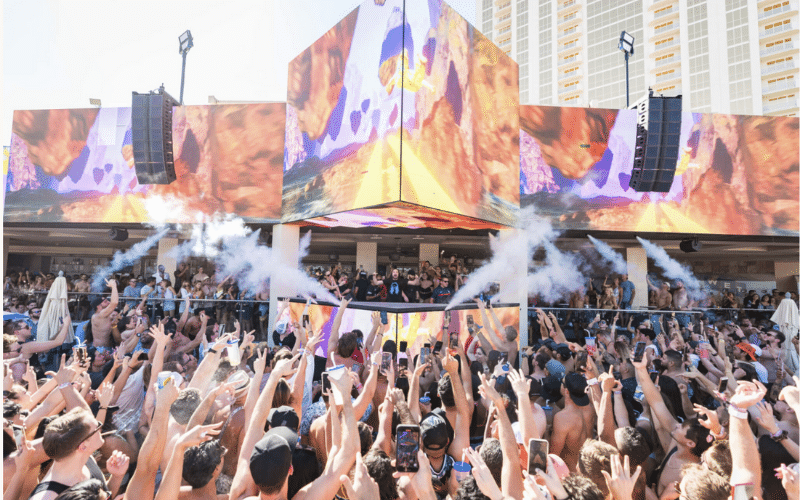 This fabulous pool party spot at MGM Grand recently underwent multi-million dollar renovations, making it an ultimate dayclub destination in Las Vegas. Some of the best DJs in the world, like Tiesto, Zedd, and Steve Aoki, spin pumping electronic music through a killer sound system while the party gets wild in the pool. A 2,500 square-foot open lounge is where you can mix and mingle while sipping on a cocktail. The private VIP bungalows at Wet Republic are over-the-top amazing, featuring their own plunge pools and Jacuzzis.
---
3. Have Dinner at One of the Hippest Restaurants in Vegas
Take a much needed break from partying to enjoy a mouth-watering meal with your friends at one of Vegas' hottest restaurants. Here are some of our favorite spots for delicious cuisine in a social, trendy setting.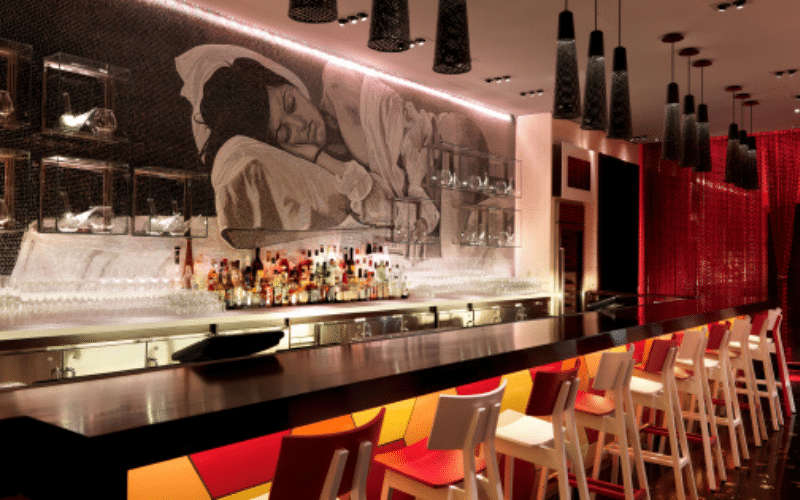 Jaleo Tapas Restaurant
This stylish restaurant at The Cosmopolitan serves authentic Spanish tapas in delectable small plates that are perfect for sharing. Socialize over servings of Gambas al Ajillo (shrimp sautéed with garlic) and Jamon Iberico Fermin (dry cured ham), as well as a selection of tasty cheese boards. We recommend the Tour de Espana, a curated selection of the best tapas on the menu. Don't miss Jaleo's Sangria Hour, every Tuesday to Sunday from 5 – 7pm, with $5 tapas plates and $7 glasses of Sangria.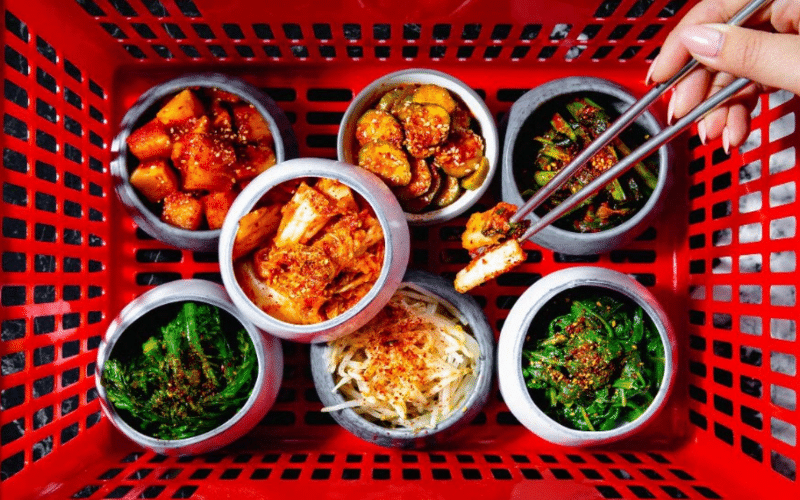 This hip-hop-inspired Korean barbeque restaurant at Park MGM is hidden away behind a Korean bodega storefront, and puts an LA remix on traditional Korean dishes. The vibrant dining room and waiters dressed in 1980s B-boy outfits make this a really fun dining experience, and the food is outrageously good. Grab your chopsticks and order your choice of shareable dishes like Kogi tacos, Korean wings and housemade kimchi. They also serve alcoholic slushies that are divine, in flavors like orange dreamsicle and green apple bomb.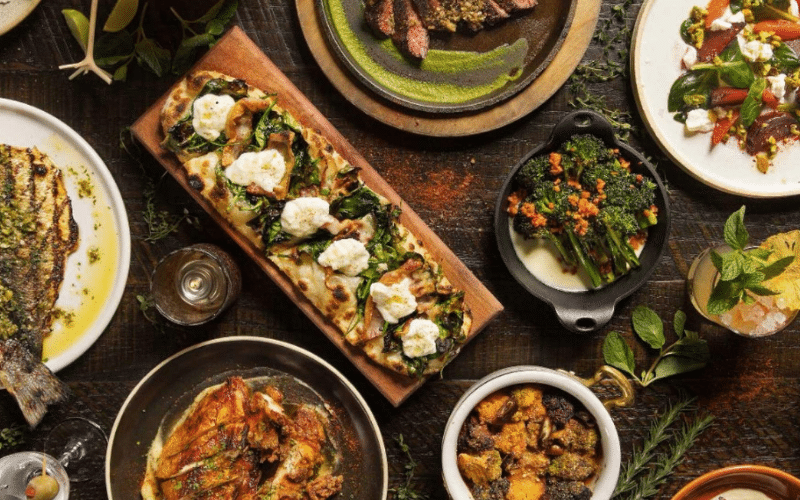 The name says it all: this restaurant is a liberating experience in social dining where you'll be reaching over the table to try each other's small plates, each one better than the last. Libertine Social, located at Mandalay Bay, is a creation of James Beard Award-winning chef Shawn McClain who firmly believes that eating is "the ultimate social activity". The exquisite menu of shared plates includes Short Rib Flatbread, oysters on the half, and a decadent cheese board. The perfect dinner to share with friends before jumping back into Spring Break partying in Vegas.
---
4. Dance the Night Away at a Vegas Nightclub
Las Vegas has a world-wide reputation for wild and extravagant parties, and the incredible nightclubs in this city live up to that reputation completely. No Spring Break in Vegas would be complete without dancing the night away in one of these epic clubs, so here are our top picks for where to go to have an unforgettable night out.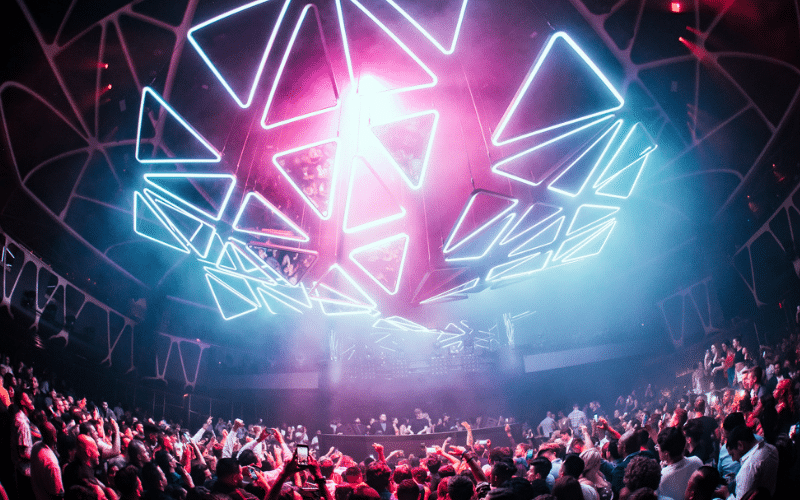 Located at MGM Grand, this huge nightclub features 5 levels of extravagant party space. One the first floor is Hakkasan Restaurant, a place to start the evening off with authentic Cantonese food. Move up a floor and you'll find a gorgeous lounge with an outdoor garden bar, as well as Ling Ling lounge where you can dance to top 40 hits in a stylish Eastern-inspired atmosphere. The main floor is where the real party is at: a huge main dance floor lit up with incredible light shows, a world-class sound system, and superstar DJs like Steve Aoki and Tiesto on the decks.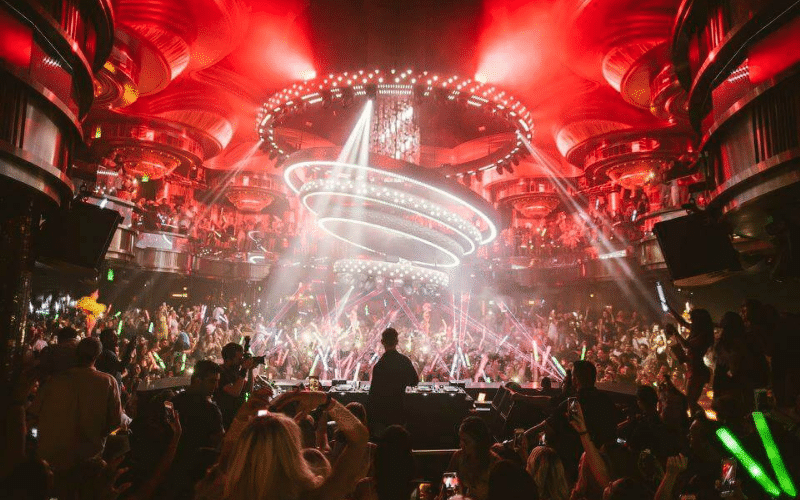 You'll be in awe from the moment you enter Omnia, located at Caesars Palace. A giant kinetic chandelier hangs from the ceiling as the centerpiece of the club, moving with the pumping music while LED displays and video projections light it up. You'll catch some of the hottest electronic DJs here on an excellent sound system, and you won't be able to stop dancing. If you need to catch your breath, there's a rooftop garden where you can admire sweeping views of the Las Vegas Strip from above.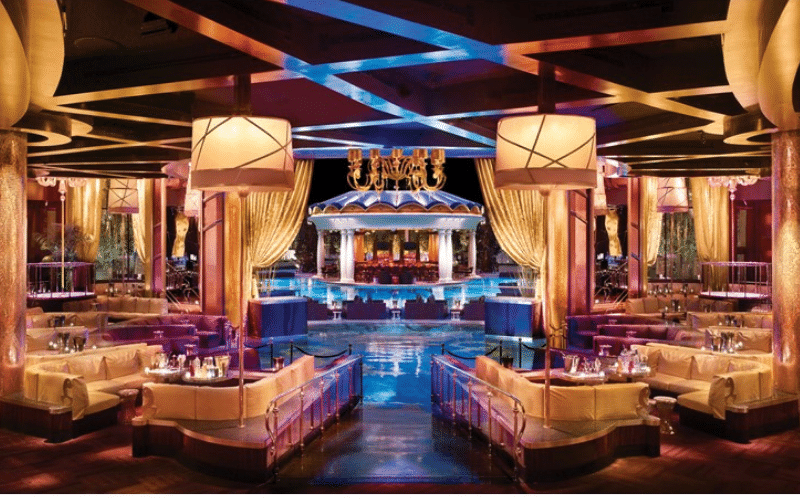 XS Nightclub
You can catch world-famous DJs like The Chainsmokers, Diplo and Kygo at XS Nightclub, a stylish club with a sexy atmosphere. The VIP booths give you the best view of the DJ, bottle service, and an elevated place for you and your friends to dance. Outside the nightclub you'll find Encore's beautiful pool where EBC is held during the day. At night you can still reserve a cabana or play in the poolside gaming area. No matter which part of this club you and your friends hang out in, you're going to have a great night out.
---
5. A Much-Needed Recovery Day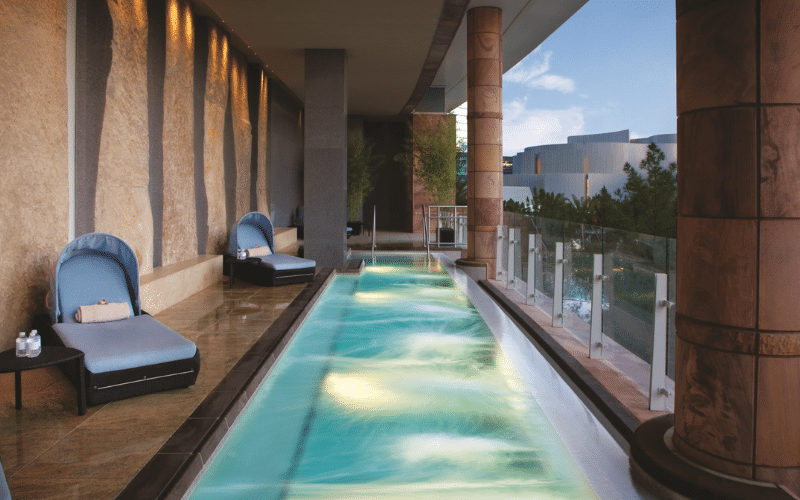 You can pretty much guarantee that after a wild night out in Vegas, you'll be feeling more than a little wiped out. Take a day to recover and relax. We recommend unwinding at one of our top 10 Spas in Las Vegas, or getting out in nature to reinvigorate your senses. And no trip to Vegas is complete without seeing a Cirque du Soleil show!