Las Vegas Monorail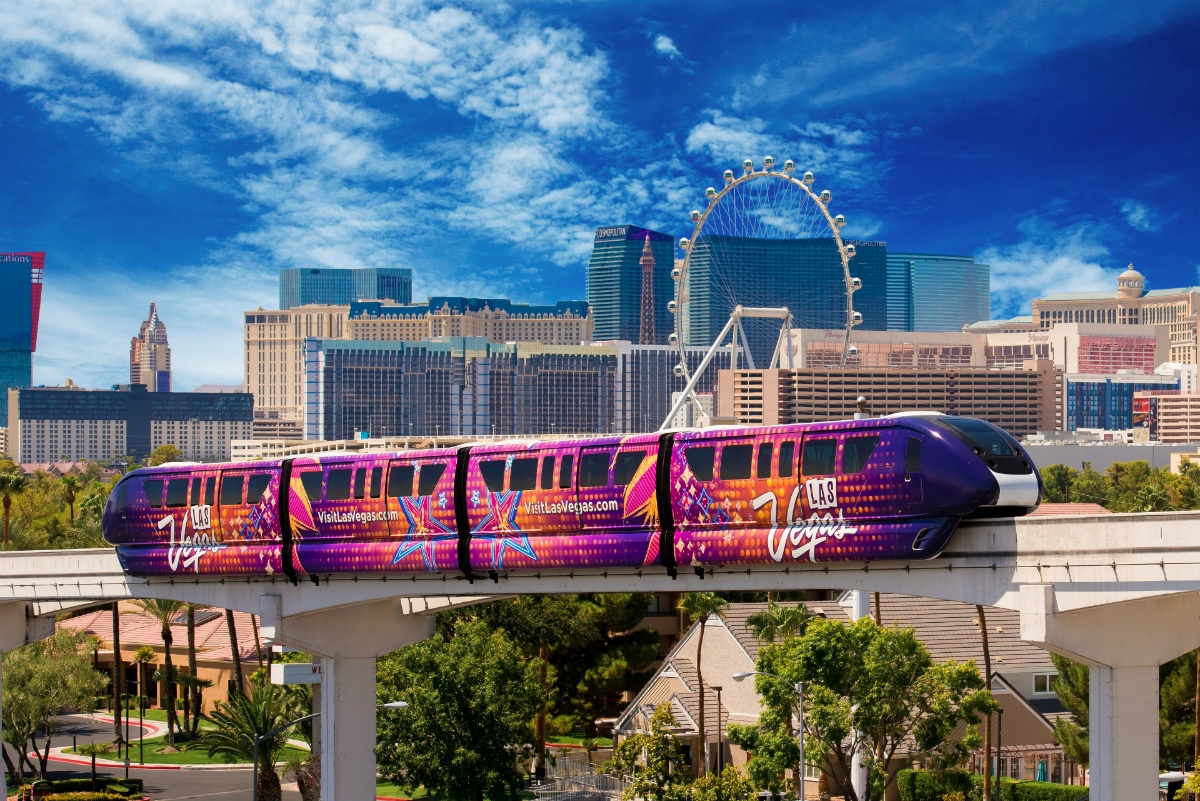 We may receive a commission if you make a purchase.
Home
>
Attractions
> Las Vegas Monorail
Explore more of Vegas with the Las Vegas Monorail. After being closed for a while because of the Covid pandemic, it is finally open again and back to normal. Masks are not required, but suggested for your safety.
Arguably the best way to get around the Strip, you'll never have to wait more than 4-8 minutes for your ride to arrive. True to the Vegas way, you'll travel in style (and with air conditioning!) as you hop on and off between the world's most glamorous, hotels, casinos, restaurants, shops and nightclubs.
So ditch the traffic, expensive taxis, and walking in the desert heat. Your designated driver with the Las Vegas Monorail is always here to make the only thing you ever have to worry about is having fun.
To help you plan your experience with the Las Vegas Monorail here is everything you need to know.
Time Table
Here are the normal hours of operation you can expect:
Daily- Mon: 7AM-Midnight | Tue-Thurs: 7AM – 2AM | Fri-Sun: 7AM-3AM
Ticket Options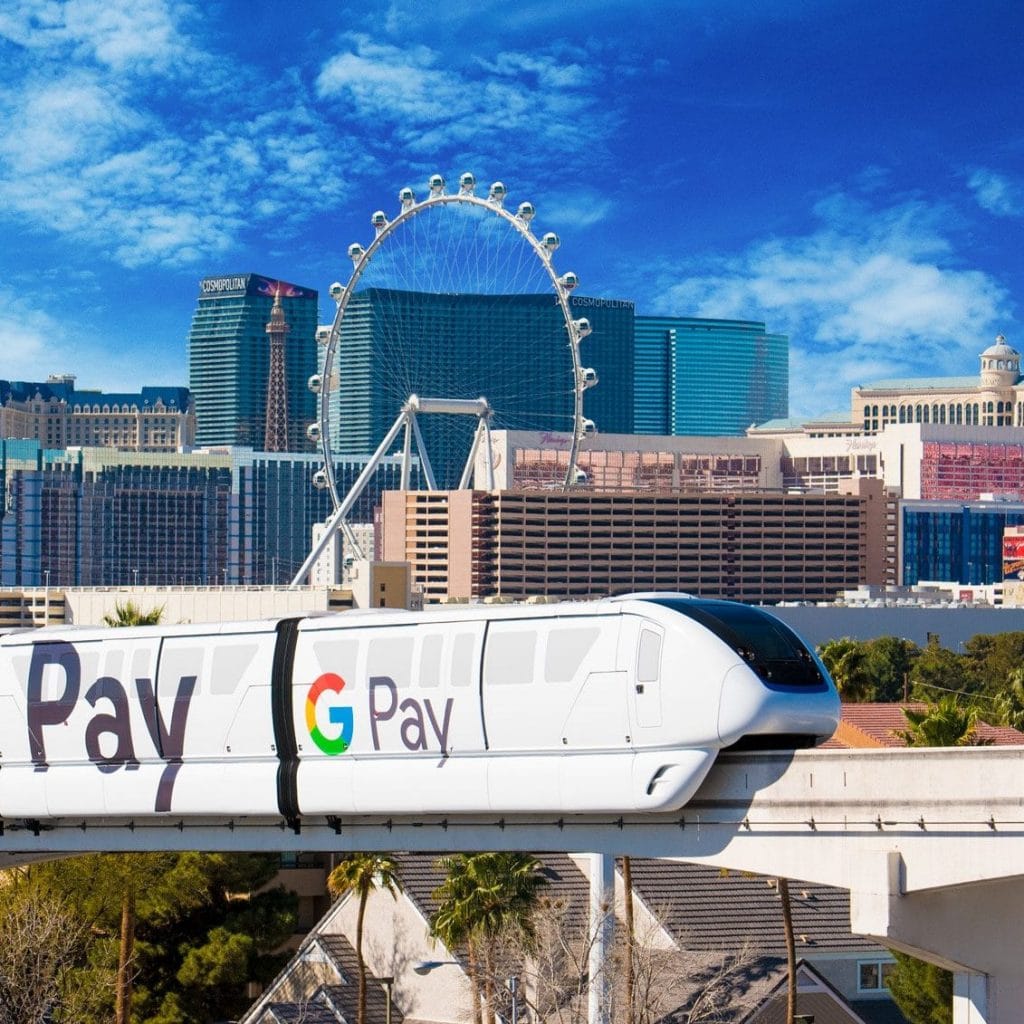 There is a range of ticket options you can choose from.
Whatever type of ticket you choose, all are available both as digital mobile tickets and traditional paper tickets.
Here are the types of monorail tickets you can purchase and standard fares:
Single-Ride: $5
This ticket can be used for one person for a single ride on the monorail. It's a logical option if you are on the Strip for a short amount of time like to go to dinner or see a concert.
Unlimited Pass: 1 day=$13 | 2 days = $23 | 3 days= $29 | 4 days = $36 | 5 days = $43|7 days = $56
You choose a certain time period you think you'll want to use the monorail, and you can take unlimited rides during those hours! The pass becomes valid upon first use at the gate and will expire when the allocated time runs out. It's a great option if you plan to be on the Strip for a weekend or even a full week.
Resident Discount: 1 ride = $1 to 20 rides = $20
If you are a Nevada resident, you can ride the monorail for only $1 a ride (up to 20 rides in 10 days). All you have to do is show your identification card and purchase directly from the ticketing office. The rule with this one is that you can only purchase 2 single rides at a resident rate per day, meaning you can have no more than 20 rides in a 10 day period. That's a pretty good deal for all those locals!
Kids ride free: 5 years and under = $0
Great news for the parents needing to plan a day on the Strip, kids under 5 years old ride for free! A child's single-ride ticket will be valid for up to one year from the time of purchase and a child's unlimited day pass will be valid for up to 168 hours once activated.
Group tickets: 12+ people = special discount
If you are planning on having a group outing on the Strip with 12 or more people , you can organize to get group tickets that come with Vegas styled discounts. This option is great if your group is in Vegas for a bachelor party, a convention or an event. Just get in touch with the Las Vegas Monorail group bookings team.
Ticket Vendors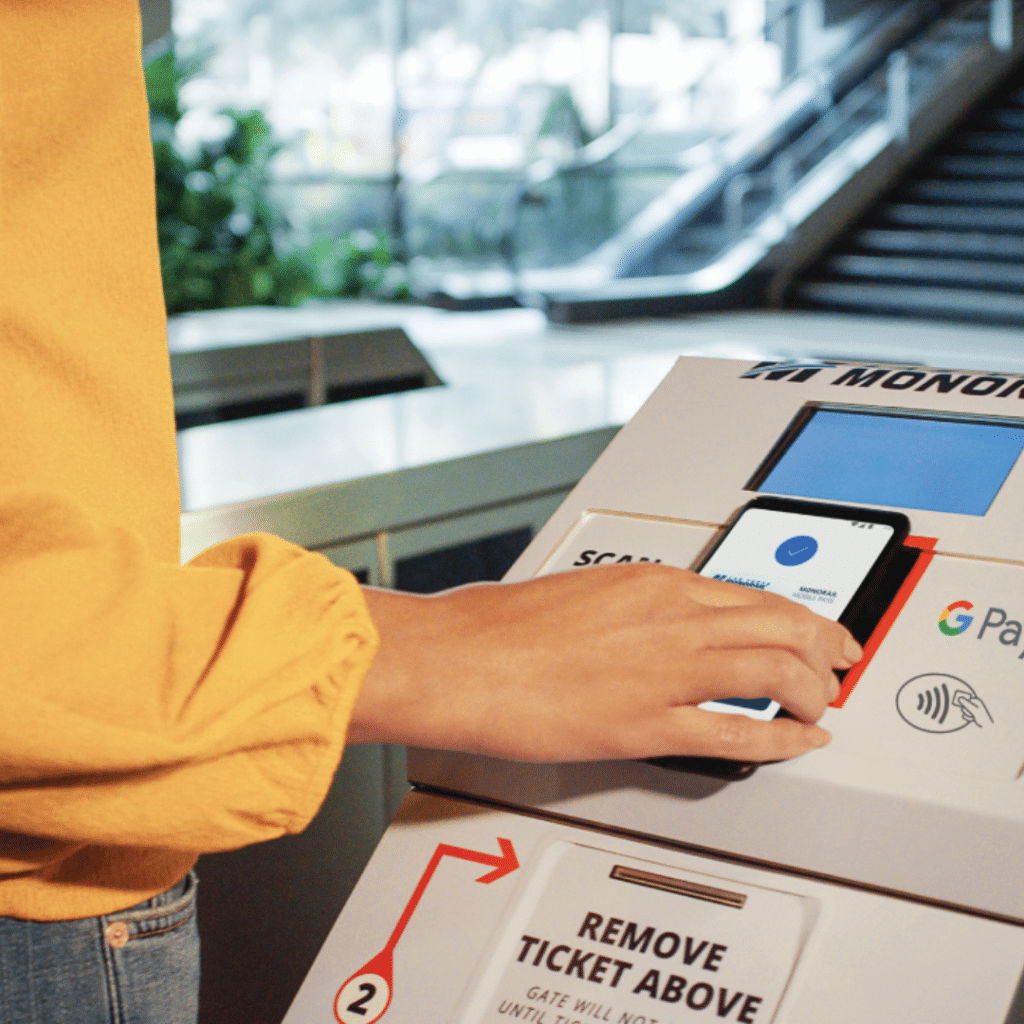 Online: You can order your tickets online through Vegas.com or the Las Vegas Monorail's website. The digital ticket will be sent straight to your email and can be scanned at the gates of the monorail station.
Google Pay: Innovation at it's finest, you can purchase your Las Vegas Monorail tickets using Google Pay on your smartphone. Use Google Pay to hold your tickets and get through the gates. No need to enter any payment details, making your journey a quick and efficient one!
Ticket Vending Machines: For those that don't want to use their phones, there is a range of ticket vending machines located throughout the Strip. You can purchase your paper ticket here and pay for it in a single swipe of a debit or credit card, with the option to also pay in cash as well.
Customer Service Booths: If you are wanting to purchase a Nevada resident priced ticket or need some extra assistance, there are several customer service booths that can help you with all your ticketing needs. There is a customer service booth at every monorail station except for the Las Vegas Convention Center Station.
Monorail Stations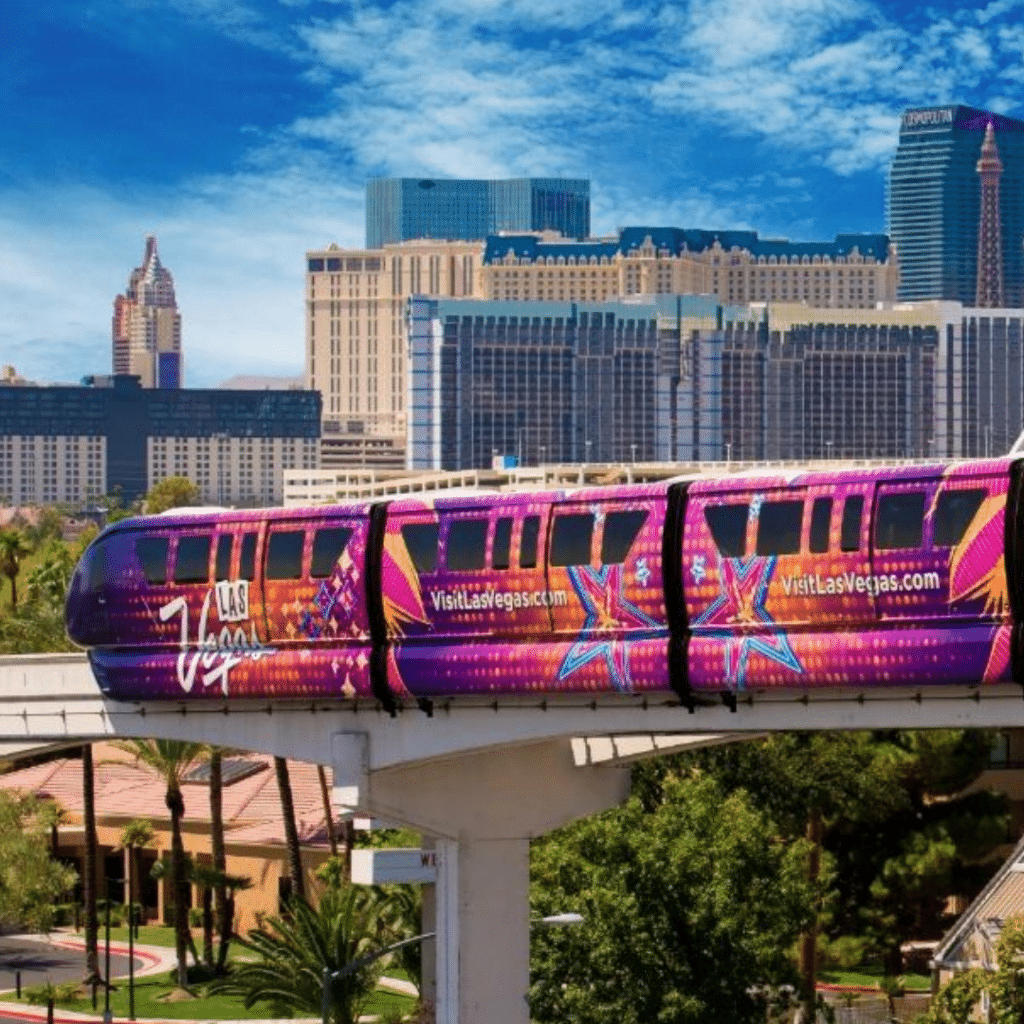 The Las Vegas Monorail conveniently has seven (lucky number 7!) monorail stations set up throughout the Strip.
This means that no matter where you end up, a monorail station is always within eyesight! Here is everything you need to know about the seven stations.
Sahara Las Vegas Station: Located in the Sahara Hotel and Casino and right by all the young and hip places on the Strip to socialize, stylish shops to explore and a timeless spirit that never dies out.
Westgate Station: Once home to the King of Rock and Roll Elvis Presley, Westgate has gone through a new hotel upgrade that includes signature rooms that are within a short distance to this monorail station.
Convention Center Station: Visiting as a convention delegate? You are in luck, as all tracks lead to the Convention Center that is smack dab in the middle of the Strip. Your ride to work will never get easier.
Harrah's & the LINQ Station: Hop off at this station and get access to two of Vegas's premier hotels Harrah's Las Vegas and The LINQ Hotel , restaurants and entertainment! This hub is always vibrant and the center of all things fun!
Flamingo & Caesars Palace Station: Snuggled up between two iconic Vegas hotels Flamingo Las Vegas and Caesars Palace, this monorail station gives you immediate access to some of the Strip's best day clubs, nigh clubs, shopping, and dining.
Horseshoe Las Vegas & Paris Station: You don't have to travel far to get your dose of romance on the Strip. This station drops you off for a foreign affair between Horseshoe Las Vegas and Paris Las Vegas Resort & Casino. It's one you'll never forget that is better with a glass of French champagne and luxury hotels.
MGM Grand Station: This station is right at the doorstep to all the glitz and glamour of the trip and in the midst of the MGM Grand. Walk off the monorail and right to the doorstep of internationally acclaimed DJs and chefs.
Monorail Map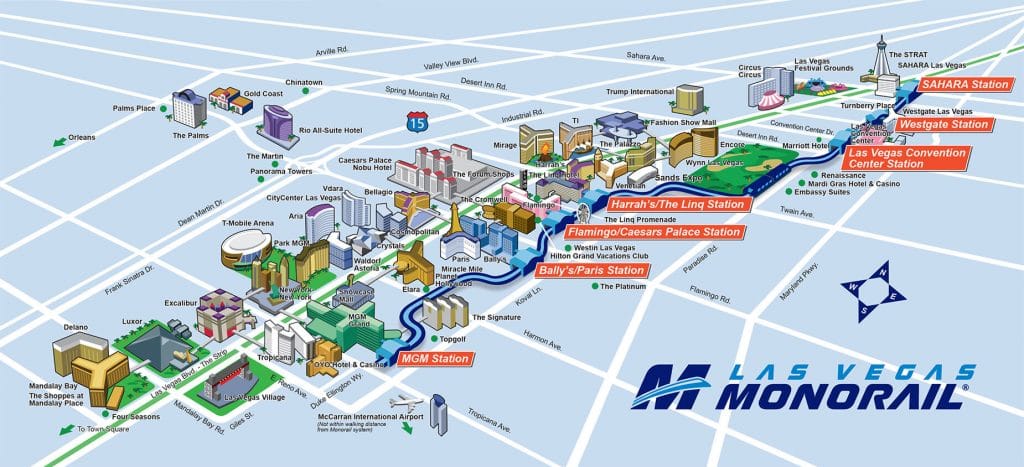 Fun Facts
The Las Vegas Monorail is full of fun and interesting facts. Here are a few of our favorites:
The Monorail operates 365 days a year, even on Christmas!
It takes only 15 minutes in total to travel 4 miles and make 7 stops.
An unlimited pass is cheaper than a rideshare or taxi on the Strip.
It is always air-conditioned, which is essential in the summer.
The Las Vegas Monorail is one of the most advanced in the world.
This concept was first thought up in 1993 by MGM Grand and Bally's (now Horseshoe Las Vegas).
The State of Nevada approved the concept in 1997 and officially opened for operation on 15 July 2004.
The project cost $650 million but not a cent was taken from the public.
It is the only privately owned public transportation system in the USA.
In 2018 it was estimated the Monorail helped eliminate 2.1 million vehicles from driving on the Strip, equalling 27 tons of CO2