Top 10 Las Vegas Restaurants

This list was put together by the editors of Las Vegas Direct, your source for getting the absolute lowest hotel rates in Vegas.
Related Guides: Top 10 Buffets, Top 10 BBQ, Top 10 Steakhouses, Top 10 Hotels,  Top 10 Spas,  Top 10 Pools, Top 10 Shopping, Top 10 Clubs, Vegas Promos
1 – Picasso
Bellagio
3600 Las Vegas Blvd. S. (Flamingo Rd.)
Las Vegas, NV 89109
702-693-8105

Famed chef Julian Serrano gave up San Francisco to be chef at this restaurant where guests are surrounded by paintings—not reprints, but $50 million worth of the real thing—by Picasso. The room is posh and serene, with vaulted ceilings, glorious floral arrangements and elegantly dressed tables set comfortably apart. Since Picasso spent much of his life in the South of France and Spain, those are the influences Serrano follows. What's on the plate is dramatically presented and delicious enough to distract your attention even from all those Picassos. Surrender to such delicacies as warm lobster salad with mangoes; langoustine pulled live from a tank, and then grilled and drizzled with porcini oil; sauted foie gras with Madeira sauce; squab breast cut into tiny slices and moistened with jus spooned from a tiny copper pot; and truffle-crusted lamb with Parmesan potatoes. In a town full of splendid fine-dining restaurants, this one is hard to top. The main reason is that its in contrast to most of Vegas other imports, which are associated with a famous chef but the famous chef himself is not necessarily cooking. At Picasso, Serrano is the guy in the kitchen. That's not the only good news, though: the lake view also makes this one of the most romantic spots in town.
2 – MICHAEL MINA
Bellagio
3600 Las Vegas Blvd. S. (Flamingo Rd.)
Las Vegas, NV 89109
702-693-8199

With chef Michael Mina in the kitchen, this elegant restaurant delivers among the very best cutting-edge cuisine on the Strip. How such pristine dishes manage to explode with flavor wows us every time. For starters, it's hard to decide among the black mussel sauted with Chardonnay, garlic and parsley; the sauted Atlantic skate with tempura langoustine, fennel pure and shellfish cream; and the seared sea scallops and domestic foie gras with rhubarb pie and red endive. Its equally difficult to pick an entre when the choices range from smoked bacon and herb-crusted turbot with fingerling potatoes, spring onions and spicy mustard sauce; and truffle butter-poached wild salmon with shrimp and pea lasagna, and summer truffles. We therefore suggest ordering a five-course tasting menu, one of which is vegetarian. That's the fastest way to acquire bliss. Among a-la-carte sweet finales are a dessert sampler, and a marbleized chocolate cheesecake. Sommeliers Caleb Dial and Joe Phillips oversee the exciting wine list.
3 – Le Cirque
Bellagio
3600 Las Vegas Blvd. S. (Flamingo Rd.)
Las Vegas, NV 89109
702-693-8100

Sirio Maccioni and sons bring their elegant ambience from New York to the Strip in this handsome mahogany-paneled restaurant complete with a lush big top designed by talented Adam Tihany. The contemporary cuisine is sophisticated and attractive, though not always up to the high quality of its New York counterpart. Always tops when offered are foie gras, risotto and petit fours or dishes like striped bass stuffed with vegetables, wrapped in lettuce and steamed in a truffle sauce. Marc Poidevin was chef de cuisine at Le Cirque in New York and takes the reigns as executive chef here and its more casual sister Osteria del Circo. He previously distinguished himself at New York's Maxims and Tavern on the Green. This is a grand setting in which to spend your winnings, and there's a view of Lake Bellagio with its water-and-light show to boot. That's a nice backdrop against which to sip any one of 400 excellent domestic and international wines.
4 – Valentino
Venetian
3355 Las Vegas Blvd. S. (Sands Ave.)
Las Vegas, NV 89109
702-414-3000

Valentino is the best Italian restaurant in Los Angeles, so Las Vegas is lucky to get this elegant cousin with its warm wood-paneled walls and several intimate dining rooms. Expect Italian dishes that you might not find elsewhere, plus excellent versions of classics: The appetizers run from lobster salad to bacon-wrapped snails with white asparagus and soft polenta. The lasagna is made with duck, the risotto with fresh-water shrimp. Main courses include the likes of Sicilian-style swordfish rolls with couscous and lamb osso buco. We highly suggest choosing one of the several-course tasting menus to make the most out of a splendid dinner here. As with the Los Angeles location, the outstanding wine list is a major attraction.
5 – Nobu
Hard Rock
4475 Paradise Rd. (Harmon Ave.)
Las Vegas, NV 89109
702-693-5090
Award-winning Nobuyuki Matsuhisa has replicated the dcor and menu of his (and Drew Nieporent and Robert DeNiros) Nobu in New Yorks trendy Tribeca. The superb sushi bar just inside the entrance seats 16. The dazzling 150-seat restaurant features bamboo pillars, wooden birch trees, a black river rock wall and a seaweed wall. Burnt ash tabletops appear to match the bamboo features, a black rock at each table setting to hold chopsticks seems to complement the black rock wall. Enjoy the mini-mountain of edamame while perusing the menu. Try the new-style sashimi (whitefish marinated in garlic, chives and ginger pure and seared in hot olive oil) created for Beverly Hills customers who prefer their fish cooked. Youll like the tuna tataki with ponzu, a South American-inspired salsa. The specialty of the house is black cod with miso (a sweet mirin sak sauce) served in butter-lettuce cups topped with an edible flower and garnished with grated daikon. For dessert, try Nobus Asian pear bread pudding with ginger ice cream and brandy caramel sauce.
6 – CUT
Palazzo
3325 Las Vegas Blvd. S. (Sands Ave.)
Las Vegas, NV 89109
702-607-6300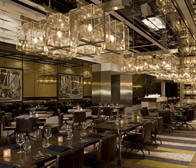 Either by accident or excellent planning the Palazzo Hotel managed to have possibly the two best steakhouses in the United States. Carnevino is one, and CUT is the other. 
The steakhouse is a creation of Wolfgang Puck. He has taken his chic Beverly Hills steakhouse concept and moved it to Las Vegas. Judging from the critical acclaim of the New York Times, Los Angeles Times, Wall Street Journal, Wine Spectator and Bon Appetite Magazine he has certainly succeeded.
The physical layout of the restaurant is such that it presents an elegant chic departure from a standard steakhouse. Cut can seat 160 patrons and an additional 60 in the well stocked bar-lounge.
Within the bounds of this steak lovers paradise you will find an interesting variety of beef. There is true Kobe beef from Japan, hormone free corn fed sirloin from Nebraska and 35 day dry aged beef from Illinois.
A 20 oz bone in rib eye as well as a 20 oz bone in New York Sirloin are available in different varieties of beef such as Kobe or Nebraska. Some of their other steaks are also available in different cuts. Porterhouse and filet mignon are of course on the menu. Cut also lists Pork Chops, Lamb Chops, Slow roasted Kobe beef short ribs, Salmon and Lobster as menu items.
The steaks are prepared by grilling over hardwood and charcoal and then finished in a 1200 degree broiler. We really enjoyed the Kobe steak (one of the only places in Vegas that has real Japanese Kobe) prepared both sashimi style and cooked to perfection, bone marrow flan which was rich and buttery, the maple glazed pork belly (melt-in-your-mouth good), and The American Wagyu steak.
There is an extensive starter menu with some very exotic salads. I must admit that I miss plain old lettuce and tomatoes. Cut has an excellent collection of side dishes to go with their steaks. For those of us who enjoy French Fries and Onion Rings Mr. Puck still has them on the menu…
7 – Joel Robuchon
MGM Grand
3799 Las Vegas Blvd. S. 
Las Vegas, NV 89109
702-891-792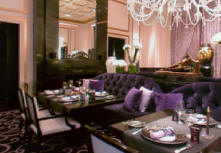 Let's start with the credentials that make this a top restaurant: First and Only 3 Star Michelin Guide Winner in Las Vegas Forbes Five Star Award Winner AAA 5 Diamond Award Winner "Chef of the Century" Joel Robuchon The only Joel Robuchon fine dining restaurant in the U.S. Wine Spectator Grand Award Winner.
Limited seating creates the intimacy one can only expect from Joel Robuchon. Guests can choose from the multi-course tasting menus or order a la carte. Specialties include Le Caviar, a trio dish of thin couscous and Oscetra caviar, smooth cauliflower cream, and delicate gel of green asparagus. If you can't decide what to order, go for the 16 course tasting menu (it sounds like it would be too much, but the portions are mostly bite sized). They have wonderful foie gras. Robuchon branded caviar over Dungeness crab is a match made in heaven. Yes, the prices are obscene, but well worth it.
8 – SW Steakhouse
Wynn Las Vegas
3131 Las Vegas Blvd. S. 
Las Vegas, NV 89109
702-770-3463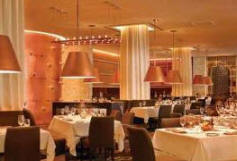 SW Steakhouse bares the initials of the founder of Wynn Resorts, Steve Wynn. This explains why everything about it is first class. Two things make a restaurant great, food and decor. SW does well in both departments. The food is excellent while the decor is elegant and romantic.
Just a quick word about their food. Unlike some pricey restaurants the dishes served are what you would call American Basic and not covered over with a lot of strange sauces. There are some reviewers who feel that SW is too big and seats to many patrons. But even they agree it is an excellent restaurant. Just outside SW and visible from 
inside, is the Lake of Dreams. It has a fountain show that is breath taking to watch and adds to the pleasure of the evening.
There are many steakhouse lovers who just as soon start and end dinner with a steak. However to avoid the possibility of a disapproving look from your more health minded dining companion SW has an excellent starter menu with salads ranging from baby iceberg lettuce to a glorious Caesar salad. For those of you who are not lettuce fanciers, among the many starter selections you will find crab-cakes and grilled hearts of palm
Here are some of the wonderful offerings on the beef menu. Bone in
Rib eye 20oz, New York Strip 16oz, Bone in New York 18oz, Porterhouse for two 40oz. The main course menu also features such dishes as Scallops, seared Tuna, Salmon Fillets, Chicken, Lamb Chops and Short Ribs.
Numerous side dishes to go with steak are available including crab-legs and lobster. There is a limited desert menu consisting of chocolate sauted with cherries and whip cream.
9 – Aureole
Mandalay Bay
3950 Las Vegas Blvd. S. (Tropicana Ave.)
Las Vegas, NV 89119
702-632-7401

Dine here just to see the unique four-story "wine tower," which showgirl-pretty wine "angels" ascend with the help of cables and pulleys to choose your trophy bottle. The sleek Adam Tihany decor with lots of water and glass and sophisticated blacks and whites will make you feel like a winner. So will the contemporary cuisine by Charlie Palmer (of New York Aureole fame), with chef Robert Kirchoff. The changing menu features such upscale comfort-food dishes as shell steak with caramelized onion-potato tart. A pepper-seared tuna arrives with green-onion risotto, and the popular filet mignon often is accompanied by a marrow and parsley custard. Choosing dessert may be difficult—the chocolate torte with a warm liquid center and coffee Kahlua ice cream is tempting but wouldn't it be fun to order one of the notable dessert wines and watch the "angel" rappel the tower with your choice?
10 – Spago
Forum Shops at Caesars Palace
3500 Las Vegas Blvd. S. (Flamingo Rd.)
Las Vegas, NV 89109
702-369-6300

The first of the fine-dining imports to come to Vegas from elsewhere, Wolfgang Puck's Spago is still one of the best. Modern art adorns the multilevel high-ceilinged space where there's always a buzz. Though Wolfgang himself is known to pop in to man the stoves, his protégé and executive partner here, David Robins, turns out reliable and sophisticated fare in the Puck tradition. We're always happy with such dishes as buttery-sweet foie gras two ways; steamed black grouper with spring fennel ravioli; baby spinach and truffle butter; and tender grilled lamb chops with a Provincial tart. Greg Harrington knows his way around the excellent wine list from which you can choose many bottles to splurge on after winning at the slots. The front cafe is good for casual, no-reservations dining.