Complete Guide to Celebrating New Year's in Las Vegas (2023-2024)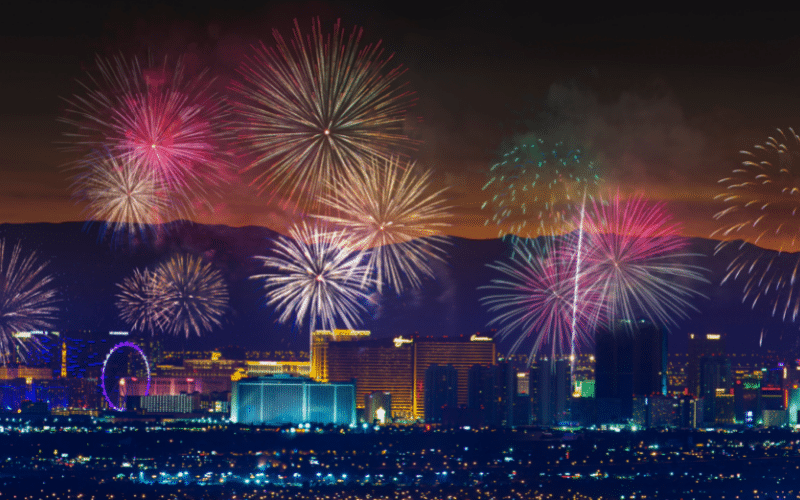 We may receive a commission if you make a purchase.
Thinking of ringing in the New Year in Las Vegas? You're not the only one. People from all over the country flock in to celebrate New Year's in Vegas because… well, this city really knows how to throw a party. New Year's celebrations in Vegas are second only to Times Square in New York City – the turnout for watching the New Year's fireworks on the Strip was approximately 400,000 people.
If you don't want to end up lost in a sea of people on the Strip, you'll want to plan out your Las Vegas New Year's experience ahead of time. That's why we put together this ultimate guide to celebrating New Year's in Las Vegas. From where to stay to where the absolute best New Year's Eve parties are going to be, we've got you covered.
CONTENTS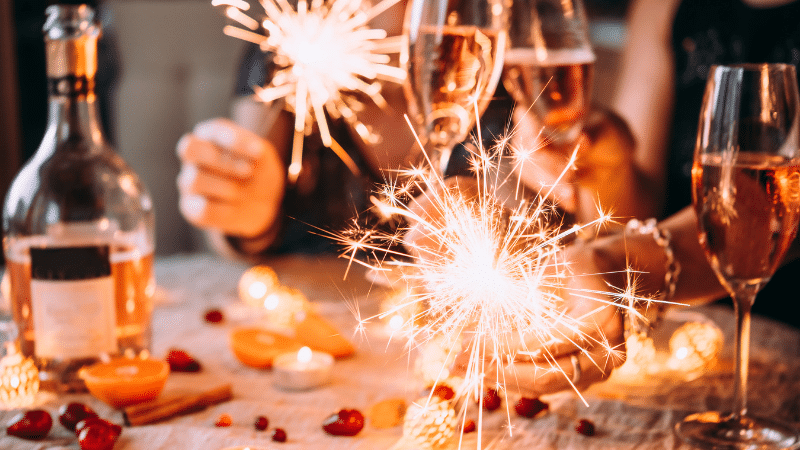 7 Tips for Enjoying New Year's in Las Vegas
We put together these quick tips so that you can have the best possible New Year's Eve in Vegas.
1. Wear Warm Clothes
It's Vegas, right? But late December weather in Las Vegas gets surprisingly chilly, and you don't want that to ruin your night. The average low on New Year's Eve is 39 degrees Fahrenheit, but it can get even colder than that. Dress appropriately: wear a jacket, a winter hat, a scarf and gloves just to be sure you'll be warm and cozy.
2. Get to the Strip Early
With hundreds of thousands of people heading to the Strip on the same night, traffic gets ridiculously congested. To avoid sitting in a traffic jam, it's a good idea to make your way there early on (we're talking as early as 5pm). This will also give you a chance to seek out and secure the best spot you can for watching the fireworks.
3. Don't Drink and Drive
If you think it's fine to have a couple drinks and then drive to your New Year's party, think again. On New Year's Eve, Vegas is swarming with police on the lookout for drunk drivers, and they have roadblocks on all the main artery streets that lead to the Strip. You don't want to spend the beginning of 2022 sitting in a jail cell, now do you?
4. Actually, Don't Drive at All
When you factor in the traffic jams and shortage of parking, it's a good idea to leave the rental car at your hotel. If you're in comfortable walking distance of the Strip, that's your best bet for getting there. Taking a rideshare is an option, but you'll find that there aren't enough drivers available as it gets later at night. There's also the Las Vegas monorail that runs regularly, but it is normally packed with passengers.
5. There Are Other Options than the Strip
If you're up for something different, head to Downtown Vegas for New Year's Eve. This is the original, old-school Vegas and it's where the locals go to ring in the New Year (that's a good sign). The Fremont Street Experience is a pedestrian promenade that could be likened to a wild circus, with live music, open-air bars with dancing girls, and a ceiling that's the largest LED screen in the universe. Be aware: there's going to be a ticketed event there on New Year's Eve.
6. Know What NOT to Bring with You
There are restrictions when it comes to what you can bring to the Strip and Downtown on New Year's Eve. Here's what to leave behind at the hotel:
Metal and glass containers
Large bags or purses larger than 12" x 6" x 12"
Strollers and wheelchairs
Marijuana
Firearms ("celebratory gunfire" is highly illegal)
7. Make Reservations and Buy Tickets As Soon As Possible
Hotels sell out very quickly for New Year's Eve weekend, so you need to make hotel reservations as early as you can to avoid astronomically high rates and sold-out rooms. Restaurant reservations are very necessary to make ahead of time in Vegas, even on normal nights. And be sure to get your tickets to the New Year's Eve party you want to be at.
---
Amazing Vegas Hotel Suites for Celebrating New Year's
If you're going to Vegas for New Year's with a group of friends, it's great to book a fancy hotel suite where you can hang out and relax before and after the wild festivities. Las Vegas hotel prices are amazingly affordable, so you can get a luxurious suite for the price that a normal hotel room would be in other cities. Here are some of our favorites.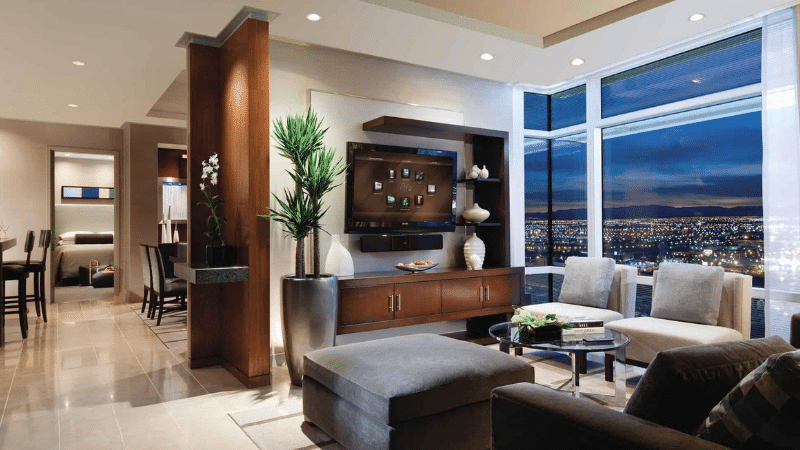 If you want one of the most luxurious suites in Las Vegas, the 5 star Sky Suites Two Bedroom Penthouse at Aria is a great choice. This 2,060 square foot suite is on the top floors of the hotel, and is beautifully modern and sleek in design. Floor-to-ceiling windows give you a stunning view of the Las Vegas Valley and the desert mountains beyond. With a king bed in each room, this suite can comfortably sleep 6 guests.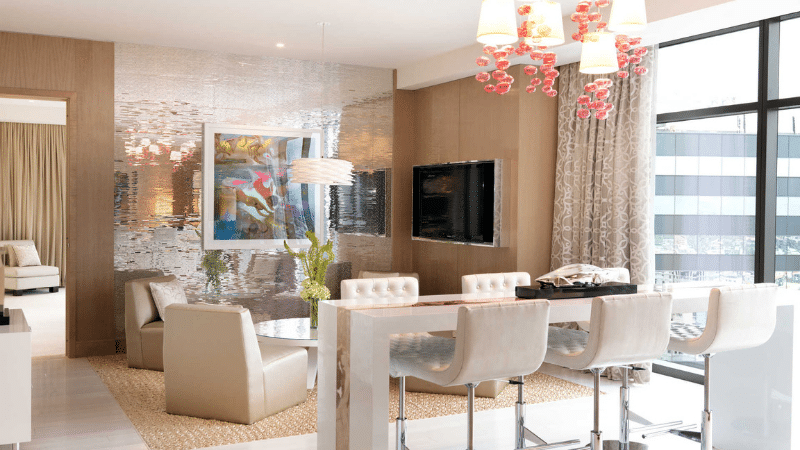 This extravagant penthouse suite at the chic Cosmopolitan Hotel is the height of luxury. At 2,400 square feet in size, you'll have floor-to-ceiling windows with panoramic views of the sparkling city lights. Crisp white and opulent gold furnishings and décor, as well as touches like crystal-encrusted wall textures, will make you feel like royalty. It is available as a 2 bedroom (which can sleep up to 4 guests) or a 3 bedroom (which can sleep up to 8 guests).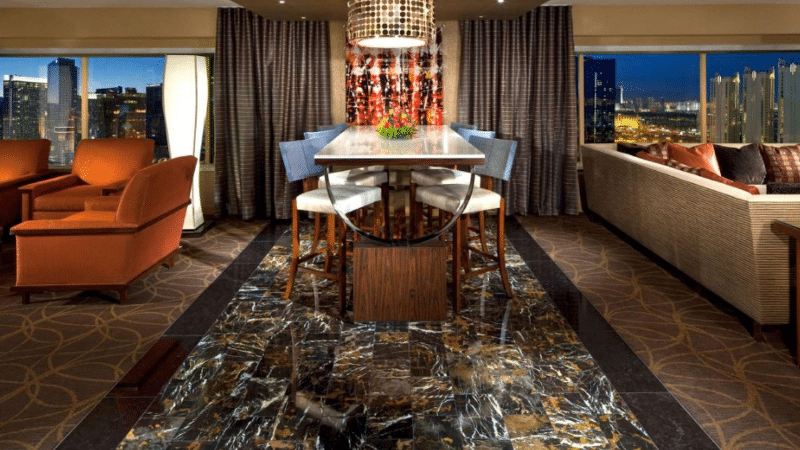 You'll have a sweeping 180-degree view of the Las Vegas Strip from this glamorous 1,500 square foot Skyline Marquee Suite at MGM Grand. The open living space features a dining area, wet bar and 2 comfortable sitting areas – the perfect layout for entertaining. 2 master bedrooms, each with their own bathroom, are separated by a grand foyer. One of the bathrooms features a whirlpool spa tub. With a king bed in each bedroom, this suite can sleep up to 4 guests.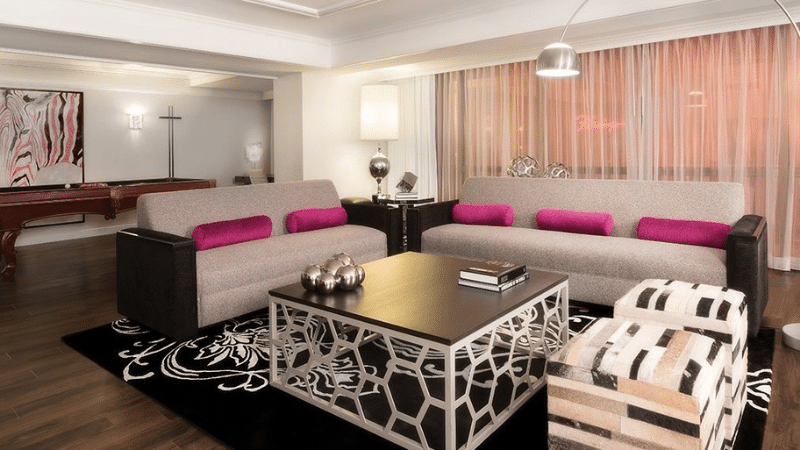 Forever Fab Suite at the Flamingo
This fabulous suite at the Flamingo is perfect for the girls! With bright pops of pink, it has a very girly vibe. The 1,400 square foot space includes a combined dining and living room, a wet bar and 1.5 bathrooms. Your suite comes with either a pool table or a foosball table. The separate bedroom has a lavish white stone bathroom. There is just 1 king bed in the Forever Fab Suite, but you can reserve a connecting room to expand it into 2 bedrooms.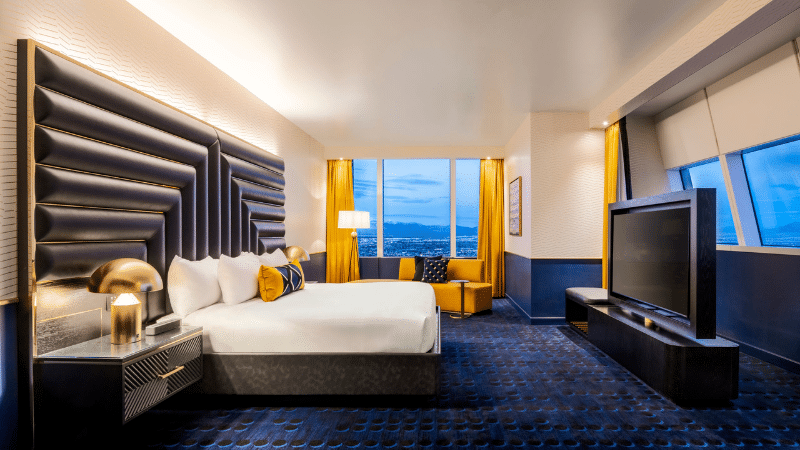 If you prefer to stay in Downtown Las Vegas, the ultra-stylish Circa hotel is a great choice – and what better way to start your new year in Vegas than to watch one of our majestic sunrises from the Panoramic Sunrise Suite. This premium suite is 1,187 square feet, furnished and decorated in a style that harks back to the golden years of Vegas. It features a living room, dining room, a bar area with a TV, and a panoramic view over the city. The separate bedroom has 1 king bed, but because of the pullout sofa bed this suite can comfortably sleep 4.
---
Where to Have a Delicious New Year's Eve Meal
Some of the best restaurants in Las Vegas are offering exquisite menus created just for New Year's Eve. Here are some of our favorites.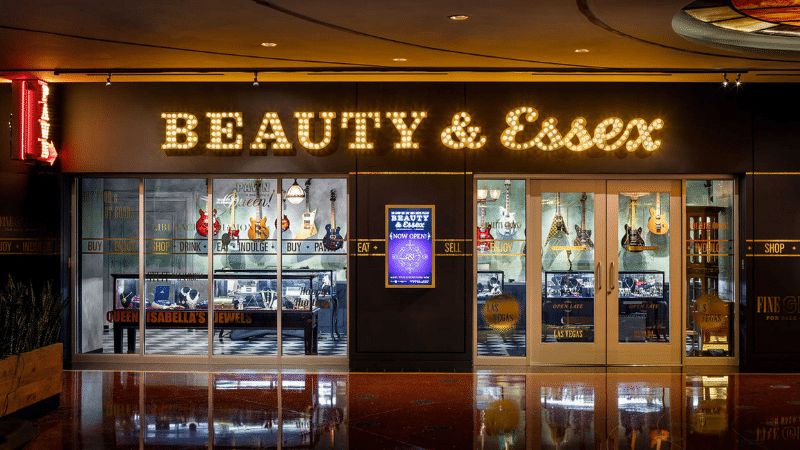 This classy restaurant at the Cosmopolitan is an unexpected combination of things: Beauty & Essex is a pawn shop and an upscale dining experience in one. Chef Chris Santos has brought New York City flavor to Vegas, with a menu of shareable plates and fine wines.
Their New Year's Eve pre fixe menu last year included delectable dishes like Kumamoto Oysters; American Wagyu Steak Tartare on Toast; Lobster Tempura; Grilled Double Cut Lamb Chop; and Truffle Fries.
Welcome the New Year at midnight with a champagne toast. As an added bonus, all guests with dinner reservations will get free entry to Marquee Nightclub after midnight.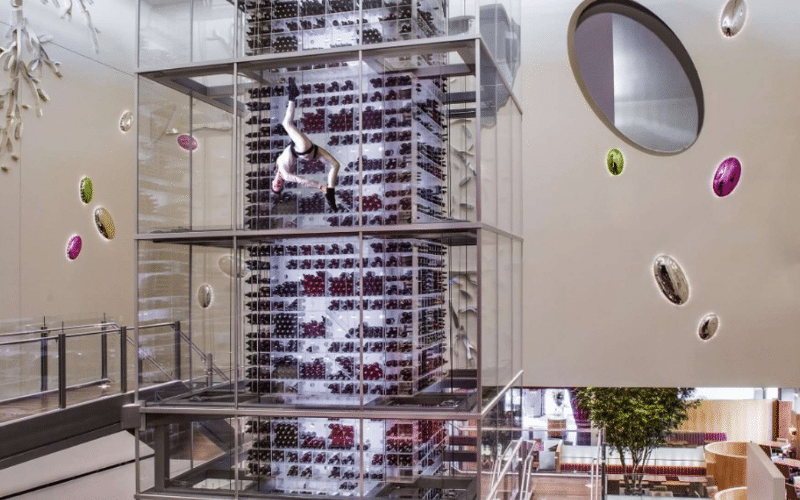 Wine-lovers will be in heaven when dining at Aureole, located at Mandalay Bay. Fine dining seasonal American cuisine is paired with wines selected from a 4-story climate controlled wine tower.
On New Year's Eve, Aureole is offering a 9-course pre-fixe grand tasting menu. Start your dinner with oysters and caviar, and savor exquisite dishes like Lobster Ravioli, Hokkaido Scallop, and Dry Aged Mishima Ribeye.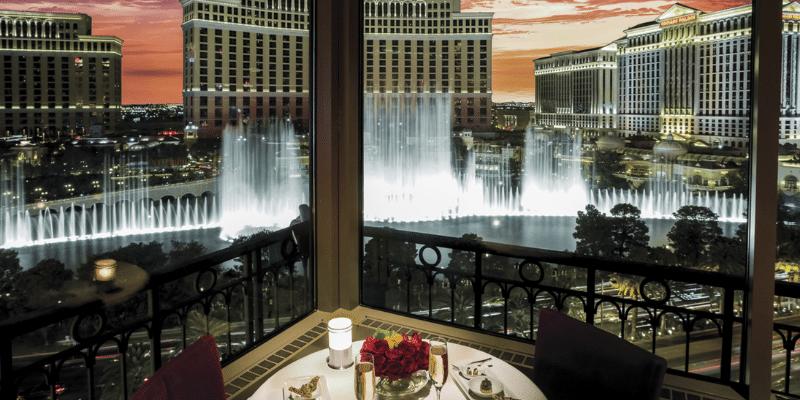 If you're looking for a romantic dining experience for New Year's Eve, look no further than the Eiffel Tower Restaurant. Located at the top of Paris Las Vegas' replica of the French tower, you'll have a sweeping view of the Las Vegas Strip and the Fountains of Bellagio while you enjoy elegant French cuisine.
Chef Joho has prepared a New Year's Eve multi-course dinner menu that will blow you away. Dishes will include Truffled Egg Custard; Chilled Lobster à la Marseillaise; and Prime Filet Mignon with Shortrib Raviolo and Royal Trumpet Mushrooms.
Choose from 4 seating times for the evening, with Gala seating for ringing in the New Year – think champagne toasts, live music, and one of the best views of the fireworks over the Las Vegas Strip.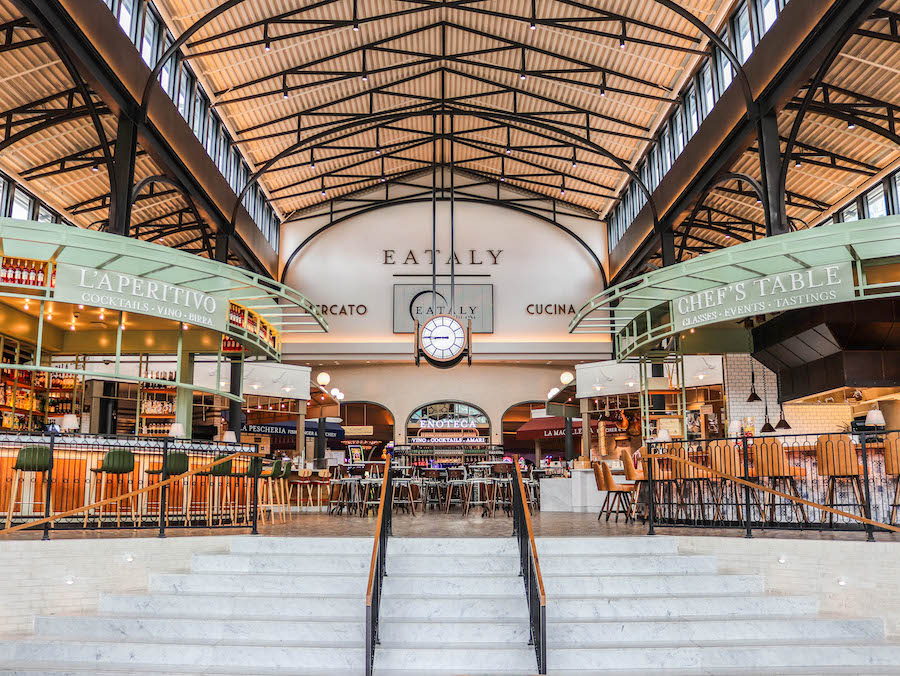 Ring in the New Year at the largest Italian market with restaurants in the world: Eataly at Park MGM. Toscana Ristorante is offering an exclusive 4-course or 5-course prix fixe dinner on December 31st, with luxurious selections like Caviar e Burrata and Carpaccio di Manzo e Tartufo. The special menu includes house made pasta dishes, 8 oz Filet with Black Truffle sauce, and Pan Seared Scallops with Black Truffle Vinaigrette.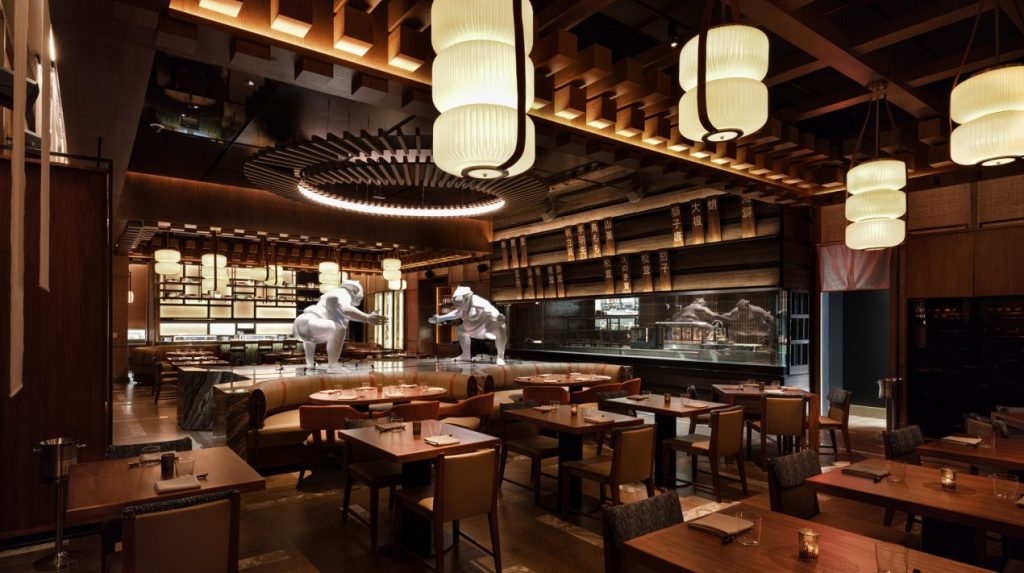 This exceptional restaurant at The Venetian serves high-end, modern takes on traditional Japanese cuisine. Two-Michelin-starred chef Tetsuya Wakuda sources the freshest seafood from around the world to prepare what's arguably Las Vegas' finest sushi.
On New Year's Eve, Wakuda will be offering a 10-course dining experience. The tasting menu includes mouthwatering delicacies like Lobster Tempura with curry salt and shiso, and Japanese A5 Wagyu.
---
The Hottest Vegas Nightclubs to Ring in the New Year
Note: The information below is from Last Year (2022-2023). We will update this section once we have more info for 2023-2024. Use it as a general guide for what to expect.
Las Vegas is home to some of the hottest nightclubs on the planet, and they are even more pumping on New Year's Eve. If you want to hit a club while you're in Vegas, here are the ones you've got to check out.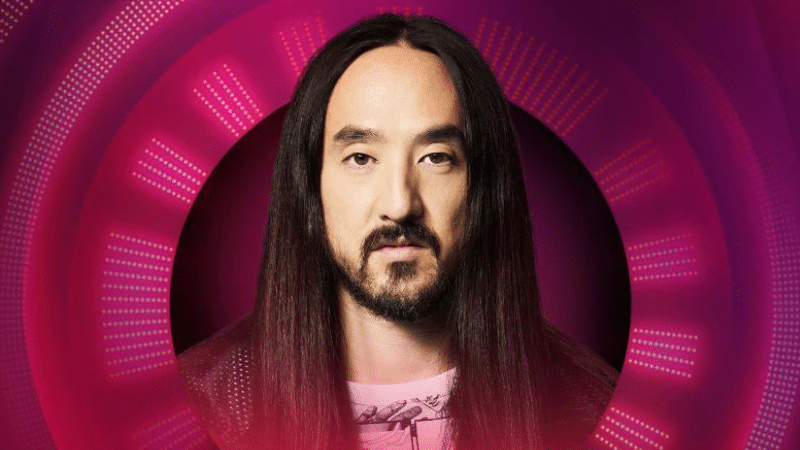 Omnia at Caesars Palace is one of our top 10 favorite Las Vegas nightclubs. From the moment you walk in, you'll be in awe of the pumping energy, the killer sound system, and the gigantic kinetic chandelier hanging above the dance floor. The chandelier is lit up with LED displays and video elements that move in time with the dance music.
On New Year's Eve 2023, Steve Aoki is taking center stage at Omnia. The EDM DJ has made a name for himself as a Vegas legend, and he puts on one heck of a show. His music is fun and upbeat, making for the perfect festive vibe for ringing in the New Year.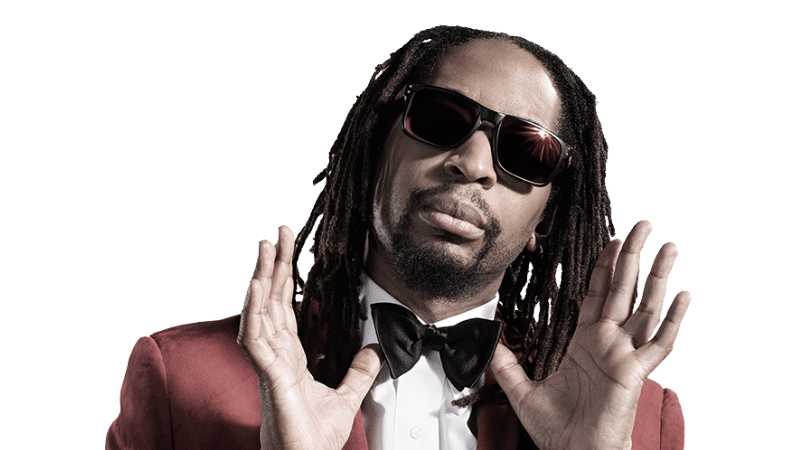 The opulent Jewel Nightclub, located at the Aria, is always a wild night out – and it's set to be even more extravagant on New Year's Eve. This nightclub is visually stunning, with ribbons of LED lights framing the walls that change in time with the music, and an amazing LED stage. We love their plush VIP seating, which you can reserve for an extra cost.
This New Year's Eve, legendary crunk hip-hop DJ Lil Jon is going to be taking over the club, and there's sure to be champagne bottles popping and tabletop dancing. Arrive early and enjoy the open bar from 9pm to 11pm. That's right – 2 hours of free drinks!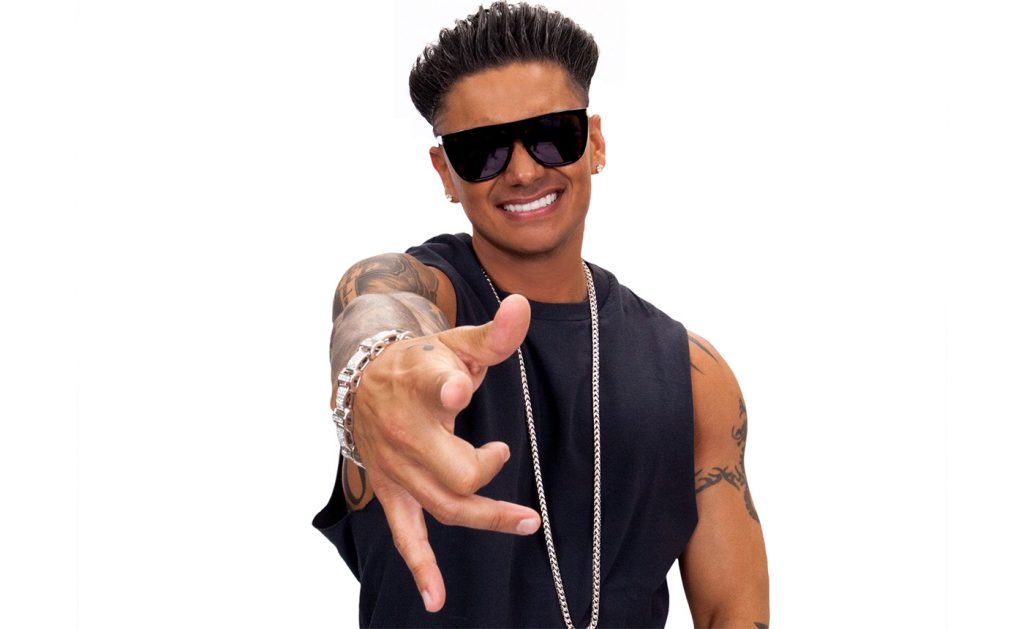 Inside the trendy Cosmopolitan is one of the top nightclubs in Vegas, Marquee. This club is 60,000 square feet in size, consisting of 3 luxurious rooms, each with a different experience. DJs perform on a 40 foot LED DJ booth with a state-of-the art sound system.
Reality TV star-turned-DJ has been included on Forbes Magazine's "World's Highest Paid DJs" list – and for good reason. He has performed alongside Britney Spears and Nicki Minaj, and this New Year's Eve he's bringing the party to Marquee.
Tao Nightclub, located at The Venetian, is an Asian-inspired club that is one of the oldest and most popular in Vegas. With multiple rooms filled with Asian décor, as well as a 40 foot balcony that looks over the Las Vegas Strip, this nightclub is known by celebrities as the place to be.
Tao throws down an amazing New Year's party every year. The superstar rapper O.T. Genasis will be performing at this year's countdown party and it's set to get wild. There will be a 2 hour open bar, great hip-hop music and dancing – what more could you want?
---
The Best New Year's Eve Parties in Vegas 2023 – 2024
Note: The information below is from Last Year (2022-2023). However, it should give you an idea of what to expect for 2023 – 2024. We will update this section once more info is available.

If celebrating New Year's Eve in a nightclub isn't your idea of a good time, there are other amazing parties to go to. Here are the ones that you won't want to miss.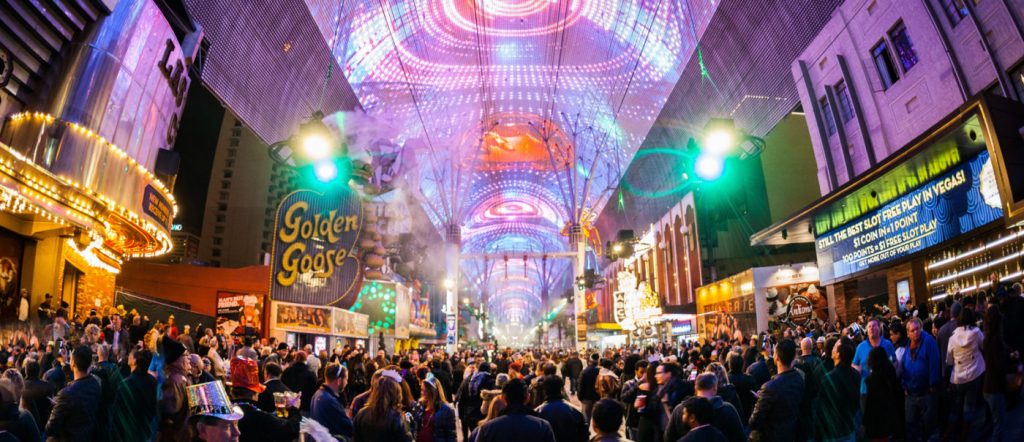 On a normal night of the week, Fremont Street Experience is an over-the-top party. On New Year's Eve it's the epicenter of all celebrations going on in Downtown Las Vegas. To ring in 2023, the Fremont Street Experience is holding an exciting event featuring live performances from legendary bands Bush, The STRUTS, Sugar Ray, and The Wailers Featuring Julian Marley.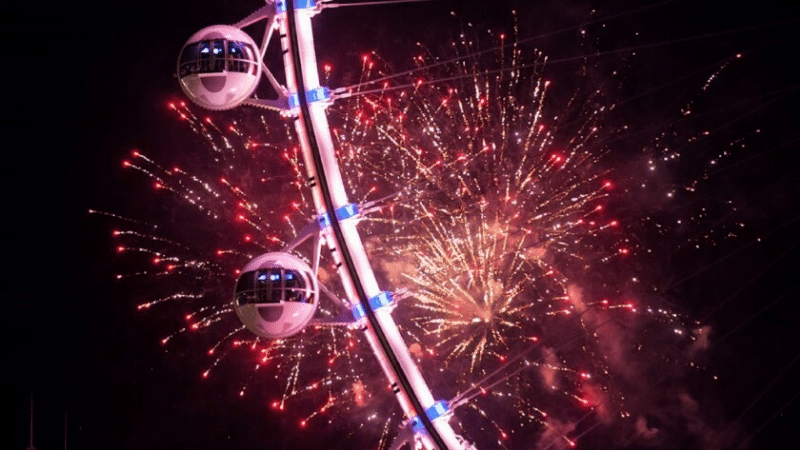 High Roller New Year's Eve
Want to get really high on New Year's Eve? Climb aboard one of the comfortable pod cabins on the High Roller, the world's tallest observation wheel. From 550 feet up above the Las Vegas Strip, you'll be able to watch the city light up with fireworks at midnight. Your New Year's Eve ticket includes free champagne at midnight, and New Year's entertainment in your 40-person cabin.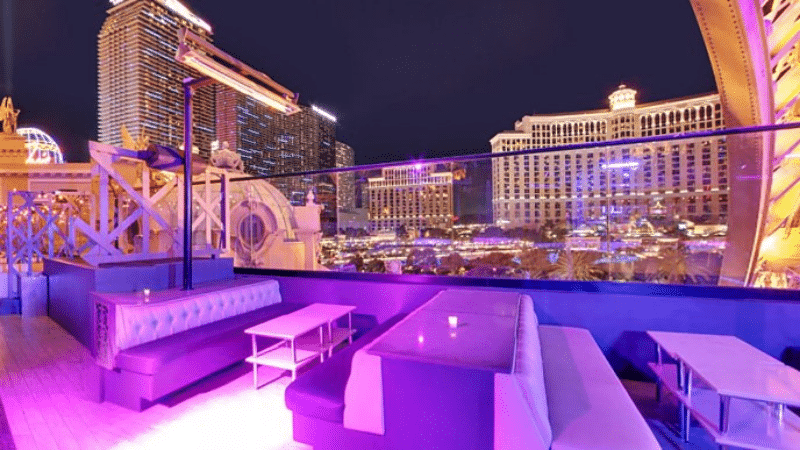 New Year's Eve at Beer Park and Chateau
Ring in the new year underneath Vegas' own Eiffel Tower replica. You can choose to party on the rooftop of either Beer Park or Chateau Nightclub, both of which have an exceptional view of the Strip for watching the midnight fireworks. Admission comes with access to an open bar and free champagne at midnight.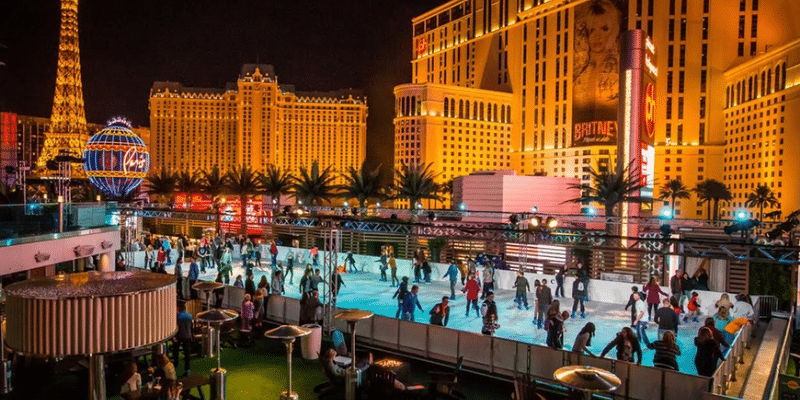 The ice rink at the Cosmopolitan is a wintertime activity you need to add to your Vegas itinerary. The Boulevard Pool turns into 4,200 square feet of real ice, and what a view! This open-air pool area looks out over the Las Vegas Strip from high above. Admission to the New Year's Eve celebrations includes an open bar and a champagne toast at midnight.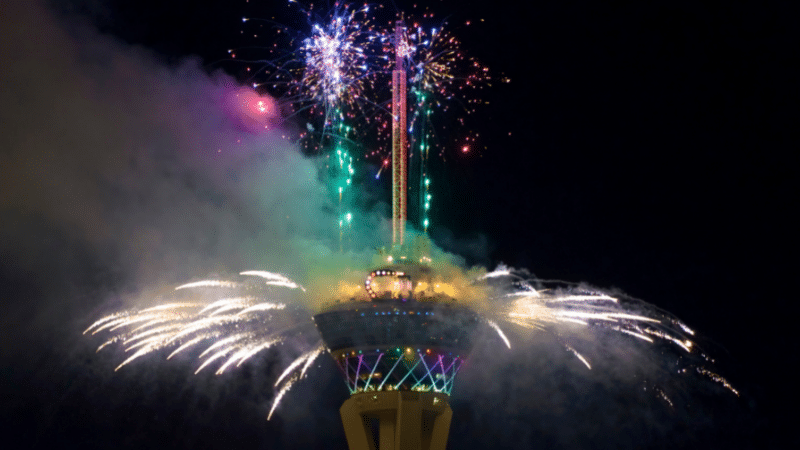 108 Party in the Sky
The Stratosphere observation tower is the tallest in the country, and an iconic part of the Vegas Skyline. Party into the new year 1,149 feet up in the air with The Strat's New Year's Party. The observation deck will become a party with open bars, food stations from around the world, live music, and one of the best possible views you can get of the fireworks over Las Vegas.