Top 10 Las Vegas Pools (2023)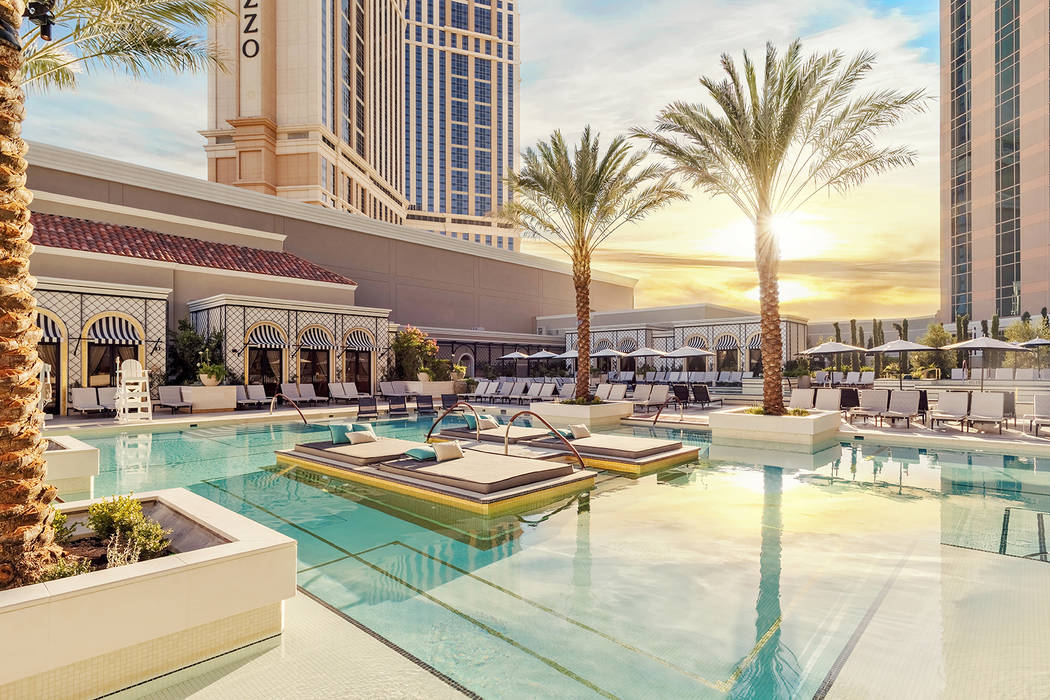 We may receive a commission if you make a purchase.
Las Vegas heat is no joke. With temperatures reaching up to 120 degrees in the Summer time, it's no wonder that pools here in Vegas are a necessary part of life. There are so many pools to choose from in Las Vegas, but there are some that stand out as truly amazing. From man-made beaches complete with sand and waves, to waterslides that go through shark tanks, this town has some of the most epic pools in the world. And then there are the pool parties (or dayclubs as we call them in Vegas). We'll cover those for you too, but we actually have a whole article dedicated to the best dayclubs in Vegas. So when you need to cool off from the heat of exploring the Strip, this is our list of the top 10 pools in Las Vegas.
---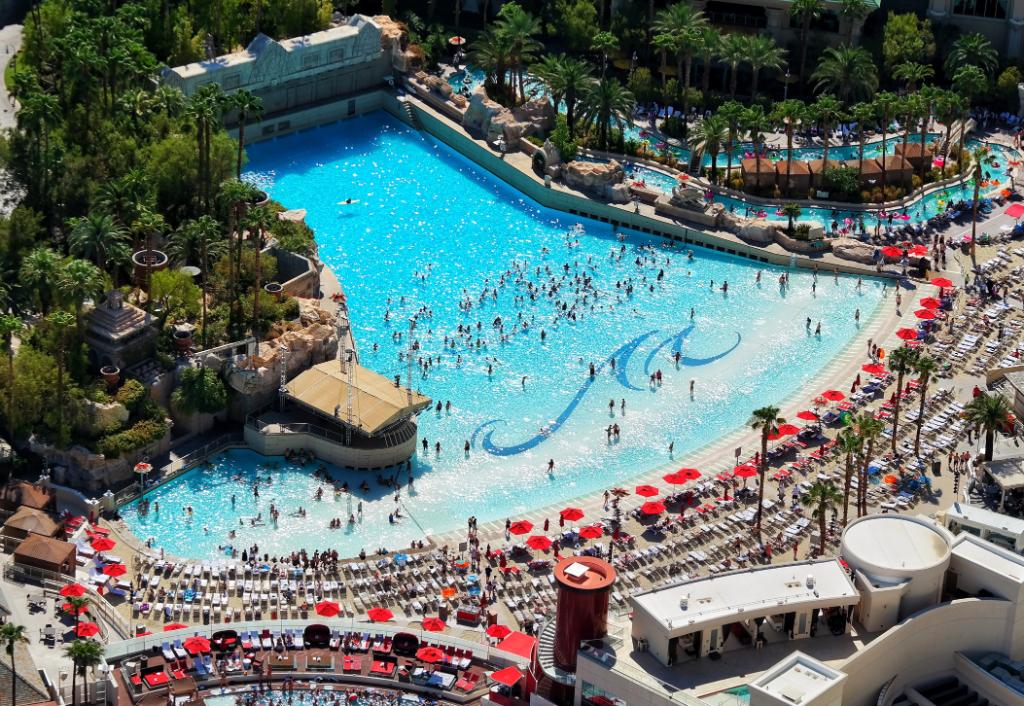 If you want to spend a day at the beach, don't let being in the middle of the desert hold you back! Mandalay Bay Beach, located at Mandalay Bay Resort and Casino, is an 11 acre aquatic playground of simulated beach experiences. With 2,700 tons of real sand to lounge on and a 1.6 million gallon wave pool, it's no wonder it was named "one of the best pools in the US" by TripAdvisor. Float down a glistening lazy river, luxuriate in a lagoon, or play in the waves… It's your choice. For the best experience, reserve one of their cabanas or bungalows where you can retreat to between swims.

Tucked away from the Beach there's a separate, exclusive experience for adults only. Moorea Beach Club gives guests a private, upscale day at the pool, with beautiful views looking over the Beach, its own heated pool, as well as cabanas and pavilions removed from the main action. For the ultimate in luxury, the Moorea's Grand Villa Bungalow features its own private deck with a sweeping view of the complex, and a roof top pool.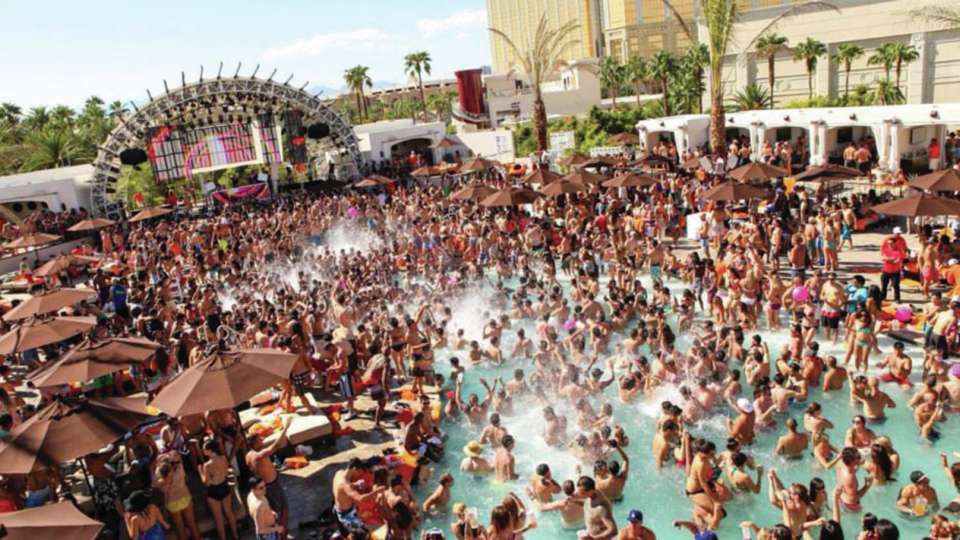 Mandalay Bay Beach is also home to Daylight Beach Club, one of the hottest dayclubs in Las Vegas. What's a dayclub? Well, picture a nightclub… then picture it during the day, in a pool, with much less clothing on. Daylight is the recipe for a wild day of fun in the sun, while staying cool in the wave pool. There are regular performances from some of the biggest top 40 artists and rappers, on a giant stage with a cutting edge sound system.
---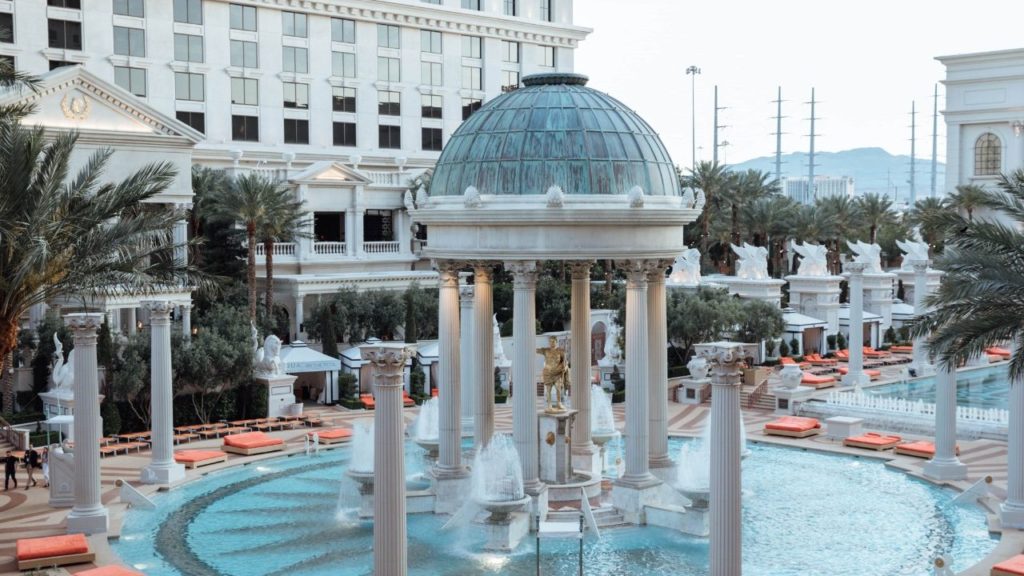 Located at Caesar's Palace Resort & Casino, this gigantic 4.5 acre pool complex has 7 different pools with their own unique experiences. If you're in the mood for relaxing in the lap of luxury, we recommend reserving a cabana or daybed at the Temple Pool. This is the most iconic Caesar's Palace pool with its statues of gods and shimmering waterfalls. You can get a deep tissue massage from Qua Spa (one of our top 10 spas in Las Vegas) in the comfort of your cabana or daybed.
There's lots of family fun to be had at the Apollo Pool, a casual pool with a BBQ grill and a turf lawn with games. And there's a pool that's exclusively for kids: the Jupiter Pool, with life sized games, bubbles, and themed floaties. On the weekends you'll find a variety of activities for the kids to enjoy.
In the mood for something a bit wilder? The Neptune Pool, the complex's largest pool, is the ultimate place to start out your Vegas weekend. Picture yourself on a floaty, sipping on a drink and listening to a DJ on a great sound system. There's the Fortuna Pool, where you can play a game of blackjack without leaving the water! Or you can reserve one of the ultra-exclusive cabanas at the Bacchus Pool, where you might just spot a celebrity or 2.
---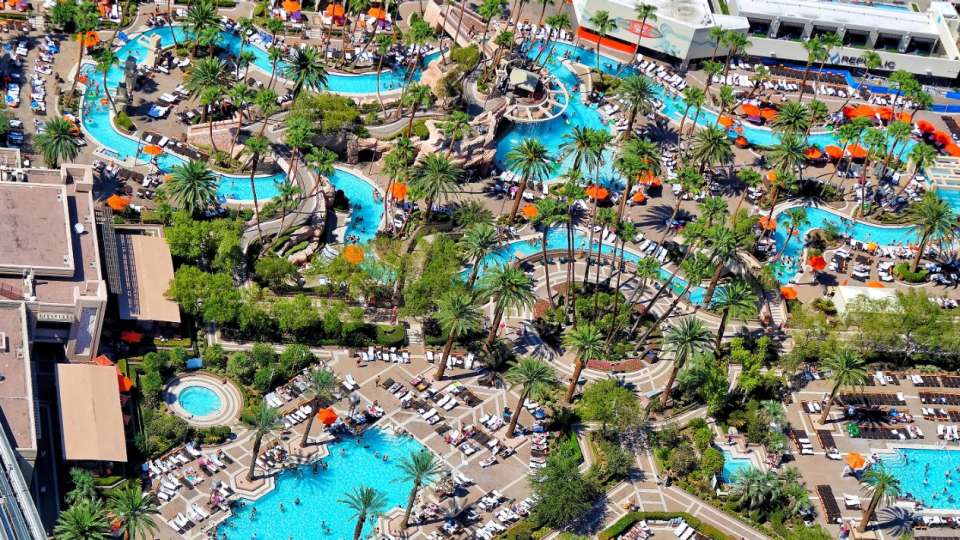 Stretching over 6.5 acres at MGM Grand, this is one of the largest and most popular pool complexes in Las Vegas. Here you'll find 4 pools, 3 whirlpools, and a legendary lazy river that stretches forever. Enjoy a relaxing poolside massage, surrounded by cascading waterfalls. Sip on a cocktail from one of their 5 bars, or savor a delicious bite to eat at the Cabana Grill. The cabanas at Grand Pool Complex offer private patios, awesome views overlooking the pools, as well as personalized bottle and food service and flat screen TVs.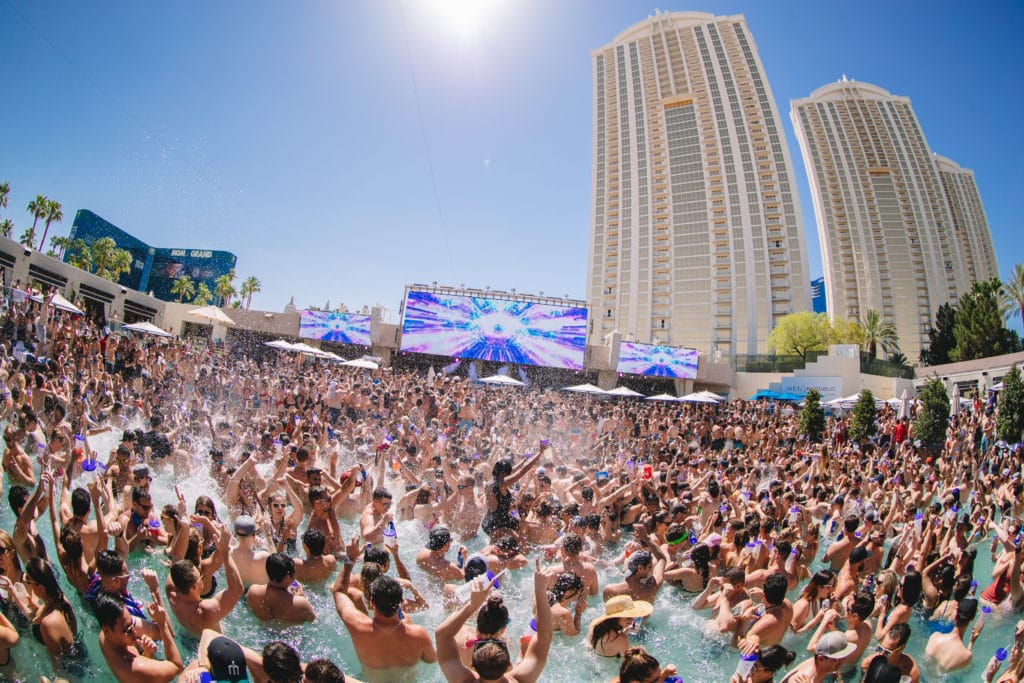 Their Wet Republic Ultra Pool is one of Las Vegas' best dayclubs, which recently underwent a multi-million dollar renovation. Here you can swim while your favorite EDM Djs (like Tiesto, Steve Aoki and Zedd) spin on a state of the art sound system. Wet Republic boasts some of the lushest bungalows at any pool party, with private plunge pools, oversized personal Jacuzzis and misting fans. If you'd rather mingle with the crowd, the 2,500 square-foot open-air lounge is a great place to people watch.
---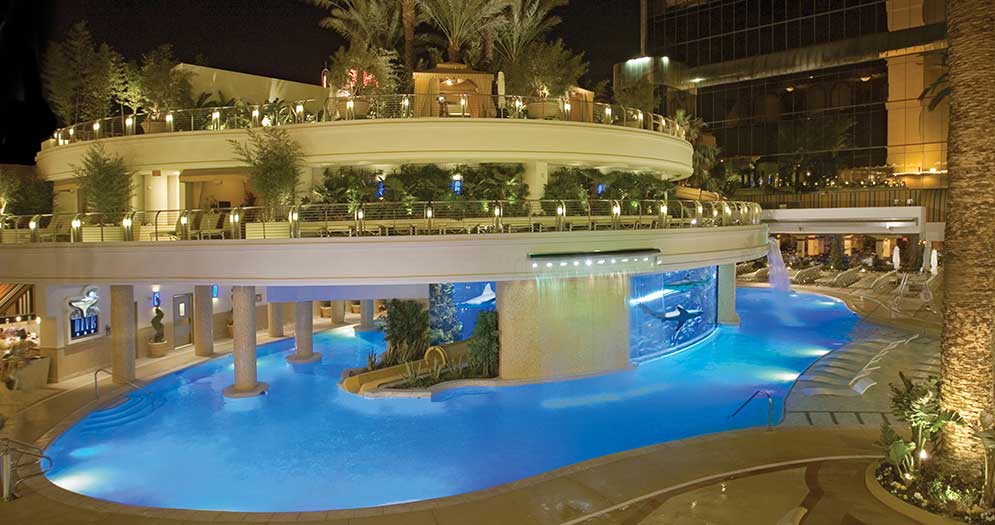 CNN Travel named this one amongst "America's Most Amazing Hotel Pools". The $30 million pool at Gold Nugget is lovingly called The Tank for a reason. It's the 200,000-gallon shark aquarium that sits in the center of the pool complex. You can swim right next to the sharks, or if you feel particularly bold, you can take the plunge and rush down a waterslide that goes right through the shark tank. If relaxing is more your style, there are exquisite waterfalls to sit beneath while enjoying a specialty drink from the H2O bar, and there are 17 lush private cabanas to stretch out in.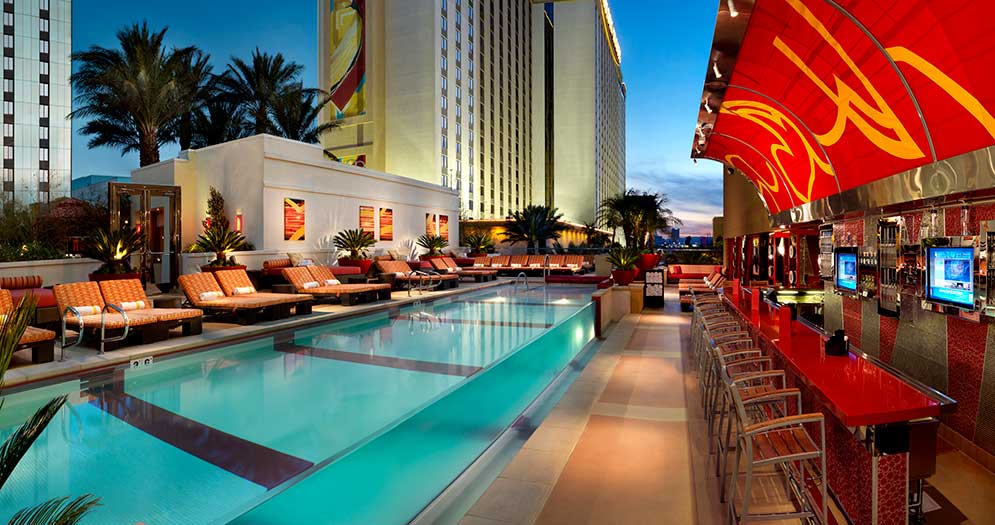 On the 3rd floor of this 3-story pool complex is The Hideout, an exclusive pool experience for guests aged 21 and up. This secluded paradise features an infinity pool, gorgeous poolside cabanas and the Hideout Bar. The red and gold décor and the more ambient vibe make this adults-only pool a luxurious haven.
---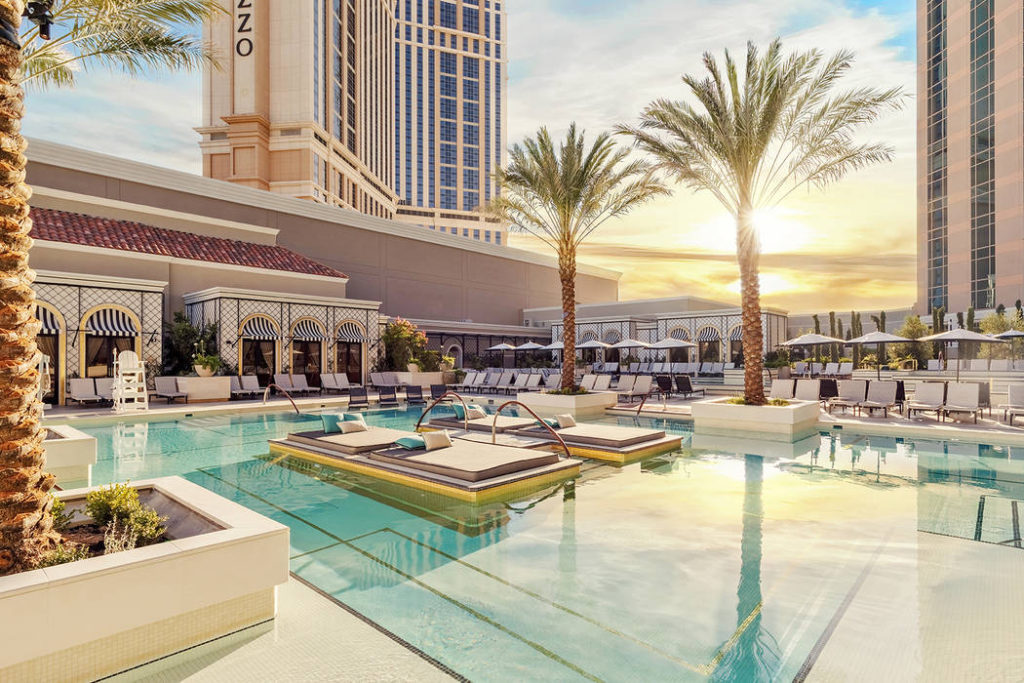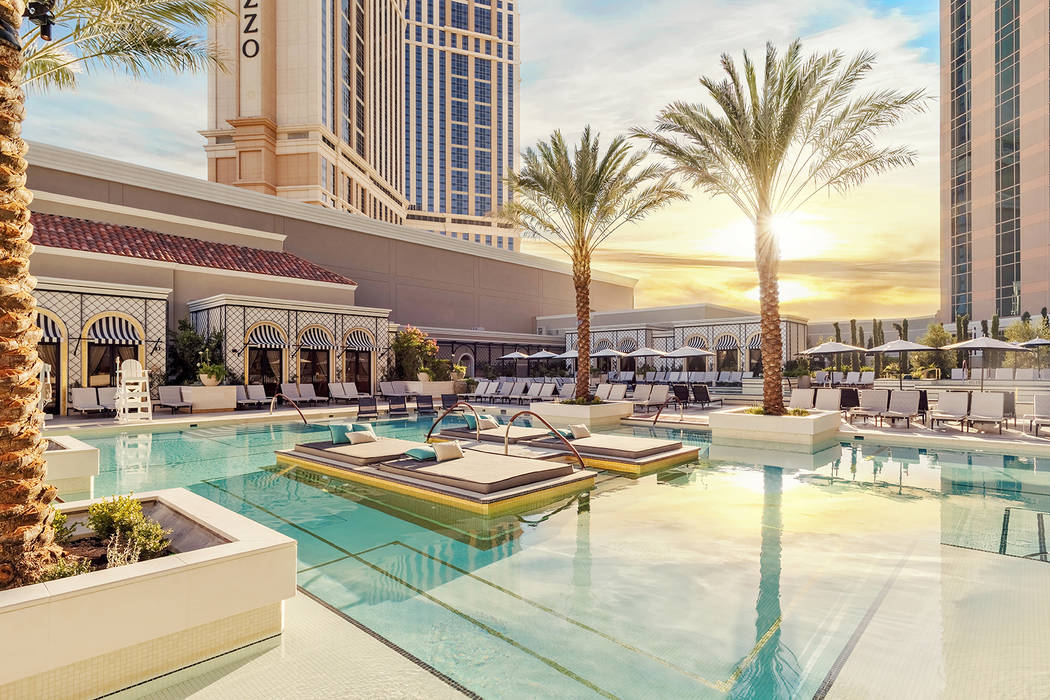 The gigantic 5 acre pool complex spread over the The Venetian and The Palazzo offers 11 different pools to choose from. The Venetian pool deck is newly renovated with wonderfully playful elements to help enjoy the sun and the water, like a splash pad, in pool ledge loungers, and daybeds in the center of the pools. The Venetian pool complex alone has 4 pools, and 3 of them are infinity pools. The beautiful décor and design of everything will inspire you to capture shots of your Las Vegas pool experience.
The Aquatic Club is a dayclub with a delightfully retro take on things. Harking back to the days of swim, lawn and racquet clubs, this social club pool experience offers a very different take from the EDM pool parties. Haute Living says "The Aquatic Club offers up sophistication and style with a twist." Travel Weekly raves, "Day life grows up at The Palazzo's new Aquatic Club".
---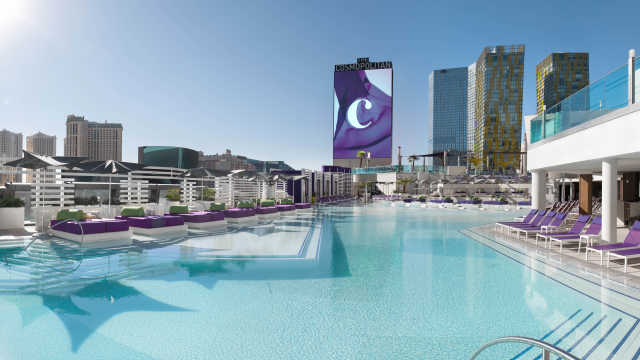 The pool complex at The Cosmopolitan Las Vegas is comprised of 3 pools, with very 3 distinct experiences all of their own. The Cosmopolitan's hip and trendy style overflows into the design and feeling of their pools. Here you'll find an adults-only, ultra-stylish Las Vegas pool experience.
First there is the Boulevard Pool, which has glass walls and an unparalleled view overlooking the Las Vegas Strip down below. This multiple-level pool area has an upbeat, refreshing vibe where it's easy to socialize and have fun. If you want to go all-out, their 3 story bungalows have their own infinity plunge pool, sprawling terrace and dedicated butler service.
The second pool area is The Chelsea Pool, which offers a completely different perspective on Las Vegas from far above the hustle and bustle. It's a secluded sanctuary with soothing, ambient music and a very chilled-out vibe.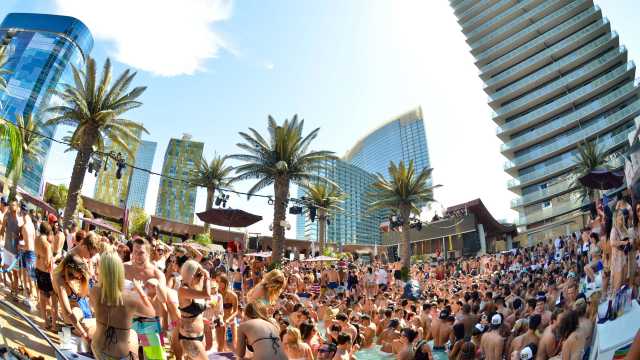 The third pool experience that The Cosmo has to offer is Marquee Dayclub. An extension of the hotel's Marquee Nightclub (which features among our top 10 Las Vegas Nightclubs), the dayclub is definitely one of the best pool party venues in town. With a young, stylish crowd and top international DJs, it's 22,000 square feet of pool party fun.
---
This pool party hotspot located at The Encore at Wynn covers more than 60,000 square feet of pool area, and is quite simply the most impressive dayclub in Las Vegas. Featuring an unbelievably good sound system and world-famous EDM DJs such as Kygo and The Chainsmokers, Encore Beach Club is where to go for an over-the-top extravagant pool party. We're talking champagne showers, floating daybeds and beautiful people.

For an unforgettable Las Vegas pool party experience, consider reserving one of their 8 bungalows, which come with their own private bathroom, a private infinity dipping pool, and an incredible view of the Strip from a private balcony. Encore Beach Club is number 1 on our top 10 list of the best dayclubs in Vegas!
---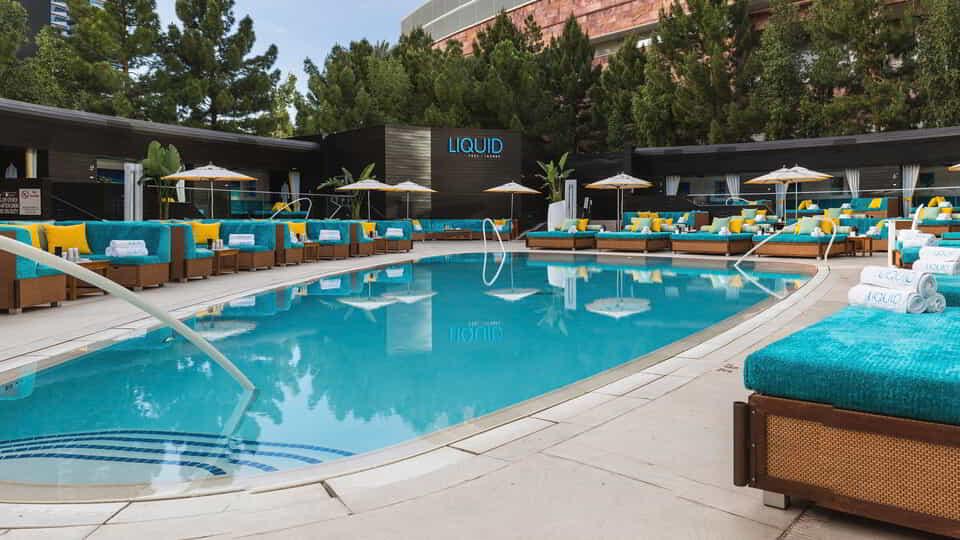 If you're looking for a dayclub with a bit more of a sophisticated and relaxed atmosphere, Liquid at the upscale Aria Resort & Casino is just where you want to head. This adult-only pool lounge gives you a more intimate vibe than the all-out party experience at other Las Vegas dayclubs. Its dipping pools are surrounded by VIP daybeds and cabanas, and DJs spin on a great sound system. You can expect more top 40 music than EDM.
You'll feel like a VIP just for being there, with Liquid's secluded atmosphere and amazing service. Their private cabanas are equipped with stylish furnishings and modern technology to make you feel even swankier. And the multiple bars, as well as an outstanding poolside food menu, really make Liquid a delightful escape from the heat of the Las Vegas Strip. We featured Liquid in our list of the best dayclubs in Vegas.
---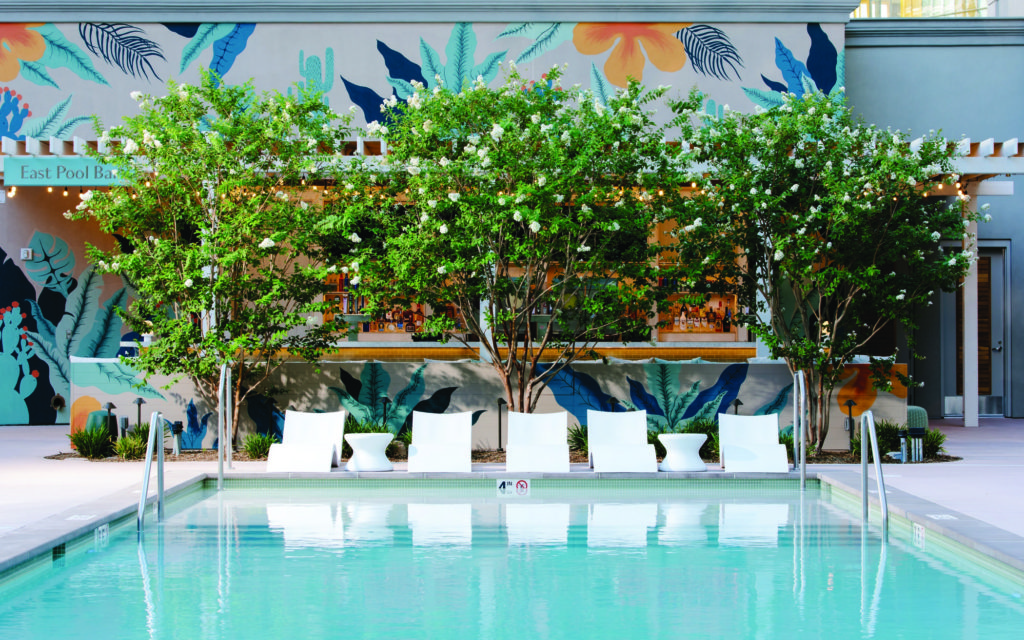 While not as elaborate and extraverted as some of the pools on our list, we felt that Park MGM's pool complex was definitely worth inclusion. Once the Monte Carlo, Park MGM underwent a top-to-bottom remodel in 2018, and its pool was one of the brand new elements. The vibe at Park MGM is young and hip, and so is their pool area.
With 3 pools, a heated hot tub and 2 bars, it's a fun atmosphere for socializing and relaxing with friends. Bites to eat at the pool are better than your average poolside food selections, and baja ledge chairs allow you to soak in the water and the sun at the same time. There are really stylishly designed cabanas in sea-foam green and white, which come with music docking stations for your own grooves, which is a nice touch.
---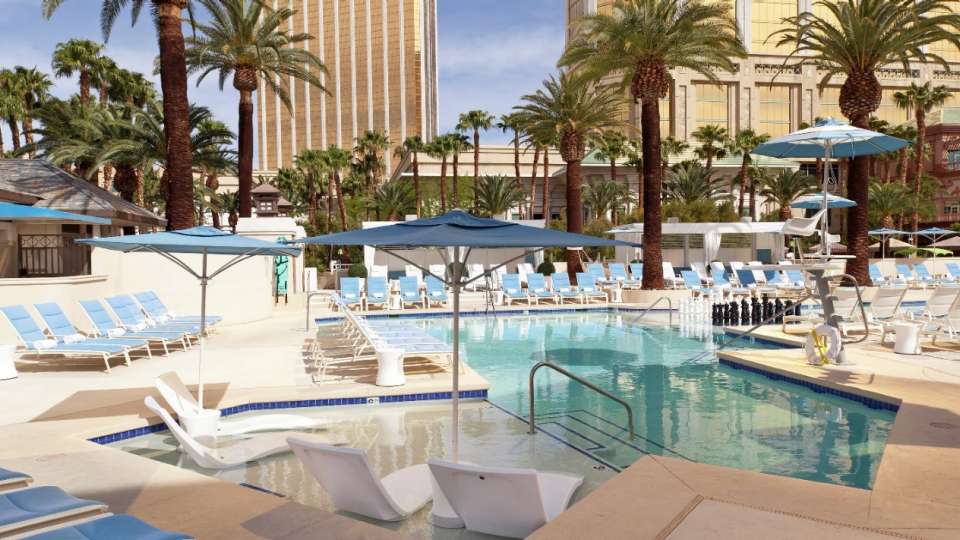 While Delano Beach Club is exclusive to guests at Delano Las Vegas, it stands out as one of the best Las Vegas pools. Perhaps it's because of its sophisticated sense of whimsy (typical of the hotel itself) like the submerged chess set. Or perhaps it's because of the laid-back, relaxing atmosphere that's such a respite from the sensory overload of the strip. With a modern, sleek white aesthetic like that of the rooms in the hotel, there are really nice personal touches like hammocks. And if you get enough relaxation in, you can always head over to Mandalay Bay Beach, which is right next door.