Valentine's Day in Vegas: Your Ultimate Guide To Romance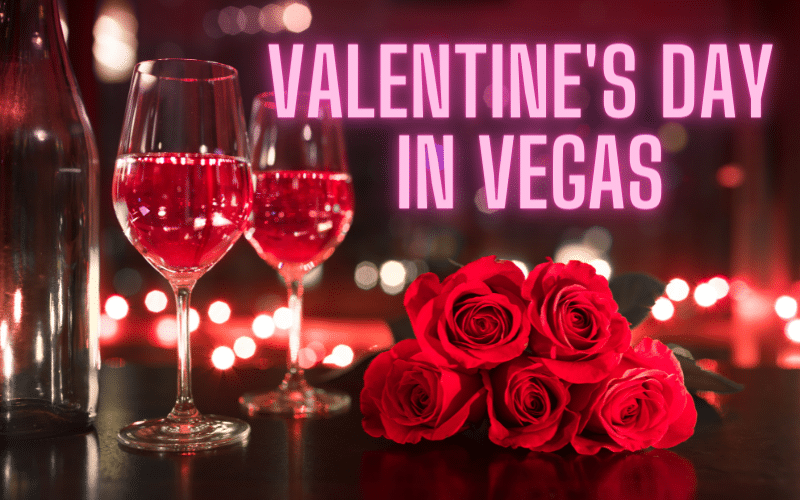 We may receive a commission if you click on a link.
If you and your honey-bunny are thinking of coming to Vegas for Valentine's Day, you're onto something. This amazing city has more romantic experiences to offer than you can even imagine. In this ultimate guide to Valentines in Vegas you'll find all the information you need to plan the most romantic vacation you and your cuddle-pie have ever had together. From candlelit dinners to gondola rides, luxury suites to helicopter tours, we'll cover all your options.
1. Book a Luxury Suite
When it comes to booking a room for your Valentine's in Vegas, be sure to make a reservation as early as possible. Hotels will sell out very quickly for Valentine's Day, and leading up to it, prices will skyrocket. In saying that… if you get in early, Las Vegas is a place where you can get a luxurious suite for the price of a tiny room almost anywhere else in the country. Here are a few of our all-time favorite romantic suites in Vegas.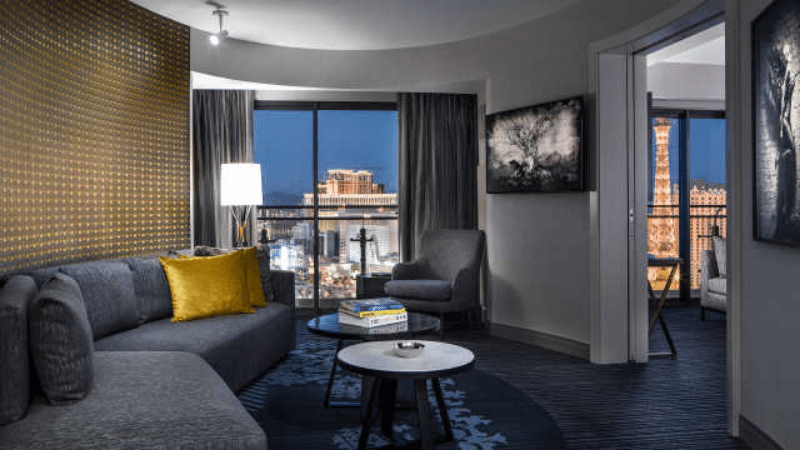 Terrace One Bedroom Fountain View at The Cosmopolitan
This 610 square foot suite at the glamorous Cosmopolitan of Las Vegas gives you sweeping views of the Las Vegas skyline, and gives you a front-row seat to the epic Bellagio Fountains water display. You'll have an oversized private terrace to sit out on and enjoy a glass of champagne, as well as a romantic Japanese soaking tub for 2 in the bathroom.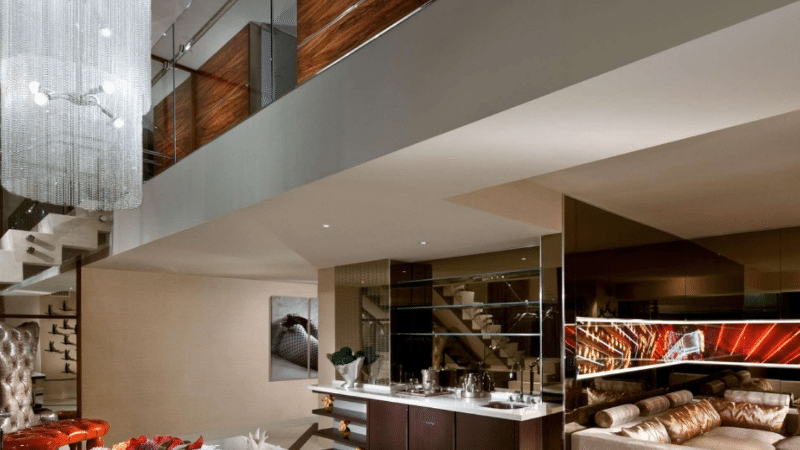 Skyline Terrace Suite at MGM Grand
This ultra-luxurious suite at MGM Grand is 1,300 square feet in size and has 2 levels. On the first level, a huge 800 square-foot terrace with a cozy sectional sofa gives you the perfect view over the Las Vegas Strip below. Inside, you'll have a spacious living area with a dining table and wet bar. Upstairs is where you'll find the elegant master bedroom and bathroom with a whirlpool jetted tub.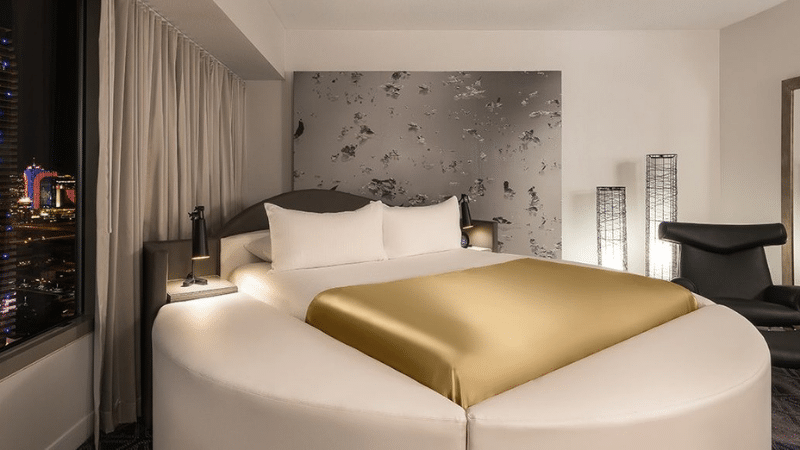 Ultra Panorama Suite at Planet Hollywood
This chic, modern suite at Planet Hollywood offers 1,200 square feet of space and designer touches throughout. You'll have a 180 degree, panoramic view of the Strip from your expansive living area, and an extravagant bedroom with a circular king sized bed right out of a movie. In the spacious designer bathroom you'll find an oversized soaking tub.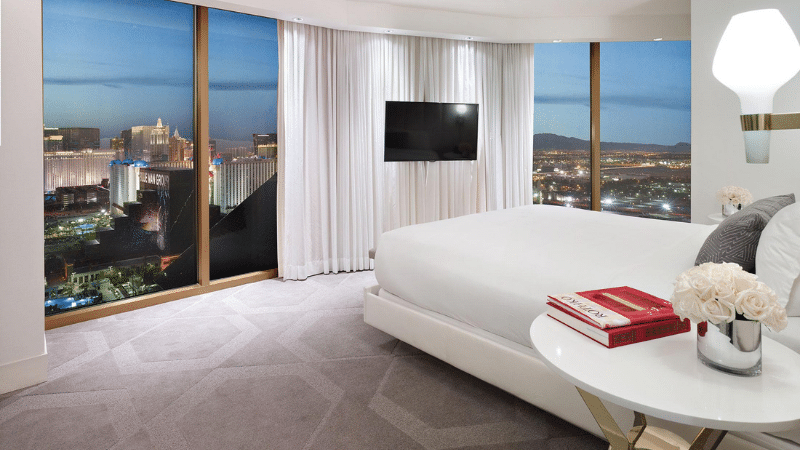 Delano Scenic Suite at Delano
This 741 square foot beauty of a suite is elegantly designed with all the furniture and décor in crisp white and opulent gold. From the corner of the Delano you'll have an incredible view of the Las Vegas Strip from floor-to-ceiling windows. There's a bedside stereo system in the bedroom, and a spacious seating area in the separate living room. The lavish marble bathroom includes a deep soaking tub.
---
2. Explore the Romantic Side of Vegas
Las Vegas has a seriously romantic side. Just taking a stroll down the Las Vegas Strip hand in hand, you'll see amazing sights and find great photo opportunities. If you want to have your perfect Valentine's Day a little more planned out, here are some of our absolute favorite romantic activities in Las Vegas.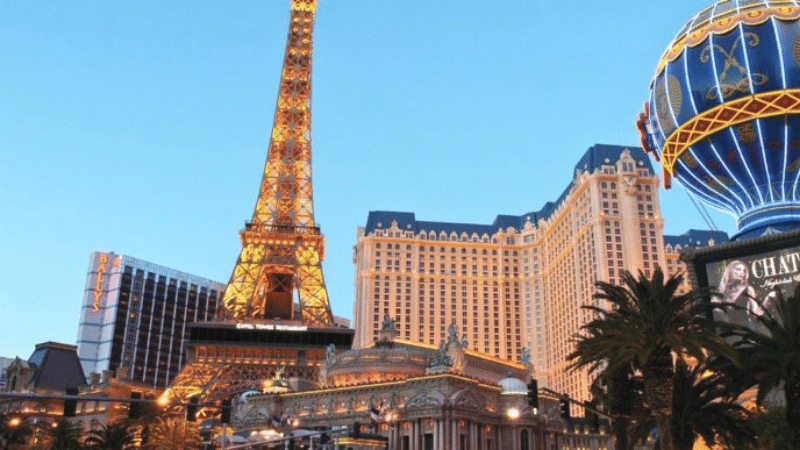 In Vegas you can see lots of the famous landmarks of the world, without the jetlag. One perfect example of this is the half-scale replica of the Eiffel Tower at Paris Las Vegas. 46 stories high above the Las Vegas Strip, the Eiffel Tower Viewing Deck gives you stunning views of the neon lights below, and if you time it just right, of one of the most beautiful sunsets you'll ever see.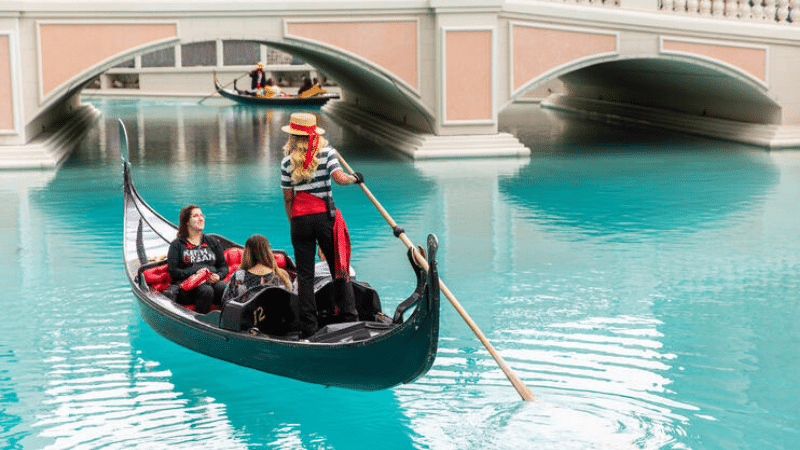 At The Venetian, a luxury Vegas resort inspired by the architecture of Venice, Italy, you can ride in an authentic gondola along the resort's Grand Canal. Your singing gondolier will serenade you just like they would in Venice. Relaxing and romantic, this is an activity that you can't go wrong with on Valentine's Day.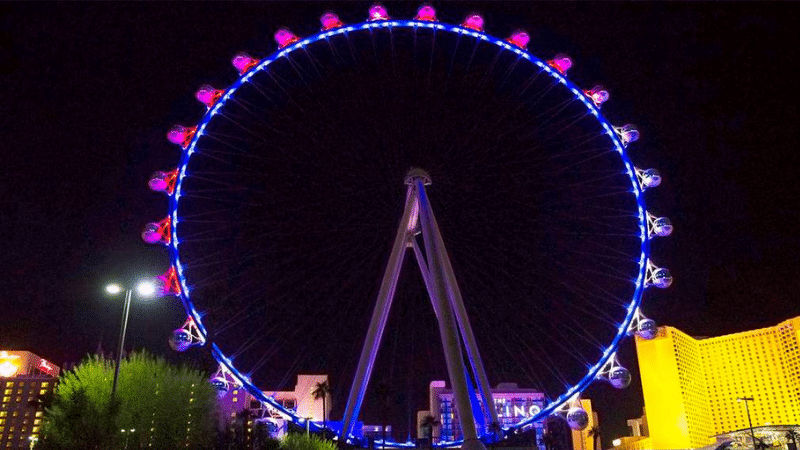 Step aboard the tallest observation wheel in the world and you'll be blown away by the spectacular views from 550 feet up in the air. Your comfortable, spacious cabin gives you 360-degree views of the neon lights of the Strip and the Vegas Valley. Even better, High Roller's Happy Half Hour experience gives you an open bar and bartender for the full 30 minute rotation.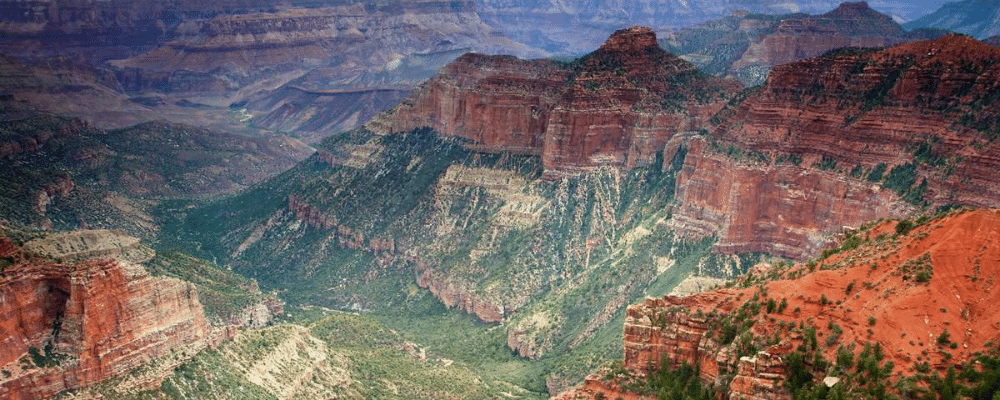 Take the King of Canyons helicopter tour and be swept away over the natural wonder of the Grand Canyon. You'll start by getting picked up by a luxury limo, before embarking on your breathtaking flight. At the bottom of the Grand Canyon you'll get to enjoy a champagne toast, before being transported back to Vegas as the glittering lights come up at night.
---
3. Have a Romantic Valentine's Dinner
There's nothing that says Valentine's Day more than a romantic candlelit dinner. Luckily, we know just the places for you to make a reservation. (Some of them have views that are worthy of a proposal, hint hint.)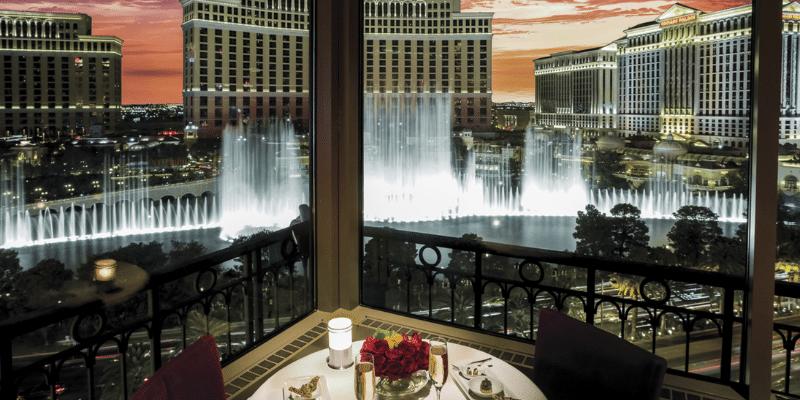 On top of the Eiffel Tower at Paris Las Vegas, Eiffel Tower Restaurant is definitely one of the most romantic places to dine in Vegas. On February 14th, the restaurant will open early at 4pm to allow for a sunset seating. They'll be offering a Valentine's Day prix fixe menu that includes delectable dishes like Butter Poached Scallops, Warm Foie Gras with Braised Fennel, and Prime Filet Mignon with Bone Marrow Bread Pudding. For dessert you'll enjoy a Chocolate and Raspberry Meringue.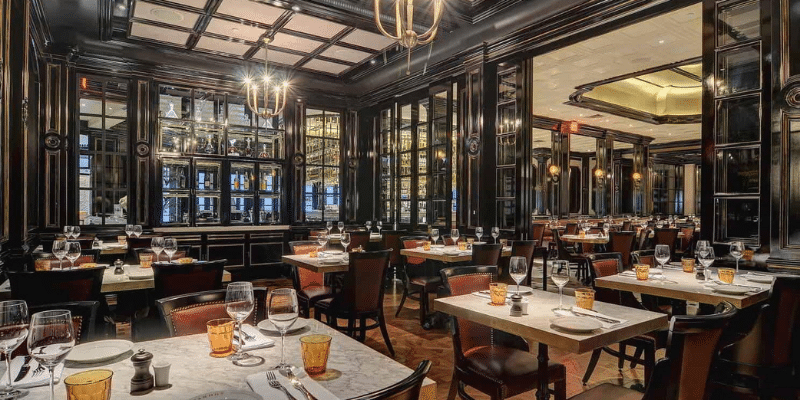 This French fine dining restaurant at Aria is created by Chef Michael Mina and inspired by classic French cafes in the 1920s. How much more romantic can you get? Valentine's Day prix fixes menus in the past have included options like Escargots, King Crab and Endive Caesar Salad, Pork Chop a la Normande, and Loup de Mer Provencal, with a dessert of Espresso Crème Brulee.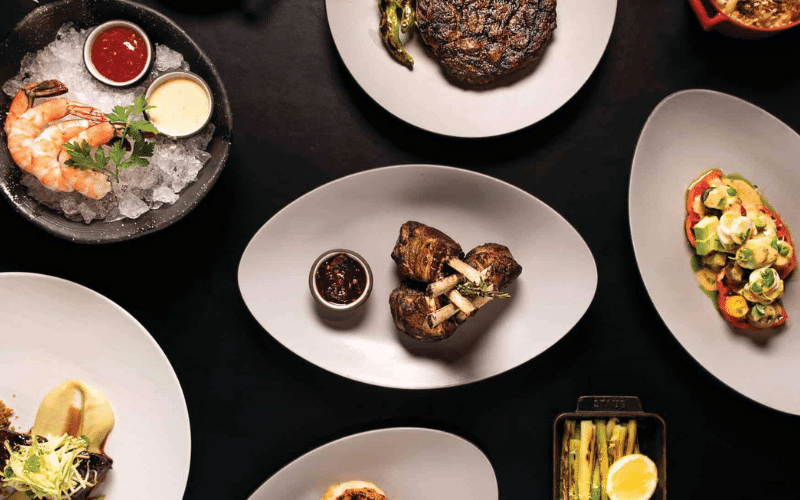 Jean Georges Steakhouse at Aria offers the highest-quality meats and seafood in an elegant and refined setting. Their Valentine's Day special tasting menu in the past has included Warm Asparagus with Morel Mushrooms and Vin Juan Cream, Roasted Chateaubriand for Two with Lorette Potatoes and Vegetable Bouquet, and Dark Chocolate Crème Brulee Tart with Champagne Sorbet for dessert.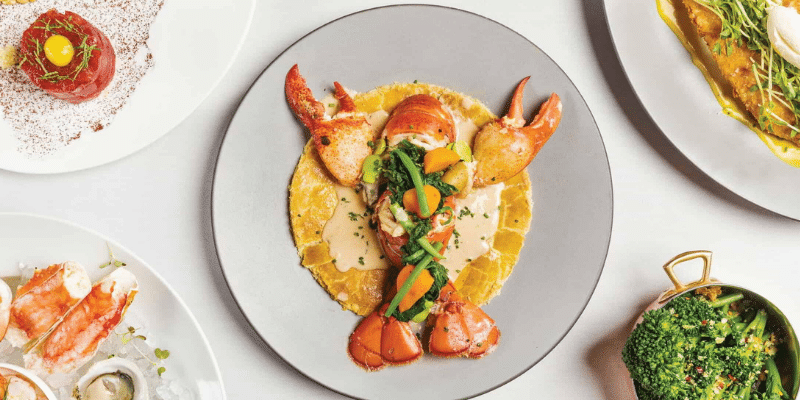 Chef Michael Mina's incomparable fine dining seafood restaurant at the Bellagio serves fresh takes on even fresher seafood. Their Valentine's Day tasting menu in the past has included Maine Lobster in a Warm Coconut Broth with Thai Basil, Michael Mina's Caviar Parfait, Phyllo-Crusted Sole with King Crab Brandade, Pea Shoots and Mustard Beurre Blanc, and Michael's Lobster Pot Pie, with a Passion Fruit Ganache Tart for dessert.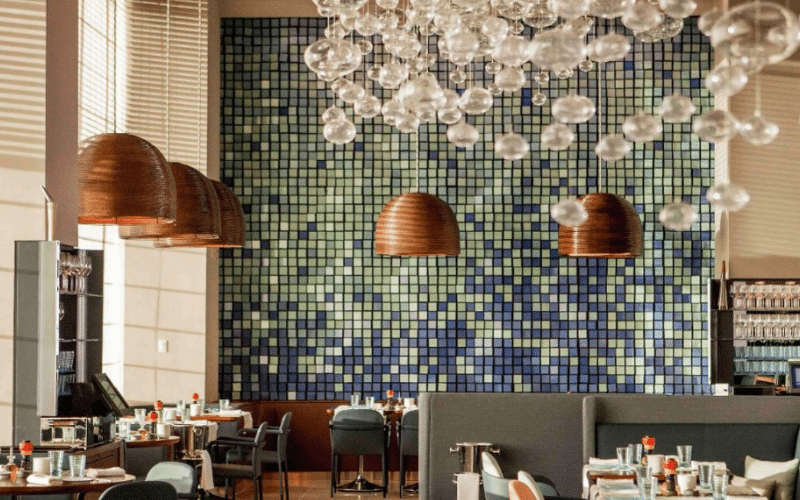 At the very top of the Delano sits Rivea, a French and Italian fine dining restaurant with one of the most stunning views of the Las Vegas Strip in the whole city. Their 4 course Valentine's Day dinner menu in the past has included Marinated Striped Bass with Kaluga Caviar, Homemade Linguine with Black Truffle and Parmesan Emulsion, Surf & Turf of Beef Filet and King Crab Leg, and a dessert of Chocolate and Raspberry Rivea's Heart with Lychee and Rose Sorbet.
---
4. Take in a World-Class Show
Las Vegas is known as the Entertainment Capital of the World, and offers a huge range of world-class shows, with something for every taste. Since you're planning your perfect Valentine's Day, here are our top picks for the most romantic shows in Vegas.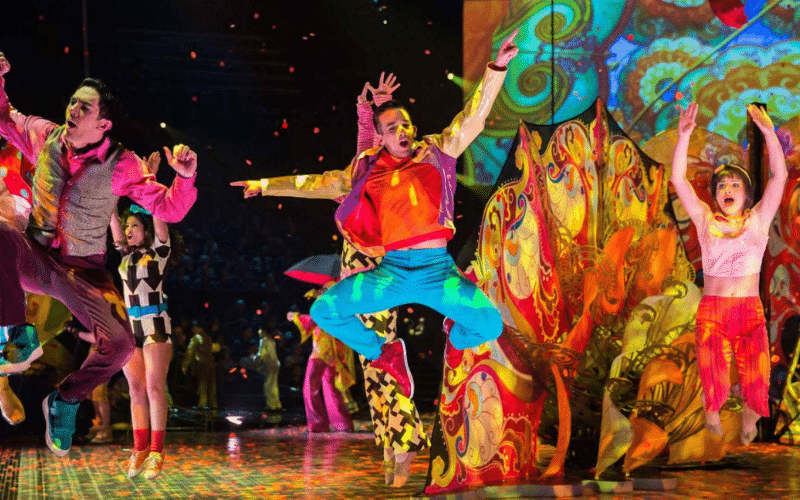 You may not be a diehard Beatles fan, but you don't have to be in order to be utterly blown away by the magic that is Cirque du Soleil's homage to the Fab Four. This uplifting spectacular at The Mirage features a 360 degree stage, so any seating location you choose will offer its own incredible view of the production. Acrobats and dancers weave a tapestry of love in such a powerful way that by the end you'll be singing along with tears in your eyes.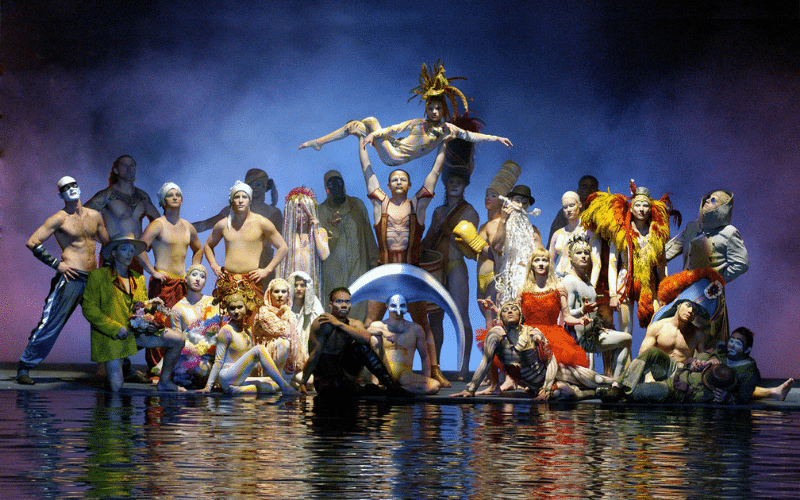 This beautiful show is Cirque du Soleil's most popular performance in Vegas, and is held at the Bellagio in a ballet-like theater with a swimming pool as the center stage. You heard us right: a pool is where the action takes place, with synchronized swimmers, acrobats and aerialists creating a breathtaking dreamlike world you become a part of. "O" is unlike any other show you'll see in your lifetime, and makes for a truly romantic night out for couples.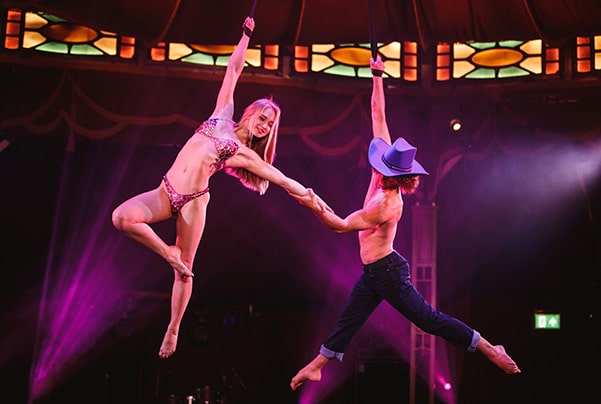 If something more uproarious and raunchy is what you're looking for, then Atomic Saloon show is probably for you. This simultaneously sexy and funny show is performed at The Venetian in a multi-level wild western saloon, where the audience becomes completely immersed in the action. Order a drink from the saloon's cocktail menu and watch comedy, dancing, circus sideshow acts and more break out in front of you. Not for the timid or easily offended.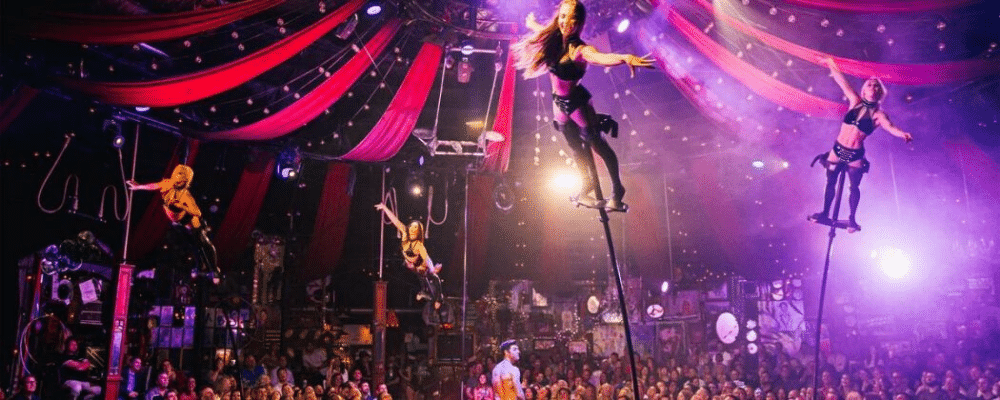 Performed inside a century-old circus tent made from velvet and mirrors at Caesar's Palace, Absinthe is a raunchy adults-only show featuring acts inspired by late 19th century circus and burlesque. You'll gasp at death defying performances by acrobats and sideshow wonders, and laugh at the risqué jokes of the filthy rich and filthy-minded host, Gazillionaire. Absinthe is aptly described by New York Times as "Cirque du Soleil as channeled through the Rocky Horror Picture Show".
---
5. Take In the Neon Lights by Night
Las Vegas comes alive after dark with vibrant energy and bright neon lights. Taking in the excitement and wonder of Vegas at night with your boo is a sure fire way to make romantic memories. Here are our favorite ways to experience the sparkling lights of the Las Vegas Strip.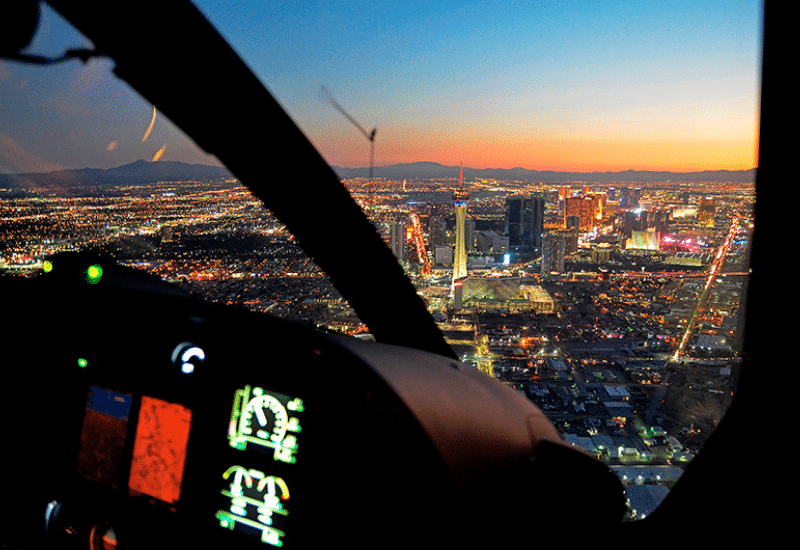 Take a Night-Time Helicopter Flight
This unforgettable 2 hour helicopter tour takes you high above the Las Vegas Strip so you can get the ultimate view of the stunning sights and lights below. Start the experience off right by being picked up in a luxury limousine, and then embark on a spectacular flight from which you can look down on the Fountains of Bellagio, Mirage Volcano, Eiffel Tower replica and more.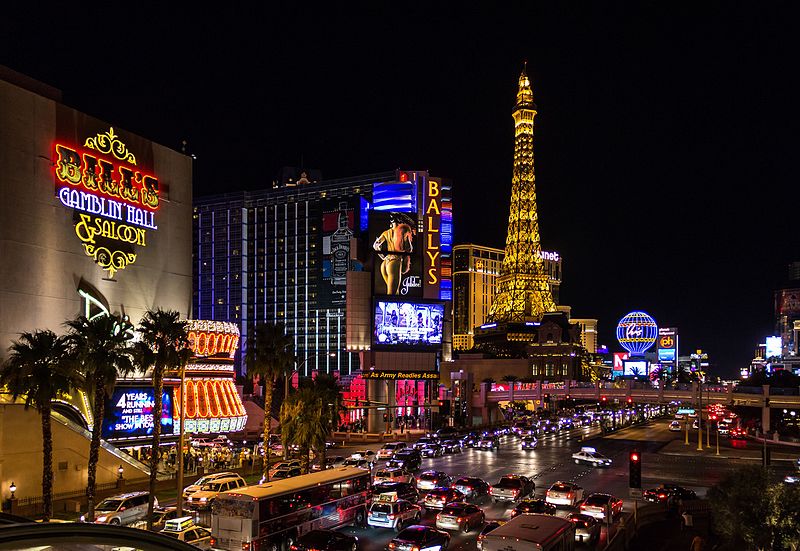 Take a Luxury Limousine Ride Down the Strip
Stretch out celebrity-style in a luxury limousine that will take you on a tour to explore the bright lights of the Las Vegas Strip. Even better, this tour comes with a professional photographer, ready to capture great photos of you and your sweetheart in iconic Vegas settings. Sip on a glass of champagne as you take in the vibrant sights of this magical city at night.
---
6. Recover from the Action with a Couples Spa Treatment
It's exhausting trying to fit everything there is to do in Vegas into a single day. There's no better way to revitalize and re-energize after all the excitement than visiting one of Vegas' top spas for a couples treatment.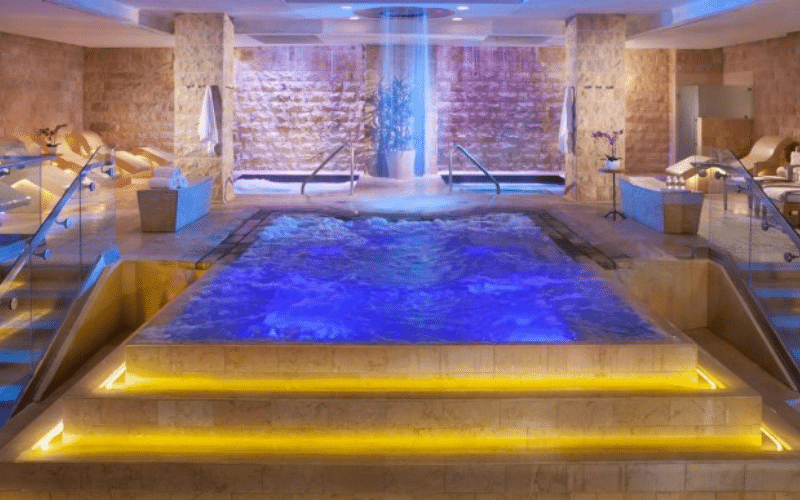 The extravagant, 50,000 square-foot spa at Caesar's Palace features Roman baths that harness the healing power of water, an Arctic Ice Room with real snowfall, and a laconium room for sweating out the toxins. Their popular stone massage uses in-house custom blended aromatherapy oils with basalt rocks that diffuse the therapeutic aromas into the air for an experience that melts stress and tension away.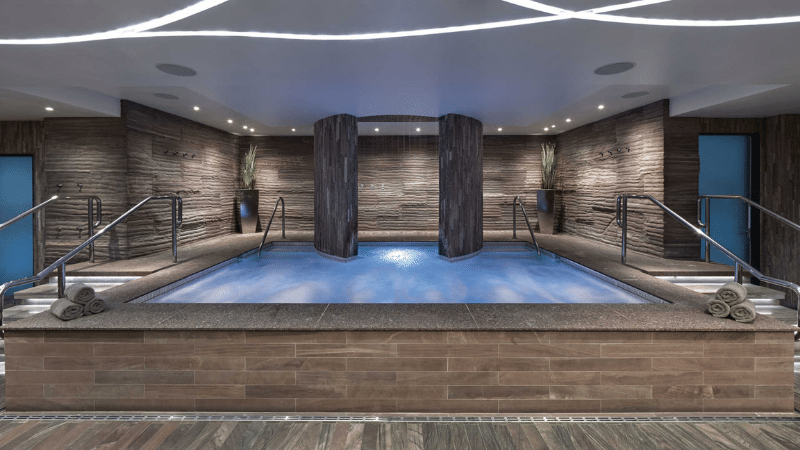 Sahra Spa and Salon
This incredible spa at The Cosmopolitan is inspired by the extreme and beautiful elements of the Mojave desert. It features a vitality pool with experiential monsoon rain showers, a steam room, sauna, and cool mist room. Their Sahra Desert Aromatherapy Massage uses desert-inspired essential oils to detoxify and renew your body and mind.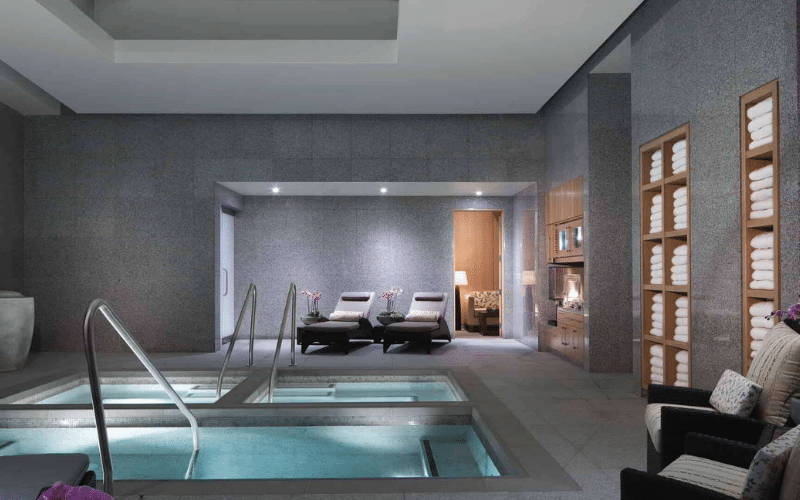 The Forbes Five-Star Awarded spa at ARIA is a soothing sanctuary away from the action of the Vegas Strip. Offering Ganbanyoku heated stone beds to relax on between treatments, a Shio Salt Room for vibration therapy, and a co-ed balcony with infinity pool, this spa is an experience of luxury. Their signature massages are designed to restore your body and mind while promoting calm and relaxation.