Las Vegas Direct Art and Museum Guide

We may receive a commission if you make a purchase.
Most people don't associate fine art and museums with Vegas. However, if you know where to look, there is an incredible selection of unique museum exhibits ranging from atomic testing to pinball machines. You can also see world famous art exhibits. Best of all, it is very economical compared to other cities and many of them are free or just a few dollars for admission. Here is a list of great museum and arts exhibits in and around Las Vegas.
Atomic Testing Museum



755 E. Flamingo Rd, Las Vegas, NV 89106
This museum can only be found in Vegas and is definitely worth seeing. Films, artifacts, and exhibits tell the fascinating history of the atomic bomb test site located in Nevada (65 miles away) that was so crucial to develop the bomb. Visitors can also experience the power of a nuclear blast in their interactive movie theatre. UFO fans can also explore their newer "Area 51" exhibit and decide for themselves if aliens really do exist. Museum store. website
Discovery Children's Museum
360 Promenade Place Las Vegas, NV 89106
This 3 story building is great for kids of all ages. Features interactive art sculptures, pirate ships, castles, and much more. Children can also learn about problem solving with their CSI-style interactive exhibit. Plan on staying 1-2 hours to see it all, and a half day day to be part of their many learning workshops. website
Howard W. Cannon Aviation Museum
2780 McCarran International Airport
Open 24 hours a day, 7 days a week. If you have some time while waiting for your flight, this is a great museum to visit. Located above Baggage Claim, this museum exhibits the history of aviation in southern Nevada. website
Las Vegas Natural History Museum
900 N Las Vegas Blvd, Las Vegas, NV 89101
Explore natural history with animated dinosaurs, fossils, Southern Nevada's plant and animal life, an African rainforest room, international wildlife room with life-like stuffed animals, live ocean experience featuring sharks and stingrays, ancient Egypt exhibits, children's hands-on exploration room with live animals and reptiles, and a gift shop. website
SeaQuest Interactive Aquarium
3528 S. Maryland Pkwy, Las Vegas, NV 89106
A fun fish and sea life exhibit for the entire family with different rooms that feature various ecosystems, like the Amazon rainforest, seacoves from the Caribbean, California coast, and more. Guests can get up close and interact directly with live turtles, birds, and other animals. website
The Mob Museum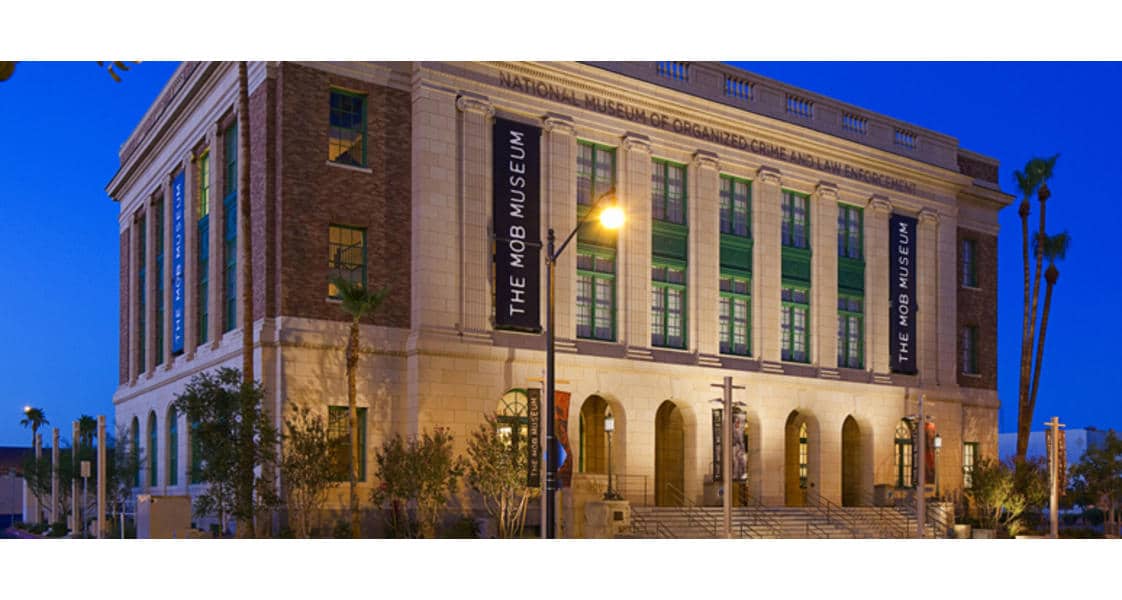 300 Stewart Avenue Downtown Las Vegas next to Fremont Street
This is an actual museum dedicated to the story of the Vegas mobs. History books and schools don't discuss it much, but the mob scene had a big impact on Vegas and how it grew so fast. The $42 million dollar building is a non-profit museum with over 2,000 artifacts telling the story of organized crime. It is a major museum worth visiting that lets you discover how mob history shaped Vegas. website
Outside of Vegas in Nevada
Boulder City Art Guild and Gallery
1305 Arizona St, Hotel Plaza, Boulder City, NV 89005
Located in historic Boulder Dam Hotel. Fine art by southern Nevada artists. Original, prints, notecards, postcards, sculptures, etc. Southern Nevada's only cooperative gallery. website
Boulder City – Hoover Dam Museum
1305 Arizona St., Boulder City, NV 89005 (in the Boulder Dam Hotel)
See the museum's 3-D interactive hands-on exhibits telling the human story of history's greatest construction project – Hoover Dam and Boulder City; includes a 20 minute film of the construction. website
Central Nevada Museum
P.O. Box 326, Tonopah, NV 89049
An intimate look at the past of Central Nevada area, emphasizing mining, pioneer life, and WWII. Indoor and outdoor displays. Research library and gift shop. Donation. website
Clark County Heritage Museum
1830 S Boulder Hwy, Henderson, NV 89015
Exhibits: 12,000-year time line of southern Nevada history, Heritage Street living history area, Nevada ghost town, railroad cars, ranching displays, nature walk, Southwestern gift shop. website
Lost City Museum of Archaeology
721 S Moapa Valley Blvd, Overton, NV 89040
Exhibits include artifacts of the Anasazi culture that colonized the Moapa Valley from the 1st to the 12th Century A.D. Reconstructed structures on site. website
Nevada Northern Railway Museum
1100 Avenue A, Ely, NV 89301
A 40 acre National Historic District consisting of 50 structures, 3 steam locomotives, 5 diesel locomotives, 6 passenger cars and 50 freight cars. website