The Best Las Vegas Clubs 2023: Our Top 10 Picks for a Wild Night Out in Vegas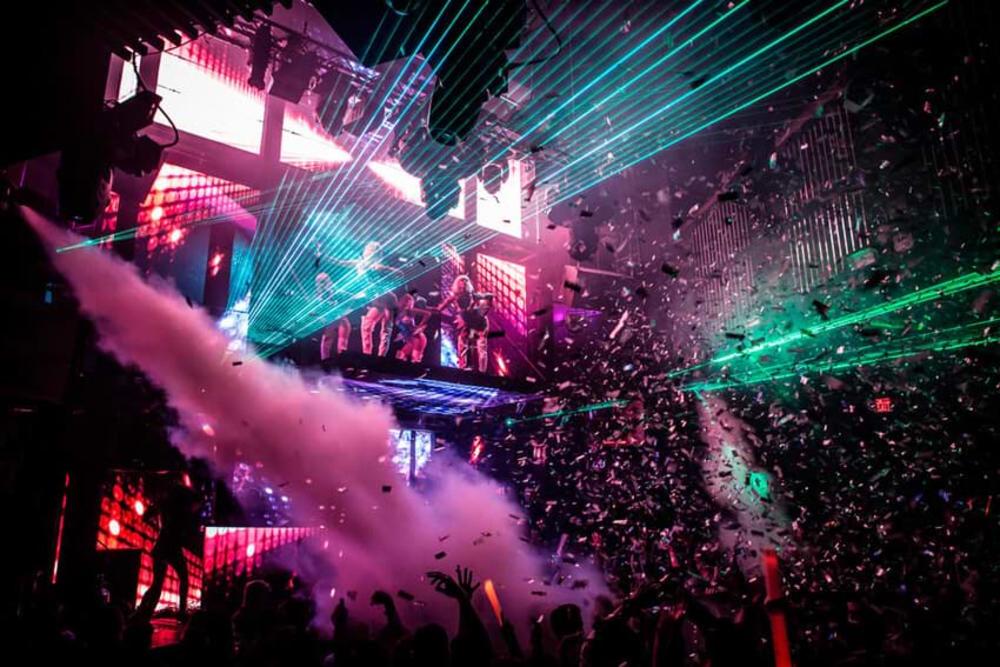 We may receive a commission if you make a purchase.
One of the most exciting features of Las Vegas is its extravagant parties. If you have come to Vegas to experience a wild night out, you won't be disappointed. The nightclubs here are everything they're cracked up to be and more! So after you spend the day cooling off from the Vegas sun at one of the city's legendary pool parties, it's time to party like nowhere else on earth. This is our top 10 of the best Las Vegas Clubs!
First, some helpful tips…
Dress Code
The overall standard for dress code at Las Vegas nightclubs is "upscale casual"… but it's better to dress more formal just in case. You won't be allowed in if you're wearing the wrong clothing, and we wouldn't want that to happen.
For women, you want to go with a cute dress with heels. If you want to be a little more comfortable, a pair of dressy flats is also fine.
For men, clubs are way stricter with their dress code. You should wear a nicely fitting pair of pants or jeans, dress shoes (repeat, DRESS shoes), and a button up shirt or sport coat.
Clothing to avoid is shorts, sandals, baggy jeans, athletic shoes, hats, sports jerseys, athletic attire, and work boots.
The Line
A lot of these nightclubs have huge waiting lines that you should be aware of. Sometimes it can take up to 3 hours to get inside. That's why it is very important to arrive by 10.30pm at the latest in order to avoid missing out completely. One way to skip the line (at some clubs) is to reserve a VIP table with bottle service.
VIP Tables
If you don't want to be standing for the entire night, you and your friends will definitely want to reserve a VIP table. These give you a plush place to sit down, as well as bottle service with free mixers all night long. Tables range from around $500 to $8,000 in cost.
Guest Lists
If you don't want to pay the cover charge, you'll want to find a VIP host for the club you are going to. They're easy to look up on Google. These hosts can work wonders for you and put you on a guest list which will enable your whole group to get in for free. Normally this requires that there is an equal ratio of women to men in your group. VIP hosts can also assist in reserving VIP tables for you.
Hakkasan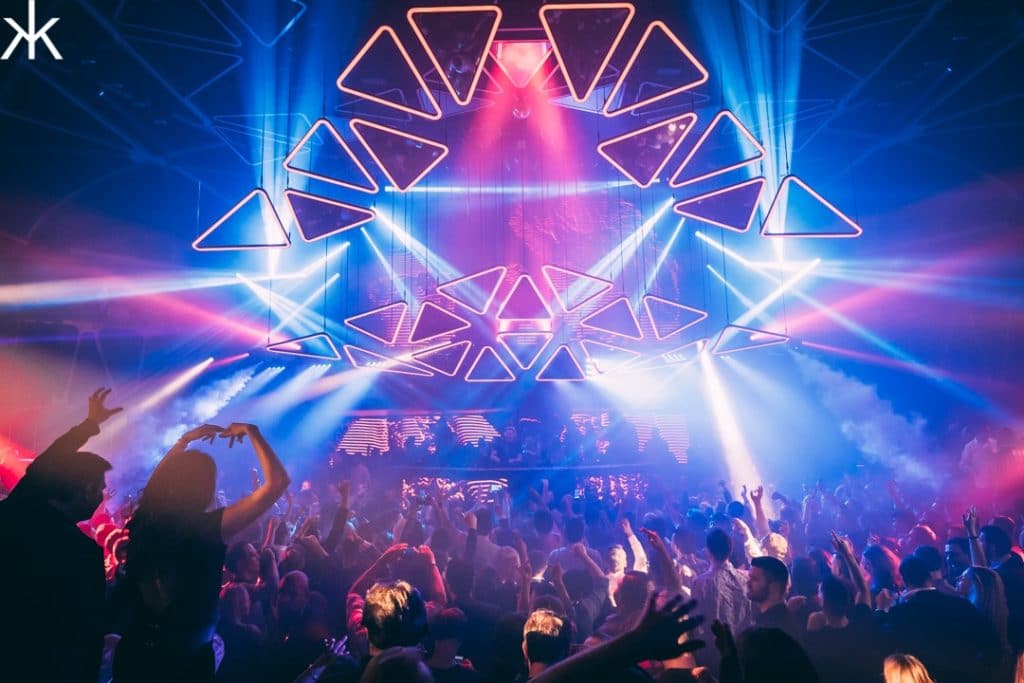 Epic, extravagant and huge, Hakkasan Nightclub is probably the club that comes to mind when people talk about the wild party scene in Las Vegas. Located within the MGM Grand complex, this 80,000 square-foot club takes up 5 levels of unique experiences. On the first floor you can dine like the celebrities, and enjoy an authentic Cantonese dinner at the gorgeously chic Hakkasan Restaurant. There is a stylish lounge with lush décor, an outdoor garden bar, and Ling Ling Lounge: an Eastern-inspired dance floor that plays all your top 40 favorites. Then there's the main event: the over-the-top, gigantic main dance floor with LED displays, elaborate light shows and a world-class sound system. On the decks you'll see world famous DJs like Steve Aoki, Tiesto and Calvin Harris, who are resident DJs at Hakkasan.
We highly recommend reserving a VIP table with bottle service for the full experience.
---
---
Omnia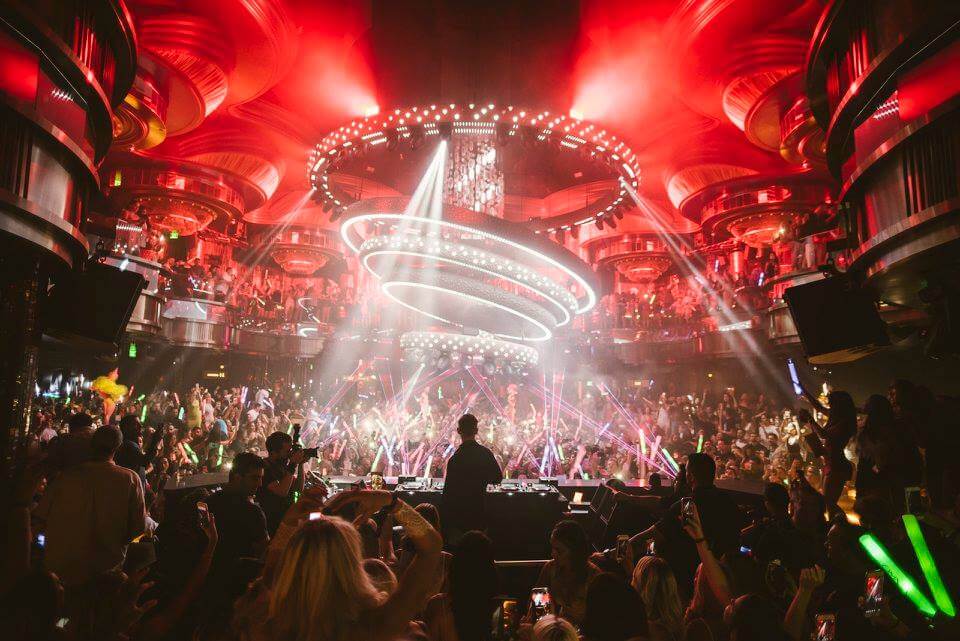 Next up on our list of the hottest Las Vegas nightclubs is Omnia. Located at Caesar's Palace, there is nothing like this nightclub on earth. It's guaranteed to blow your mind from the moment you walk in, because the first thing you'll see is the 22,000 pound kinetic chandelier hanging above the dance floor. What's a kinetic chandelier, I hear you ask? Think lighting shows, LED displays and video elements that get more and more amazing as the party heats up. Pumping EDM music from some of your favorite DJs plays through a state-of-the-art sound system. When you need to get some air, Omnia has a rooftop garden where you can relax and enjoy an awesome view of the Las Vegas Strip.
Be sure to reserve a table with bottle service where you'll be treated like a VIP.
---
---
Jewel Nightclub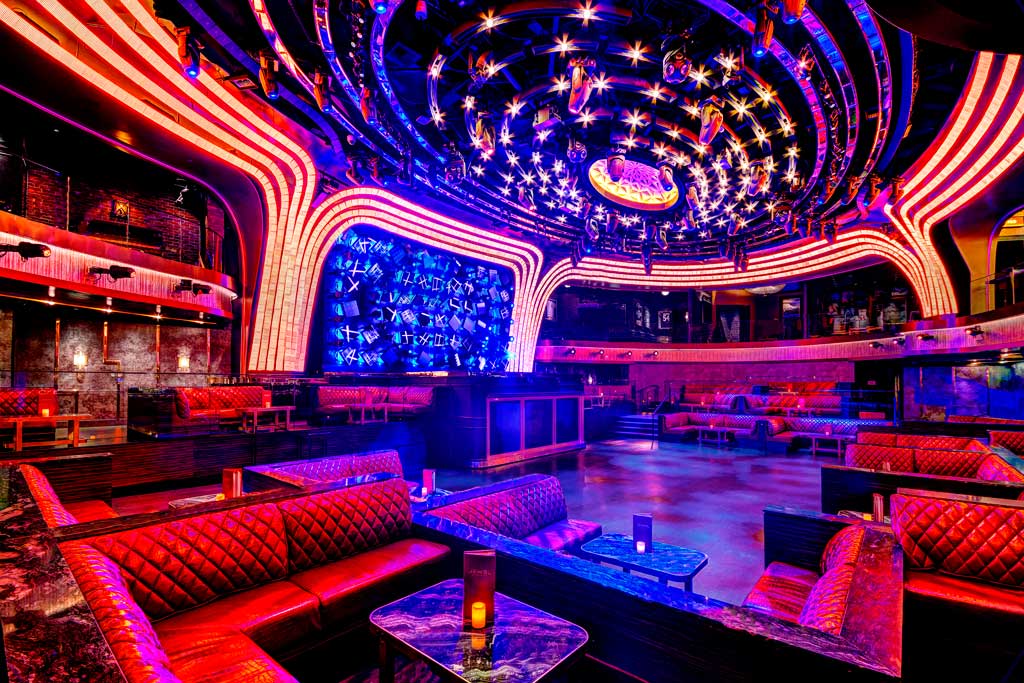 Tucked away off of the casino floor at the Aria Resort & Casino, this is a real gem of a nightclub. In fact, its theme is opulent gems, as you can see from the moment you arrive by the entrance: a stunning stairway with glowing with LED elements and mirrors.
Jewel Nightclub is quite a bit smaller than the other giant clubs in Las Vegas, but don't let that fool you. This place is always packed to the brim, and you'll always walk in to an exciting and upbeat vibe.
LED ribbons adorn the outline of the walls of this venue, and they change color and tempo with the music in a really beautiful design touch.
The music at this nightclub is either top 40 or EDM, depending on the night (check their event calendar to be sure it's something you'll love). You'll see performers like Drake, Jamie Foxx and Steve Aoki here. VIP guests get their own entrance, and the tables are right up near the action and the DJ booth. Alternatively you can reserve a VIP room for you and your friends, choosing from 5 themed options.
---
---
Light Nightclub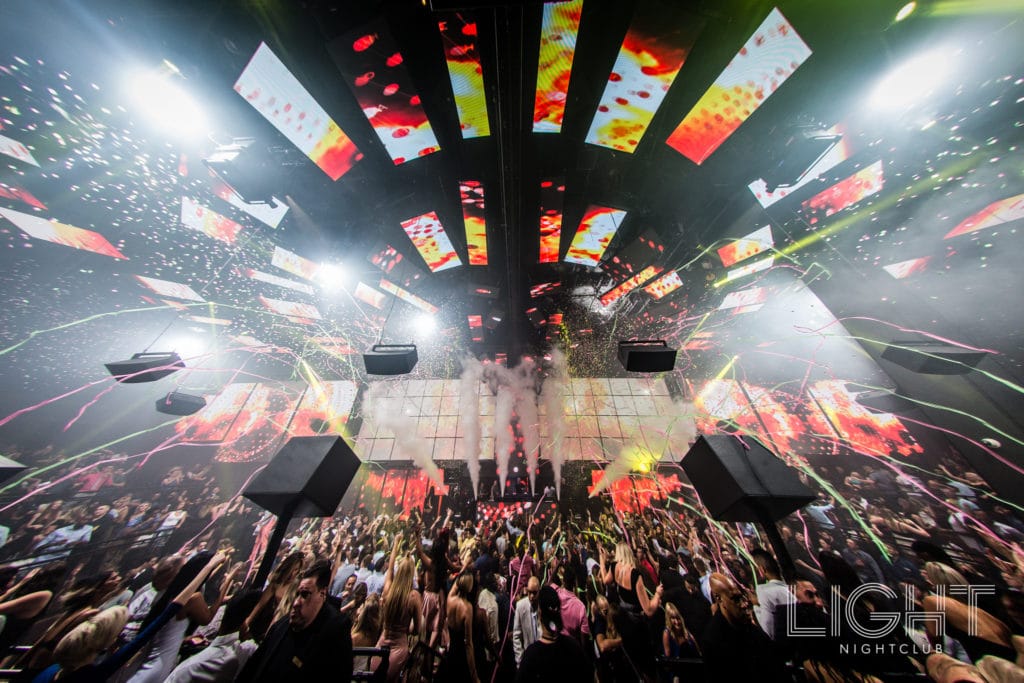 If you've just seen one of Cirque du Soleil's spectacular shows in Vegas and you're thinking, "it would be so much fun to party with the performers", Light Nightclub is for you located in Mandalay Bay. This club partners with Cirque to bring you cutting-edge technology and performances that immerse you. You'll feel like you're in another world because of the massive 2 story LED screens that show unique video content to accompany the music. Light Nightclub mainly has hip hop and top 40 music, and you can check their calendar to see what's happening while you're in town. You'll find big performers like Ludacris, Rick Ross and Jeezy at this club. And with 3 bars in the venue, it will be a lot easier than most clubs to get a drink without waiting for ages. Their VIP tables are all really nicely positioned to be part of the action no matter where you are.
---
---
Marquee Nightclub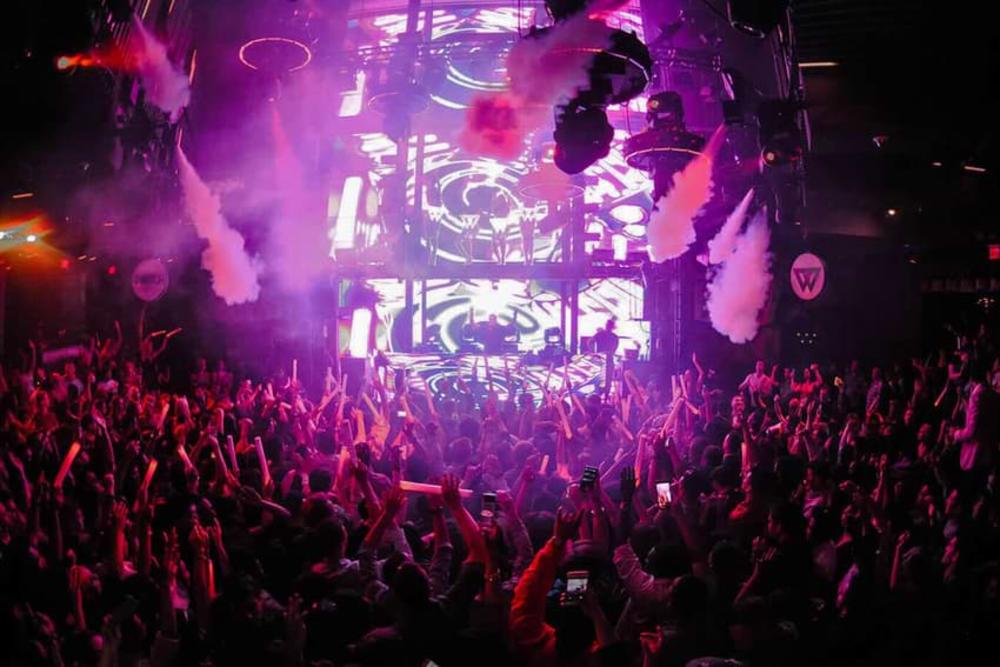 Located at the ultra-trendy Cosmopolitan, Marquee Nightclub embodies the true glitz and glamour at the heart of the Las Vegas experience. A massive 60,000 square feet in size, you'll find 3 distinct rooms with different atmospheres in each one. On the huge main dance floor you can dance to world-famous DJs spinning pounding house tracks from a 40 foot LED DJ booth. If you prefer a multi-format DJ, step into the Boom Box, a separate dance floor. And when you need a moment to relax from all the excitement, The Library is lush, removed area where you can chill. If that doesn't sound cool enough, how about floor-to-ceiling windows looking over the Las Vegas Strip? This club has everything you need for an epic night.
---
---
Tao Nightclub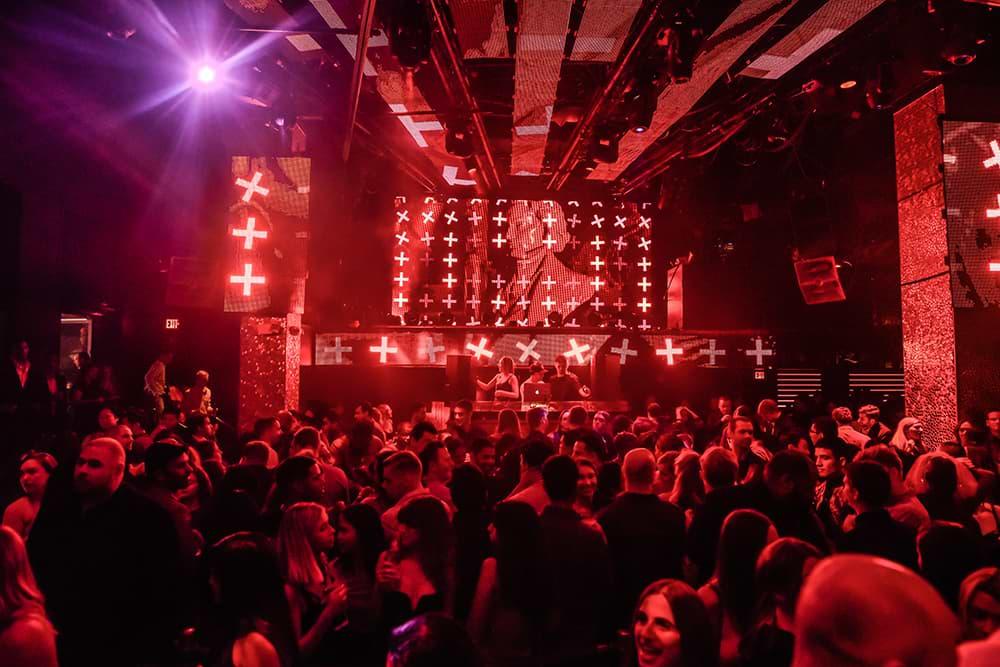 This Asian-inspired nightclub at the Venetian is one of the oldest and most popular nightclubs in Las Vegas. It is well known as a place to spot celebrities (Kim Kardashian has celebrated more than 1 birthday here). You'll find an eclectic range of music here (mostly top 40 and hip hop) and an equally diverse crowd of different ages and ethnicities. There are multiple rooms with lavish Asian-inspired décor, including the Opium Room, which plays exclusively hip hop music. You'll love the 40 foot balcony that overlooks the Vegas Strip, as well as the state-of-the-art sound system and lighting. Tao Nightclub probably has the fastest bar service out of all the nightclubs in Las Vegas, or you can reserve a VIP table which comes with bottle service.
---
---
XS Nightclub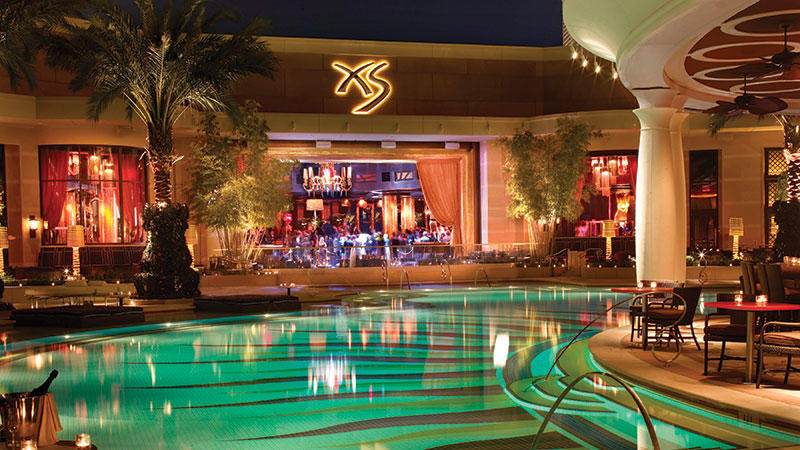 This indoor / outdoor club is themed on the sexy curves of a human body, and the vibe here is both elegant and passionate. XS Nightclub brings you your favorite DJs like Diplo, The Chainsmokers and Kygo on a world-class sound system. Step outside and you'll find another whole experience, with Encore's glistening pool as the centerpiece. You can reserve a luxurious cabana for you and your friends, or a daybed (more like a sofa in appearance). There's also a gaming area outside where you can try your hand at a game of blackjack or poker. This pool is where Encore has Nightswim, a night-time pool party that's incredibly fun. Whether you're outside or inside, this club is exciting and energizing.
---
---
Drai's Nightclub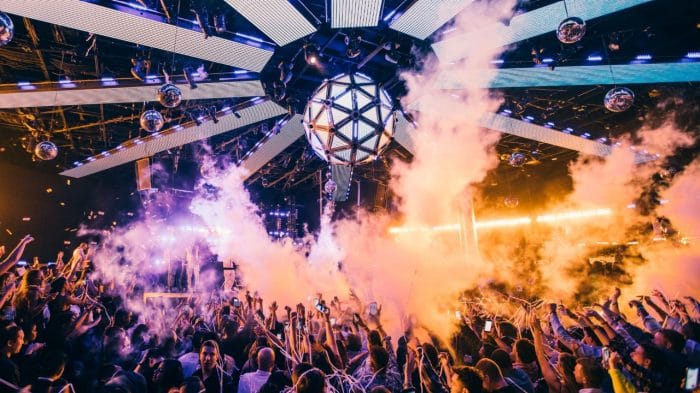 This is definitely the best hip-hop club in Las Vegas. Situated on the 11th floor of The Cromwell hotel, Drai's Nightclub is a 2-level indoor / outdoor nightclub with unparalleled views of the Las Vegas Strip below. Their lineup features lives performances rather than just DJ acts, and some of the most recognized hip hop artists are on the calendar, like 2 Chainz, Chris Brown and Trey Songz to name just a few. Outside the party is poolside, with plush bungalows available to reserve. Some nights the pool is in use for Drai's Swim Night, a nighttime pool party. Inside there are 2 full-service bars and the hottest dancers in Las Vegas by far.
---
---
On The Record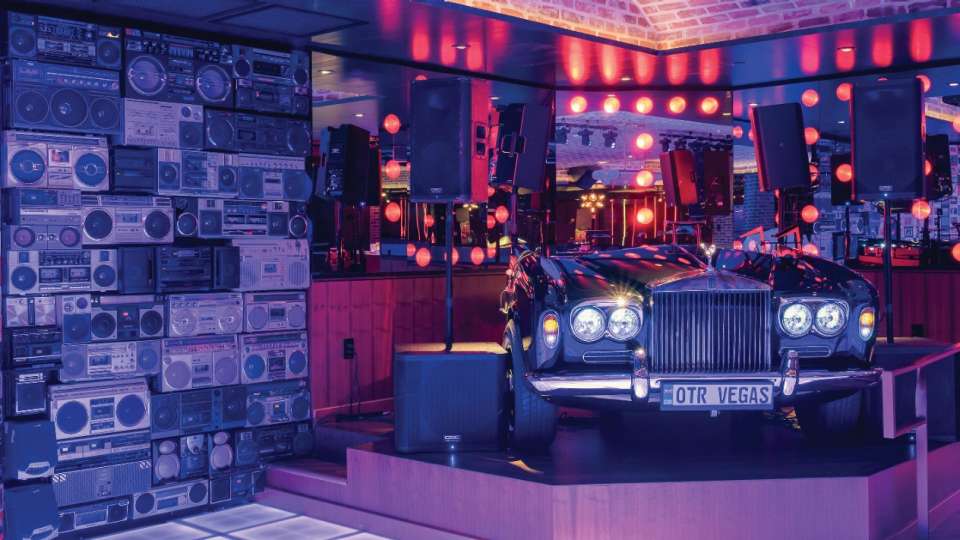 On The Record is completely different from the other clubs in Las Vegas. Hidden behind the façade of a record store off of the casino floor of Park MGM, this speakeasy / club is comprised of 3 rooms, with 3 unique vibes. The whole design is inspired by the joy of being in your favorite record store, and it's a wonderful vintage atmosphere with hallway mosaics of cassette tapes, walls of old-school TVs and pinball machines. The feeling is small and intimate but lively. If you venture into the outdoor area of the club, there's a double-decker bus and a separate DJ. While other Las Vegas clubs are made for a wild night out, this one is perfect for dancing, relaxing, and socializing. Oh, and you can reserve a VIP karaoke room for you and your friends… Who doesn't love karaoke?
---
---
Voodoo Rooftop Nightclub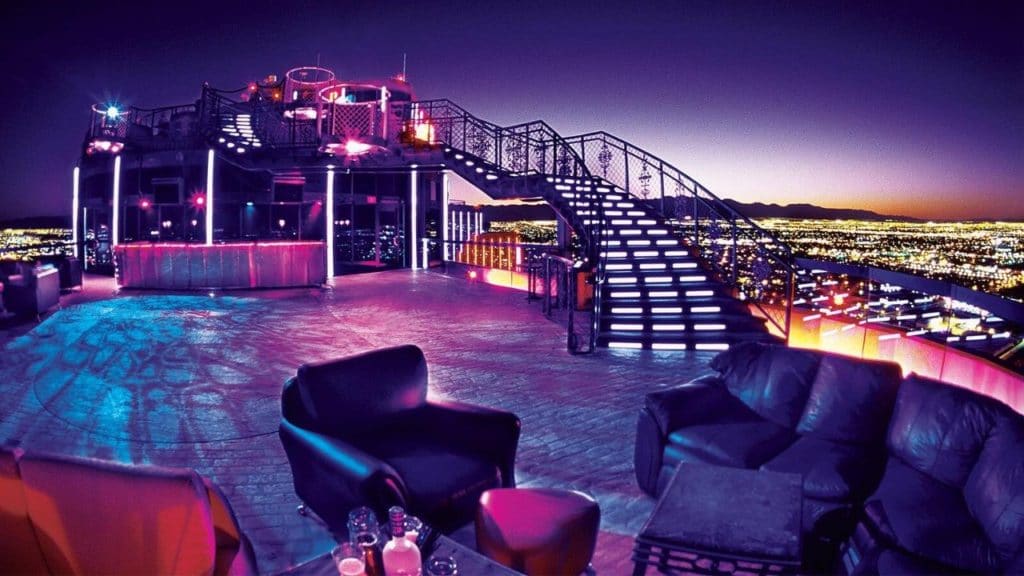 Here's an inside tip for an unforgettable night out… Arrive at the Voodoo Rooftop Nightclub between 6pm and 8pm for their Sunset Social Hour. Why? Because, quite simply, Las Vegas sunsets are beyond any other sunset you've ever seen. From 51 stories up, on top of the Rio, you'll get to experience a view of the sunset over the city while enjoying light bites, drink specials and music. And it's free entry. (You're welcome!) After 8pm the club gets thumping, and you can dance underneath the stars to great DJs while sipping on crazy cocktails like the witch doctor (a giant rum cocktail with dry ice on top). For those afraid of heights, the glass elevator ride to get up to the nightclub might be terrifying, but dancing in the cool breeze while overlooking the city at night? Absolutely worth it.