Top 10 Best Budget Friendly Hotels in Las Vegas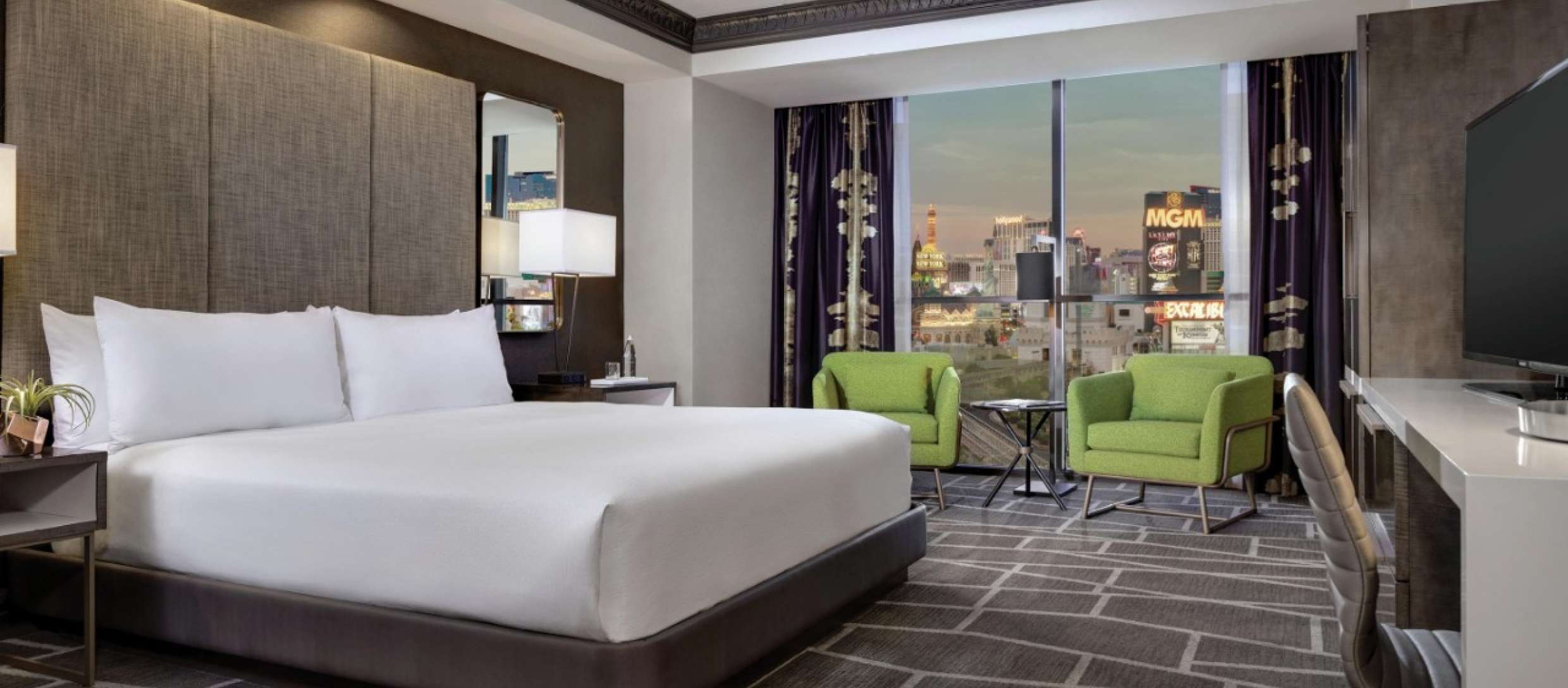 We may receive a commission if you make a purchase.
If you're planning a fabulous getaway but have a tight budget to stick to, Las Vegas is a perfect choice for your vacation. When it comes to booking a hotel to stay in, Vegas has some of the best hotel rates anywhere in the country. When you know where to look, you can find luxurious accommodations for an amazingly low price. Here are our picks for the top 10 best budget friendly hotels in Las Vegas.

This iconic Las Vegas landmark is located right on the Las Vegas Strip, so you'll be able to walk to a lot of the famous sights, shows and restaurants that the Strip has to offer. Not only is it a perfect photo opportunity, Luxor offers a one-of-a-kind hotel experience – How many people can say they've slept inside a pyramid?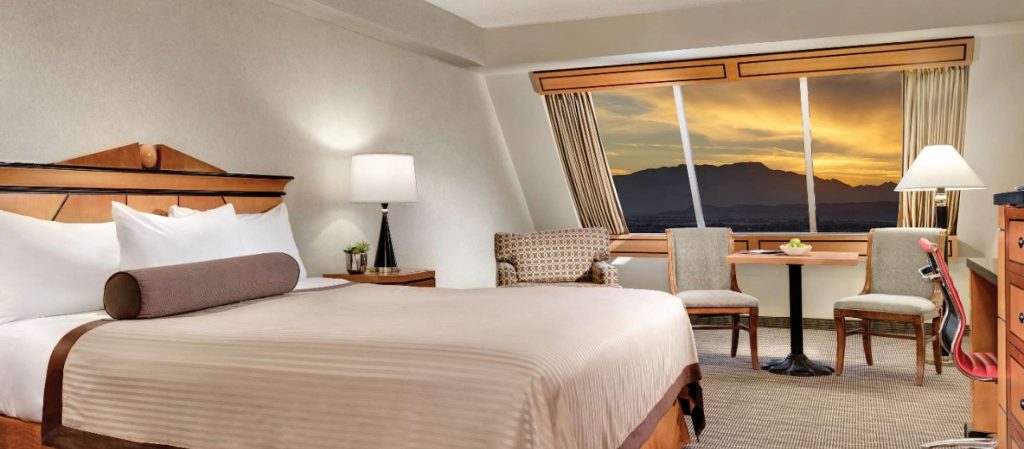 The standard Pyramid rooms come as a king or 2 queen beds, and have sloped windows because they are located in the pyramid building itself. They are 420 square feet in size, which gives you enough space to stretch out.
We love the Tower Premium rooms, which aren't located in the pyramid itself but in an attached building. These rooms come as a king or 2 queens and have a more modern feeling to them, with stylish furniture and décor as well as a renovated bathroom.
---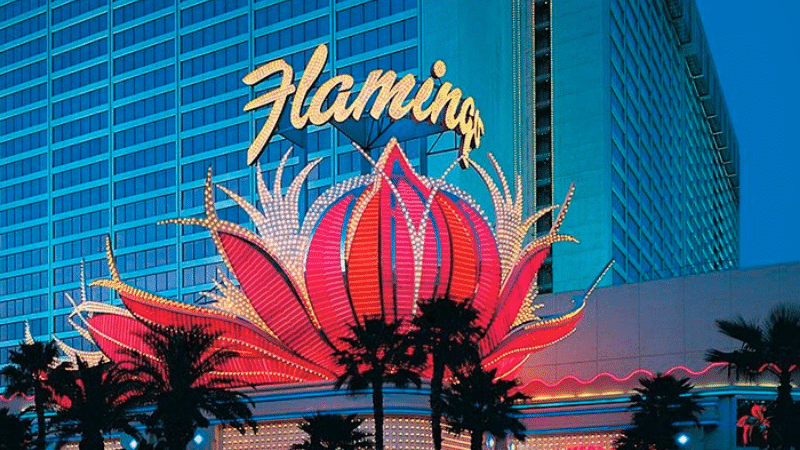 Flamingo Las Vegas has a wonderfully central location on the Vegas Strip, making it the perfect home base for your exploration of the city. This hotel mixes classic Las Vegas style with hip, modern renovations, making it an iconic and highly popular choice for travellers. The 15 acre property features waterfalls, lush greenery and even a wildlife habitat where you can view actual flamingos.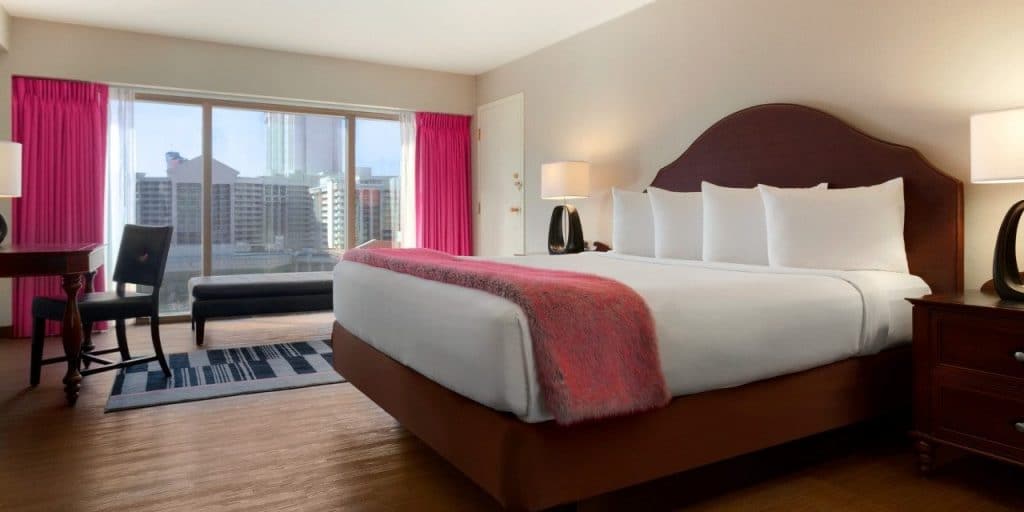 The Flamingo's most affordable rooms are their Fab rooms, which feature wood-toned floors, contemporary furnishings and décor, and pops of flamingo pink. They are 350 square feet in size, which is a little small but not uncomfortably so.
The next step up in pricing is the Go Room, which comes as a king or 2 queens and is available with a Strip view or a view of the famous High Roller. While they are the same size as the Flamingo rooms, the Go rooms have extra features like remote-controlled drapes and a larger flat screen TV.
---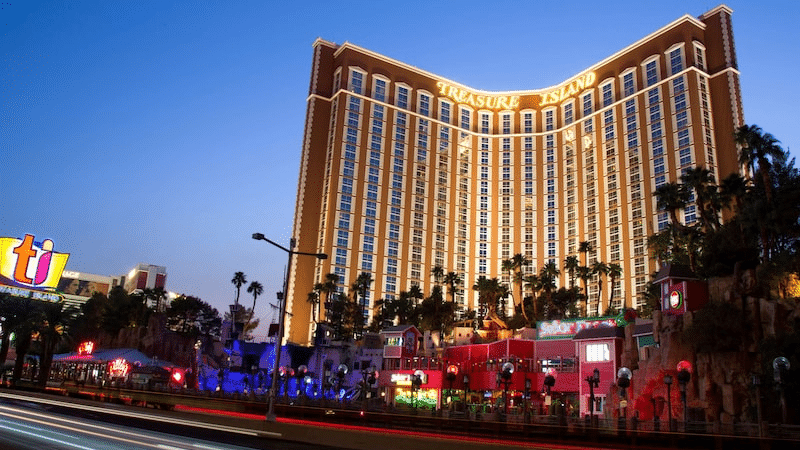 This pirate-themed treasure of a hotel has a prime location on the North end of the Las Vegas Strip, making it a fantastic starting point for exploring the city on foot. Treasure Island is a family-friendly hotel, with a large freshwater pool as well as a wide range of dining options on property.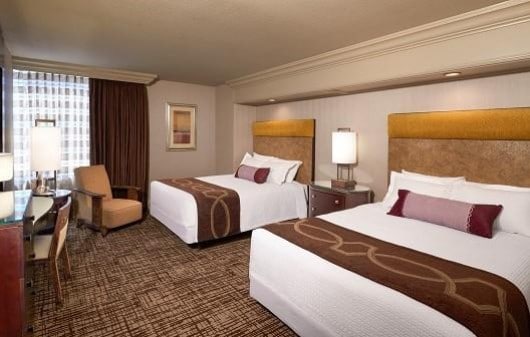 The standard Deluxe rooms come as a king or 2 queen beds and offer 400 square feet of space to relax in. While these rooms are a little outdated in their décor, we love the lighted headboards and marble bathrooms with large soaking tubs. You can pay a little more for a view of the Strip from floor-to-ceiling windows by choosing a Deluxe Strip View room.
The Petite Suite gives you more room and luxury, featuring 630 square feet of space, 2 bathrooms and a whirlpool tub. It also has a sofabed to allow for up to 4 guests. The décor and furnishings in this suite are more modern in appearance, with a dark neutral color palette.
---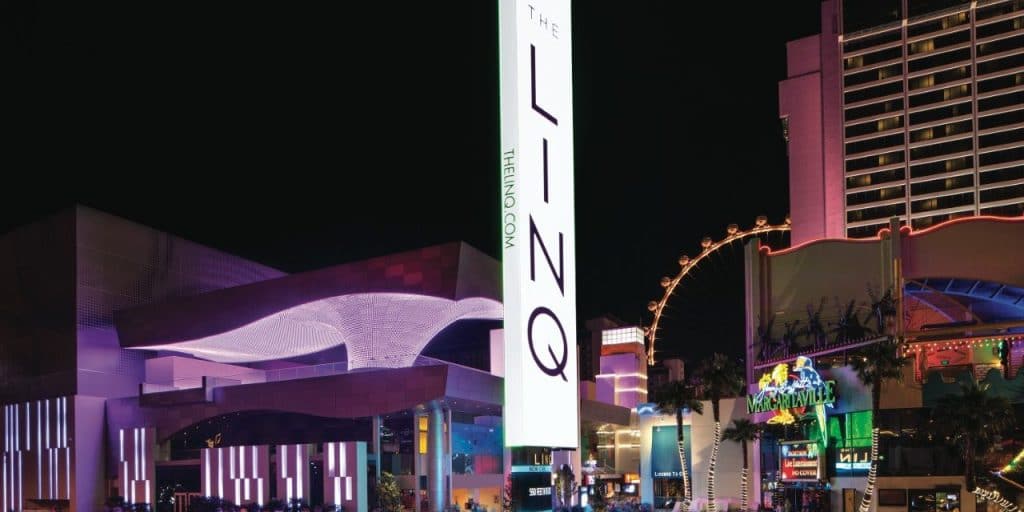 This hip, budget-friendly hotel is perfect for staying in style without breaking the bank. Located in the center of the Las Vegas Strip, you'll be able to venture out on foot and explore the sights and sounds. This includes the Linq Promenade, a pedestrian shopping area filled with eclectic stores and delectable restaurants. And you'll be right next to the High Roller, if you want to brave your fear of heights and catch unreal views of the city below.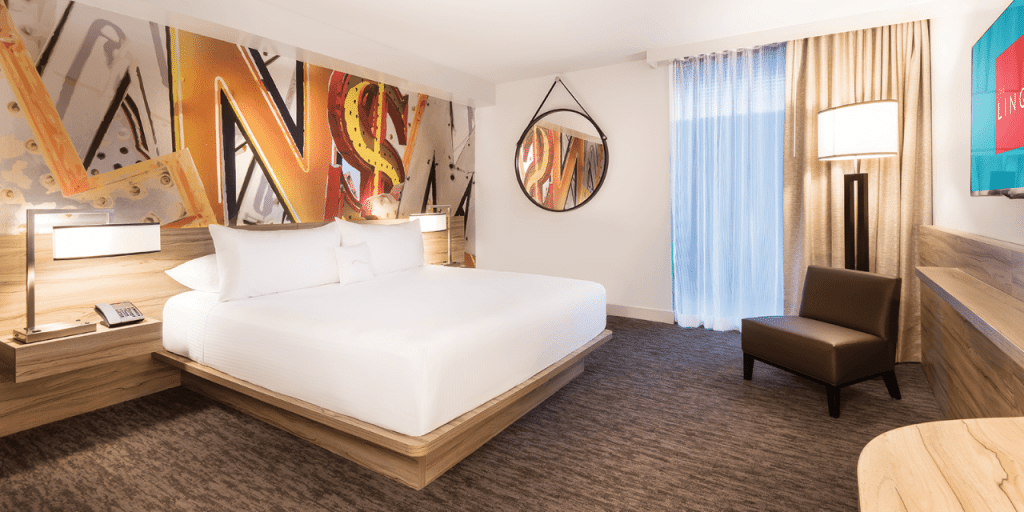 The Linq's standard rooms are their Deluxe rooms, and they come with either a king bed or 2 queen beds. They are 300 square foot in size, which is a little small, but stand out immediately for their stylish design, with sleek, modern furnishings and pops of color. The Deluxe Strip View rooms and Deluxe High Roller View rooms have floor to ceiling windows and add to the Vegas experience.
Travelling with a family or larger group of friends? The Linq's newly launched Bunk Bed Deluxe room has the capacity to sleep up to 5 guests because it features a raised bunk bed above one of the 2 queen-sized beds.
---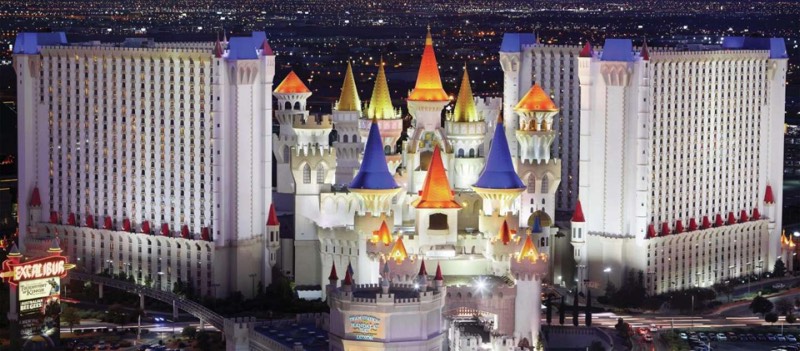 This medieval themed hotel and casino has an excellent location right in the heart of the action on the Las Vegas Strip. The fairytale castle is a magical place to stay, without going over your budget. Excalibur has a lot to offer on property, including world class entertainment like Tournament of Kings. It's a family-friendly property with something for everyone.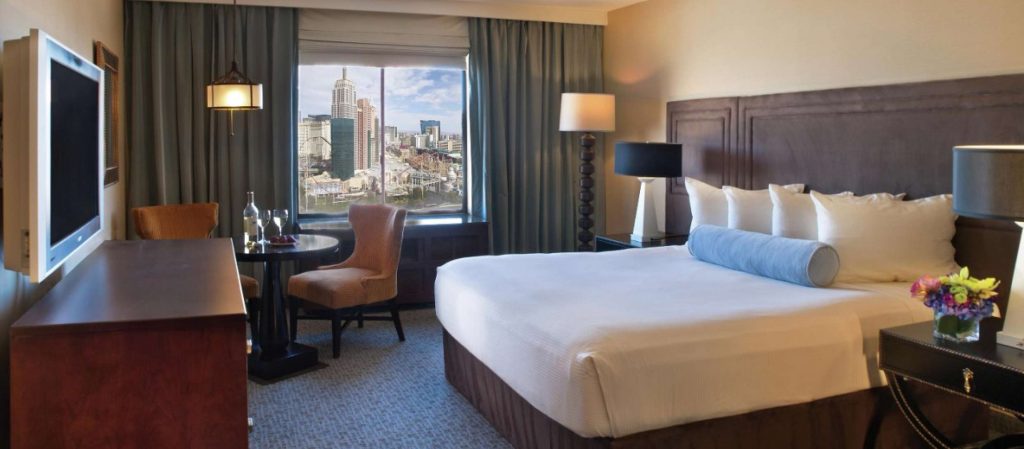 The Resort Tower rooms are Excalibur's standard rooms, and come with a king or 2 queen beds. They are 352 square feet in size, and are quite simple but comfortable in their design. For a little more you can reserve a Strip View room, and the view from Excalibur is quite stunning.
The Stay Well rooms are the same size and style, but come with lush amenities that are designed with holistic health benefits in mind. You'll find dawn-simulating alarm clocks, vitamin C infused shower heads, and even aromatherapy diffusers in these rooms.
---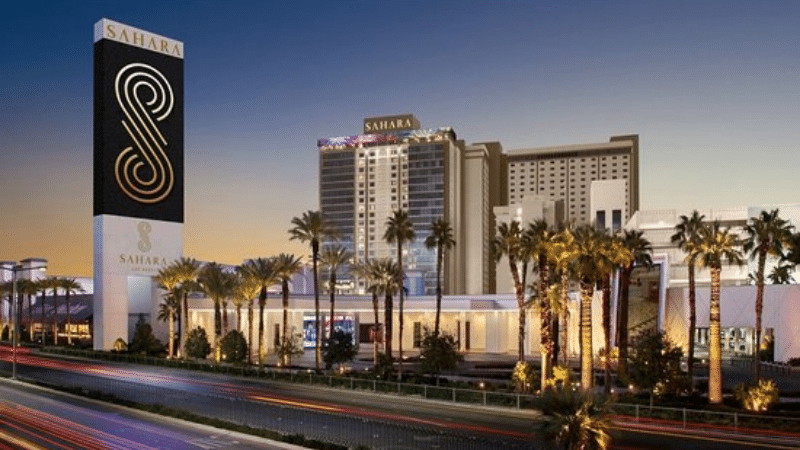 Sahara Las Vegas is located at the far North end of the Strip, and its location is a bit further from the action. It takes only 5 to 10 minutes in an uber or taxi to get to the central strip, however. Because of this more removed location, this stylish 4 star hotel has prices as low as 3 star hotels that are more centrally located. This extravagantly elegant property boasts some of the city's best restaurants.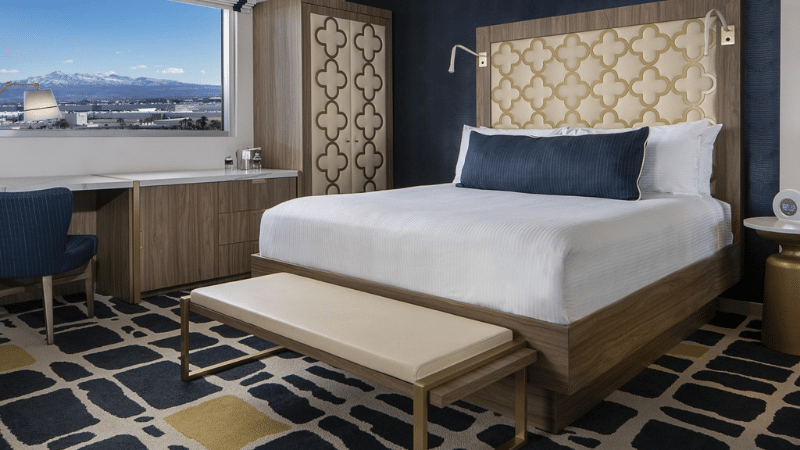 There are 3 towers at Sahara, and the rooms in each tower have their own distinct style. The Blanca King is the most affordable option, and although it's on the smaller size at 325 square feet, it makes up for it with its unique, sophisticated design. The Marra King or Double rooms have more minimalistic, dramatic black and white décor and are a little larger at 360 square feet.
The Alexandra Tower King is a more indulgent experience, with an elegant sitting area that gives it the feeling of a suite. It comes with upgraded amenities, private check-in, as well as a separate entrance and valet, making you feel like a true VIP.
---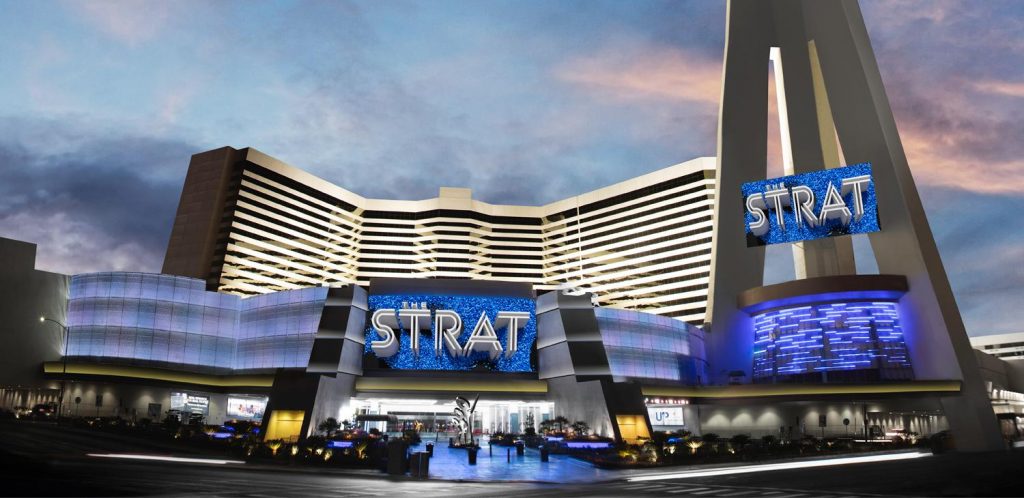 Right at the midpoint between the Strip and Downtown Las Vegas, the Stratosphere is a short uber or taxi ride from either destination. The Strat is recognizable for its famous tower, at the top of which you can get an unparalleled view of the city, dine at an award winning restaurant, or test your courage some seriously thrilling rides. The completely remodeled and reimagined hotel is both stylish and affordable.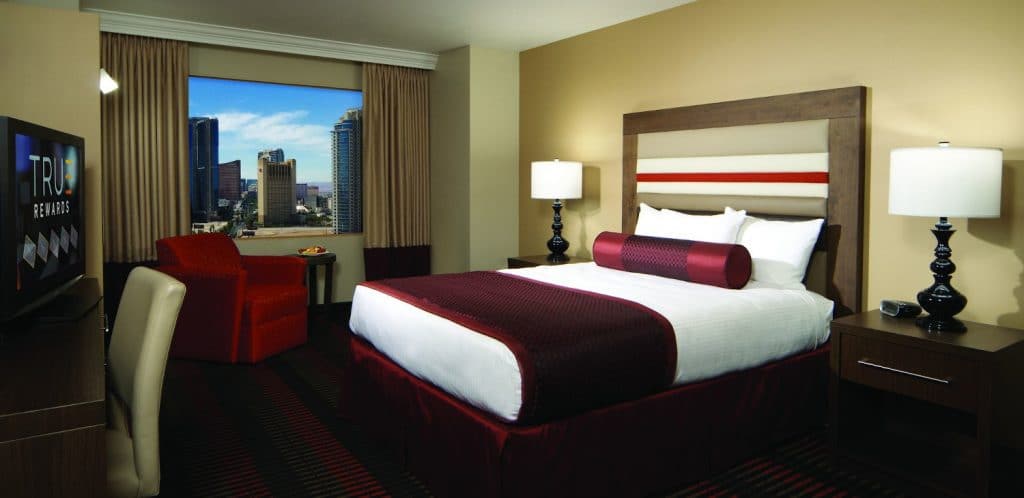 The Strat's standard rooms are assigned as either a king or 2 queen beds at the time of check-in. They are simple in their design, but a great option as far as affordability goes. For just a small amount more however, we recommend the Select King or 2 Queens, which are more recently upgraded with contemporary décor and modern touches like an MP3 player.
---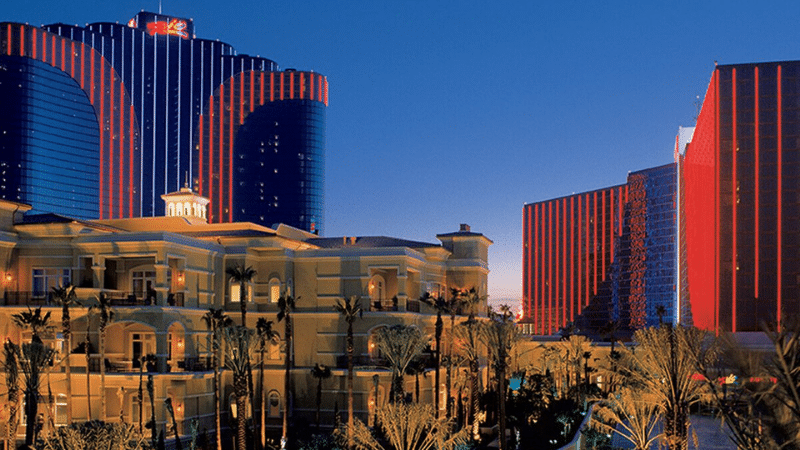 Located just West of the Las Vegas Strip, Rio All-Suite Hotel is a 10 minute uber or taxi ride away from all of the famous restaurants, shows and attractions the Strip has to offer. With an amazing pool, world-class entertainment and a variety of dining options, you don't even have to leave the property to have an amazing Las Vegas experience.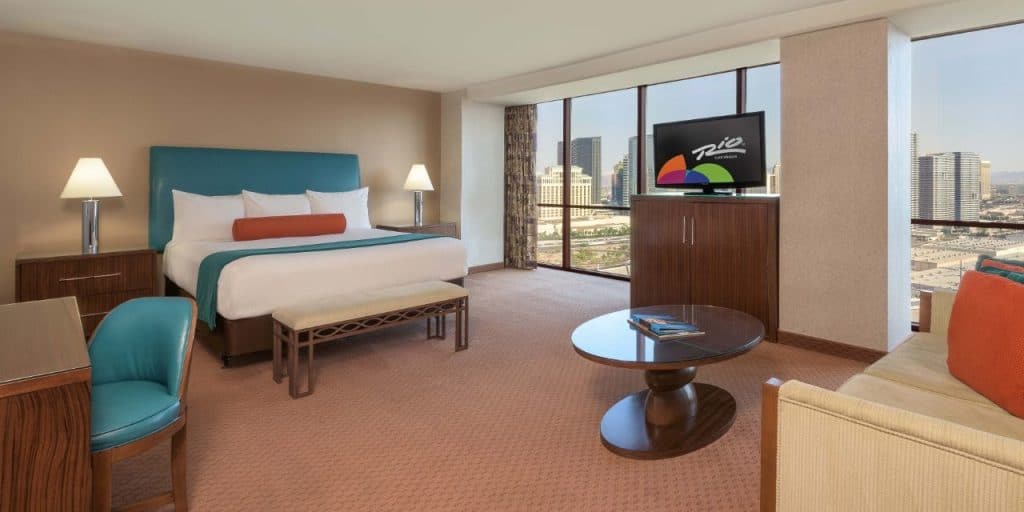 Every room at the Rio is a suite. That means you have lots of space, a mini refrigerator and a sofa in any room type you choose. The Deluxe Masquerade Tower King offers floor to ceiling windows with a beautiful sunset view. We love the contemporary décor in neutral colors with pops of teal.
We particularly love the Premium Suite, which you can get for just a fraction more in cost, and this one gives you views of the Las Vegas strip from its floor to ceiling windows. The Premium Suite can be reserved with either 1 king or 2 queen beds.
---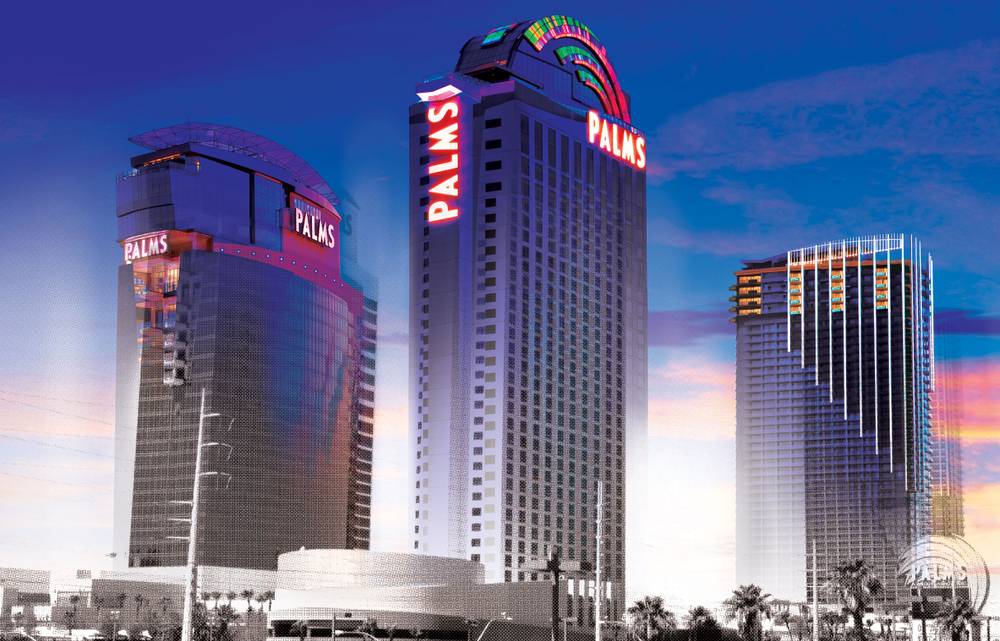 The Palms is a great choice if you want something affordable but luxurious. Its location 15 minutes West of the Las Vegas Strip makes it easy to get to world-renowned restaurants, shows and attractions, while still being removed enough to get a stunning panoramic view. On property there's a recently upgraded casino, as well as some mouth-watering dining options.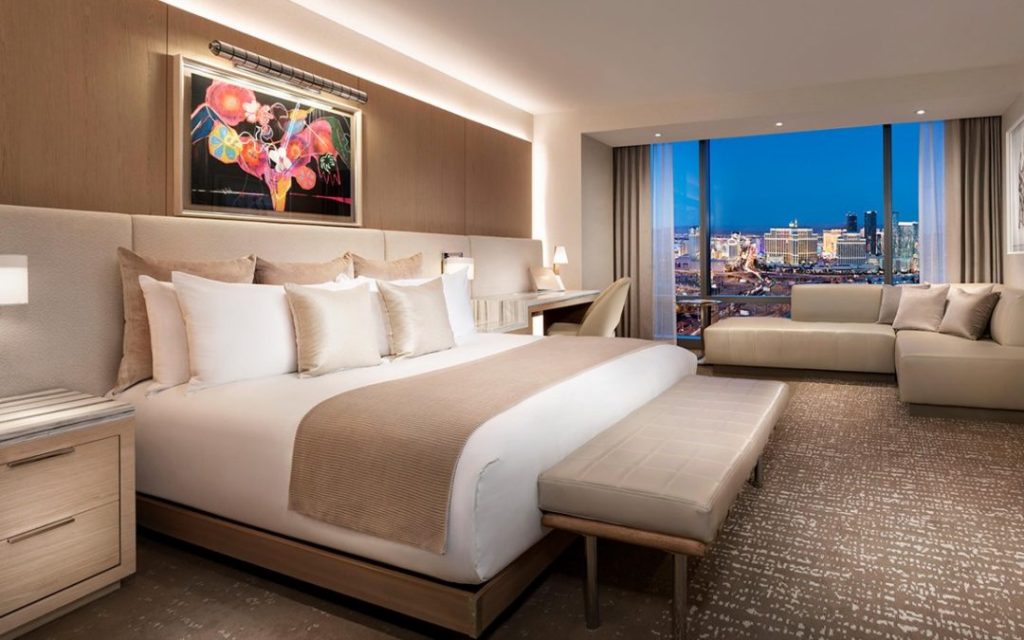 Rooms at The Palms have a chic, sophisticated style, and feature unique furnishings and décor in black and white with pops of color. Their floor-to-ceiling windows give you an amazing view of either the Strip or the mountains beyond the city.
---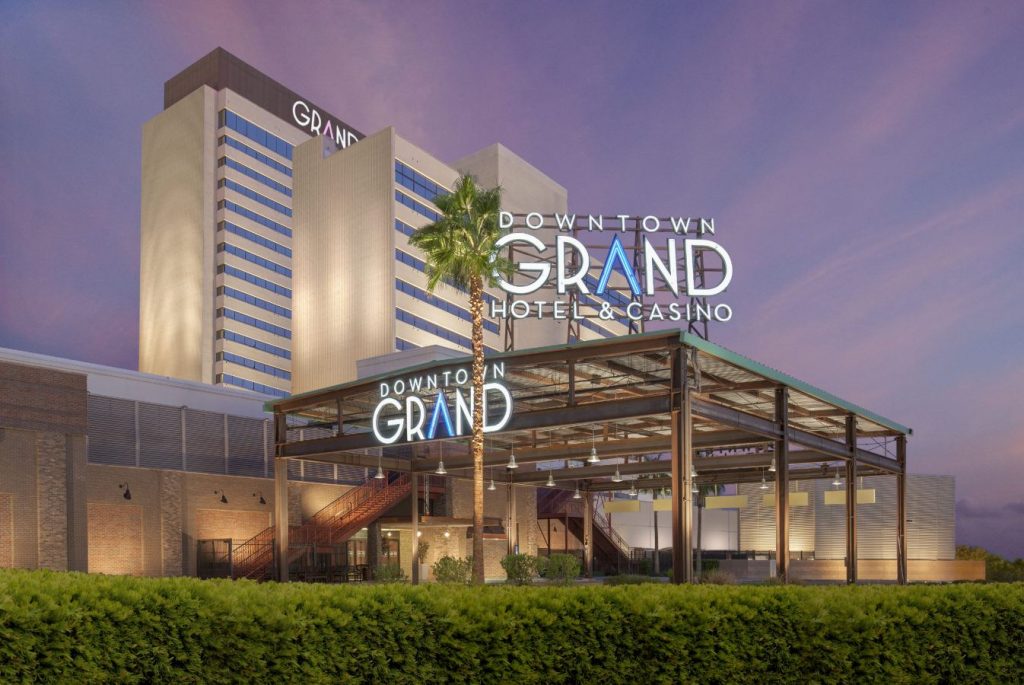 Right in the heart of Downtown Las Vegas, Downtown Grand is the perfect home base for exploring the Fremont Street Experience, Container Park, and the rapidly up-and-coming Downtown area. With a gorgeous rooftop pool on property and access to excellent local restaurants and bars, this is a fabulous hotel with unbeatable rates.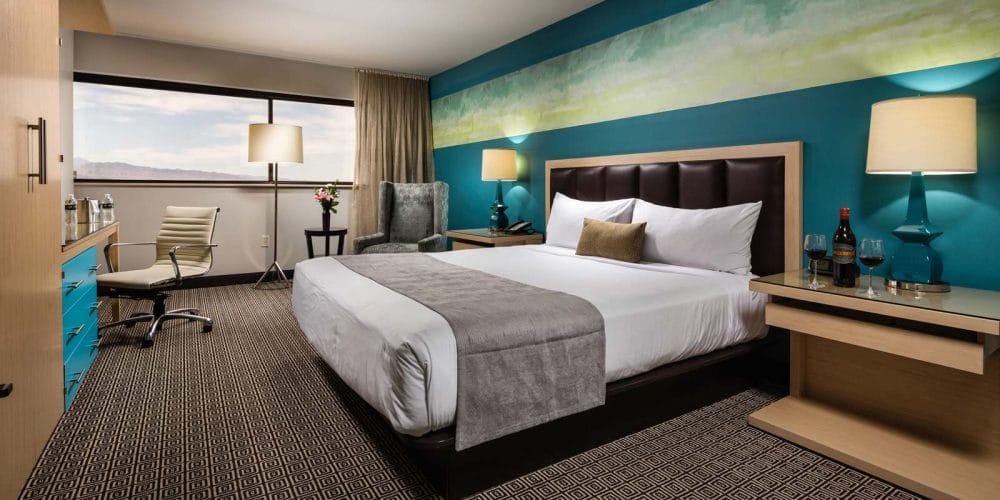 The Deluxe King or 2 Queen rooms are the standard rooms at Downtown Grand, and are 350 square feet in size. They are beautifully attractive rooms with recently upgraded furnishings and décor, and either a city or mountain view.
We love the Premium rooms, which are 450 square feet and have expansive scenic views of Downtown Vegas from the corners of the hotel. They have a comfortable sitting area, an expanded contemporary bathroom.