The Top 10 Restaurants in Las Vegas (2023)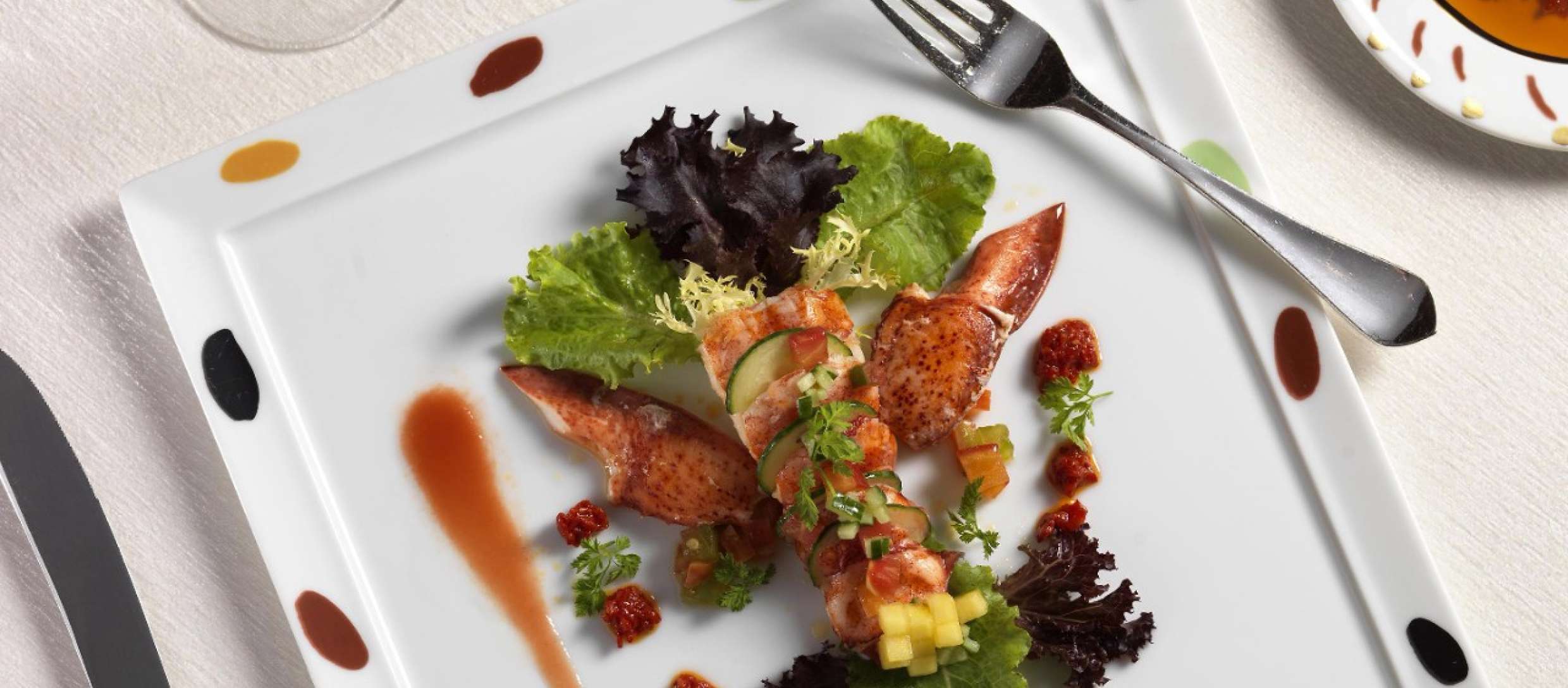 We may receive a commission if you make a purchase.
When you're planning your trip to Las Vegas, it goes without saying that you'll be choosing what hotel to stay at, what amazing shows you're going to see and what attractions you don't want to miss. But have you thought about your dinner plans? Las Vegas is home to some of the finest restaurants in the world, with cuisine to tempt any palate. So whether you're planning the ultimate girl's night out or a romantic honeymoon, be sure to give some thought to where you want to dine. To help you do that, we've put together a list of the top 10 restaurants in Las Vegas.
---
Price Range: $$$$
Cuisine: French
If you want to experience the absolute finest dining experience in Las Vegas, then Joel Robuchon is what you're looking for. Named after Chef Joel Robuchon who is the highest ranked chef in the world with over 30 Michelin stars, this Forbes Five-Star restaurant is in a world of its own. Located at MGM Grand, the moment you set foot in Robuchon you are transported to a lush, peaceful and beautiful atmosphere, with plush velvet seating, a fire place and a patio covered in ivy. The décor was designed with a French art-deco townhouse in mind, and in this quiet and intimate environment you are "inspired to speak thoughtfully, take things a bit slower and savor every moment with all your senses," says Forbes Travel Guide.
The French cuisine at Robuchon is of the finest quality, but with a concept of simplicity at its core. Chef Joel Robuchon says, "To make a grand meal, you have to make it simple. To look simple is very complicated. You need the highest quality products, the best equipment and you have to keep your focus on the original flavor of the product". When dining at Robuchon you are able to choose from a la carte selections, a prix fixe menu or a 16-course tasting menu (that's right, we said 16 courses!) Bon appetite!
Specialty Dishes
L'OEuf de Poule: Crispy soft-boiled egg in light Comte cheese sauce with Iberico de Bellota ham
Le Caviar Imperial: Oscetra caviar served in a crustacean gelée dotted with cauliflower puree
Le Sphere: Bubble sugar sphere filled with blackberry yogurt sorbet, candied lemon and a violet cream
---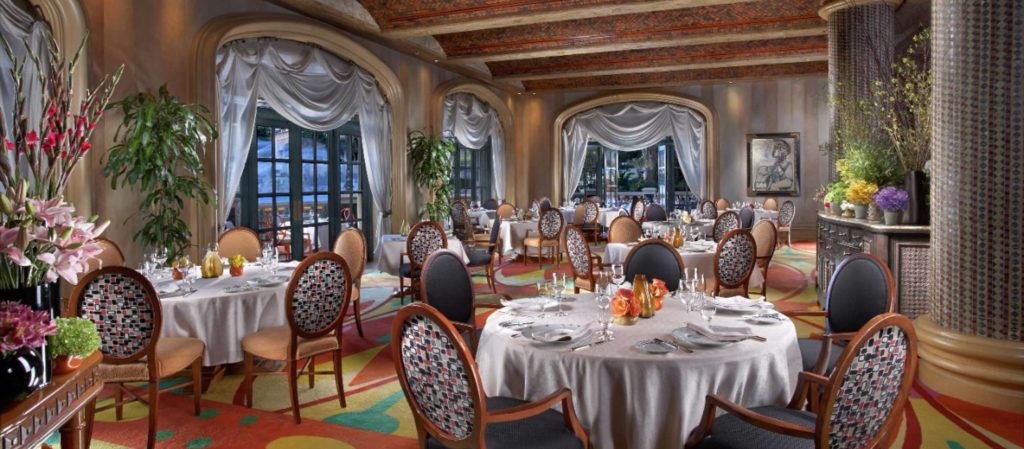 Price Range: $$$$
Cuisine: French & Spanish
Forbes Travel Guide, who gave this restaurant their Five-Star Award, call Picasso "one of the most elegant and awe-inspiring dining rooms in the world". Named after the legendary artist Pablo Picasso, his original paintings and ceramic pieces grace the walls. On the table, Executive Chef Julian Serrano presents his own works of art with cuisine from France as well as his home country, Spain. Forbes says that Serrano "harmonizes the flavors of these two regional cuisines perfectly, presenting consistently unique and delicious dishes". To accompany your dinner, Picasso boasts a wine cellar with more than 1,500 wines from European vineyards.
Located at the Bellagio, Picasso is the perfect choice for dining before going to see Cirque du Soleil's "O". And perhaps the most romantic element of this restaurant is that you can request to be seated on the outdoor patio where you will get to dine while watching the spectacular water show that is the Fountains of Bellagio. You can choose from a degustation menu or prix fixe menu, and Picasso also has a completely vegetarian menu too.
Specialty Dishes
Roasted Maine Lobster: Flying Fish Caviar, Crème Fraîche Vinaigrette
Pan Seared U-10 Day Boat Scallop: Potato Mousseline and Jus de Veau
Halibut: Green Asparagus and Sauce Hollandaise
---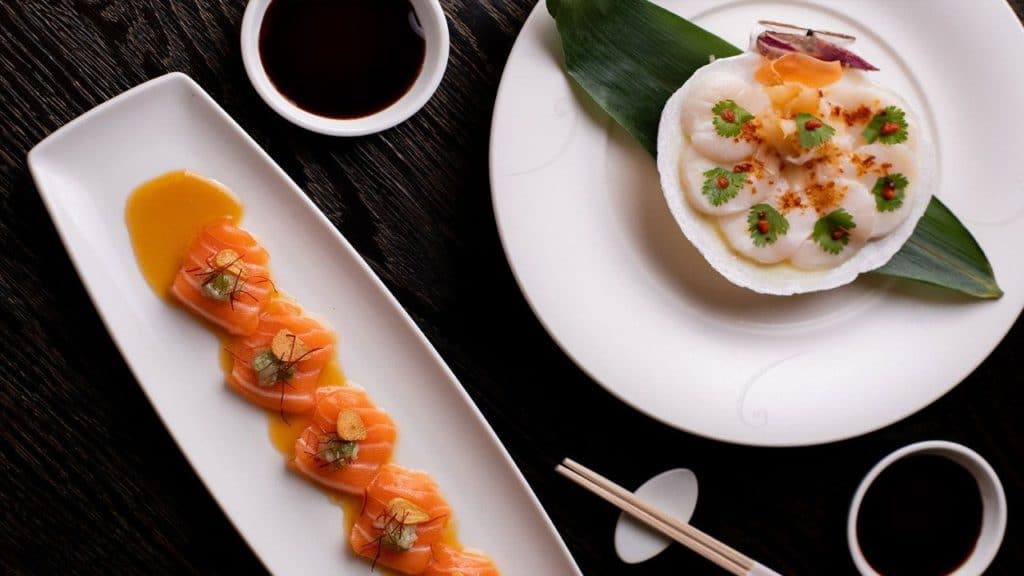 Price Range: $$$$
Cuisine: Japanese
The highly respected Nobu brand has its largest restaurant space in the US at Caesar's Palace in Las Vegas. It offers Japanese cuisine to suit the most sophisticated of palates, and multiple exclusive dining experiences you can't find anywhere else. Reserve the Teppanyaki Experience and you and your party will be seated at a Teppan table (a feature that's not available at any other US Nobu). There you'll watch as each amazing course is prepared before your eyes. You'll be served items that are exclusive to the Teppanyaki Experience and not available to any other guests.
Nobu also have a Truffle Tasting Experience menu, and an Imported Waygu Banquet, both prepared on Teppanyaki tables. There are vegetarian, vegan and gluten free options for those with dietary restrictions, and waiters are able to provide custom tailored menus as well. The signature dish at Nobu is black cod with sweet miso in a bite size piece over garlic chips and ginger in a butter lettuce cup. Be sure to try the imported Japanese craft beer and whiskey, or their 3 rare types of sake, imported from a Japanese brewery where they are made by hand with a slow drip process.
Specialty Dishes
Yellowtail with jalapeño
Japanese snapper dry miso
Rock shrimp tempura with creamy spicy sauce
---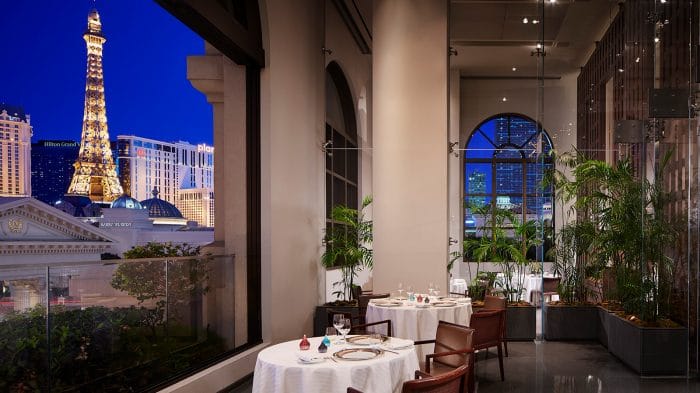 Price Range: $$$$
Cuisine: French
Renowned French chef Guy Savoy created this Las Vegas restaurant at Caesar's Palace to emulate his restaurant in Paris, in both the design and menu. And since his restaurant in Paris was awarded "Best Restaurant in the World" by La Liste, you know you'll be in for an incredible dining experience at Restaurant Guy Savoy. With an impeccably attentive wait staff and dishes created with utmost precision and creativity, it's no wonder this restaurant has received the Forbes Five-Star Award for many years in a row. You'll forget you're in Vegas until you step out onto the patio that offers beautiful views of the Strip, but even then you'll see the Eiffel Tower of Paris Las Vegas nearby.
If you feel overwhelmed by the 1,700 bottles of wine to choose from, a sommelier will give you expert guidance. Forbes lets us in on a little secret: the highlights of the meal are the bread cart and the dessert cart, overflowing with decadent choices. There's even a bread sommelier!
For the full experience, reserve well in advance to sit at the Krug Chef's Table, which provides 6 guests with the opportunity to get up close to the action in the kitchen and enjoy a customized meal that's perfectly paired with Krug's prestige champagne.
Specialty Dishes
Artichoke and black truffle soup
Foie gras
---

Price Range: $$$
Cuisine: Chinese
Located at the Wynn Las Vegas, Wing Lei is the first Chinese restaurant in North America to earn a Michelin star. This restaurant is extraordinary from the moment you see its beautiful gold dining room, designed to look like a classical Chinese jewel box. Offering Cantonese, Shanghai and Szechuan cuisines, the menu is large and filled with creative takes on Asian favorites. A specialty delicacy here is Imperial Peking duck, carved right at your table.
Forbes Travel Guide, who gave Wing Lei a Five-Star Award, gives a special mention to the restaurant's sommelier, who is able to find you the perfect pairing for any dish you order because of his intimate knowledge about the nuances of Chinese cuisine. They also mention a hot tip: request to be seated by the window, where you'll have a view of tropical gardens and century-old pomegranate trees.
Specialty Dishes
Tableside-carved Imperial Peking Duck
Wok-fried Maine lobster
---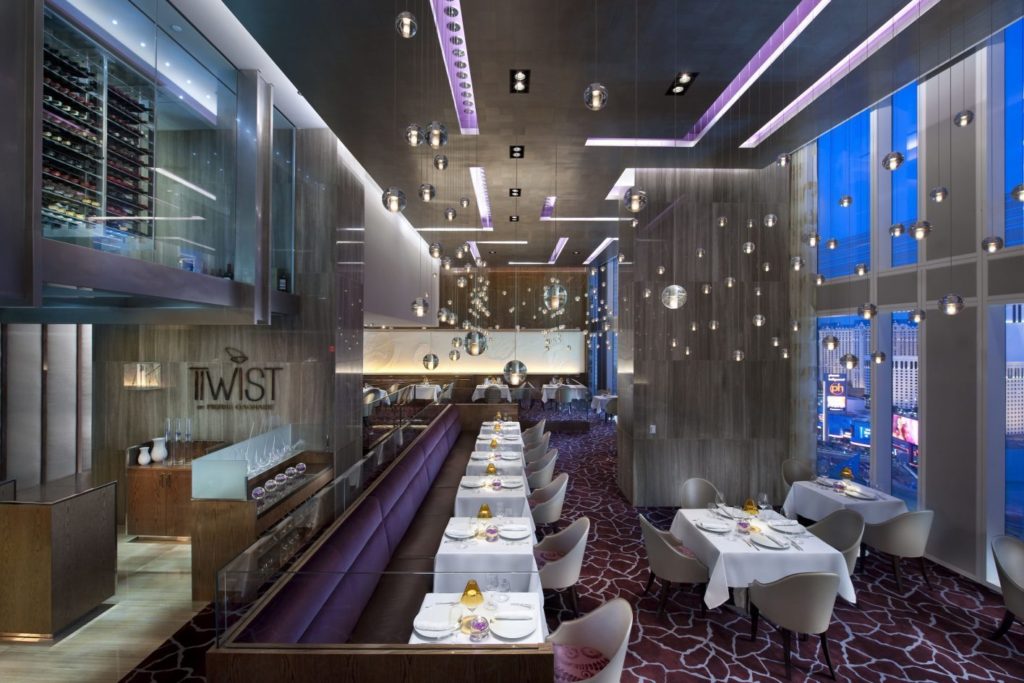 Price Range: $$$$
Cuisine: French-American
Located on the 23rd floor of the Waldorf Astoria Las Vegas, this Forbes Five-Star restaurant has a spectacular view of the Las Vegas strip from floor-to-ceiling windows. But that's not all that's spectacular at Twist by Pierre Gagnaire. The dishes are creative, modern takes on French cuisine, presented playfully and stimulating to the senses. Forbes Travel Guide says the cuisine here "challenges your conceptions about cuisine, from the preparation to the presentation". This is the first and only restaurant in the US of Chef Pierre Gagnaire, the renowned Michelin Three-Star chef.
Twist's take on the classic Surf 'N' Turf is a great example of the restaurant's skill at rethinking dishes. Nebraska prime beef carpaccio, Florida clam salad and shaved foie gras is accompanied by chestnut soup, razor clams, sautéed mushrooms & caramelized hazelnuts, and topped off by a fanny bay oyster scented with coconut milk, seasoned ginger and Sapporo foam. You can choose from a la carte, prix fixe menus, or a Lucky Number 7 Tasting menu (a 7 course meal paired perfectly with your choices from among the finest wines in the world).
Specialty Dishes
Saddle of venison: Red Cabbage Marmalade, Black Currant, Cocoa Nib,
Brussels Sprouts, Natural Jus with Rosemary and Juniper
John Dory: Cooked in Malabar Citrus Butter, Coco Beans with Dried Tomato,
PEI Mussels, Saffron Velouté
---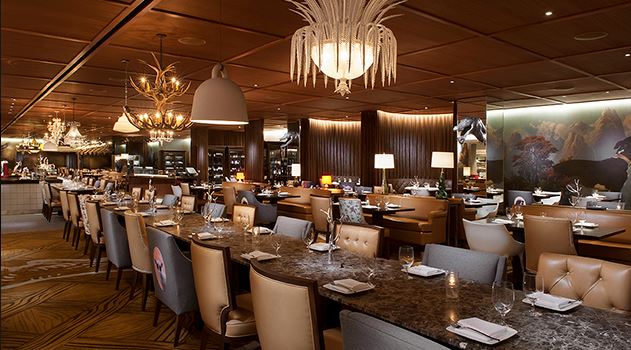 Price Range: $$$$
Cuisine: Steakhouse
James Beard Award-winning and Michelin-starred chef Jose Andres calls his amazing restaurant at Sahara Las Vegas a "meathouse" rather than a steakhouse. That seems like a good name for it, considering the vast and playful range of meats available at Bazaar Meat. Andres says his restaurant is "a celebration of the carnivorous in all its forms". The wonderfully strange décor and design of the multiple dining areas are thanks to famous French designer Philippe Starck, and the kitchen is open, with large glass cases displaying cuts of meat so rare that they have certificates of authenticity.
When we say playful when referring to the cuisine at Bazaar Meat, it is almost an understatement. Caviar flights, whole suckling pigs, foie gras wrapped in cotton candy, and chicken croquetas served in a glass shoe are just a few examples of dishes you can order. It's a shared plates dining experience, which makes this a great restaurant to visit with friends. And, perhaps because of the exotic and extraordinary cuisine and décor, the Las Vegas Review-Journal declared it "Best Date Night".
Specialty Dishes
Vittore 1950 Carpaccio: Tenderloin of beef, black pepper, Parmesan cheese, capers, croutons, Sherry dressing
Caviar Flights: with chives, crème fraîche, egg, shallot, pomme soufflé
Suckling pig (in quarters or whole)
---

Price Range: $$$$
Cuisine: Italian
This Forbes Four-Star awarded restaurant, located at Encore, is a tribute to Frank Sinatra. Sinatra is a dining experience you'll never forget, and absolutely perfect for a romantic dinner. You'll sit in a stylishly retro red dining room, surrounded by photos and mementos, including Frank's Oscar, Grammy and Emmy awards. Swinging music plays as you feast on classic Italian dishes with a sophisticated twist. While the dishes may seem pretty standard on the menu, they are flavorful and fantastic. Try Frank's favorite, spaghetti and clams.
For a truly romantic touch, you can dine outside under the stars, warmed by a fireplace on Sinatra's garden patio. Another dining experience is The Chairman's Room, a private room that surrounds you with notable wines and overlooks the garden. And because Encore CEO Steve Wynn is a vegan himself, the restaurant offers an extensive menu for vegans.
Specialty Dishes
Frank's spaghetti and clams
Osso Buco
Veal Parmigiana
---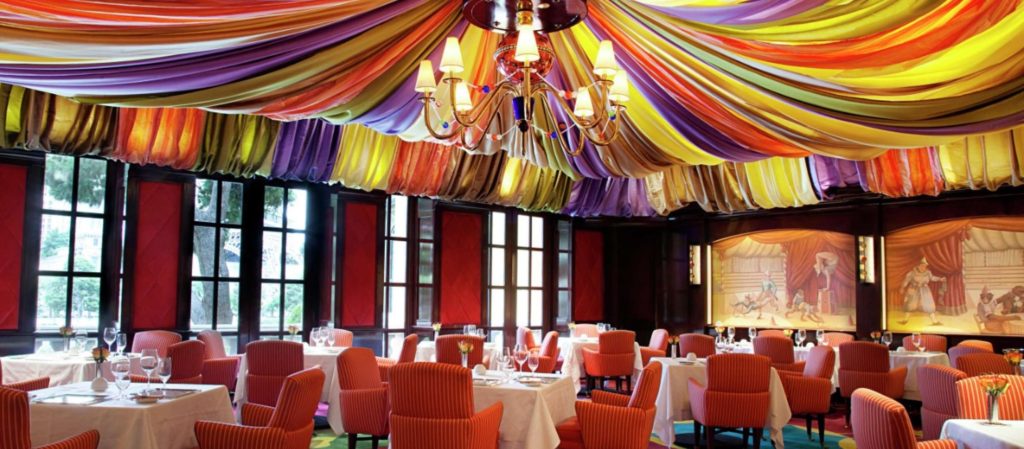 Price Range: $$$$
Cuisine: French
Stepping into Le Cirque Las Vegas makes you feel like you've just entered a vibrantly colorful circus tent. While this may seem like a strange theme for a fine dining restaurant, it perfectly balances with the refined French cuisine that is served here. Forbes Travel Guide, who awarded Le Cirque a Five-Star Award, calls it a "trendy yet formal dining experience". They point out that the service is "stellar and welcoming, not stuffy and snobby". The restaurant has also won a AAA Five-Diamond award, and are rated a Michelin 1 star restaurant.
The bold, delightful flavors of the cuisine at Le Cirque, mixed with its fun circus theme makes it the perfect pre-theater dinner spot before seeing a Cirque du Soleil show. And because it's located at Bellagio, "O" is an easy walk away in the same building. In You can choose from a 5 course degustation menu, a prix fixe menu, or a 10 course prestige menu. They even have a particularly delicious vegetarian menu.
Specialty Dishes
Hamachi: Japanese Yellowtail, Avocado, Heart of Palm, Yuzu Mirin Vinaigrette.
Maryland Blue Crab: With Russian Osetra Caviar, Ocean Smoke
Lobster and Avocado Salad: Haricot Verts, Black Truffle Vinaigrette
---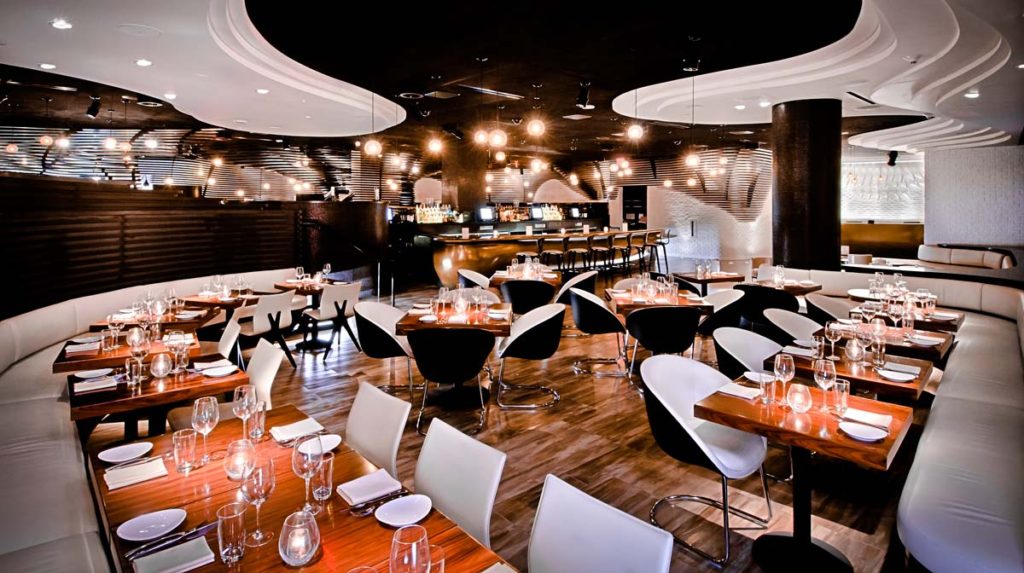 Price Range: $$$$
Cuisine: Steakhouse
STK is located at The Cosmopolitan, an ultra-trendy and stylish hotel, and this restaurant fits into that vibe completely. A steakhouse that does things differently, you can enjoy a fine dinner in a relaxed and hip atmosphere, with an in-house DJ and a vibrant bar. STK is the perfect dinner destination before your night out on the town, and celebrities think so too. It's common to see A-listers dining and socializing here.
Chef Stephen Hopcraft is recognizable from being a "Top Chef" contestant. His philosophy is to use fresh ingredients to create surprising flavors that have broad appeal. You can see those elements in the dinner menu with items like Foie Gras Pop-Tarts, jalapeno pickles shrimp cocktails, and mushroom pot pie. Opentable has given STK lots of accolades, including "100 Best Steakhouses in America", "Top 100 Hot Spots in America" and "100 Best Restaurants in America for a Big Night Out".
Specialty Dishes
Lil' Brgs: waygu beef, special sauce, sesame seed bun
Shellfish Platter: oysters, shrimp, ceviche, Alaskan red king crab, lobster
Bone-In Ribeye: available in 34 oz, choice of toppings
Mushroom Pot Pie: assorted mushrooms, cipollini onions, puff pastry
Related: Top 10 Buffets, Vegas Restaurant Guide, Best BBQ, Best Steakhouse