The Best Ways To Save Money While Visiting Las Vegas (Inside Tips from a Local)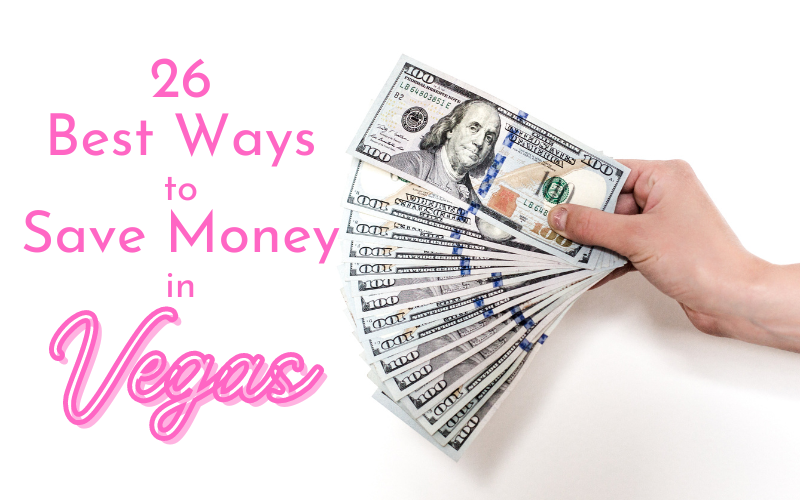 We may receive a commission if you make a purchase.
If you're visiting Las Vegas on a budget, it's quite possible to still have a really good time. You just have to know the inside tricks to getting things for cheap. As a Vegas local, I'm about to let you in on 26 ways to save money while you're visiting Vegas – the ones that actually, really work. Oh, and be sure to have a read of our article on How To Do Vegas for Free to find all the secret hacks to getting things comped.
---
Ways To Save Money on Your Vegas Hotel Room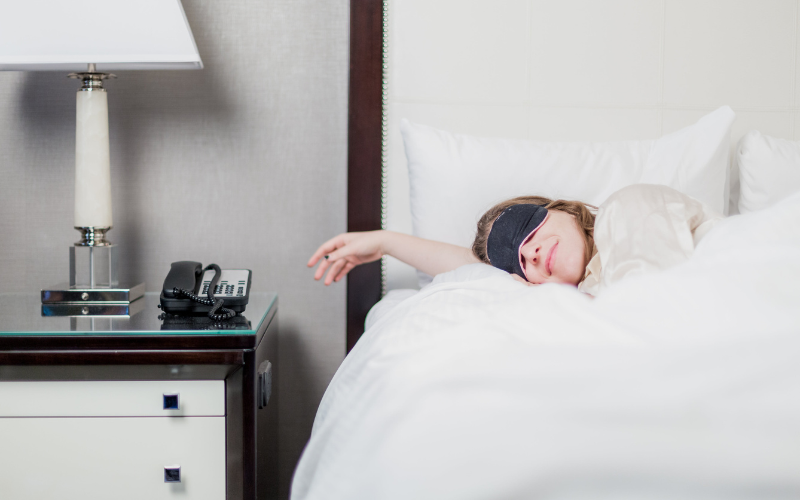 1. Visit Vegas at an Off-Peak Time
Las Vegas is a place where you can get the most lavish hotel rooms for a lower price than pretty much anywhere else in the country… except when there's something happening in town. Spring break, 4th of July, and New Year's Eve can change a hotel room's price from $27 to $527, easily. Consider coming during the hottest months, June and July, and check to make sure there aren't any big conventions going on in town.
2. Look for Flight + Hotel Bundles
A few of the major travel websites like Expedia offer deals to guests who book their flight and a hotel at the same time. This can significantly lower your room rates, with the added convenience of having it all handled in one reservation. Check out our bundle deals!
3. Stay at an Off-Strip Hotel
Consider staying at a hotel that's a little removed from the action of the Strip, and your bank account will thank you for it. Even the best Downtown hotels are considerably more affordable than hotels on the Strip, and only a 10-minute Uber ride away. The Station Hotels are also worth looking into, like Green Valley Ranch Resort and Red Rock Resort.
4. OR Stay at One of the Affordable Hotels on the Strip
Definitely take a look at our article on the best budget-friendly hotels in Las Vegas. My personal favorite is Luxor Hotel and Casino, which has significantly lower rates than most of the Strip hotels – even their upgraded rooms. The coolest thing is when you reserve a suite at the Luxor, it's the same price as a regular room at other hotels on the Strip.
5. Get the Player's Card Room Rates
Before you get out your credit card to reserve that room you've chosen, take a moment to sign up for the player's card associated with that hotel. No, it's not a credit card, nor is it just for gambling. Your player's card will almost always get you an immediate discount on room rates when booking direct with the hotel.

Many of the major resorts fall under these 3 rewards programs:
---
Ways To Save Money on Food and Drinks in Vegas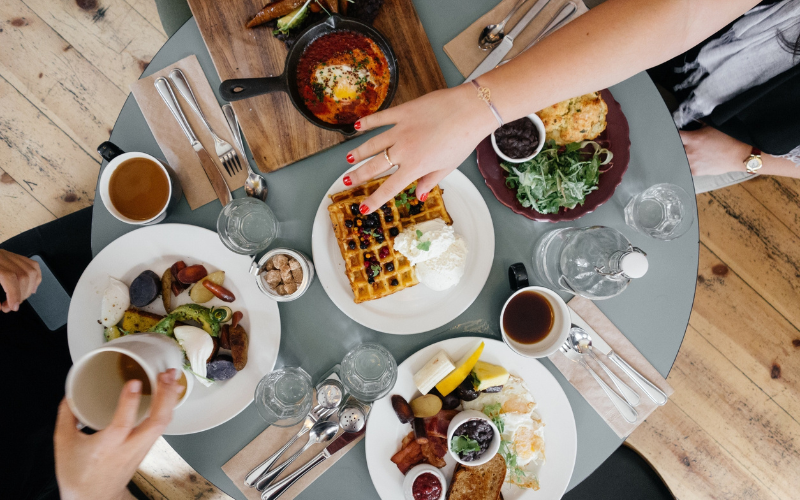 6. Bring Your Own Snacks and Drinks
You should avoid the minibar in your hotel room with all your might, and the best way to do that is to stock up on snacks and drinks at an off-strip gas station or grocery store. I always visit the gas station across the road from Mandalay Bay, which has "real life" prices and is just a short Uber ride away from Center Strip.
7. Find Affordable Places To Eat
Things can add up very quickly if you eat breakfast, lunch, and dinner on the Las Vegas Strip. If you know where to go, you can find some amazing food for cheap so you can (let's face it) have more money to gamble with. Luckily, we've written an article on the best cheap eats on the Vegas Strip.
8. Master the Timing of Your Buffet Visits
Want to go to a delicious buffet but pay half the price? It all depends on what time you go. Brunch or lunch at most buffets ends at 3 pm, and dinner begins. They bring out the even more delicious food, and the price goes up by double. If you're already eating there at 3pm, they're not going to kick you out. Instead, you enjoy the best of both brunch and dinner and you've scored yourself a 50% discount.
9. Get a Hotel Room with a Kitchen
Another amazing money-saving hack in Vegas when it comes to eating out is… to not eat out. You can do this by booking a hotel room with a kitchen and preparing your own meals. Check out our article on the best Las Vegas hotel rooms with kitchens. Order your groceries straight to your hotel with a grocery delivery app like Instacart.
10. BYO Drinks
I am not kidding you. It's legal to walk around on the Las Vegas Strip with a mixed drink in hand, as long as it's in a plastic cup. That means you can mix your own cocktails back at the hotel and carry them around with you as you wander the Strip. Purchase bottles of liquor at an off-strip liquor store and you're saving hundreds of dollars right there.
11. Get Free Drinks by Gambling
This is one of the reasons they call us Sin City. When you gamble, you get free cocktails. Simply load some money into a slot machine or join a table game and wait until the cocktail waitress rolls around. You can order your favorite drink and they'll bring it for you for free. Just be sure to tip the cocktail waitress at least $1 per drink, otherwise, she'll avoid coming back to you for future drink orders.
12. Get a Vegas Bite Card
Purchase a Vegas Bite Card and you'll get immediate discounts on lots of local restaurants. The card costs $42.95 for a year, and you can use it an unlimited number of times in that year. That means you can use it next time you visit Vegas as well! Vegas Bite Card also offers discounts for shows, tours, and attractions.
13. Take Advantage of Yelp Offers
Using Yelp on your smartphone can get you great deals on restaurants in Vegas. Here's how to do it (it took me many attempts to figure it out!):
Type into the search bar "Check-in offers" and choose your location as Las Vegas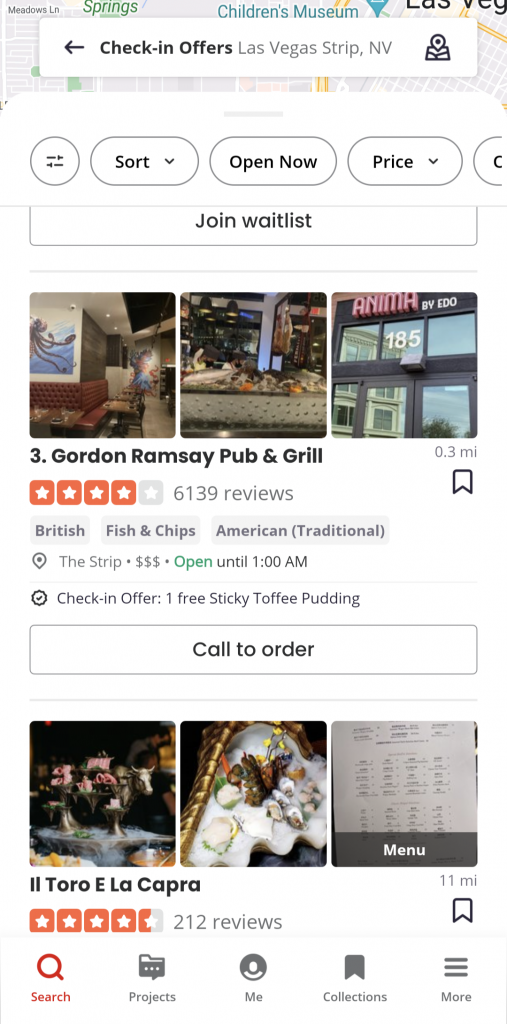 Click on the restaurant you like the look of to see their check-in offer (under the map)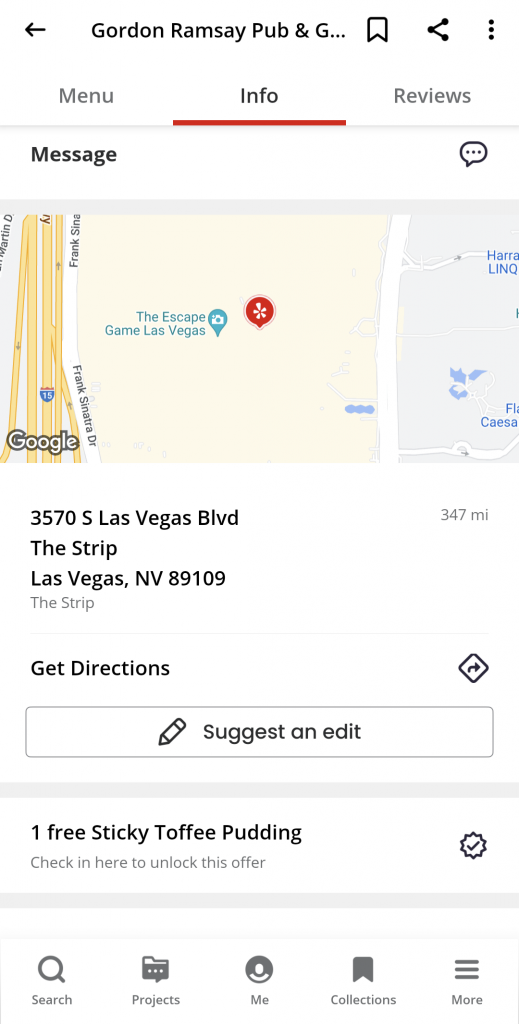 Once you get to the restaurant, check in on yelp to receive your offer.
---
Ways To Save Money on Transportation in Vegas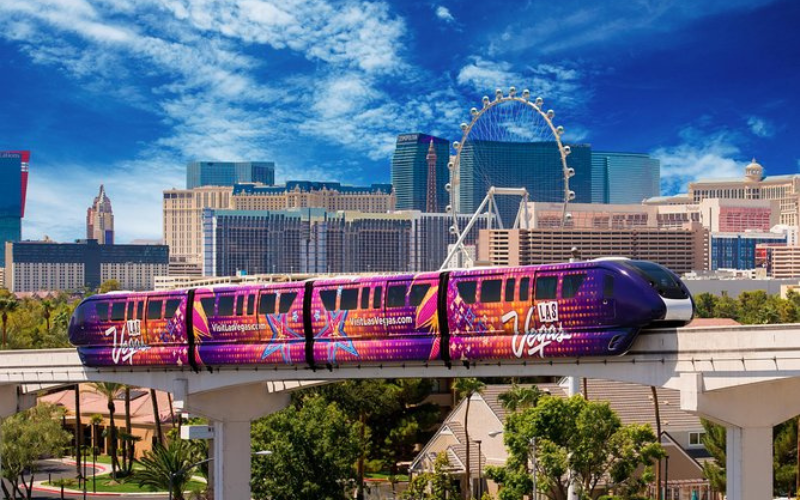 14. Avoid Taxis!
Calling a taxi in Vegas is simply a big waste of money, and often time. Taxi rides from the airport to the Strip can cost you up to $40, while on rideshare apps it's normally around $12. The added convenience of dealing with everything in an app, and the security of knowing your driver isn't taking you on a round-about route, make ridesharing an obvious choice.
15. Compare Pricing on Uber and Lyft
It's a good idea to have both Uber and Lyft downloaded on your smartphone, because their pricing can be radically different at times. Sometimes Uber will be charging $50 for a ride that costs $17 on Lyft, and vice versa. Always compare the prices between the 2 apps to get the best deal.
16. Ride the Monorail
If you're going to be heading up and down the Strip, take the monorail to save money. The Las Vegas Monorail runs parallel to the Strip from SAHARA Las Vegas down to MGM Grand and back again, stopping at many of the main hotels on its way. 1 ride costs $5 per person, or you can get a day pass for $15 (only $13.45 if you buy it as an e-ticket online).

Take a look at our Vegas Strip map to see which stop is nearest to your hotel.
17. Ride the Downtown Loop Bus
If you want to explore Downtown Las Vegas, take the Downtown Loop: a free shuttle that runs from Fremont Street Experience down to The Strat, with a route that stops at significant places like the Gold and Silver Pawn Shop, The Arts District, and Las Vegas North Premium Outlet shopping center.
18. Take the Deuce Bus
If you want to explore both Downtown Las Vegas and the Strip, taking the Deuce bus is a fantastic money-saver. This bus runs 24 hours a day from Fremont Street Experience in Downtown Vegas all the way down to the airport Rent-A-Car center, stopping at all of the major hotels on the way down. You can get a 24-hour pass for just $8.
19. Go Between Hotels on a Tram
Sometimes you just want to go from one casino resort on the Strip to the next, and that's where the trams come in. There are 3 free trams that can save your feet a lot of pain:
20. Take a Walk
Most of the famous Las Vegas shows, attractions, and restaurants are located on the Las Vegas Strip, which means it's possible to walk between them. Now, it might be a long walk, but if you bring a pair of good running shoes, it's doable. (Don't try to walk from Downtown Vegas to the Strip, however, as you'll just give up and call an Uber.) You can use our handy walking distance tool to measure the walking times between hotels.
---
Ways To Save Money on Vegas Shows and Attractions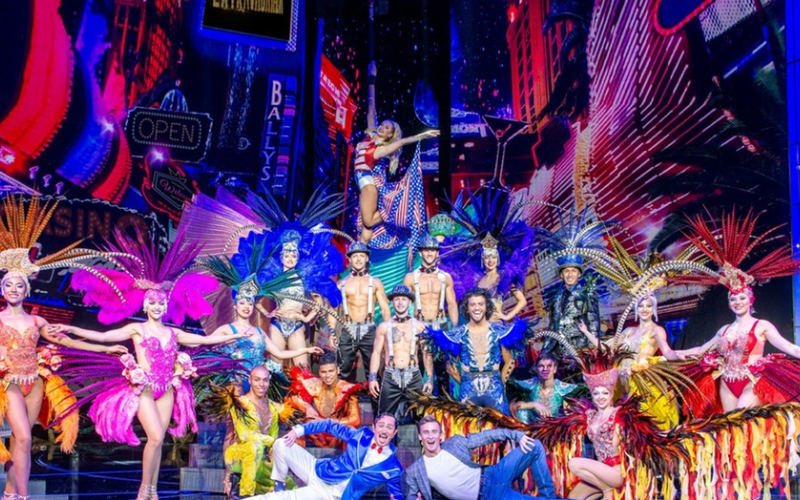 21. Check Groupon for Good Deals
Groupon is well worth taking a look at before you get to Vegas, because they often have good deals when it comes to many of the Las Vegas shows and attractions. Last time I checked, they had Lioz Show tickets for 47% off and V – The Ultimate Variety Show tickets for a whopping 69% off.
22. Get Last Minute Show Tickets at a Tix4Vegas Booth
If you're wandering down the Las Vegas Strip, you'll likely see one of these ticket booths on the side of the road, and if you want to get a deal on show tickets, you'll want to check them out. They sell tickets for Las Vegas shows that haven't yet filled to capacity, offering discounts of up to 50% off.
23. Buy a Go City Pass for Multiple Attractions
If you're interested in checking out multiple attractions in Vegas, consider purchasing a Go City Pass to save money. You can choose from an All-Inclusive Pass which will give you between 2 – 5 days of visiting as many attractions as you like, or the Explorer Pass which allows you to choose between 2 – 7 attractions to see at your own pace.
24. Read Our Article on How To Get Cheap Show Tickets
We wrote this article to let you in on all the secrets to scoring cheap tickets for your favorite shows.
---
Tips To Save Money in Vegas Casinos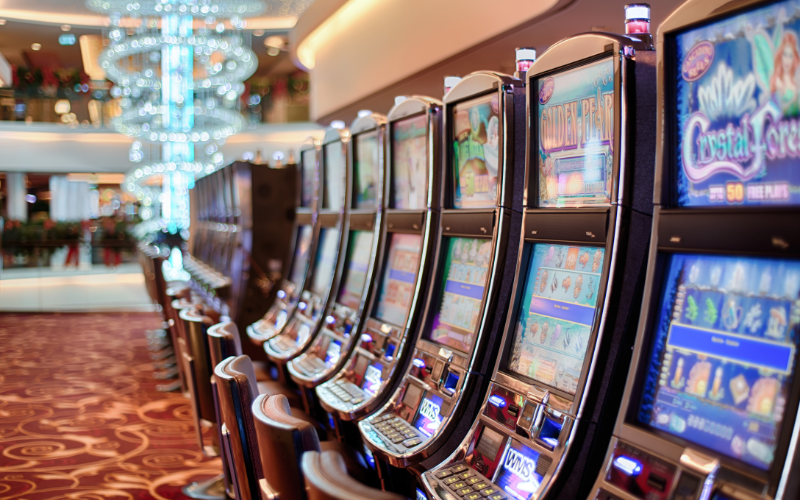 25. Don't Use Casino ATMs
Be sure to withdraw your cash for gambling before you get to the casino, because once you're on the casino floor, the ATM fees go up to as much as $25. For regular withdrawal fees, you'll probably want to go to an ATM off-Strip.
26. Stick To a Gambling Budget
It sounds common sense, but when you're sitting at that slot machine and you run out of money, you best believe you'll reach into your pocket for more money to keep playing. Set a specific budget for gambling each day, and bring only that amount of cash with you to the casino.