Top 10 Best Cheap Eats on the Las Vegas Strip 2023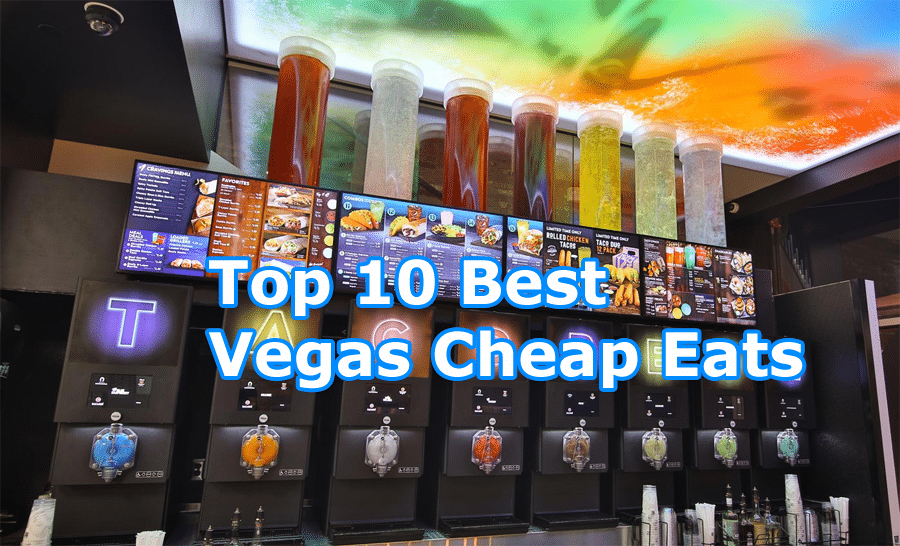 We may receive a commission if you make a purchase.
When most people think of Las Vegas, they think extravagance. When it comes to food in Vegas, there are certainly lots of amazing world-class restaurants – but what if you want to save some money for playing the slot machines? Well as it turns out, you can find some delicious and affordable dining options on the Strip. In this article we'll share our top 10 choices for the best cheap food on the Las Vegas Strip.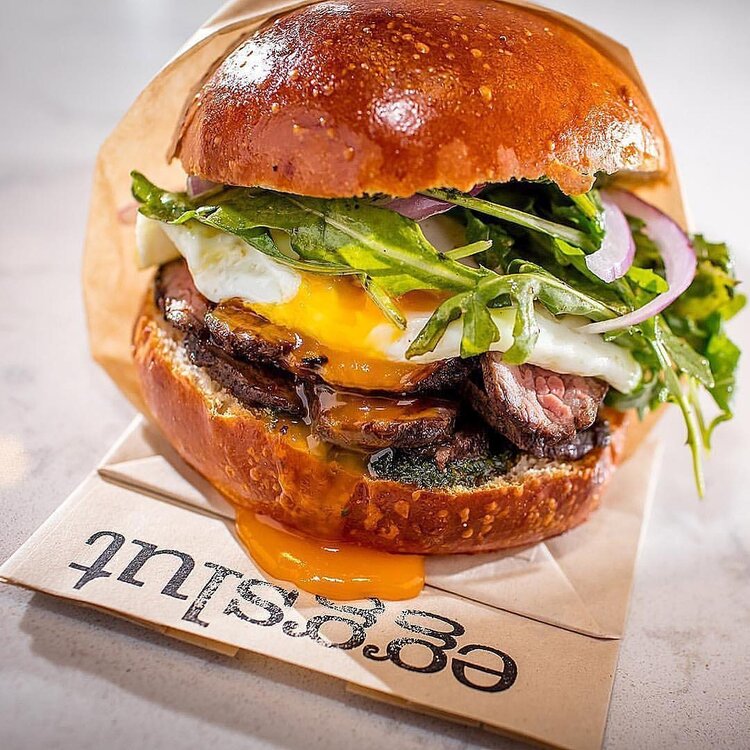 Cuisine: Breakfast Food
Address: 3708 South Las Vegas Boulevard, Las Vegas, NV 89109
Located in The Cosmopolitan, Eggslut is a culinary celebration of everything eggs. Their gourmet egg-centric food will appeal to anyone in your group, because it's the perfect mixture of innovative bites and comfort cuisine.
You'll be impressed by Eggslut's tasty dishes, friendly customer service, and price. It doesn't cost much to grab a bite here, whether you're pulling up a seat at the bar or taking your meal to go. Enjoy your breakfast even more by ordering a beer, glass of wine, mimosa or bloody mary with your meal.
We recommend: The Fairfax Sandwich (cage-free soft scrambled eggs, chives, caramelized onions, cheddar cheese, sriracha mayo in a warm brioche bun) – $9
---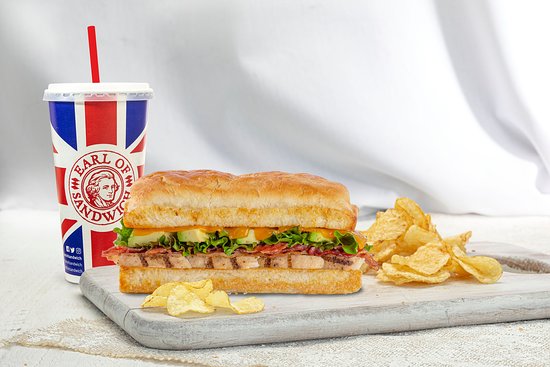 Cuisine: Sandwiches
Address: 3667 South Las Vegas Boulevard, Las Vegas, NV 89109
Earl of Sandwich, located at Planet Hollywood, has a wide variety of sandwiches, wraps, hand-tossed salads and soups that are made with quality ingredients. Their gourmet sandwiches are served on fresh-baked artisan bread, and with a delicious selection of toppings.
The restaurant is a great atmosphere to sit and dine in during your exploration of the Las Vegas Strip, and they're open 24 hours a day, 7 days a week. There are so many options on the menu to choose from, and they're all a great price.
We recommend: The Full Montagu (roasted beef, turkey, swiss, cheddar, lettuce, roma tomato and mustard sauce on fresh-baked bread) – $7.99
---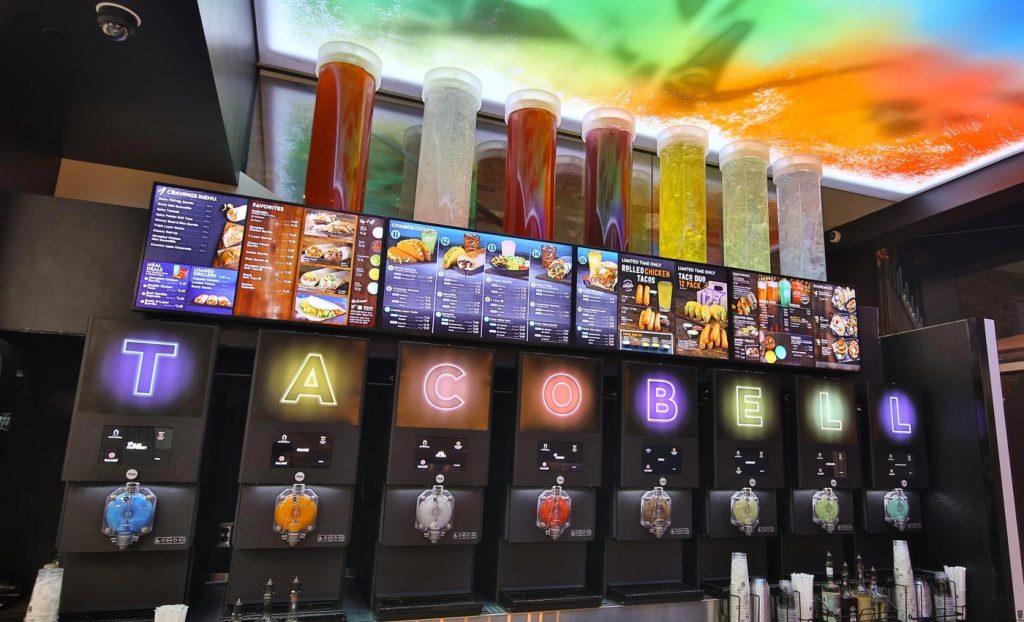 Cuisine: Mexican-Inspired Fast Food
Address: 3717 South Las Vegas Boulevard, Las Vegas, NV 89109
This is no ordinary Taco Bell. This is Taco Bell Cantina, and it's over-the-top in true Las Vegas style (complete with a DJ booth and VIP section). Located right in the heart of the Vegas Strip next to Planet Hollywood, the patio seating is an awesome spot to people-watch.
This 2 story taco bell location serves up shareable appetizers, perfect for chowing down with a group of friends. And they also serve up alcohol – you can choose from a wall of 8 different frozen cocktails, or just a nice cold beer. Taco Bell Cantina is the perfect place to find a cheap meal and a drink, and it's open 24/7.
We recommend: Crunchwrap Supreme Combo – $7.99 (Pair it with a gigantic frozen cocktail for an extra $7.69.)
---
Cuisine: Fried Chicken
Address: 3770 South Las Vegas Boulevard, Las Vegas, NV 89109
This Southern Californian fried chicken joint has its Vegas location inside Park MGM, where it serves up delicious (and affordable) comfort food. Their menu is all based around the ingredients of chicken and eggs, with thoughtfully sourced ingredients and a blend of spices they've named "Crack Spice".
Their chickens are locally raised and free-range, which makes their food taste that much better. With menu options ranging from chicken sandwiches to creative salads, amazing appetizers like Mexican Poutine to classic fried chicken, there's something for everyone here.
We recommend: The Double Clucker (2 ground chicken patties, cheddar, bacon, avocado, burger sauce, pickles, fried onions on an artisan potato roll) – $13
---

Cuisine: Flatbread Sandwiches and Rice Bowls
Address: 3708 South Las Vegas Boulevard, Las Vegas, NV 89109
Bāng Bar by Momofuku is a great spot to grab delicious flatbread sandwiches and rice bowls at an affordable price. Star Chef David Chang puts an Asian spin on spit-roasted meat dishes. Located at The Cosmopolitan, this restaurant doesn't have seating options but is perfect for cheap food on the go.
Named after the Korean word for bread, this is the restaurant's second location, the first of which is in Manhatten's Time Warner Center. Vegetarians will rejoice that there's an option for them with spicy eggplant as the main ingredient. We love their unique side dishes, like pickled shishito peppers and creamy bean salad.
We recommend: The U Wrap (flatbread filled and rolled with your choice of spicy pork, teriyaki chicken or spicy eggplant) – $12
---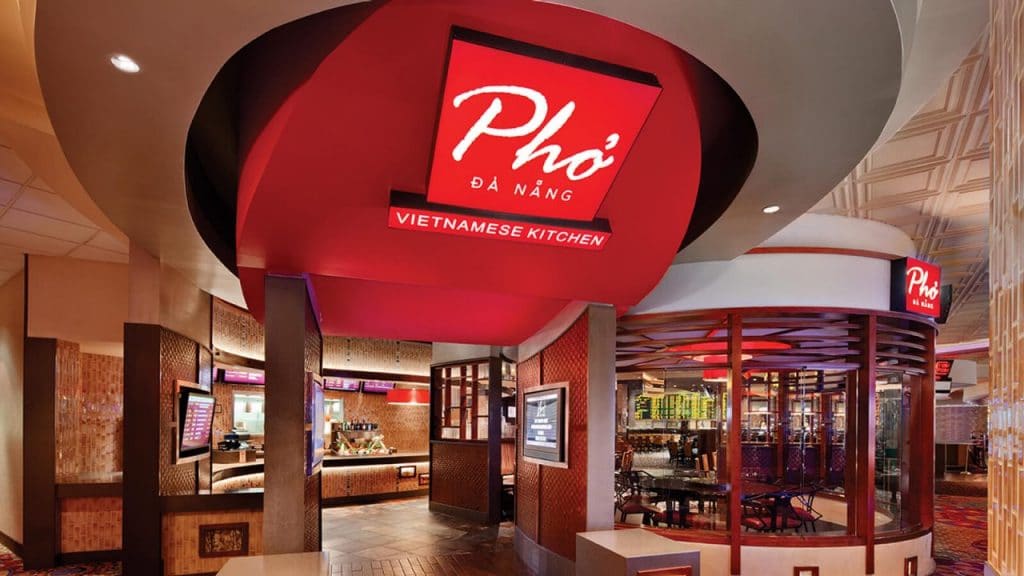 Cuisine: Vietnamese
Address: 3700 W Flamingo Road, Las Vegas, NV 89103
Just 5 minutes' drive West of the Strip at the Rio, this casual restaurant serves up tasty Vietnamese dishes like pho (sweet and tangy soup) and banh mi (sandwiches), as well as popular Chinese dishes. There's lots of table seating but you order at the counter from their overhead menu.
You can build your own pho with a variety of adventurous flavor options, with beef, chicken or vegetable broth, and proteins like brisket, shrimp and fried tofu. Their menu has a lot of options to choose from, and nothing on the menu is over $16. We love their vegetable egg rolls, wrapped in lettuce and aromatic herbs.
We recommend: Build Your Own Pho (with your choice of 1 protein option) – $12
---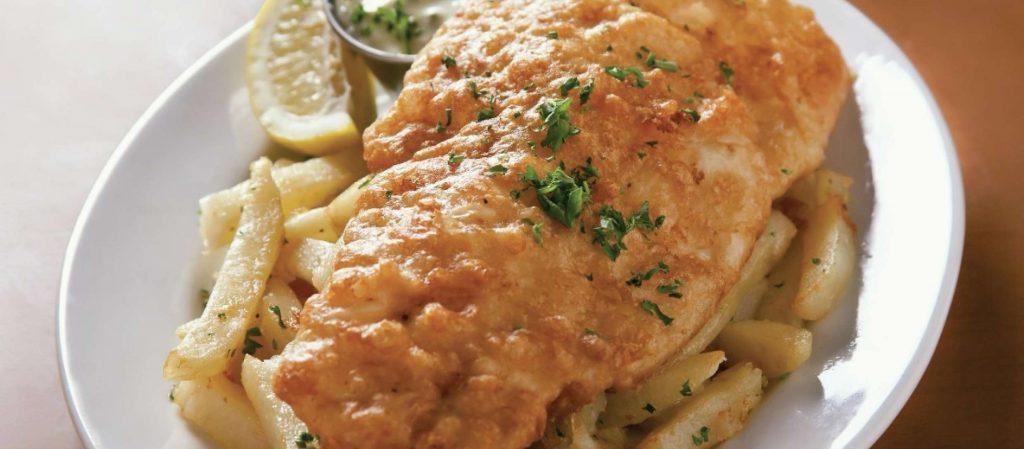 Cuisine: Irish
Address: 3930 South Las Vegas Boulevard, Las Vegas, NV 89119
Inside The Shoppes at Mandalay Place (at Mandalay Bay) you'll find something unexpected: an Irish pub. Here you can sip on a glass of Guinness in a comfortable neighborhood environment. Why does the experience feel so genuine? It's an actual old pub that was meticulously restored in Ireland and then shipped to Las Vegas.
Locals and visitors alike love to hang out at this venue which offers an awesome lineup of live music, a great selection of drinks and delectable food. We especially love their deviled scotch eggs. Oh, and every day from 11am to 4pm they serve afternoon tea in an ageless Irish tradition.
We recommend: Haddock and Chips (crispy beer-battered haddock served with fresh cut chips, coleslaw and choice of tartar sauce or Irish Remoulade) – $14.95
---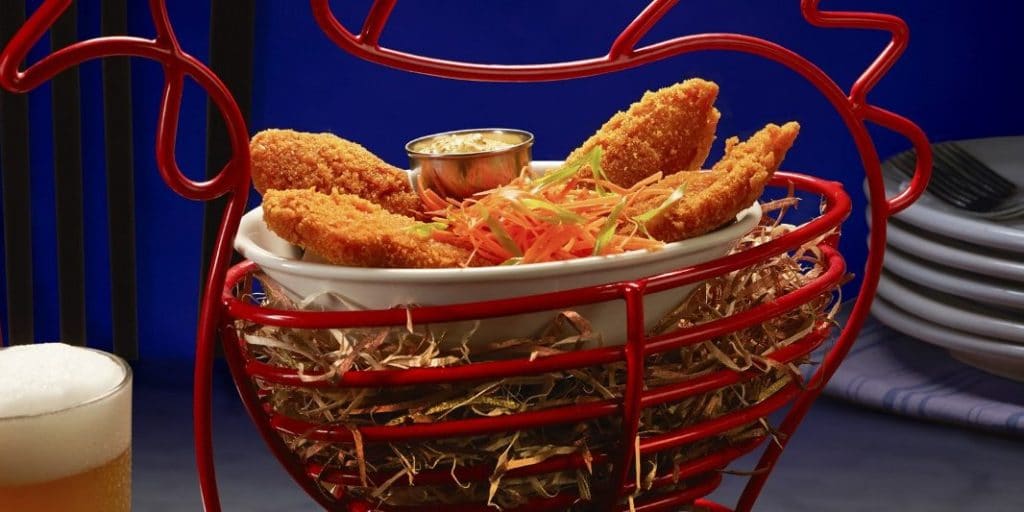 Cuisine: American
Address: 3667 South Las Vegas Boulevard, Las Vegas, NV 89109
Very centrally located at Planet Hollywood you'll find this Hollywood-themed retro diner. A recipient of 2020 TripAdvisor Travelers' Choice Award for Restaurants, this joint has a fun, hip atmosphere. Café Hollywood is open 24 hours and serves up and eclectic menu of American, Chinese and Italian dishes.
We love the fact that they serve all-day (and night) breakfast with generous portion sizes for a great price. And we can't keep from mentioning their incredible milkshakes, including the Cosmic Cotton Candy Super Nova (topped with rainbow sprinkles, white chocolate covered pretzels, cotton candy and a lollipop!).
We recommend: Three Eggs Any Style (3 fresh eggs, your choice of bacon, sausage or ham, breakfast potatoes and toast) – $15.50
---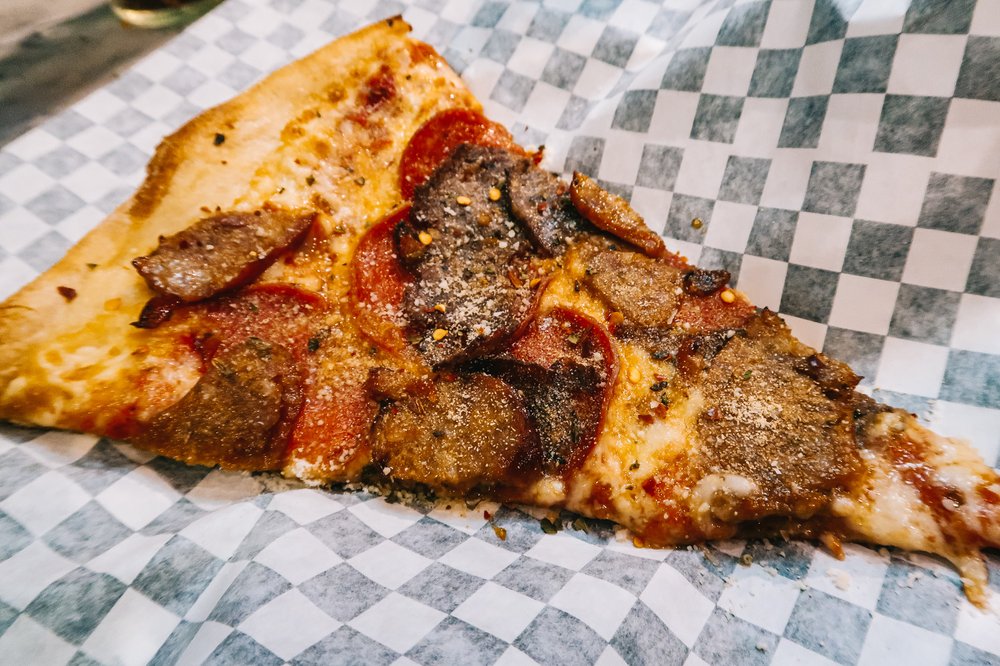 Cuisine: Pizza
Address: 3708 South Las Vegas Boulevard, Las Vegas, NV 89109
This place really is a secret, but maybe not for long. You can get a large New York Style pizza slice for around 5 dollars. Whole pizzas are also available. Finding this hidden pizza gem is a definite challenge, but well worth it. You won't find any signs at the Cosmopolitan hotel where it is located giving you directions. You will find it near the Blue Ribbon restaurant (3rd floor) in an alley with vinyl records on the walls. Just keep walking until you find it. Their pizza is delicious, but don't tell anyone or they might start raising their prices!
We recommend: White Pizza and Sausage & Pepperoni – $5
---

Cuisine: Thai
Address: 3137 S Sammy Davis Junior Drive, Las Vegas, NV 89109
If you're in the mood for some delectable Thai food at an affordable price, Thai Street Café is just a 5 to 10 minute drive from the Strip. This is a spot that the locals come to for what many of them call the best Thai food in Vegas.
You'll be a little thrown off by their location between a sex shop and an erotic heritage museum, but don't let that put you off (that's just Vegas for you!). Inside the restaurant there is a comfortable, modern atmosphere, really friendly service and authentic Thai dishes that will blow you away.
We recommend: Pad Thai (choice of meat, stir-fried thin rice noodles, bean sprouts, green onion, egg, peanuts, tamarind sauce, cilantro) – $11.95