Top 10 Most Glamorous Luxury Suites in Las Vegas 2023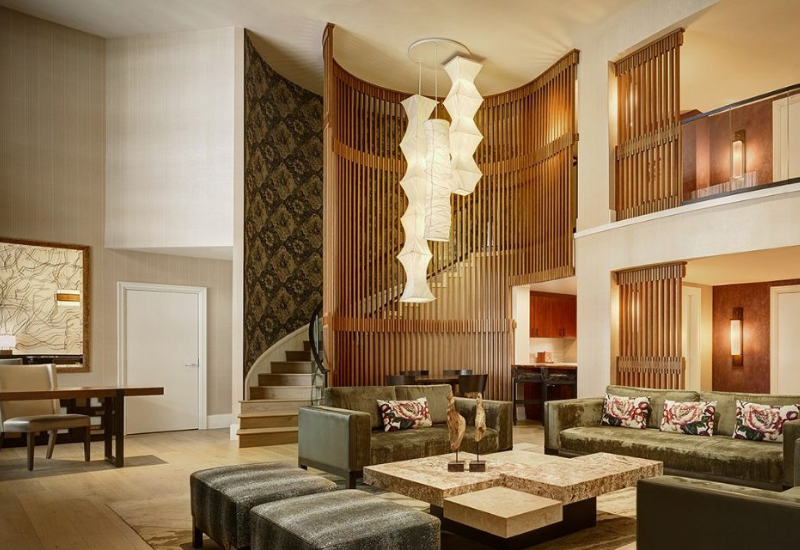 We may receive a commission if you make a purchase.
Decked out villas with larger square footage than most people's homes, private pools, and extravagant amenities like personal butler service and limo rides. These top 10 most glamorous luxury suites in Las Vegas will make your jaw drop. (While their price tags might be a little out of reach, be sure to check out the hotel you like for suites that are more affordable, but still awesome.)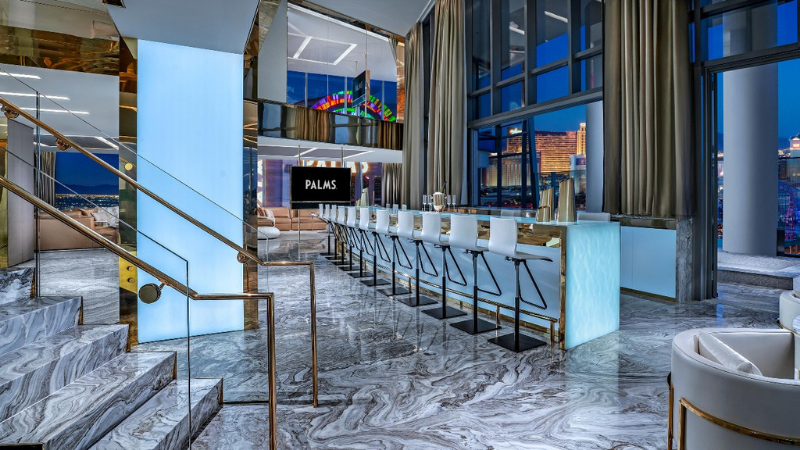 1. Two Story Sky Villa at The Palms
The newly-renovated Two Story Sky Villa at The Palms Resort & Casino has everything you can imagine in a luxury suite, and more. This uber-chic 8,500 square foot suite covers 2 stories, and features marble floors, high ceilings, and floor-to-ceiling windows with a sweeping view of the Vegas Strip. A gigantic private patio with an infinity pool is one of this suite's amazing features.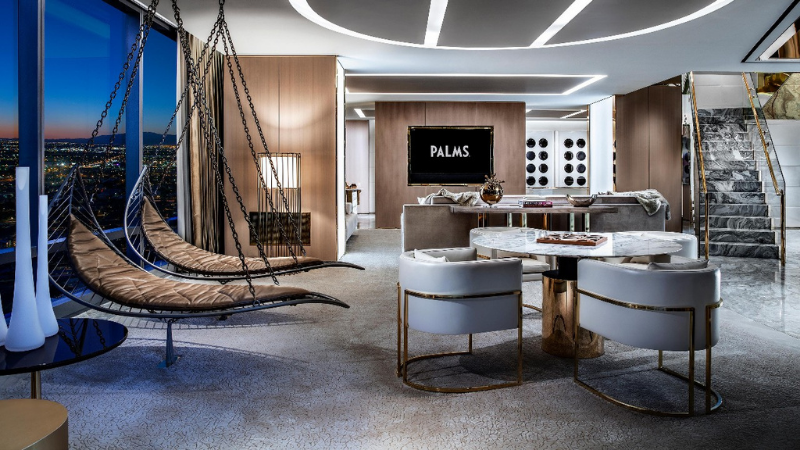 The lavish 2 bedroom villa is set up for entertaining in style, with a dining table for 8, an 11-seat bar, and a crystal-accented pool table. You'll have an impressive media room, your own fitness center, and a relaxing massage room. Both bedrooms feature California king size beds, and bathrooms featuring jetted deep soaking tubs and walk-in steam showers.
What to Expect During Your Stay
Pre-arrival concierge service
Round-trip airport transportation
VIP check-in
24 hour butler
Complimentary cabana rental for 1 day of your stay
Price per night: $40,000
---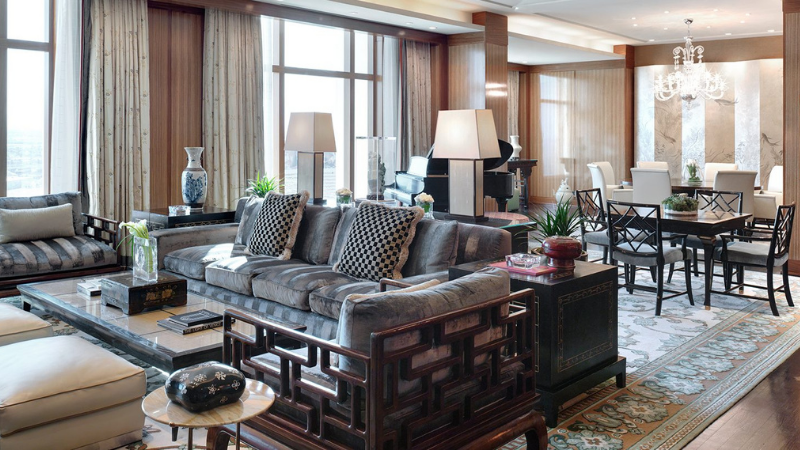 2. Chairman Suite at The Venetian
Next up on our top 10 list is the glamorous Chairman Suite at The Venetian Resort Las Vegas. This 8,000 square-foot suite is beyond luxurious, offering 3 bedrooms, multiple living areas, a media room with karaoke and Playstation, a massage room just for spa services, and a whole lot more.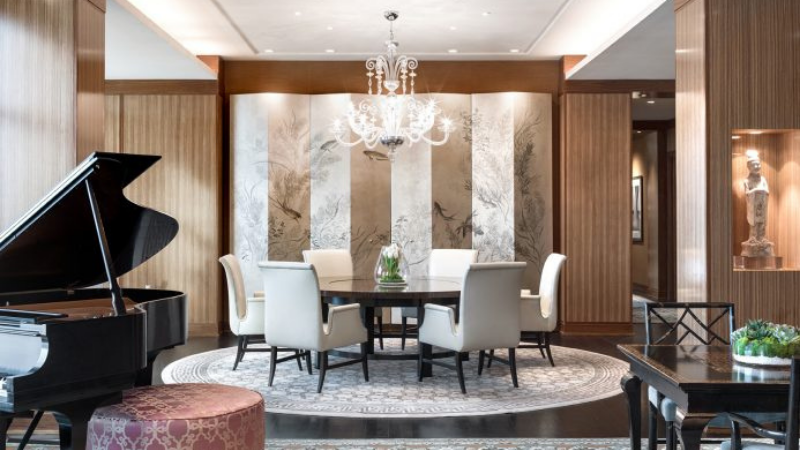 When you walk through the double-door entrance to this suite, you'll be greeted by a waterfall feature in your Italian marble foyer. Enjoy a formal dinner in the formal dining room with seating for 8, stay fit in the private fitness room with sauna, and soak in one of the suite's jetted hot tubs with Strip views. The main living area features an elegant grand piano and a contemporary fireplace.
What to Expect During Your Stay
Private VIP check-in
24 hour butler service
Access to Prestige Club Lounge
Price per night: Starting at $25,000
---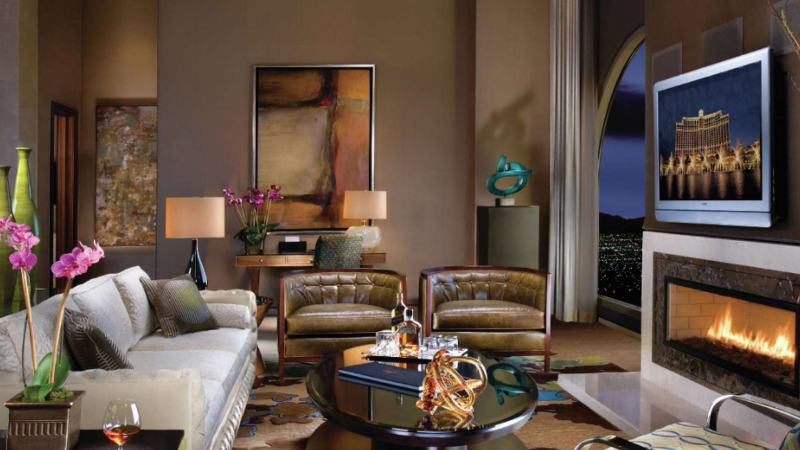 3. Presidential Suite at Bellagio
Bellagio is known for its lavish accommodations, and the resort's Presidential Suite lives up to this reputation. The extravagant and stylish suite measures at 4,075 square feet and has 2 bedrooms with a king size Bellagio Cashmere Super Pillow Top bed in each. After crossing an impressive walkway over water, you'll enter a marble foyer with a chandelier and water features.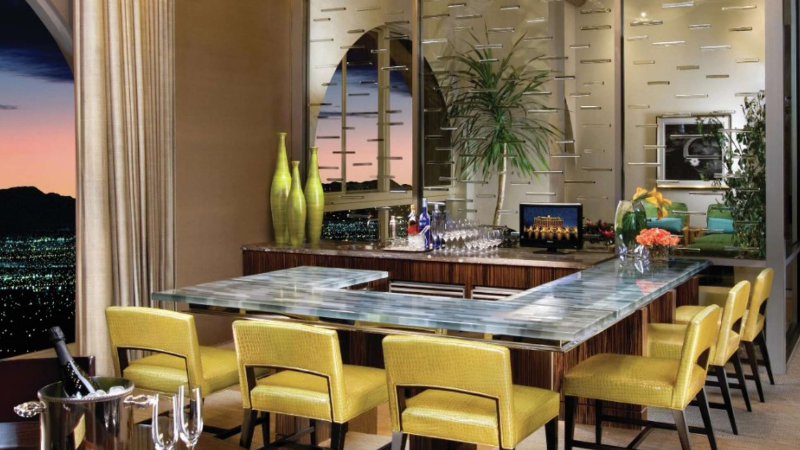 An indoor garden with a fountain and a private solarium are gorgeous features of this expansive suite. The tastefully furnished living room has a fireplace and home theater system with surround sound, plus you'll have a dining room for 8, and an L-shaped full-service bar with seating for 6. The 2 master bedrooms feature fireplaces and full bathrooms with whirlpool tubs and steam showers.
What to Expect During Your Stay
24 hour butler service
Daily presentation of morning, afternoon, and evening appetizers
VIP concierge services
Premium seating for shows, restaurants and clubs
Price per night: $15,000
---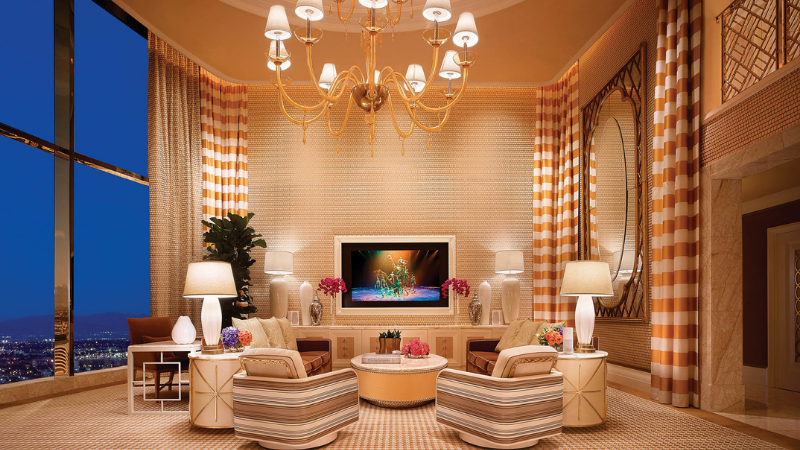 4. Three Bedroom Duplex Apartment at Encore
This dazzlingly beautiful suite at Encore at Wynn Las Vegas is an experience of total luxury, with 5,829 square feet of space over 2 floors. The Three Bedroom Duplex Apartment offers a breathtaking view of the sparkling city lights of Vegas from 2-story windows. On the first floor you'll have an elegant living area, a dining table for 5, and a bar with seating for 3.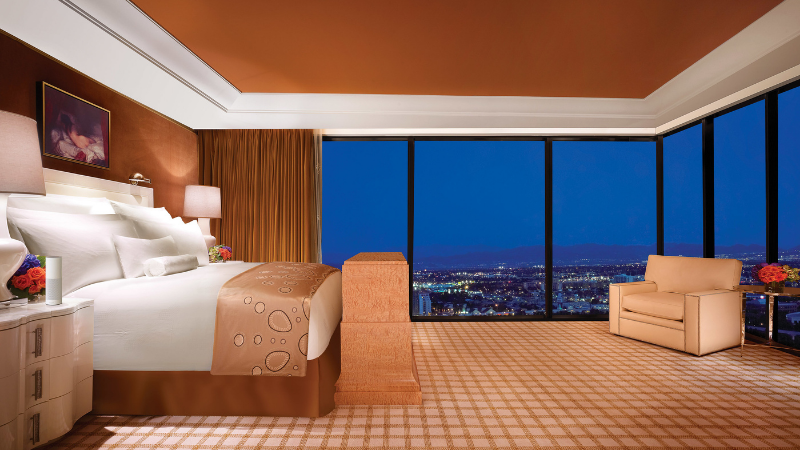 Each of the 3 sleekly-furnished bedrooms have floor-to-ceiling windows with amazing views, a king size pillowtop Wynn Dream Bed, and marble bathroom with a whirlpool deep soaking tub. You'll love the in-suite gym and wellness room where you can indulge in spa services, and the billiard room.
What to Expect During Your Stay
Round trip limo service from airport
Arrival via a private driveway
Welcome gift
Dedicated butler service
$200 daily breakfast credit
Priority access to restaurants, shows, and nightclubs
Price per night: $8,000
---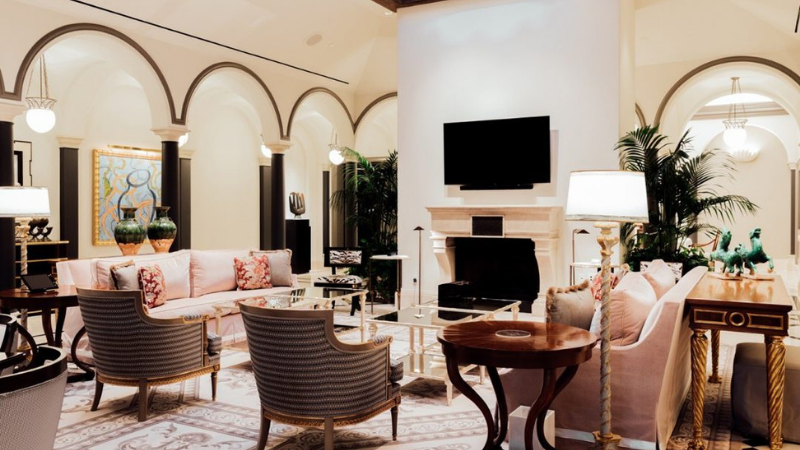 5. Neptune Villa at Caesars Palace Las Vegas
This 4,000 square foot, 3 bedroom suite is one of the extravagant Villa options offered at the world-famous luxury resort, Caesars Palace. The Neptune Villa is more traditional in its elegance and perfect for entertaining guests, featuring an expansive living area with a fireplace, a dining table with seating for 10, and a 6-seat bar.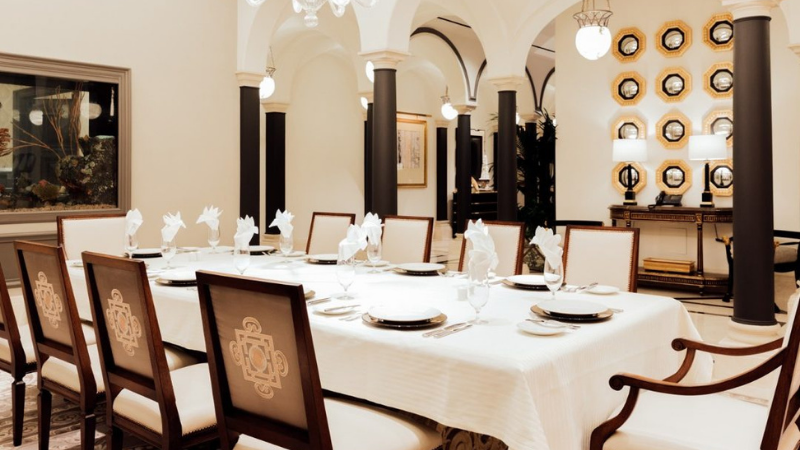 The suite opens out onto a private marble patio that overlooks the Garden of the Gods Pool Oasis and features an outdoor Jacuzzi tub. The opulent bathrooms have TVs built into the mirrors and their own spa tubs. You'll even have an in-suite hair styling salon and fitness center.
What to Expect During Your Stay
Round-trip limo service
Butler service
Amenity upgrades available include a continental breakfast with caviar and Cristal Champagne, custom-designed floral arrangements, and elaborate seafood displays.
Price per night: $6,000
---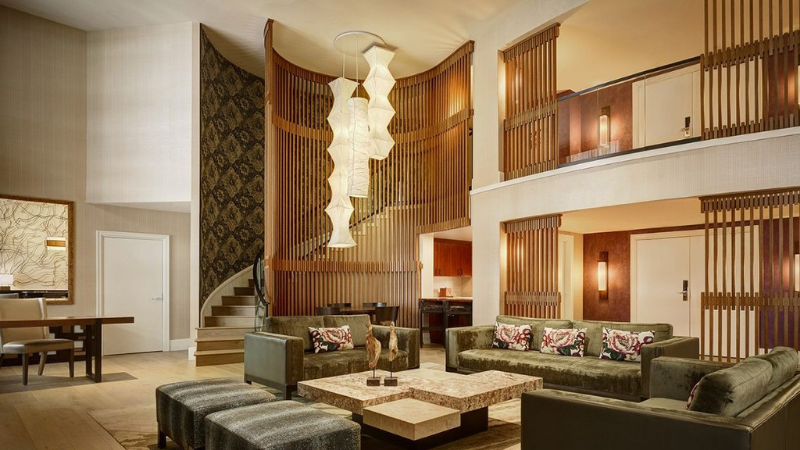 6. Nobu Penthouse at Nobu Hotel
On the uppermost floor of Nobu Hotel at Caesars Palace, the Penthouse suite combines traditional Japanese aesthetics with over-the-top Las Vegas glamour. This 2,200 square foot accommodation has 1 bedroom, but connecting rooms can create up to 5 bedrooms. The suite's impressive design includes a 2-story-high stone hearth and a grand staircase that winds up to the 2nd floor's terrace, enclosed in a Japanese-inspired wooden screen. Elements of nature like leather, stone, and reclaimed wood, as well as a nature-inspired color palette, give the Nobu Penthouse an inviting atmosphere.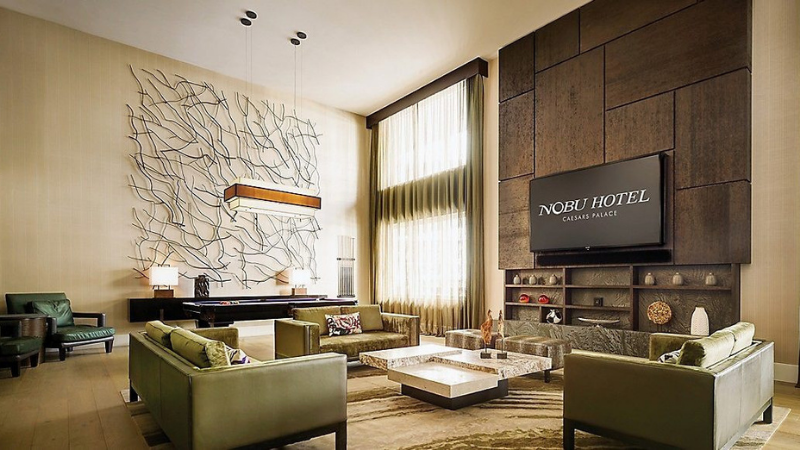 On the lower level you'll find a pool table, dining table for 6, and a kitchen stocked with Nobu pantry selections. Upstairs, the large master bedroom has an almost residential feel, with eclectic wall art and vintage-inspired furniture. The luxurious master bathroom has an oversized whirlpool bath and separate shower.
What to Expect During Your Stay
Limo service to and from airport
Priority seating at Nobu Restaurant
Priority access to Omnia Nightclub
Price per night: $4,000
---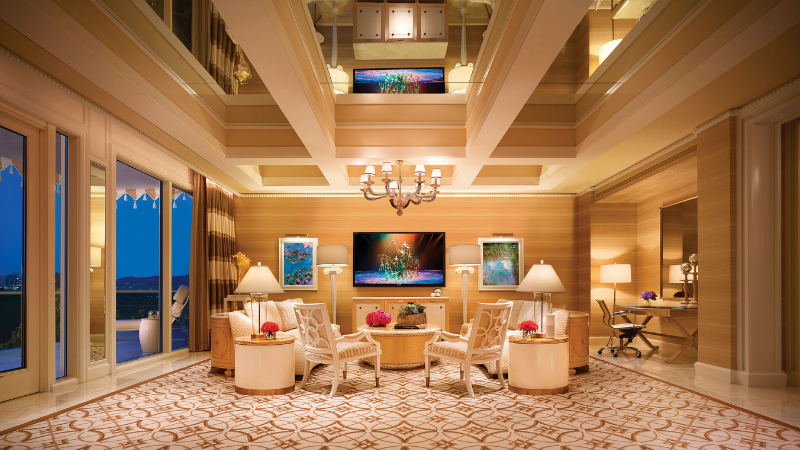 7. Wynn Two Bedroom Fairway Villa at Wynn Las Vegas
This beautiful accommodation at Forbes Five-Star Awarded resort, Wynn Las Vegas, exudes classic elegance. At 3,224 square feet in size, this suite features a spacious living area and 2 bedrooms, each offering a custom pillow-top Wynn Dream Bed and their own marble bathroom with infinity-edge bathtub and rain shower.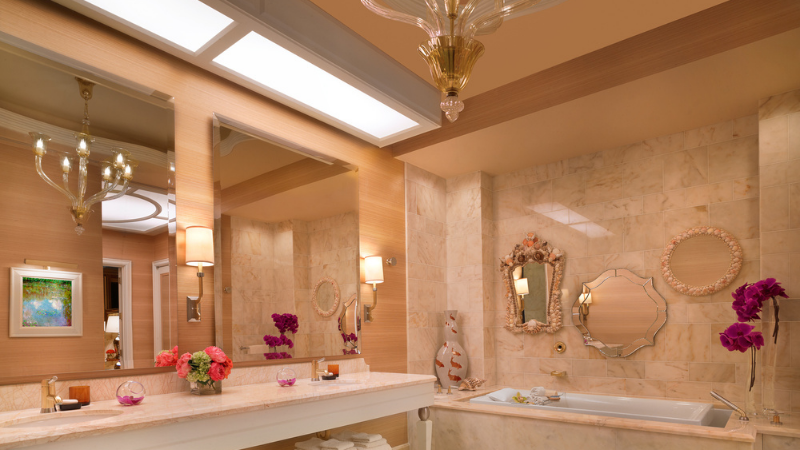 The opulent suite opens out to a secluded outdoor balcony, perfect for an al fresco meal ordered through in-room dining. A mahogany and granite 3-seat bar and a dining table for 6 allow for entertaining. You'll even have a massage room for in-suite spa services.
What to Expect During Your Stay
Round trip limo service from airport
Arrival via a private driveway
Welcome gift
Dedicated butler service
$200 daily breakfast credit
Priority access to restaurants, shows, and nightclubs
Price per night: Starting at $3,500
---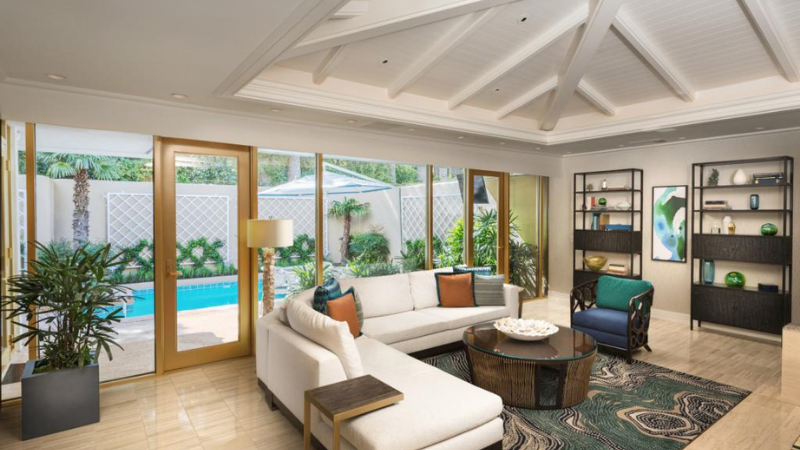 8. One Bedroom Lanai at The Mirage
Through a private gated entrance in a secluded part of The Mirage complex, you'll find the resort's exclusive luxury Lanais. The One Bedroom Lanai is a 2,650 square foot suite that gives you the sense of staying in a celebrity's home. The most appealing factor to this gorgeous suite is its tropical outdoor courtyard, which has a private heated swimming pool and Jacuzzi.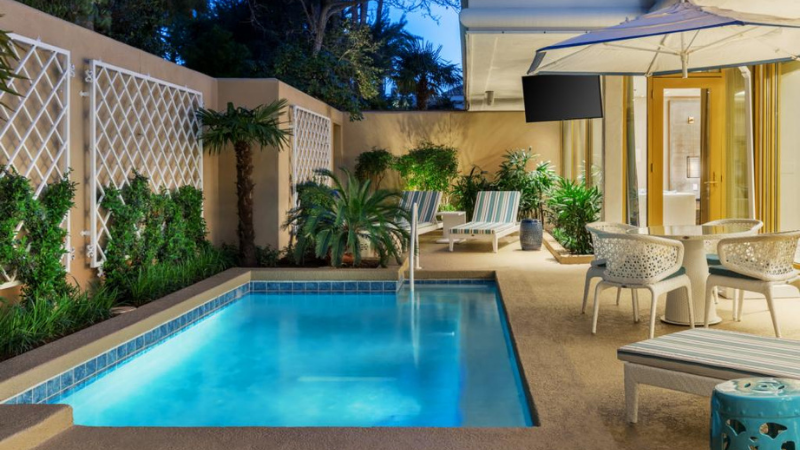 Inside the suite the furnishings and décor are sleek and sophisticated, with a spacious living room, a dining table for 4 and a bar. The king bedroom features a large walk-in closet and the master bathroom has a deep soaking tub to relax in.
What to Expect During Your Stay
24 hour personal butler service
24 hour chefs and bartenders by request
Refrigerator stocked with personalized drinks and snacks
VIP concierge service
Price per night: Starting at $1,750
---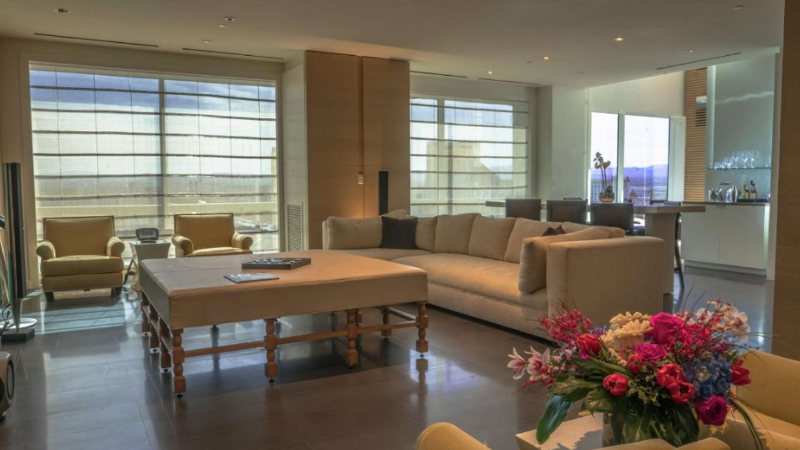 9. SKYLOFTS Two Bedroom Loft at The SKYLOFTS
The Forbes Five-Star Awarded boutique property SKYLOFTS sits on the top floors of the MGM Grand complex, and offers guests a decadently luxurious hotel experience. The SKYLOFTS Two Bedroom Loft is a bi-level, 3,000 square foot suite with a sophisticated yet playful style, mixing contemporary furnishings with quirky modern art and bright pops of color. The view of the Strip from high up above is quite stunning.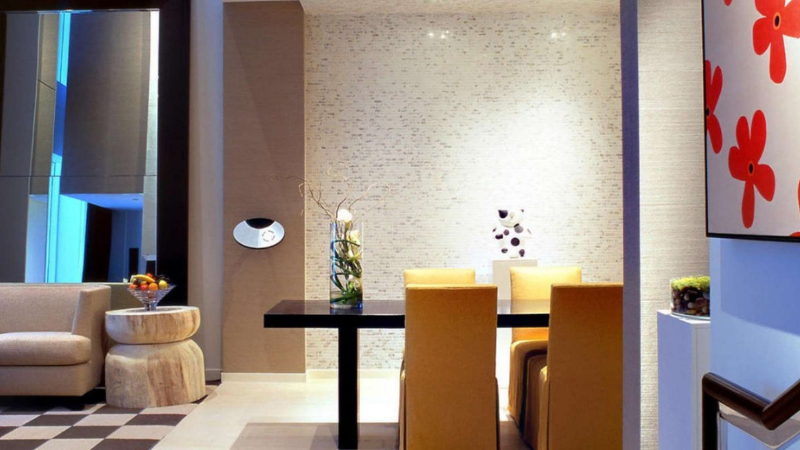 This amazing suite features multiple sitting areas for entertaining guests, a kitchen with a unique 6-seat dining table, and a pool table. One bedroom has a king bed, while the other has 2 queens. The spa-inspired master bathroom features a deep soaking tub. Outside on your private patio, you'll have an infinity-edge spa tub.
What to Expect During Your Stay
Pre-arrival concierge service
24 hour personal butler (psst: he's also a mixologist)
Dedicated concierge team
Price per night: Starting at $1,650
---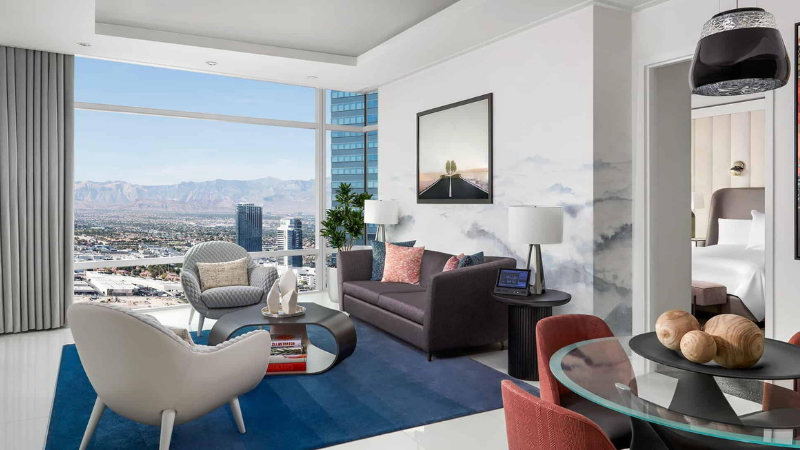 10. Sky Suites Two Bedroom Mountain View at Aria Sky Suites
Let's kick things off with this stunning suite at Aria Sky Suites, named one of the Most Luxurious Hotels in the World by Forbes Travel Guide. The Sky Suites Two Bedroom Mountain View is 1,630 square feet of sleek, contemporary style with a separate living room and 2 bedrooms.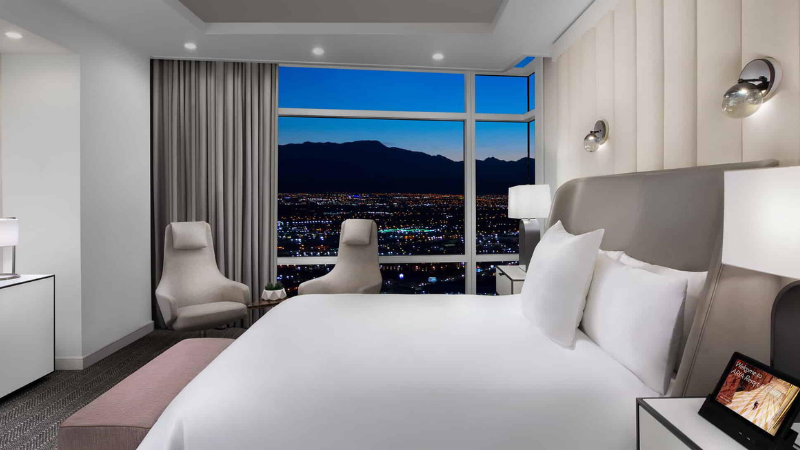 Guests staying in this suite, located on the highest floors of Aria Resort & Casino, will have a breathtaking view of Las Vegas from floor to ceilings windows. A 10 inch tablet gives you total control over everything from lighting to restaurant reservations. The bedrooms feature supremely comfortable custom ARIA mattresses, while the spa-inspired bathroom has a whirlpool bathtub and steam shower.
What to Expect During Your Stay
Luxury transportation to and from the airport
Personal curbside welcome and private check-in
Personalized concierge service
Exclusive access to an elite Sky Pool and VIP lounge
Price per night: Starting at $900
---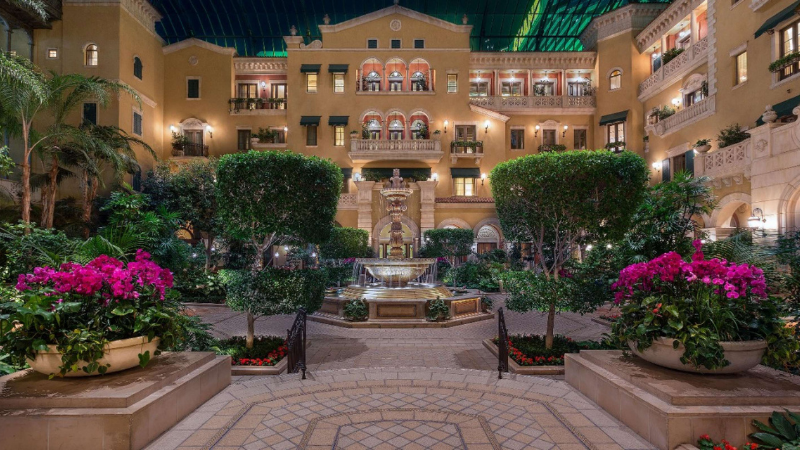 Special Mention: The Mansion at MGM Grand
Ever wondered where the fabulously rich and famous people stay when they're visiting Vegas? Many of them choose to stay at The Mansion, a towering Tuscan-inspired villa that's hidden away behind MGM Grand. The 29 villas inside range in size from 2,400 to 12,000 square feet, and being a guest in one of them gives you access to personalized service and elevated amenities you wouldn't even believe.
The 3 Bedroom Villa at The Mansion can sleep up to 8 guests, and can only be accessed through a private elevator. It features its own pool and Jacuzzi, a dining room, media room, exercise room, salon, and more. When you're feeling hungry you'll have 2 classically trained chefs on call, and afternoon high tea is served in your villa daily.
Sounds like your kind of hotel? Reservations at The Mansion are invite-only, so you'll need to find your fame and fortune before you can stay here.
What to Expect During Your Stay
Limo airport transportation
Personal butler
Personalized menu preparation
Unparalleled exclusivity, privacy and attentiveness
Price per night: Sorry guys, it's invite only.