The Best Kid-Friendly Las Vegas Hotels & Attractions (2023)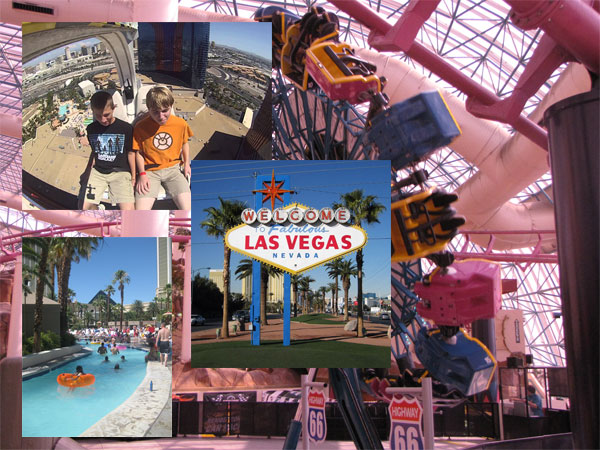 We may receive a commission if you make a purchase.
While "Sin City" Las Vegas in general is not known for being a great place for kids, things have really changed these days. There are many family-friendly attractions, shows, and hotels which put Vegas on par with most other kid-friendly vacation spots, such as Florida. However, you need to stay at the right hotel that is good for kids. Otherwise, a hotel may even go out of their way to discourage children, since they can reduce the time parents spend gambling and chase away certain casino clientele that may not want kids around them.
Kid-friendly hotels provide many perks, such as reduced pricing and even free hotel rates for children. Restaurants and buffets often have excellent deals for kids. There are a ton of things families can do together. Of course, gambling is not one of them. Nobody under 21 is allowed to gamble in Las Vegas. Further, a person under 21 years of age is not even allowed to be near you while gambling. This can present logistic problems when getting to certain places in a hotel that require you to walk through the casino. The hotels are designed to get people to the casino area, so you may have to often do extra walking to get to your destination if children are with you in order to go around the casino.
Many parents with kids might want to gamble, so the question about what to do with your children during that time is important. You can almost always hire a baby sitter to come to your room and watch them. Just ask the hotel desk for a trusted referral. There is an organization called Nannies and Housekeepers U.S.A. that offers hotel room babysitting services 24 hours per day. All their sitters go through an intense screening process and they are the only service many large hotels use, such as Wynn and MGM Grand. Some hotels, like The Orleans offer a child care service called KidsTyme discussed below. There is a Nevada law that requires parents to submit a proof of immunizations to use any child care services, so be sure to have these available.
Can I leave my child alone in Vegas?
A common question that comes up relates to it being legal or not to just let your kids explore Vegas on their own, or stay by themselves in a hotel room while they amuse themselves ordering food service, playing games, or watching movies. While we definitely don't condone it, and highly suggest always using a hotel approved baby sitter for safety, with some exceptions discussed below, there are no specific laws against it. In our opinion, the Las Vegas strip is not a safe place for unsupervised kids. You will find vendors distributing adult flyers with pictures on them all over the place. At the very least, keep your children in a safe location inside your hotel or hotel room.
Nevada does have strict curfew laws with steep fines if minors are caught in public during certain times without adult supervision. You can read the details on your own. In general, it is unlawful for a child under the age of 18 to be out in public between 10 pm and 5 am Sunday-Thursday, and after midnight for Friday/Saturday. School holidays and summer vacation extend the curfew hours. There are lots of exceptions that make the curfew much earlier, like on New Years eve (6 pm), and for certain streets (9 pm). Please read the latest curfew rules, since things may have changed.
You might be tempted to leave your kids alone in a game arcade, but there are specific rulesthat require an adult to be with them after 10 pm. Again, read the curfew laws for the most current information, or better yet, always have an adult with them. There are also age restrictions. For example, kids must be 10 or older to spend time on their own at the Adventuredome located in Circus Circus without adult supervision.
Kid-Friendly Vegas Attractions and Hotels
Below you will find our picks for the best kid-friendly hotels in Las Vegas and the main attractions they offer for families.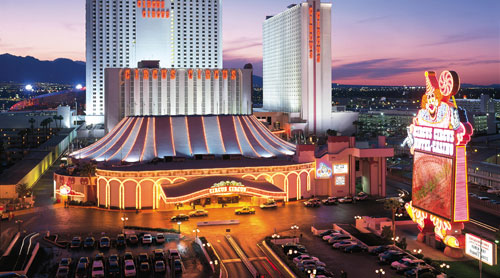 Circus Circus is easily the most kid-friendly hotel in Vegas and one of the most affordable too. Kids under 12 stay for free with adult. The star of the show is their Adventuredome theme park that offers over 5 acres of indoor climate controlled attractions. Rides range from an extreme double loop roller coasters to more tame ones, such as SpongeBob SquarePants 4D for younger children. Their Midway Games section has over 200 of the latest arcade games. Other highlights kids will enjoy include their laser maze challenges, rock climbing wall, 18-hole miniature gold course, mini bowling, and free clown shows offered several times per day. If your kids are 10 or older, they can spend some time on their own at the Adventuredome without an adult, but as we said earlier, we strongly suggest adult supervision at all times. Like almost every major hotel in Vegas, there is a swimming pool, which is a must if you are bringing along kids during warm weather.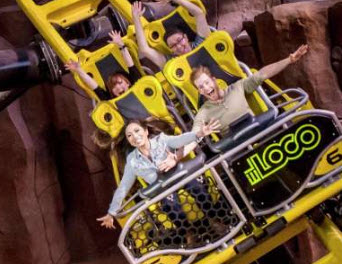 ---
If your kids love water and the weather is warm, this is one of the best hotels for them. Mandalay Bay features an 11 -acre man-made sand beach with over 2,700 tons of California sand. Kids can lounge around the lazy river or body surf in their 1.6 million gallon wave pool that can generate waves up to 6 feet high (kids must be over 48 inches in height to use it).
There are three exotic pools with water gardens and waterfalls. TripAdvisor voted them as being one of the best pools in the entire country. Families can also rent one of their 100 pool cabanas. Another great family attraction is Shark Reef that has over 2,000 animals and of course lots of sharks to watch. It is one of the best aquariums in the country.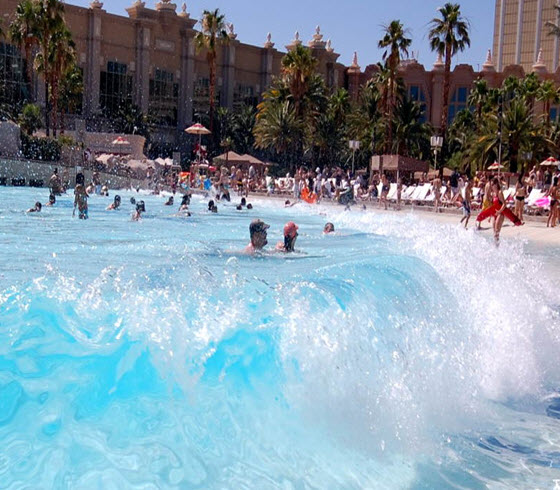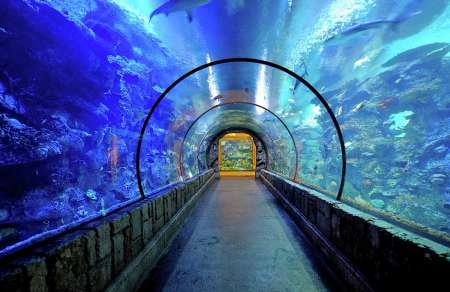 ---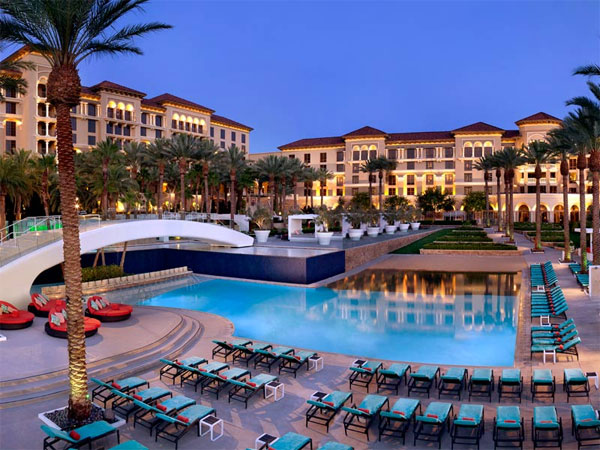 Green Valley Ranch is a great kid's hotel for many reasons. It is located about 15 minutes from the main Strip and is near a lot of great family attractions, such as Lake Mead, Cowabunga Bay Water Park, Wet'n Wild Las Vegas, Red Rock Canyon, and Hoover Dam. Kids will also enjoy their large swimming pool. The rooms are all very nice.
Green Valley Ranch is one of the few hotels that will arrange child care for you when you need it at their Kids Quest center that provides supervised play and learning activities. While being off the main Vegas strip may seem like a disadvantage, it is also a convenient way to keep your kids out of trouble.
---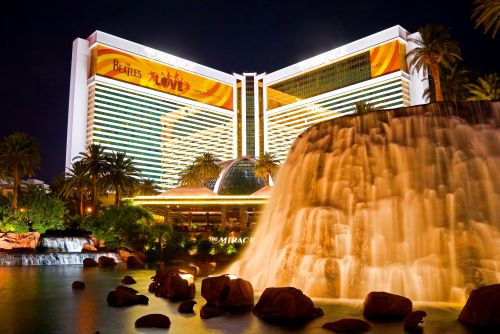 The Mirage hotel has an oasis feel to it that kids will enjoy. It also has a great pool complete with waterfalls and a lagoon. Inside the hotel is a 20,000 gallon aquarium featuring over 450 fish from 85 different species that are free to see.
Siegfried & Roy's Secret Garden and Dolphin Habitat are great for kids where they can watch dolphins train. This exhibit features bottlenose dolphins, white tigers, white lions and even leopards. Kids can also enjoy the 100-foot doom atrium that is modeled after a real rainforest. The Mirage tends to feature more family-oriented shows too, like Terry Fator and Cirque Du Soleil which is another benefit. The overall tropical relaxed theme coupled with a solid 4-star hotel make it one of our top family hotel picks.
---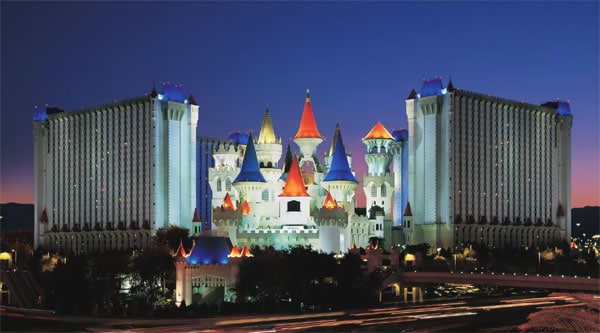 The Excalibur hotel provides a fun Medieval theme that kids of all ages will find entertaining. Their Fun Dungeon arcade has over 200 games. You will also find 4 pools and water slides.
Families can participate in the Tournament of Kings ultimate dinner show experience where a multi-course feast eaten only with your hands is served while diners watch a King Arthur inspired production of knights in shining armor doing battle on their horses, complete with pyrotechnics. You will need to steer clear of their "Thunder From Down Under" male exotic dance show, but other than that, it is still a family-friendly place. Excalibur offers very good value and is one of the most booked hotels on Las Vegas Direct.
---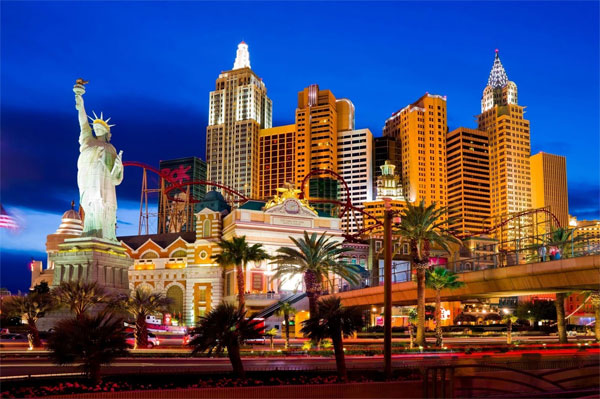 If your kids want to experience the Big Apple without having to fly to New York City, this could be a good option. Visitors will find scaled replicas of the Empire State Building, Chrysler Building, and even the New York Harbor complete with a 150-foot-tall replica of the Statue of Liberty integrated in the hotel. You will find New York City inspired street vendors and a general city-vibe. Kids will enjoy their version of Coney Island complete with a double loop roller coaster with lots of arcade games to keep them amused. While the hotel theme, restaurants, arcades, and thrill rides are great for kids, you will need to stay way from their featured r-rated Cirque Du Soleil Show called Zumanity that features "naughty" stuff that is definitely not for kids.
---
The MGM Grand is a huge hotel with many options for kids, such as the latest in video arcade gaming with high-tech virtual reality games. MGM also features five pools and a 1,000-foot-long lazy river pool that kids of all ages will love. With dozens of great dining options, shopping, and several family-friendly shows, there is plenty to do and explore. Their featured show Cirque show, "KA", is great fun for the entire family. Other good family shows at MGM Grand include Jabbawockeez that features cool dance routines, and world-class magician David Copperfield.
---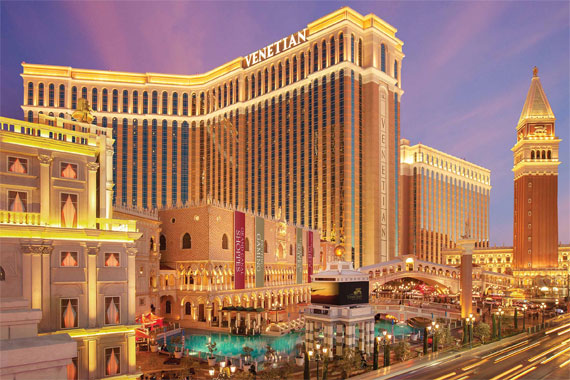 The Venetian is one of our favorite Vegas hotels in general, and we feel kids will also really enjoy it. Modeled after Venice, Italy, complete with a replica of St Mark's Square and singing gondola rides down their Grand Canal. There are several great swimming pools kids will enjoy, and many free shows and attractions one can view while strolling through the Grand Canal Shoppes. You can even watch world-class opera acts several times during the day and evening. Madame Tussaud's Wax Museum is another good family attraction. While at the high-end in terms of price, this 5-star hotel offers one of the largest rooms in Vegas with all suites being at least 650 sq ft in size that include two-level sunken living rooms with sofas (sleeper sofas by request), chairs and dining tables in the room, and some of the nicest marble bathrooms of any hotel on the Strip. There are many excellent award-winning dining options by famous chefs, such as Wolfgang Puck, Mario Batali, and Emeril Lagasse.
---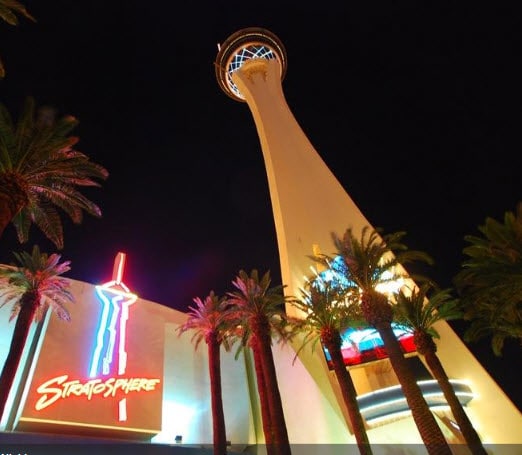 Stratosphere is a solid budget hotel that makes our kid-friendly list. It features a pool, arcade, and some of the wildest attraction rides in Vegas, like the Big Shot free-fall ride, X-Scream giant teeter-totter, Insanity spinning wheel, and SkyJump, where you literally jump off the 108th floor with cables that slow you down a bit to survive! As you can imagine, the rides are not for young children and many will require kids to be 14+ years old to ride them.
The hotel is located on the far north end of the strip, so it is away from potential distractions for kids to help you keep an eye on them. While the hotel itself is very safe, the area is seen as being somewhat "shady," so we advise just taking cabs and not walking around outside of the hotel too much.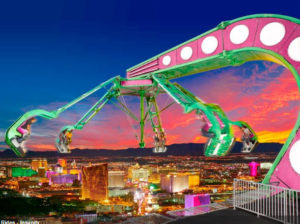 ---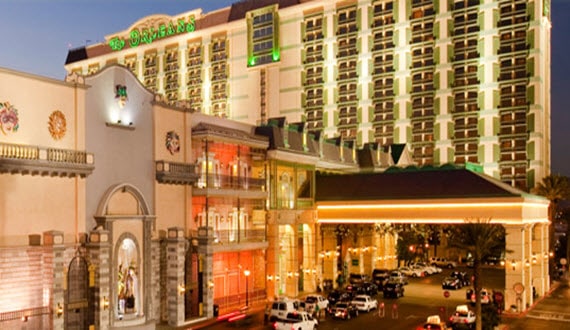 Orleans is a nice budget hotel with lots to offer for families. It has a very large swimming pool and other activities for kids, like a bowling alley and 18-screen movie theater. The Orleans Kid's Tyme Child Care Center is open 7 days a week, for children 3 to 12 years of age. The center features an arcade featuring Wii and Play station games, a magnificent jungle gym, arts & crafts, interactive play, snack bar and more. Parents must remain in the hotel to use the service, but it can give up to 5 hours of time away from the kids. Rates for the service are $9/hr per child. The main negative for this hotel is that you are about 2 miles away from the main strip, so walking is not practical, but it is easy to get a shuttle or taxi whenever you need to one.
Featured Family Attractions and Shows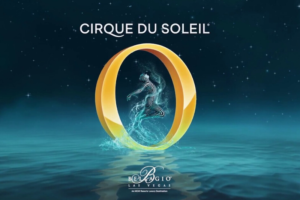 from $134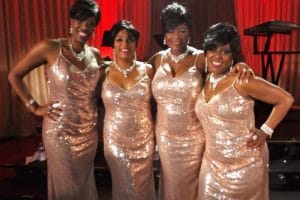 from $32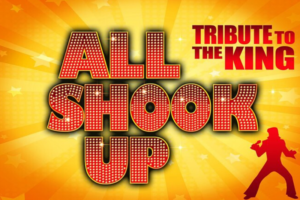 from $50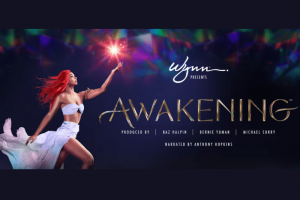 from $79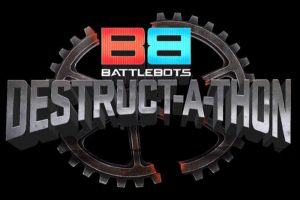 from $52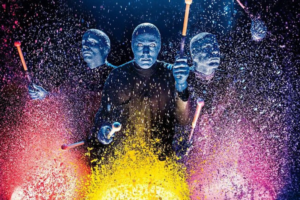 from $54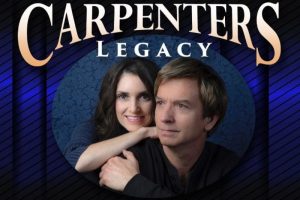 from $40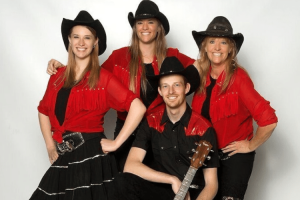 from $48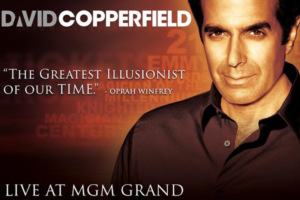 from $69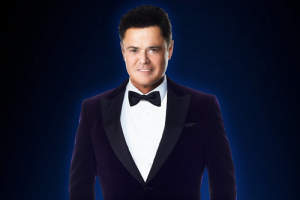 from $80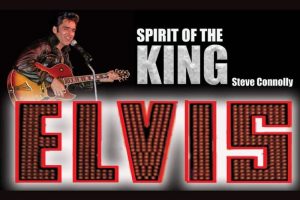 from $39
View More Family Shows