Las Vegas Blackjack Rules. How to Play Blackjack and Win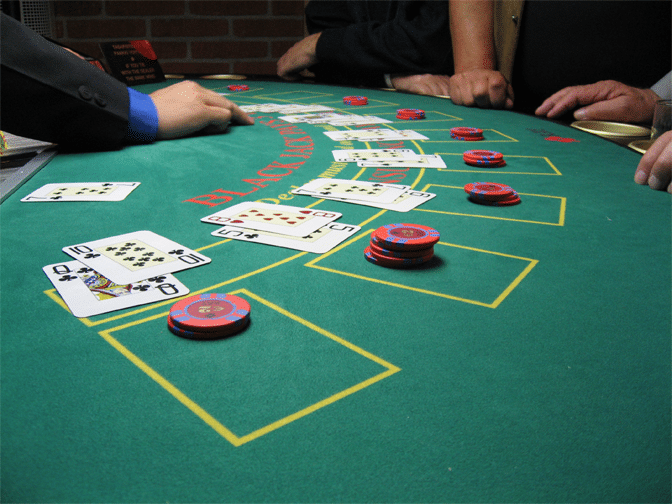 We may receive a commission if you make a purchase.
Blackjack / 21 Basic Rules
Blackjack or twenty-one as it is sometimes called is played in casinos all over the world including online casinos. For the most part the rules for playing are pretty much the same all over.
Most casinos use a multiple deck shoe which can hold up to eight decks of cards. Further, some of the casinos use shoes that constantly shuffle the cards. I mention this so you will not waste your time and money on card counting methods. These may have worked years ago when the number of decks was small, but are of little value today and can only give you a slight edge at best. Finally, if you are caught counting cards, casinos have a right to get you permanently banned from playing blackjack (called a backoff), or even have you arrested by the police if they ever see you in their casinos again (86 rule).
Fun can be had, and money can be made playing Blackjack if you know what you are doing. Here is how money can be made. If you learn the simple playing strategy presented here you will be playing pretty close to even money or sometimes better than even with the casino. These techniques also apply to online online based casinos.
You will win some of the time and you will lose some of the time. The advantage you have over the casino is that when you are winning you can just walk away. There is a saying on Wall Street that may apply here – "The bears make money, the bulls make money, but the pigs go broke." I believe it is better to make a small profit than lose your bankroll trying to break the bank.
Before getting into playing strategy, just a word or two for the beginner on how the actual game is played. The table itself is often a semi-circle around which the players are seated. The dealer stands across from them. In a multi-shoe game all cards are dealt face up, two to each player. The dealer also gets two cards but one of them is face down. ONLY THE DEALER IS ALLOWED TO TOUCH THE CARDS.
Always keep this in mind. Even though the game is called Blackjack or Twenty One, the goal is not to get 21 but to get a higher total than the dealer without going over 21, or as they say "busting." When you want another card to add to your hand, just tap your finger. This is called taking a hit. You may take as many hits as you want as long as you do not go over 21. When you are satisfied with your cards, simply wave your hand over them and the dealer will know to not give you any more cards. The dealer has to hit his hand when he has 16 or less and stand (not take more cards) on 17 or better.
In adding up the total of your cards, all cards get their face value, such as 3, 4, 5, 6, etc. However, picture cards have a value of ten. An Ace can be 1 or 11. When you are dealt a hand that has no Aces, it is called a Hard Hand, for example, 7 and 9, which of course equal 16 is a hard hand. When a hand has an Ace in it, for example Ace and 5, it can be either 16 or a 6, because an Ace can be called 11 or 1, the choice is yours. When an Ace is in a hand, it is called a Soft Hand. With just 4 aces in a deck of cards, most hands are Hard Hands.
Blackjack Strategy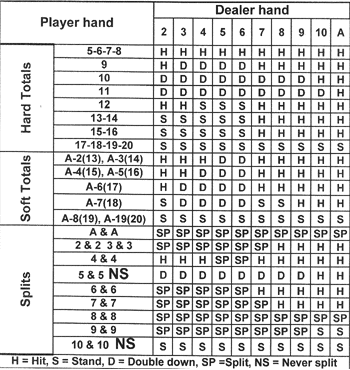 There are various charts that have been printed outlining a basic strategy to win at blackjack, such as the one listed here, but most people find them difficult to memorize and may be embarrassed to show them while seated at the blackjack table. As a result, I have broken these computer based rules into a few easy-to-understand sentences so you can just memorize them.
However, if you want, you can print the chart shown. Las Vegas casinos permit you to bring these charts at the table. The people sitting next to you might get a bit impatient as you look at it to figure out your play, but if you are playing against a machine or online, it won't matter. They are completely legal to use by all Las Vegas casinos. You can even buy these charts online or in many Vegas gift shops. Just search for "Blackjack Basic Strategy" and you will find compact slick plastic cards with this information that might make you feel more comfortable using them at the table. They often have color coding to make it easier to find things. Over time, if you play enough you will eventually remember the rules and won't need them. You should also practice playing blackjack before you gamble. We have a simple free online blackjack game that can help you learn the rules. We also have post that explains in more detail how to use a strategy card.
There are many mobile apps that give you instant blackjack strategy help. However, you cannot use a mobile phone, computer, tablet, or any other electronic device while at Vegas blackjack tables. Some casinos may let you answer a quick call at a table, but you cannot use any applications or text a message while playing.
Playing Strategy when you have a Hard Hand (no Aces)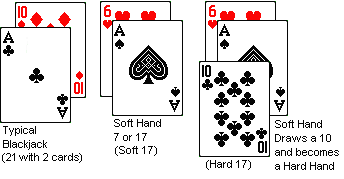 For cards totaling 3 to 11 in your hand, always hit regardless of the dealer's face up card and keep hitting until the basic playing strategy discussed here says you should stand. Remember, this rule only applies to Hard no Ace hands.
When you have 12 to 16 in your hand with no Aces, always hit except when dealer's up card is 2, 3, 4, 5, or 6. You can then stand. When dealer shows a 7 or better, you must hit.
Always stand on 17 through 21 regardless of dealer's up card.
As mentioned, a soft hand is one where at least one card is an Ace which counts for 1 or 11 at your option. When you have a great hand which includes Ace/8, Ace/9, or Ace/10 (Blackjack which pays 3 to 2), stand regardless of the dealer's up card. With all other combinations of Ace and another card, always hit because with the 1 or 11 option you can only improve your hand. Once you decide how to use the Ace (as a 1 or 11), it then becomes a hard hand and you can apply the Hard Hand rules previously stated as to when to hit or stand.
When to Split a Hand

You should always split Aces, Nines and Eights. If your two cards are tens do not split them as 20 is a very good hand. When it come to splitting the other pairs the rules get very complicated and they do not change the odds of the game very much, but keep in mind it is better to keep two 5's giving you a 10 to draw to than two hands of 5. Using a strategy card, or devoting a lot of time memorizing all the split cases will allow you to play better, but again, the advantage is small for the effort.
Doubling Down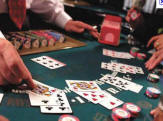 Doubling Down is allowed by Las Vegas casinos. However, the casinos vary as to what cards they allow you to double down on. Traditionally most casinos only allow doubling on 10 and 11, but some permit it for any hand. Upon doubling down you double the size of your bet. You are only allowed a one card hit when you double down. Some experts agree that it is a good move for the player, but one well know expert takes a different view. He says to double down only if the dealer is showing a 2, 3, 4, 5 or 6. If the dealer is showing a 5 or 6, doubling down becomes more advantageous since those are more likely to lead to the dealer busting. Others, including my own view, say that by doubling down you ultimately limit yourself to one card. so why take the chance? For many, a safer smaller win is better than risking more for a bigger win. 10 or 11 is a good number to hit, but you may be wrong. Why lower your chances of a win?
Insurance
Black jack insurance is available to you whenever the dealer's face-up card is an ace. If this happens, you have the option to "take insurance" before the dealer checks the face-down card. Despite the name, it has nothing to do with insuring your original bet and can be viewed as a side bet. If the dealer actually has a blackjack (Ace + 10), you win the bet and it pays 2-to-1. If the dealer does not have blackjack, you lose your side bet. Up to 50% of your original wager can be made on insurance.
With some very rare exceptions, insurance is a sucker's bet. The odds of winning are only 9:4, which means that you will win 4 times in 9 plays, but lose 5 times. When you win, it pays like a regular game win at 2-to-1 (you get double your bet back). However, a regular win without this side bet is about 46% (assuming you play perfect using all the blackjack rules), which is lower than 9:4 (44.4% change of winning). It just does not make sense. The casinos will often push this bet, since they make a nice profit from it. Just say no to it.
Vegas Gambling Guides