Save Big in Vegas with AAA Discounts (with Full List of Hotels)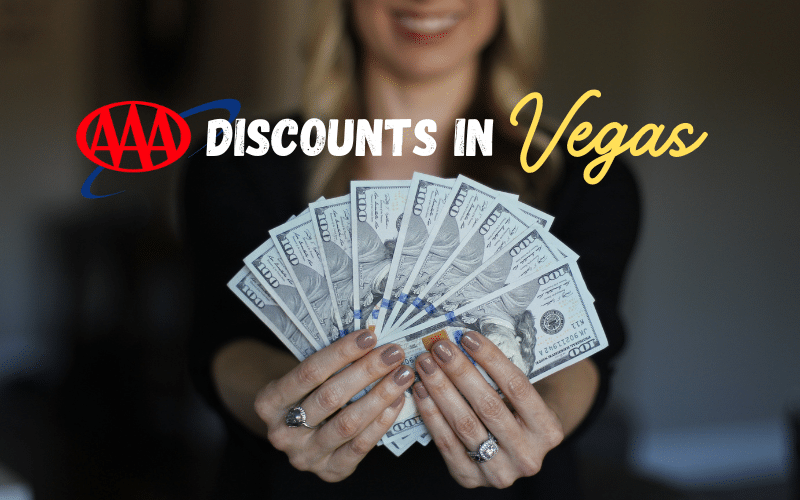 We may receive a commission if you make a purchase.
Being a AAA member isn't just about roadside assistance – it can also score you discounts on many Las Vegas hotels. In this guide, we'll give you a complete list of Vegas hotels where your AAA membership will get you a discount so that you have more money for enjoying your vacation.
You might also want to check out our top 10 list of the best budget-friendly hotels in Las Vegas, and our inside tips for saving money during your visit.
Things To Know About AAA Discounts in Vegas
AAA discounts can't be combined with other hotel offers or discounts. Be sure to compare your AAA discount with other promotions the hotel is offering, so you can get the best possible deal.
You'll need proof that you're a AAA member. Upon making your reservation on the hotel's website, you'll be asked for your 16-digit AAA membership number. When you get to the hotel front desk to check in, you'll need to show your AAA card that matches both the name on the room and your ID.
Look for AAA ratings to find the best hotels. Vegas hotels have AAA ratings that can give you insight into the quality of the hotel you're booking. AAA Diamond Awards range from 1 – 5 diamonds, with 5 being the ultimate in luxury. If you see a hotel that's "AAA Approved", that means it has met the minimum standards.
AAA discounts aren't always available. Even if a Las Vegas hotel offers a AAA discount, it might not be available for your dates of stay. Peak times like holidays and big conventions in town could limit the number of discounts the hotels are offering.
Full List of Las Vegas Hotels with AAA Discounts
To make your search for the best hotels in Vegas with AAA member discounts easier, here is a comprehensive list of who's offering what!
---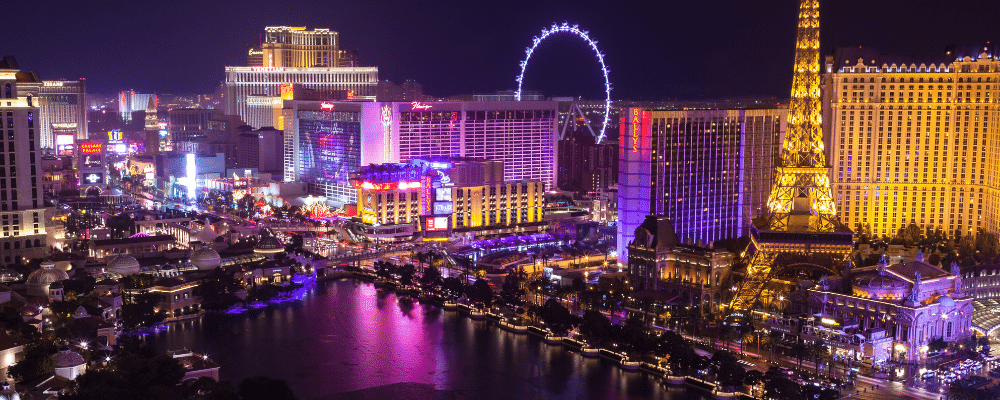 On the Strip:
All MGM Resorts
All Vegas hotels owned by MGM Resorts offer a 10% discount exclusively for AAA members.
MGM Resorts in Vegas include:
Address: 3411 Las Vegas Blvd S, Las Vegas, NV 89109
AAA Rating: Approved
AAA Discount: 5% or more
Address: 3708 Las Vegas Blvd S, Las Vegas, NV 89109
AAA Rating: Four Diamond
AAA Discount: 10% off
Hilton Grand Vacations Properties
All 4 of Hilton Grand Vacations Properties on the Strip offer a 10% discount for AAA members. These include:
Hilton Grand Vacations Club on the Las Vegas Strip
Address: 2650 Las Vegas Blvd S, Las Vegas, NV 89109
AAA Rating: Three Diamond
Hilton Grand Vacations Club Elara Center Strip Las Vegas
Address: 80 E Harmon Ave, Las Vegas, NV 89109
AAA Rating: Three Diamond
Hilton Grand Vacations Club Paradise Las Vegas
Address: 455 Karen Avenue, Las Vegas, NV 89109
AAA Rating: Three Diamond
Hilton Grand Vacations Club Flamingo Las Vegas
Address: 3575 Las Vegas Blvd S, Las Vegas, NV 89109
AAA Rating: Three Diamond
Address: 2535 Las Vegas Blvd S, Las Vegas, NV 89109
AAA Rating: Three Diamond
AAA Discount: 10% off
Address: 3801 Las Vegas Blvd S, Las Vegas, NV 89109
AAA Rating: Unrated
AAA Discount: 30%
Address: 2000 Fashion Show Dr, Las Vegas, NV 89109
AAA Rating: Four Diamond
AAA Discount: 10%
Address: 4455 Paradise Rd, Las Vegas, NV 89169
AAA Rating: Four Diamond
AAA Discount: 10% off
On the North Strip:
Address: 2880 Las Vegas Blvd S, Las Vegas, NV 89109
AAA Rating: Unrated
AAA Discount: 10%
Address: 2000 Las Vegas Blvd S, Las Vegas, NV 89104
AAA Rating: Approved
AAA Discount: 10%
---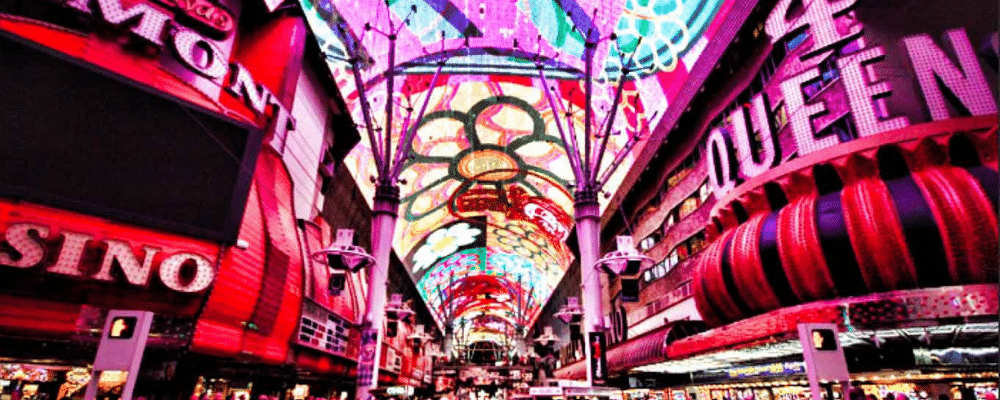 In Downtown Las Vegas:
Address: 12 E Ogden Ave, Las Vegas, NV 89101
AAA Rating: Unrated
AAA Discount: 10%
Address: 206 North 3rd Street, Las Vegas, NV 89101
AAA Rating: Three Diamond
AAA Discount: 10%
Address: 200 Fremont St, Las Vegas, NV 89101
AAA Rating: Unrated
AAA Discount: 10%
Address: 129 Fremont St, Las Vegas, NV 89101
AAA Rating: Unrated
AAA Discount: Up to 30%
Main Street Station
Address: 200 N Main St, Las Vegas, NV 89101
AAA Rating: Unrated
AAA Discount: 10%
Address: 1 Main St, Las Vegas, NV 89101
AAA Rating: Unrated
AAA Discount: 15% on weekends, 20% on weekdays
---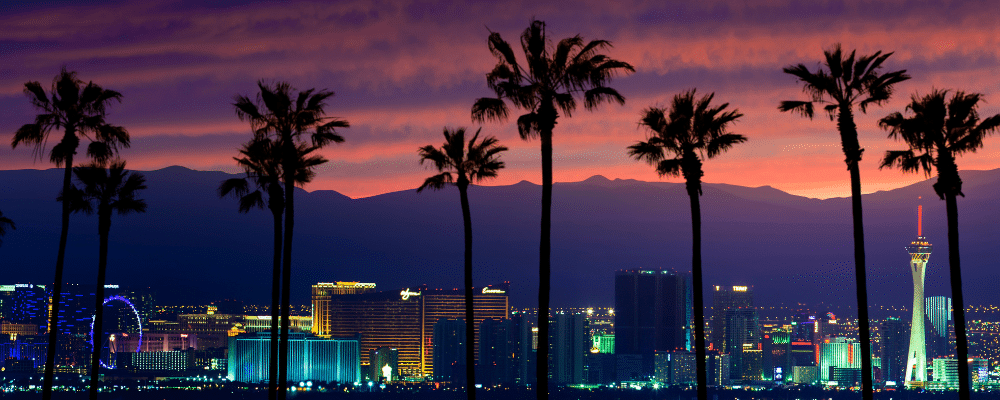 Off-Strip:
All Boyd Gaming Hotels
Boyd Gaming offers a 10% discount on their room rates at any of their off-Strip properties. These include:
All Station Casinos Hotels
All of the Station Casinos hotels, in a variety of off-Strip locations in Las Vegas, offer a 10% AAA discount. These include:
Address: 4520 Paradise Rd, Las Vegas, NV 89169
AAA Rating: Three Diamond
AAA Discount: 10%
Hyatt Place Las Vegas at Silverton Village
Address: 8380 Dean Martin Dr, Las Vegas, NV 89139
AAA Rating: Three Diamond
AAA Discount: 10%
Address: 115 East Tropicana Ave, Las Vegas, NV 89109
AAA Rating: Approved
AAA Discount: 20% off
Address: 211 E Flamingo Rd, Las Vegas, NV 89169
AAA Rating: Three Diamond
AAA Discount: 10%
Address: 3400 Paradise Rd, Las Vegas, NV 89169
AAA Rating: Three Diamond
AAA Discount: 5% or more
Address: 9777 Las Vegas Blvd S, Las Vegas, NV 89183
AAA Rating: Three Diamond
AAA Discount: 10%
Address: 160 E Flamingo Rd, Las Vegas, NV 89109
AAA Rating: Three Diamond
AAA Discount: 5% or more
Address: 3000 Paradise Rd, Las Vegas, NV 89109
AAA Rating: Three Diamond
AAA Discount: 10%
---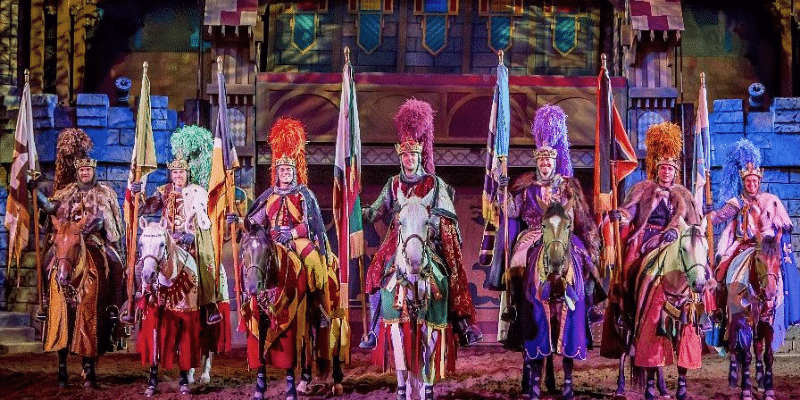 AAA Discounts for Las Vegas Shows
AAA also provides members with significant discounts for shows in Las Vegas, some of which have been featured in our top 10 Vegas shows list. These include:
---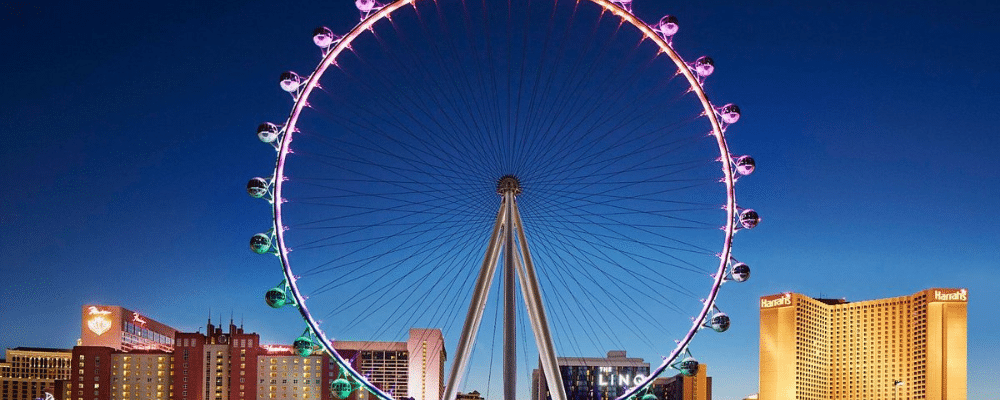 AAA Discounts for Vegas Attractions
Want to save some money on attractions in Vegas? AAA members can get impressive discounts on some of the best Las Vegas attractions including: