Top 10 Las Vegas Hotels with Kitchens (2023)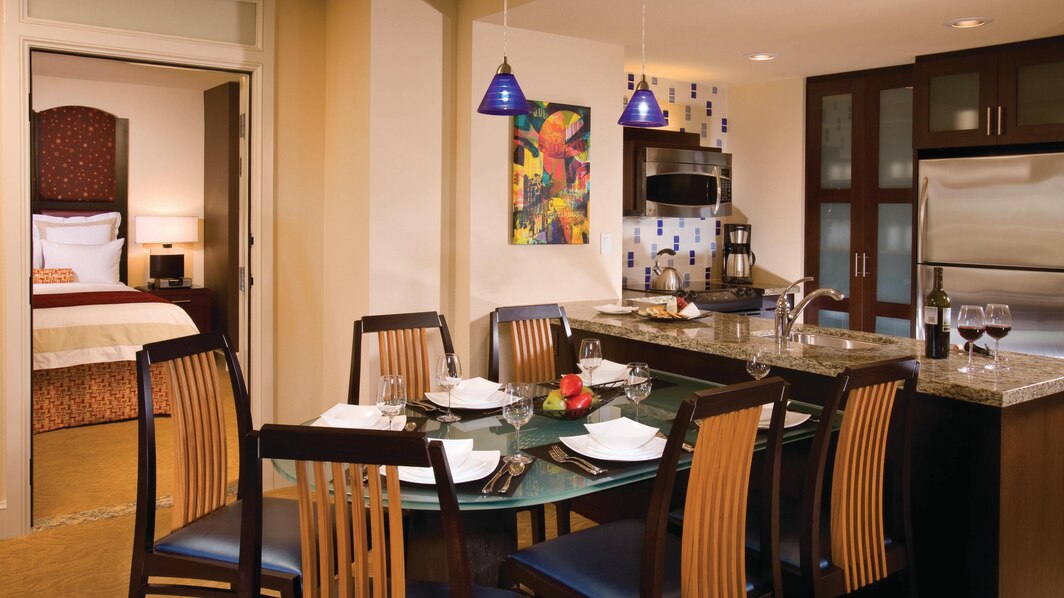 We may receive a commission if you make a purchase.
When you're visiting Las Vegas, you're not going to want to miss experiencing some of the world-class restaurants and amazing buffets in this city. At the same time, having a kitchen in your hotel room can be a real convenience, allowing you to prepare meals whenever you want in the comfort of your own room. Reserving a hotel room in Las Vegas with a kitchen means you can comfortably entertain guests if you choose to, and makes things a lot easier for family mealtimes. If you have dietary restrictions or food allergies, a kitchen in your hotel room takes the stress out of traveling. Not to mention, you can save money by not eating out for breakfast, lunch and dinner if you can prepare and store your own food. Take a look at our list of the top 10 Las Vegas Hotels with Kitchens.
---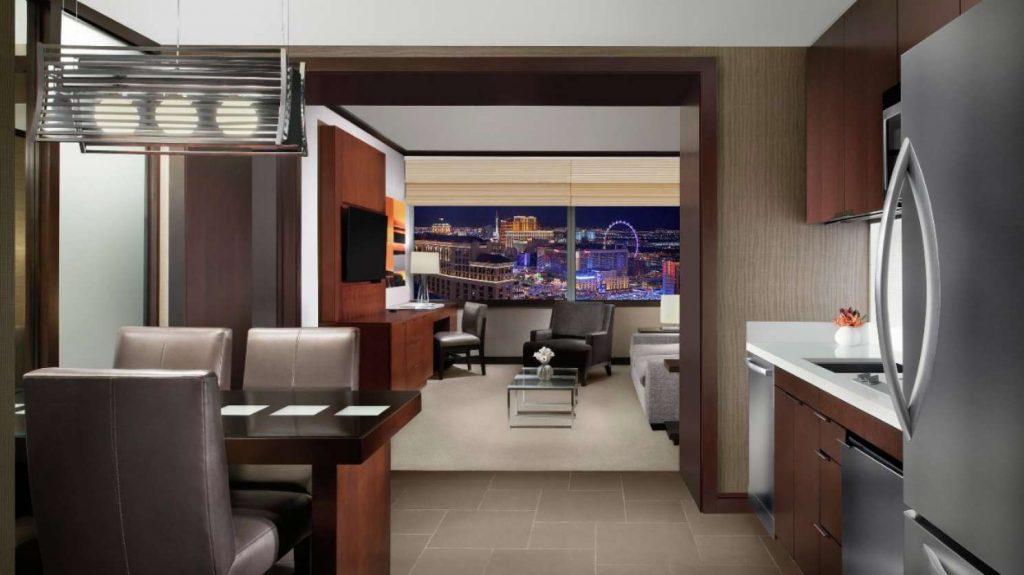 Vdara is a luxurious 5 star hotel located right in the heart of the Las Vegas Strip. High above the hustle and bustle, and with incredible views of the city, every room at Vdara is a suite. That means even in their standard room, the Studio Suite, you'll have a kitchenette that includes a two-burner electric cook top, a refrigerator and a dining table for 2. Upgrade to one of their One Bedroom Suites and you'll have a full kitchen complete with a full-size stainless steel fridge, four-burner cook top, microwave and a dining table for 4.
---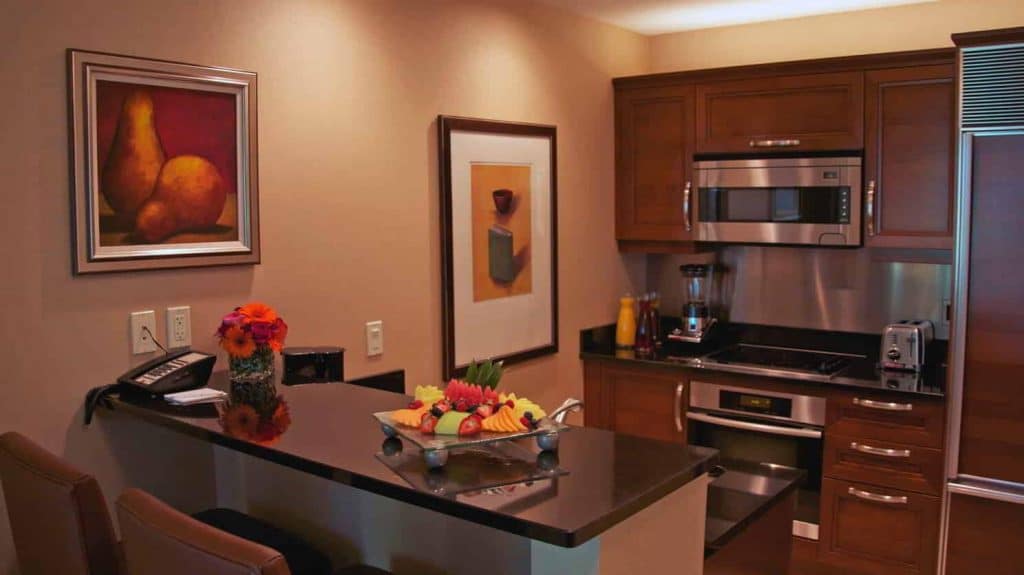 This 4.5 star all-suite resort is attached by a moving walkway to MGM Grand, so you'll have easy access to all of the amazing restaurants and shows at that property. Their Deluxe Suite, at 550 square feet in size, is comprised of one large room with a sitting area, and it has a kitchenette that is wonderfully equipped for preparing meals. You'll have a toaster, blender, microwave, 2 stove tops, a mini refrigerator, dishware and cookware. In their One Bedroom Balcony Suite you'll have a full kitchen off of the separate living room, and a dining table.
---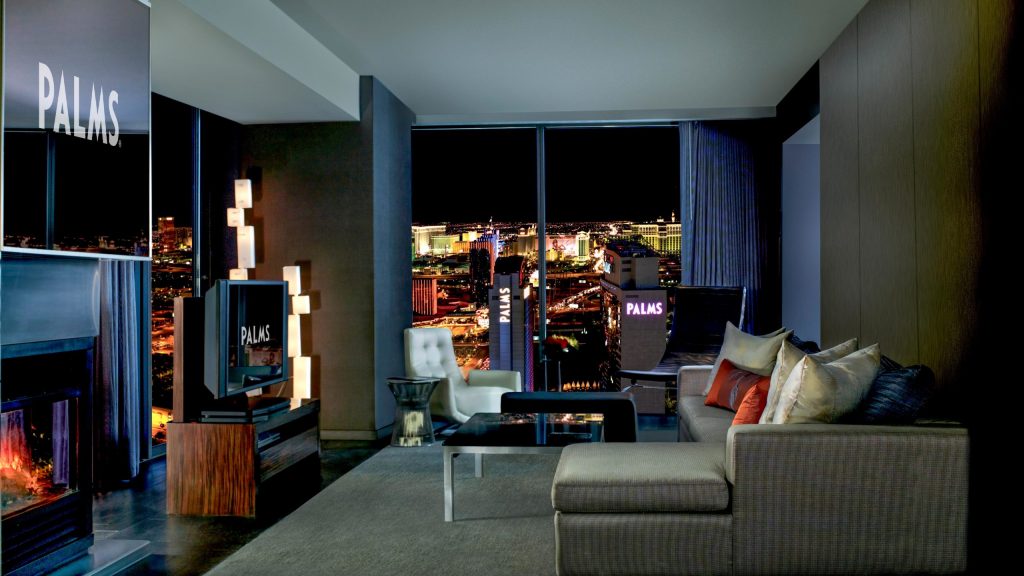 Palms Place, a luxury tower of The Palms that consists of gorgeous condo-style suites, is located just a 5 to 10 minute drive West of the Las Vegas Strip. Hardwood floors, floor-to-ceiling windows and chic furnishings are enough to make every guest feel like a celebrity. Even their standard suite, the Studio Suite, offers an attractively designed, modern kitchen which includes a refrigerator and freezer, microwave, two-burner cooktop, and even a dishwasher. Upgrade to the One Bedroom Suite and you'll enjoy a separate living area from the bedroom, and the same awesome kitchen amenities.
---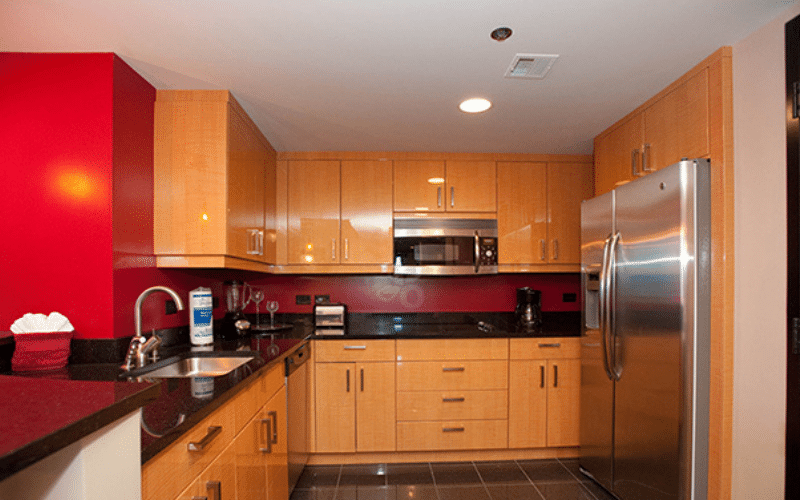 Elara is a pristine, modern hotel located right off of the Las Vegas Strip and connected to the Miracle Mile Mall, where you'll have access to a variety of excellent dining, shopping and entertainment. The hotel is 52 stories high with a beautiful rooftop pool to lounge beside. Their 372 square-foot standard guest room, the Studio 1 King, has a lovely kitchenette with granite counter tops that consists of a mini refrigerator, microwave, coffee maker, toaster, as well as dishes and utensils. Their 1 Bedroom King Suite has a full kitchen with a dining table for 4, so you'll have more space to comfortably dine or entertain guests.
---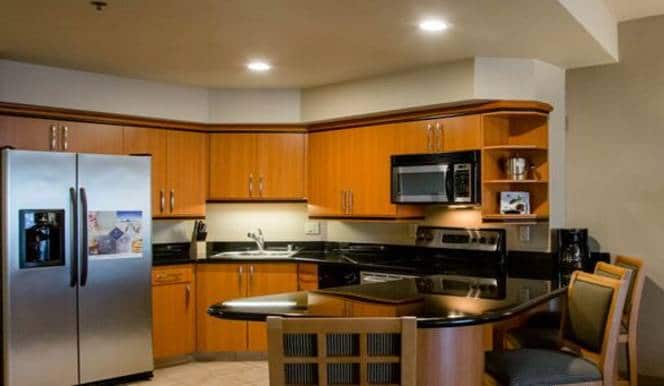 This stylish non-smoking, non-gaming hotel is conveniently located just off of the Las Vegas Strip, close to all of the famous attractions, restaurants and shows. All of their guest accommodations are suites, ranging from 910 to 2,100 square feet in size, and all of the suites have walk-out balconies. Their Solitaire King Suite comes with a full kitchen with stainless steel appliances, granite countertops, microwave and coffee maker. If you want something more extravagant, the Marquis Suite Strip View is a 2 bedroom suite with an oversized gourmet kitchen and a dining area, perfect for entertaining.
---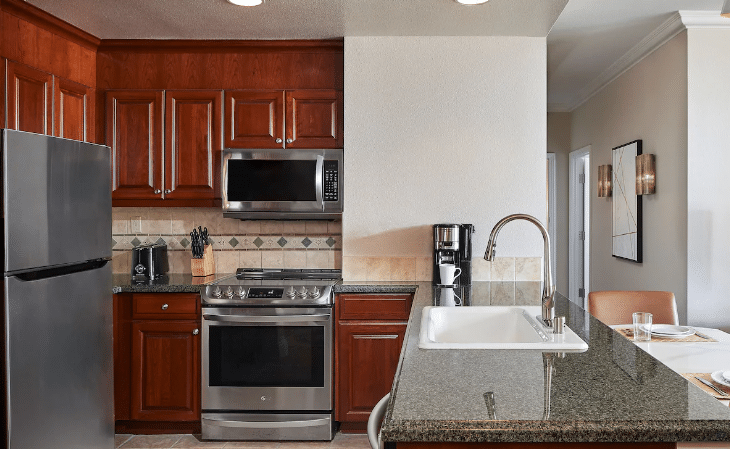 Located on the North end of the Las Vegas Strip, you'll be just a 10 minute drive from the Bellagio Fountains. This beautiful family-friendly resort has a lot to offer, including 2 pools, a basketball court and a spa. All of their guest rooms come with kitchen amenities. In the Studio 1 King, their standard guest room, you'll have a kitchenette that has a sink, mini refrigerator, microwave, coffeemaker, toaster, dishes and utensils. If you prefer to have a bit more room, the 1 Bedroom King Suite features a full kitchen with granite countertops, a dishwasher and a dining table.
---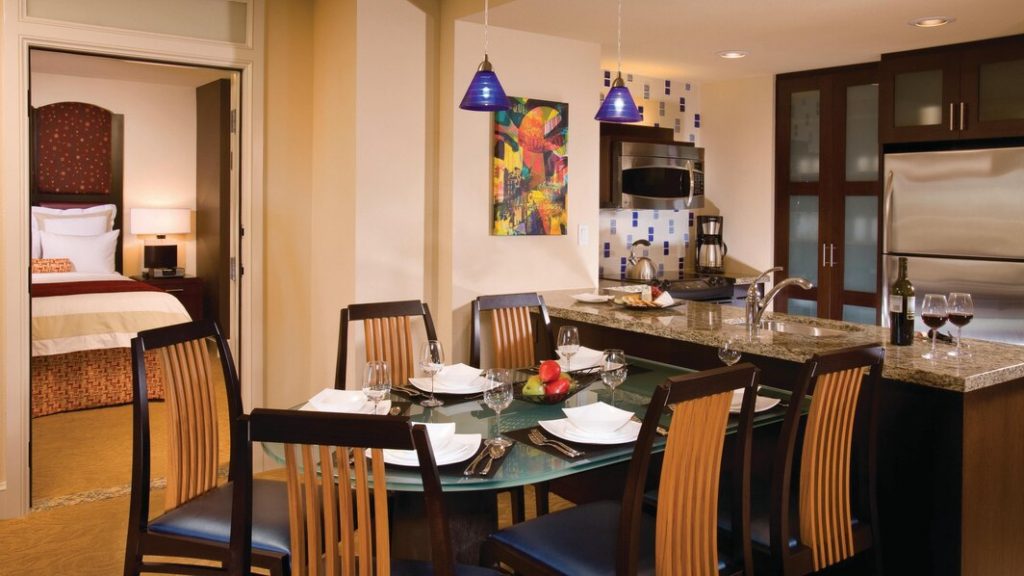 If you want your hotel stay to have all the comforts and conveniences of home, Marriott's Grand Chateau is a wonderful choice. Their condo-style accommodations have stunning views of the Las Vegas Strip, and you'll be in a prime location for exploring the city by foot. Their standard Guest Room is generously sized at 435 square feet, and features a kitchenette that has a mini-refrigerator, microwave, silverware, dishes and glasses. The 1 Bedroom Villa offers a full kitchen including a stovetop, oven, dishwasher and dining table for four. This suite gives you a separate bedroom from the living and dining area, providing you with more privacy and space.
---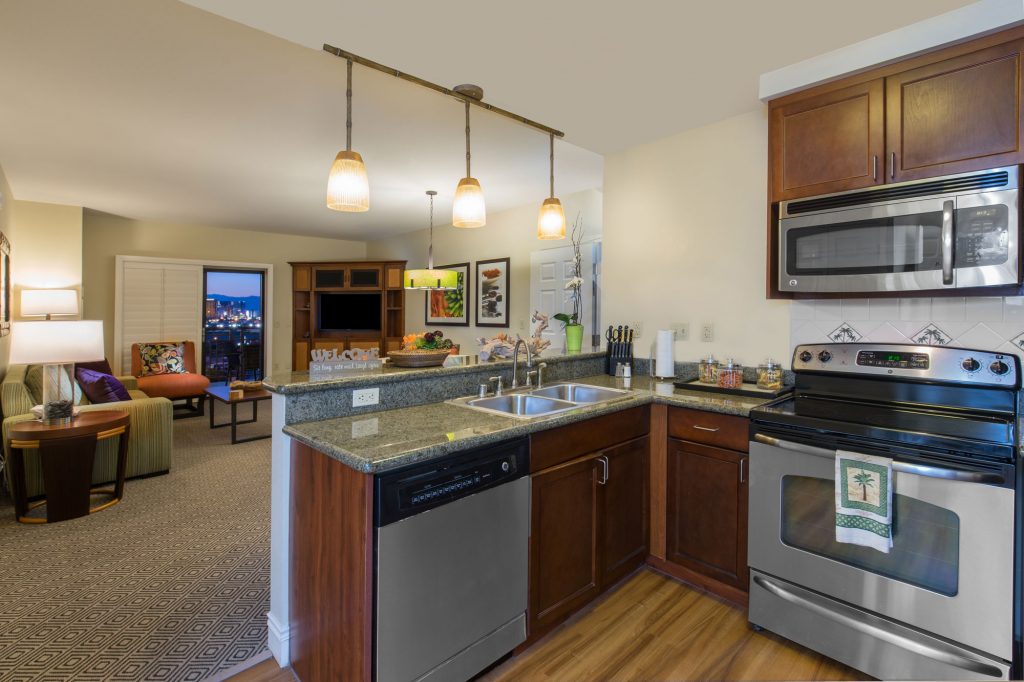 This tropical paradise of a resort is located approximately 2 miles south of the Strip, and is a perfect family getaway destination. The kids will love their lush pool area with a sandy beach and a lazy river with waterfalls. Their smallest suite, the Moorea 1 Bedroom, has a kitchenette with granite countertops and equipped with a microwave, mini-refrigerator, coffee maker, toaster, cookware and dishes. If you would prefer a full kitchen, you'll love the Bora Bora 1 Bedroom Suite, which gives you an oven, full-sized refrigerator and dishwasher. In this suite type you can enjoy a meal on your private patio or balcony. The resort's inviting barbecue area gives you the additional opportunity to grill out.
---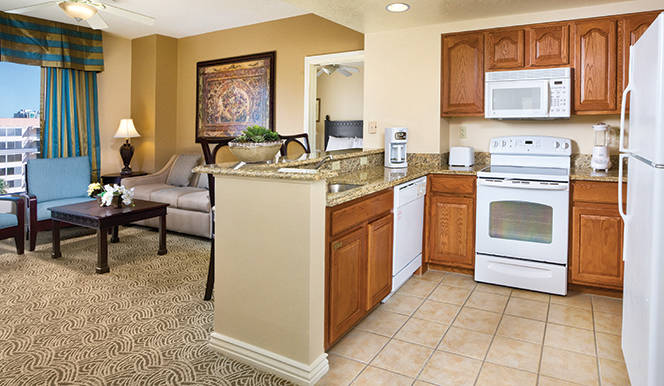 This gorgeous Mediterranean-inspired resort is an excellent choice for families. The sprawling non-gaming resort has a beautiful lagoon-style pool, 4 outdoor hot tubs, and an activities center for games, videos and activities. The resort is located just a 5 minute drive from the Las Vegas Strip, perfect for exploring the city. Their One Bedroom suite (which sleeps up to 4 guests) comes with a kitchenette that has a microwave, refrigerator and dishwasher. Their Two Bedroom (which sleeps 8 guests) offers a dining area as well as a full kitchen with an oven and stovetop.
---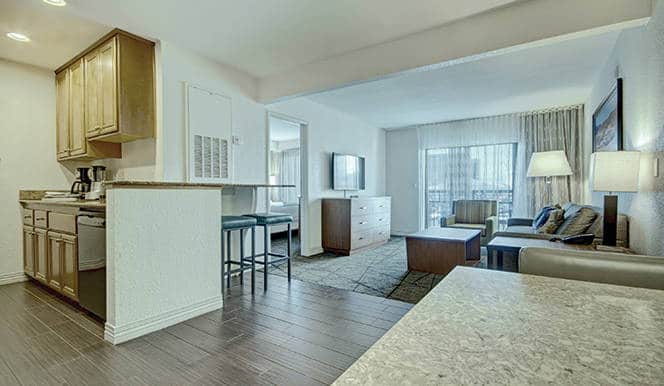 This family-friendly, non-gaming resort is just 1.5 blocks from the Las Vegas Strip but provides a peaceful retreat from the bright lights and loud noises. If you want to grill out, the resort offers a barbecue area surrounded by lush foliage. If you prefer to dine indoors, all of the suites at Desert Rose Resort come with kitchens and dining areas. Their condo-style kitchens have granite countertops and offer a refrigerator, microwave, stovetop and oven, toaster, coffee maker, as well as a dishwasher.