Las Vegas Conventions (2023 – 2024)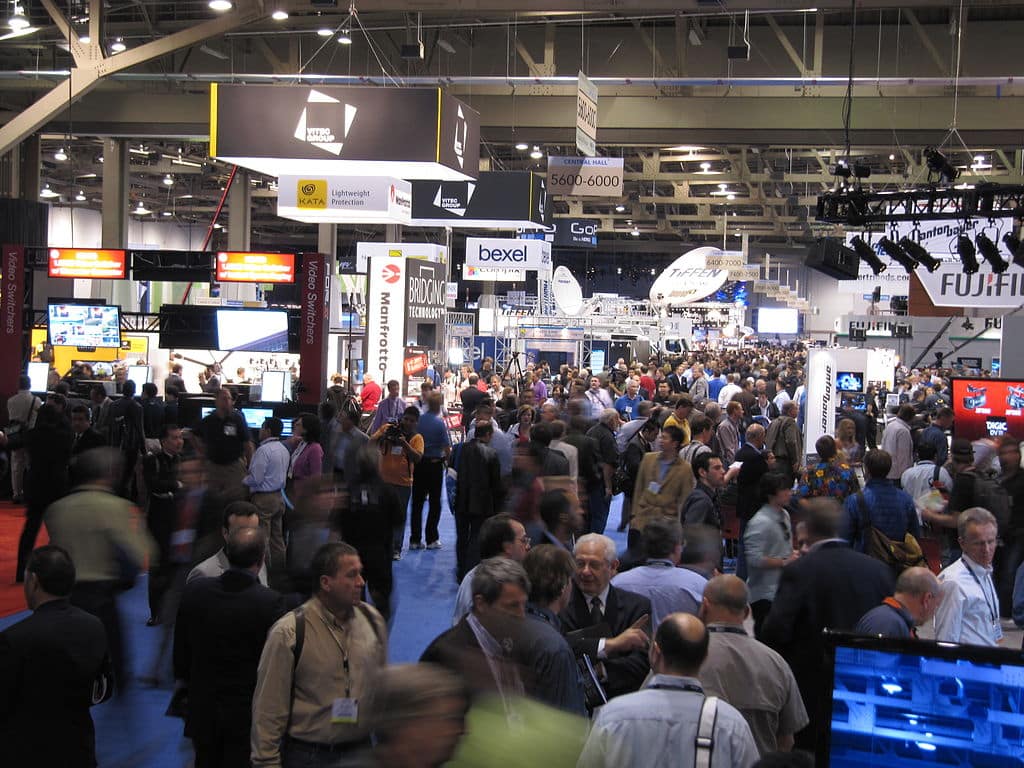 We may receive a commission if you make a purchase.
With over 32 million visitors per year, Vegas is one of most popular tourist destinations in the world. In addition to world-class hotels, dining, and entertainment, Las Vegas has become a premier destination for doing international business and gets over 2 million convention visitors annually. Before the pandemic hit over 3.5M people attended conventions, but things are starting to get back to normal now with most of the major conventions, like the Consumer Electronic Show (CES) back in business.
We have listed the major Vegas conventions happening in 2023. It also includes the expected visitor attendance. Unfortunately, high attendance conferences can cause hotel rates to go up significantly, so if you have flexible stay dates and don't need to attend a convention, you might want to skip going on these very busy times. However, one unexpected benefit relates to more gambling tables and lower minimum bets when you play. You will also find more entertainment and shows playing.
While you might be able to get information on whatever interests you online, there is something special about being around a large crowd of convention goer enthusiasts ranging from tech to fashion. You can click on the links provided to find out more information about each one and register to attend.
Please note that in many cases you cannot attend a convention unless you provide proof that you actually work in that industry. Further, you often are not allowed to bring non-qualified friends/family guests with you. While it would be nice if they allowed regular folks to attend them, you need to realize that the vendors spend a lot of money to be there and expect everyone around them to be worth their time. However, a few conventions, like the Outdoor Christmas Expo, are free and open to anyone.
Please comment below if you find any mistakes or feel we are missing any major ones that you feel should be on it. You can also find additional smaller conventions on Vegas Means Business.
Not sure where to stay while you're in Vegas for your convention? We put together this top 10 list of the best Las Vegas hotels for convention guests.
August 2023
CAALA Vegas 2023 – Consumer Attorneys Association of Los Angeles
Dates: Aug 31 – Sep 3, 2023
Expected Attendance: 50,000
Location: Bellagio
September 2023
The Experience Convention & Trade Show – Cleaning and Restoration Trade Show
Dates: Sep 6 – Sep 8, 2023
Expected Attendance: 50,000
Location: Caesars Forum Convention Center
PACK EXPO – Las Vegas and Healthcare Packaging EXPO
Dates: Sep 11 – Sep 13, 2023
Expected Attendance: 30,000
Location: Las Vegas Convention Center
RE+ 2023 Las Vegas – Solar and General Energy Supply Conference
Dates: Sep 11 – Sep 14, 2023
Expected Attendance: 27,000
Location: Venetian Expo Center
Oracle CloudWorld – Database
Dates: Sep 18 – Sep 21, 2023
Expected Attendance: 20,000
Location: Venetian Expo Center & Caesars Forum Convention Center
Vision Expo – Optical and Vision Care Tech Expo
Dates: Sep 28 – Sep 30, 2023
Expected Attendees: 12,000
Location: The Venetian Expo
October 2023
HLTH 2023 – Healthcare Industry Ecosystem Event
Dates: Oct 8 – Oct 11, 2023
Expected Attendance: 10,000
Location: Las Vegas Convention Center
Global Gaming Expo 2023 (G2E) Las Vegas
Dates: Oct 9 – Oct 12, 2023
Expected Attendance: 25,000
Location: Venetian Expo & Convention Center
IMEX America – Business Events Industry Trade Show
Dates: Oct 17 – Oct 19, 2023
Expected Attendance: 13,000
Location: Mandalay Bay Convention Center
TwitchCon – Semi-Annual Gaming Convention for Twitch
Dates: Oct 20 – Oct 22, 2023
Expected Attendance: 30,000
Location: Las Vegas Convention Center
SupplySide West – Healthy & Innovative Food Ingredients Marketplace
Dates: Oct 23 – 27, 2023
Expected Attendees: 20,000
Location: Mandalay Bay Convention Center
AAPEX 2023 – Automotive Aftermarket Products Expo
Dates: Oct 31 – Nov 2, 2023
Expected Attendance: 70,000
Location: Venetian Expo & Caesars Forum Convention Centers
SEMA Show – Specialty Equipment Market Association Trade Show
Dates: Oct 31 – Nov 3, 2023
Expected Attendance: 160,000
Location: Las Vegas Convention Center
November 2023
Wedding MBA – Wedding Merchants Business Academy
Dates: Nov 6 – Nov 8, 2023
Expected Attendance: 27,000
Location: Las Vegas Convention Center
Mecum Collector Car Auctions
Dates: Nov 9 – Nov 11, 2023
Expected Attendance: 60,000
Location: Las Vegas Convention Center
International Pool Spa Patio Expo 2023
Dates: Nov 13 – Nov 15, 2023
Expected Attendance: 11,000
Location: Las Vegas Convention Center
Amazon Web Services – AWS re:Invent – Global Cloud Computing Conference
Dates: Nov 27 – Dec 1, 2023
Expected Attendees: 65,000
Location: The Venetian Expo
MJBizCon 2023 – Largest Marijuana Business Conference in the World
Dates: Nov 28 – Dec 1, 2023
Expected Attendance: 27,000
Location: Las Vegas Convention Center
LDI – Live Design International
Dates: Nov 29 – Dec 5, 2023
Expected Attendance: 35,000
Location: Las Vegas Convention Center
December 2023
DSE – Digital Signage Experience
Dates: Dec 2 – Dec 5, 2023
Expected Attendance: 12,000
Location: Las Vegas Convention Center
Cowboy Christmas – Official Gift Show of the Wrangler National Finals Rodeo
Dates: Dec 7 – Dec 16, 2023
Expected Attendance: 279,000
Location: Las Vegas Convention Center
RMEF Hunter & Outdoor Christmas Expo
Dates: Dec 7 – Dec 16, 2023
Expected Attendance: 80,000
Location: Las Vegas Convention Center
January 2024
CES 2024 – Global Consumer Electronics Trade Show
Dates: Jan 9 – Jan 12, 2024
Expected Attendance: 180,000
Location: Las Vegas Convention Center
PPAI – Promotional Products Association International Expo
Dates: Jan 15 – Jan 18, 2024
Expected Attendance: 25,000
Location: Mandalay Bay Convention Center
2024 Winter Fancy Food Show
Dates: Jan 21 – Jan 23, 2024
Expected Attendance: 30,000
Location: Las Vegas Convention Center
World of Concrete – Commercial Concrete and Masonry Trade Show
Dates: Jan 23 – Jan 25, 2024
Expected Attendance: 61,000
Location: Las Vegas Convention Center
SHOT Show – Shooting, Hunting & Outdoor Trade Show
Dates: Jan 23 – Jan 26, 2024
Expected Attendance: 61,000
Location: Venetian Expo & Convention Center
AVN Adult Entertainment Expo 2024
Dates: Jan 24 – Jan 27, 2024
Expected Attendance: 25,000
Location: Resorts World Las Vegas
2024 Winter Las Vegas Market – Home Furnishings and Gift Market
Dates: Jan 28 – Feb 1, 2024
Expected Attendance: 30,000
Location: World Market Center Las Vegas
TPE 2024 – Tobacco Plus Expo – World's Largest Tobacco Trade Show
Dates: Jan 31 – Feb 2, 2024
Expected Attendance: 75,000
Location: Las Vegas Convention Center
February 2024
NADA Show Expo – Auto Industry's Premier Marketplace
Dates: Feb 1 – Feb 4, 2024
Expected Attendance: 23,000
Location: Las Vegas Convention Center
20th Annual RLA Conference & Expo – Reverse Logistics Association
Dates: Feb 6 – Feb 8, 2024
Expected Attendance: 25,000
Location: The Mirage
MAGIC Las Vegas – World's Largest Fashion Marketplace
Dates: Feb 13 – 15, 2024
Expected Attendance: 78,000
Location: Las Vegas Convention Center
Off Price Las Vegas – Wholesale Fashion Expo
Dates: Feb 13 – Feb 16, 2024
Expected Attendance: 15,000
Location: Venetian Expo Center
WVC Annual Conference – Western Veterinary Conference
Dates: Feb 18 – Feb 21, 2024
Expected Attendance: 16,000
Location: Mandalay Bay Convention Center
NAHB International Builders Show – World's Largest Annual Light Construction Show
Dates: Feb 27 – Feb 29, 2024
Expected Attendance: 68,000
Location: Las Vegas Convention Center
NKBA KBIS Expo – National Kitchen and Bathroom Association
Dates: Feb 27 – Feb 29, 2024
Expected Attendance: 35,000
Location: Las Vegas Convention Center
March 2024
ToyFest 2024 – National Toy Show
Dates: Mar 3 – Mar 5, 2024
Expected Attendance: 20,000
Location: World Market Center Las Vegas
NGA Show – National Grocers Association Trade Show
Dates: Mar 10 – Mar 12, 2024
Expected Attendance: 20,000
Location: Caesars Forum Convention Center
ASD Summer Market Week – Consumer Merchandise Trade Show
Dates: Mar 10 – Mar 13, 2024
Expected Attendance: 40,000
Location: Las Vegas Convention Center
Bar & Restaurant Expo 2024 – Premier Event for the Bar and Restaurant Industry
Dates: Mar 18 – Mar 20, 2024
Expected Attendance: 50,000
Location: Las Vegas Convention Center
NHS – National Hardware Show
Dates: Mar 26 – Mar 28, 2024
Expected Attendance: 20,000
Location: Las Vegas Convention Center
---
2023/2022 Past Conventions
August 2023
SuperZoo – North America's Largest Pet Industry Retail Event
Dates: Aug 16 – Aug 18, 2023
Expected Attendees: 20,000
Location: Mandalay Bay Convention Center
June 2023
JCK – The #1 Jewelry Trade Show in the World
Dates: Jun 2 – Jun 5, 2023
Expected Attendees: 30,000
Location: The Venetian Expo
International Esthetics, Cosmetics & Spa Conference (IECSC)
Dates: Jun 24 – Jun 26, 2023
Expected Attendees: 23,000
Location: Las Vegas Convention Center
May 2023
HD Expo – Hospitality and Design
Dates: May 2 – May 4, 2023
Expected Attendance: 20,000
Location: Mandalay Bay Convention Center
White Label World Expo 2023 – Online Retail Sourcing Show
Dates: May 3 – May 4, 2023
Expected Attendees: 20,000
Location: Las Vegas Convention Center
ICSC – International Council of Shopping Centers Retail Real Estate Conference
Dates: May 21 – May 23, 2023
Expected Attendees: 40,000
Location: Las Vegas Convention Center
Licensing Expo – Connecting Product Suppliers and Retailers
Dates: May 23 – May 25, 2023
Expected Attendees: 90,000
Location: Mandalay Bay Convention Center
April 2023
International Sign Expo – ISA
Dates: Apr 12 – Apr 14, 2023
Expected Attendees: 20,000
Location: Mandalay Bay Convention Center
National Association of Broadcasters (NAB Show)
Dates: Apr 16 – Apr 19, 2023
Expected Attendance: 103,000
Location: Las Vegas Convention Center
March 2023
WPPI Conference + Expo – Wedding Photography Trade Show
Dates: Mar 5 – Mar 9, 2023
Expected Attendees: 50,000
Location: The Mirage
CONEXPO-CON/AGG 2023 Construction Show
Dates: Mar 14, 2023 – Mar 18, 2023
Expected Attendance: 135,000
Location: Las Vegas Convention Center
ISC West – International Security Conference & Expo
Dates: Mar 21 – Mar 31, 2023
Expected Attendees: 30,000
Location: The Venetian Expo
IWCE – International Wireless Communications Expo
Dates: Mar 27, 2023 – Mar 30, 2023
Expected Attendance: 15,000
Location: Las Vegas Convention Center
World Tea Expo
Dates: Mar 27 – Mar 29, 2023
Expected Attendees: 50,000
Location: Las Vegas Convention Center
Bar & Restaurant Expo
Dates: Mar 27, 2023 – Mar 29, 2023
Expected Attendance: 50,000
Location: Las Vegas Convention Center
February 2023
January 2023
Consumer Technology Association (CTA) – CES 2023
Dates: Jan 5 2023 – Jan 8, 2023
Expected Attendance: 180,000
Location: Las Vegas Convention Center
CPPAI Expo 2023 – Promotional Products Association International
Dates: Jan 9 2023 – Jan 12, 2023
Expected Attendance: 25,000
Location: Mandalay Bay Convention Center
Winter Fancy Food Show 2023
Dates: Jan 15 – Jan 19, 2023
Expected Attendees: 30,000
Location: Las Vegas Convention Center
World of Concrete
Dates: Jan 17 – Jan 19, 2023
Expected Attendees: 60,000
Location: Las Vegas Convention Center
Shooting, Hunting & Outdoor Trade Show (SHOT Show)
Dates: Jan 17 – Jan 20, 2023
Expected Attendees: 61,000
Location: Venetian Expo & Convention Center
National Kitchen & Bath Association (NKBA/KBIS) 2023
Dates: Jan 31 – Feb 2, 2023
Expected Attendees: 35,000
Location: Las Vegas Convention Center
National Hardware Show (NHS) – Home Improvement
Dates: Jan 31 – Feb 2, 2023
Expected Attendees: 20,000
Location: Las Vegas Convention Center