Vegas After Dark: 8 Exciting Tours for Experiencing Las Vegas at Night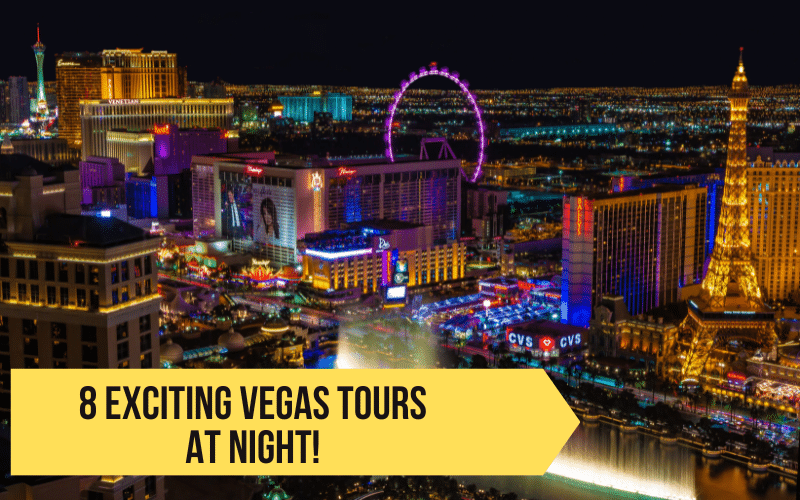 We may receive a commission if you make a purchase.
There's something magic about Las Vegas at night. The whole city glows with sparkling neon lights and there's a buzz of excitement in the air. After the sun goes down is arguably the best time to explore Vegas. Simply taking a walk down the Strip or the Fremont Street Experience will leave you in awe. If you want to make sure you fit in all the sights to see, taking a guided tour is a good idea. Here are 8 of the best tours for experiencing Las Vegas at night!
---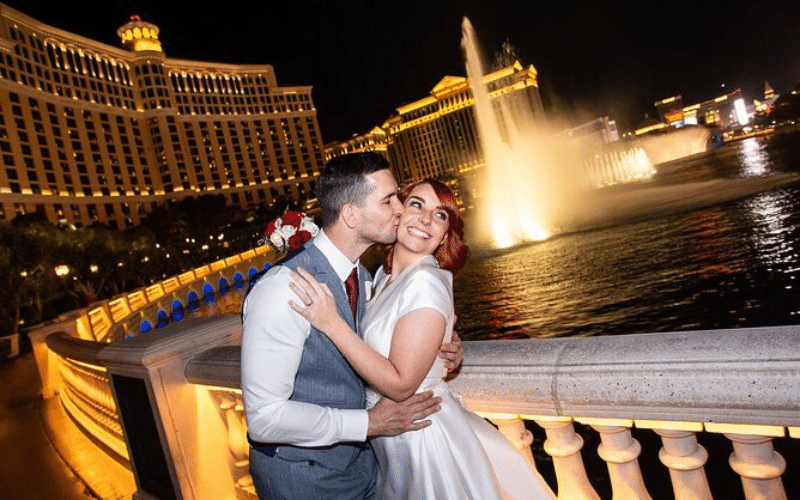 Cost: from $549
Duration: 1 – 2 hours
Cruising in a luxury limousine down the Las Vegas Strip is a classic way to take in the wonder of Las Vegas after dark. You and 7 of your besties can ride in the back of a stretch limo, sipping champagne and feeling like celebrity A-listers, on this exciting nighttime tour.
Even better, you'll have your own personal paparazzi: a photographer who will snap high-quality shots of your adventure. Your limousine will take you to see all of the famous sights in Vegas, from the "Welcome To Las Vegas" sign, up the Strip, and through Downtown Las Vegas. The tour lasts 1 – 2 hours, and it's a night out you'll remember forever.
---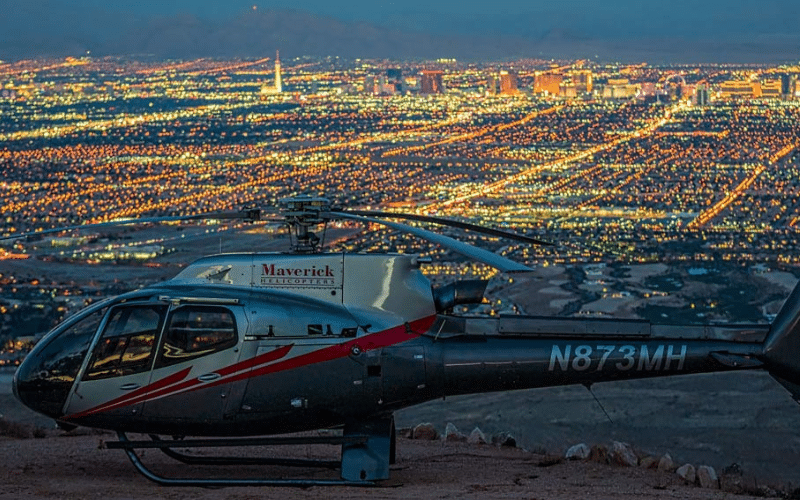 Cost: from $239
Duration: 2 and ½ hours
This unique helicopter tour lets you see the natural wonder of Red Rock Canyon alongside the man-made beauty of the Las Vegas Strip in one unforgettable flight. Your evening will begin with being picked up from your hotel by a luxury limo and taken to the helicopter terminal.
You'll get an unparalleled view of Red Rock from high above, its majestic red mountains glowing in the sunset. Desert sunsets are spectacular, and you'll get to admire one from a private location in Red Rock while sipping on a champagne toast. The 2 and ½ hour tour ends on a high note by flying over the Las Vegas Strip at night.
---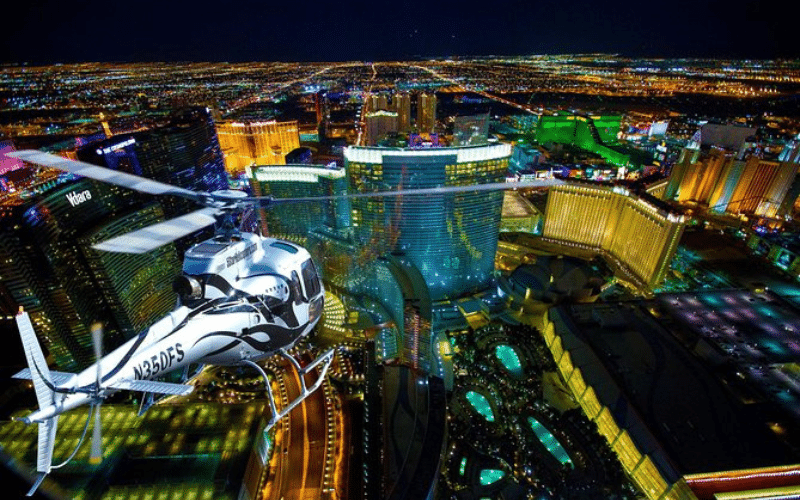 Cost: from $139
Duration: 15 minutes
This helicopter tour may only be a 15-minute flight, but it's a breathtaking experience. There's no better way to see the dazzling lights of Las Vegas than from the sky. You'll enjoy a champagne toast before lifting off in your luxury Ecostar helicopter.
You'll fly over the Las Vegas Strip and Downtown Las Vegas, seeing famous sights like the Bellagio fountains, the High Roller, and the Stratosphere from high above. This is a perfect tour for a romantic date night!
---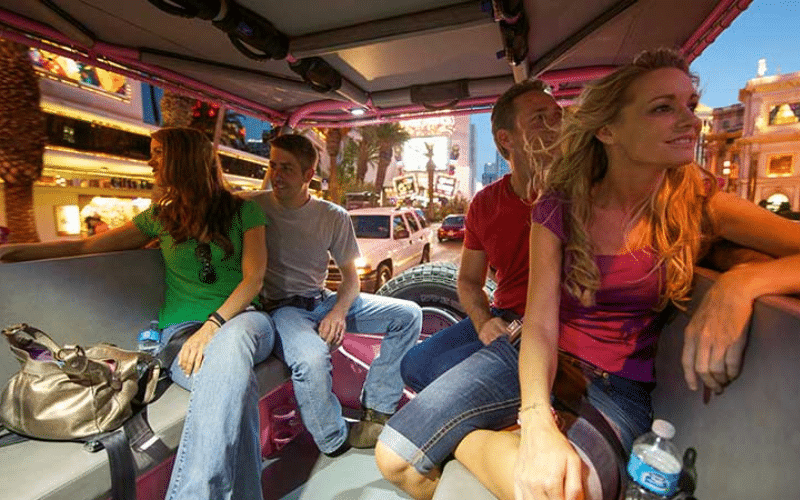 Cost: from $117
Duration: 3 and ½ hours
Want to take in all the famous sights of Las Vegas in one night? This tour takes you around Sin City in a bright pink open-top Jeep Wrangler, giving you an unobscured view of everything you pass and allowing for optimum photo-taking. And trust us, there will be lots of photo opportunities!
Your expert guide will let you in on the history and secrets behind all of the Las Vegas landmarks as he chauffeurs you around town. You'll start at the "Welcome To Las Vegas" sign and work your way up the Strip until you reach Downtown Vegas. At the end of your tour, you'll get to take a ride on the world's tallest observation wheel, the High Roller.
---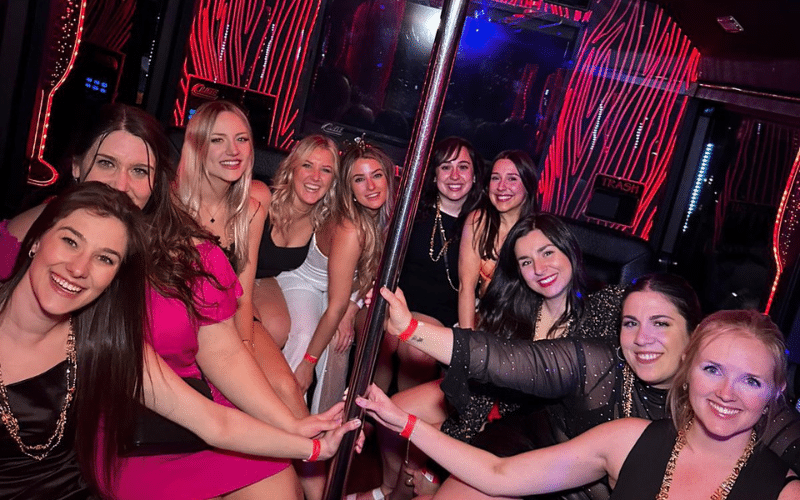 Cost: from $89
Duration: 4 and ½ hours
Las Vegas is world famous for having some of the most extravagant nightclubs on the planet. If you want to get the full experience of real Vegas nightlife, this tour is for you. Las Vegas Club & Bar Rockstarcrawl takes you in a limo party bus to 3 of the top clubs and bars in the city.
Normally going to a club in Las Vegas means waiting in a long line for hours on end, but when you take this tour you'll get to skip the line completely. What's more, your cover charge for all 3 nightlife venues is included as part of your package. That's a really good deal!
---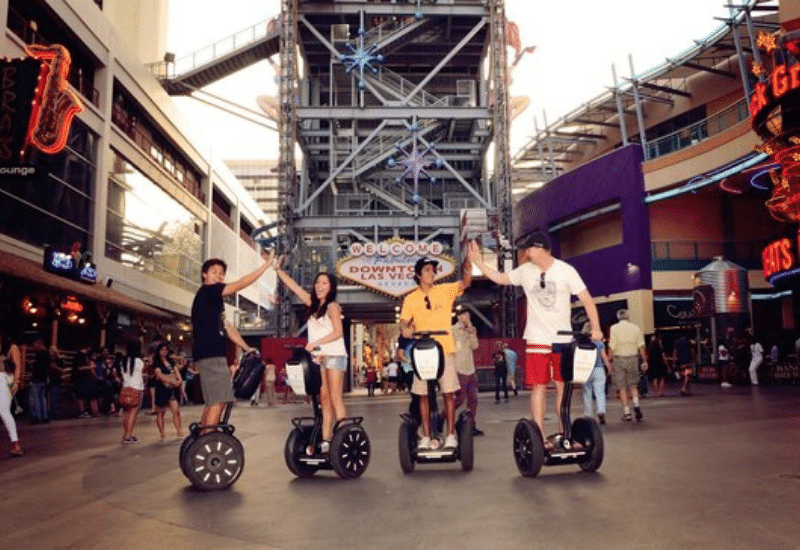 Cost: from $89
Duration: 1 and ½ hours
Jump on a Segway and roll around Downtown Las Vegas on this fun, family-friendly tour. Segway Las Vegas takes you down Fremont Street Experience, the pedestrian promenade at the heart of Downtown Vegas. You haven't seen the real Vegas until you've been to this part of town, and what better way to explore it than on 2 wheels?
Segway Las Vegas has daytime tours available as well, but their City Lights Night Tour is our favorite. At night, Downtown Las Vegas comes alive with bright neon lights, live music, street performers, and some of the best people-watching on the planet. This tour gives you 1 and ½ hours with a knowledgeable tour guide who knows the coolest parts of the city to explore.
---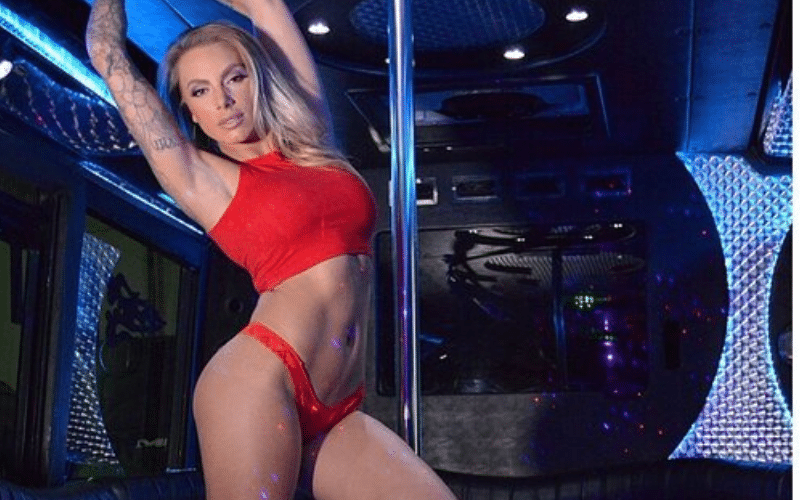 Cost: from $50
Duration: 4 hours
Get the guys together and book this exciting tour of some of the best Las Vegas Strip Clubs. The Las Vegas Strip Club Crawl is guaranteed to be a wild night out in Vegas, so it's perfect for bachelor parties! You'll be driven around the city in a luxury party bus, with unlimited liquor on the bus included in the cost of the tour.
The tour begins with experiencing some of the best nightclubs in Vegas, then takes you to a selection of the hottest strip clubs this city has to offer. The strip clubs on this tour vary, but they could include Crazy Horse 3, Spearmint Rhino, or Sapphire.
---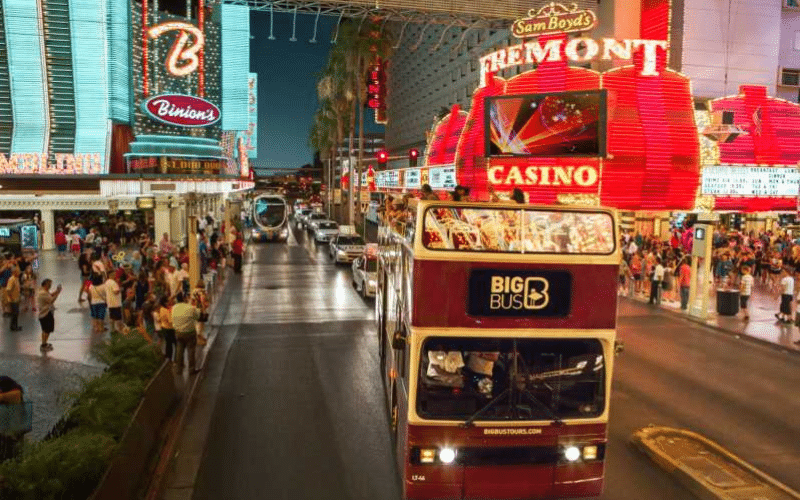 Cost: from $55
Duration: 3 hours
See the glittering lights of Las Vegas at night and all of Sin City's famous landmarks on this awesome bus tour. You'll have a killer view from the open-top double-decker bus, and an expert guide to fill you in on the history and legends behind every landmark.
You'll start by driving by the famous Welcome to Las Vegas sign, then the bus will take you up the Las Vegas Strip where you'll see the Fountains of Bellagio, Caesar's Palace, the Mirage volcano, and more. Next, you'll have an opportunity to get off the bus in Downtown Las Vegas and explore Fremont Street Experience before returning to the Strip.
See all Las Vegas tours HERE!