Our Top 10 Las Vegas Spas (2022)

The Las Vegas experience is all about bright lights, booming music and excitement. Whether you've been exploring the Strip all day, or dancing the night away in one of Vegas' hottest clubs, your senses can get a bit overloaded. That's why Las Vegas has some of the best spas in the world, designed with gorgeous attention to detail and offering rare and amazing spa services. Retreat from the action for a bit and revitalize your body, mind and spirit. This is our list of the top 10 Las Vegas spas that you'll have to see to believe.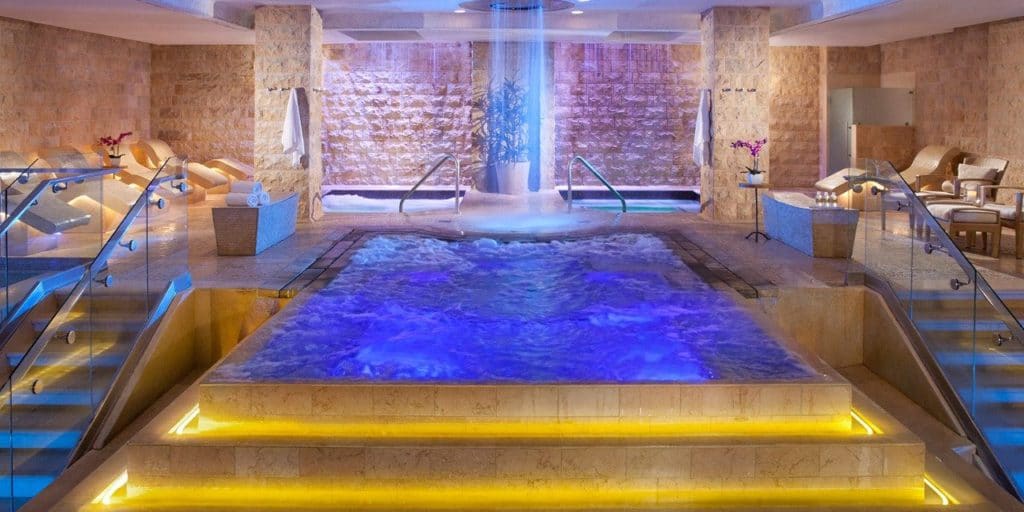 This extravagant 50,000 square foot spa is located at Caesar's Palace. The theme of Qua Baths & Spa is the healing power of water, and the sounds of water follow you throughout your journey of relaxation. The spa has won numerous awards for being the pinnacle of luxury spa experiences in Las Vegas.
Qua centers around 3 Roman baths. The largest, called the Tepidarium, has mineral-enriched waters to restore your skin's natural beauty and wellbeing. The Caldarium bath is very hot, intended to help soothe and relax your muscles, and the Frigidarium is a cold bath to invigorate the senses.
It's the only spa in the world that has official Nobu brand treatments, focused on body rituals that create a rejuvenating experience from beginning to end. Imagine this: upon arrival you'll enjoy a cup of tea (selected by a tea sommelier to match the services you have chosen) while your feet are bathed in floral water and exfoliated with crystalized honey. That's some serious pampering!
Amenities
3 Roman baths
Cedar wood sauna
Herbal steam room
Arctic Ice Room (where it actually snows!)
Hair salon
---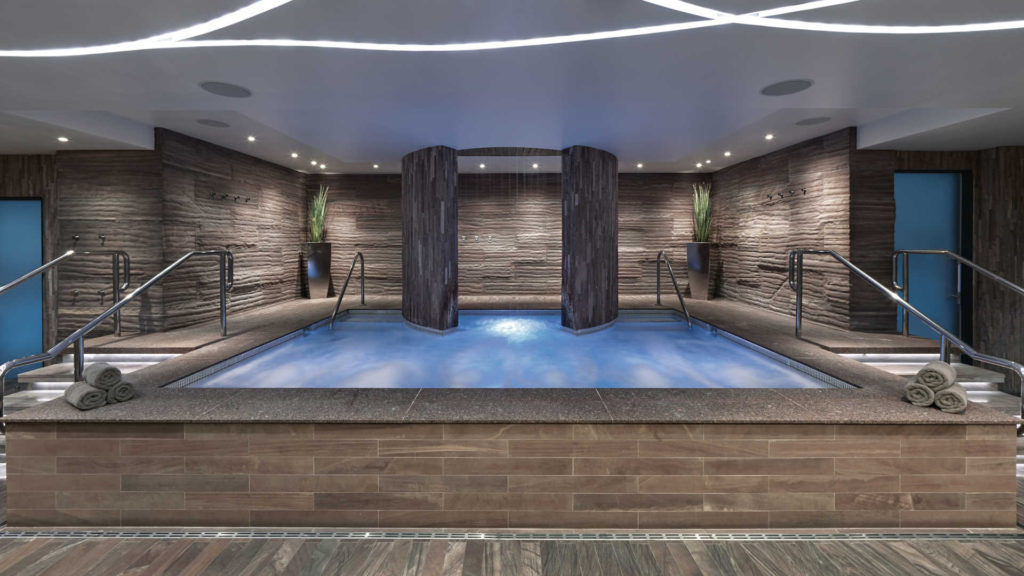 Located at The Cosmopolitan, a hotel known for its unique, stylish perspectives, Sahra Spa, Slaon & Hammam stands out as a Las Vegas spa experience like no other. The design and concept of this spa is inspired by the desert landscape. They believe "the desert's striking contrasts – exhilarating intensity combined with ageless stillness and peace – create a path to balance, clarity and calm".
Dramatic natural walls lead you down hallways towards The Space Between: a serenity lounge where you can ease into a state of pure calm while listening to the sound of the falling water. The exceptional Hammam room, just one of the treatment rooms, features a giant heated stone slab where you receive your treatment. We recommend reserving the luxurious penthouse Sahra Suite, where you and your friends will enjoy private treatments.
The treatments at Sahra Spa, Salon & Hammam are based on desert cultures from all over the world. We love the Red Flower Bathing Ritual, where you start with an invigorating and exfoliating lemon coffee blossom olive stone scrub, then soak in a Moroccan mint tea silt purifier. To top it off, you'll be hydrated with cardamom amber oil and tangerine fig butter.
Amenities
Steam room
Vitality pool with experiential monsoon rainfall showers
Cold mist room
Sauna
The Space Between (relaxation lounge)
Hair and makeup salon
---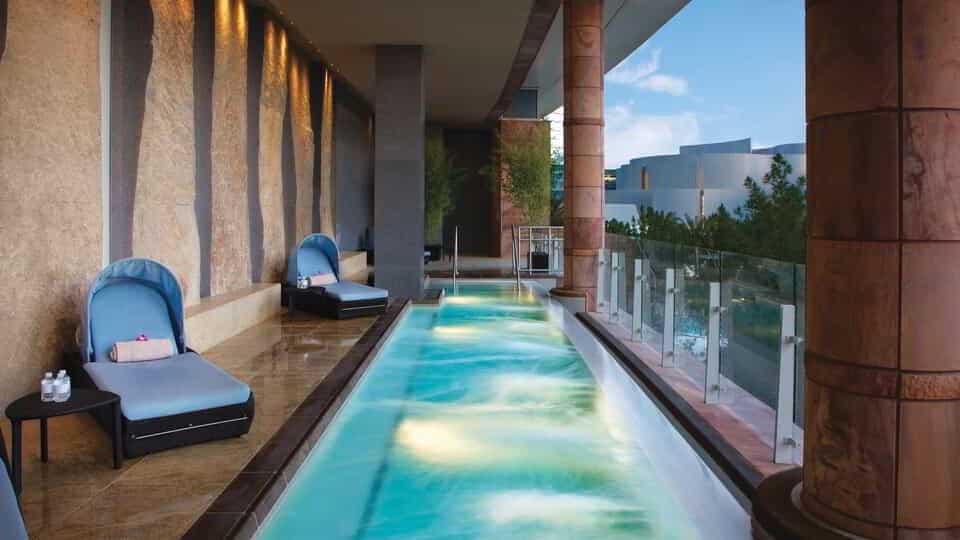 This Forbes Five-Star spa is the largest of its kind in the United States. Located at Aria Resort & Casino, The Spa at Aria offers an oasis of tranquility from the hustle and bustle of the Las Vegas Strip. Walking in, guests are welcomed by a tranquil water garden with Aji stone boulders. The peaceful music, signature scent in the air and a stunning view of the mountain ranges make this spa a luxurious retreat.
You can relax on Ganbanyoku heated stone beds between treatments, which help to eliminate toxins in your body, increase your metabolism and soothe your muscles. Or perhaps you would like to try vibration therapy in the Shio Salt Room, which has an illuminated wall of Shio salt bricks that infuse the air. Then there's the extraordinary co-ed balcony, with its infinity-edge therapy pool overlooking the city below.
The Spa at Aria's Gemstone Facial gives you a relaxing face and neck massage paired with a diamond-infused lift-off mask, leaving you with nourished and revitalized skin. Their Essential Stone Massage combines warm stones and seasonal aromatherapy oils placed along the chakras of your body, for a soothing, nurturing experience.
Amenities
Co-ed infinity-edge therapy pool
Eucalyptus steam room
4 indoor whirlpool tubs
Dry sauna
Plunge pool
Spa suites
Shio Salt Room
Ganbanyoku heated stone beds
Hair salon
Nail salon
---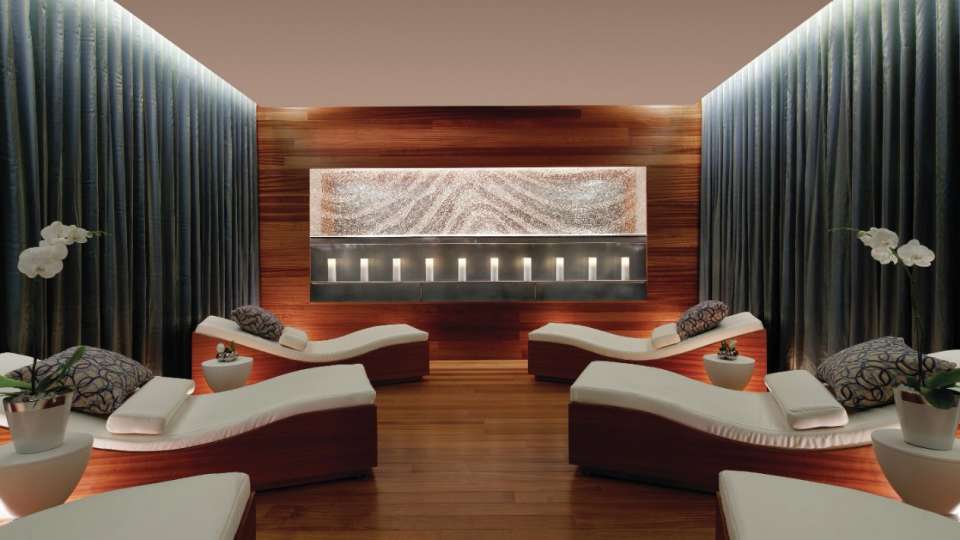 Located at the Vdara Hotel, this spa was recently awarded the Forbes Travel Guide Five-Star rating for the third consecutive year. Set over 2 floors, The Spa at Vdara has a modern, natural theme throughout, from its wooden floors to waterfalls, right down to the treatments offered. Forbes Travel Guide says that a visit to this spa is "an experience that is as mindful of luxury and relaxation as it is holistic healing and eco-friendly practices".
The Spa at Vdara focuses on holistic health by offering body treatments with all-natural, organic ingredients and naturopathic properties. They even have a meditation lounge where you can sit and find your Zen between treatments. And to complete your day at the spa, they also have a full-service salon for getting your hair, nails and makeup done, ready for a night on the town.
We love the Marine Detox Mineral Wrap, an experience that starts with a full-body exfoliation, followed by a mineral mud wrap to cleanse your body of toxins. Then you receive a scalp treatment and detoxifying body massage. Their Gemstone Clay Mask is also amazing, with a full-body exfoliation and a gemstone clay mask, as well as a scalp treatment and aromatherapy body massage.
Amenities
Hot plunge pool
Redwood sauna
Meditation lounge
Eucalyptus steam room
Full-service salon
---


Located at Encore Las Vegas, The Spa at Encore is an experience of stunning opulence from beginning to end. When you walk down their dramatic grand corridor, lined with gold Moroccan lamps and urns overflowing with water, you'll immediately see what we mean. This spa transports its guests to an exotic retreat from the crowds and noise of the strip. And it was the first Las Vegas spa to win a Forbes Travel Guide Five-Star rating.
Relax in the heated stone chaise lounges in the wet area while they soothe tension in your muscles and stimulate circulation. Take a dip in the Jacuzzi tubs and cold plunge pool to stimulate your senses. As a delightfully technological touch, the rainfall showers have a digital screen with which you can choose the temperature, pressure, and even mood lighting! The private Garden Villas are naturally lit suites where you and a friend can receive your treatments.
We love the unique concept of the Bodhi Massage and Visualization treatment, which gives you a powerful mind-body experience. Designed to open up and balance your seven chakras, this treatment combines massage, energy work, aromatherapy and color light therapy. At the end you are guided through a visualization to connect the body and spirit. The Spa at Encore's Fire & Ice Stone Massage uses the contrast of hot and cool stones to revitalize the body and reduce inflammation.
Amenities
Hot tubs
Sauna
Steam room
Jacuzzi
Cold plunge pools
Experiential rainfall showers
Private Garden Villas
---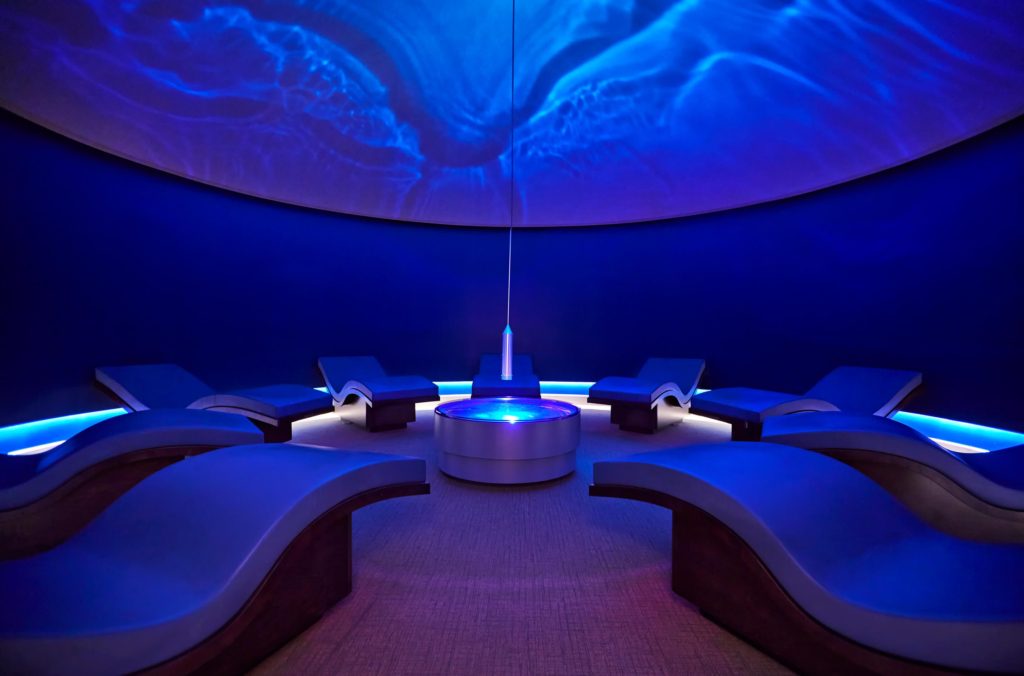 This expansive 134,000 square foot retreat is the largest day spa in North America. Canyon Ranch Spa & Fitness, located at The Venetian, has received 89 awards since its opening including winning the Forbes Travel Guide Four-Star award 17 times! This is definitely an all-day spa experience, as there are so many amenities that you may not even get to experience them all in one day.
There's the calming Wave Room which gives you a multi-sensory experience that simulates the look and feel of breaking waves. Inhale some soothing "sea air" in the Salt Grotto, and cleanse your body of toxins in the Crystal Steam room with its aromatic steam and large meditating crystal. Step into the Finnish Sauna, lit by crystal-refracted colored light, and follow that by trying Experiential Rains: a multi-sensory cooling shower. You can even enjoy a health-conscious meal served up by their Canyon Ranch chefs.
Canyon Ranch Spa's Euphoria treatment is a ritual bath designed to bring your body and mind to a place of total calm. You'll begin the treatment with a sage compress for your face, an aromatherapy scalp massage and warm botanical body masque. Then you'll immerse yourself in a soaking tub of aromatherapy-infused water, and finally receive a soothing massage with warm herb-infused oil.
Amenities
Conservatory (a relaxing lounge)
Salt Grotto
Wave Room
Crystal Steam Room
Whirlpools
Aquavana Thermal Cabins
Experiential Rains
Finnish Sauna
Herbal Laconium
Hydrospa (a massage fountain experience)
Igloo (a cool room with arctic mist experiences)
Full service salon
Truth & Tonic – Wellness Café
---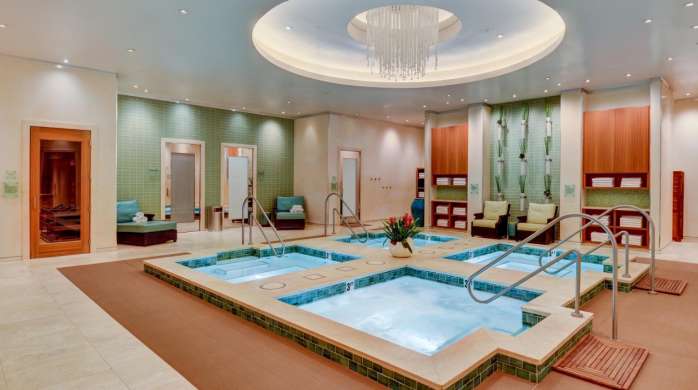 Bellagio Spa, located at the beautiful Bellagio, was the first of the super spas in Las Vegas – a forerunner with its sheer size and beauty. This Forbes Travel Guide 4-Star spa gathers its rituals from ancient cultures all over the world, in a luxurious and serene atmosphere. Neutral colors and the smell of fresh flowers make the experience at this spa feel like a calm retreat from the Strip outside.
Bellagio Spa's Jewel of Bellagio treatment is a definite favorite of ours: a 7 step treatment of cleansing and scrubs using the science of mineral-rich gemstones to promote holistic healing. Your face and body will be revitalized and radiant from the unique formulations enriched with diamond, ruby and sapphire.
Amenities
Eucalyptus steam room
Redwood sauna
Cold plunge pool
3 whirlpools
Salon
---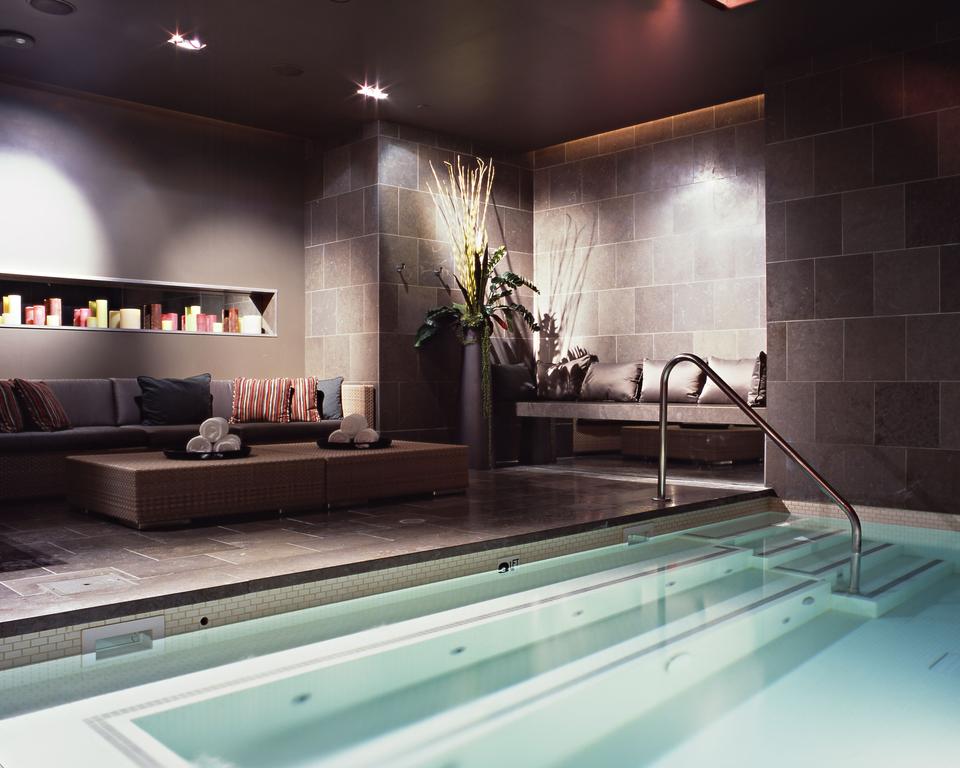 Here's one that only locals and visitors in the know are aware of. This Forbes Travel Guide Four-Star spa is located about 20 minutes West of the Strip, near the entrance to the stunningly beautiful Red Rock Canyon at Red Rock Casino and Resort. The Red Rock Spa brings wellness and relaxation together under one roof and uses products and techniques of Dr. Harold Lancer, dermatologist to the stars.
The mid-century modern décor of the spa with its light and bright color palette invigorate the senses from the moment you walk in. You can opt to receive your treatments by the pool rather than in a treatment room. And they have wonderful special events like full moon gong meditations.
Try the Purification Ritual, which starts with an exfoliation to increase circulation, followed by a detoxifying seaweed gel. You'll get a scalp treatment to sink you into deep relaxation. To finish it off you'll have your body hydrated by a full body lotion application with shea butter and bergamot, and a revitalizing foot massage.
Amenities
Special events
Full service salon
VIP suites with bathtubs for two
Lap pool
Yoga garden
---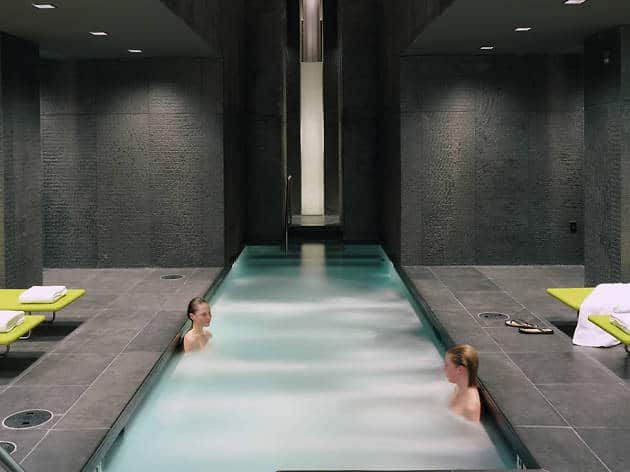 The Delano Las Vegas is a hotel that is defined by understated elegance, and its Bathhouse Spa is no deviation from this style. Textured slate walls, polished stone and trendy furniture give this stylish spa a luxurious yet hip atmosphere. Taking cues from nature, real stones line the bottom of the plunge pools, and many of the products used in treatments have ingredients sourced from local desert flowers and cacti.
Each private treatment room gives you high ceilings and an oversized bathtub where you can relax and enjoy a cup of tea before or after your treatment. You will also have access to a redwood sauna and a eucalyptus steam room where you can rid your body of toxins.
Bathhouse Spa's Wild Honey Body Treatment is infused with raw desert bee pollen sourced from the Mojave region to give you a truly local experience. The therapeutic treatment uses myofascial techniques to increase the microcirculation of your body and ease sore muscles. Their Moor Mud Bath treatment gives you a luxurious soaking experience with the anti-aging and anti-inflammatory properties of natural moor mud.
Amenities
Heated whirlpools (hot and warm)
Cold plunge pools
Redwood sauna
Eucalyptus steam room
Relaxation lounge
Nail salon
---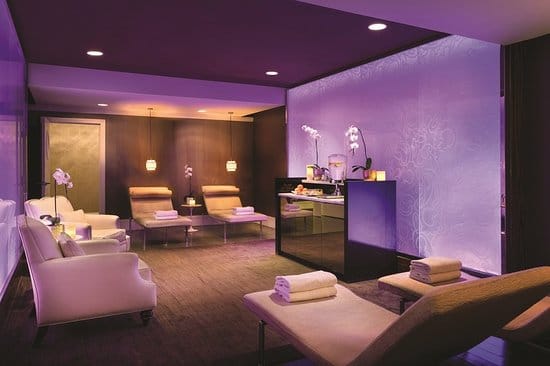 Located in the luxurious Trump International Hotel, The Spa at Trump is designed to give you an exceptionally relaxing spa day. A spa attaché will attend to your every need during your spa visit, making you feel like a real VIP. And this spa not only caters to women, men and couples… it also offers treatments designed for kids and teens, so it can be a spa day for the whole family if you like.
We particularly love the Las Vegas Night Jasmine Ritual treatment, designed perfectly for getting ready for your special night out on the town. To begin, you will receive a full body massage with jasmine aromatherapy oils, followed by a nourishing exfoliation with sea salt to remove dry skin and stimulate your circulation. Finally your skin is softened with shea butter, tangerine and neroli blossom to give you a gorgeous glow. Follow this treatment with getting your hair and nails done in their full service salon, and you'll be looking and feeling your very best for the perfect Vegas night ahead.
Amenities
Spa attaché
Full service salon
Daily wellness classes