Traveling from Las Vegas to LA: Everything You Need to Know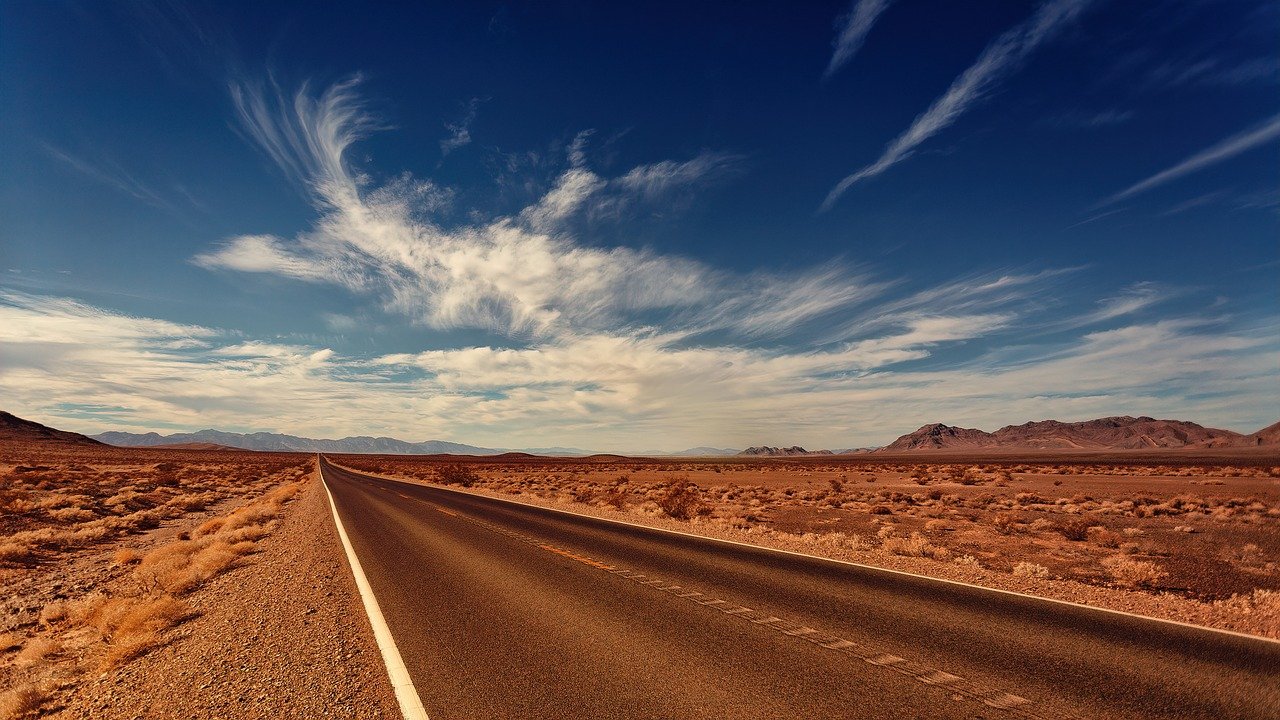 We may receive a commission if you make a purchase.
If you're planning to travel to Los Angeles after your Vegas vacation, it's a good idea to think ahead and map out how you prefer to make the trip. Whether you're traveling from Las Vegas to LA alone or in a group, this article has useful information that will help you plan your trip. We'll weigh up the options of driving, catching a bus, and flying.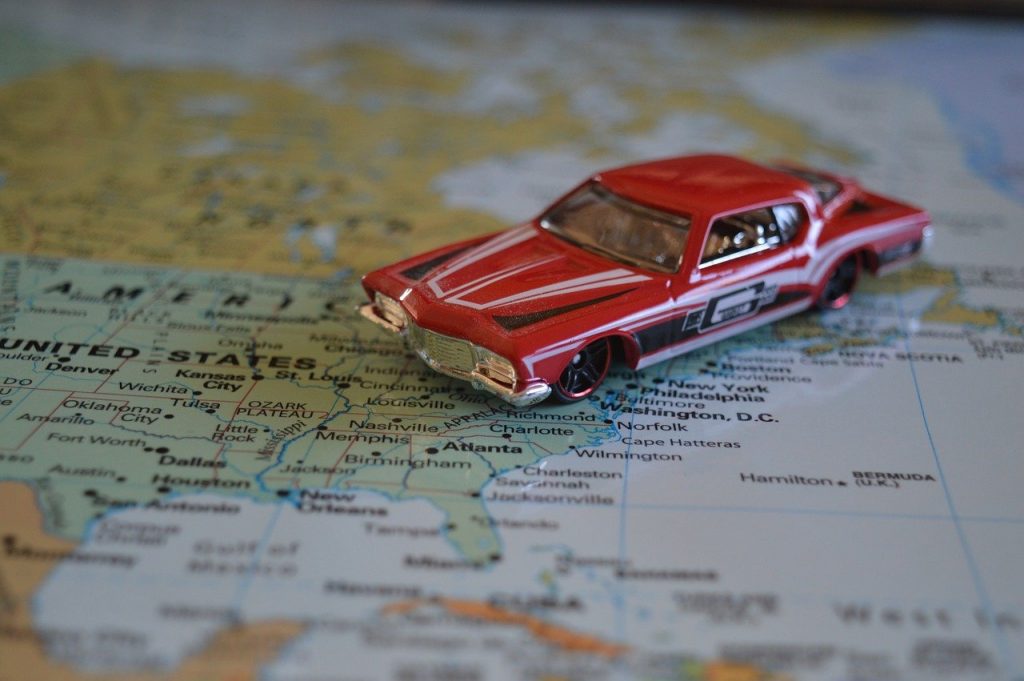 Driving from Vegas to LA
Drive Time
Los Angeles is 270 miles from Las Vegas, and the average time it takes to make that drive is 4 hours and 15 minutes. If you drive straight through without any stops and you encounter very little traffic, you can sometimes get to LA in 3.5 hours.
Cost of Gas
The average car in the US gets 25 miles per gallon, so by that standard your price for gas from Las Vegas to LA one way would come to approximately $30. That's not bad at all, especially if there are multiple people in your car splitting the cost of gas. This makes driving the most cost-efficient form of transport for getting from Vegas to LA.
Best Times to Drive
There is always traffic going to LA from Vegas, but there are better times to make the drive that will avoid you getting held up in traffic. Because most people in Southern California come to Vegas for the weekend, Sundays are the worst day to make the drive (as that's what everyone else will be doing). Making the drive on a weekday in the mid-morning or at night will get you to your destination the fastest.
Resist the Urge to Speed
When you're out in the middle of the desert, it can be tempting to try and speed up your trip a little by speeding. But watch out: the California Highway Patrol and Nevada Highway Patrol are always on the look-out for speeders and you'll end up with a ticket.
Important Tips
Always make sure to keep your gas level above a quarter of a tank throughout this journey. Why? Because there are multiple sections of the I-15 where you won't see a gas station for up to 30 miles. And the last thing you want to do is break down in the desert.
Another thing to be aware of is – you don't want to make the drive through the desert with your air conditioning blasting. This is a common mistake to make, and you'll end up over-heating your car and breaking down in the middle of nowhere. Instead, wind down the windows and enjoy the wind in your hair.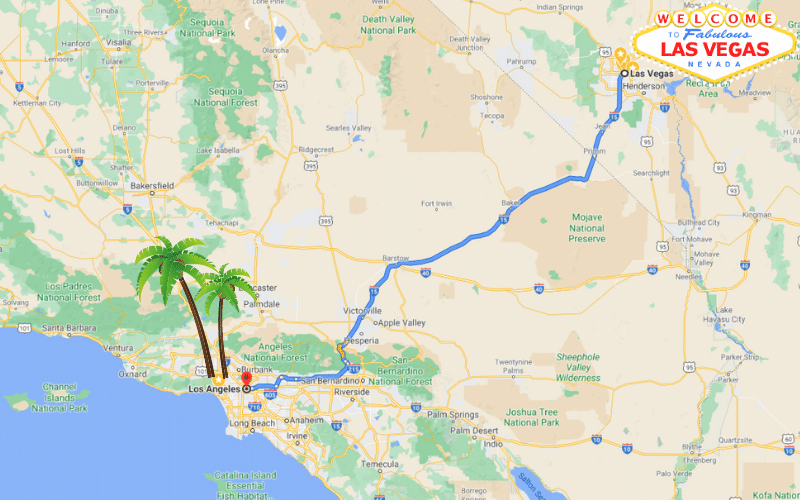 Driving Directions from Las Vegas to LA
The most common route to drive from Vegas to LA is taking the I-15. To do this, simply get on I-15 South (which has lots of on-ramps right off of the Las Vegas Strip), and take that all the way to California. Soon after entering California, take exit 115A to merge onto CA-210 West towards Pasadena. Shortly after Azusa, take the I-605 South exit. Next, take exit 22 to merge onto I-10 West towards Los Angeles.
View driving directions on Google Maps.
Renting a Car
If you don't have your own vehicle, or if you want to save the mileage and wear-and-tear on your car, you may want to consider renting a car. You can often find rental cars for under $100 (sometimes much less) for one day's rental. This is still a cost efficient way to make the trip, especially if you have multiple people traveling in your car who will be splitting the cost. Some of the most affordable car rental companies to try are:

Thrifty Car Rental
Dollar Car Rental
Enterprise Rent-A-Car
Fox Rent-A-Car
Sixt Car Rental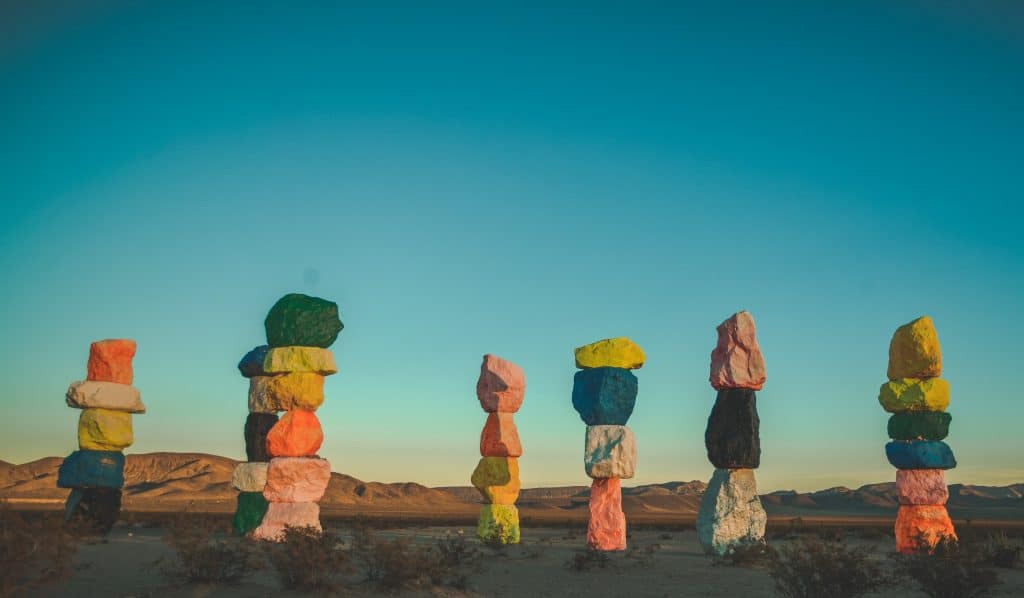 Sights to See on the drive from Vegas to LA
There are all kinds of kooky and amazing sights to see on the drive from Vegas to LA. If you're driving during the day, you'll have a cool photo opportunity at Seven Magic Mountains, an art installation in the middle of the desert consisting of 30 foot-high columns of neon rocks. Stop for a drink of whiskey at The Pioneer Saloon, a saloon that will bring you back to the days of the Wild West.

You'll get to see the World's Tallest Thermometer in Baker, CA, which is undoubtedly one of those super-kooky roadside attractions. In Yermo, CA you can step into the past at Calico Ghost Town, an old mountainside mining town that has been wonderfully preserved. If you need a place to stop for a bite to eat, Barstow Station in Barstow, CA is a food court built out of old train cars that also doubles as a flea market.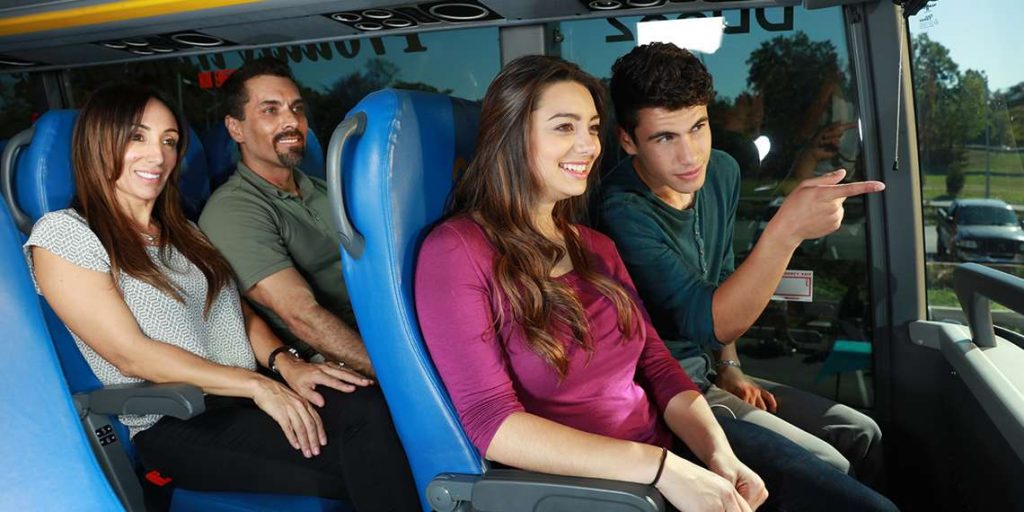 Taking a Bus from Vegas to LA
Another option for traveling from Las Vegas to LA is taking a bus. The most popular bus line for this trip is Greyhound. Greyhound's buses are comfortable, air conditioned, and have reclining seats with foot rests. You even get free Wi-Fi and power outlets. The buses have on-board restrooms, but rest stops are made from time to time. When it's near meal time, the buses will often stop near a restaurant.
Greyhound tickets cost as little as $19 one way when you purchase in advance. It is suggested you either make reservations for a ticket online or by phone, or arrive at their terminal 45 – 60 minutes early. The Greyhound station in Las Vegas is conveniently located at 200 S Main Street in the Downtown area, near the Fremont Street Experience.
Another bus line to consider is Megabus. They are a newer bus line than Greyhound, so they often feel more luxurious. The cool thing is with Megabus, if you reserve your tickets early enough in advance, you can find tickets for as low as $1. Yes, you read that right!
Flixbus is another alternative, which also boasts super-affordable ticket prices depending on how early you reserve in advance. Comfortable seats, on board entertainment and friendly bus drivers make this bus line a great option.
Luxury Shuttle Service
Luxxpress is a luxury shuttle service that will take you from Las Vegas to LA in style. Travel in a Mercedes Sprinter with comfortable seating and a friendly driver for approximately $70 – $80. On these luxury buses you do have your own power outlet and they provide complimentary water. Keep in mind that at the moment Luxxpress only runs on Wednesdays, Fridays and Sundays, at limited times.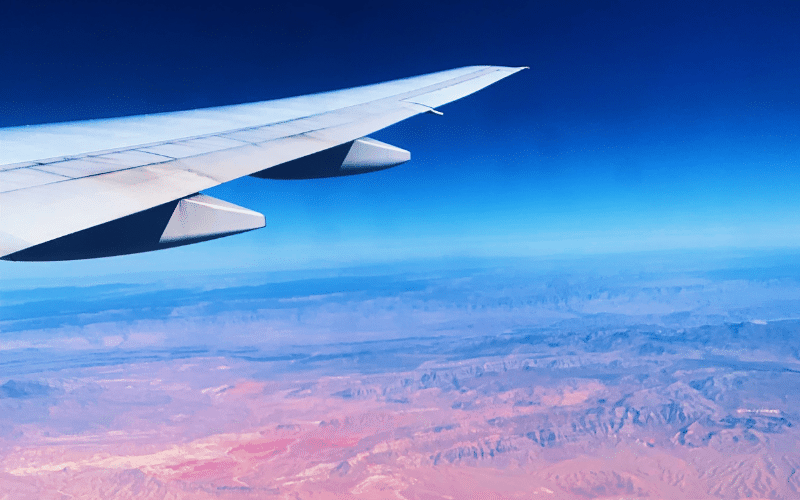 Flying From Vegas to LA
There's a lot to be said for taking a flight from Las Vegas to LA, as opposed to driving or catching a bus. You'll save a lot of time, with flights taking approximately 1 hour (not including the time it takes you to go through airport formalities such as searches and inspection). The price of round trip tickets can vary from $75 to $195 or higher.
The pricing of flights all depends on the airline you choose and the date / time of your flight. It is often much less expensive to take a flight during the week than on weekends, when most people are flying. Sunday night is normally the most expensive time to fly from Vegas to LA, because of so many travelers coming back to Southern California after their weekend in Vegas.
Below is a list of airlines flying from Las Vegas to LAX, based upon the cheapest to the most expensive. Be aware that prices fluctuate moment to moment, and the order of this list is just based on general averages according to our surveys.
Spirit Airlines (cheapest)
Delta Airlines
Virgin American
United Airlines
Jet Blue
American Airlines
Southwest Airlines (most expensive)
The Las Vegas airport is called McCarran International, and is located about 5 miles from the heart of the city. You can take an Uber to the airport from the Las Vegas Strip for approximately $15, whereas you'll find that a taxi might cost almost double that amount.
Take a Limo!
If you want to live it up in extravagant Vegas style, you can arrange to have a limousine or party bus pick you up at your Las Vegas hotel and take you all the way to LA. If you go with a large group and share the cost of the limo ride, the cost may not be as much as you think and can be comparable to traveling by air on a per-person basis.
Related: Traveling from L.A. to Vegas