The Top 10 Best Hotels in Downtown Las Vegas 2023 (And What Makes Them Awesome)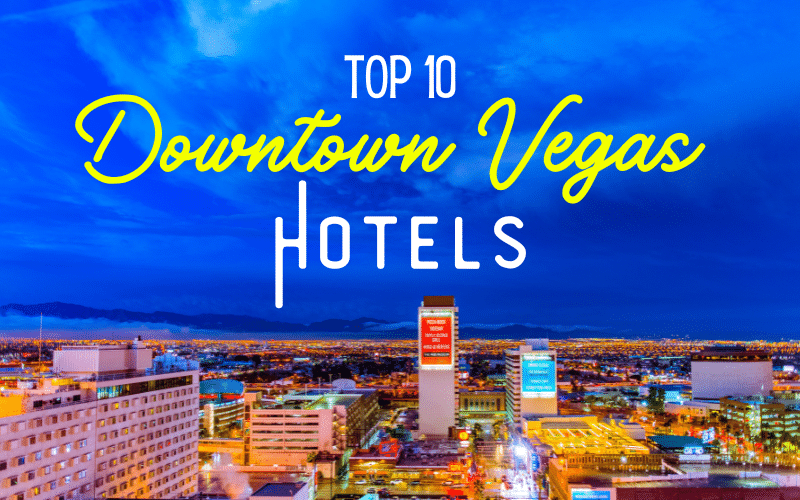 We may receive a commission if you make a purchase.
The Las Vegas Strip is world-famous for being home to the biggest and most lavish mega-resorts in the city. But there's another happening spot in Vegas that visitors often overlook: Downtown Las Vegas. This part of town is the old Vegas, where you can find the original casinos and see a different side of the city altogether.
At its center is Fremont Street Experience: a vibrant promenade with some of the best people-watching in the world. Delicious local food joints, cool bars and nightlife, and a thriving arts district make this a unique destination you don't want to miss out on. In this article we put together our top 10 hotels to stay at in Downtown Vegas, and why we love them.
---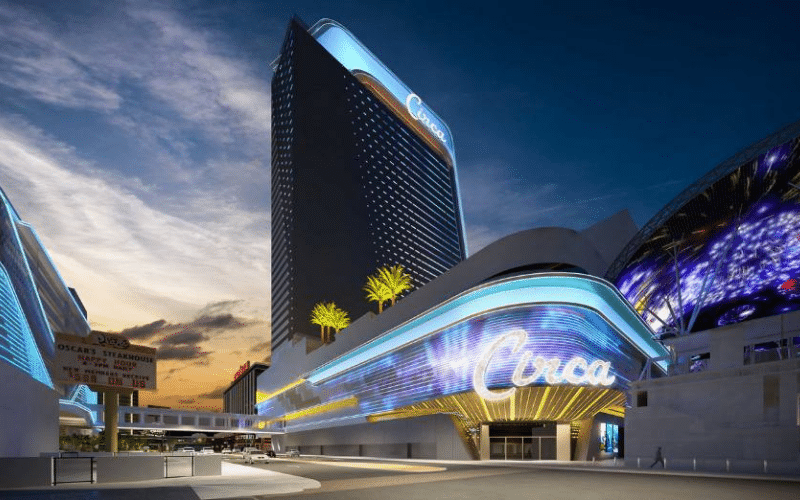 In a nutshell: A brand new adults-only hotel in the heart of Downtown Vegas that has to be seen to be believed.
Circa is the newest addition to the hotel scene in Downtown Las Vegas, and it's an impressive one. This 4.5 star resort is located in the heart of the action, just a 3 minute walk from Fremont Street Experience. The stylish and luxurious adults-only resort features glamorous and spacious guest rooms that exude old-school Vegas style with a modern touch.
Perhaps the most jaw-dropping feature of this resort is its 3-tiered pool area with an enormous 40 foot high HD screen, which Circa boasts is "the best pool in history". The energetic casino on property has the largest sportsbook in the city. Circa's elegant top-floor lounge is the place to be for cocktails and spectacular views.
---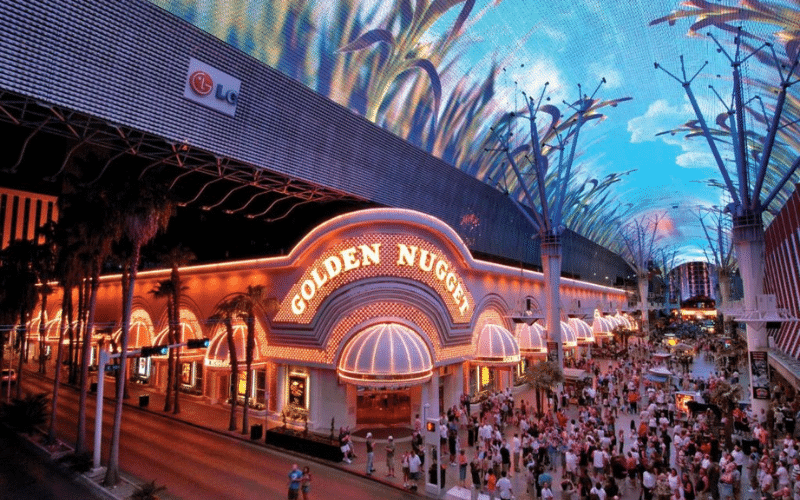 In a nutshell: A Downtown Vegas classic offering an upscale 4-star stay, smack dab in the center of the action.
Golden Nugget Las Vegas has been around since 1946, making it one of the oldest casinos in Vegas. Today, this 4-star hotel is a favorite for visitors because of its perfect location in the heart of Downtown, as well as its stylish and luxurious guest rooms.
We featured the hotel's $30 million swimming pool in our Top 10 Vegas Pools list, which CNN named one of "America's Most Amazing Hotel Pools". You'll also have delicious dining options when staying at the Golden Nugget, with an award-winning steakhouse and a mouthwatering seafood restaurant right on property.
---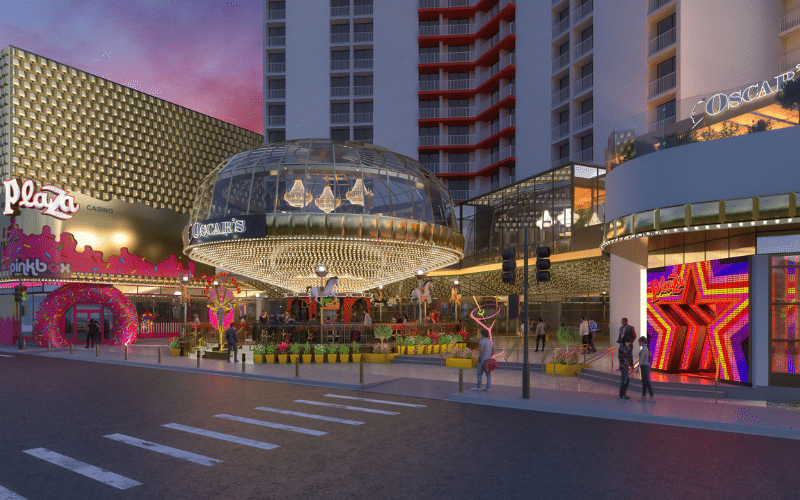 In a nutshell: a favorite Downtown hotel and casino with stylish 4-star guestrooms and a fantastic location.
Right across Main Street from the Fremont Street Experience you'll find the Plaza Hotel: a legendary Las Vegas hotel with stylish 4-star accommodations and a happening casino. We highly recommend their recently renovated Luxe rooms, which feature sleek, modern furnishings and premium pillowtop mattresses with luxury bedding.
The pool at Plaza is one of the best in Downtown Vegas, with a 70,000 square foot pool deck and VIP cabanas. When it comes to dining, you'll have plenty of delicious options including a glamorous steakhouse and a food court.
---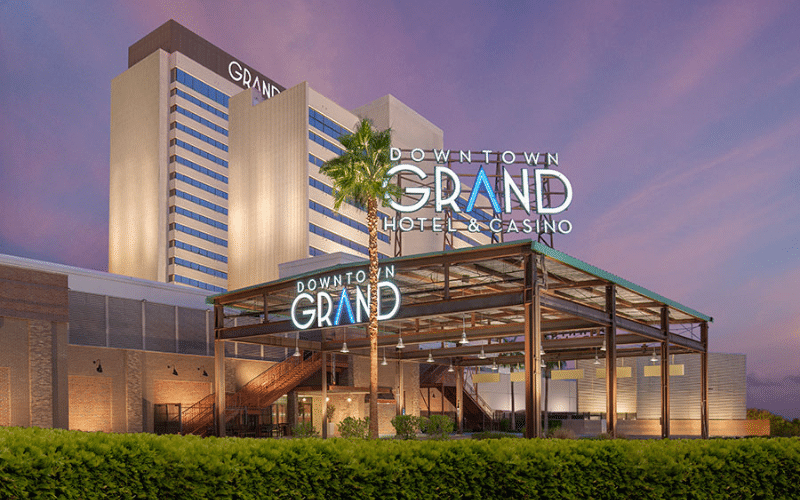 In a nutshell: An affordable yet stylish hotel that has helped reinvent Downtown Vegas.
With a prime Downtown Vegas location next door to The Mob Museum and an easy walk away from Fremont Street Experience and The Neon Museum, this 3-star hotel feels more like a 4-star hotel because of its hip and luxurious guest rooms.
Dine at Triple George Steakhouse on property for some of the best cuts of meat in Vegas, or make a splash at a pool party at Downtown Vegas' biggest rooftop pool deck. Many of the rooms and suites offer stunning views of the Vegas Valley and the desert mountains beyond.
---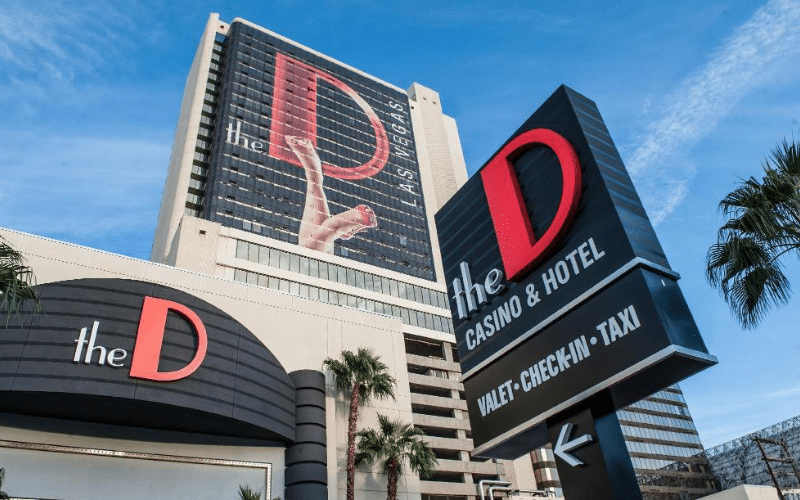 In a nutshell: An affordable hotel with a lively casino and stylish, modern rooms.
Located right in the center of the Fremont Street Experience, The D is an exciting hotel to stay at if you want to explore. With attractive, modern rooms and suites in signature black and red décor and a lively casino, you'll have easy access to the entertainment and party atmosphere of Fremont Street right outside your door.
Sexy dancing blackjack dealers and a bar that stretches the entire length of the casino make playing at The D a lot of fun. When it comes to dining, The D has a delicious steakhouse and Bacon Nation: a 24 hour spot that celebrates all things bacon.
---
In a nutshell: One of the original Vegas hotels with Art Deco-style guest rooms and a huge casino.
Golden Gate has been around since the railroad boom in 1906, making it one of the original Las Vegas landmarks. Today, the hotel and casino blends vintage glamour with contemporary luxury and has been called "One of the Hottest Boutique Hotels in all of Vegas" by USA Today.
Golden Gate's stylish, modern guest rooms are designed with Las Vegas Art Deco-inspired furnishings and décor with contemporary touches. The hotel's suites feature a hip sitting area with an L-shaped sofa. The 2 Bedroom Penthouses are fabulous suites for entertaining, with a plush living area, island bar, kitchen area, and outdoor patio with lounge seating and a grill.
---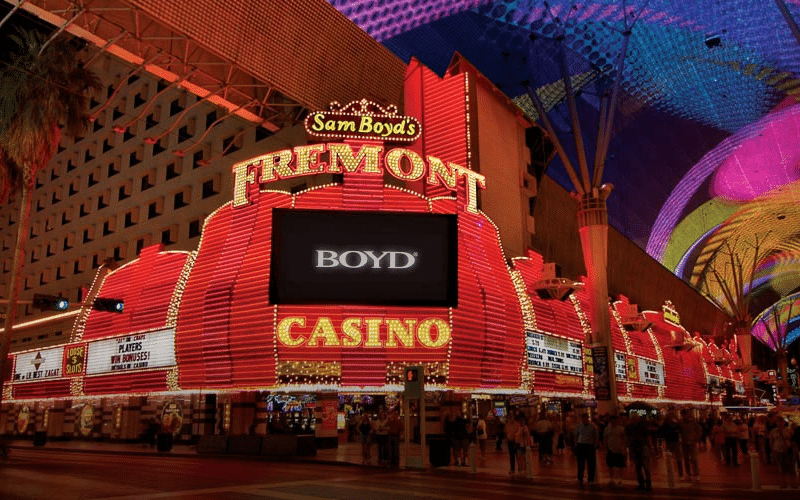 In a nutshell: One of the original Vegas casino hotels in a perfect location for sightseeing.
Since 1956 when it was opened, Fremont Hotel & Casino has remained an iconic casino hotel in the heart of Downtown Las Vegas. With recently renovated, comfortable guest rooms and an expansive gaming area, this 3-star hotel is a great choice for visitors who want easy access to all the coolest things to do in Downtown Vegas.
Step outside the hotel's doors and you're already on Fremont Street Experience, where you can enjoy live music, street performers, and Slotzilla zipline. When you're feeling hungry, Tony Romas serves up delicious BBQ, and a food court gives you lots of options.
---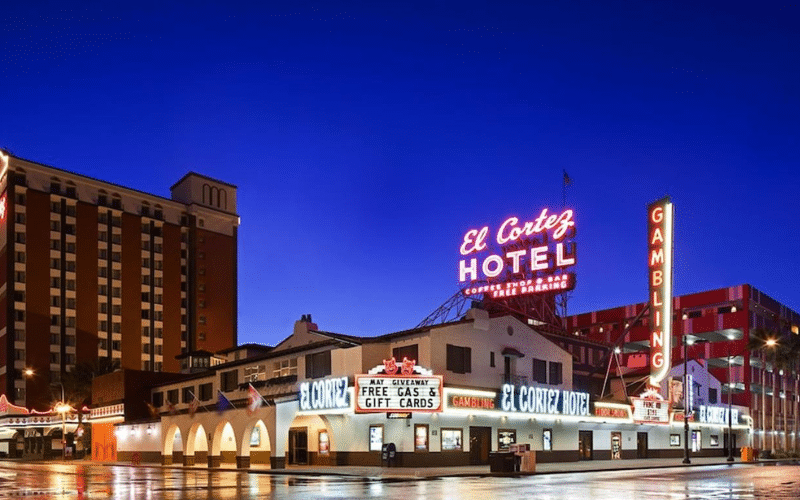 In a nutshell: A historic hotel and casino nearby Downtown Container Park and vibrant nightlife.
El Cortez has stood on East Fremont Street in Downtown Vegas since 1941, and is now the longest-running hotel and casino in Las Vegas. When staying at this hotel, you'll be in a location with hip local bars, great food, and live music venues. The hotel has kept its vintage charm over the years, with the 47 guest rooms in the original building decked out in a cool retro style.
The hotel's Cabana Suites are well worth a mention, located just across from the main hotel. These ultra-stylish suites feature custom retro furnishings, luxury marble bathrooms, and an iHome stereo with iPod dock. A delicious steakhouse and all-you-can-eat sushi are just some of the dining options that the hotel has to offer.
---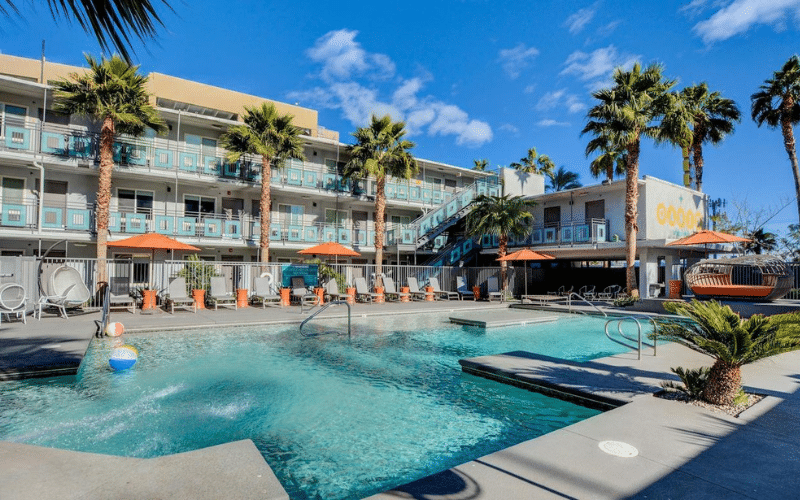 In a nutshell: An old-school Vegas motel reimagined with hip rooms and a lively nightlife scene.
Gold Spike is a nightlife venue in the heart of Downtown Las Vegas, featuring a huge outdoor patio, live DJs, and unique special events like rollerskating nights. Attached to this club is the Oasis at Gold Spike: a completely renovated classic Vegas motel with stylish, modern rooms and a sparkling pool.
Hip, retro furnishings and décor make the rooms and suites within the main hotel stand out from other Downtown Vegas hotels. If you want a suite right in the party zone, Sugar Shack is a Traveler XL Tiny Home in the Gold Spike's courtyard area. Then there's the Real World Suite, an enormous penthouse suite featured in MTV's "The Real World".
---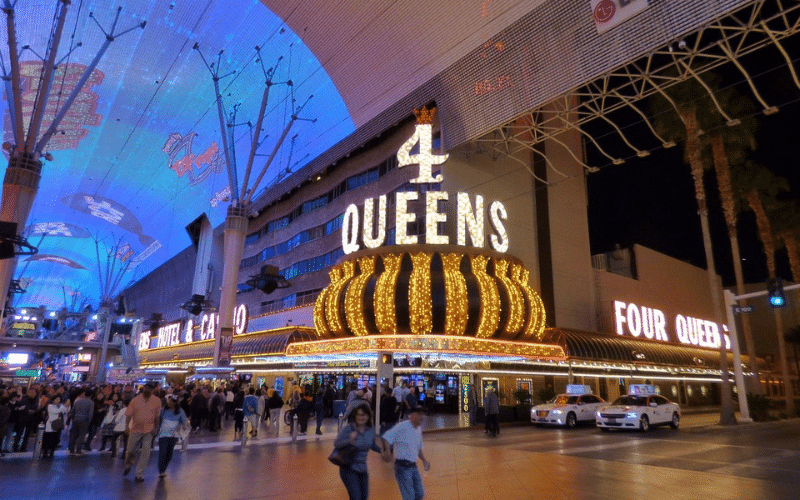 In a nutshell: Simple but comfortable accommodations right on Fremont Street Experience.
This 3-star hotel and casino has an awesome location at the center of the Fremont Street Experience, and offers affordable room rates considering that. Four Queens is one of only a few hotels in Vegas that doesn't charge a resort fee.
Do some world-class people-watching on the outdoor patio of the hotel's bar and lounge, or have a romantic dinner at the steak and seafood restaurant on property. Try your luck in the high-energy casino, or get tickets to see an exciting show: Mike Hammer Comedy Magic or Hypnosis Unleashed both perform in the hotel's showroom.