Top 10 List of the Best Las Vegas Buffets (2023)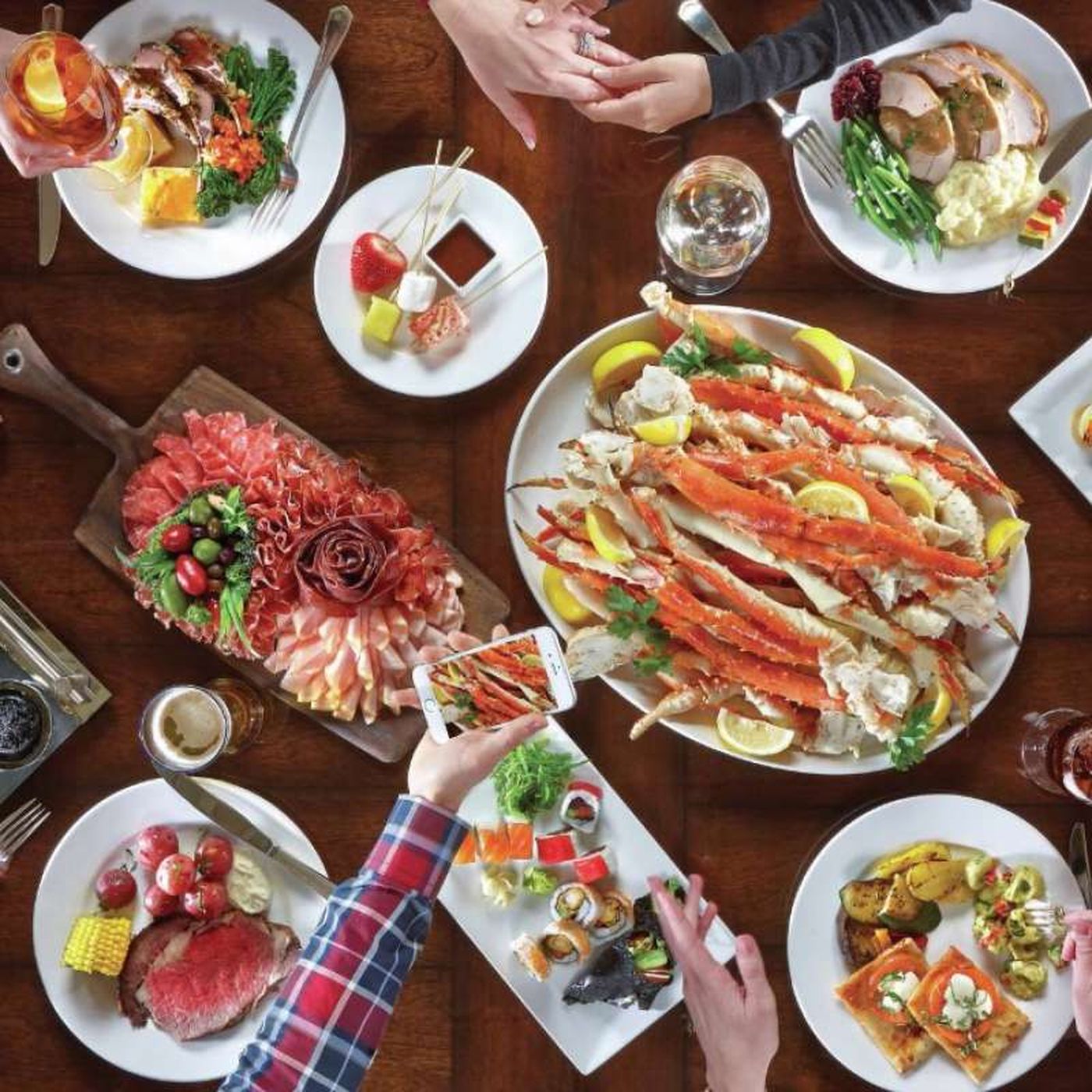 We may receive a commission if you make a purchase.
Important Note: Because of the Covid-19 pandemic, a lot of Las Vegas Strip buffets are still closed, but many are now fully open.
Las Vegas is all about extravagant experiences. From world-class shows to luxurious hotels, everything in Vegas is done in over-the-top glamour. Food here is no different. Las Vegas is famous for its buffets, which are an experience all on their own. With gigantic selections of cuisines from around the world displayed in elaborate presentations, they are an all-you-can-eat fantasy for foodies and families alike. We've put together a list of our top 10 best Las Vegas Buffets that you'll have to see (and taste) to believe!
#1: Bacchanal Buffet at Caesar's Palace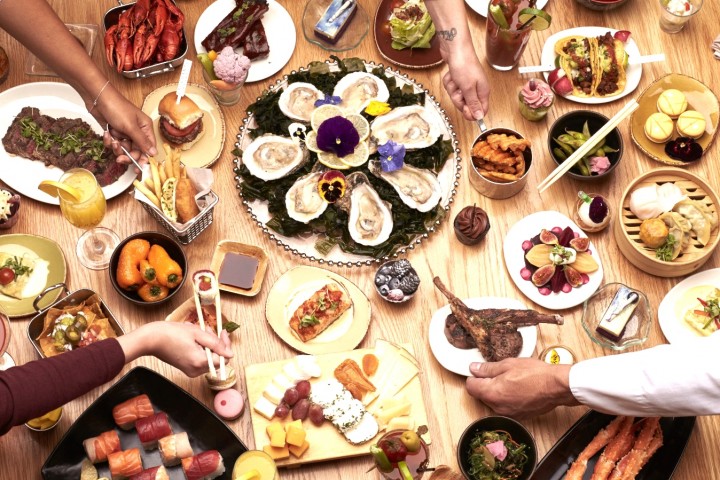 Note: Because of limited seating, there is a 90 minute time limit for dining at a table. Brunch is not yet being served. Dining hours are Thursday – Monday: 4pm to 10pm. As part of the reopening, they remodeled the buffet and added 30 new items, a new seafood station, over 100 vegetarian options, and rolling dim sum carts. Reservations are available on OpenTable, but getting a table can be challenging now because of high demand and limited capacity.
Voted "Best Buffet in Las Vegas" by USA Today, Bacchanal Buffet at Caesar's Palace is the ultimate Vegas all-you-can-eat experience. It underwent a $100 million renovation in 2012, and Thrillist calls it "The standard against which all Las Vegas Buffets are judged". Overlooking the Garden of the Gods pool complex, this 25,000 square-foot dining area features 9 kitchen areas with globally-inspired cuisine choices.
The décor and atmosphere of this buffet is like dining at an upscale restaurant, and a lot of the dishes are presented on small plates, which is a nice change from the serve-yourself steam trays at a lot of buffets in town. You can work your way around the 9 show kitchens, and find a lot of your absolute favorite dishes, or try amazing new ones. There truly is something for every taste at this buffet.
The seafood-lovers in your group will be blown away by the selection of fresh seafood available to choose from, including king crab legs, lobster claws, oysters, salmon and pan-seared halibut. The American show kitchen offers mouth-watering barbeque favorites like dry-rubbed smoked ribs, tender brisket and smoked pork belly. We particularly love the Mexican section which showcases freshly-made traditional tacos like a taco truck would make, with a huge selection of salsas and guacamoles.
Roaming carts are a recent addition serving classic dim sum items, like dumplings and bao. However, you will also find things like wagyu hot dogs, lobster bisque, and many other unique specialties.
Breakfast is definitely worth a mention, with delicious offerings like avocado toast, a build-your-own crepe station and a fresh juice bar. There's also an upgrade for unlimited adult beverages which gives you bottomless beer, wine, sangria, champagne and mimosas.
Standout dishes:
Made-to-order sushi
Fig and prosciutto pizza
Kalbi (Korean short ribs)
Incredible selection of gelato flavors: we loved mango-chili-lime and sea salt vanilla.
This is one of the buffets featured in the Buffet of Buffets deal, which gives you as many buffet visits as you like within 24 hours, at multiple buffets, for a set price!
#2: The Buffet at Wynn Las Vegas
As you would expect from Wynn founder Steve Wynn's high standards, The Buffet at Wynn Las Vegas is always chosen as among the best 3 Las Vegas buffets. As soon as you walk in you are blown away by the gorgeous presentation of the dining area itself: an atrium with marble floors and elaborate floral arrangements. The Buffet at Wynn has 15 cooking stations that offer over 120 globally-inspired dishes, presented artfully in single servings.
For the vegans among you, this is the ultimate choice for buffet dining in Las Vegas because Steve Wynn is vegan himself. That means you'll find a wide selection of mouth-watering options that suit your dietary needs. Those who love seafood will be impressed by the wide selection of seafood, including steamed Alaskan snow crab legs, pan-seared salmon with spinach, oysters in a half shell and steamed black mussels in white wine. Carnivores will be in heaven too, with options including Memphis barbeque ribs, salt-crusted prime rib, and even quail.
The Buffet excels on the breakfast front. We loved the orange and white chocolate French toast, the crab cakes eggs benedict, and the individual bottles of amazing juices like watermelon ginger and pineapple guava. Dessert is over-the-top amazing, featuring a chocolate fountain and an immense array of ice cream flavors like strawberry cheesecake, cookie dough and sea salt caramel.
Standout dishes:
Spaghetti and meatballs made from Frank Sinatra's family recipe!
Lobster ravioli
A great selection of salads including red kale salad with salted caramel vinaigrette and maple roasted Fuji apple salad
Carne asada street tacos made right before your eyes
#3: Wicked Spoon at The Cosmopolitan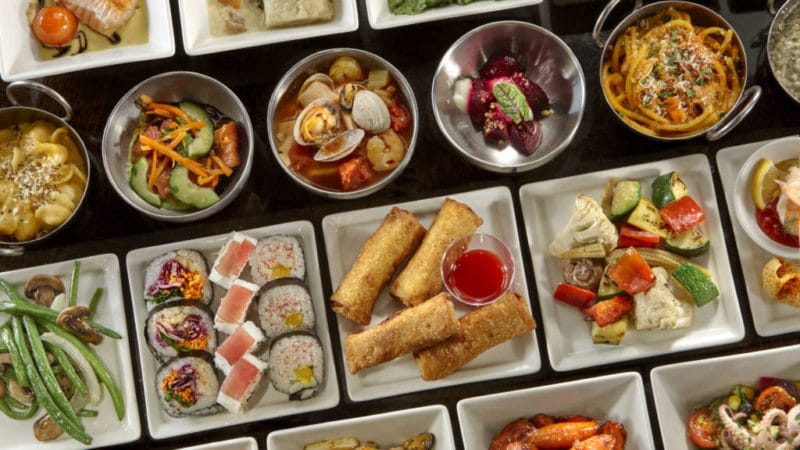 Located inside The Cosmopolitan, Wicked Spoon is a fresh take on the traditional Las Vegas buffet. The style of this buffet is upscale and quirky, just like the Cosmopolitan itself. The editors at Las Vegas Review-Journal named it "Best Buffet" in Las Vegas, and we can see why. Wicked Spoon started the trend of individual servings attractively presented on small plates, and the dishes are truly gourmet. If you like to try new dishes that are unlike anything you've had before, this is the buffet for you.
Wicked Spoon has quite a few delicious options when it comes to seafood. Seared salmon with cauliflower puree and blistered tomatoes was a favorite of ours, as were the snow crab legs. They also have grilled shrimp and even salt and pepper calamari. As far as meat entrees go, they serve up prime rib, roasted pork loin, lamb, and roasted chicken at their carving station. In the Asian section you can taste spicy Korean chicken wings as well as apricot glazed pork belly with kimchi and cashews. Yum!
The pizza station is well worth mentioning, because they have very gourmet ingredients that make the pizzas shine, such as fig and pear, or lamb sausage. They also offer awesome eggplant parmesan in the Italian section. Dessert is truly delectable at this buffet, featuring 18 different flavors of gelato and ice cream to choose from, as well as chocolate dipped strawberries and white chocolate mousse cake.
Breakfast and lunch combine at Wicked Spoon to create a brunch that lasts all morning and afternoon. Their brunch stands out as a fantastic time to dine, with delicious dishes like eggs benedict, cheesy hash browns, and even donuts. There are 2 options when it comes to alcoholic beverages: a happy hour from 4pm – 7pm each night with discounted drinks, or an unlimited beverages option that offers all-you-can-drink beer, wine, champagne, bloody marys, mimosas, and Moscow mules.
Standout dishes:
Jamaican chicken tacos
Buffalo frog legs (for the adventurous)
Swedish meatballs and lingonberry sauce
Deep fried chicken served in adorable little deep-frying baskets
Crab, avocado and grapefruit salad
#4: The Buffet at Bellagio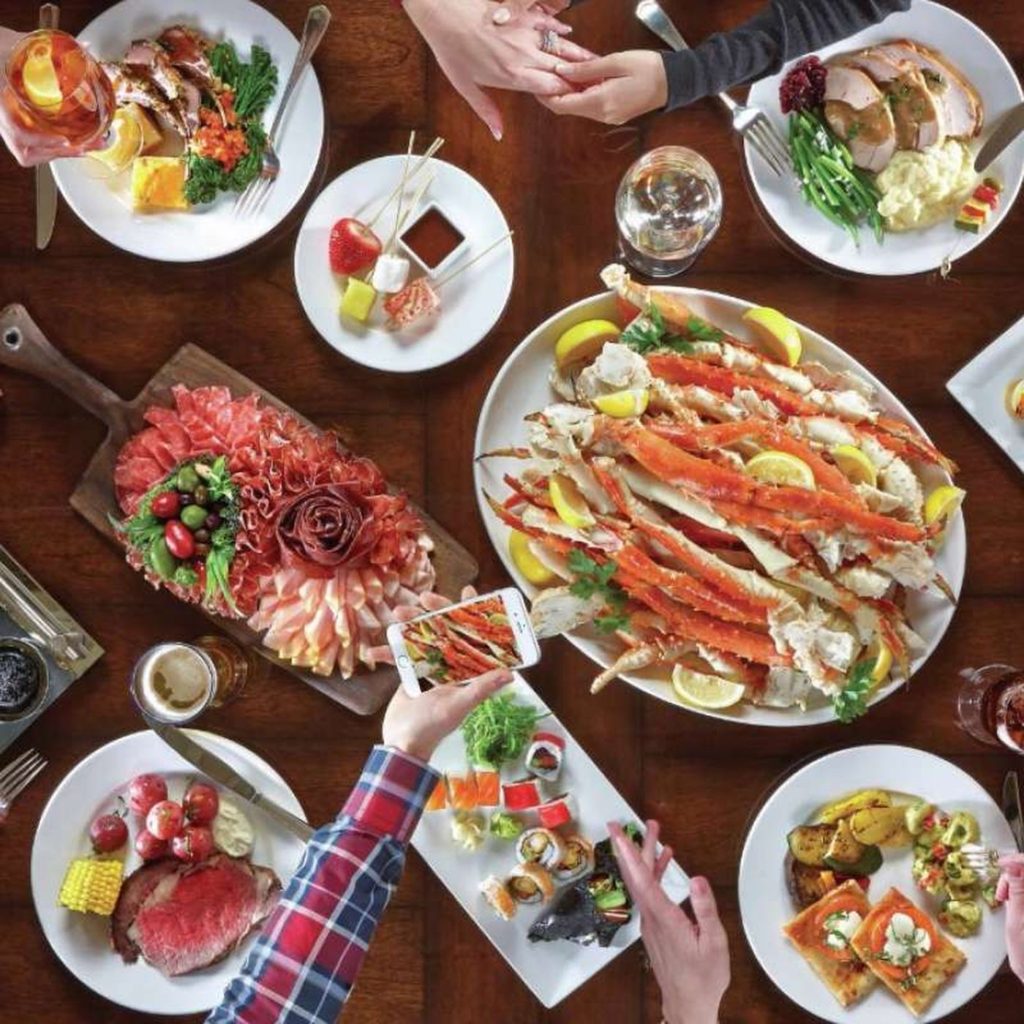 The Buffet at Bellagio is as lavish as you would expect from being located in such a famously upscale hotel. The first gourmet buffet of its kind in Las Vegas, it offers a wide variety of delectable dishes at globally-inspired stations such as Italian, American, Mexican and Asian. We recommend dining on a Friday or Saturday night to get the full "Gourmet Dinner" experience, which gives you more extravagant options like jumbo king crab legs, beef wellington and Chilean seabass.
The Buffet at Bellagio is a seafood-lover's dream, with options like snow crab, paella, chilled shrimp and even caviar! They also have less common seafood options not normally found at a buffet like crab cakes and crawfish. There are plenty of delicious choices for carnivores, like kobe beef, lamb, venison, quail and roasted duck.
Save room for dessert! Their dessert section is filled with mouth-watering treats like crème brulee, chocolate-covered strawberries, mango mousse and gelato. Breakfast at The Buffet offers all your favorite breakfast dishes as well as a made-to-order omelet station. As far as drinks go, there is a huge selection of sodas at the serve-yourself drink station, or you can opt for all-you-can drink adult beverages which include bloody marys, margaritas, draft beer or sparkling wine.
If you want to go all-out with your dining experience, consider upgrading to the Chef's Table experience which allows you to meet the executive chef of the Bellagio, and to have access to dishes not available to anyone else.
Standout dishes:
Shrimp pizza
Duck fried rice
Make your own pho station
#5: A.Y.C.E. Buffet at The Palms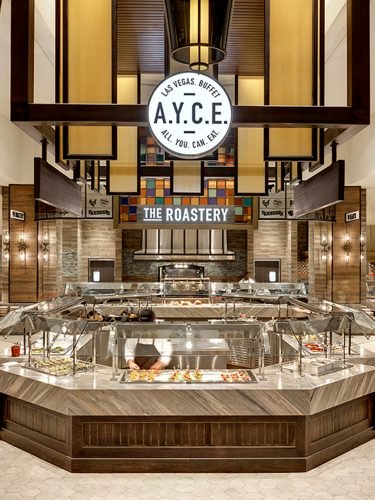 In late 2017 The Palms Casino Resort shut down its buffet to do a $6 million renovation, and reopened as A.Y.C.E (which stands for All You Can Eat). As the newest player in the Las Vegas buffet scene, this buffet is fast becoming one of the most popular choices. The price here is unbelievably affordable, the fare is delectable, and the vibe is modern and stylish. The 7 cooking stations at A.Y.C.E. are named after the dishes' preparation methods, rather than countries of the world, which makes for a nice twist.
If you're a carnivore, you'll want to head to The Roastery section, which is a carving station that serves up special dishes like Korean short ribs, salt & pepper chicken wings, ham, turkey and roast beef. The Smoke & Fire section is also a must for meat lovers, offering smoked turkey wings and blackened catfish among other delicious dishes. If you're a vegetarian, on the other hand, this buffet is made for you! The Greenery section has gourmet salads including watermelon citrus salad and roasted eggplant salad. And the Revival section is ALL vegetarian, with mouth-watering options such as vegetarian chili and vegan stuffed peppers. Yummy!
Breakfast at A.Y.C.E. is divine, featuring a made-to-order omelet station, smoked brisket eggs benedict and fresh pressed juices. Vegetarians will be thrilled to find a veggie version of bacon made with eggplant! Saturday and Sunday brunch automatically comes with all-you-can-drink champagne. The Sweet & Light section, their dessert section, is absolutely awesome because of its made-to-order ice cream sandwich station, with so many different variations of the classic treat. They also have temptations like coffee mousse and cheesecake parfait.
Standout Dishes:
Chipotle lime chicken
Spicy Cheetos elotes (Mexican corn on the cob)
Red curry muscles
Cold ramen station with 13 topping choices
Spicy buffalo mac n cheese
#6: MGM Grand Buffet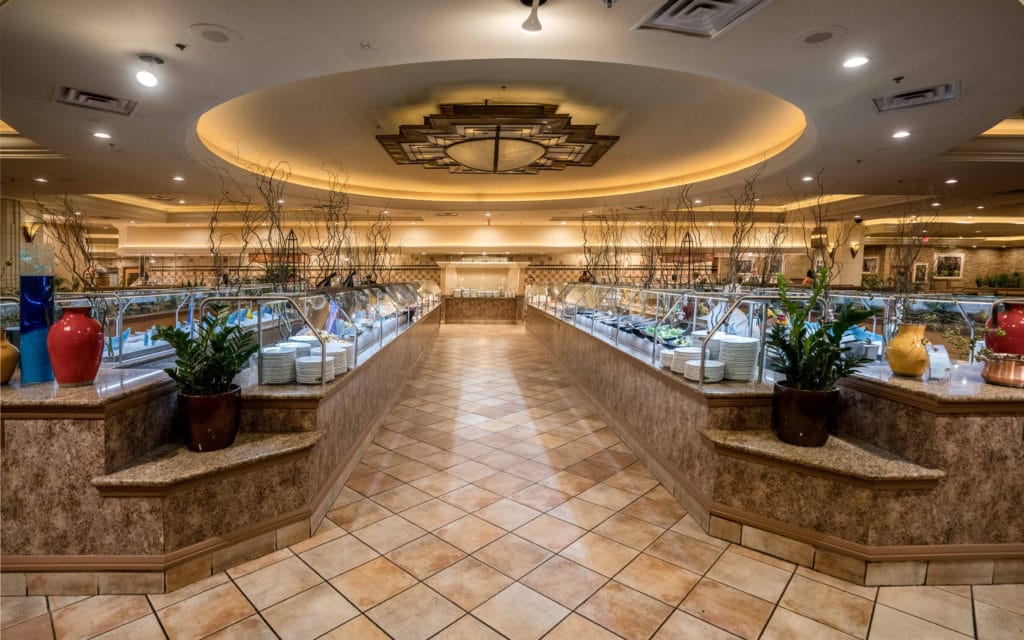 Note: Buffets hours are currently limited to breakfast and lunch Thursday – Monday.
The enormous buffet at MGM Grand is a favorite with visitors to Las Vegas. It definitely has a huge variety of cuisine for a reasonable price, in a comfortable and clean atmosphere. You get the best experience when visiting the MGM Grand Buffet for dinner on Friday, Saturday or Sunday nights, when the menu offered becomes more expansive and includes snow crab.
There are lots of seafood options available at this buffet, including fried fish, oysters, shrimp, crab salad and mussels. Carnivores will be delighted at the range of meat options, like barbeque pork ribs, New York strip steak and fried chicken. All dinner buffets (even on weekdays) come with unlimited beer and wine, which is an awesome bonus.
Breakfast at MGM Grand Buffet offers a made-to-order omelet station, eggs benedict and biscuits and gravy among many other tasty choices. If you go to Saturday or Sunday brunch, you'll also get all-you-can-drink champagne and mimosas. The dessert section is really spectacular at this buffet, with delightful offerings like deep fried twinkies and Bailey's cheesecake.
Standout dishes:
Pho station
Brisket
Organic salad section
Fresh fish cooked to order (during weekend dinner)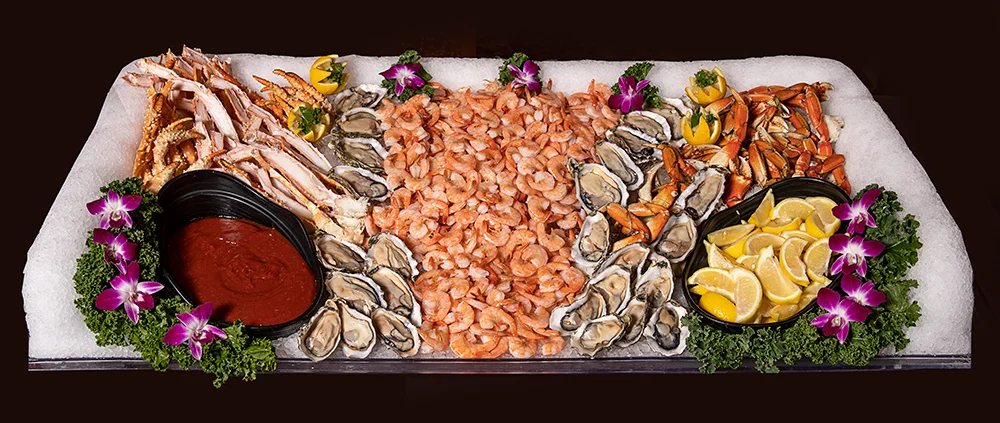 This buffet offers nightly prime rib and sirloin steak with many international dishes. They also have a great breakfast selection with all the basics you expect, like eggs, bacon, sausages, biscuits and gravy, potatoes, waffles, pancakes, eggs benedict, French Toast, assorted breakfast meats, and more. It is one of the more economical buffets. You can also get seafood on Fridays that includes crab legs. Bottomless Mimosas are part of their weekend brunch. It is located about 8 miles south of the Strip, but worth the drive if you are looking for a solid economical buffet option.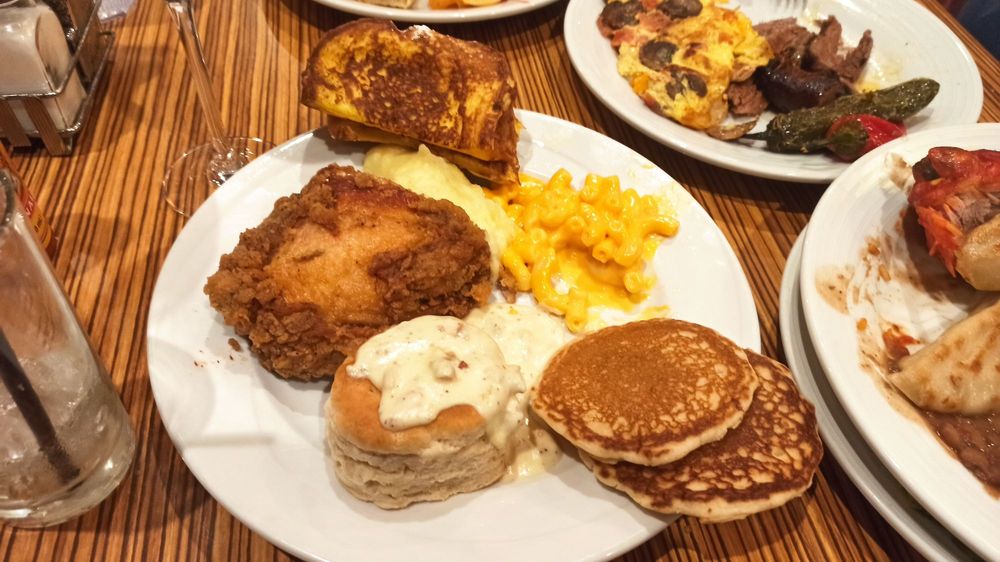 Another very affordable buffet on the Strip, with a particularly awesome value-for-money breakfast menu that includes made-to-order crepes and eggs benedict. Upgraded dinner on Friday, Saturday and Sunday nights has the best selection, with way more menu offerings.
#9 The Buffet at Luxor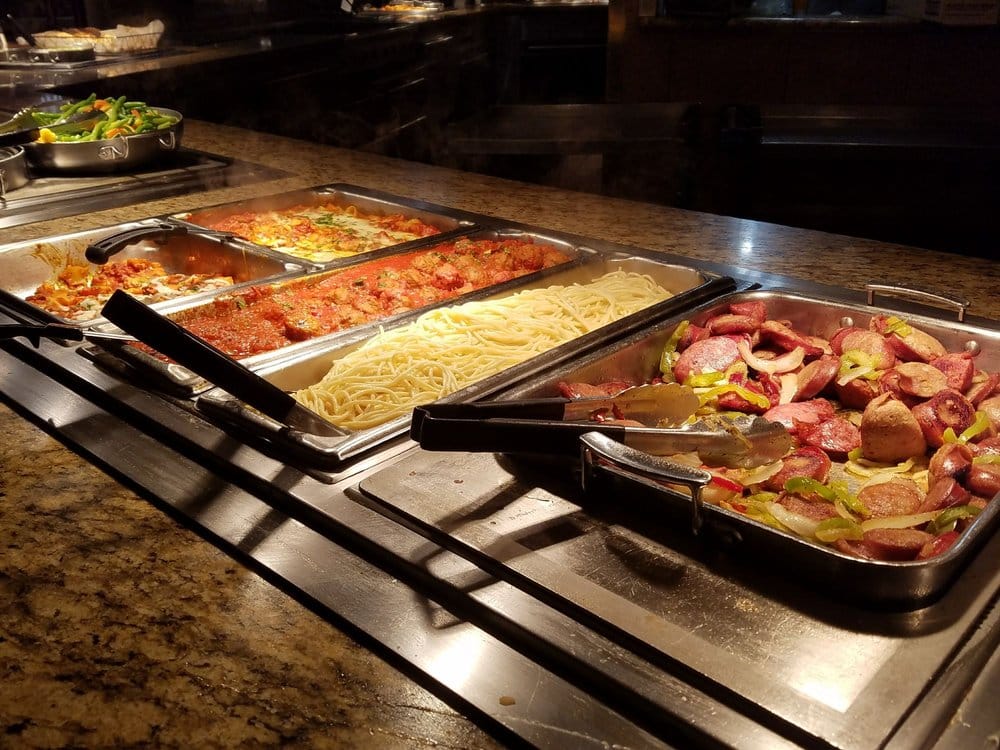 The Luxor has a wonderfully affordable buffet with a 30-foot salad bar, homemade pizza station and carving station. Breakfast features an omelet station, and there's always a fantastic range of desserts on offer. The Buffet at Luxor has an all-you-can-drink option for an extra cost.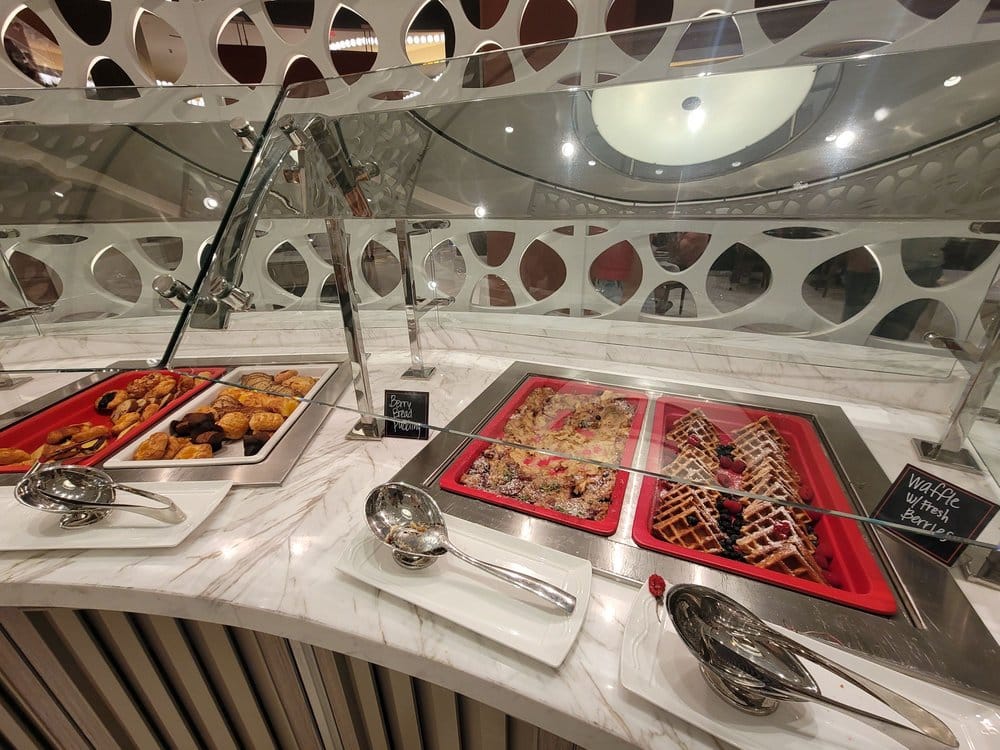 The Kitchen at Resorts World has a regular dining café, but also a nice weekday breakfast and weekend brunch buffet. The selection is smaller than other buffets, but you can expect good quality from this Hilton owned property. The buffet is very clean with nice decorations that include marble tables. They carry a typical breakfast/brunch selection that some might consider to be a like continental breakfast. You can also order items from the café menu, such as burgers and chicken sandwiches. The hotel offers an all-you-can-drink mimosas option for an extra fee.
Some buffet highlights include eggs Benedict, breakfast burritos, short ribs with potatoes, bacon, hash browns, scrambled eggs, oatmeal, tuna poke, smoked salmon lox, shrimp cocktail, various pasta dishes, cinnamon rolls, waffles, French toast, yogurt parfaits, salads, and mixed fresh fruit. They also have a nice assortment of desserts, like carrot cake, brownies, apple turnovers, and Danishes. 
So there you have it, our top ten list of the ultimate Las Vegas buffets! But there are so many options available when it comes to buffet dining experiences on the Vegas Strip. Here are some others worth mentioning that are still open!
A delightfully affordable buffet option for the whole family, with all of the brunch and dinner favorites. Features a salad bar, carving station, all-you-can-eat fried shrimp and a selection of delicious desserts.
This buffet offers nightly prime rib and sirloin steak with many international dishes. They also have a great breakfast selection with all the basics you expect, like eggs, bacon, sausages, biscuits and gravy, potatoes, waffles, pancakes, eggs benedict, French Toast, assorted breakfast meats, and more. It is one of the more economical buffets. You can also get seafood on Fridays that includes crab legs. Bottomless Mimosas are part of their weekend brunch. It is located about 8 miles south of the Strip, but worth the drive if you are looking for a solid economical buffet option.
This buffet is located in Summerlin at the Rampart Casino inside the Marriott hotel. Summerlin is about 15 miles away from Vegas and a 20 minute drive. At 12,000 sq ft, it is one of the larger buffets and features classic favorites and international items. They also have a weekend champagne brunch buffet and a prime rib dinner buffet. They are closed Mondays and Tuesdays. The buffet has all the basics you expect, like bacon and eggs, French toast, pizza, pasta, salads, and desserts. You will also find a nice selection of fried items, like chicken, fish, and even sweet potato fries. For a little extra, they have an all-you-can-drink beer & wine option, which is a good deal.
The following once popular Vegas buffets are still closed.
We hope they might open again soon…
This excellent high-end buffet is too good not to mention, even though it's only available on Sundays. As soon as you're seated, you'll be met with champagne (which is unlimited) and delicious Gruyere cheese-flavored popovers. You can enjoy a buffet line including premium seafood options like Alaskan king crab legs, lobster tails and fresh-shucked oysters. Other delicious options include unlimited caviar, prime rib, filet minion, and rack of lamb. You can also order small dishes with your server that the whole table can share, like eggs benedict and lobster bisque. An absolute winner for brunch!
The Buffet at Aria (closed)
Located on the 2nd floor of Aria Resort and Casino, The Buffet at Aria has a stunningly stylish atmosphere and a truly international selection of cuisine to choose from. It's kind of a hidden gem because the lines are not normally long. It offers 11 food stations with cuisine from all corners of the globe and something for every taste.
The seafood selection is great at this buffet, with choices like fish & chips, salmon, crawfish, oysters, as well as paella. On Friday, Saturday and Sunday nights at their Gourmet Dinner, you can also enjoy all-you-can-eat king crab legs. As far as meat dishes go, you'll find barbeque beef ribs, rotisserie chicken, prime rib and more.
Two food stations stand out as being something that other buffets just don't offer: the Mediterranean section and the Tandoori section. The Mediterranean station offers healthy dishes from North Africa and the Middle East, like kabobs, pita and hummus. The Tandoori station has tasty traditional Indian cuisine including naan bread fresh from the oven, chicken tikka masala and pompano fish. They also have a great baked potato bar where you can create your own loaded baked potato.
The Buffet at Aria has an awesome breakfast selection, some highlights being smoked salmon eggs benedict, red velvet pancakes, biscuits and gravy, and stuffed French toast. For dessert you'll find all kinds of sweet surprises like gelato, cookies, crème Brulee, and apple pie.
Their all-you-can-drink upgrade allows you to get unlimited bloody marys, champagne, mimosas, rum punch, margaritas, as well as premium beer and wine.
Standout dishes:
Ham & truffle macaroni and cheese
Chicken parmesan
Shrimp pad thai
Peking duck
Made-to-order poke
Spiced meatloaf
Bayside Buffet at Mandalay Bay (closed)
Offering a sweeping view of the tropical pool area and gardens at Mandalay Bay, Bayside Buffet has the quality you would expect from a buffet located in a 4 star resort, at a very reasonable price. This buffet has a diverse range of cuisines that will cater to the tastes of anyone in your group.
Bayside Buffet gives you a variety of seafood options. They have steamed Alaskan crab legs, classic Las Vegas shrimp cocktails, Spanish paella and herb crusted salmon, to name a few choices. For the meat lovers in your group, there is a carving station that serves grilled flank steak, prime rib and roast turkey. We also recommend the Swedish meatballs, barbeque pork ribs and teriyaki beef.
Breakfast at the Bayside Buffet gives you all you would expect from a fabulous Las Vegas buffet. Some of our favorites are the chicken fried steak, the omelet station and eggs benedict. For dessert you'll find a wide selection of cakes, pies and pastries. We especially loved the cheesecake. There is an all-you-can-drink option for adult beverages that gives you unlimited beer, wine and champagne.
Standout dishes:
Hawaiian barbeque chicken
Tempura shrimp
Baked tilapia with teriyaki glaze
Korean flank steak
If you're looking for a great buffet that is also great value for money, Cravings buffet at The Mirage / Hard Rock is the perfect choice for you. With 11 cooking stations offering a wide array of international dishes, your whole group will find something they love at this buffet. The décor and atmosphere is casual but attractively designed. One of the highlights of the buffet is their self-serve drink station, which has over 150 flavor variations of coca cola products.
Seafood at this buffet is infused with delightful dishes such as clam chowder in bread bowls, penne with prawns, or fish and chips. They also have mussels with tomatoes and garlic, broiled mahi-mahi and snow crab claws. Cravings has a mouth-watering menu of meat options such as apple pecan pork tenderloin medallions, chili & honey glazed chicken, barbeque ribs and grilled flank steak.
We loved having breakfast at Cravings, where they served all of our favorite breakfast classics like eggs, sausages and hashbrowns, but with some outstanding treats like champagne pancakes with chocolate cream, and brisket eggs benedict. The dessert section is excellent, with sweet delights like white chocolate raspberry cake, gourmet cupcakes and a gelato dispenser. Cravings has an unlimited beverages upgrade where you can get all-you-can-drink beer, cocktails (including screwdrivers, bloody marys and rum punch), as well as wine and champagne.
Standout dishes:
Spicy Szechuan eggplant
Linguini with saffron lobster sauce
Shrimp tostadas with avocado
Spice Market Buffet serves prime rib every single night, along with roasted turkey, tri-tip and barbeque spiced chicken. The expansive selection of cuisines available at this buffet includes American, Asian, Mexican, Italian, and even Middle Eastern fare. Brunch at Spice Market buffet is a real favorite of ours, with excellent eggs benedict, champagne and mimosas. They have an all-you-can-drink adult beverages upgrade available.
Flavors has a mouth-watering selection of unique tastes, like Brazilian barbeque, pizza made in a wood-burning oven, hand-made sushi and… yes! All you can eat crab legs! There's a great dessert selection including a gelato station, and you can purchase an all-you-can-drink champagne add-on during brunch.
Paradise Garden Buffet at Flamingo (closed)
This is a family favorite of ours, with a wonderful view of the tropical gardens and the real flamingos and birds. The brunch menu has made-to-order omelet and crepe stations, while dinner features delicious Cajun and Southern-inspired cuisine.
This buffet is worth visiting for its décor that makes you feel like you're in a real French Village, with 5 cooking stations bringing to life the 5 provinces of France. Featuring delectable dishes like truffle mac n cheese, prime rib and snow crab legs, this experience is a delightful culinary tour of France. You can use your Buffet of Buffets deal at this location too!
Featuring Pan-Asian, Southwestern and American comfort food dishes, Crafted Buffet is well worth checking out. Champagne brunch on Saturdays and Sundays includes all-you-can-eat New York steak and peel & eat shrimp, as well as (you guessed it) unlimited champagne. Enjoy a carving station, omelets made to order, a great deli section and a variety of delicious desserts.
Carnival World Buffet at Rio (closed)
The original mega-buffet in Las Vegas, Carnival World Buffet at Rio All-Suite Hotel and Casino has a huge selection of dishes to try, in a comfortable and casual setting perfect for families. Live cooking stations let you watch your food being freshly prepared, and there are over 200 dishes on offer daily. This is another buffet where you can use your Buffet of Buffets deal – an offer that allows you to visit multiple locations as many times as you like over a 24 hour period.
Although Carnival World Buffet dropped its massive seafood selection from the menu a few years ago, there are still some great seafood options available today. These include blue crab, fresh salmon, green mussels, clams with garlic and parsley, as well as a selection of fresh sushi. For those of you who crave meat in your meal, you can choose from all the standard carvery options as well as more unique offerings like teriyaki pork ribs, grilled pork belly and mini corn dogs.
Champagne brunch, only on Saturdays and Sundays, comes with unlimited champagne and mimosas as part of the deal. You'll find made-to-order pancakes and French toast, which is a nice touch. The dessert options are vast and include all the standard Las Vegas buffet dessert choices, including cupcakes, mousses, fruit pies and soft-serve ice cream.
Standout dishes:
Ceviche shooters
Dim sum shrimp dumplings
Beef ribs