Only Have 2 Days in Las Vegas? Here Are the Things You've Got To Do!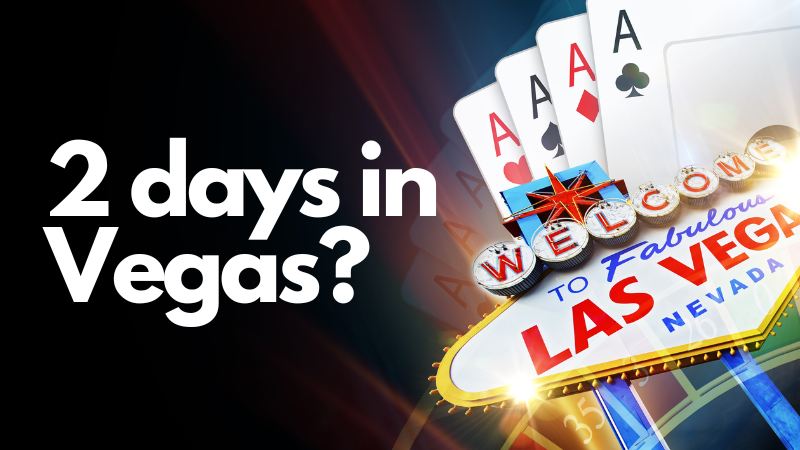 We may receive a commission if you make a purchase.
There's so much to see and do in Las Vegas that even a week isn't enough to experience it all. So, what if you've only got the weekend in Vegas? We've put together this itinerary of the things you can't miss while you're in Sin City, so you can save time on research and spend more time enjoying this amazing city!
---
Day One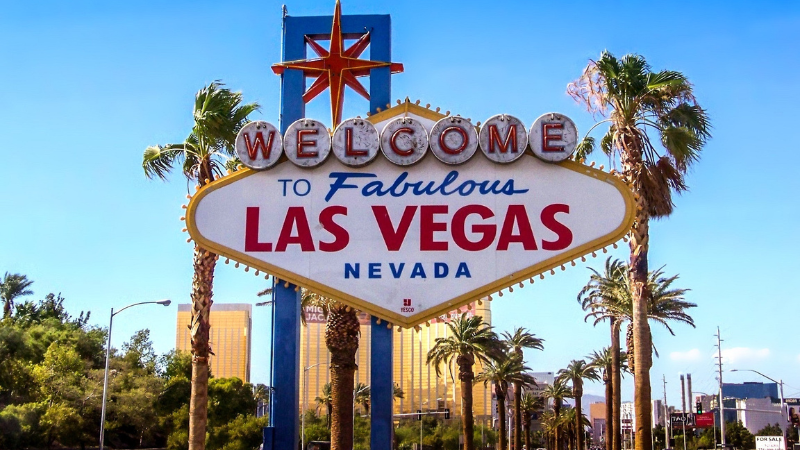 Explore the Las Vegas Strip
Welcome to Las Vegas! One of the coolest things to do in Vegas is take a walk down the Strip and do some sightseeing – and the best thing is, it's absolutely free to do! If your hotel is on the Las Vegas Strip, you'll find many of the famous attractions just a leisurely stroll away. Be prepared for a big crowd, and remember to wear good walking shoes and sunscreen!
The Fountains of Bellagio are a main sight you've got to see while you're in town. This gigantic water display spans more than 1,000 feet and goes off every 30 minutes with a spectacular show of lights, music, and fountains of water soaring 460 feet in the air. The iconic "Welcome To Fabulous Las Vegas" sign is located just a short Uber ride south of the Strip, and makes a great photo opportunity.
To fit in as much sightseeing as possible into a limited amount of time, jump on a double decker bus and take a ride with Big Bus Tours. This hop-on, hop-off tour makes 11 stops at the most famous landmarks in Vegas, with a knowledgeable guide to tell you all about them.
---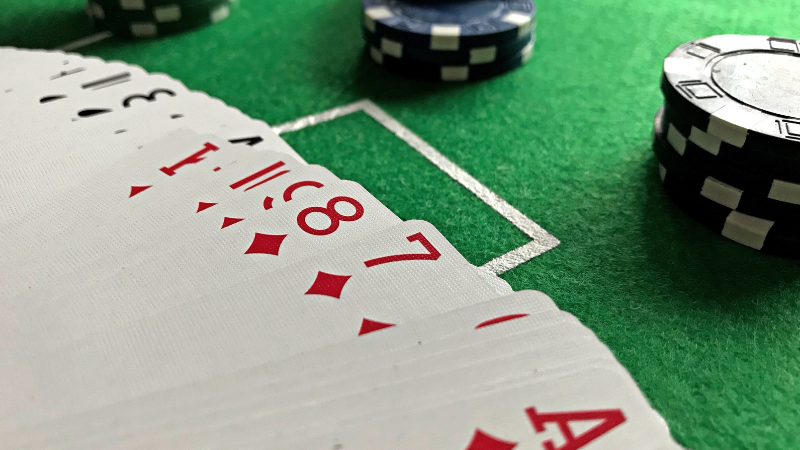 Try Your Luck at a Casino
No trip to Las Vegas would be complete without visiting one of the big casinos on the Strip. With bright lights, loud noises, and excited players, be prepared for a bit of a sensory overload. If you're feeling like Lady Luck is on your side, sit down at a slot machine and spin some reels, or play a game of blackjack at a cards table. Who knows: maybe you'll hit the jackpot!
The most impressive casinos to check out include those at Caesars Palace, MGM Grand, and The Venetian. If you want to play where the locals play (which some say gives you better odds at winning), you'll need to venture off-Strip. Locals love the casinos at Palace Station, The Orleans, and Sunset Station.
It's well worth heading up to Downtown Las Vegas to take a walk down the amazing Fremont Street Experience. This pedestrian promenade is a sightseeing attraction in itself and is home to some of the original Vegas casinos.
---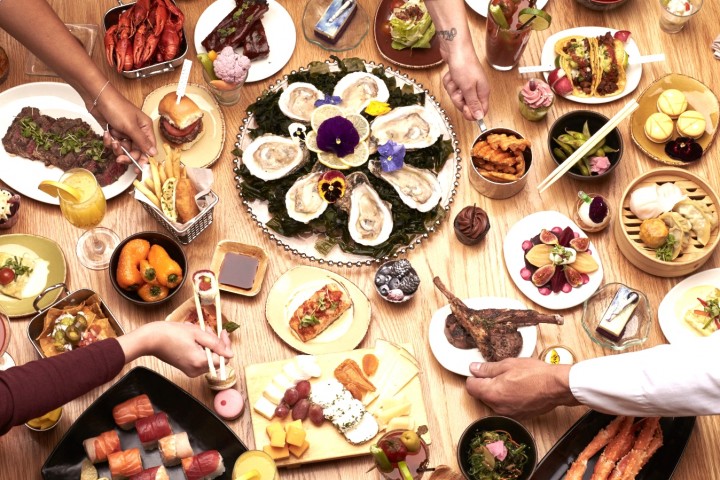 Eat Your Heart Out at a Buffet
You won't believe the buffets in Las Vegas until you experience them for yourself. Fill up your plate as many times as you like with your favorite foods at one of the most extravagant buffets in Vegas, and even add on an all-you-can-drink beer and wine package to make the experience complete.
Bacchanal Buffet at Caesars Palace is one of the most impressive buffets in Sin City, and has been called "the standard against which all Las Vegas buffets are judged" by Thrillist. Take your pick from 9 kitchen stations serving top-notch cuisine from around the world. Having the ultimate buffet experience comes with a price tag: be prepared to pay up to $80 per adult to dine at Bacchanal Buffet.
If that's a little more than you're hoping to spend on dinner, head to the buffets at Excalibur and Luxor. Dining at either of these will cost you under $35 per adult. There's also an all-day pass you can purchase that allows you to visit BOTH buffets as many times as you like in a day.
---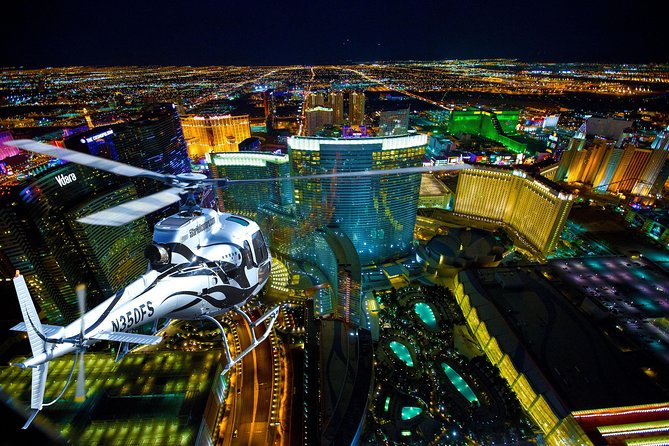 See the Neon Lights from High Above
Las Vegas at night is a sight to behold, with the sparkling neon signs of the Strip lighting up the night. The best way to see the lights is from above, and thankfully there are a few different spots in town where you can get magnificent views of the city.
The High Roller is the world's tallest observation wheel and takes you 550 feet above the Strip for a 360 degree view of the Las Vegas Valley at night. Ride the High Roller at Happy Hour and you'll have access to an open bar while you enjoy the view. The Skypod observation deck at The STRAT puts you at the tippy-top of the tallest observation tower in the US, and has thrilling rides for those who are real daredevils.
The ultimate way to see the city of Las Vegas at night is by taking a helicopter tour. Vegas Nights takes you on a breathtaking flight over the Las Vegas Strip and Downtown Las Vegas, while Neon & Nature lets you watch the sunset over the city from Red Rock Canyon.
---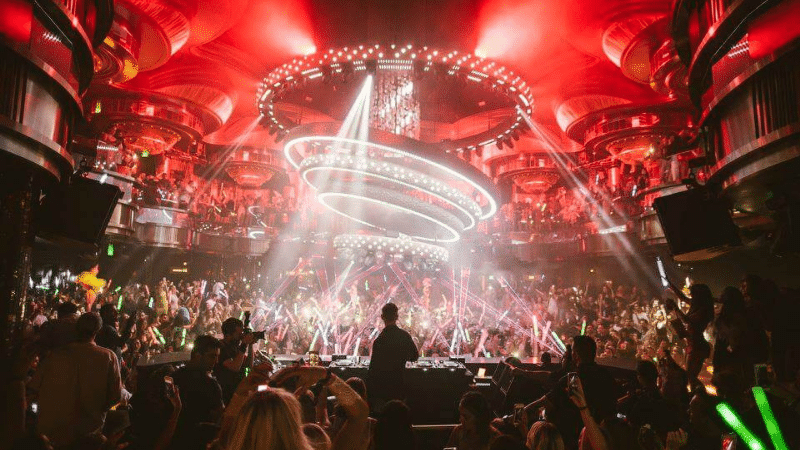 Hit the Club Scene
You'd best believe Las Vegas knows how to party, and part of that reputation is that it's home to some of the hottest nightclubs on the planet. If you think you know what to expect from a nightclub, you're about to be blown away by the best clubs in Vegas.
If you want to experience one of Las Vegas' mega-clubs, check out Hakkasan Nightclub, located at MGM Grand, or Omnia, located at Caesars Palace. These incredible clubs have elaborate LED displays, state-of-the-art sound systems, and some of the top DJs in the world on stage every night.
Be aware that you'll want to get to the club early, because long lines can mean waiting up to 3 hours. One way to skip the line altogether and get the ultimate Vegas nightclub experience is to reserve a VIP table for you and your friends.
---
Day Two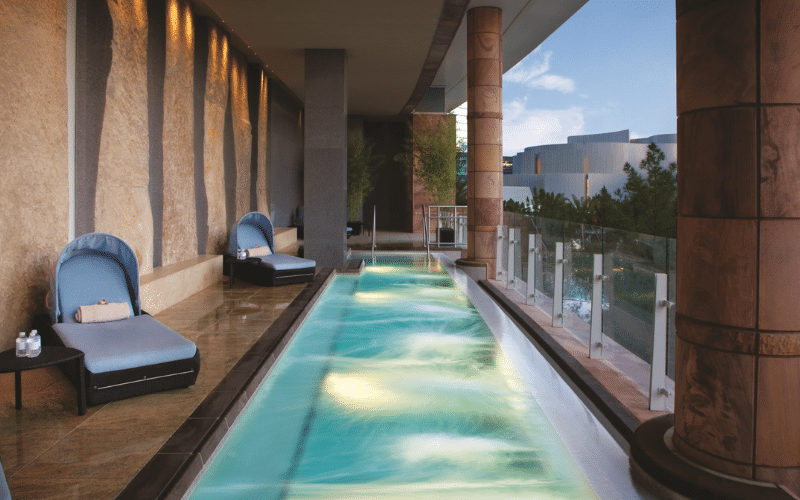 Recover with a Spa Day
You've made it to day 2 of your Vegas experience, and it's at this point that you're probably going to need some recovery time. Luckily, Las Vegas is the perfect place to get some much-needed pampering, because it's home to some of the best spas in the world. Find your bliss in ultra-luxurious surroundings and rebalance with lavish spa services.
We highly recommend visiting The Spa at Aria, located at the opulent Aria Resort & Casino. This is the largest Forbes Five Star spa in the world, and features an infinity-edge therapy pool high above the Las Vegas Strip, a Shio Salt Room, and Ganbanyoku heated stone beds.
The Spa at Vdara, right nextdoor at the Vdara Hotel, offers a lavish Gemstone Clay Mask treatment, utilizing the healing properties of gemstones to remove impurities and replenish minerals in your skin. In other words, it's an excellent cure for a hangover.
---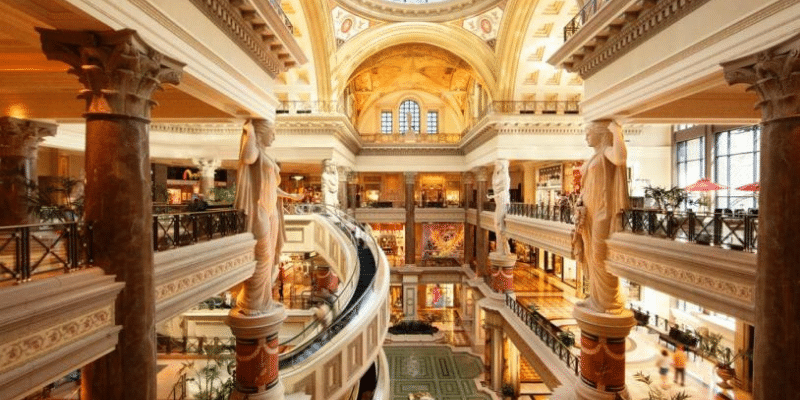 Shop Til You Drop
Louis Vitton, Gucci, Prada… you'll find all the luxury designer brands when you go shopping in Las Vegas. If you don't have the cashflow to afford a $10,000 dress, many of the shopping complexes in the city feature favorite stores like Macy's, Nordstrom, and Victoria's Secret.
The Forum Shops at Caesars Palace is something you've got to see when you're in Vegas –  even if you're just window shopping. The lavish Roman-themed shopping area is simply stunning to behold, with marble columns, Roman statues, and even a ceiling painted like the sky.
The Miracle Mile Shops at Planet Hollywood is another favorite shopping destination on the Strip, with more than 200 shops including LUSH, H&M, Mac Cosmetics, and other top brands. It's also a great opportunity to grab some lunch, with 15 different eateries to choose from.
---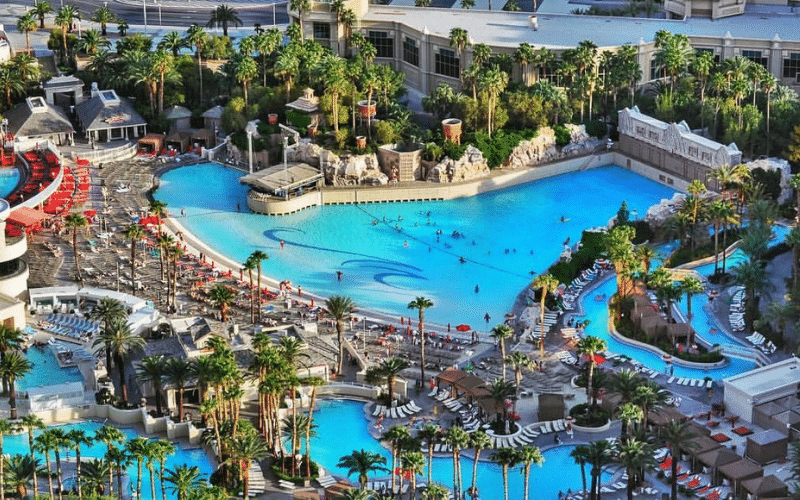 Cool Off in the Pool
Pools are so necessary for beating the heat in this town that they've become part of Vegas culture. The hotel you're staying at will undoubtedly have a pool to take a dip in, and pools here are open for all but 2 months of the year. There are some incredible pools in Vegas, and a few of the best ones allow non-guests access.
The pool that stands out from all others in Las Vegas is Mandalay Bay Beach, located at Mandalay Bay. This man-made beach spans 11 acres of water wonderland, complete with lapping waves and a sand shore. The lazy river and sparkling lagoons are great for relaxing in.
And then there's the pool parties. If you haven't been to a Vegas pool party, you may not have even heard of a dayclub. Picture floating on an inflatable flamingo while sipping on a margarita and listening to one of the best DJs in the world spin on the decks, and you'll have an idea of what to expect.
---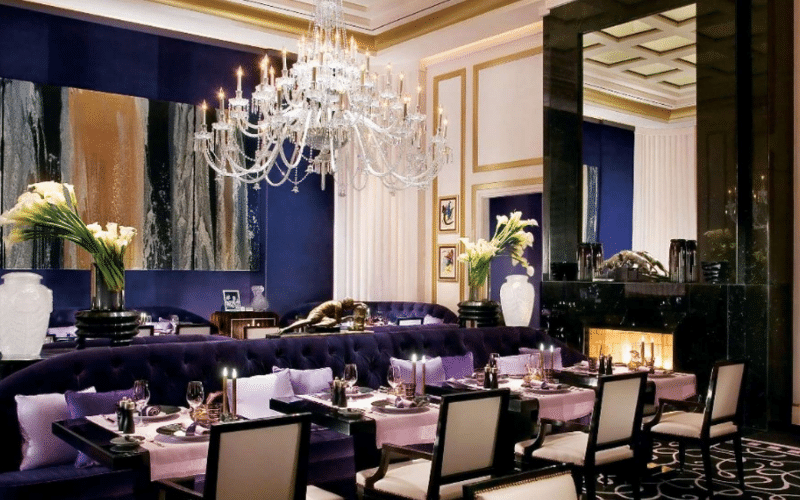 Dine at a Fancy Restaurant
Now that you've worked up an appetite with all the shopping and splashing in the pool, it's time to experience another thing Vegas is renowned for: its world-class restaurants. You'll feel like a VIP as you dine on the finest cuisine prepared by award-winning master chefs while attentive staff sees to your every need.
If you're looking for the very best restaurant in the city, Joel Robuchon is where you want to go. Named after the highest ranked chef in the world with over 30 Michelin stars, this restaurant at MGM Grand serves fine dining French cuisine in a plush art-deco dining room. They have a 16-course tasting menu that is considered the ultimate dining experience in Vegas.
---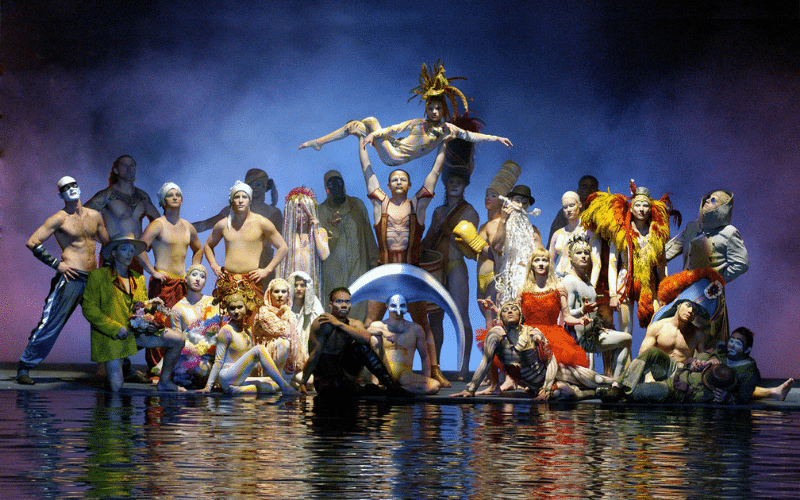 See a Cirque du Soleil Show
Cirque du Soleil is the largest and most renowned circus company, and their epic stage shows are widely considered some of the best shows in the world. There are 6 Cirque shows that currently perform in Las Vegas, and 3 of them are in our top 10 best shows in Vegas list.
Each Cirque show is different from the others, with its own personality and appeal. Cirque du Soleil's 'O' , which performs at the Bellagio, is the most popular one: a whimsical fantasy played out on a stage made of water in a custom-built theater that looks like an old ballet theater.
Sitting back and watching pure magic happen in front of you on stage is the perfect final touch to your 2 days in Vegas.