Shop Til You Drop in Vegas: Top 10 Best Shopping Destinations in Las Vegas (2023)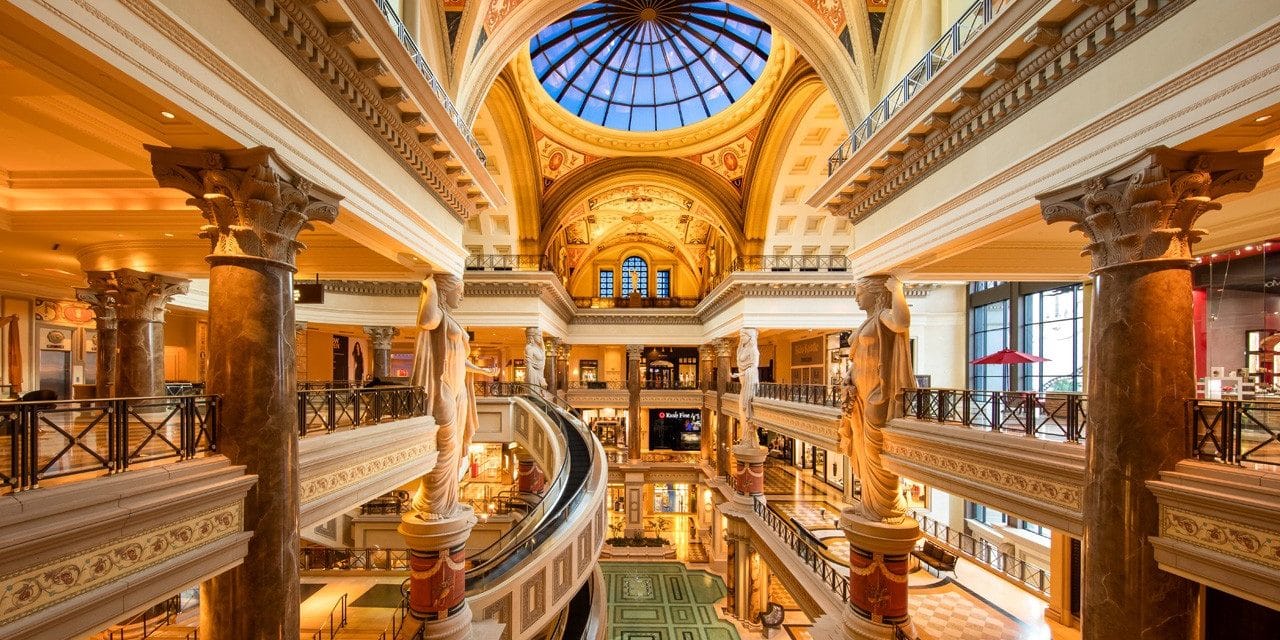 We may receive a commission if you make a purchase.
Las Vegas is known for its extravagant experiences, and when it comes to shopping destinations, Vegas lives up to that expectation. Think gigantic shopping malls with everything from high-end designer stores to budget-friendly stores, all under one roof. With malls so vast in size and offerings, you'll want to dedicate an entire day to your shopping experience.
If you're trying to get some serious retail therapy but don't know where to begin, here is our list of the top 10 best shopping destinations in Las Vegas.
---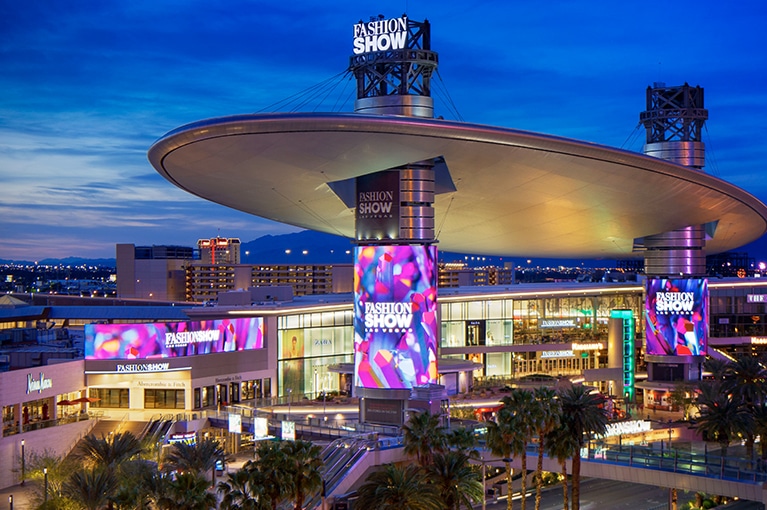 Address: 3200 Las Vegas Blvd South
Phone: 702-369-8382
Hours: Monday – Saturday 10am – 9pm; Sunday 11am – 7pm
Fashion Show Mall is the largest shopping destination on the Las Vegas Strip. Located right next to Trump International Hotel, The Mirage, and Treasure Island, this giant shopping mall covers over 2 million square feet of retail heaven. Fashion Show is so-named because every week they have a live runway fashion show, showing off the latest and hottest fashion trends.
With more than 250 stores and 25 dining choices, this is truly a shopping destination you'll want to spend the entire day at. You'll find your favorite high-end stores like Louis Vuitton, Tiffany & Co, and Calvin Klein, and there are at least 5 department stores to wander through, including Macy's, Nordstrom and Dillards.

Hot tip: When you work up an appetite, grab a bite to eat at one of Fashion Show's Strip-side restaurants for the ultimate people-watching experience. We love The Sugar Factory and Benihana.
---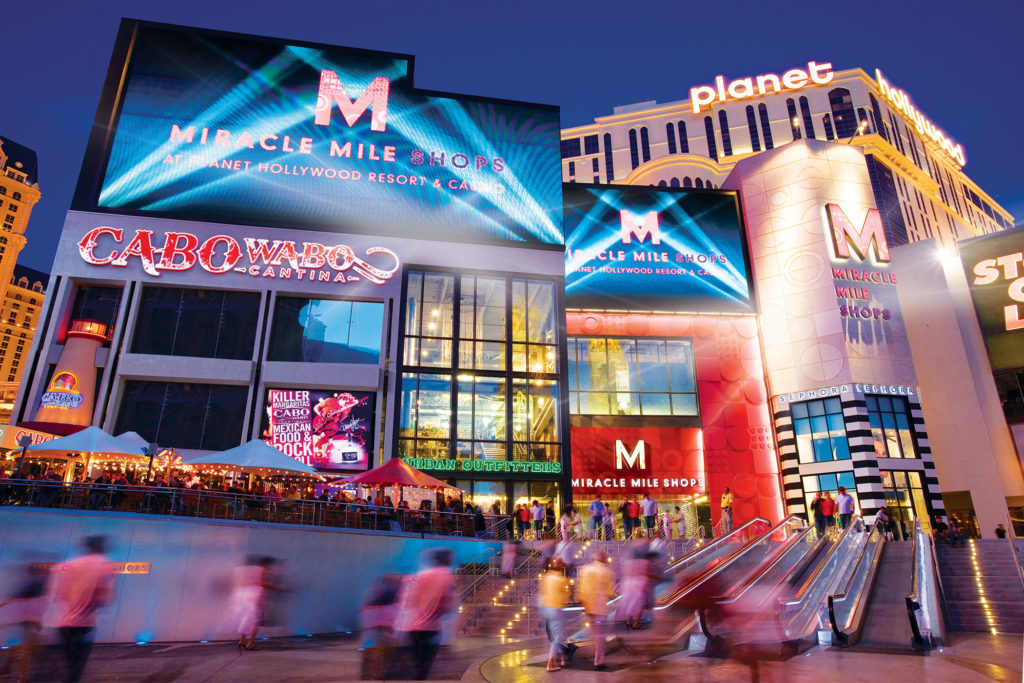 Address: 3663 Las Vegas Blvd South
Phone: 702-866-0704
Hours: Sunday – Thursday 10am – 11pm; Friday & Saturday 10am – Midnight
Miracle Mile Shops are right in the heart of the action on the Las Vegas Strip, located at Planet Hollywood. Here you can find dining, entertainment and all the shopping your heart could desire. There are over 200 shops, with favorites like LUSH, Mac Cosmetics, Victoria's Secret, H&M and more.
Fancy some people watching? You can sit Stripside and sip on a cocktail at Cabo Wabo Cantina, a rock 'n' roll themed Mexican bar & restaurant, or enjoy some gourmet nachos on the outdoor patio at Nacho Daddy. If that's not to your taste, Miracle Mile Shops offers 15 restaurants ranging from casual cuisine to fine dining.
Hot tip: The V Theater is located at Miracle Mile Shops, so after your shopping and dining you can go and see one of the awesome Las Vegas shows that perform there. The Mentalist and V – The Ultimate Variety Show are 2 really good ones.
---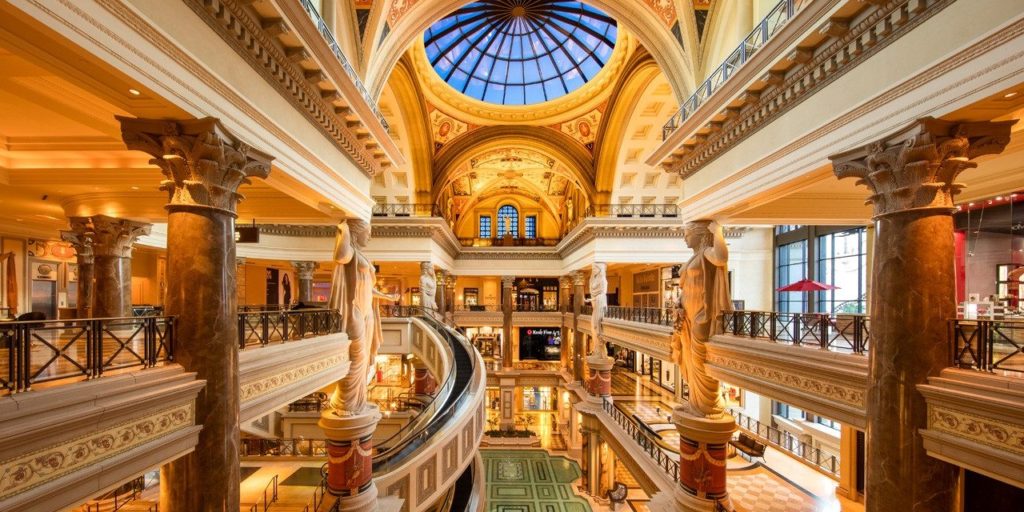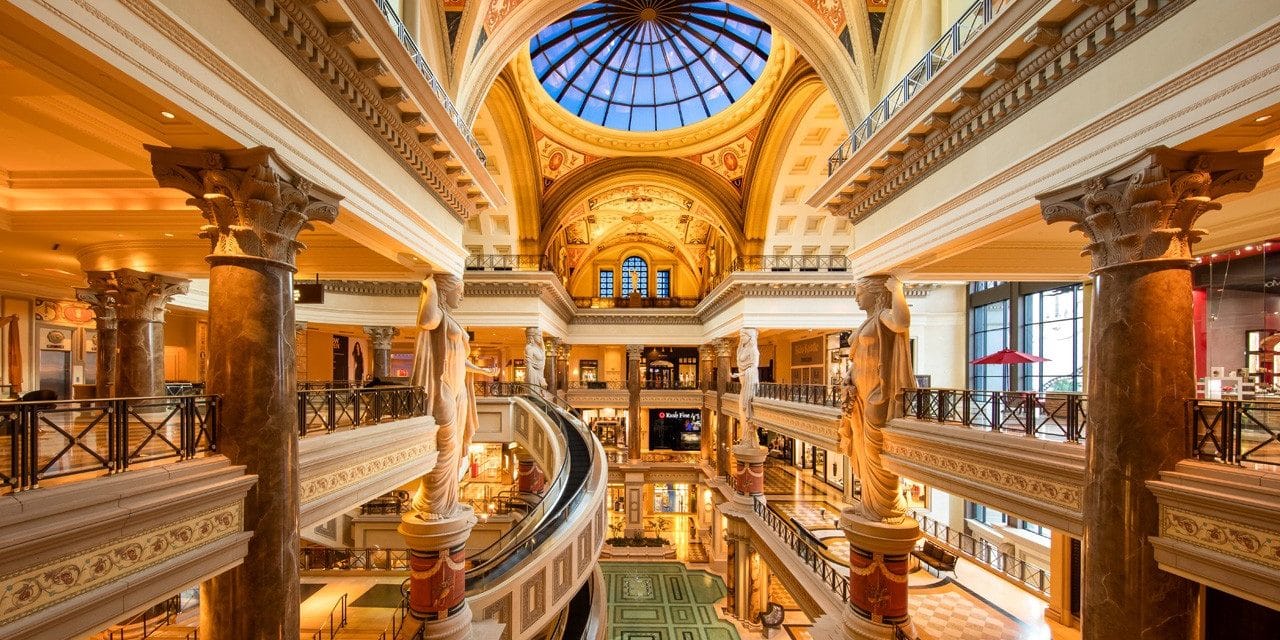 Address: 3500 Las Vegas Blvd South
Phone: 702-893-4800
Hours: Sunday – Thursday 10am – 11pm; Friday & Saturday 10am to midnight
No Las Vegas trip is complete without a trip to The Forum Shops at Caesar's Palace, if only just to marvel at its magnificence. This Roman-themed shopping mall features vaulted ceilings painted with blue sky and clouds, multiple levels of architecturally stunning retail space, and extravagant fountains and statues throughout. It's like stepping into another world.
You'll find designer stores at The Forum Shops like Gucci, Valentino, Louis Vuitton and Giorgio Armani. As far as specialty stores go, there is Tiffany & Co, Cartier, Fendi and H&M to name just a few. There are 12 restaurants to choose from, ranging from casual to upscale dining experiences, including The Cheesecake Factory and award-winning Italian restaurant Trevi.
Hot tip: If you want to see something really cool, every hour starting at 11am there is an elaborate animatronics show called "Fall of Atlantis", which is regularly listed among the top free attractions in Las Vegas. By cool we mean talking statues, fire and fog.
---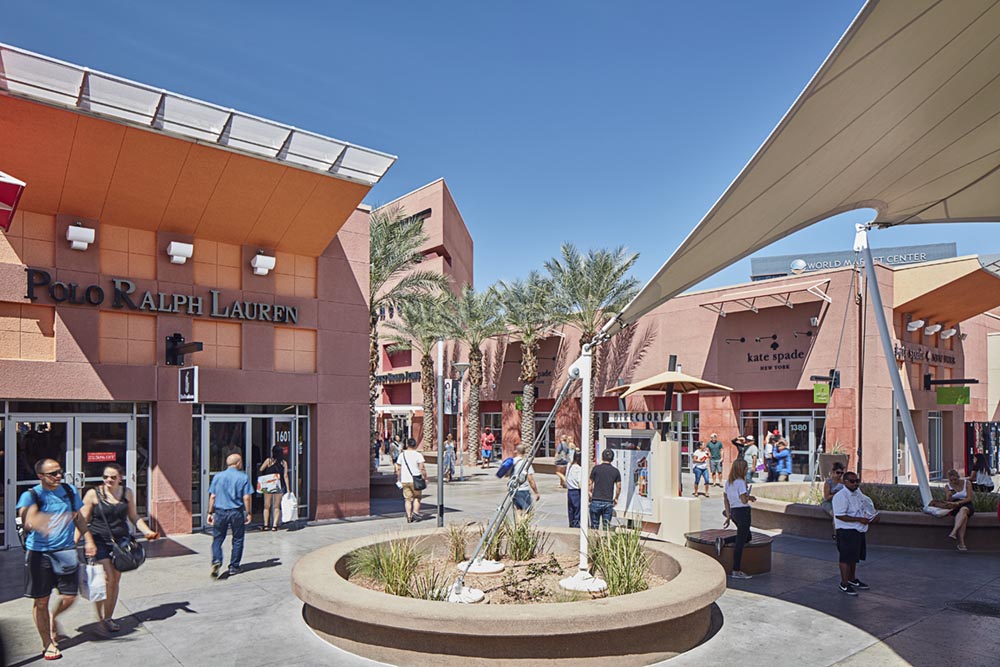 Address: 875 S Grand Central Pkwy
Phone: 702-474-7500
Hours: Monday – Saturday 9am – 9pm; Sunday 9am – 8pm
This impressive outlet mall blows everyone away with its sheer selection of designer and name-brand retailers offering massive discounts. You can find up to 65 % off your favorite brands like Burberry, Ralph Lauren, Coach, Kate Spade New York and much more. Altogether this 540,000 square-foot outdoor mall features more than 175 stores.
Las Vegas North Premium Outlets isn't right in the heart of the Las Vegas Strip… It requires a taxi or rideshare from the Strip which would take just about 10 minutes. If you're staying in Downtown Las Vegas at hotels like the Golden Nugget or Downtown Grand, you'll be even closer: about a 5 minute drive away. Plan to spend the day at this outlet mall, because even 3 or 4 hours won't seem like enough time to shop at all the stores you like.
Hot tip: Las Vegas North Premium Outlets has a VIP shopper club that can get you cool things like early access to sales, speedy checkout and offers you can redeem on your phone.
---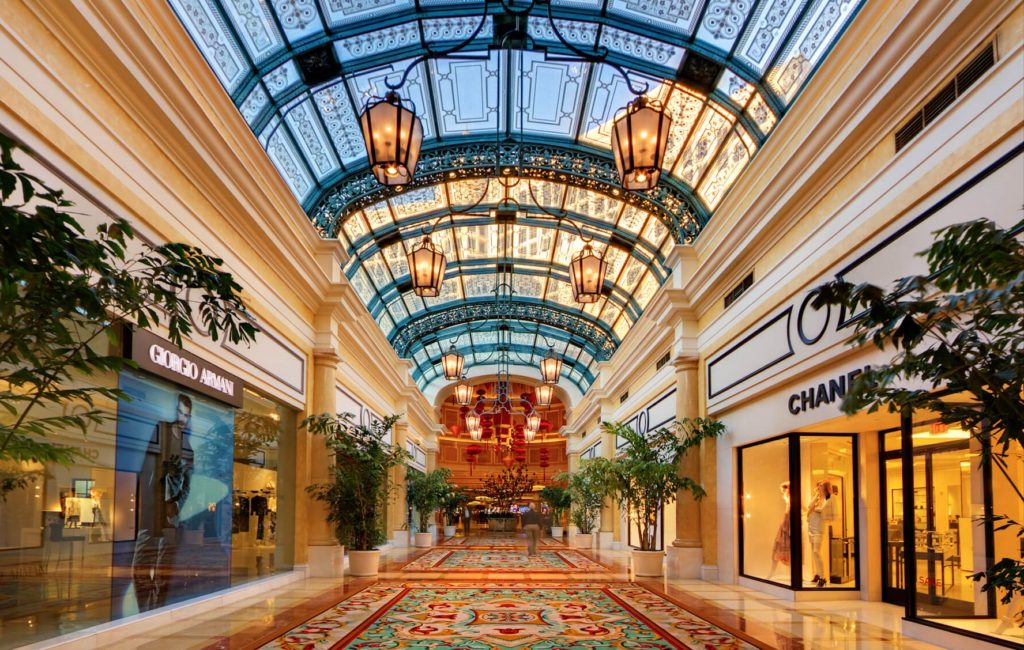 Address: 3600 Las Vegas Blvd South
Phone: 702-693-7075
Hours: 10am – midnight daily
Guests staying at Bellagio are expecting the finest of luxuries, and the hotel's shopping center definitely hits that mark. Take a stroll down an indoor avenue illuminated by glass ceilings and marble floors, and you'll find a selection of the most luxurious designer brands on earth in one place.
Whether you want to spend a lot of money or just window shop and daydream, Via Bellagio gives you a taste of what shopping is like for the rich and famous. After you're done, be sure to save time for a meal at one of the exceptional restaurants that the Bellagio offers. We love Lago, which serves sumptuous Italian cuisine, and Michael Mina, an award winning seafood restaurant.
Hot tip: You can catch a beautiful view of the Bellagio fountains from the south windows of the Via Bellagio, making your experience even more memorable.
---

Address: 3131 Las Vegas Blvd South
Phone: 702-770-7070
Hours: Sunday – Thursday 10am – 11pm; Friday and Saturday 10am to midnight
Wynn Las Vegas holds itself to a very high standard of luxury. The shopping experience that you are taken through as you enter the Wynn from the Las Vegas Strip is nothing less than stunning. Many of the world's most fabulous high-end designers have chosen this shopping destination as the home for their signature stores. To name just a few, you'll find Cartier, Chanel, Dior, Givenchy, Louis Vuitton, and Prada.
A more recent addition to the Wynn's shopping offerings is Wynn Plaza, a 70,000 square-foot, 2 story shopping mall that fronts the Strip. You'll find some excellent cuisine here too, like Cipriani, an upscale Italian restaurant that oozes glamour, and Urth Caffe, a completely organic, health conscious café.
Hot tip: if you're looking for a new watch, the Rolex store at Wynn Esplanade is home to the biggest selection of Rolex watches anywhere in the world.
---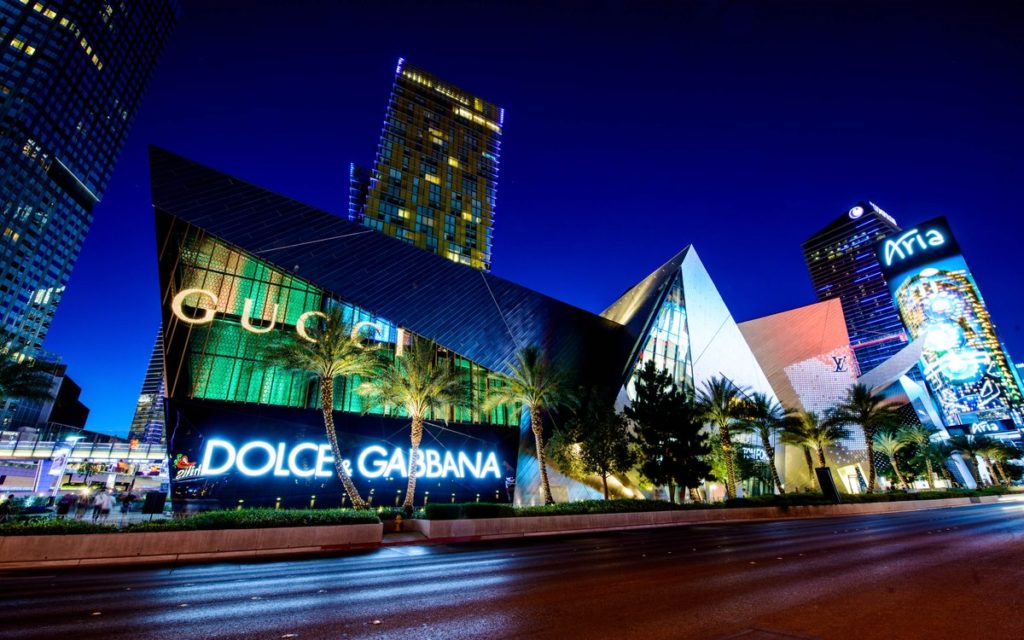 Address: 3720 Las Vegas Blvd South
Phone: 702-590-9299
Hours: Sunday – Thursday 10am – 11pm; Friday and Saturday 10am to midnight
It's impossible to miss this building as you're going down the Las Vegas Strip. Located between the Aria and The Cosmopolitan, The Shops at Crystals stands out for its futuristic architecture. Inside lies half a million square feet of retail heaven. This mall features 50 of the top luxury brands in the world.
If you've got a whole lot of extra spending money, you can splurge on an item from Gucci, Louis Vuitton, Prada, Tiffany & Co or many other stores. When it comes to dining at The Shops at Crystals, you'll be impressed. Cucina by Wolfgang Puck serves rustic Italian cuisine, or you can dine inside an 80 foot tall tree house at Mastro's Ocean Club.
Hot tip: The Shops at Crystals is right across the road from the Miracle Mile Shops, so you could shop at 2 of our top 10 malls easily in a hop, skip and a jump.
---
Address: 3535 Las Vegas Blvd South
Phone: 702-322-0560
Hours: Monday – Thursday 10am – 11pm; Friday & Saturday 10am – midnight; Sunday 10am – 10pm
Between The Linq Hotel and the Flamingo, The Linq Promenade is a safe, bustling pedestrian walkway where you'll find 200,000 square feet of stores, restaurants and entertainment. Here you'll find everything from a souvenir shop (because of course you have to get something that screams Las Vegas) to a 2 story candy shop, and everything in between.
At the center of all of this, the High Roller Observation Wheel (the world's tallest Ferris wheel) spins slowly, while zipliners fly overhead. The atmosphere is fun both during the day and at night at The Linq Promenade. You'll find awesome eateries here, like Virgil's Real BBQ, Gordon Ramsay Fish & Chips, and a gourmet hotdog joint.
Hot tip: pick up one of the gorgeous bath bombs at Nectar Bath Treats, and use it in your bath back at the hotel to soothe your tired feet.
---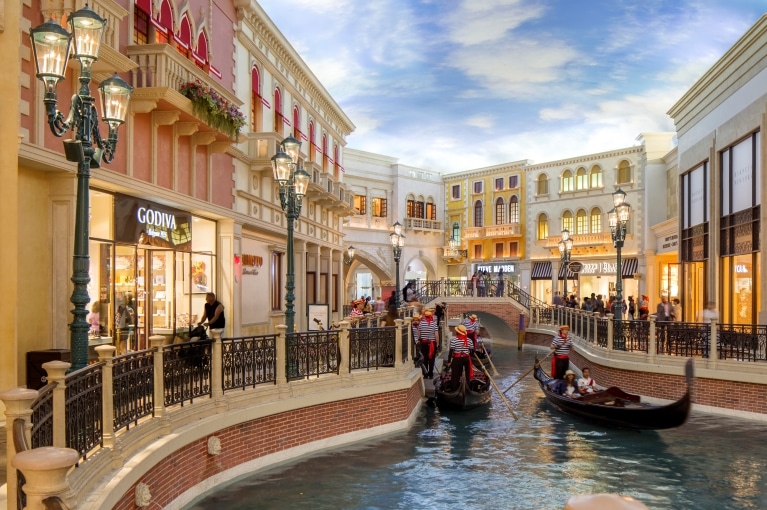 Address: 3377 Las Vegas Blvd South
Phone: 702-414-4525
Hours: Monday – Thursday 10am – 11pm; Friday and Saturday 10am – midnight
The Grand Canal Shoppes, located at The Venetian, is an experience for all the senses. This shopping mall is made to feel like you're strolling in Venice, complete with a Grand Canal where you can take a gondola ride. Cobblestone streets and cloud-painted ceilings surround you, as well as a wide selection of the finest luxury brand name stores.
When it comes to dining you've got lots of excellent choices. We love Black Tap Craft Burgers & Beer where you can get a gourmet burger and a whimsical "Crazyshake" milkshake, as well as Buddy V's Ristorante, the home-style Italian restaurant of Cake Boss's Buddy Valastro. If you want to experience true upscale dining, Bouchon is excellent French cuisine.
Hot tip: If you want to cool down from the Vegas heat, get a drink at Minus 5 Ice Bar at The Venetian where it gets pretty chilly!
---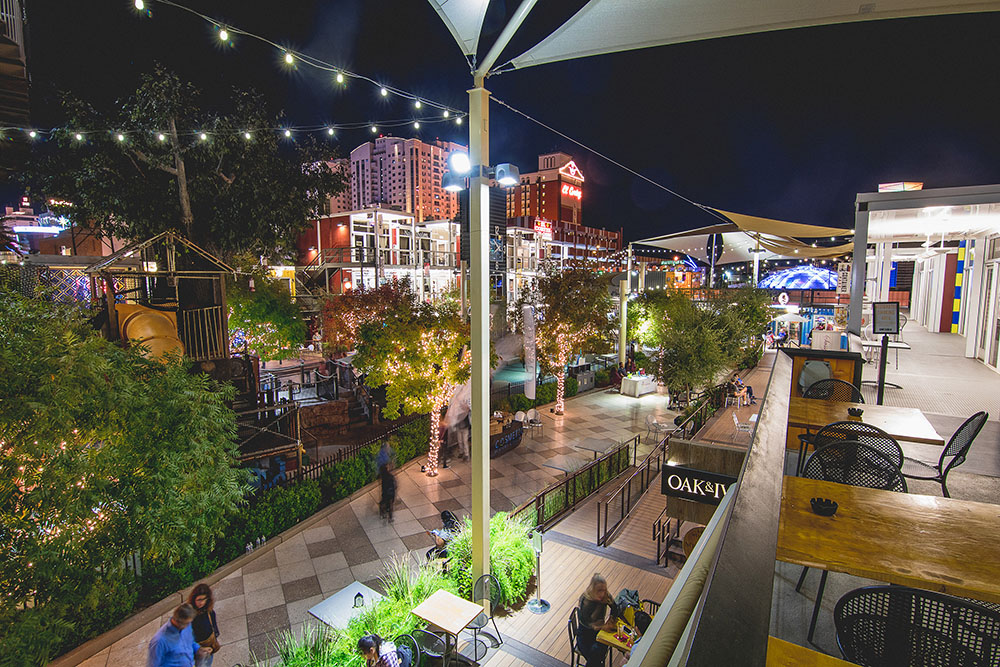 Address: 707 Fremont St
Phone: 702-359-9982
Hours: 11am – 9pm daily
Right in the heart of the Downtown district of Las Vegas (just a 10 minute taxi ride from the Strip) is Downtown Container Park, a truly unique shopping destination where the stores are all made from shipping containers. Just that, plus the giant flame-throwing praying mantis at the gateway, gives you the immediate knowledge that this isn't like any other shopping mall.
You'll find all kinds of kooky and cool boutique retail shops at Downtown container park, including (just to name a few) a $5 store, a magic shop, a cigar shop and a candy shop. As far as dining goes there are lots of really delicious options. We love Cheffini's for their gourmet hotdogs, Big Ern's BBQ and Downtown Terrace, a gourmet fast service restaurant.
Hot Tip: What's that giant, glowing geodesic dome in front of the park? Why it's a 360 degree surrounding entertainment experience which screens visually mind-blowing movies including one with music by U2.