Our Top 7 Best Movie Theaters in Las Vegas 2023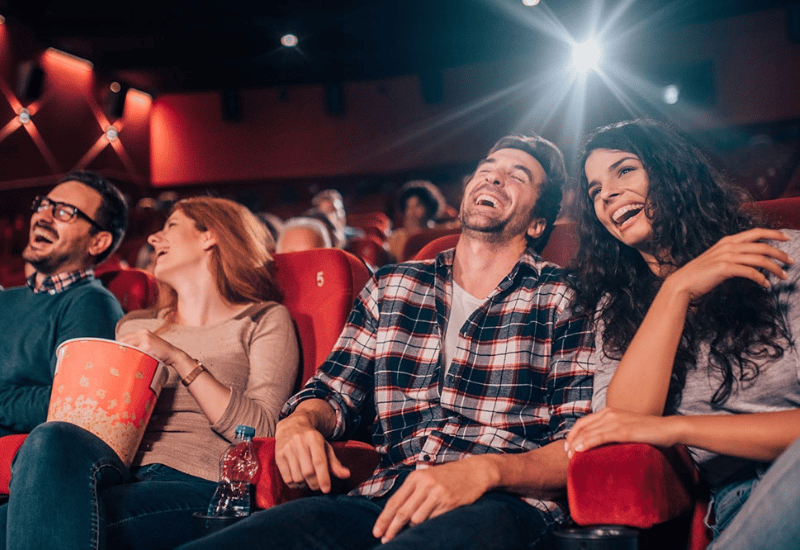 We may receive a commission if you make a purchase.
These days you can watch a movie anywhere you are – whether you want to stream the latest release on Netflix in your living room or choose a pay-per-view blockbuster in your hotel room. But nothing will ever compare to seeing a movie the way it's supposed to be seen: on a big screen, with a booming sound system at a luxury movie theater. It's the best way to catch the film you've been waiting all year to see, and of course it's the ultimate date night idea. Here's our inside scoop on the top 7 best movie theaters in Vegas.
---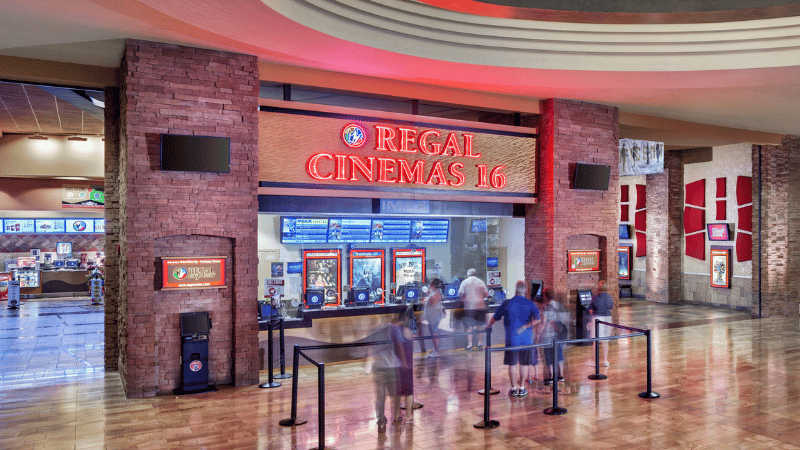 First up on our list is Regal Red Rock, which is located 20 minutes' drive West of the Strip at Red Rock Casino, Resort and Spa. This luxury movie theater features ultra-comfortable recliner seats with small tables for enjoying food and beverages during your movie. Have a glass of wine or a beer and choose from a delectable expanded menu which includes burgers, made-to-order pizza, and Cheetos popcorn.
Regal Red Rock offers 2 incredible viewing experiences: IMAX and 4DX. IMAX gives you an oversized, curved screen with crystal-clear images and immersive audio. 4DX lets you experience the film as though you're inside it – with motion-enabled chairs, vibrations, sensations, and even simulated weather!
Hot tip: If you're looking for a fun-filled evening, Red Rock also has one of the best bowling alleys in Vegas!
Address: 11011 W Charleston Blvd, Las Vegas, NV 89135
Phone: (844) 462-7342
---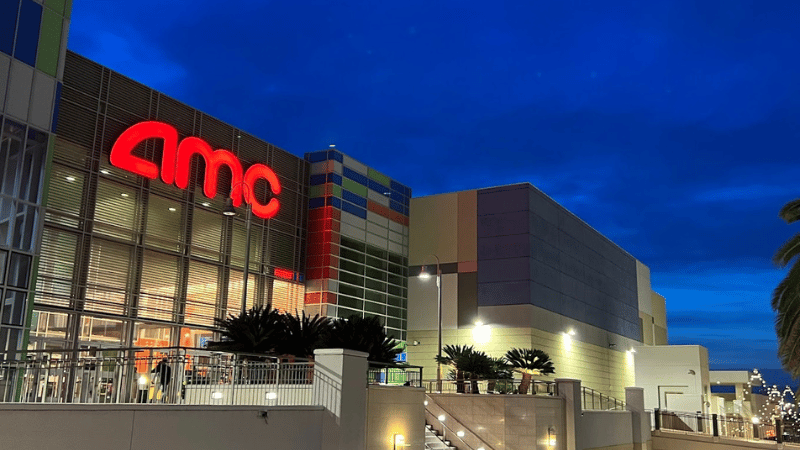 Located in the Town Square shopping center on the South Strip, just a 6 minute drive south from Mandalay Bay, this luxury movie theater is loved by locals and visitors alike. Relax in an AMC signature reclining chair while sipping on a cocktail from their full-service bar and enjoying food from their delicious menu, featuring stone-fire flatbread pizza and mac & cheese bites.
At AMC Town Square, you can reserve your seats ahead of time and even order your snacks via a handy mobile app. Get the ultimate immersive experience at one of their IMAX showings. This movie theater also shows a curated selection of the best art-house films with their AMC Artisan Films program.
Hot tip: Discount Tuesdays offer select showings for just $5!
Address: 6587 S Las Vegas Blvd, Las Vegas, NV 89119
Phone: (702) 362-7283
---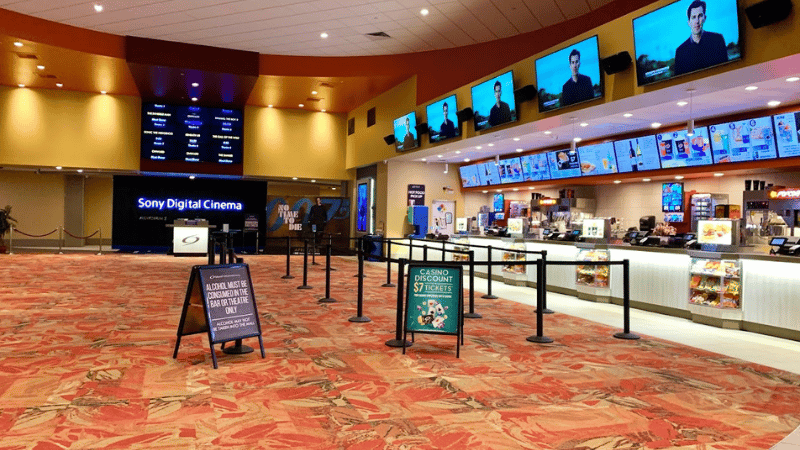 Galaxy Theaters Boulevard Mall is located just a 10 minute drive east of the Las Vegas Strip. This movie theater goes all out to provide guests with a luxury movie-going experience, offering comfortable reclining chairs with trays for enjoying delicious food and beverages – think burgers, buffalo wings, and a beer from the full-service bar.
This movie theater gives you the best possible viewing experience, offering DFX (an immersive sound system where the audio flows around you) and D-Box (seats that actually move around with the film on screen). You'll get a stunningly realistic image from the latest Barco Smart Laser Projector system on a 70 foot ultra-high gain screen.
Hot tip: If you're a fan of popcorn, this movie theater sells a 5 gallon serving for $30!
Address: 3680 S Maryland Pkwy Ste 182, Las Vegas, NV 89169
Phone: (888) 407-9874
---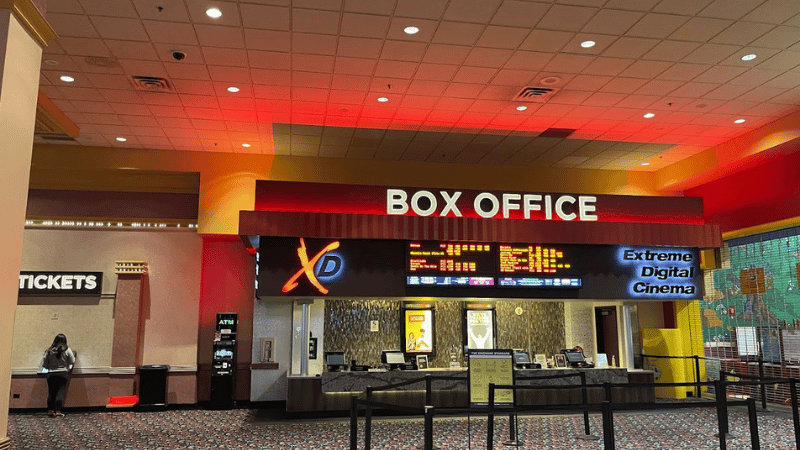 Located at The Orleans Hotel & Casino just 8 minutes West of the Strip, this movie theater features oversized electric reclining lounge chairs and Cinemark XD movies. What's XD? Many people say it's the best possible viewing experience, featuring multi-layered surround sound and a crystal clear image with 35 trillion colors on a giant 70-foot screen.
Century Orleans is rarely overcrowded, making it a nice breather from the fast-paced Las Vegas Strip. When booking tickets, you can reserve exactly where you want to sit. Order an alcoholic beverage from the full-service bar and sip on it during the show.
Hot tip: On Tuesdays you can go to a movie here for just $5.75!
Address: 4500 W Tropicana Ave, Las Vegas, NV 89103
Phone: (702) 889-1220
---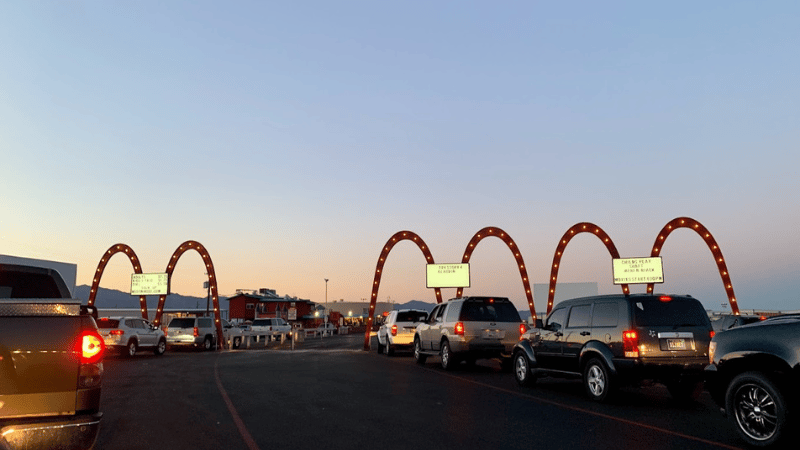 Las Vegas is a city that embraces retro American experiences, so you better believe we have a drive-in movie theater! Located in North Las Vegas, 13 minutes' drive from the Strip, West Wind Las Vegas Drive-In will bring back fond memories for baby boomers and create new ones for younger generations.
West Wind Las Vegas Drive-In combines old-school charm with the latest technology, using the latest digital projectors to show the newest movies on a gigantic outdoor screen. You can tune into the audio on your car's sound system via FM radio. Order a bite to eat from the snack bar on their app and they'll let you know when it's ready!
Hot tip: Tuesday is Family Fun Night here, with $6 adult tickets and $2 tickets for kids aged 5-11. (Kids under 4 are always free.)
Address: 4150 W Carey Ave, North Las Vegas, NV 89032
Phone: (702) 646-3565
---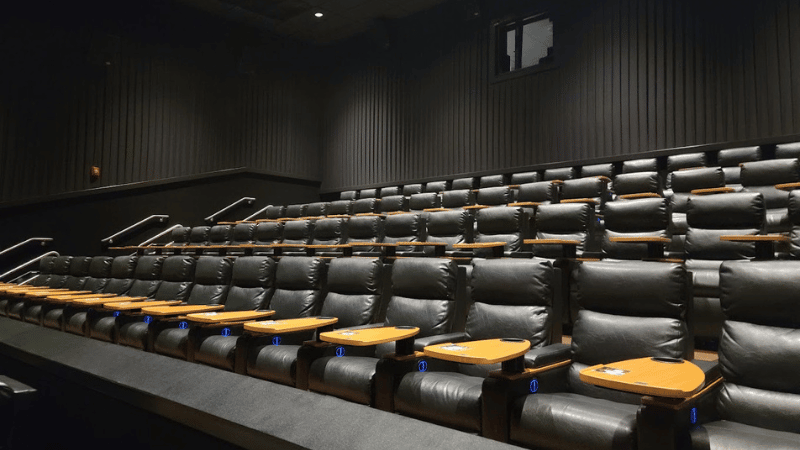 This 9-screen luxury theater at Palace Station Hotel and Casino is just a 7 minute drive from the center of the Vegas Strip. Regal Cinebarre Palace Station features a great lobby with a full-service bar, pool tables and an outdoor terrace – perfect for socializing before your movie.
This movie theater has reclining seats with lots of legroom so no one's ever kicking the back of your chair. No more waiting in line for food and drinks – you can place an order with wait staff who come to your seat. Choose from alcoholic beverages and delicious food like burgers and wings.
Hot tip: Get seated 30 minutes early to order your food, to ensure you get it before the show begins.
Address: 2411 W Sahara Ave, Las Vegas, NV 89102
Phone: (844) 462-7342
---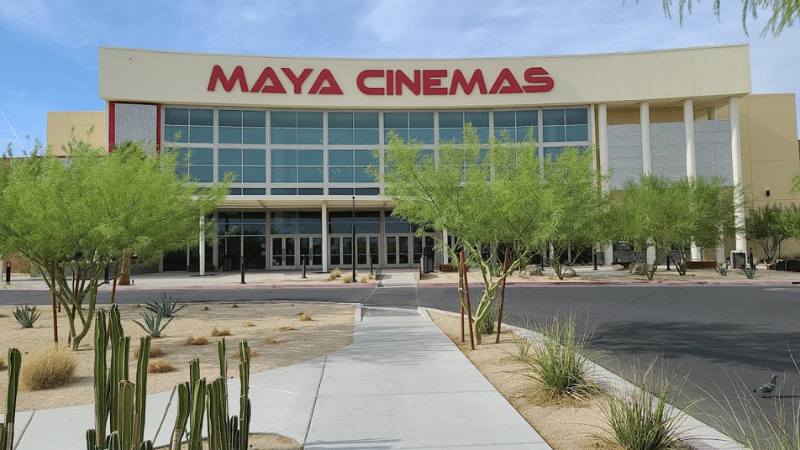 Maya Cinemas is located just a 10 minute drive from the Strip in North Las Vegas, and offers an exciting movie-going experience from beginning to end. Start your night by ordering a cocktail at the Cantina, and bring it into the theater with you if you like. The theater's luxury recliner seats have individual tables for dining during your movie – with options like tacos and made-to-order pizzas, it'll be hard to say no!
Maya Cinemas features DBOX movies with motion-enabled seats, RealD 3D movies that come to life before your eyes, and MPX: their most immersive movie-going experience. MPX boasts 360-degree Dolby sound and dual laser projectors for crystal-clear imaging on a giant wall-to-wall screen.
Hot tip: Take your date here on a Monday night to get 2 movie tickets, 2 popcorns, and 2 soft drinks for $24.
Address: 2195 Las Vegas Blvd N, North Las Vegas, NV 89030
Phone: (702) 382-3829