Your Complete Guide to Celebrating Christmas in Las Vegas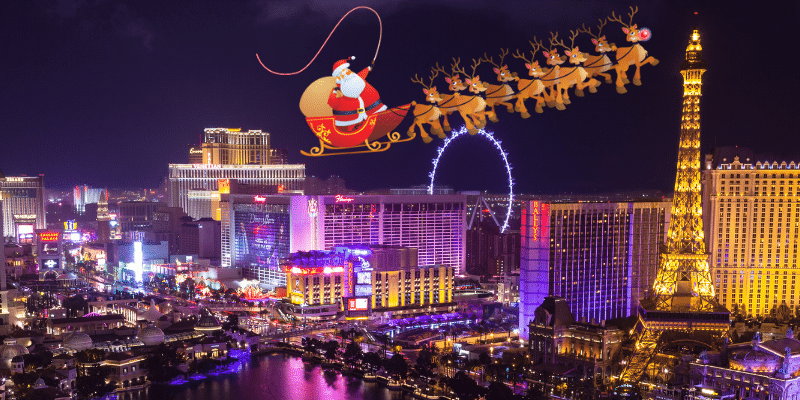 We may receive a commission if you make a purchase.
Thinking of getting away this Christmas? Las Vegas is the perfect place to visit at Christmas time. The weather is sunny and mild, the entertainment options are world-class, and the food is out of this world. It's the perfect excuse to skip the traditional festivities and let loose in true Vegas style. We put together this complete guide to celebrating Christmas in Las Vegas, with our favorite recommendations for holiday dining, sightseeing and activities. You'll be sure to have a very merry Christmas in Vegas.
What's Christmas Like in Las Vegas?
People flock from all over the country to visit Vegas at Christmas time. While the rest of the country is buried in snow, December weather in Las Vegas stays at an average of 60 degrees Fahrenheit during the day – light jacket weather. You'll see locals dressed up like they're afraid of freezing to death, but to visitors it feels heavenly warm. At night it can drop to about 27 degrees, which is still nothing compared to the sub-zero temperatures on the East Coast.
Christmas Eve is on a Saturday night this year, so you'll want to plan out and book your trip as soon as possible. If you wait too late, hotel rates will skyrocket and many resorts will sell out completely. Another important factor is making dining reservations – you need to get these arranged well ahead of time. Not making dinner reservations in Vegas can often result in wandering the Strip, fruitlessly looking for somewhere to eat.
Las Vegas goes all-in for Christmas, so you'll get to see the Las Vegas Strip all lit up with Christmas lights and decorations. Many attractions and restaurants are still open on Christmas Day, so the Strip is a bustling, vibrant place to get into the holiday spirit.
Where To Eat on Christmas Day in Las Vegas
Whether your taste buds are in the mood for a holiday buffet, fine dining cuisine or something in between, there are some excellent options for Christmas dinner in Las Vegas. Here are 5 of our favorite restaurants that are open on Christmas Day in Las Vegas.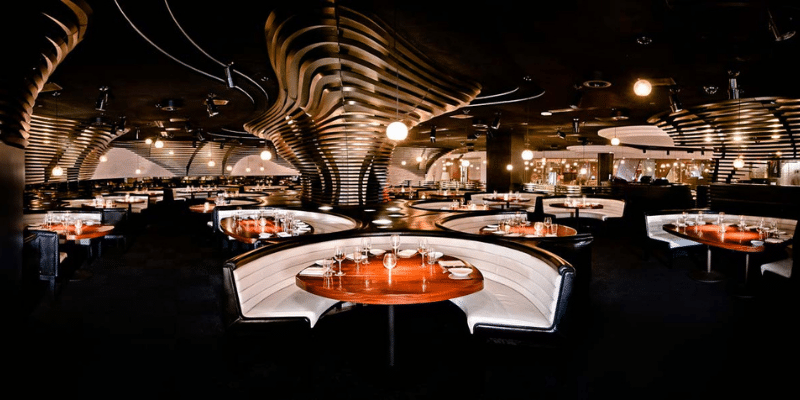 Inside The Cosmopolitan, this steakhouse has an ultra-chic, flirty vibe that makes it stand out from other steak and seafood restaurants. The atmosphere at STK is vibrant and hip, with a popping bar and even a DJ. Their fresh take on classic steakhouse cuisine is decidedly different, with playful presentations and delicious flavor combinations. STK is one of our top 10 restaurants in Las Vegas.
STK will be open on from 10am – 10pm on both Christmas Eve and Christmas Day. Their Christmas menu features 2 holiday-themed cocktails and a festive dinner of roasted prime rib, confit fingerlings, green beans, port wine shallots, and black truffle madeira sauce.
---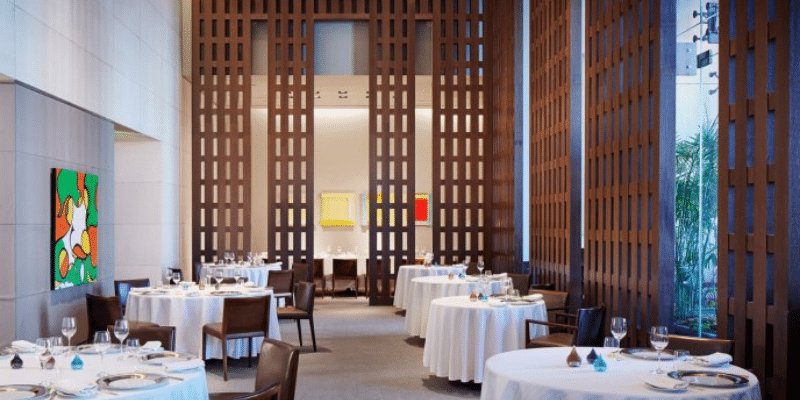 This French restaurant at Caesars Palace is an unforgettable fine dining experience. It emulates renowned chef Guy Savoy's restaurant in Paris, France – and it even has a view of Las Vegas' own Eiffel Tower. The amazingly attentive staff and creative, beautifully-presented dishes make it obvious why Restaurant Guy Savoy has received the Forbes Five-Star Award for many consecutive years.
Restaurant Guy Savoy will be open for both Christmas Eve and Christmas Day. Their Christmas Prestige menu includes their famous artichoke and black truffle soup with toasted mushroom brioche and black truffle butter, and guinea hen with gnocchi and sauce Albufera.
---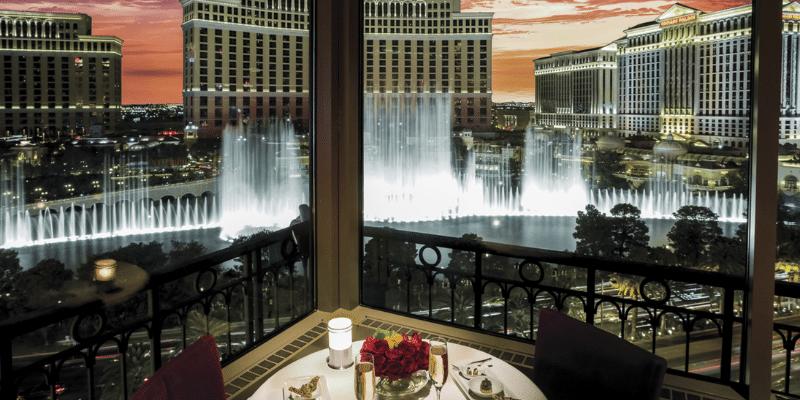 Perched on top of Paris Las Vegas' replica Eiffel Tower right in the heart of the Las Vegas Strip, Eiffel Tower Restaurant offers a fine dining experience with an unparalleled view of the glittering city below. It's definitely one of the most romantic restaurants in Las Vegas.
Eiffel Tower Restaurant is offering a 3-course brunch or dinner on Sunday, December 25th. Their Christmas dinner menu includes sumptuous options like Casco Bay sea scallops with poached leeks and mimosa brown butter, beef tenderloin with bok choy, potato gratin and green peppercorn sauce au poivre, and a dessert of peppermint soufflé with white chocolate.
---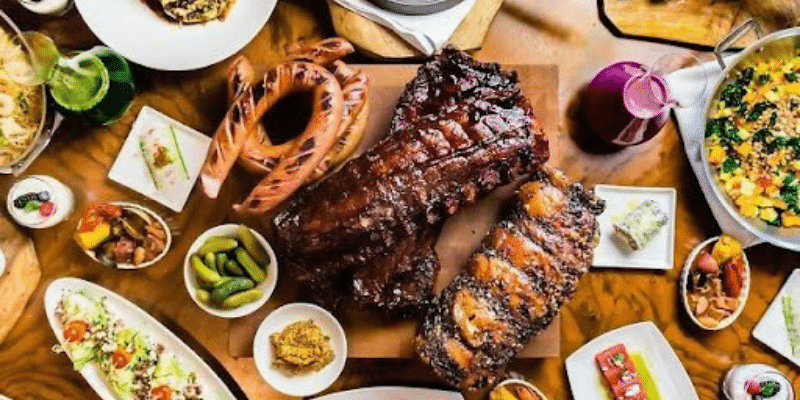 The newly renovated Bacchanal Buffet at Caesar's Palace is one of our top 10 Las Vegas buffets, and for good reason. This extravagant buffet features 9 stations serving up top-notch dishes from around the globe, prepared right in front of you in open kitchens. There is much to choose from, it's impossible to try everything in one visit.
Bacchanal Buffet will be open on Christmas Day. Make your reservations early to be sure you won't miss out. Previous Christmas offerings have included grilled quail with dried cherry and mustard vinaigrette; osso bucco; leg of lamb; and cassoulet of duck confit.
---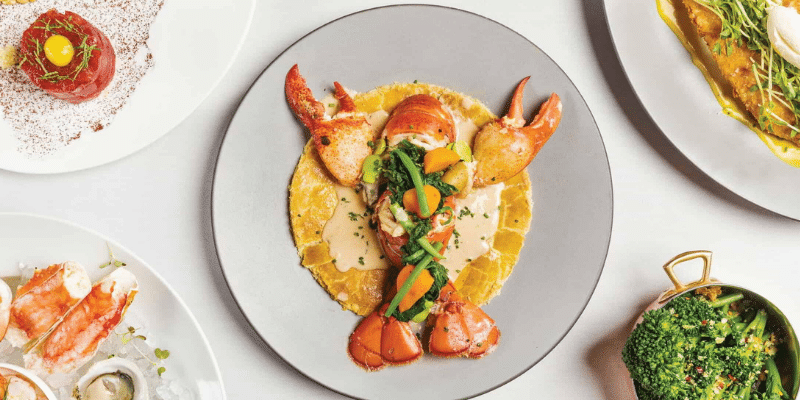 This 5 star, award winning seafood restaurant at Bellagio brings you the finest globally-inspired seafood dishes, expertly curated and flown in daily on a private plane. Internationally-acclaimed Chef Michael Mina personally created the menu which includes fresh raw bar shellfish. With 5 star service, tableside preparation and expert wine pairings, this is a dining experience to remember.
Michael Mina will be open on Christmas Eve and Christmas Day. Their 5-course Christmas tasting menu includes tartare of ahi tuna, phyllo-crusted sole, Michael's famous lobster pot pie, filet mignon "Rossini", and a dessert of Madagascar vanilla-bourbon mousse.
Things To Do At Christmas Time in Las Vegas
Stuck for ideas of Christmas activities in Vegas? Here are our 5 favorite Las Vegas Christmas activities that will get you into the holiday spirit.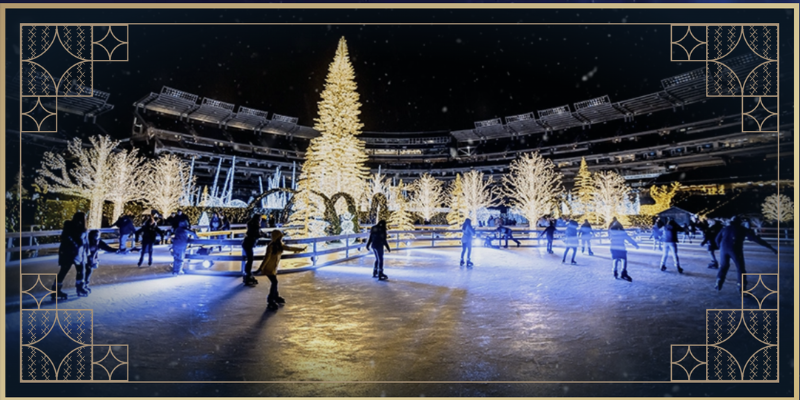 This is a Christmas adventure not to be missed. From November 26th to January 1st, Resorts World Las Vegas becomes a winter wonderland with a gigantic glittering light maze. The kid in you will come out to play as you take part in the magical Christmas story. Your job is to help 9 of Santa's reindeer out of the mystical Enchant forest.
If that doesn't sound cool enough, there is a meandering ice skating trail you can glide through, surrounded by Christmas lights. Wander through the holiday village and you'll find gourmet treats, artisan vendors, and a whole lot of vibrant Christmas energy. Oh, and Santa will be there to take photos with!
---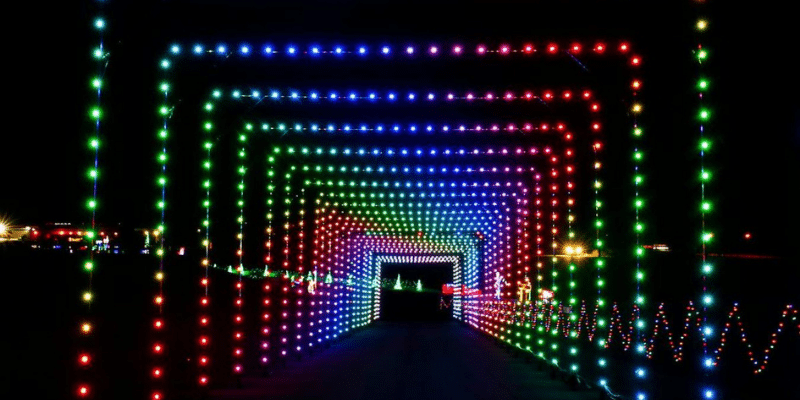 Want to stay warm while taking in some beautiful Christmas lights? Glittering Lights is a drive-through light show that takes place at the Las Vegas Motor Speedway. You'll be filled with wonder as you drive your car through a 2.5 mile course surrounded by millions of twinkling lights.
Glittering Lights is the largest holiday drive-through in Nevada, and a yearly tradition in Vegas. This is the perfect outing to go on with your family, or for a romantic date night. CNN Travel calls it one of the "Best Places To See Christmas Lights in the US", so don't miss this wonderful experience. Glittering Lights happens from November 10th to January 8th.
---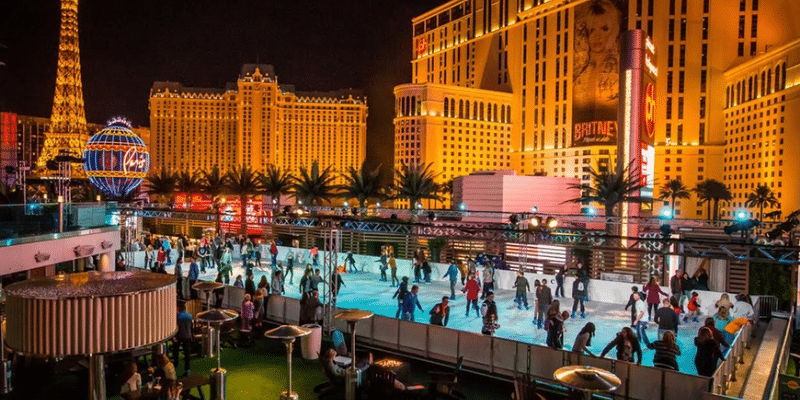 The Ice Rink at The Cosmopolitan is your opportunity to ice skate on the Las Vegas Strip. Every year from November 15th to January 2nd, the Cosmo's Boulevard Pool turns into a 4,200 square foot rink of real ice. You'll have a sweeping view of the Strip from high above while you glide around this magical environment.
Every 30 minutes during select times you'll get to experience light snow showers. There are fire pits where you can roast s'mores, and a delicious menu of holiday food and beverages. Every Monday and Tuesday night from November 22nd to December 30th they hold "Date Skate", a romantic evening watching a movie under the stars.
---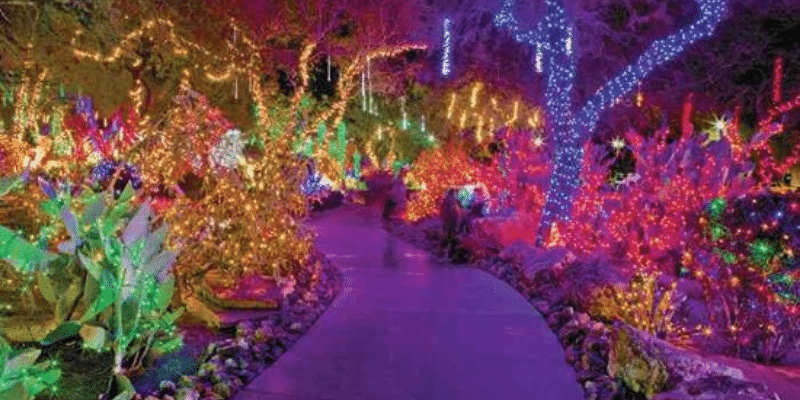 Perhaps one of the most Vegas Christmas experiences you could have is wandering through a cactus garden filled with half a million twinkling holiday lights. From November 4th to January 1st, Ethel M Chocolate Factory holds their Holiday Cactus Garden experience. This will be the 28th year in a row that this Vegas tradition has happened.
Santa is going to be there taking photos through December 23rd. And yes, Ethel M is a real chocolate factory, so you'll be able to sip on a hot cup of some of the best hot chocolate you've ever tasted. There's even a Holiday Chocolate tasting experience to enjoy. It's a good idea to make reservations ahead of time, because this is one of the most popular Christmas activities in Vegas.
Please note: this attraction is not open on Christmas Day, December 25th.
---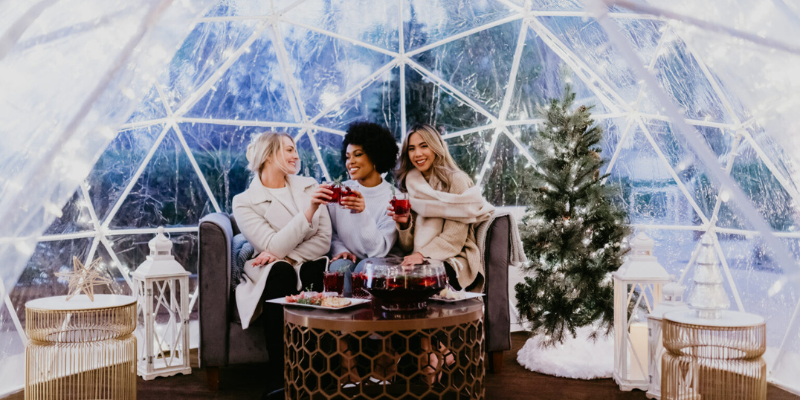 Head to the lobby terrace of Green Valley Ranch Resort from November 25th to December 25th to enjoy Winter at the Terrace – a holiday pop-up lounge featuring pretty lights and holiday music to get you in a nostalgic mood. Bring a group of friends because this is a holiday tradition you wouldn't want to miss.
We're talking private igloos with shared cocktails like a Seasonal Shot Tree with shots as ornaments, fire pits where you can roast s'mores, lots of Insta-worthy photo opportunities, and a delicious hot chocolate cart.
---
Las Vegas Christmas Shows You Can't Miss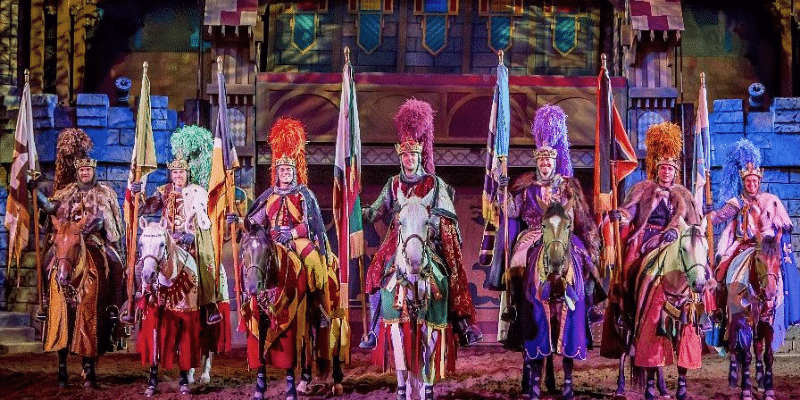 When we're talking about Christmas activities in Vegas, we can't keep from mentioning the awesome shows happening during the holiday season. The talented Terry Fator puts on an awesome Christmas special from November 25th to December 27th, called "A Very Terry Christmas". You'll love his celebrity impersonations, delightful puppet cast and holiday songs.
As if the medieval Vegas stage production Tournament of Kings couldn't get any more fun, from November 23rd to December 25th it becomes "Twas the Knight", their holiday special show. Feast and be merry as you cheer on your team's knight in heroic jousting battles. We don't want to give away too much, but there will be snow, holiday-inspired music, and a festive holiday menu.
Las Vegas Christmas Shopping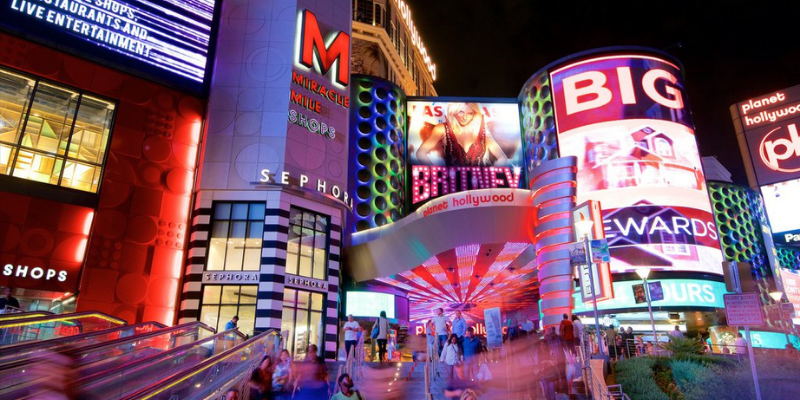 Need to get some last-minute Christmas shopping done on the night before Christmas? Some of our favorite Las Vegas shopping destinations will be open on Christmas Eve, including the Forum Shops at Caesars Palace and the Miracle Mile Shops at Planet Hollywood. With elaborate holiday window displays and more than 1000 shops to choose from, you'll be sure to find everything on your Christmas wishlist.