Top 10 Thrill-Seeking Rides and Attractions in Las Vegas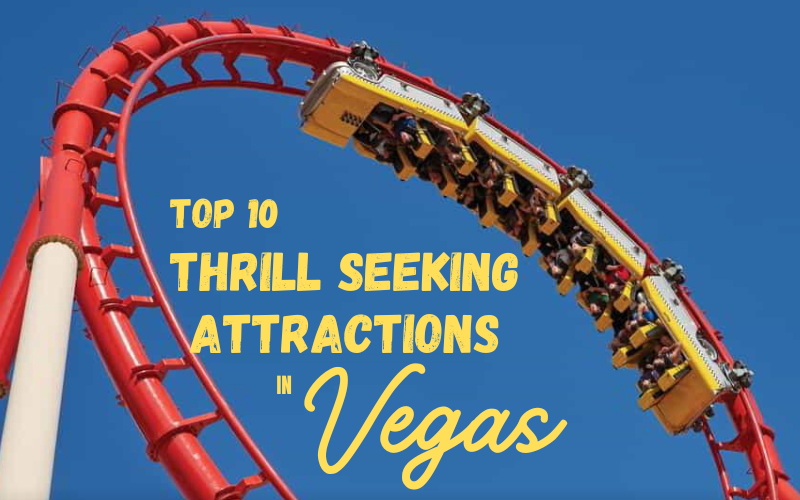 We may receive a commission if you make a purchase.
For a lot of people, the mere thought of making a sudden 203-foot drop in a roller coaster sounds too terrifying to ever willingly choose to do. Then there are the dare-devils among us who laugh in the face of fear, and love pushing themselves to the extreme edge of their comfort zone. If you're one of those fearless types and you're looking for a thrill during your trip to Vegas, you're in luck – We have some excitement and adrenalin in store for you! Here is our list of the top 10 thrill-seeking attractions in Las Vegas.
---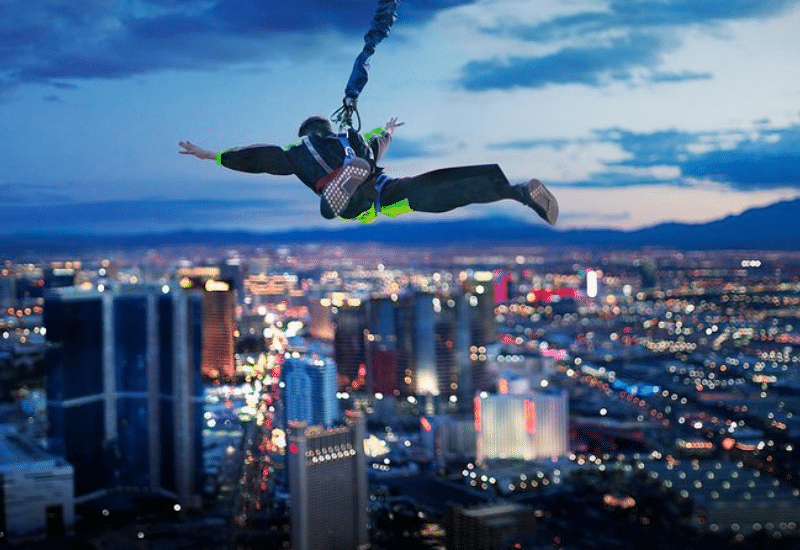 The Stratosphere Tower, also known as The STRAT, is one of the most iconic buildings in the Las Vegas skyline, and it's by far the tallest. If you're the kind of person who looks at a building of that height and says, "I'd like to jump off of that," then Skyjump is perfect for you.
You'll look down over a breathtaking view of the whole city from your vantage point of 108 stories high, and then leap off the building for a free-fall that you'll never forget. Guide wires will keep you on track as you fall, the only thing keeping you from plummeting to your death. Yay, fun!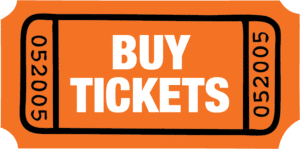 ---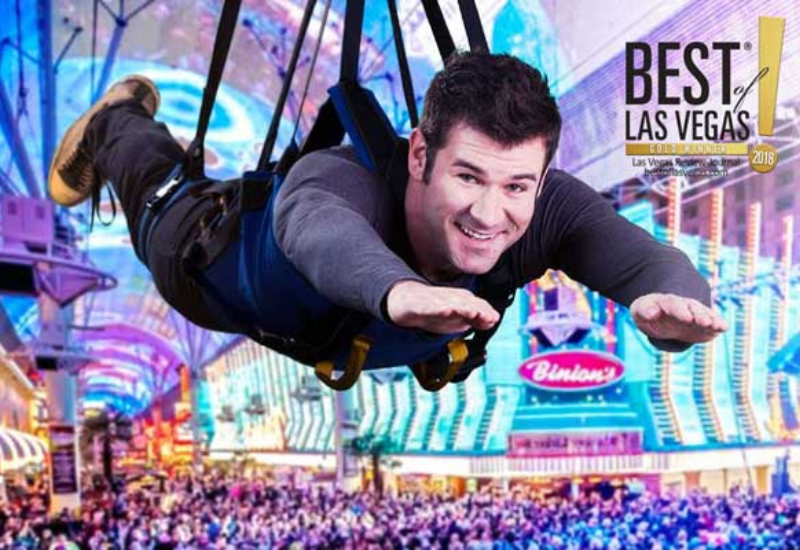 Head downtown to Fremont Street Experience, a sightseeing destination you've got to experience while you're in Vegas. And what better way to take in the sights and sounds than by flying over people's heads like you're Superman?
Slotzilla zipline lets you soar through the air, 11 stories high, with the neon signs of vintage casinos sparkling below you and the world's largest LED screen above you. For those who are a little less courageous (but still way braver than we are), there's an option to ride Slotzilla in a seated position from 7 stories high.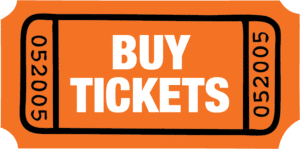 ---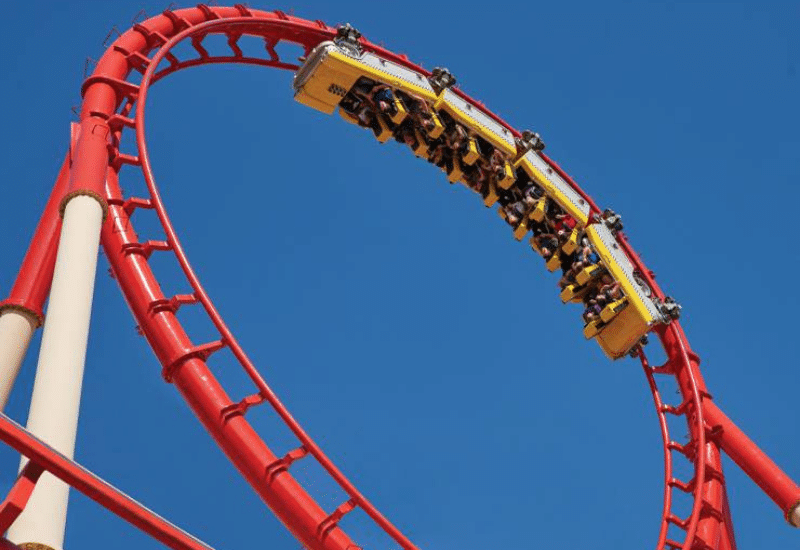 Rollercoasters are a staple for thrill-seekers, and we've got some real doozies here in Vegas. The most famous (and famously terrifying) coaster in the city is The Big Apple, located at New York, New York right in the heart of the Las Vegas Strip. You'll get quite a view of the Strip from up high, but your attention will probably be a little bit distracted by the sheer terror you'll be in.
Let's see, you'll start off by plummeting 144 feet straight downwards. Yay! Then you'll fly through the air at ridiculous speeds through all kinds of turns and loops, including a 180-degree "heartline" twist and dive maneuver, followed by a drop of 203 feet. Sounds great! There's also an option where you can wear a virtual reality headset to get a whole different view of the experience.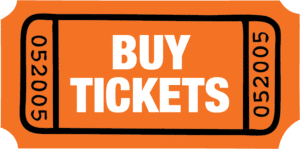 ---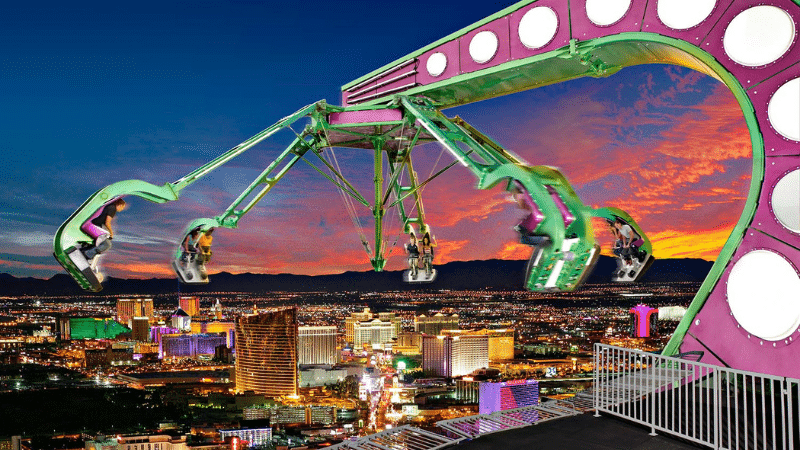 If you don't quite have what it takes to jump from The STRAT, there are other options for scaring yourself senseless: 3 thrill rides that you can find at the very tippy-top of Vegas' tallest building.
"Big Shot" hurls you 160 feet straight upwards at 45 miles per hour, then you'll plummet straight back down again. "Insanity" is a giant mechanical arm that spins you at speeds of up to 3 Gs. "X-Scream" will take you to the edge of the Skypod and dangle you above the city below. Why not make a day of it and try all 3 rides?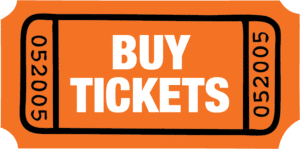 ---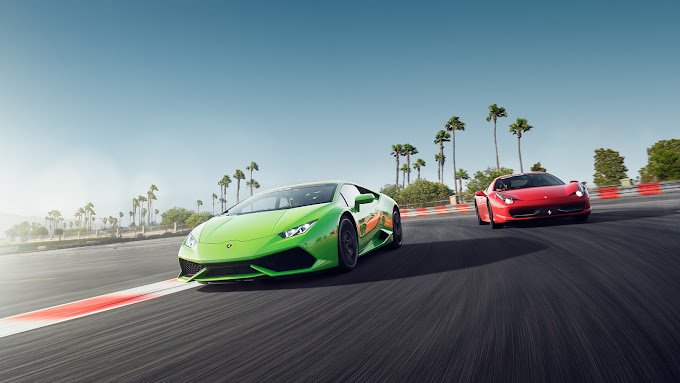 If you have spent your life wondering what it felt like to drive a real racecar, now's your chance to live the dream. Exotics Racing gets you in the driver's seat of one of the ultimate supercars known to man – we're talking Ferrari, Lamborghini, Porsche, and McLaren. They have more than 50 cars to choose your favorite from, and then you'll hit the race track.
Well, first you'll be taught how to drive one of these beasts. You'll get lessons and coaching from race car driving pros, and you'll have an expert in the passenger seat while you race. If you'd rather ride shotgun, you can sit in the passenger seat while a racecar driver takes you on a thrilling drifting experience.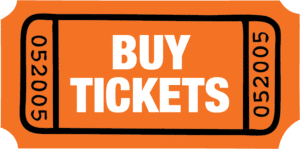 ---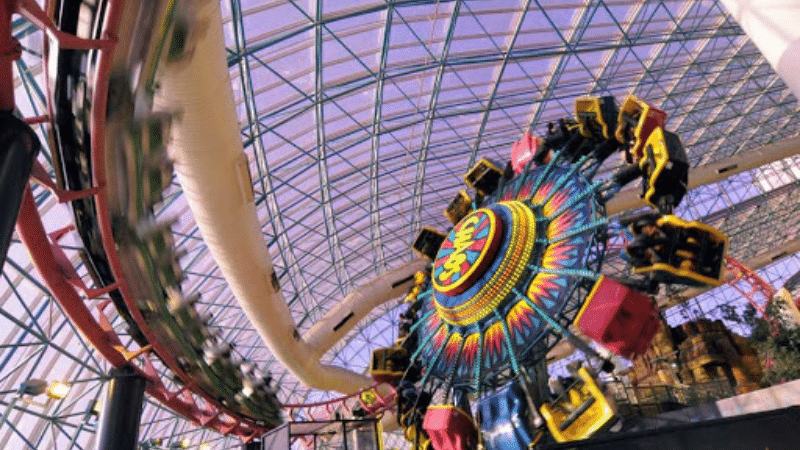 This awesome theme park exists under a giant glass dome (hence the name) at Circus Circus, and it's where you'll find a whole collection of adrenaline-pumping rides that will knock your socks off. You'll want to spend a whole day at Adventuredome to take in all the fun that it has to offer.
Canyon Blaster will send you through 2 loops and 2 corkscrews at 55 miles per hour, and El Loco will take you on a 90-foot drop that lets you experience a 1.5 vertical-G. Inverter gives you the unique delight of falling while hanging upside down, and Sling Shot shoots you into the air with 4 Gs of acceleration before sending you plummeting back down again. And that's just a few of your options at Adventuredome!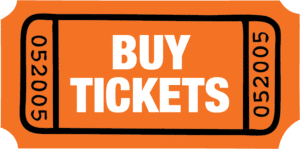 ---
For a thrilling zipline experience right in the heart of the Las Vegas Strip, head to Fly Linq beside The Linq hotel. You'll launch off from 12 stories high and soar over the crowds on Linq Promenade at 35 miles per hour.
If you're with a big group of friends, you can arrange to all fly together with up to 10 people. Choose from flying in a seated position or laying position (the laying position makes you feel more like you're Superman for obvious reasons). After the ride, you should check out High Roller, the world's tallest observation wheel, which you'll land right next to.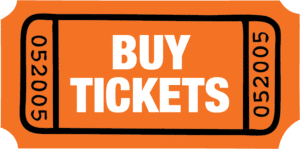 ---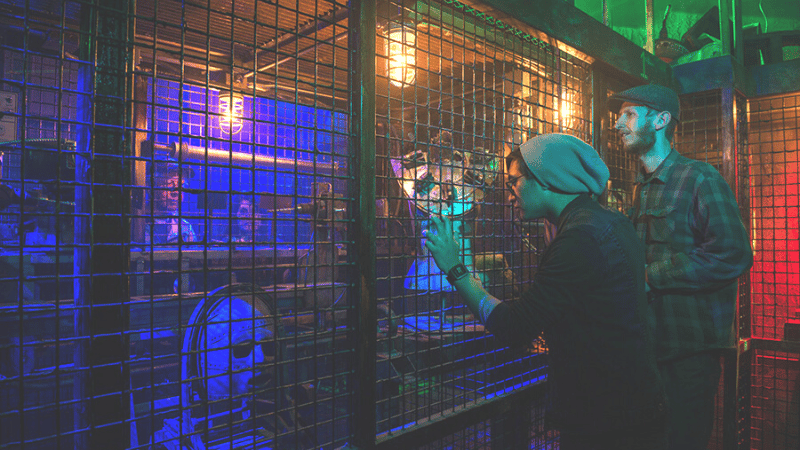 If you watched the horror films Saw and Blair Witch and thought, "I wish I could live out the petrifying scenes in these movies myself," then this attraction is for you. Feel the pure adrenalin of being trapped in a meat packing plant and having to solve cryptic puzzles in a race against time to save your own life.
Using only the light of your phone (let's hope you charged it, right?) you'll explore the evil Black Hills Forest looking for clues about the legendary witch who once lived there and the students who mysteriously disappeared. Try your hand at getting out of one of the largest escape rooms on the planet.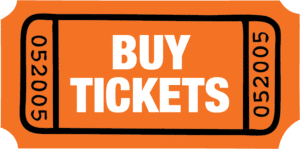 ---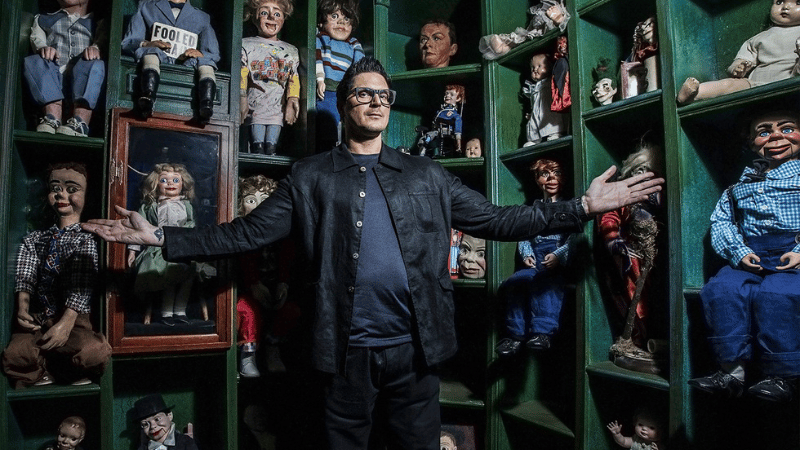 This museum of things that are haunted is also said to be haunted itself, making it double-creepy. Zak Bagan created this collection of weird and macabre items, taking them from famous haunted locations around the world and putting them all together in one really spooky old house in Downtown Vegas.
This spot has been featured on countless lists of ghost-inhabited locations and was voted the #1 Best Haunted Location in America by readers of USA Today. Try making prolonged eye contact with some of these dolls and you'll have nightmares for life. That's a proven fact.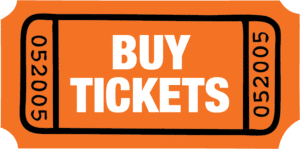 ---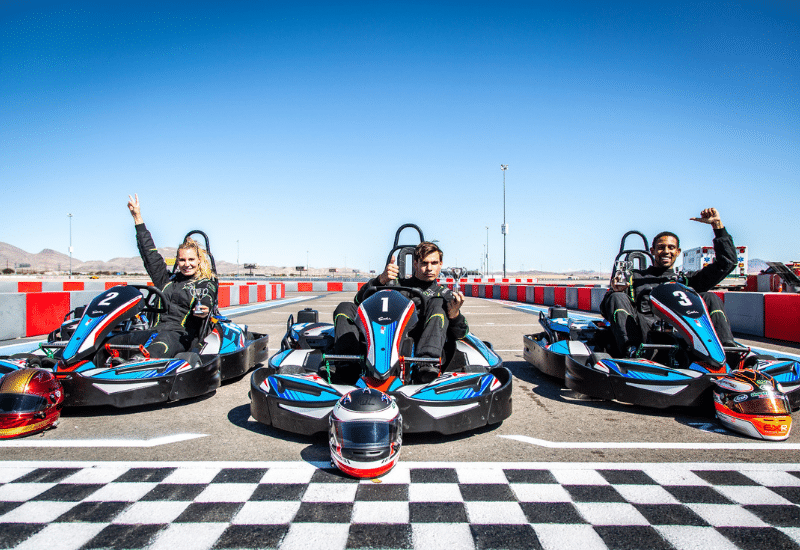 This isn't any old go-kart experience, this is Vegas Superkarts. Their Sodikart SR5s have 4-stroke Honda gas engines which will get you up to ridiculously impressive speeds. Race your friends on a 2,000-foot-long racetrack designed by pro racecar drivers.
Your need for speed will definitely be satisfied as you navigate terrifying hairpin turns, double apex corners, fast sweepers, and fast acceleration straightaways. This is a high-octane experience that will leave you exhilarated.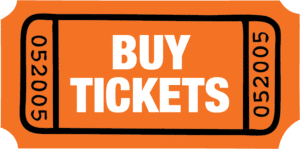 See all Las Vegas attractions HERE!