The 20 Best Selfie Spots and Photo Ops in Las Vegas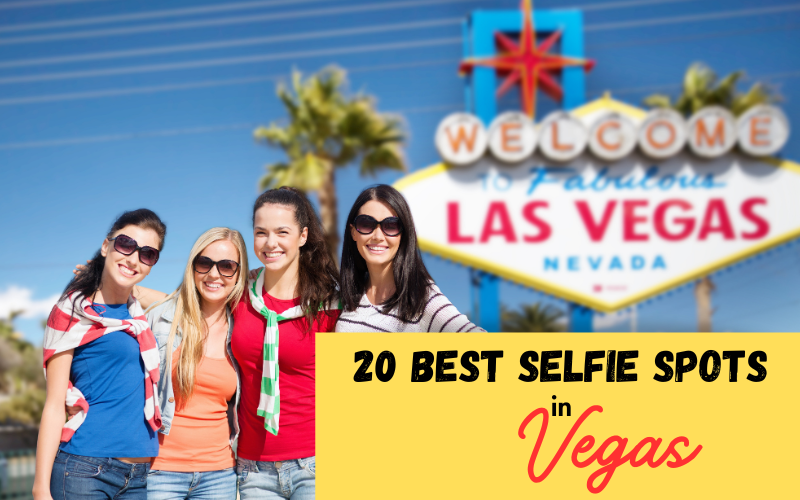 We may receive a commission if you make a purchase.
Las Vegas is one of those places where you can't help but take a million vacation photos. This city puts an emphasis on all things glamorous, glittery, and gorgeous, so naturally there are countless photo opportunities everywhere you turn. We've narrowed down the absolute can't-miss selfie spots in Vegas – those photo ops that you just have to show off on Instagram or no one would believe you. Here are the top 20 best photo opportunities in Vegas!
---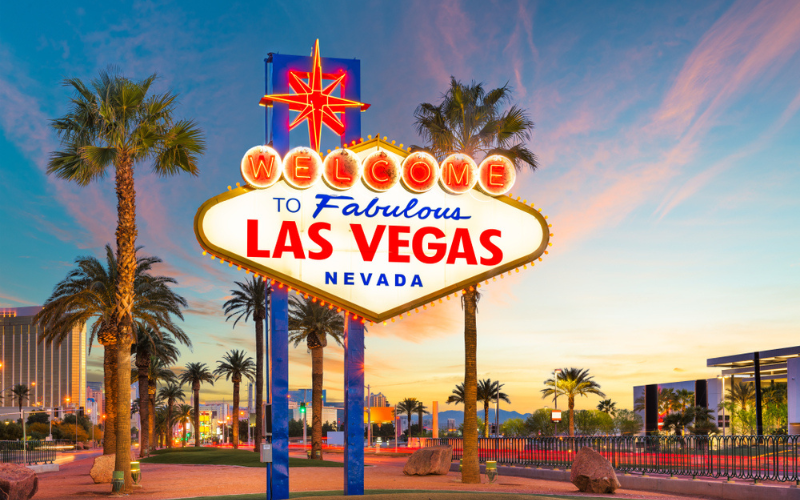 1. Welcome to Las Vegas Sign
Location: 5100 South Las Vegas Blvd

Number one on our list is an obvious choice: the world-famous sign that sits just south of the Las Vegas Strip and welcomes visitors to our fabulous city. The iconic Welcome to Las Vegas sign has been there since 1959, and since then it has attracted millions of visitors to take their picture in front of it. Hot tip: occasionally you'll find Elvis hanging around this sign, ready to jump in your pic!
---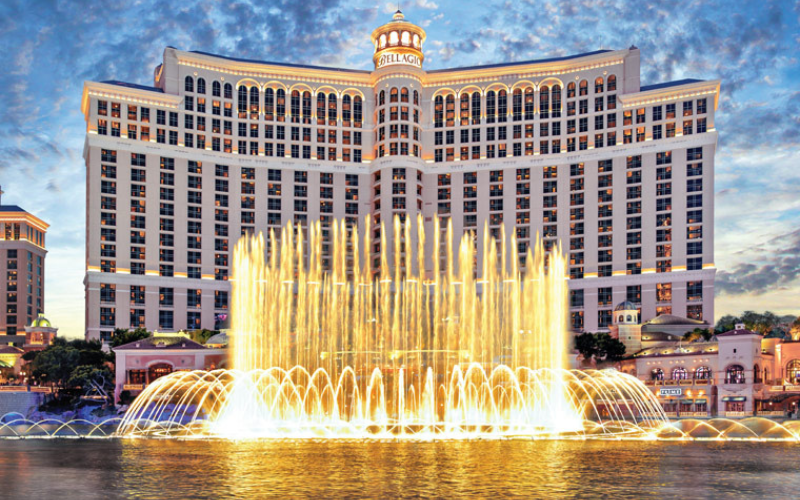 2. The Fountains of Bellagio
Location: 3600 South Las Vegas Blvd
This famous landmark has been featured in pretty much every movie or TV show where the characters go to Vegas. Located in front of the Bellagio, the Fountains of Bellagio go off every 15-30 minutes in a spectacular water show. Towers of water shoot up to 1,000 feet into the air and dance in synchronicity with famous songs like "Viva Las Vegas" and "Fly Me to the Moon". This all makes one heck of a photo backdrop, especially perfect for romantic couple's photo shoots.
---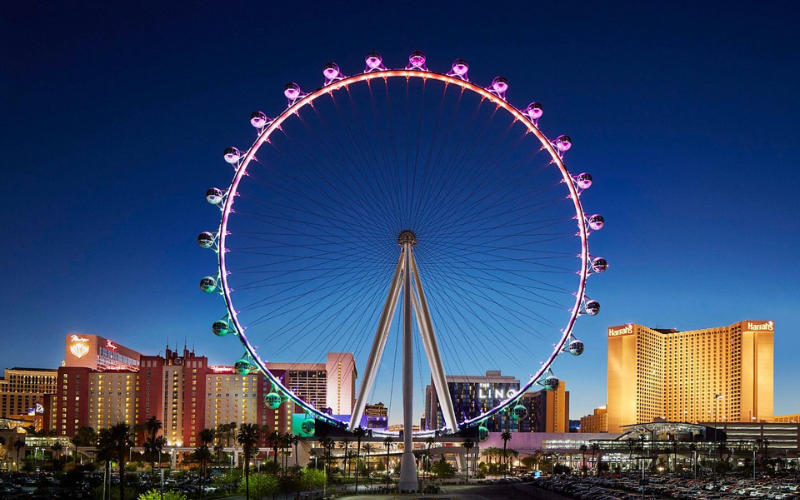 3. High Roller
Location: 3535 South Las Vegas Blvd
Located near The Linq hotel, the High Roller is the world's tallest observation wheel and an unforgettable part of the Las Vegas skyline. It looks especially cool at night when it lights up in neon colors. If you take a picture standing in the Linq Promenade, you can snap a really good selfie with the High Roller behind you. For an even more amazing photo opportunity, take a ride on it and look down on the Vegas Strip from 550 feet in the air.
---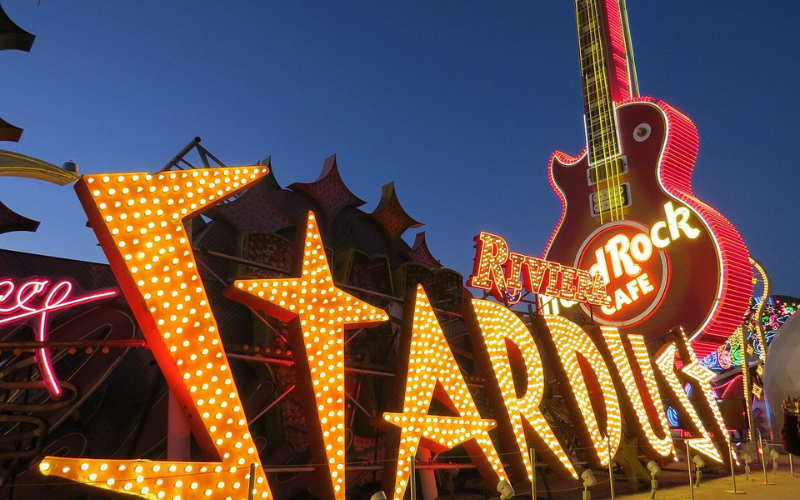 4. Neon Museum
Location: 770 North Las Vegas Blvd
The Neon Museum is located in Downtown Las Vegas and it's basically the heaven that all the Vegas neon signs go to when they die. The museum's outdoor Neon Boneyard contains over 200 unrestored vintage signs and even a collection of restored classic signs that light up at night. These gigantic glowing structures make the perfect backdrop for a retro Vegas photo shoot.
---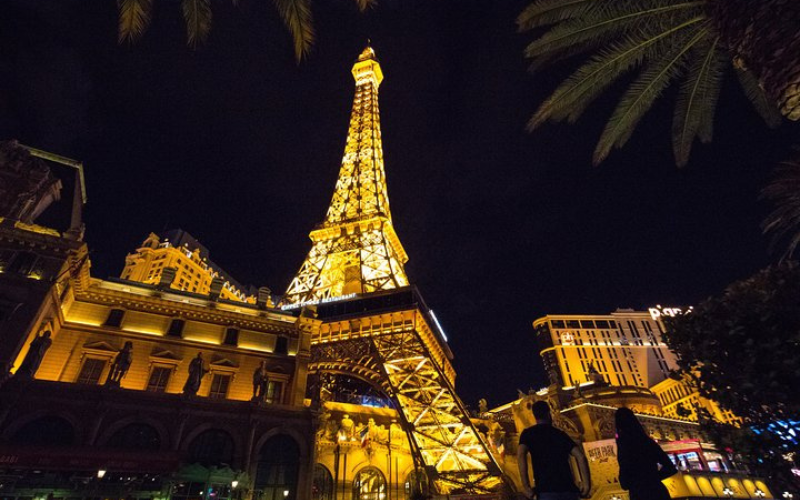 5. Eiffel Tower
Location: 3655 South Las Vegas Blvd
That's right, Las Vegas has its own Eiffel Tower – a half-scale replica of the famous French landmark located right in the heart of the Vegas Strip at Paris Las Vegas Resort. It makes a romantic backdrop for couples' selfies, and (like almost everything in Vegas) it lights up after dark. Head up to the Eiffel Tower Viewing Deck where you can capture a stunning shot of Las Vegas from high above.
---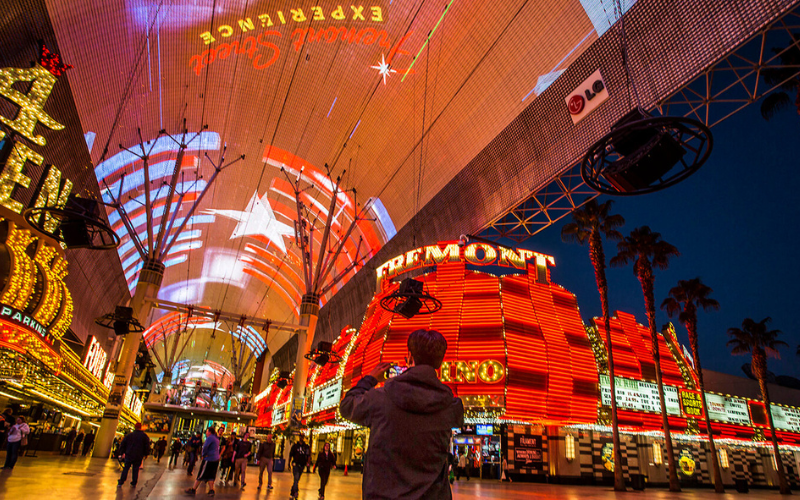 6. Fremont Street Experience
Location: 425 East Fremont St
Fremont Street Experience in Downtown Las Vegas is a visual overload of vintage Vegas glamour. Look around you and you'll see the flashing neon signs of some of the original Vegas casinos. Look up and you'll see spectacular light shows on the world's largest LED screen. No matter where you look on Fremont Street, you'll find an amazing photo just waiting to be taken. You can also find Vegas showgirls here that you can take a picture with.
---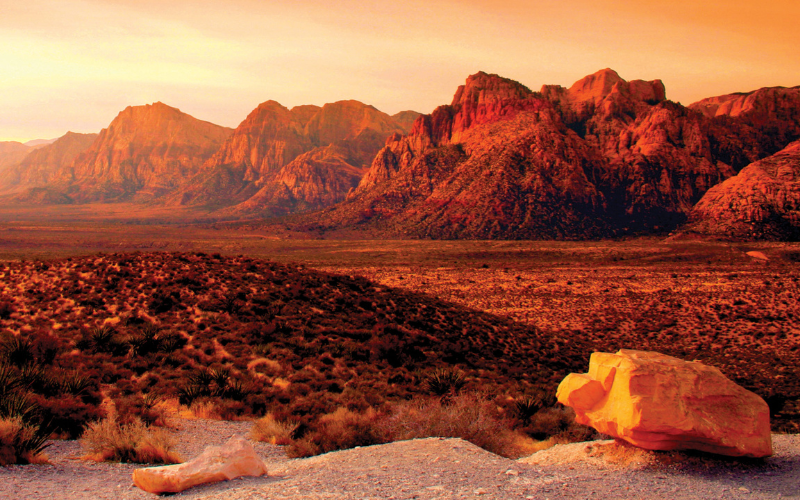 7. Red Rock
Location: 20 minutes drive west of the Las Vegas Strip.
If you've got a rental car during your Vegas visit, it's well worth driving west of the Strip for 20 minutes. All of a sudden, the suburban houses end and you find yourself in a breathtaking desert landscape. Red Rock Canyon is a natural wonderland of giant copper-red mountains and desert flora and fauna. This place is truly a sight to behold and a gorgeous photo shoot location.
---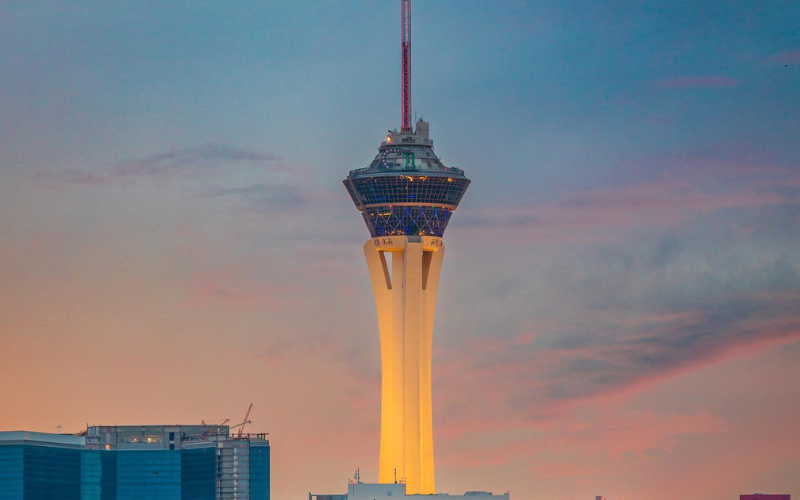 8. The STRAT Skypod
Location: 2000 South Las Vegas Blvd
The Stratosphere Tower, also known as The STRAT, is another iconic part of the Las Vegas skyline. On the 108th floor of the tallest freestanding observation tower in the US, you'll find the Skypod Observation Deck, where you can capture a sweeping view of the whole city of Las Vegas that will blow you away. At night, the sparkling lights of Sin City below you are simply beautiful.
---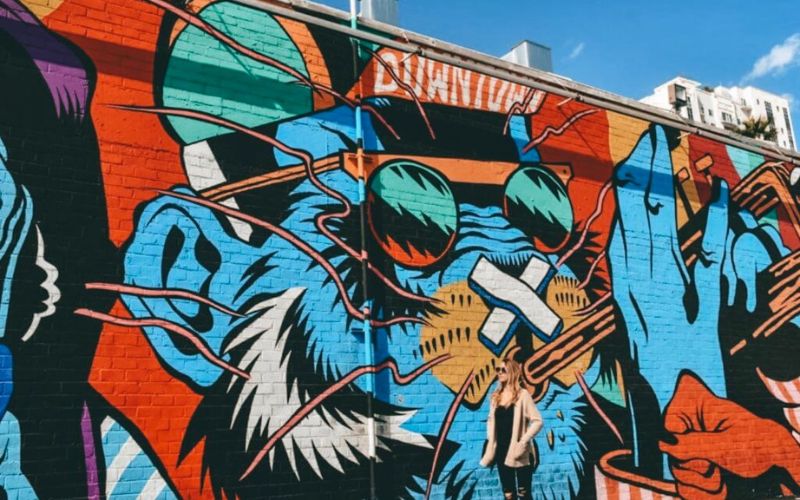 9. Downtown Las Vegas Murals
Location: Downtown Las Vegas
In recent years, Downtown Vegas has undergone a renaissance. The historic area has been reinvented and revitalized, and as part of that process, beautiful wall murals have been popping up all over Downtown. It's well worth the 10-minute Uber ride from the Strip to explore Downtown Las Vegas and take photos of these incredibly creative pieces of art. This guide shares the exact locations of the coolest murals.
---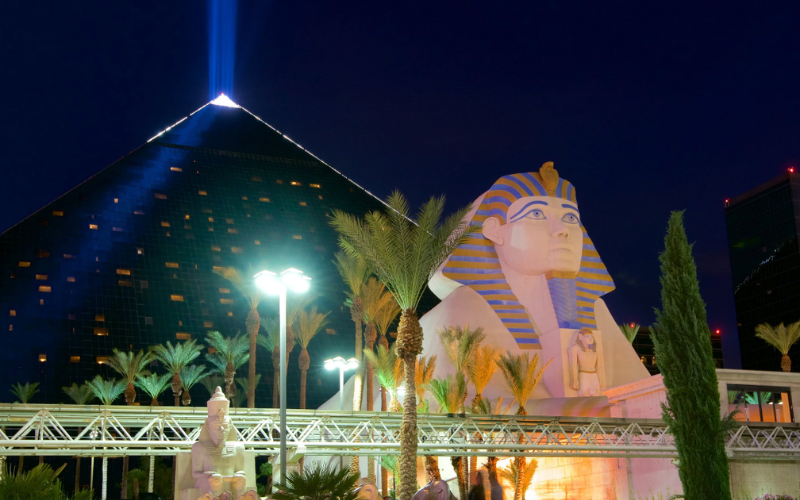 10. The Luxor Sphinx
Location: 3900 South Las Vegas Blvd
Another world-famous landmark in Las Vegas is the Luxor. You know, that giant black pyramid with the beam of light coming out of it that you can see from outer space? That one. Standing beside the pyramid you'll find a replica of the Egyptian sphinx, which makes a really cool selfie background. Snap a selfie on the walkway that leads to the hotel entrance and you can capture both the pyramid and the sphinx in your shot.
---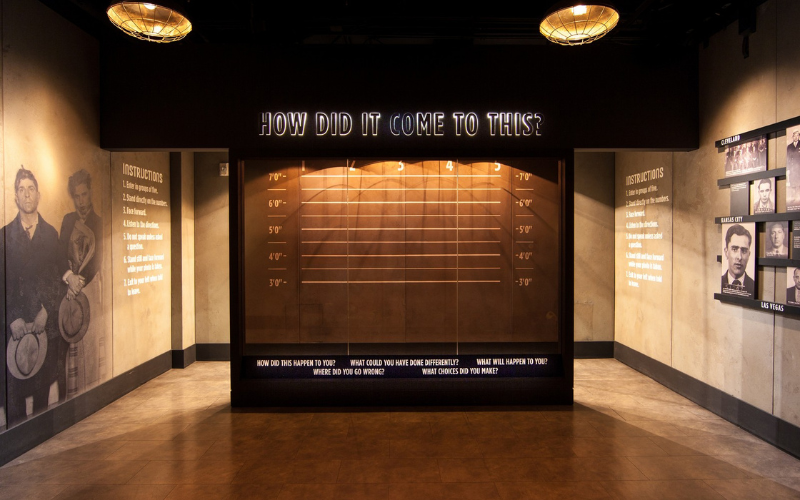 11. The Mob Museum
Location: 300 Stewart Ave
Another can't-miss photo opportunity in Downtown Vegas is The Mob Museum. This fascinating museum tells the story of the not-so-legal activities going on in the early days of Vegas. When you enter the museum, you'll be escorted into a lineup area where a professional photographer will take a lineup photo of you and your friends. It costs money to get your copy of this photo, but it's a pretty awesome souvenir of your time in Vegas.
---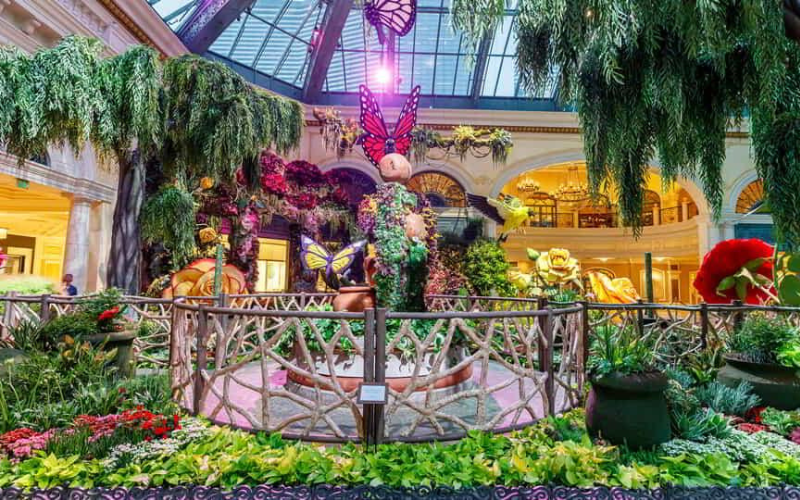 12. Bellagio Conservatory
Location: 3600 South Las Vegas Blvd
While you're taking photos by the Bellagio Fountains, be sure to stop in here and take a break from the desert heat. The gorgeous botanical gardens at Bellagio change every season of the year (spring, summer, fall, and winter) with impressive new displays of plants, flowers, and sculptures inspired by Mother Nature. The Bellagio Conservatory is 14,000 square feet of beauty you can wander in and take stunning photos of.
---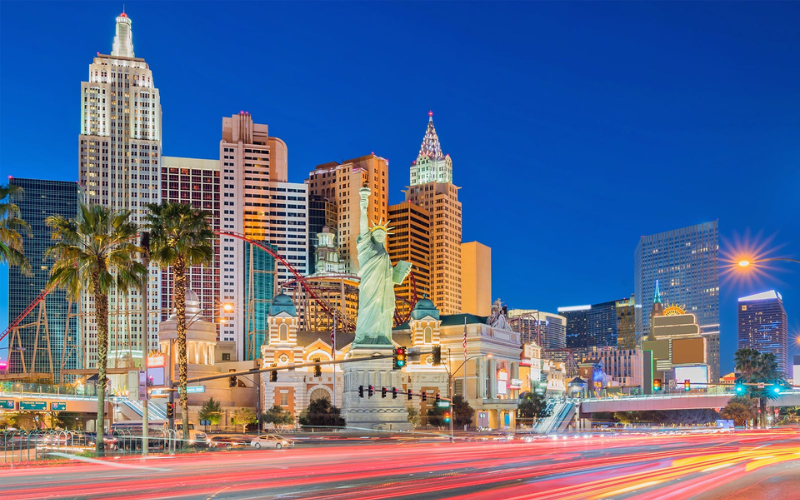 13. New York-New York
Location: 3790 South Las Vegas Blvd
When you visit Las Vegas, it's like traveling the world in one city. New York-New York Hotel & Casino is another example of this, with a façade that features a scaled-down Statue of Liberty and Empire State Building. Inside the hotel, you can wander through make-believe New York streets that make you feel like you're in Greenwich Village. Be sure to stop and get a slice of New York-style pizza while you're there!
---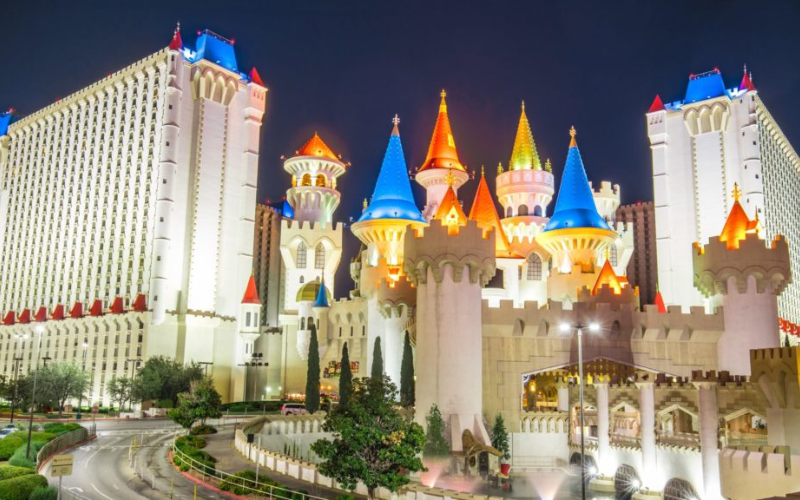 14. Excalibur
Location: 3850 South Las Vegas Blvd
Just across the road from New York-New York stands a gigantic fairytale castle that looks like something straight out of a storybook. This is Excalibur, a medieval-themed hotel and casino that makes a great selfie backdrop for anyone who wants to look like royalty. Go to the dinner and show extravaganza Tournament of Kings and you might even get an opportunity to have your photo taken with a medieval knight in shining armor!
---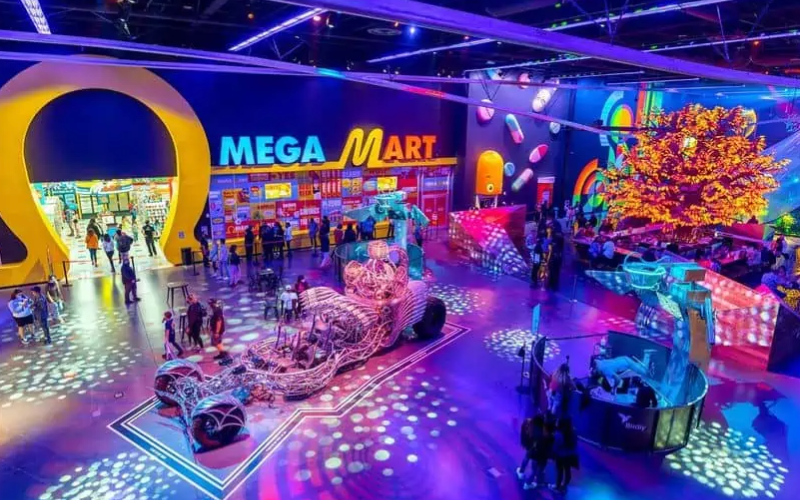 15. AREA15
Location: 3215 South Rancho Dr
AREA15 is a psychedelic wonderland of visual experiences, with a million different photo ops in one place. Shop at a grocery store from another dimension at Omega Mart, wander through infinity rooms and glow-in-the-dark exhibits at Wink World, or explore the depths of space at Illuminarium.
---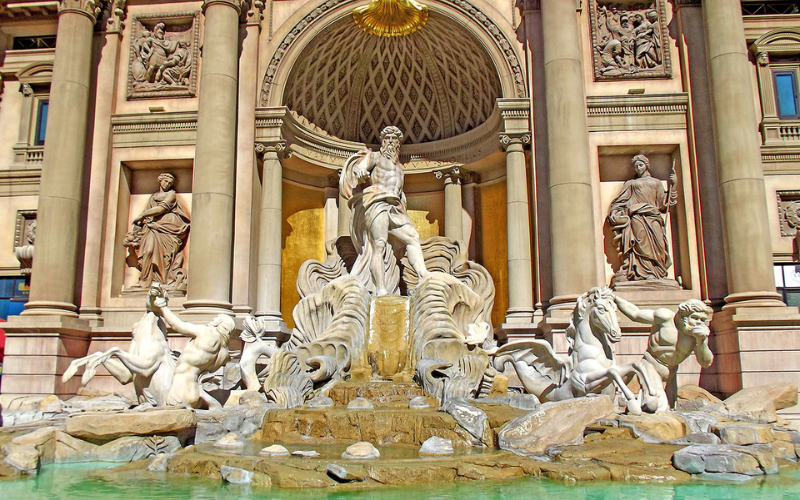 16. Trevi Fountain
Location: 3570 South Las Vegas Blvd
The expansive Roman-themed resort Caesars Palace is so extravagant, you won't believe your eyes. The Forum Shops is the resort's shopping district with marble everything, fountains, Roman columns, and a ceiling painted like the sky. Their version of Rome's famous Trevi Fountain is a favorite selfie spot for many Las Vegas visitors.
---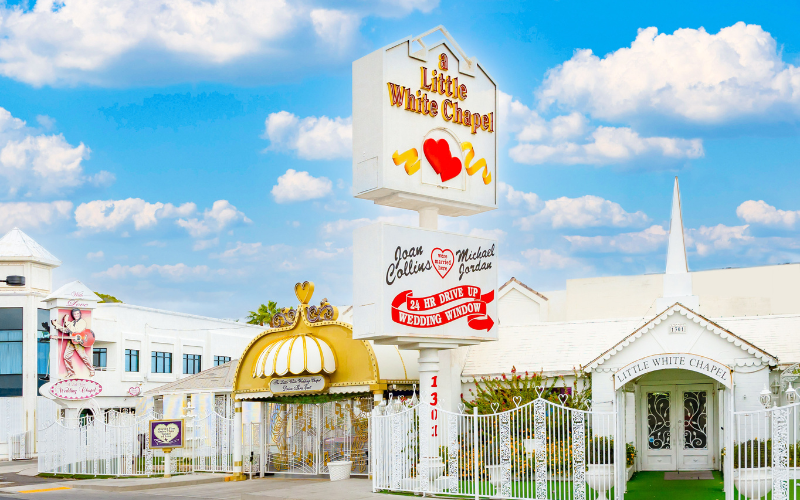 17. Little White Wedding Chapel
Location: 1301 South Las Vegas Blvd
What could be more Vegas than getting married in a drive-thru wedding chapel? Oh yeah, getting married by Elvis himself. The Little White Wedding Chapel is a slice straight out of kitsch Las Vegas history that makes all of this happen. It's worth stopping by here for a retro-inspired selfie you couldn't get anywhere else in the world.
---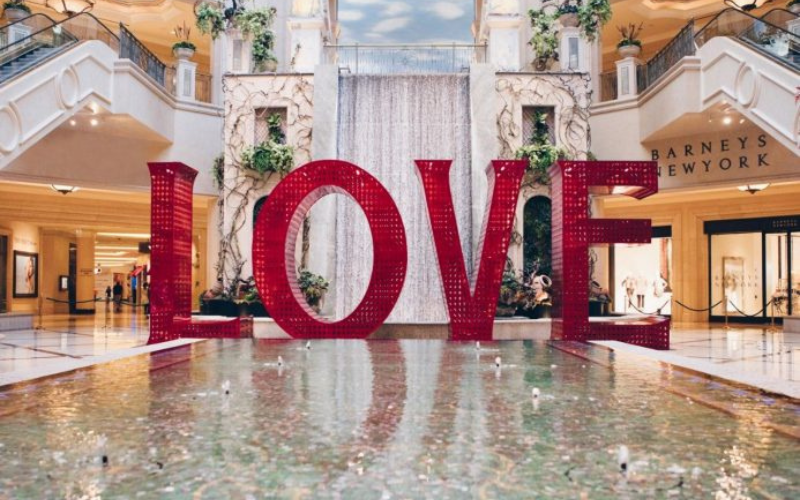 18. The "Love" Installation at The Venetian
Location: 3355 South Las Vegas Blvd
The Venetian Resort has lots of unique photo opportunities to discover, including riding in a gondola on their Grand Canal, and their huge Italian Renaissance entry hall. Inside the resort's atrium, you'll find another romantic selfie spot for couples: an enormous red sign that just says "love", set against a beautiful waterfall and Italian-inspired fountain. Take your selfie here with someone you love!
---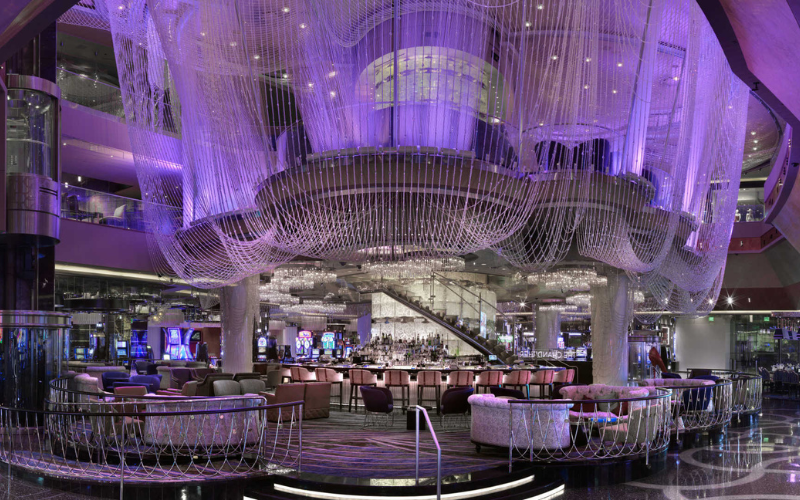 19. The Cosmo's Chandelier
Location: 3708 South Las Vegas Blvd
Inside the chic and trendy Cosmopolitan Hotel, you'll find a big chandelier. We mean REALLY big, like 2 stories high. Order a fancy cocktail at The Chandelier bar and take your photo with this glamorous, glittery backdrop!
---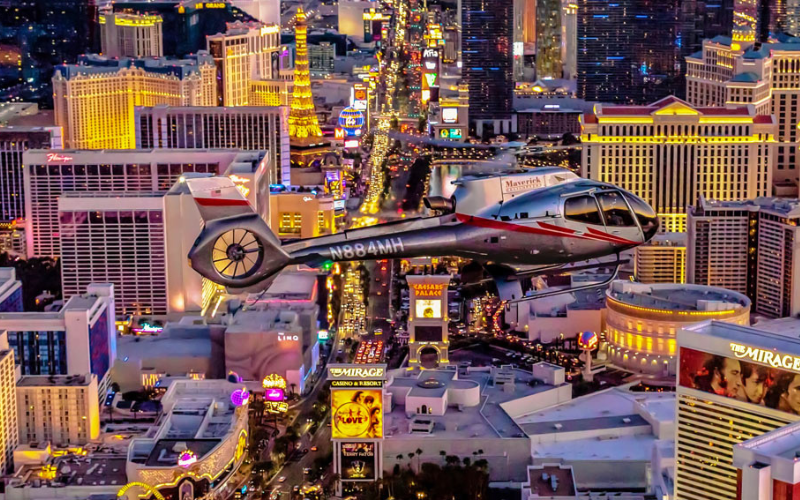 20. Helicopter Tour
Location: High above the Las Vegas Strip
If you want to take absolutely stunning photos of the bright lights of Las Vegas, take a helicopter tour at night. This exciting helicopter tour picks you up from your hotel in a luxury limo (a classic Vegas photo opportunity in its own right) and flies you over the Strip, giving you an unparalleled aerial view of the famous landmarks and neon signs below.