Our Top 10 Best Bowling Alleys in Las Vegas 2023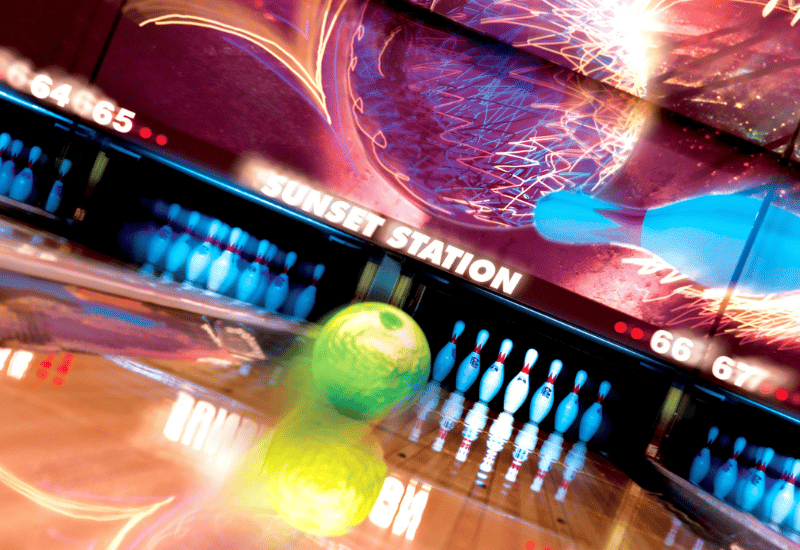 We may receive a commission if you make a purchase.
Looking for something fun to do in Vegas? Whether you're a Vegas local or a visitor, bowling is the perfect idea for a fun night out with friends or family. We've put together this list of our top 10 favorite bowling alleys in Las Vegas, so you can get your strike on!
---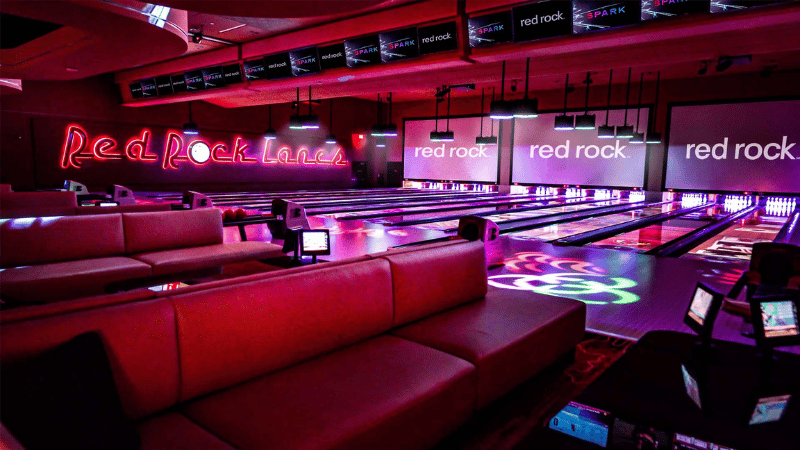 First on our top 10 list is Red Rock Lanes, located at Red Rock Resort, just a 20 minute drive from the Las Vegas Strip. This impressive bowling center features 72 lanes and offers a distinctly luxurious atmosphere. The stylish bar is perfect for socializing before or after a game, and the snack bar serves pizza, hot dogs and more.
Red Rock Lanes hosts Cosmic Bowling every night of the week – think glowing lanes, upbeat music and energizing vibes. For the ultimate luxury bowling experience, VIP bowling suites give you and your group a private set of lanes to enjoy. When you book a VIP suite, you can customize everything from the music to the catering menu.
Address: 11011 W Charleston Blvd, Las Vegas, NV 89135
Phone: 702-797-7777
Hours: Sun – Thurs 9am – 12am; Fri & Sat 9am – 2am
---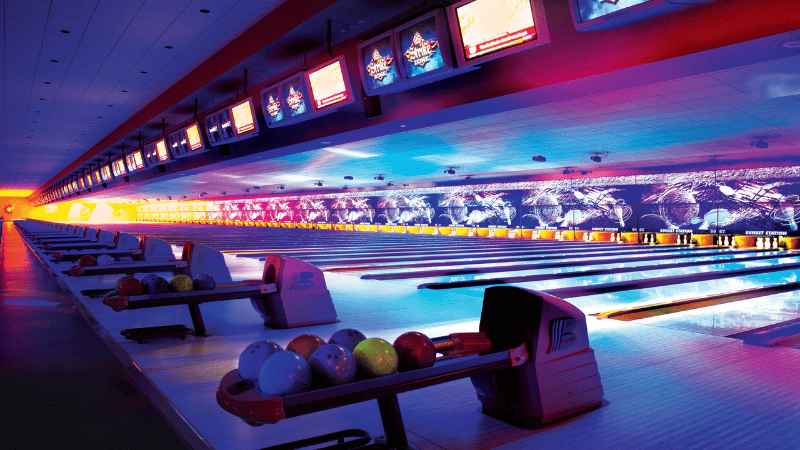 The largest bowling center in Las Vegas is Strike Zone, located at Sunset Station in Henderson, just 20 minutes from the Strip. With 77,000 square feet of fun and 72 lanes, this bowling alley features an exciting arcade, pool tables, and a full-service bar.
On weekend nights, Strike Zone gets lit with Cosmic Bowling: black lights, video screens and pumping music turn the whole place into one big party. If you're celebrating a special occasion with a group, there are awesome packages you can book that include 2 hours of bowling, shoe rental, and pizza from the snack bar.
Address: 1301 W Sunset Rd, Henderson, NV 89014
Phone: 702-547-7777
Hours: Sun – Thurs 10am – 12am; Fri & Sat 10am – 2am
---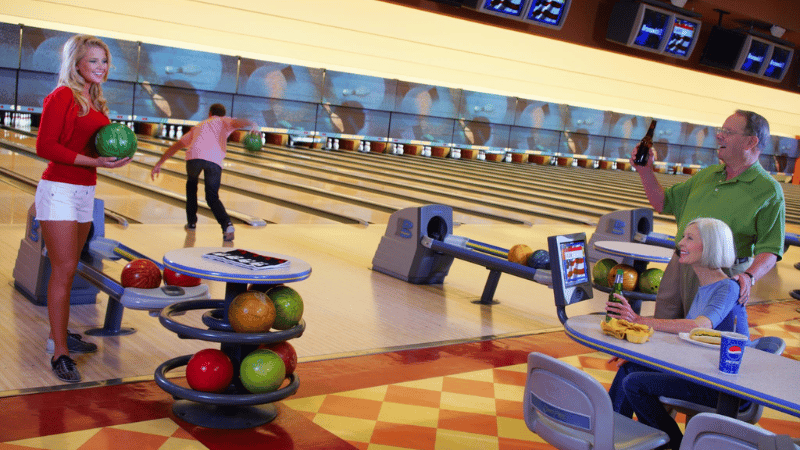 This state-of-the-art bowling center hosts the USBC national championships each year, so you know it's an awesome spot to bowl. Located at South Point Hotel & Casino, just 10 minutes from the Strip, South Point Bowling Center has 64 Brunswick lanes with LED scoring screens that make it easy to keep track of who's winning. Whether you're a serious player or just coming for a fun night out, this bowling alley is one of the best in Vegas.
The full-service bar with slot machines is a great place up to meet before the game, and there's an awesome entertainment arcade with the latest video games. If you're playing an early morning game you can wake up with a Starbucks coffee and Krispy Kreme donuts at the coffee shop, and at night the snack bar serves whole pizzas, perfect for sharing with friends while you bowl.
Address: 9777 Las Vegas Blvd S, Las Vegas, NV 89183
Phone: 702-797-8080
Hours: Mon – Sun 7am – 2am
---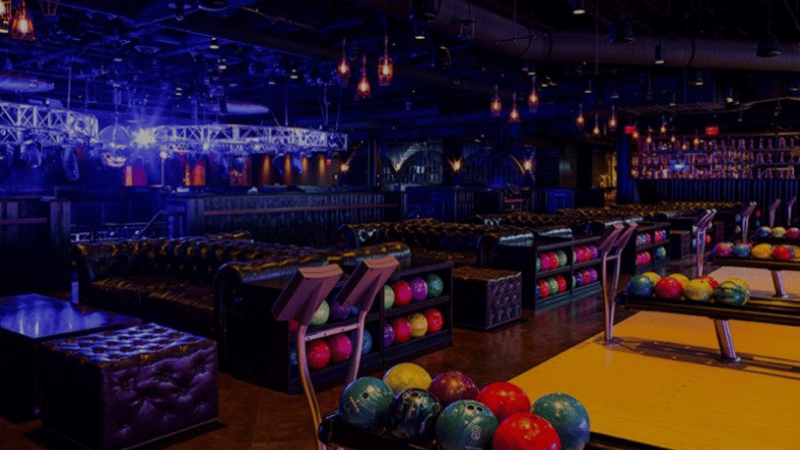 If you like your bowling with some rock 'n' roll thrown into the mix, Brooklyn Bowl is the place for you. Located at the Linq Street Promenade right on the strip, this bowling alley doubles as a concert venue where you can catch some of the best bands in the country. Throw some strikes on one of the 32 hardwood Brunswick lanes and relax in a luxurious leather chesterfield sofa between turns.
Rolling Stone calls Brooklyn Bowl "one of the most incredible places on earth", and we agree! Grab a drink at one of the 6 bars and watch the concert from the best seats in the house in the bowler's lounge. The food is an elevated experience here, with a critically acclaimed menu by the famous Blue Ribbon of New York City.
Address: 3545 S Las Vegas Blvd, Las Vegas, NV 89109
Phone: 702-862-2695
Hours: Mon – Sun 5pm – 1am
---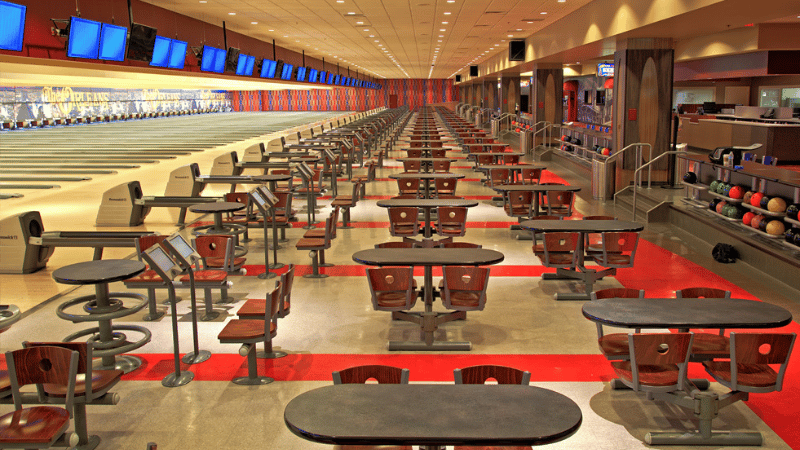 Located at The Orleans Hotel & Casino, this family-friendly bowling center is a fun alternative to the hustle and bustle of the Strip, while being only a 5 minute drive away. The Orleans Bowling Center is a favorite of locals, voted the Best Las Vegas Bowling Alley by readers of the Las Vegas Review Journal. With 52 well-kept lanes, this awesome bowling spot is rarely crowded.
Orleans Bowling Center is open late every night, making it a perfect activity for groups of friends after a night out on the town. The pricing here is unbeatable, at only $4 per person. The bowling center features an exciting arcade, full-service bar, and yummy snack bar serving pizza and wings.
Address: 4500 W Tropicana Ave, Las Vegas, NV 89103
Phone: 702-365-7400
Hours: Mon – Sun 9am – 2am
---
Another favorite bowling alley among Las Vegas locals is Gold Coast Bowling Center, located just a 5 minute drive West of the Strip at Gold Coast Hotel and Casino. This 70-lane bowling alley has state-of-the-art equipment and automatic scoring. It's never too crowded, so it's rare to have to wait for a lane.
At $4 per person, bowling here is a fun night out in Vegas without spending an arm and a leg. Exceptionally friendly staff are always there to help. The lanes have optional bumpers, perfect for kids or those in your group who haven't bowled before. Order a pitcher of beer and a pizza from the snack bar, or play the newest games in the video arcade.
Address: 4000 W Flamingo Rd, Las Vegas, NV 89103
Phone: 702-367-4700
Hours: Sun – Thurs 12pm – 12am; Fri & Sat 12pm – 1am
---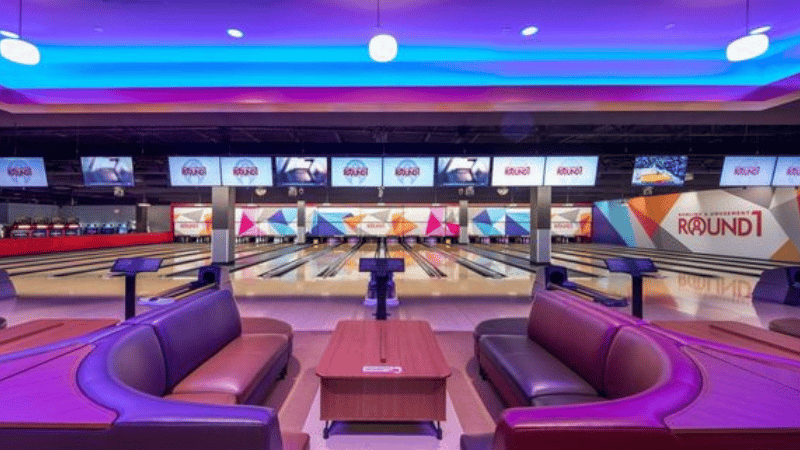 Located just a 15 minute drive from the Las Vegas Strip, this exciting bowling alley is a great day out for families with kids. In addition to bowling, Round 1 Bowling & Amusement has lots of other activities that can keep you and your group entertained for hours on end.
Rent a private karaoke room with your friends and sing your hearts out, or play billiards on professional-grade pool tables. The game arcade is a real highlight of Round 1, featuring the newest video games including exclusive games imported directly from Japan. Collect points on your game card and trade them for exciting prizes in the rewards store.
You'll want to play all day (or until late at night) at Round 1. The snack bar has delicious pizza, burgers, wings, and even $1 ice cream cones!
Address: 4300 Meadows Ln, Las Vegas, NV 89107, USA
Phone: 702-956-6333
Hours: Mon – Sun 10am – 2am
---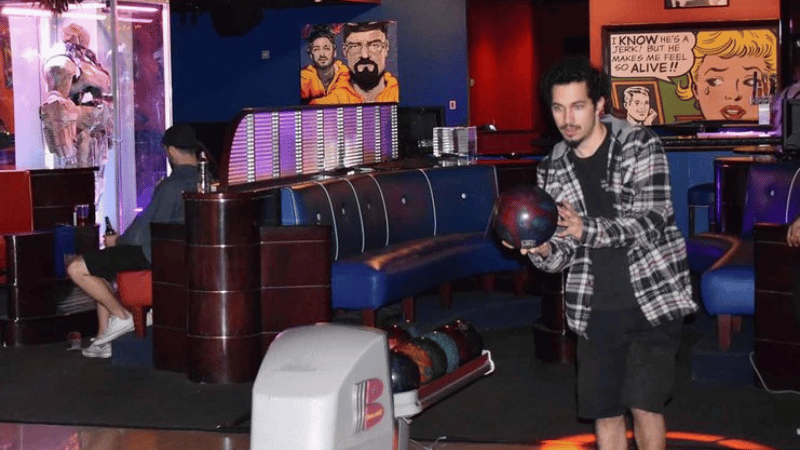 Located on the vibrant Fremont Street Experience in Downtown Las Vegas, The Nerd is a truly one-of-a-kind bar – describing themselves as a video game bar with a cosplay theme. This is a quirky place where you can enjoy a cocktail and explore themed areas, each with their own unique games.
And yes, bowling is one of the games on offer at The Nerd. You and your friends can rent a VIP booth and bowling lane for an hour for just $15, which equals out to be a lot of fun for a very low cost.
Address: 450 E Fremont St Suite #250, Las Vegas, NV 89101
Phone: 702-575-8486
Hours: Mon – Sun 2pm – 3am
---
This state-of-the-art bowling center at Suncoast Hotel and Casino has won the "Best of Vegas" readers' poll of the Las Vegas Review Journal 3 times. Suncoast Bowling Center, located just a 16 minute drive from the Strip, features 64 lanes, a cocktail lounge with slot machines, a tasty snack bar, and a video game arcade.
On Friday and Saturday nights they have Cosmic Bowling, where the whole bowling alley becomes like a disco party. Suncoast Bowling Center offers group packages that include lane rental, pizza, soft drinks, and arcade credits.
Address: 9090 Alta Dr, Las Vegas, NV 89145
Phone: 702-636-7400
Hours: Sun – Thurs 9am – 12am; Fri & Sat 9am – 1am
---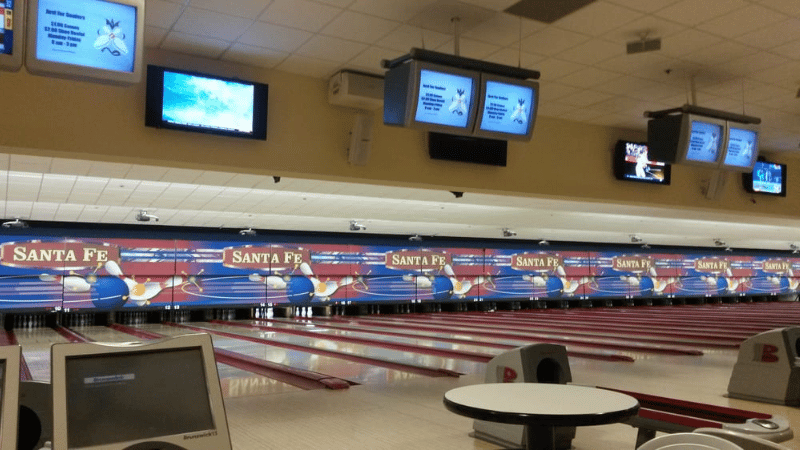 Located in Northwest Las Vegas at Santa Fe Station, only 15 minutes from the Strip, this awesome bowling alley features 60 Brunswick lanes and a delicious snack bar serving pizza, wings, and beverages. On Friday and Saturday nights, Cosmic Bowling turns up the black lights and pop music to create a party atmosphere.
Bowling with a group of friends? Be sure to look into Santa Fe Lanes' exciting party packages. You can customize your bowling party with inclusions like a private party room, candy buffet, or even a taco bar with all the fixings.
Address: 4949 N Rancho Dr, Las Vegas, NV 89130
Phone: 702-658-4910
Hours: Sun – Thurs 9am – 12am; Fri & Sat 9am – 1am