The Ultimate Las Vegas Souvenir Guide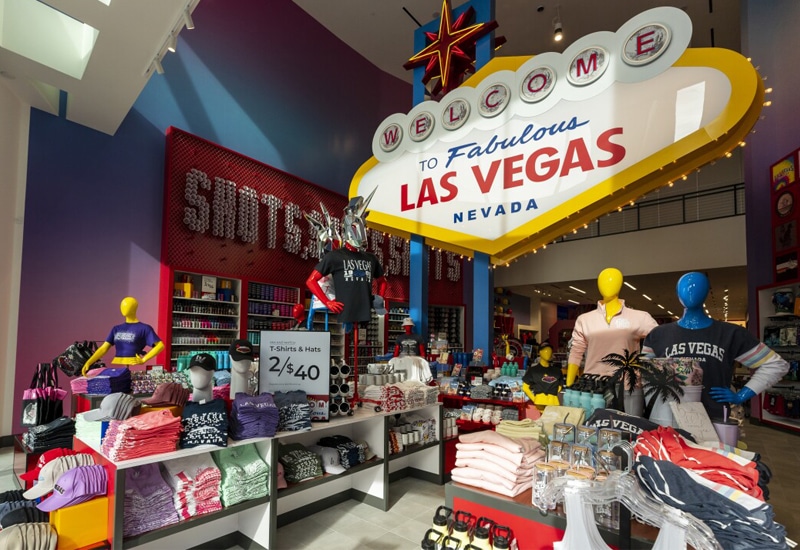 We may receive a commission if you make a purchase.
What happens in Vegas stays in Vegas…except for the souvenirs! It's a rite of passage to bring home a luggage full of gifts for everyone on your list who is patiently waiting to hear all about your exciting time in Sin City.
Vegas has tons of souvenir shops dedicated to general Las Vegas memorabilia, and others catering to the various attractions and activities you can do around town. This guide will give you all the best places to get souvenirs, the different types of gifts to expect in the shops, and even tips on how to get them back home.
Get your shopping lists ready because you'll check off everyone—and find a few fun items for your own keepsake.
---
Best Souvenir Shops in Las Vegas
Everywhere you look, there's always a shop selling souvenirs. However, there are tons of differences that determine the best places to shop. Souvenirs range in quality, price, and officially licensed products. If you're looking for places to get something that will last, here are a few of our recommended places to pick up gifts:
1. Welcome to Las Vegas Shop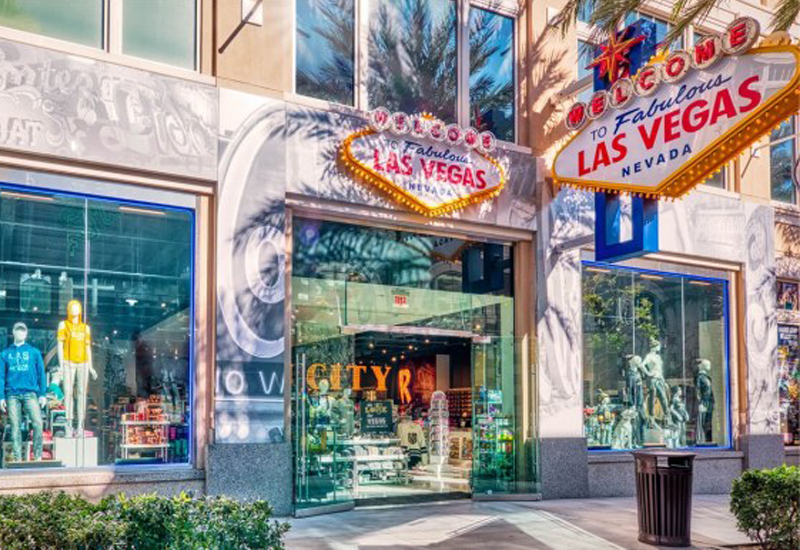 Address: 3545 S Las Vegas Blvd, Las Vegas, NV 89109
Located on the LINQ promenade, this shop features everything in Las Vegas, from gifts to clothing and more.
2. Bonanza Gifts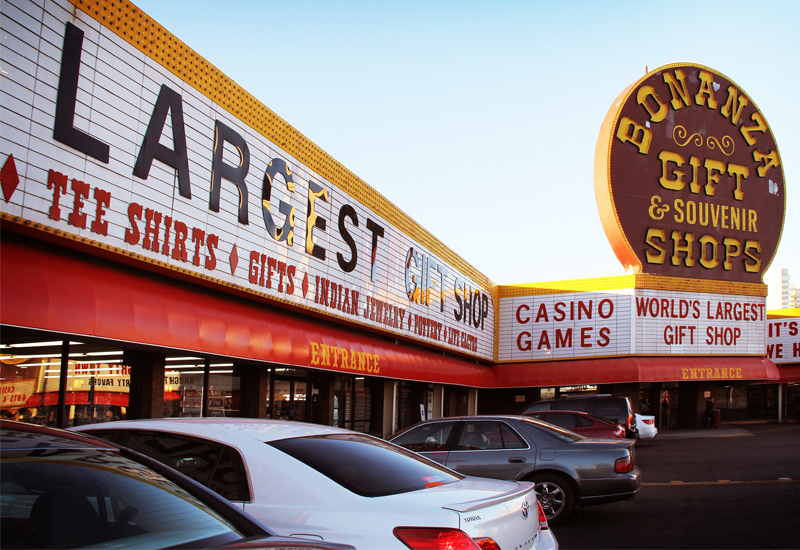 Address: 2400 S Las Vegas Blvd, Las Vegas, NV 89104
This massive souvenir shop covers more than 45,000 square feet and bills itself as the largest in the world! It has gifts as low as 99 cents, and plenty of specials when you buy multiple items, like t-shirts. You can also can get free gifts with a minimum spending amount. The shop is located right on the Strip near the SAHARA Las Vegas and The STRAT.
3. Official Las Vegas Welcome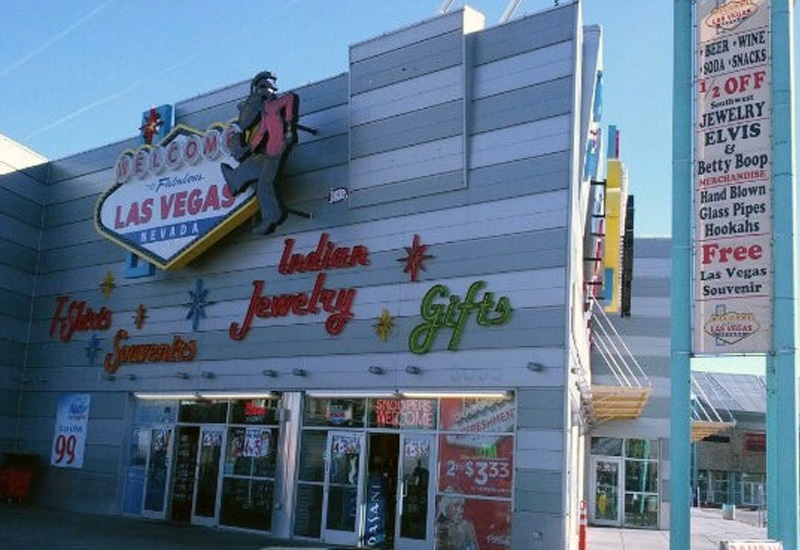 Address: 3055 S Las Vegas Blvd, Las Vegas, NV 89109
One of the best deal spots for general Las Vegas merchandise with tons of 10 for $10 keychains, 4 for $10 tees, and even drink specials. It's part of the Gold Key Shops strip mall located near Wynn Las Vegas and Trump International Hotel.
4. Welcome to Las Vegas Gift Shop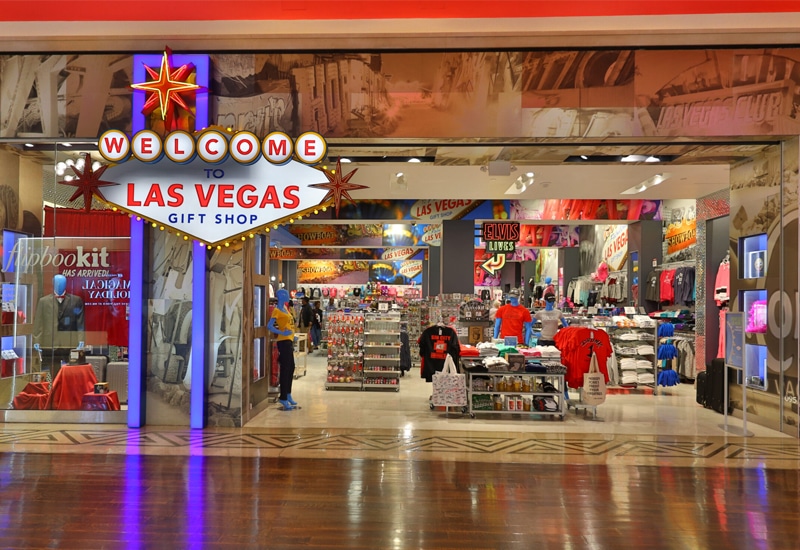 Address: 3663 Las Vegas Blvd S, Las Vegas, NV 89109
Part of the massive 1.2-mile-long Miracle Mile Shops inside Planet Hollywood. This shop sells everything Las Vegas, with gifts for men, women, kids, and even gifts to enjoy while still hanging out in Sin City.
5. Strip Hotel Shops
Did you know that many of the signature hotels on the strip feature onsite souvenir shops? It saves the hassle of lugging a bag full of gifts in the Vegas heat. You can often just go right downstairs from your hotel room and load up on the best gifts. You can find great souvenir shops at:
Many of these shops sell their own hotel-branded merchandise, but you can also find general Las Vegas gifts inside.
6. Specialty Shops
With all the venues and attractions you'll visit to give yourself a memorable vacation, don't forget to stop by each specialty souvenir shop for a piece of your favorite activity to take with you. Here are a few of our favorite specialty shops:
Sky Shop – souvenir shop for the High Roller
Allegiant Stadium Shop – sells officially licensed Las Vegas Raiders gear, including jerseys
The Arsenal Pro Shop – sells officially licensed gear for the Golden Knights hockey team
7. ABC Stores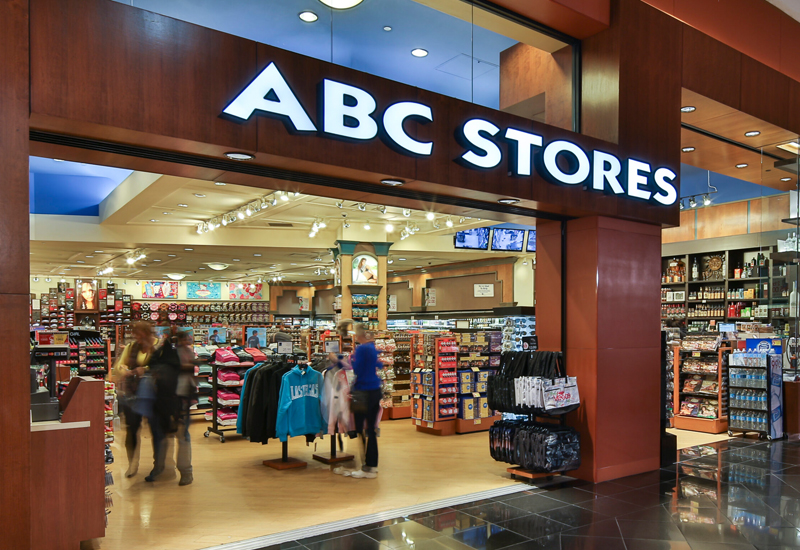 ABC Stores is a convenience chain with multiple locations on the Strip, Downtown Las Vegas, and more. It is an excellent place for novelty gifts, food, and other Vegas-themed items.
8. Airport Shops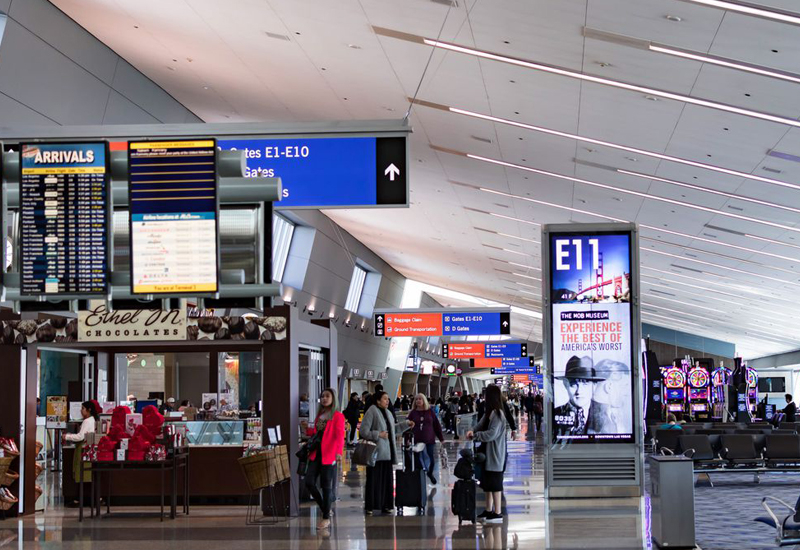 Still need to pick up last-minute gifts before your flight? The Harry Reid International Airport (LAS) has several convenience stops located throughout the terminals where you can get gifts. While the prices aren't as good as you'll find on the Strip, you can still get many of the same items.
---
Best Souvenirs to Buy in Las Vegas
With the scale of many of these souvenir stores, it's easy to get lost in them. You'll typically see signs posted everywhere displaying unbeatable deals with lights and sounds from certain items, and endless racks of clothing to comb through looking for the perfect gift.
Here's a list of popular souvenirs you can find almost anywhere that make great choices for your Vegas trip:
Clothing – Vegas themed t-shirts, hoodies, hats
Magnets
Drink accessories – Shot glasses, cups, drink warmers
Table toppers – Snow globes, decorated plates, etc.
Food – Vegas related snacks
Keychains – Vegas-themed ones, keychains with your name
Plush toys
Car accessories – Vegas-themed License plates
Gaming – Cards, dice, poker chips, gambling books
Vegas posters
For the best deals, look for specials on buying multiple items (2 for $10, 10 for $10, etc.) Many shops carry similar products, so if you can't find a good deal in one, try shopping around at a nearby shop.
---
Tips for Getting Your Souvenirs Home
Finding souvenirs in Las Vegas is the easy part. It's getting them home that's often the challenging part, especially if you need to take an airplane back home. It's hard to estimate how many souvenirs you'll end up with from your trip, especially if you come across a good deal.
Keep these tips handy, and you won't have to leave anything behind when it's time to go:
If you anticipate buying lots of souvenirs for family and friends, leave some extra room in your luggage when packing for your trip to Vegas. With efficient packing techniques, like rolling up t-shirts or putting items in your extra pair of shoes, you can maximize your available space. You can also consider bringing an extra empty suitcase just for souvenirs.
We know it's hard to resist buying those oversized playing cards, or the unbeatable deal for a set of three large chocolate boxes. However, if you're limited on space, you might end up having to discard them, or paying extra for overweight bags.
If you brought enough souvenirs to open up your own Las Vegas gift shop back home, you may have to consider shipping them back if you run out of space in your luggage. You can always find a United States Postal Service, or UPS store conveniently located on your way to the airport from the Strip. It may be cheaper to ship items than paying extra at check-in for that extra bag full of souvenirs.
If you live close enough, such as in Los Angeles, Reno, or Utah a road trip to Las Vegas is ideal for transporting your souvenirs back home. Your car will have plenty of space to fit everything.