Virgin Hotels Las Vegas: An Exciting Look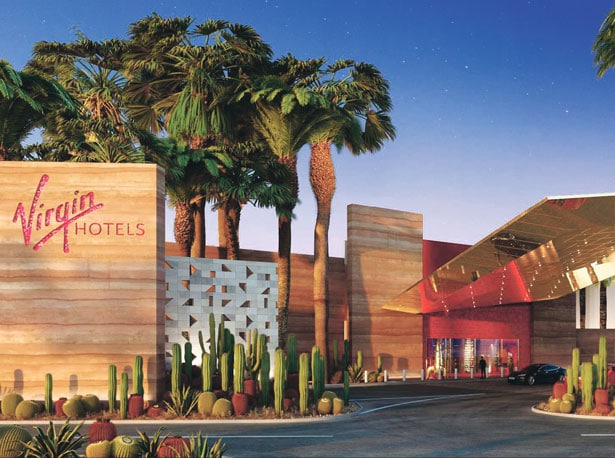 We may receive a commission if you make a purchase.
Virgin Hotels Las Vegas is one of the newest Vegas hotels. Sir Richard Branson's innovative Virgin Group does everything with extravagant style, and this modern desert oasis is expected to hold to that tradition. Combining gorgeous design with a personalized and seamless hotel experience, this casino resort will change the game when it comes to visiting Vegas. In this article, we take a look at Virgin Hotels Las Vegas and what it has to offer.
An Introduction to Virgin Hotels Las Vegas
Located just east of the Strip in Paradise, Nevada, Virgin Hotels Las Vegas is the result of a partnership with Hilton and a $200 million renovation of what was formerly the Hard Rock Hotel. Just a 5 minute uber ride will get you to the heart of the action on the Las Vegas Strip, making it a prime location for experiencing the city while giving you a lush retreat to return to. With approximately 1,500 rooms, this will be Virgin Hotels' largest property to date, but compared to many other resorts in Vegas it's considered more boutique in size.

Virgin Hotels Las Vegas aims to redefine and re-conceptualize Las Vegas casino resorts by interweaving their "passion for food and beverage with music and culture". The lively, ultra-hip atmosphere of this resort is perfect for travelers who have enjoyed staying at The Cosmopolitan or Delano. The 60,000 square foot casino on site, Mohegan Sun Casino, will be the first Native American-operated casino in Las Vegas.
Rooms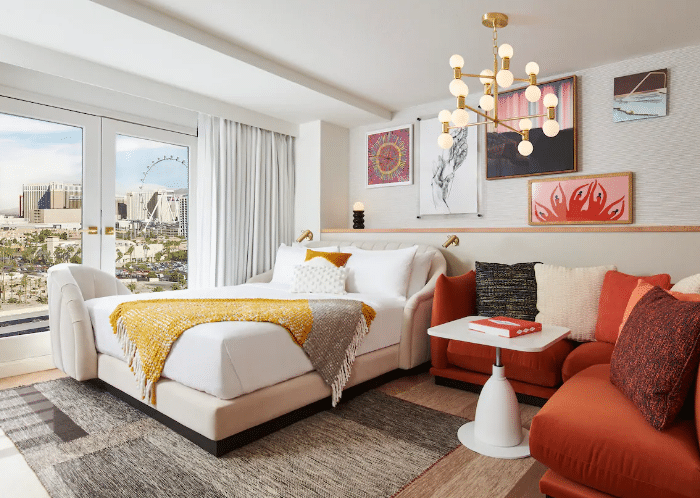 Virgin Hotels Las Vegas is comprised of 3 different towers: the Opal, Canyon and Ruby towers. But, they warn, "calling [their accommodations] hotel rooms is like calling a space ship an airplane". Their "chambers", available as either 1 king or 2 queen beds in the Opal and Canyon towers, are creatively designed in such a way that the hallway, closet and bathroom are all one area. Closeable privacy doors lead to a separate area where you'll find your bed and a stylish sitting area. Mid-century modern furnishings and décor with bright pops of color create a chic yet cozy vibe. These accommodations are generous in size, ranging from 460 – 475 square feet.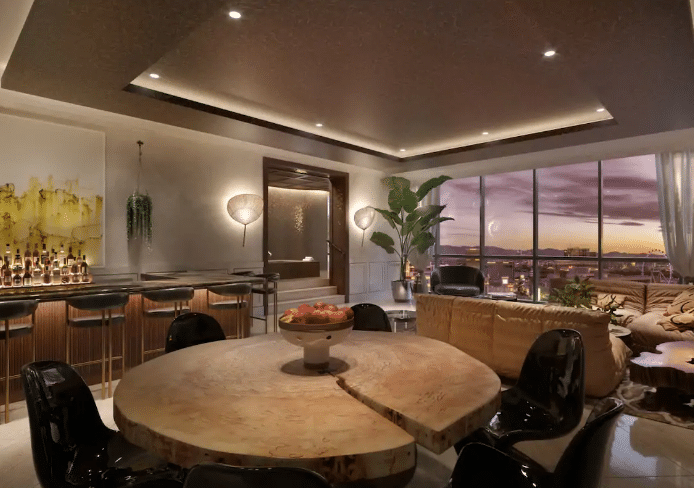 Then there are the suites, most of which are in the Ruby tower, ranging from 700 square feet to 1320 square feet in size. The 700 square-foot Ruby Chamber King is their junior suite, with a comfortable living area occupying the same space as the bedroom area. We love the Ruby Grand Corner Chamber King, which has wraparound corner views of the Las Vegas Strip and a generously sized living area separated from the bedroom area. If you want to go all-in, treat yourself to the Canyon Oasis Chamber King Suite, which gives you 1320 square feet of space, stunning views of the Strip, and a gorgeously designed living and entertainment space.
Dining
Feeling hungry? Virgin Hotels Las Vegas will offer 14 different restaurants to choose from, with an eclectic range of cuisines from casual to fine dining.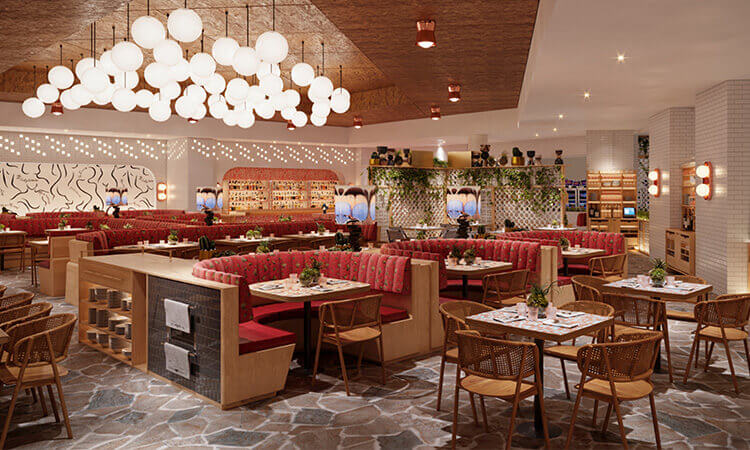 The Kitchen at Commons Club, a globally-inspired American restaurant that the resort shares in common with other Virgin properties, serves up a taste of the unexpected with bold flavors and out-of-the-ordinary ingredients. The New York Times describes its atmosphere as "the vibe of a private club but open to all".
The globally acclaimed Hakkasan Group brings us Casa Calavera, an open-air cantina inspired by "Dia de los Muertos" that serves fresh takes on Mexican cuisine by the pool. It's the perfect spot to pre-party before a wild night out, with an upbeat, trendy atmosphere and a fabulous cocktail menu.
If you're in the mood for Mediterranean cuisine, Todd English's Olives is a Las Vegas legend. With an exciting, warm atmosphere, this restaurant serves wood-fired cuisine that's overflowing with bold flavors.
One Steakhouse, brought to you by brothers David and Michael Morton, is located where MB Steak used to be at the Hard Rock Hotel. After a $1.5 million renovation, the space is gorgeous and stretches over 2 levels. Here you'll find exceptional steakhouse cuisine with exceptional service.
Nobu, the world-renowned Japanese restaurant named after Chef Nobu Matsuhisa, remains in its original location. This upscale, sought-after restaurant uses only the finest, freshest ingredients to bring you Japanese cuisine like you've never had before.
Entertainment and Nightlife
You won't even have to leave the property to find vibrant Las Vegas nightlife. Virgin Hotels Las Vegas features a variety of lounges and entertainment venues that will get your night off to an exciting start.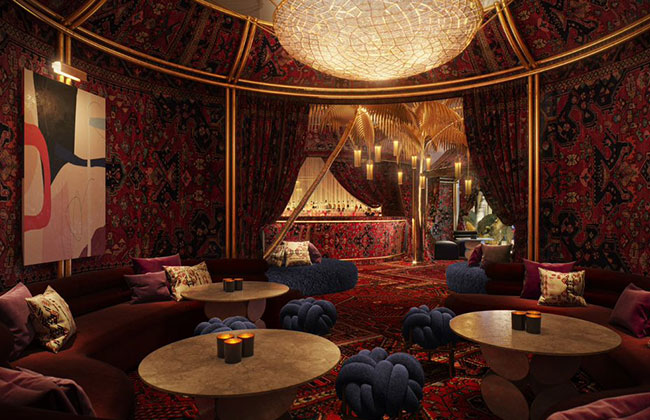 Commons Club has 2 lounge areas that branch off from the restaurant, with 2 distinct vibes. The Bar at Commons Club has a swanky, stylish atmosphere and serves craft beers, locally-sourced wine and creative cocktails. Shag Room is a sexier, intimate space with lots of space to lounge and socialize, and it's also available for private events.
The Theater at Virgin Hotels Las Vegas calls itself "a remix of the classic live music venue", and features a VIP studio level, 7 luxury suites, and a killer sound system. This will be the place to catch live music performances from well-known and up-and-coming artists.
24 Oxford is a more intimate music venue on property, named after the first Virgin Records store's location at 24 Oxford Street in London. Previously named Vinyl, the venue underwent a $500,000 renovation, making it the perfect spot to see up-and-coming artists from a wide range of genres.
Money, Baby! is a high energy sports bar with a funky mid-century modern design and indoor-outdoor patios. Here you can bet on sports, take part in interactive games, and enjoy great food and cocktails.
Amenities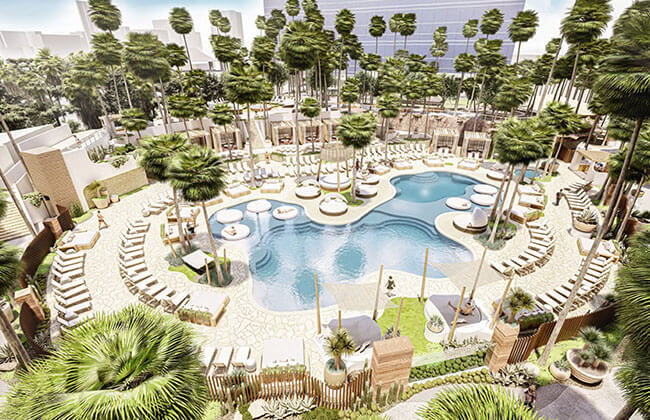 Virgin Hotels Las Vegas has 5 acres of lush pool area to relax and play in. Luxurious daybeds are perfect for enjoying the sun, and tastefully designed cabanas are a great setting to socialize in with a group of friends.
When you are ready to relax and rejuvenate, The Spa will pamper you with various massages, facials, and body treatments. Élia Beach is a cool dayclub set to open in June with a Greek Isles Mykonos inspired vibe to it (imagine a nightclub but during the day, and in a pool). They plan to have some of the best DJs in the world to keep you entertained with the latest music.