Top 10 Las Vegas Tours (2023)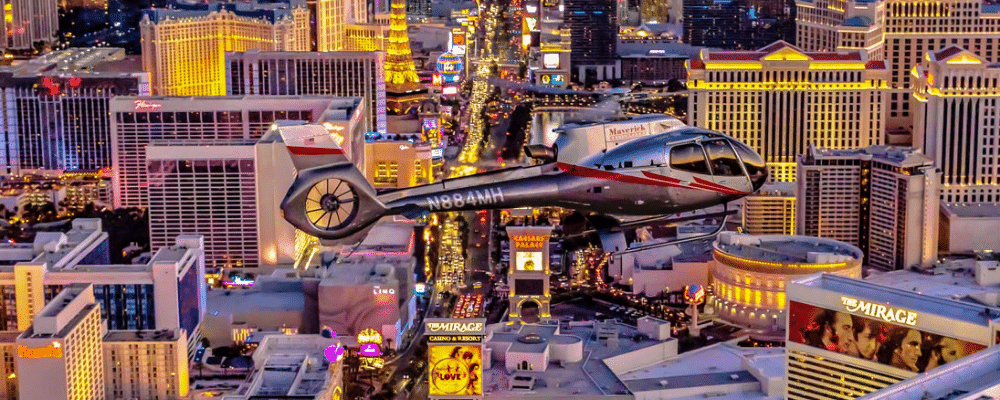 We may receive a commission if you make a purchase.
Las Vegas is a magical city, filled with incredible experiences, breathtaking nature and bright neon lights. If you're visiting Vegas for just a short time, it might be tricky deciding what to do in order to have the best Las Vegas experience you can. We recommend taking at least 1 tour while you're here, because it gives you the unique opportunity to pair up with a local guide and get an inside look at this amazing city. In this article we're going to let you in on our top 10 favorite Las Vegas Tours.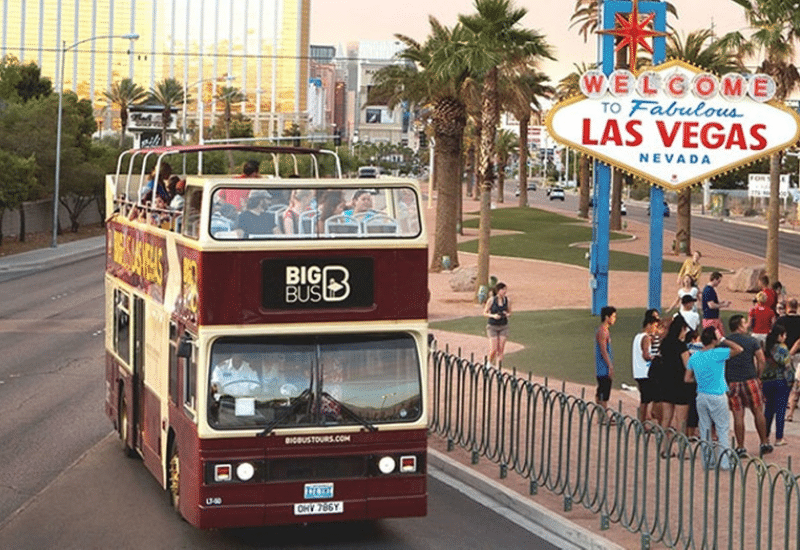 We love this hop-on, hop-off bus tour that lets you see all the famous sights of Las Vegas from the top of a double decker bus. This awesome tour of Downtown Las Vegas and the Vegas Strip stops at 11 prime sightseeing spots. It's up to you when you want to get off the bus and explore for as long as you like in each location.
A knowledgeable guide will fill you in on the secrets and stories of this wild city. We especially recommend experiencing Big Bus Tours' Panoramic Night Tour, which lets you see the bright lights and feel the vibrant energy of Las Vegas at night. The entire tour takes 3 hours if you stay on the bus for the whole ride, but you can make this tour an all-day adventure.
---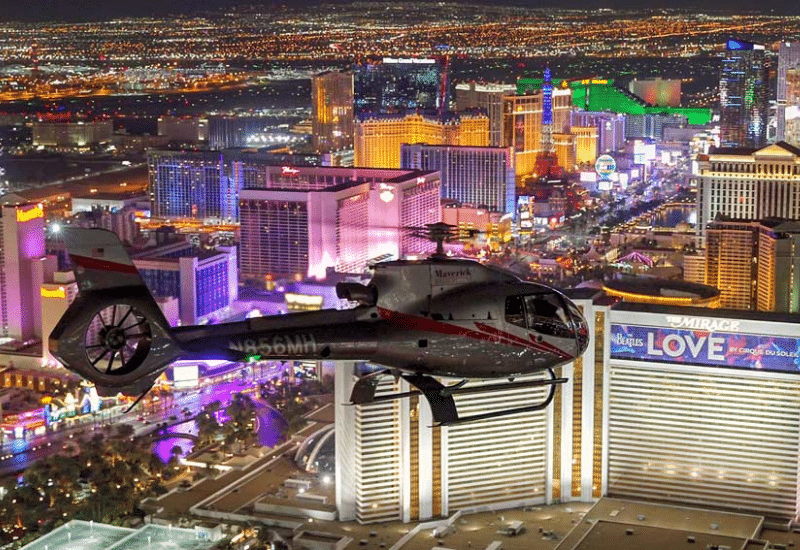 You'll feel like a VIP on this extravagant and exciting helicopter tour over Las Vegas. Start your experience by getting picked up in a luxury limousine, which will take you to your terminal near the Las Vegas Strip.
You'll get an aerial view of one of the most visually stunning cities in the world, seeing the iconic sights and bright lights from the sky. The flight will take you up the Las Vegas Strip, where you'll get to see the fountains of Bellagio, Mirage Volcano, Eiffel tower replica, and more. At the end of your tour you'll return to your hotel in a limo.
---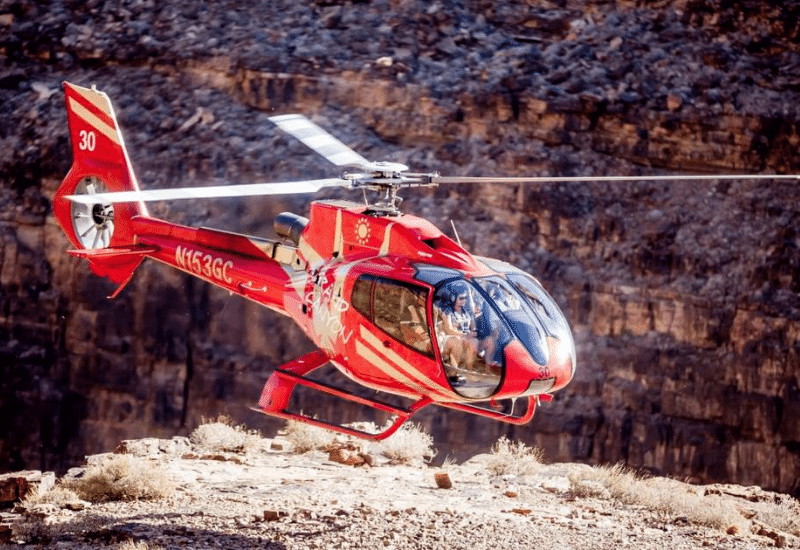 This unforgettable Grand Canyon experience will sweep you away and make you feel like royalty. First you'll get picked up in a luxury limousine that will transport you to your helicopter terminal. Then you'll embark on an awe-inspiring flight over the natural and man-made wonders of the Black Mountains, Hoover Dam, Grand Wash Cliffs and the Grand Canyon.
After descending 4,000 feet into the Grand Canyon, you'll enjoy a light picnic meal and a champagne toast. On the return flight you'll get to see the magical Las Vegas Strip from above, with all its famous sights and landmarks. When your helicopter lands, you'll be taken back to your hotel in a limo.
---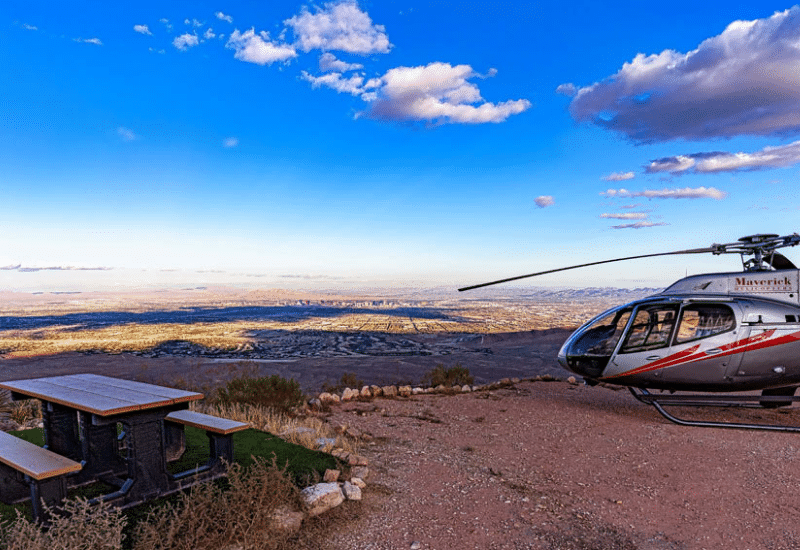 Las Vegas is home to spectacular landscapes, both natural and manmade. In this magical helicopter tour, you'll get to see both sides of Las Vegas in one tour. A luxury limousine will pick you up from your hotel and bring you to the helicopter terminal where your experience will begin.
As you fly over Red Rock Canyon, you'll get a majestic view of its copper red rock formations and desert mountains. Your helicopter will land in a private location that overlooks the city and the Las Vegas Strip, where you will have a champagne toast and marvel at the beautiful view. The tour finishes up with a night flight over the glimmering neon lights of the Vegas Strip.
---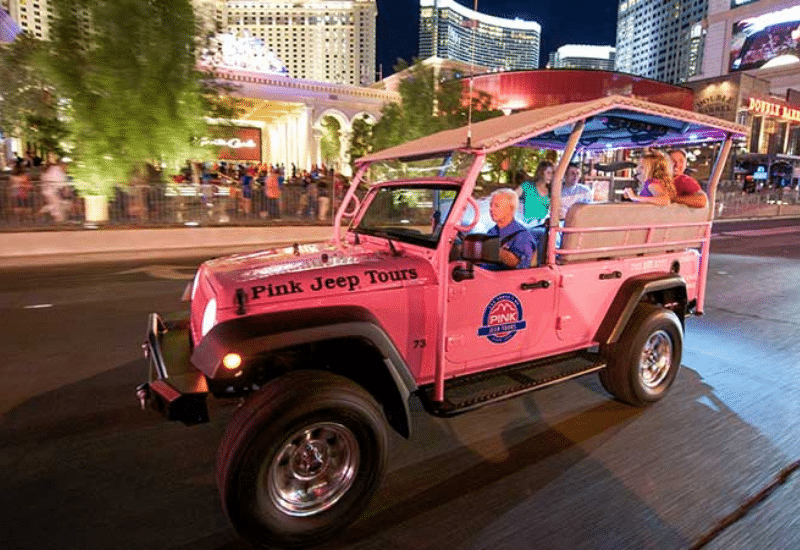 Las Vegas at night is filled with color, bright lights and vibrant energy. Experience the city in an open-top Jeep Wrangler, feeling the desert breeze in your hair and snapping some awesome photos. You'll pass by iconic landmarks and famous sights while your friendly tour guide shares the history and stories of Vegas.
First you'll visit the famous "Welcome to Las Vegas" sign, where you'll have an opportunity for an unforgettable photo. Then you'll make your way up the Las Vegas Strip, seeing the majestic fountains of Bellagio, the mega resorts and the Mirage Volcano. You'll pass through Downtown Vegas, the "old Vegas" where the original casinos are, before finishing up your tour by taking a ride on the world's largest observation wheel, the High Roller.
---
The Hoover Dam, known as being one of the engineering wonders of the world, towers a whopping 725 feet above the Colorado River. Experience this iconic structure for yourself on this awesome VIP Tour. You'll get a fascinating and educational tour of the dam's exterior by a knowledgeable tour guide.
There will be lots of opportunities to snap pictures of the dam, as well as Lake Mead, the world's largest man-made lake. On the return trip to Las Vegas you'll get to see Boulder City, with its historical buildings and landmarks from when the Hoover Dam was being built.
---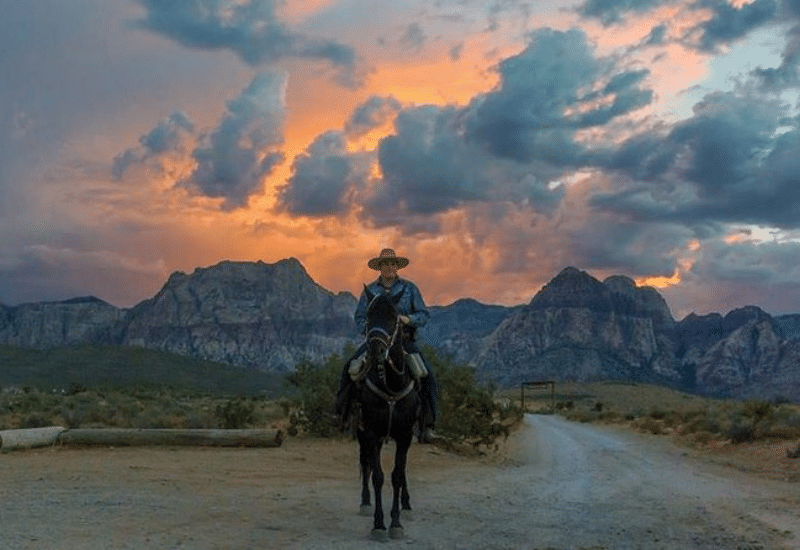 This wonderful horseback riding adventure lets you experience what it was like in the days of the Old West. You'll literally ride off into the sunset, and the sunsets out at Red Rock Canyon have to be seen to be believed. This natural desert wonderland is filled with amazing flora and fauna, as well as its copper red rock formations.
An expert cowboy or cowgirl will guide your group on horseback through rocky terrain and winding trails. After watching the sun set over the Vegas Valley, you'll enjoy a campfire cookout serving grilled meats, corn on the cob and cowboy S'mores. You don't have to be an experienced rider to enjoy this tour. Hotel transportation is complimentary.
---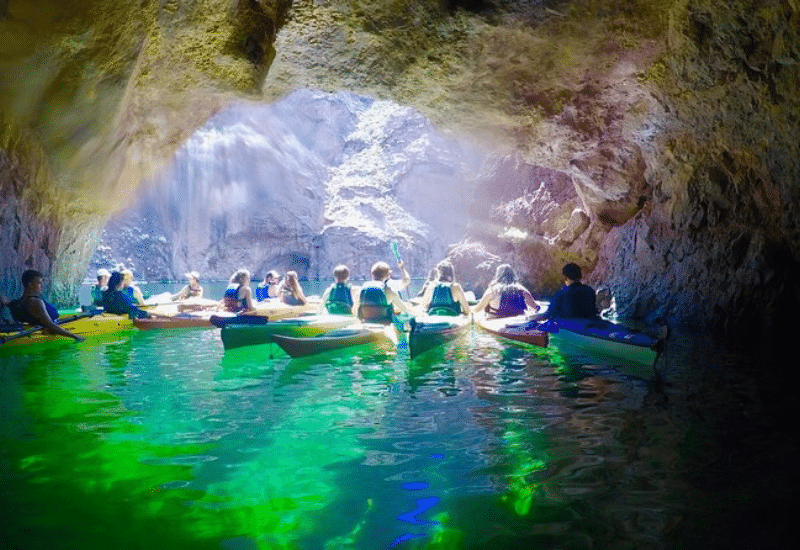 Enjoy a beautiful day on the Colorado River by taking a guided kayak tour to Emerald Cave, a stunningly beautiful place. You'll be accompanied by a friendly and knowledgeable tour guide and up to 14 other people. This tour is perfect for beginners because you'll be kayaking up a gentle park of the river. The whole kayak trip is 4.5 miles return.
You'll stop at 2 locations to rest, enjoy a snack and take a dip in the river, and there will be tons of photo ops. Your guide will take you on a short 15 minute hike along a bluff that overlooks the Colorado River with amazing views. Hotel transportation, snacks and drinks are complimentary with this tour.
---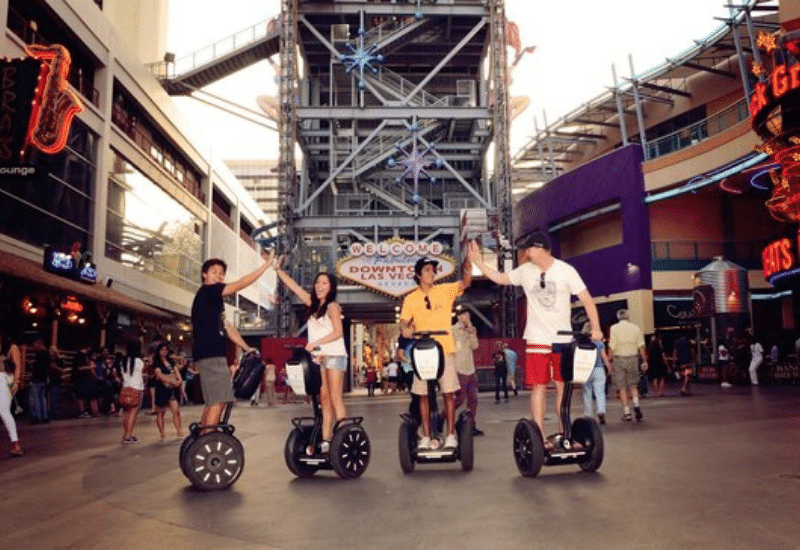 Explore the original heart of Las Vegas, Downtown Vegas, on a Segway on this tour that's great fun for the whole family. Choose between a few different options:
The Fremont Experience Tour takes you up and down the Fremont Street Experience, the bustling pedestrian walkway full of street performers and party vibes. (1 hr.)
The Fremont Street Tour includes the Mob Museum, Container Park, the Fremont Street Experience, vintage wedding chapels, as well as the Gold & Silver Pawn Shop (as seen on TV) (2 hrs.)
The Foodie Tour lets you sample some of the best food in Downtown Vegas. (2.5 hrs.)
The City Lights Night Tour lets you experience Downtown Vegas after nightfall, when the neon lights come up and the party gets going. (1.5 hrs.)
---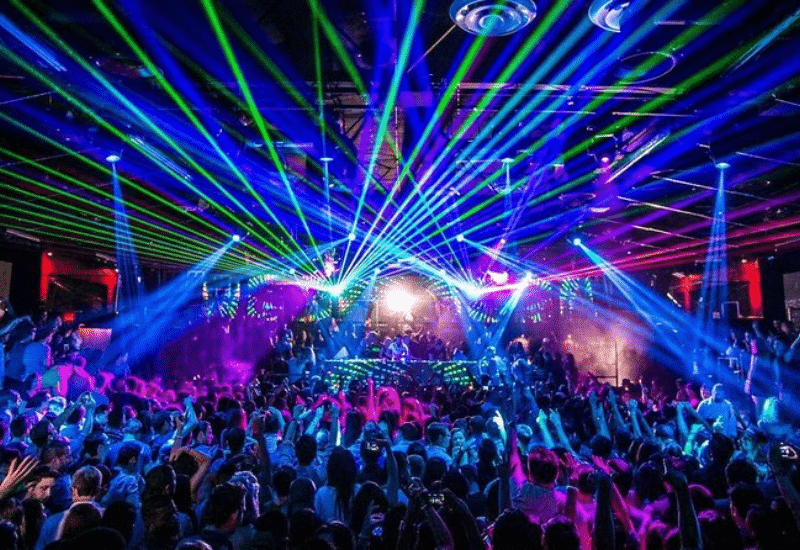 See for yourself the clubs that have made Las Vegas famous for its wild nightlife. This 6 hour club crawl lets you dance the night away at some of the most pumping clubs and bars in the city, including Omnia, Hyde, Light, Hakkasan and more.
Your awesome local host knows where to go to have a good time, and will get you into the clubs without waiting in a long line. Cover charges, party games and drink specials are included in the tour package.
---
CLICK HERE for other awesome Las Vegas tours!