Top 10 Best Chinese Restaurants on the Las Vegas Strip 2023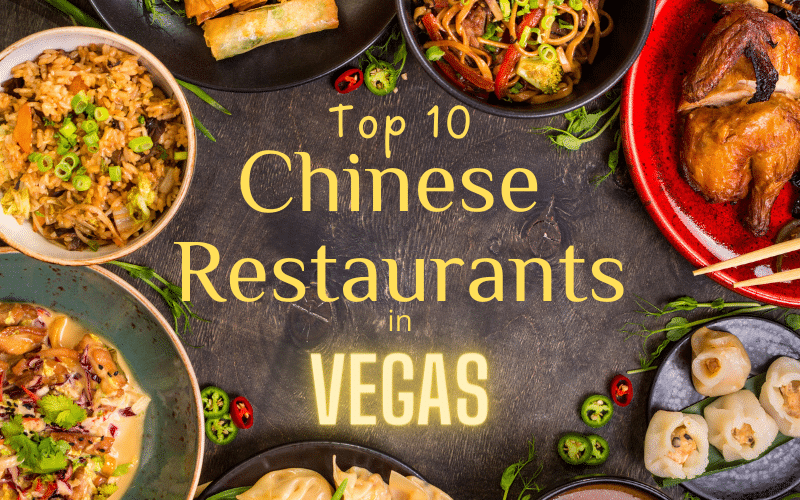 We may receive a commission if you make a purchase.
If you're in the mood for Chinese food while visiting Las Vegas, you'll be glad to know that this city is filled with world-class Chinese restaurants. Whether you want to have a romantic date night dinner or a family-style feast with a group of friends, there are exquisite choices right on the Las Vegas Strip. From traditional Chinese cuisine to classic Chinese-American favorites, you'll find just what you're looking for in our top 10 list of the best Chinese restaurants on the Las Vegas Strip.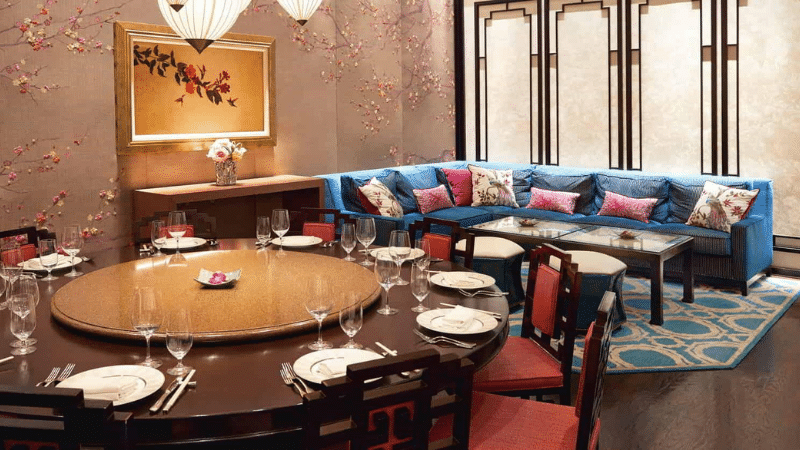 Price Range: $$$
Dress Code: Business Casual
This upscale Chinese restaurant at the stylish Aria Resort & Casino has been awarded the Epicurean Award for the Best Chinese Restaurant in Las Vegas. Chef Chi Kwun Choi has created a menu of 100 dishes, ranging from classic Chinese-American cuisine to authentic flavors from Hong Kong and Beijing.
The elegant atmosphere and impeccable service makes Blossom an exquisite dining experience.
Live seafood is taken fresh from on-site tanks to be prepared to the highest standard, and tableside preparation adds to the excitement of your meal.
Signature Dishes at Blossom
Tableside Peking Duck
Ox Tail Hot Pot
Hong Kong Style Maine Lobster
---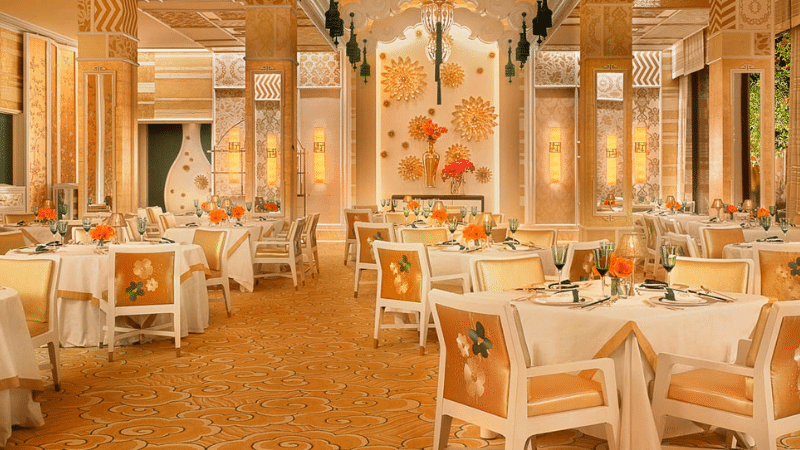 Wing Lei
Price Range: $$$$
Dress Code: Business Casual
As soon as you set foot in Wing Lei, you'll be in awe of the opulent gold dining room, and from thereon in the experience will continue to be awe-inspiring. This Forbes Travel Guide Five-Star awarded restaurant at Wynn Las Vegas was the first Chinese restaurant in North America to be awarded a Michelin star.
Chef Ming Yu says his menu items are designed to be shared family-style, which makes this the perfect place to celebrate a special occasion with family or friends. Cantonese, Shanghai and Szechuan delicacies are made with intricate attention to detail, with wine pairings for each dish. Vegans and vegetarians will be happy to know there are options for them too.

Wing Lei is one of our choices for the top 10 restaurants in the whole city.
Signature Dishes at Wing Lei
Tableside-Carved Peking Duck
Wok-Fried Maine Lobster
Crispy Pork Belly with Szechuan Pickled Cabbage and Honey BBQ Sauce
---
Price Range: $$$$
Dress Code: Smart Casual
Not to be confused with the pumping nightclub by the same name, Hakkasan restaurant at MGM Grand is the perfect precursor to an exciting night out in Vegas. Serving contemporary Chinese cuisine in a glamorous space, this AAA Three-Diamond awarded fine dining restaurant has recently undergone a complete renovation and reimagining – so it's better than ever before.
Choose from a mouthwatering menu offering a variety of dim-sum a la carte, a raw bar that features oysters with caviar, lobster cocktails, and an extensive wine list. On Thursday nights, "All That & Dim Sum" is a pre-nightclub dinner party with a DJ and expedited entry to Hakkasan Nightclub.
Signature Dishes at Hakkasan
Peking Duck with Caviar
Chilean Sea Bass cooked in champagne and honey
Crispy Duck Salad with pomelo, pine nuts and shallots
---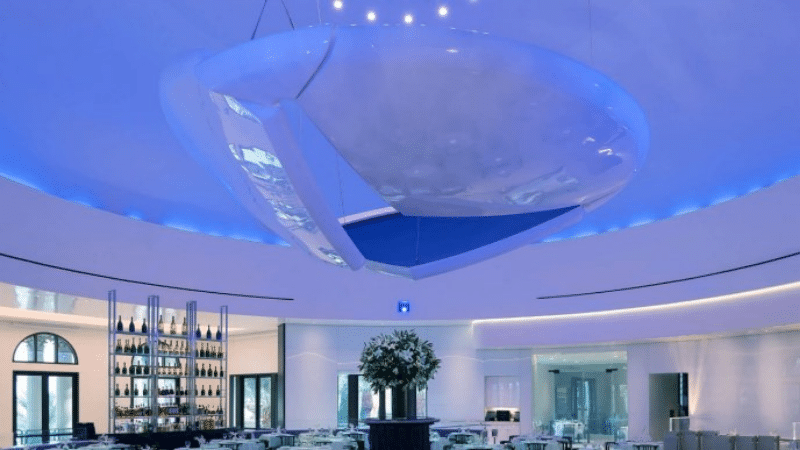 Price Range: $$$
Dress Code: Business Casual
Restaurateur Michael Chow brings his renowned Chinese restaurant Mr Chow to Las Vegas, located at Caesars Palace. This celebrity hotspot is one considered of the best Chinese Restaurants in Vegas for a multitude of reasons. As soon as you arrive, you'll be greeted with a welcome glass of champagne – a great start to a delightful dining experience.
The high-end restaurant has gorgeously modern décor and features an amazing kinetic moon sculpture that moves throughout the evening, as well as a terrace that overlooks the Garden of the Gods pool area. The noodles prepared in a culinary show right before your eyes, and the champagne cart are highlights of dining here. But the star of the show is the delicious cuisine, with modern takes on traditional Beijing recipes.
Signature Dishes at Mr Chow
Chicken Satay
Green Prawns
Beijing Duck
---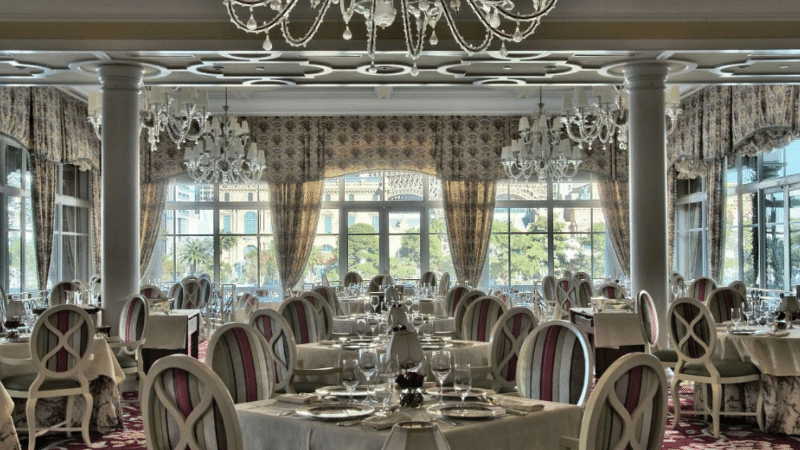 Price Range: $$$
Dress Code: Business Casual
Step inside Jasmine and you'll be hit by 3 things: the exquisite aromas that fill the restaurant, the unparalleled service, and the gorgeous dining room featuring chandeliers and butterfly wallpaper. This upscale Chinese restaurant at the Bellagio is one of the most romantic restaurants in Las Vegas, with a view of the famous Fountains of Bellagio and the property's manicured gardens.
Jasmine serves Nouvelle Hong Kong cuisine, including Cantonese, Szechwan and Hunan dishes. A live tank of seafood is flown in daily from Australia so that you can savor the freshest seafood dishes. This restaurant is perfect for dining with a group, because the large entrees such as Peking Duck and Alaskan snow crab are designed for sharing.
Signature Dishes at Jasmine
Peking Duck with tableside presentation
Traditional Steamed Pork
Mongolian Beef
---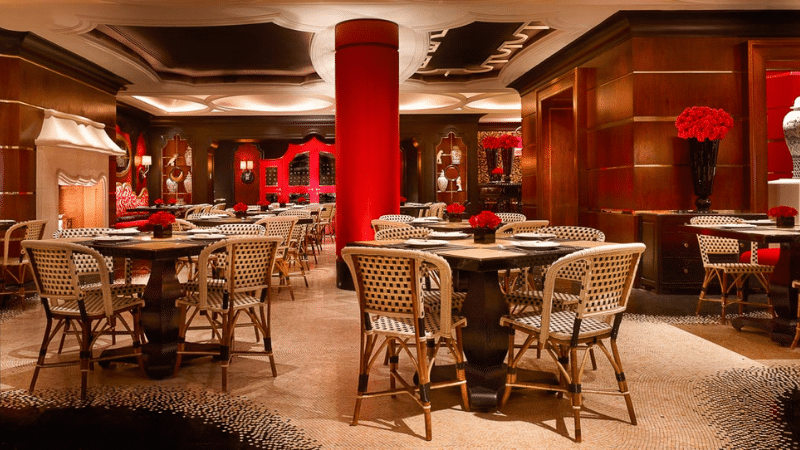 Red 8
Price Range: $$
Dress Code: Resort Casual
This casual Cantonese restaurant at Wynn has a 270 degree open show kitchen, so you can watch the expert chefs as they skillfully prepare mouth-watering Chinese cuisine. The opulent red dining room is just gorgeous, and the service is outstanding, as you'd expect from any Wynn restaurant.
Red 8 has a diverse menu that includes dim sum, Hong Kong barbeque dishes, and Cantonese noodle dishes to die for. There are lots of vegetarian and vegan options, so everyone in your party will find something they love. A live lobster tank and fresh ingredients make the seafood dishes divine. The classic Beijing duck is prepared over a wood-fire oven until perfection.
Signature Dishes at Red 8
Dim Sum
Beef Tenderloin
Sichuan Boiled Beef
---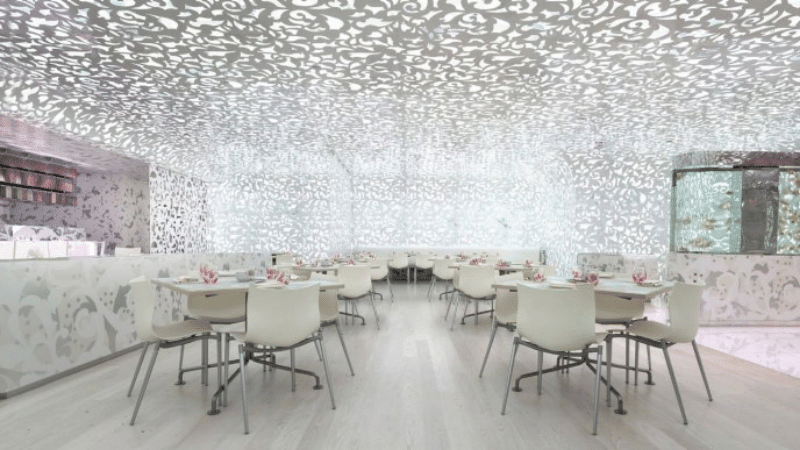 You'll be in awe as soon as you arrive at Beijing Noodle No 9, with a stunning entrance surrounded by fish tanks and breathtaking white lace-like walls and ceiling. Beijing Noodle No 9 is a casual Chinese eatery just off the casino floor at Caesars Palace, where you can savor delicious authentic and flavorful dishes from Northern China. Handmade dumplings are a highlight here, with 7 different flavors to try. But Las Vegas locals and visitors alike come here for the noodles, handmade in front of you in an open kitchen.
At Beijing Noodle No 9, you can get as adventurous as you like with dishes like jellyfish or ox tongue, or decide on a more familiar option like Salt & Pepper Chicken or Chow Mein. The 14-page menu has a lot to choose from, and offers lots of dishes that are perfect for sharing family-style. The restaurant's full bar has a menu of specialty cocktails made with Chinese and Japanese spirits.
Signature Dishes at Beijing Noodle No 9
Duck Fried Rice
Kung Pao Shrimp
Beijing-Style Salt & Pepper Shrimp
---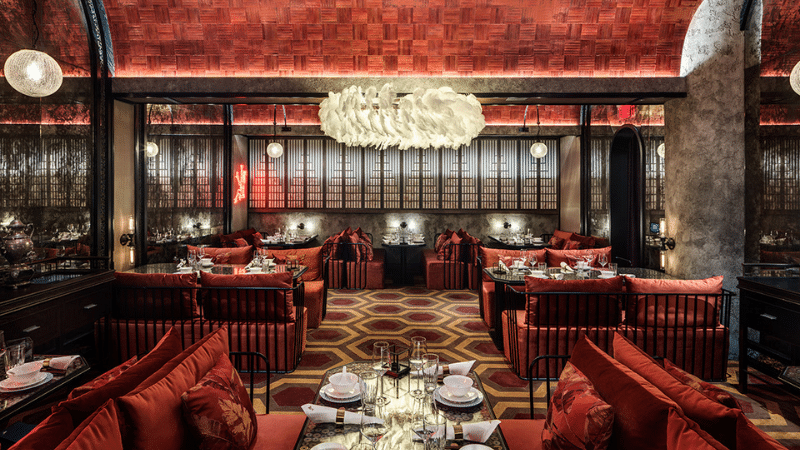 Mott 32
Price Range: $$$$
Dress Code: Upscale Casual
This upscale fine dining Chinese restaurant at the Palazzo received the Forbes Travel Guide 4-Star Award in 2020, as well as the "2020 Best of Award of Excellence" by Wine Spectator. Cantonese, Szechuan, and Beijing cuisine is given a modern interpretation by Chef Alan Ji, who uses only the freshest seasonal ingredients in his dishes. The restaurant's gorgeous design mixes Chinese tradition with Vegas flair, in 3 distinct spaces that are fabulously insta-worthy.
The extensive wine list is a highlight at Mott 32, and an inventive cocktail menu incorporates Asian ingredients such as passion fruit, lychee, and yuzu. There are a variety of plant-based options on the menu, making this the go-to Chinese restaurant for vegetarians and vegans. Don't miss the Dim Sum and Drink Sum happy hour, with dishes, wine and cocktails for under $10.
Signature Dishes at Mott 32
Alaskan Crab Meat Fried Rice
Barbeque Pluma Iberico Pork with Yellow Mountain Honey
Black Pepper Prawn and Garlic Clay Pot
---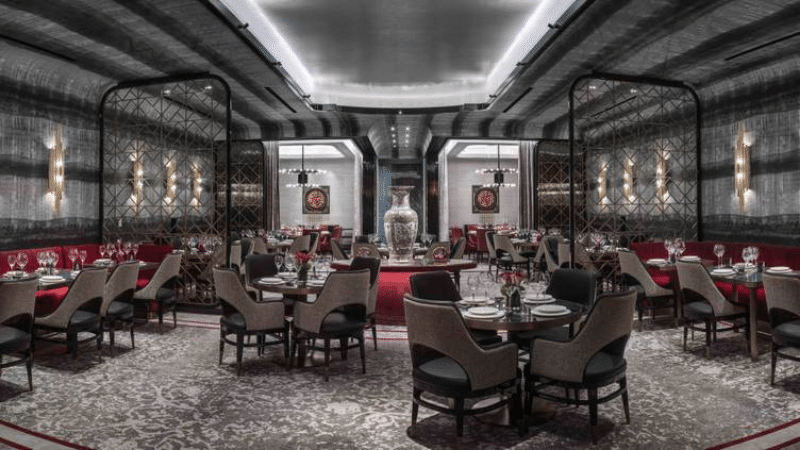 Red Plate
Price Range: $$$$
Dress Code: Upscale Casual
The Cosmopolitan and Chef Yip Cheung set out to create the best Chinese restaurant in Las Vegas with the upscale dining experience at Red Plate. Traditional Chinese dishes get a modern twist at Red Plate, with a carefully curated menu that includes signature roasted meats, dim sum and Chinese hot pot.
Live seafood options include geoduck, rock cod, Alaskan king crab, and Maine lobster. There's an extensive wine menu to choose from, as well as a cocktail menu that incorporates Asian ingredients like lychee, yuzu and matcha tea. The whole suckling pig and Peking duck are stars of the show at Red Plate, but remember to pre-order them well in advance.
Signature Dishes at Red Plate
Stir Fried Lobster
Black Truffle Xiao Lung Bao
Whole Peking Duck
---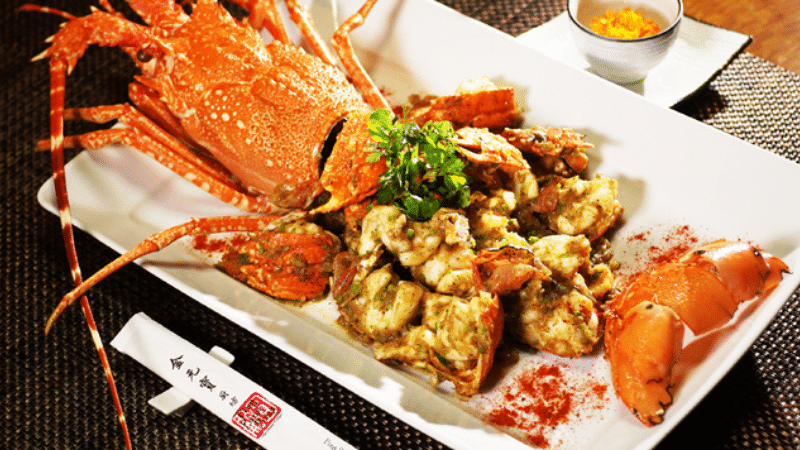 Ping Pang Pong
Price Range: $$
Dress Code: Resort Casual
At first glance this Chinese restaurant, located just off the casino floor at Gold Coast, might seem uninspiring, but that's until you take a seat and look at their menu. Travel + Leisure Magazine named Ping Pang Pong one of the top Chinese restaurants in America, and there's a reason for that. The casual, inviting atmosphere combined with the large menu of authentic Chinese dishes creates a delightful dining experience.
You can try out exotic dishes like Stir-Fried Jellyfish, or order classic favorites like Orange Chicken or Mongolian Beef. The highlight of the restaurant's menu is their large selection of dim sum – there are about 90 flavors to choose from! Fresh seafood is made to order, including lobster, red cod, and eel. Ping Pang Pong is an affordable and delicious spot that locals frequent – in fact they voted it "Best Asian Restaurant in Las Vegas" 6 times in the Las Vegas Review-Journal.
Signature Dishes at Ping Pang Pong
Maine Lobster Flame Tossed with Ginger & Scallion
Honey Glazed BBQ Pork
Dim Sum
---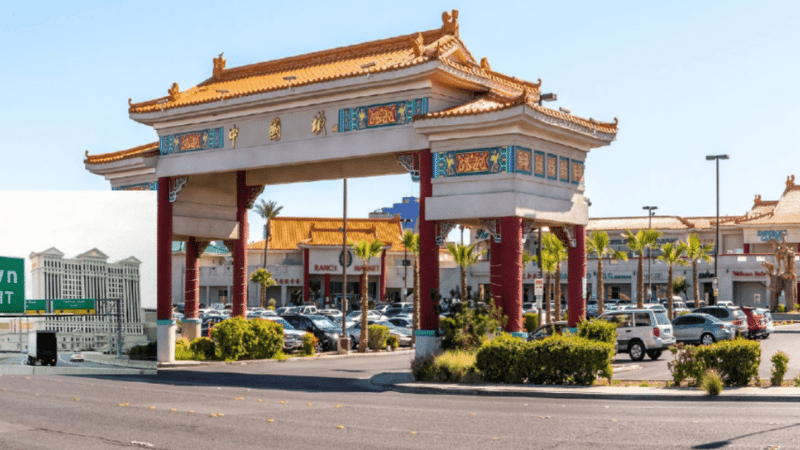 Authentic Chinese Cuisine in Las Vegas' Chinatown
Just a 15 minute drive West of the Las Vegas Strip you'll find Chinatown, filled with restaurants serving authentic Chinese cuisine you need to taste to believe. Savor exotic dishes like Volcano Squid and Pickled Chili with Beef at Chengdu Taste. Indulge in live seafood at Joyful House, like Main Lobster and Dungeness Crab. Try the exquisite Crispy Half Duck at China Mama. For vegetarians, Veggie House is the local favorite, with a huge and varied menu of meat alternatives to classic Chinese dishes.