The Best Las Vegas Golf Courses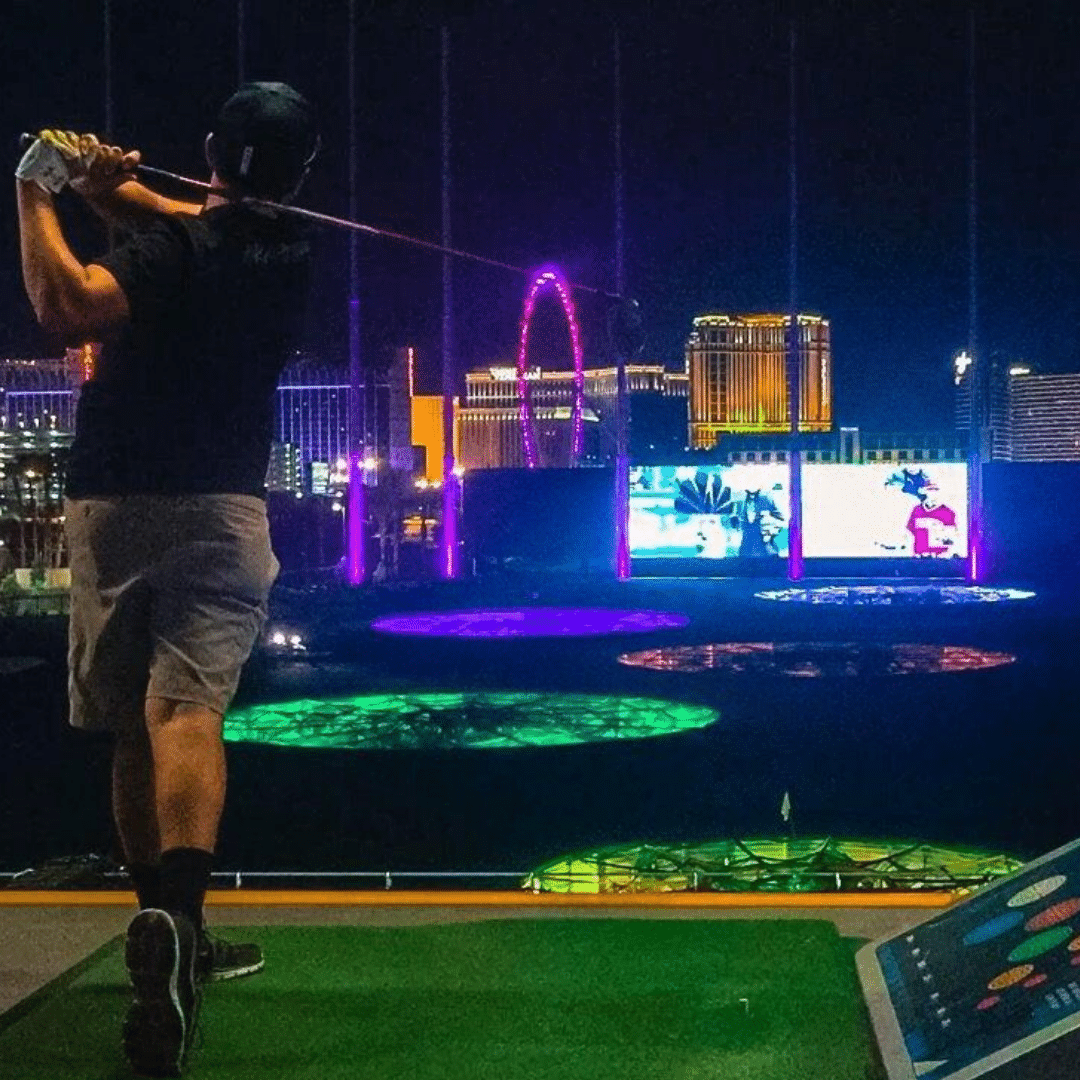 We may receive a commission if you make a purchase.
Las Vegas has the world's best of everything—and that includes the best golf courses in the world! From golf courses out in the desert to courses amongst the towering hotels on the Strip, there's a course for every skill level and every budget.
To help you pick the best course to tee off from on your next Vegas getaway, we've put together a guide on everything you need to know about Las Vegas golf courses, including where they are, when you can reserve your own tee time, and accompanying clubhouses you can join with fellow golf enthusiasts.
1. The Wolf Course at Paiute Golf Resort Las Vegas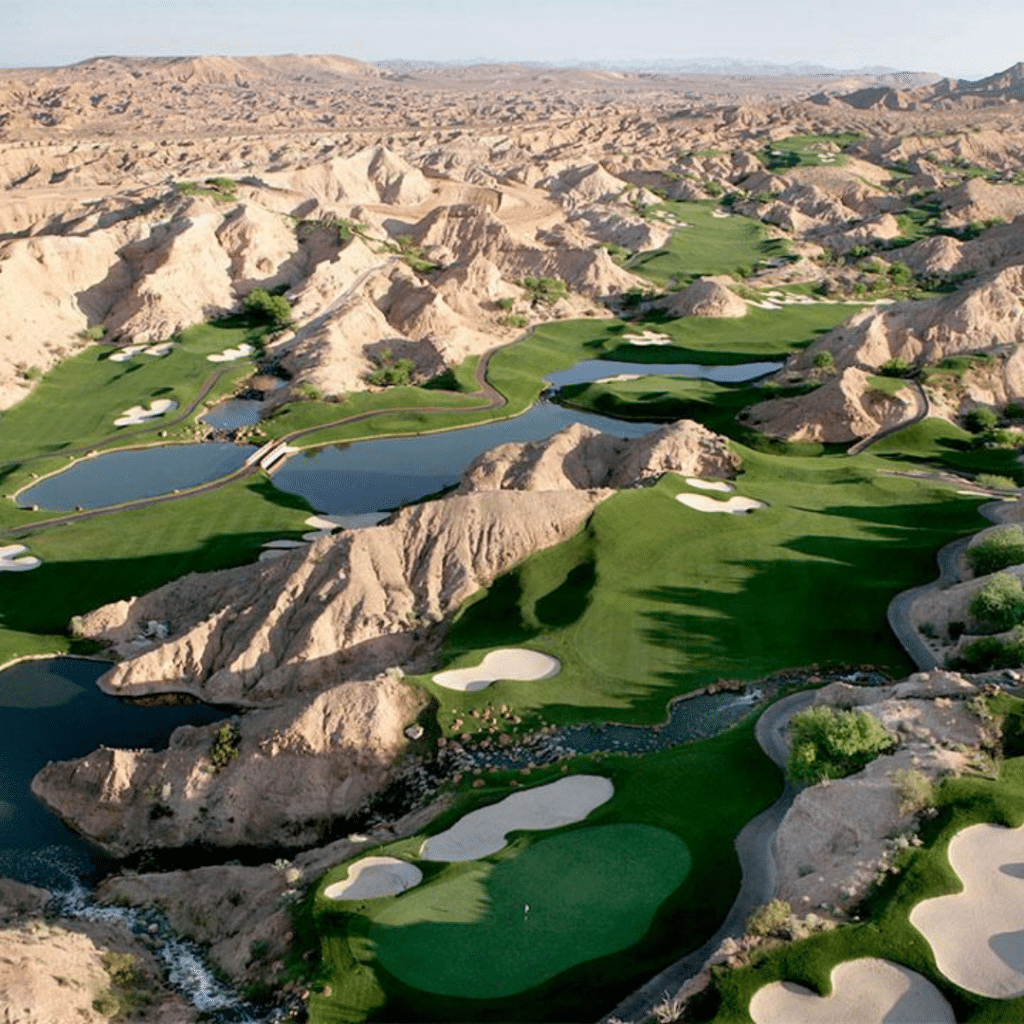 Go big when in Vegas and challenge your skills at the longest golf course in Nevada. These 18 holes make up the 7,604 yard Wolf Course at Paiute Golf Resort. You will be challenged the whole way, including the infamous island green at the 15th hole! The golf course comes with a lot of prestige, so expect to have to follow a strict dress code and to make your reservations in advance. Getting the privelage to swing on this green is in high demand for locals and out of towners alike!
2. Aliante Golf Course
This challenging course is surrounded by some seriously stunning scenery. There are vibrant desert plants plotted amongst the greenery, making a magnificent backdrop of the Sierra Nevada mountains. Memberships are pretty much needed if you want to have the chance to play 18 holes on this course, but once you have your online profile set up, it will be much easier to secure your times. But don't let the pretty course deceive you. It's a seriously tough 18 courses of golf, but one you don't want to miss out on and the PGA professional staff make you feel like you yourself are a pro!
3. Wynn Golf Course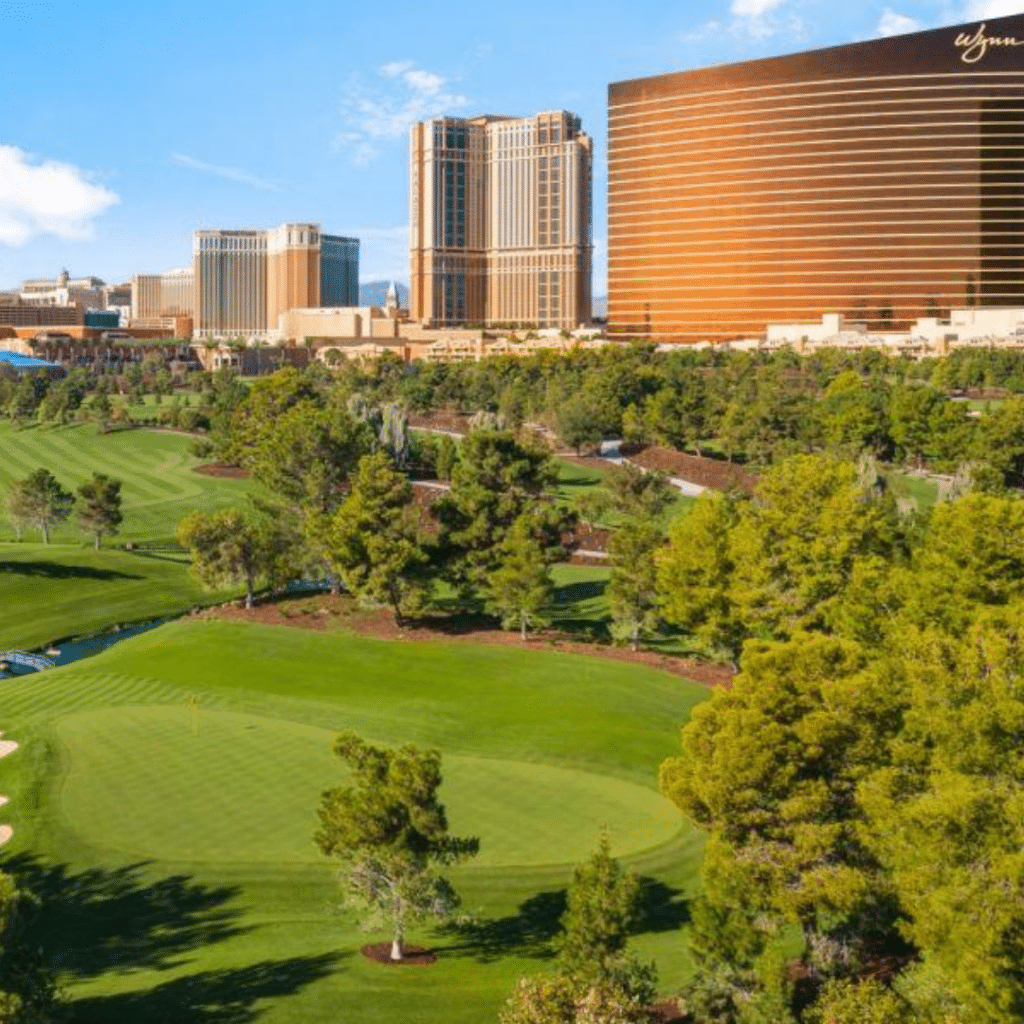 Another winner designed by Tom Fazio and Steve Wynn, the Wynn Golf Course is the ultimate luxury experience.   Plus, the service and conveniences that accompany the course fees are worth every cent. An added bonus is that every player gets their own set of Callaway clubs, golf shoes and some pretty special perks of teeing off on this green! There is limited space and the course is always in high demand, so it is recommended to reserve your time well in advance through the concierge team. But once you get the in, you'll never want to leave! Especially with privileged access to their prestigious club room.
4. Shadow Creek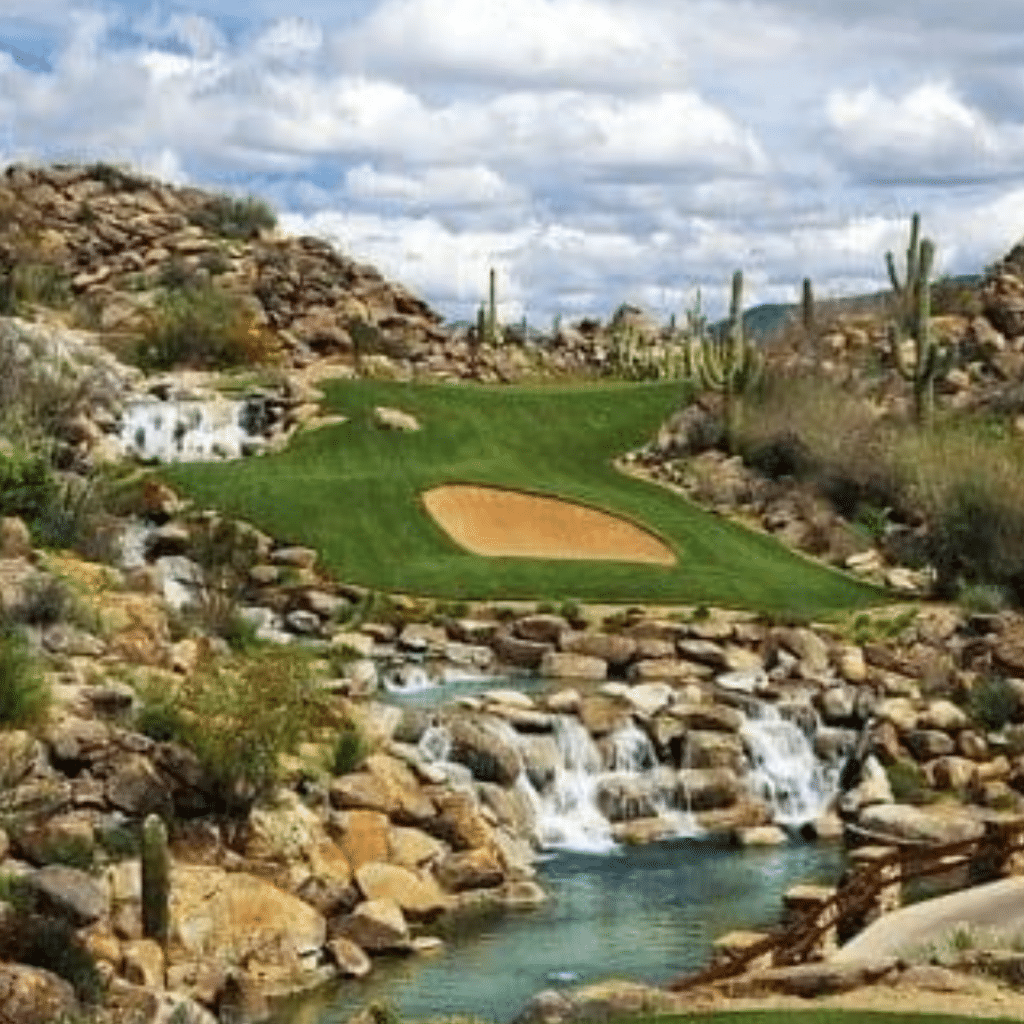 Designed by Tom Fazio and built by Steve Wynn in 1989, this $60 million project is on every single bucket list! Access to these greens at Shadow Creek is only available to personal guests of Mr. Wynn or VIP guests of MGM Grand Hotels. But an invite isn't just enough—those lucky guests still need to pay the course fee of $500. But that money also goes toward the limo ride to and from the course. It is no surprise that this golf course continually makes the top of the list for best golf courses in the world. It is a truly intimate golfing experience and one every golfer seeks out an invite for!
5. Cascata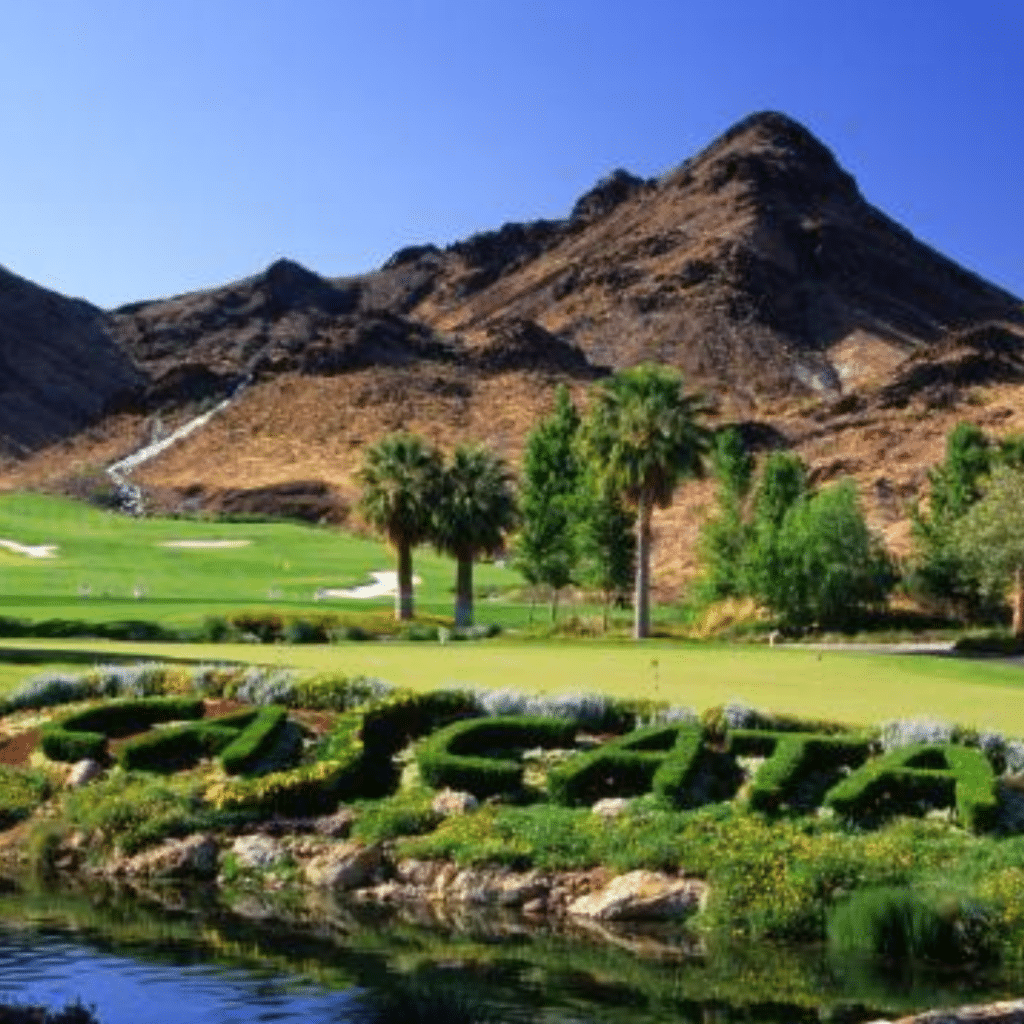 Designed by Rees Jones, Cascata holds some of the top golf course honors worldwide. It's a bit further away from central Vegas, 30 miles out in Boulder City. The course is notorious for deceptive slopes and has an incredible 418 foot waterfall, along with PGA Tour class caddies that accompany all players. The course will take a while to get through, which is why they give you plenty of time to get through it. And the biggest reward is getting to unwind and relax at the clubhouse for the rest of the day. It's a challenger to remember for years to come!
6. TPC Las Vegas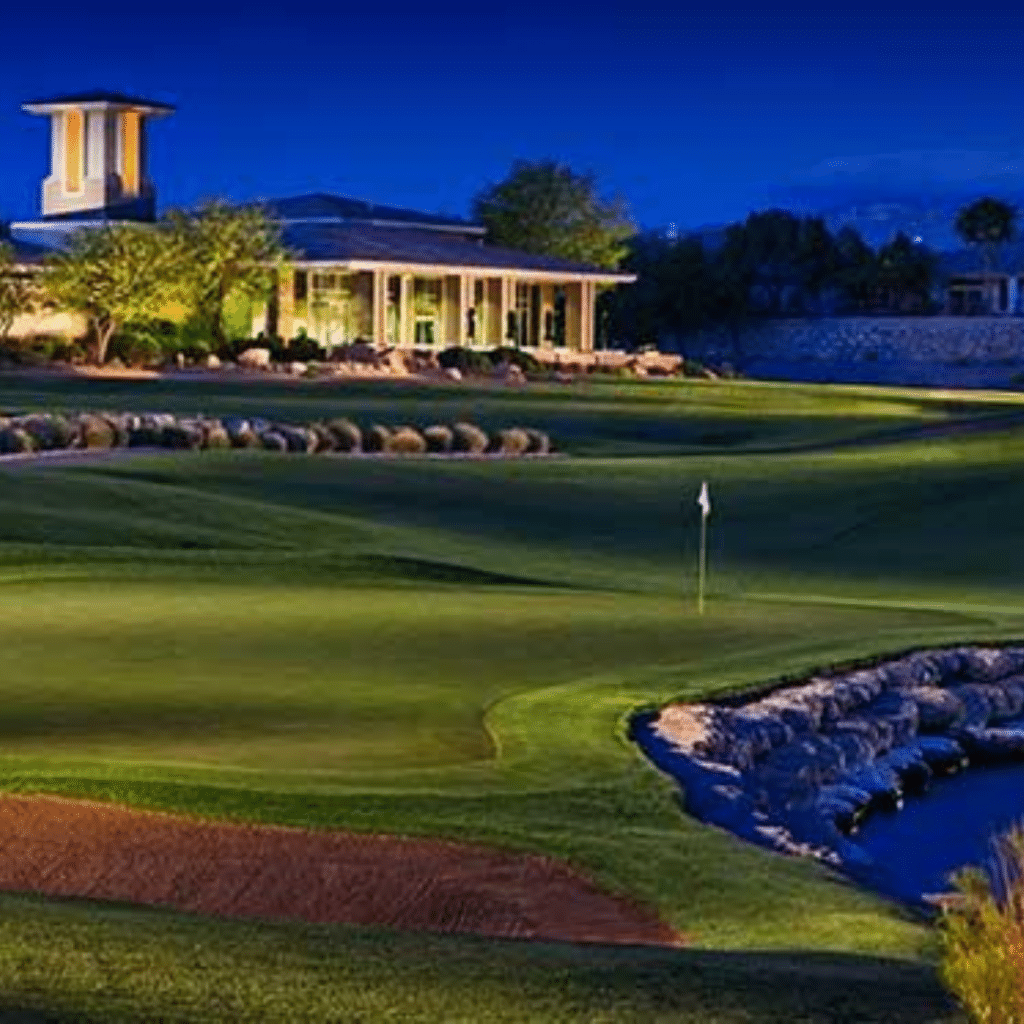 Owned by PGA Tour, TPC Las Vegas has hosted countless professional tournaments, but you don't have to be a pro to practice your swing here! It boasts stunning views of the Red Rock Canyon, and golfers can measure their own skills against PGA level quality. It's also one of the few courses that allow both men and women to play blended on the course too. While you don't have to be a member to play here, the membership itself is one that is hard to get and requires a great deal of skill. But once you get the invite to become a member here, it is the only green you'll want to come swing at.
7. Topgolf Las Vegas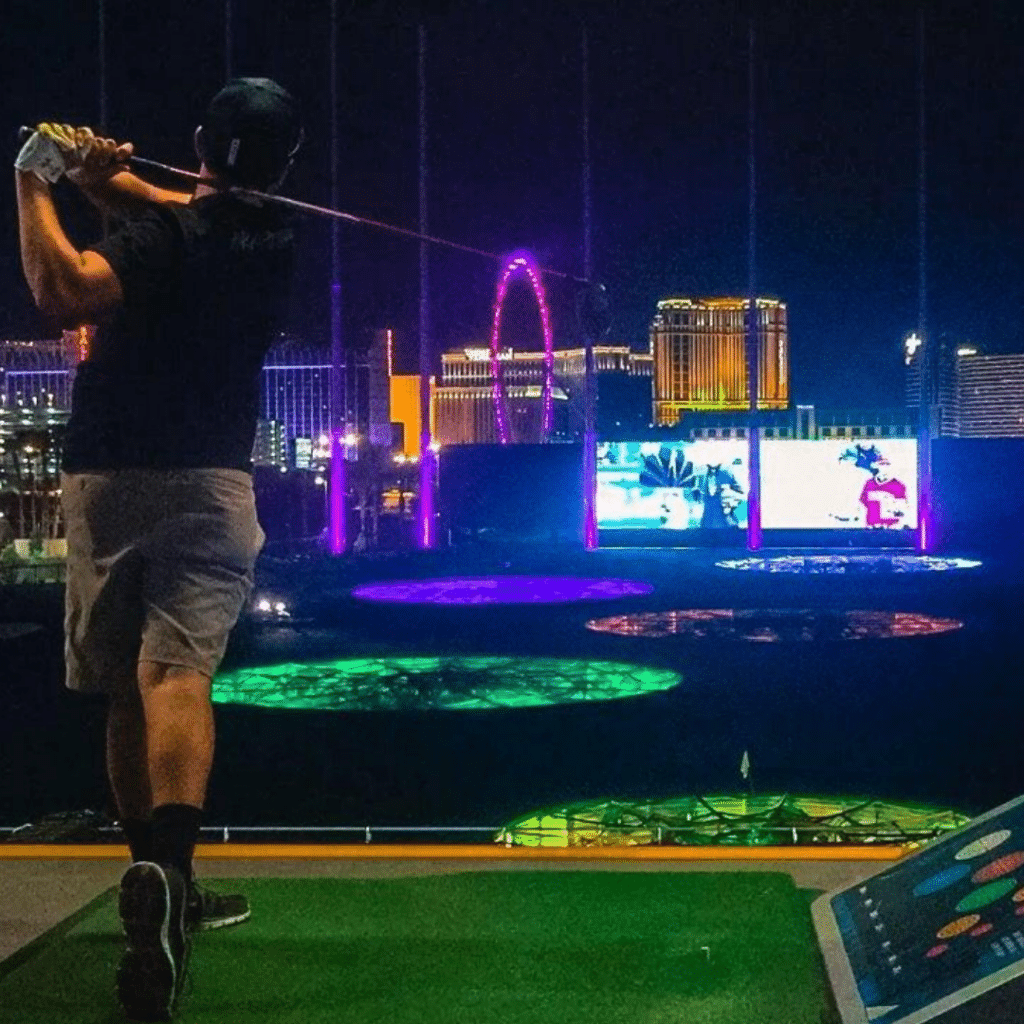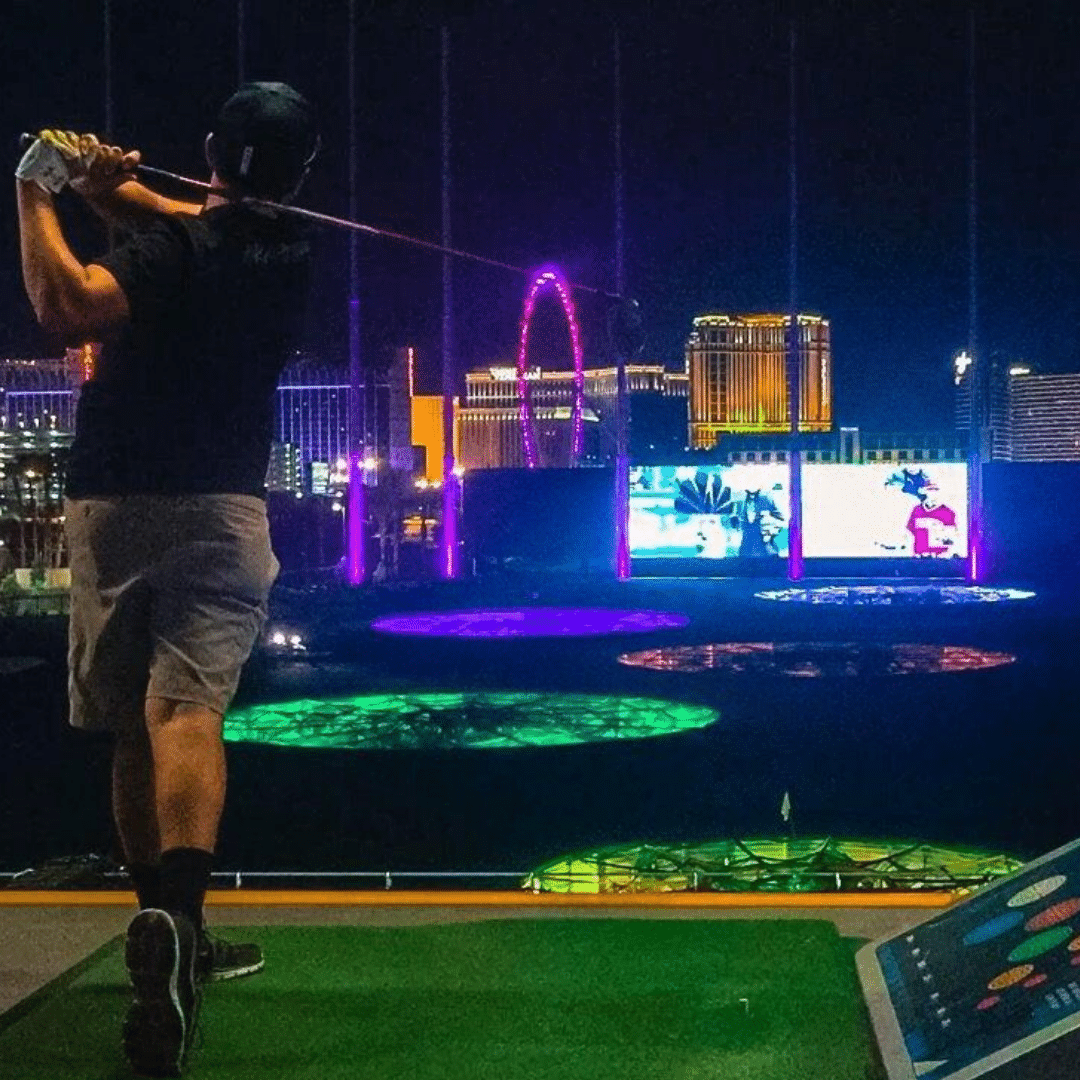 Topgolf is the coolest place to play golf on the Strip. Equipped with 120 climate-controlled hitting bays, five unique bars and two pools, this isn't your standard golf course. Practice your swing or play a competitive game, Topgolf offers anyone and everyone a memorable experience of playing golf. The course also comes with a licensed day bar and club! The best part about playing golf here is that you can swing well into the night and have a cocktail in hand as well. Plus, some argue the club music makes this the funnest golf outing in the world!
8. Bali Hai Golf Club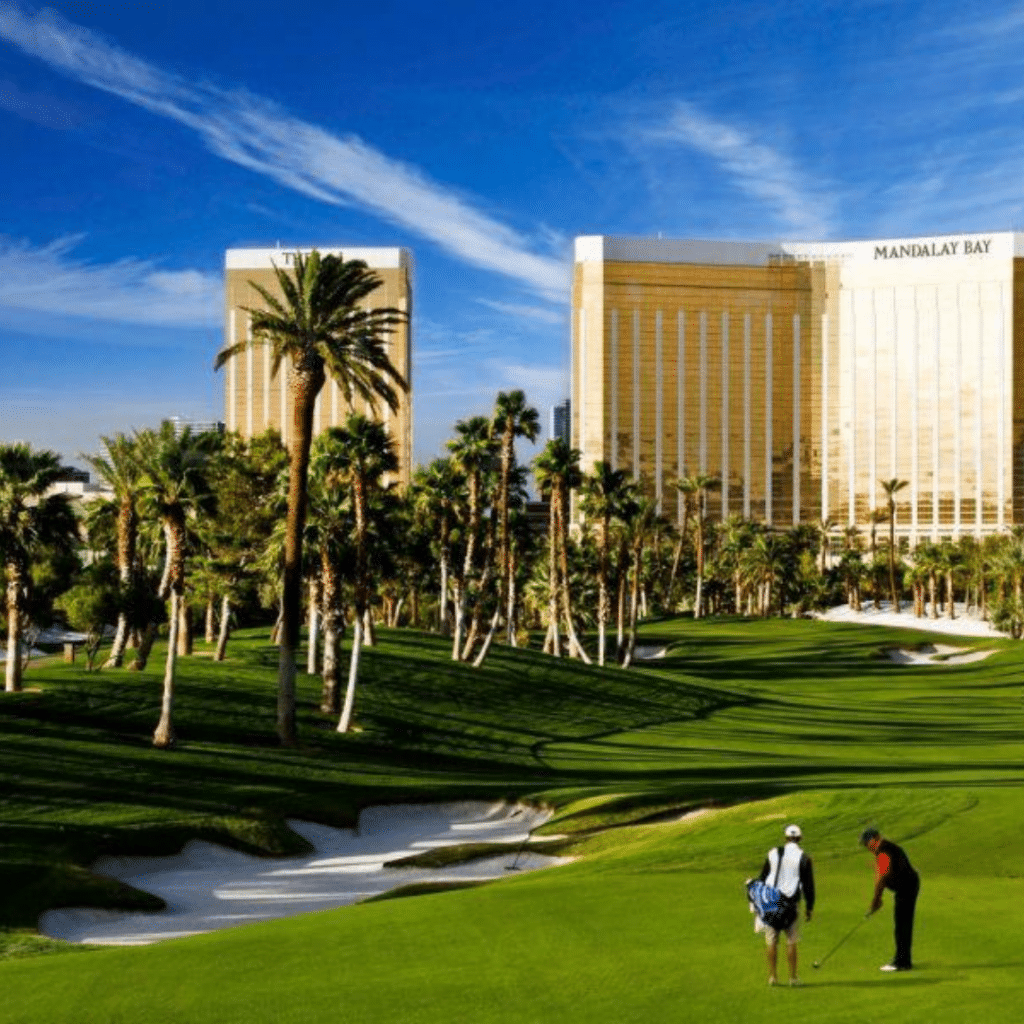 Who needs to go to Bali when you've got your own Bali inspired golf course in Las Vegas? It's a tropical styled golf experience that you and your friends will love! Plus, they do weddings and events, so there is reason for anyone to come check out this golf course. They have an awesome atmosphere perfect for a bachelor or bachelorette party! But what makes this golf course a real stand out is the incredible customer service that comes with it, as every person will feel like a VIP during there day at the greens.
9. Las Vegas National Golf Course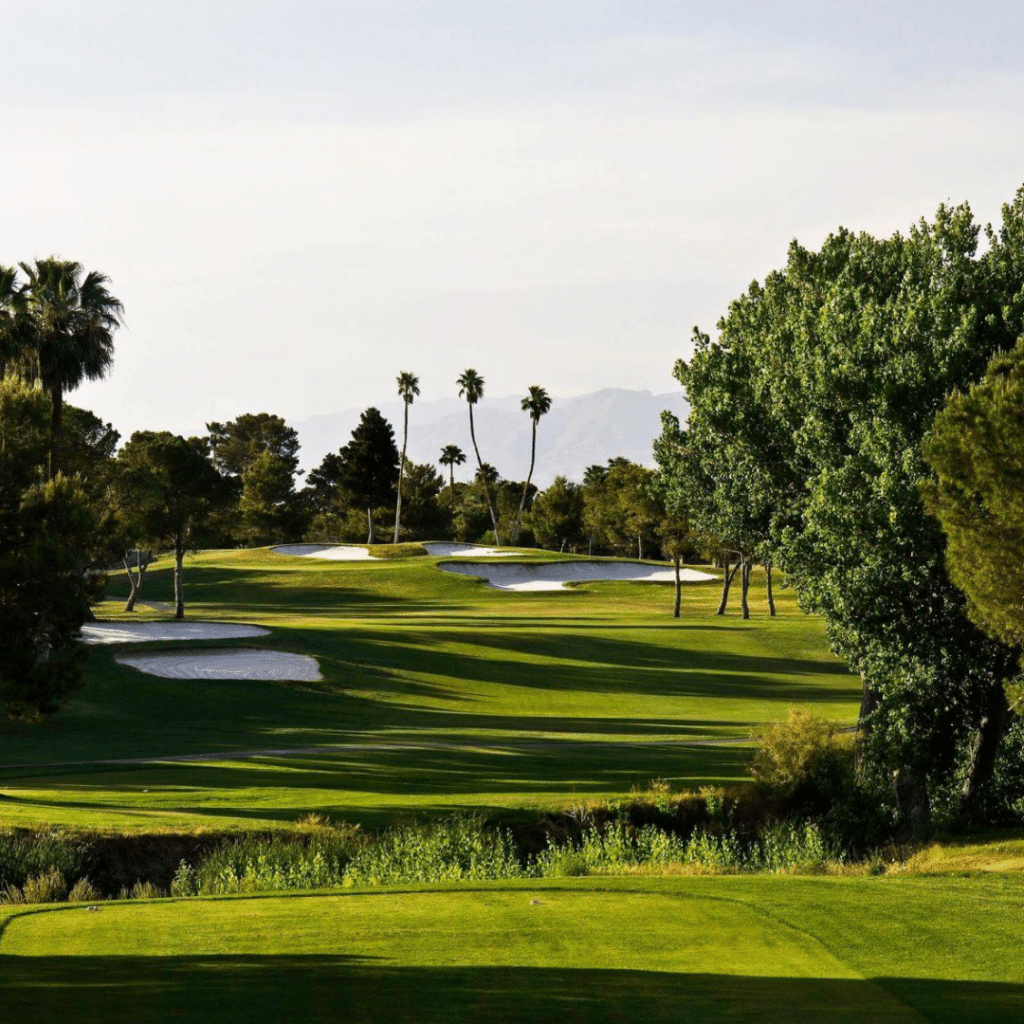 Play at one of the most classic Las Vegas golf courses! Only 10 minutes from the Strip, you will have access to well-manicured lawns, a fun and challenging course, and a chance to walk in the footsteps of some of the golfing greats! Plus, guests who stay at the Oya Hotel and Casino can make their hotel reservations and tee time reservations at the same time and get access to some great deals. This golf course stays true to the pure roots of the sport, and invites any and all skill levels to spend a day out on the greens.