The Ultimate Beginner's Guide To Electric Daisy Carnival (EDC) Las Vegas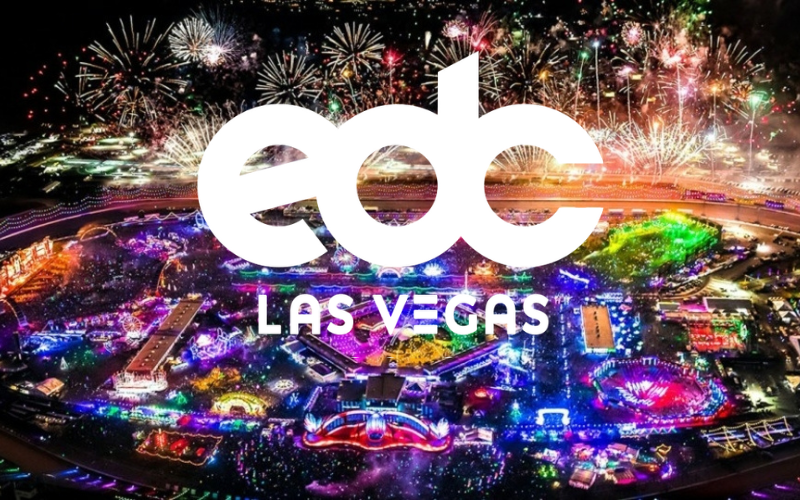 We may receive a commission if you make a purchase.
Every year in May, Las Vegas finds itself overflowing with crowds of very colorful visitors. They come wearing tutus, rainbow-colored wigs, and glow-stick bracelets to attend a special event in town: Electric Daisy Carnival. In this ultimate guide, we'll uncover what EDC Las Vegas is all about, why going to it will change your life, and tips for having the best possible time while you're there.
---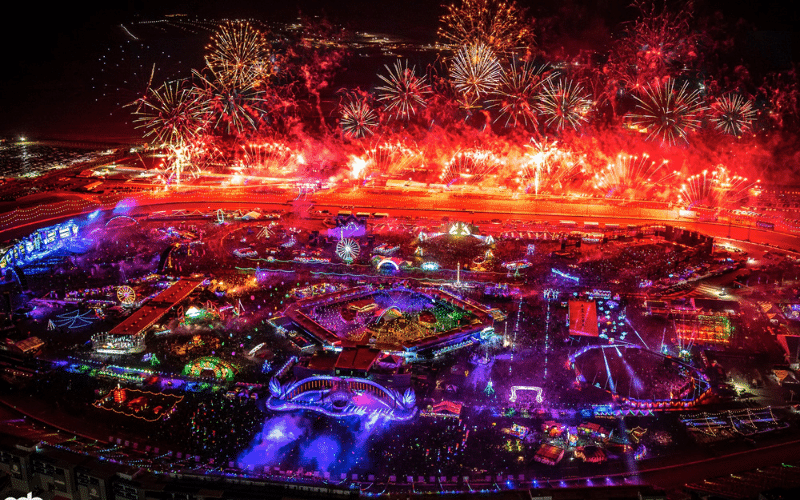 What Is EDC Las Vegas?
Electric Daisy Carnival (lovingly known as EDC) is a spectacular 3-day music festival that happens every year at the Las Vegas Motor Speedway. What started as a warehouse rave back in 1997 has evolved into the largest electronic dance music festival in North America, attracting thousands of people to come together, dance their booties off, and experience a unique sensory wonderland.
As its name suggests, Electric Daisy Carnival revolves around a carnival theme, and yes, there are cool rides, circus performers, and other awesome carnival-related elements. But what draws the crowds is something much more than that. Many of the biggest names in electronic dance music of all imaginable sub-genres (and there are more sub-genres than you would believe) perform for 3 days on enormous, visually stunning stages, accompanied by mind-blowing LED displays and pyrotechnics that light up the desert sky.
But even that isn't the whole picture of what EDC is all about. What many people go to EDC Las Vegas for is the vibe.
What's the Vibe Like at EDC Las Vegas?
If you're a newcomer to electronic dance music culture, you're about to fall in love with a whole new way of viewing the world, and each other. Ravers live by a code of PLUR (peace, love, unity, and respect) and EDC Las Vegas stays true to that with a motto of "All Are Welcome Here". If you ask anyone about their experience at EDC, they'll tell you excitedly about how many new friends they made and how accepted they felt for who they were. And that's something pretty special nowadays.
At Electric Daisy Carnival, you'll be in a constant state of wonder and joy as you explore the different spaces, discover your new favorite types of dance music, and meet really awesome people wearing spectacular outfits. Old-school ravers and newbies alike will have the time of their lives at this one-of-a-kind event.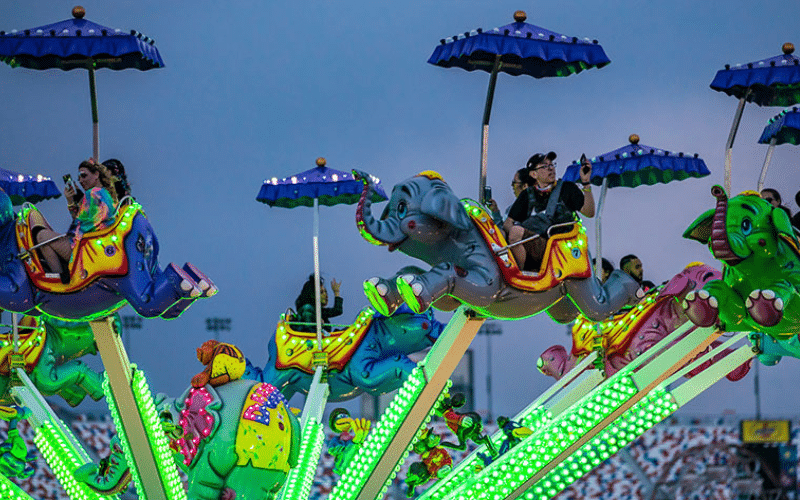 What Is There To Do at EDC Las Vegas?
Aside from dancing your butt off, there are tons of really cool things to do at Electric Daisy Carnival. Here are just some of the things you can do:
Take a ride on a Ferris wheel or carnival ride (there are 18 rides to try!)
Sing your heart out at a Tokyo-style karaoke bar in Downtown EDC
Get married in a stunning wedding chapel
Pledge your eternal love to your BFF at the Commitment Deck
Watch live circus performances
Wander through incredible art installations like glow-in-the-dark environments and 3D superstructures
Grab a bite to eat from a food vendor
Enjoy full bottle service with killer views (VIP option)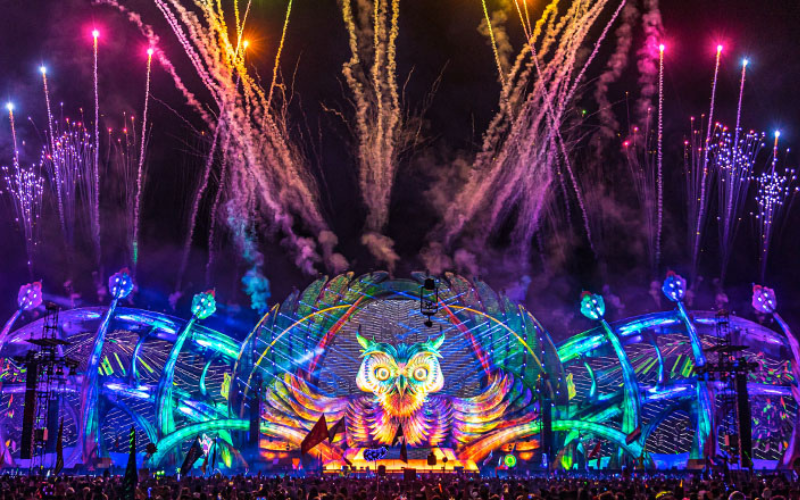 What's the Lineup at EDC Las Vegas 2024?
The 2024 lineup for EDC Las Vegas is yet to be announced, but you can expect a gigantic list of world-renowned DJs and artists that you can't wait to get the chance to see. In 2023, the impressive lineup included Alison Wonderland, Tiesto, Zedd, Tchami, AC Slater, Fisher, Excision, Marshmello, 12th Planet, Eptic, Champagne Drip, Matroda… and that's the tip of the iceberg. You can check out the full lineup from 2023 here!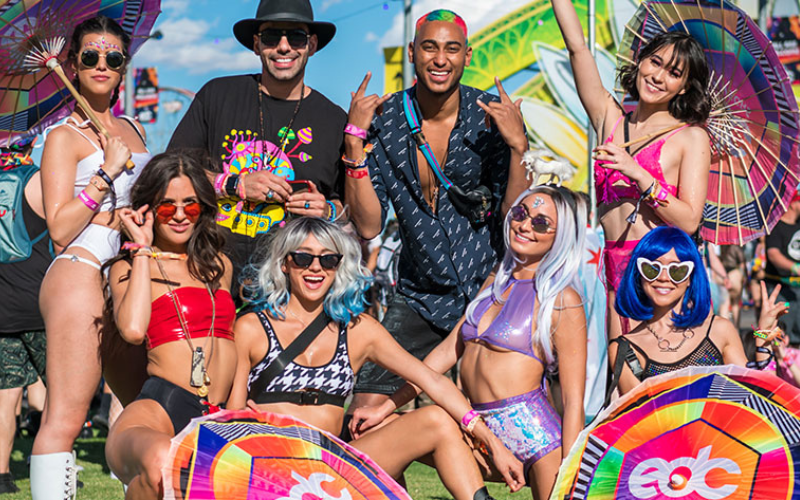 Tips for Enjoying EDC Las Vegas
Now that you've got an idea of what to expect at EDC Las Vegas, here are some important inside tips that will help you have the best possible experience!
Book a Hotel ASAP!
Now's the time to book your hotel room for EDC 2024. That might seem like overkill, but you wouldn't believe how fast hotels get completely booked up for these dates. If you don't reserve a hotel room early on, you can expect room rates to quickly increase up to $700 or more for a standard room!
Dress for the Weather
One of the most fun parts of going to EDC is getting dressed up. Choose clothing and accessories that express your individuality, AND also be sure that your outfits are suitable for the intense desert heat. Lightweight, breathable fabrics are the way to go. Wear shoes that are comfortable for dancing and walking around all day – sneakers are your best bet.
Stay Nourished and Hydrated
When you're partying in the desert, it's easy to get super depleted, fast. Make sure that you and your friends stay fueled with food and hydrated with water. There will be lots of vendors selling delicious food (with veggie options, too), and free hydration stations located around the festival grounds for you to refill your water bottles with filtered H2O.
Know What To Bring and What NOT To Bring
When you're packing your holographic fanny pack for EDC, it's important to know the things to bring and the things to leave back at the hotel. Bring sunglasses, chapstick (sealed), and sunscreen to battle the intense weather. For a complete list of acceptable and prohibited items, check out this page. Which brings us to our next tip…
Drugs Are Bad Mmmmkay?
EDC has a ZERO TOLERANCE drug policy, meaning: don't bring illegal narcotics with you to the festival. Festival employees do a TSA-style search of your belongings when you enter, and you'll get in serious trouble if you're found with any drugs. Police will have a presence inside the festival, so don't get kicked out or worse for acting like a fool. There are bars inside the festival where you can order alcohol, but don't make the mistake of thinking that booze will hydrate you.
Getting To and From the Festival Takes HOURS
On an ordinary day, the Las Vegas Motor Speedway is just a 20-minute drive from the Las Vegas Strip. During EDC, you're pretty much guaranteed to get stuck in a traffic jam that doesn't move for a very long time – we're talking hours. One way to avoid the traffic each day is to camp at EDC for the entirety of the festival, which is a whole new level of fun.
Another way to bypass traffic (and an impressive way to arrive in style) is to fly in on a helicopter. Maverick Helicopters provides exclusive luxury helicopter transfers that give you a breathtaking aerial view of Las Vegas before dropping you right near the festival grounds.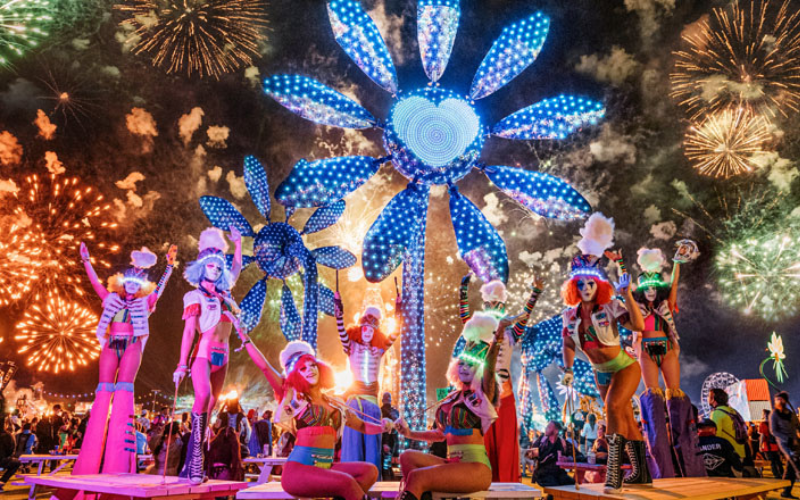 Have the Time of Your Life at EDC Las Vegas
EDC 2024 is happening Friday, May 19th – Sunday, May 21st. Don't miss your opportunity to be a part of something magical! Get your tickets quickly, because they sell out very fast and resale tickets are much more expensive.
EDC Vegas FAQ
What time does EDC start and end each day?
On Friday, Saturday, and Sunday the Opening Ceremony happens from 5pm – 7pm, and then from 7pm – 5.30am the festival grounds are open.
Can I come and go as I please?
You can enter up until an hour before the end of the event, as long as you have a valid ticket that hasn't been scanned yet. But once you're in the festival, there are no ins and outs allowed.
Can I sleep in my car or park overnight?
Sleeping in cars in the festival parking lot is not permitted for anyone. Vehicles parked in the festival parking lot during non-festival hours will get towed.
Can I rent a locker?
Yes, lockers will be available and they're a great way to keep your belongings safe. To learn more about lockers, check out this page.
Can I get in with a legal guardian if I'm under 18?
If you're under 18, you won't be able to get into the festival, whether you have a guardian with you or not.
Can I bring a totem?
Yes, as long as they meet EDC's specific totem guidelines. Make them from a lightweight material like foam or PVC, as no solid metal is allowed. You can find the answers to all your questions on EDC's official FAQ page.