The Top 10 Best Variety Shows in Las Vegas You Must See in 2023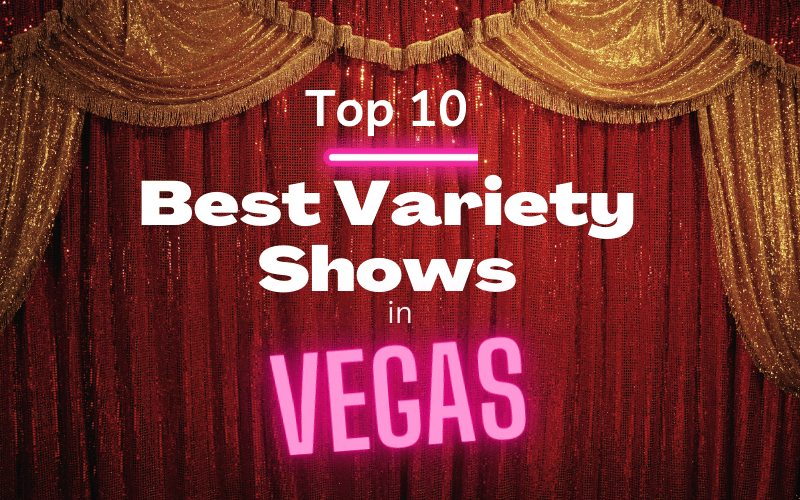 We may receive a commission if you make a purchase.
Las Vegas is known to many as the Entertainment Capital of the World, so no trip to Vegas would be complete without seeing at least one of the world-class shows this city has to offer. But what if you can't make up your mind about what kind of show to see? Easy: go see one of the fabulous variety shows in Vegas! These have a little bit of everything, from dancing to magic, acrobatics to comedy, all in one show. Here is our list of the top10 best variety shows in Las Vegas.
See all Las Vegas shows here!
---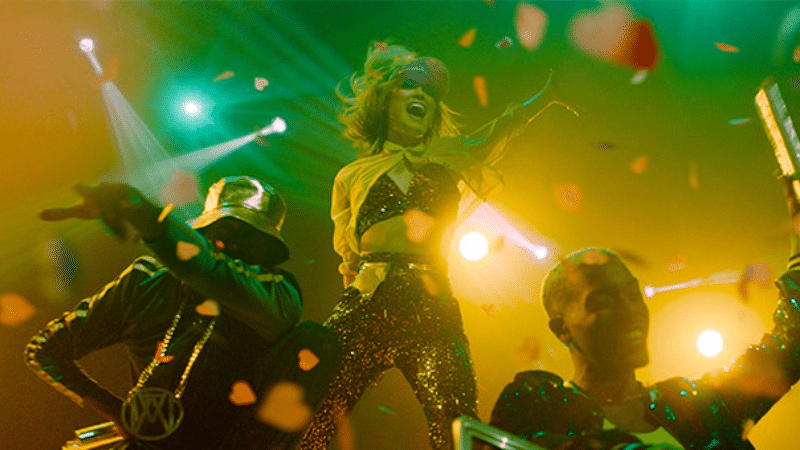 In a sentence: A tour of underground NYC by Cirque du Soleil. (18+)
The newest and hottest show by Cirque du Soleil is an adults-only romp through New York City's vibrant nightlife… except in Vegas. Taking everything cool about NYC culture, Mad Apple combines elements of entertainment you wouldn't expect to see grouped together. Stand-up comedy, an awesome live band, fashion parades and slam-dunk tournaments all come together in one great night out.
This exciting show is basically like a party on a stage, and you're invited. You'll see what we mean the moment you arrive, because there's a pre-show bar on stage. Mad Apple fittingly performs at New York New York.
---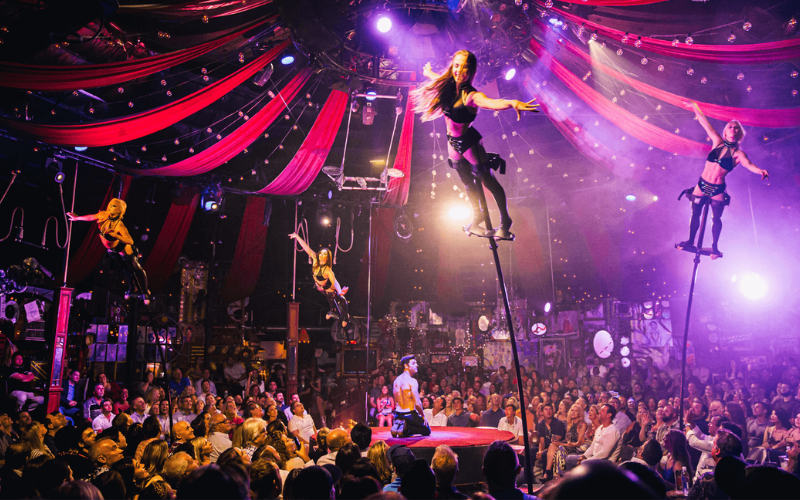 In a sentence: A spectacular and sexy trip to another dimension. (18+)
This wild and weird adults-only extravaganza has been considered Las Vegas' best variety show for a long time – we even named it in our Top 10 Best Shows in Las Vegas. Think of it as "Cirque du Soleil as channeled through The Rocky Horror Picture Show", because that's how New York Times has described it.
Absinthe performs in a centuries-old circus tent at Caesars Palace, a venue that gets you up close to the hilariously bizarre performances on stage. Raunchy and risqué acts are hosted by Gazillionaire, a filthy rich man with a filthy vocabulary. This is the kind of show that could only ever exist in Vegas, so be sure to see it while you're here!
---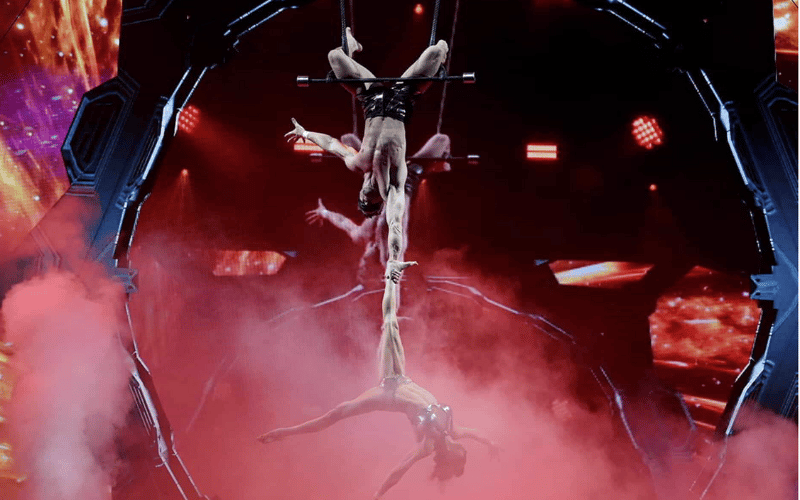 In a sentence: See the winners of your favorite TV talent show, live on stage in Vegas.
You don't have to be a devoted fan of the NBC show, America's Got Talent, to get absolute joy from this live version of the ultimate talent show on earth. The winners of the TV talent show won for a reason: they're incredibly impressive at what they do. Now they perform live in Las Vegas, and here's your chance to experience them for yourself.
America's Got Talent Live! gives you more than 2 hours of stunning acts from performers including singer-songwriter Kodi Lee, LED dance troupe Light Balance, acrobatic couple Duo Transcend, and magician-mentalists The Clairvoyants. Seeing this much talent in one spot rarely happens, but it happens at The Luxor.
---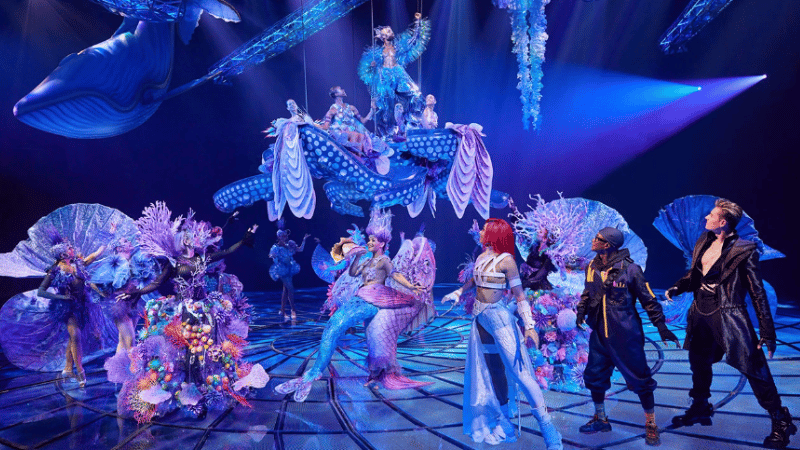 In a sentence: State-of-the-art technology with brilliant creativity.
Awakening at Wynn Las Vegas, is unlike any Vegas show you've seen before. "Awakening" is narrated by the voice of Anthony Hopkins as you follow the adventures of the heroine called IO, and her friends on a quest to restore beauty and love to the world as they try to reunite two long lost soulmates. You will be be immersed in the worlds as they pass from below the sea to high in the sky.
The show has been called the most technically advanced show on the planet. A huge custom built 360 degree $120M theater built just for this show puts the audience all around the performance, and a 60-foot stage with 80-foot ceilings showcases amazing dancers, magic, illusions, and puppetry.
It is a great show for the entire family.
---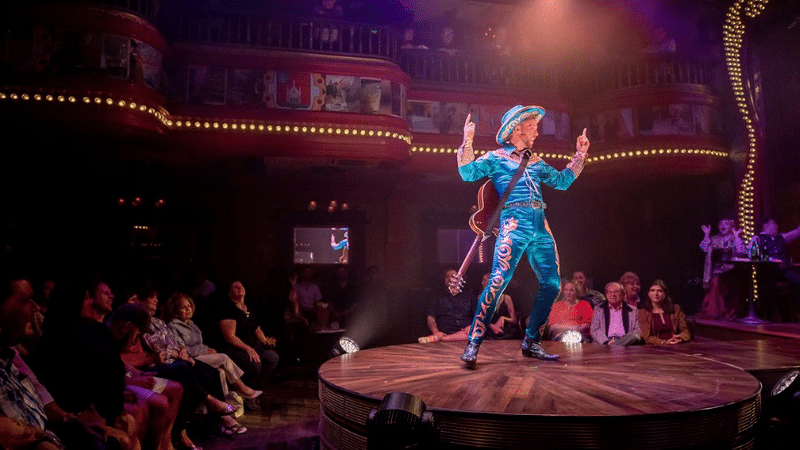 In a sentence: Time travel to an old west saloon where the show happens around you. (18+)
From the creators of Absinthe comes a show unlike anything you've seen before – an immersive adults-only experience that takes place in an old western saloon. Go ahead, order a themed cocktail from the saloon bar, because you might need a drink to handle the bold and raunchy humor of this show, which happens all around you.
This show at The Venetian features impressive performances that include comedy, dancing, circus sideshow acts and acrobats. The Times of London calls Atomic Saloon Show "a ridiculously enjoyable show", and we can't help but agree.
---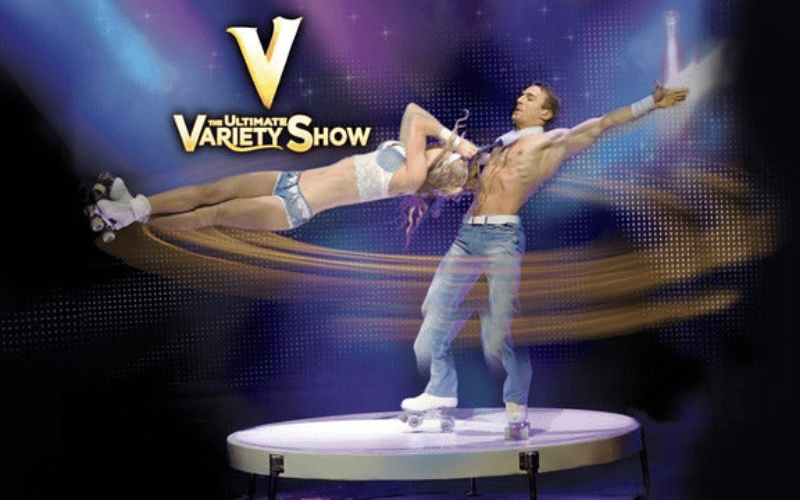 In a sentence: a fun, family-friendly variety show with dancers, circus acts and more.
Get the whole family together for this upbeat variety show at Planet Hollywood, which in the true spirit of Vegas variety shows, has something for everyone to enjoy. V – The Ultimate Variety Show is different every single night due to its rotating roster of performers, so it's a total surprise what you'll get to witness on stage. What we can guarantee is that you'll be blown away by the world-class performers that are chosen from across the globe for this show.
Hosted by the charming Wally Eastwood, the fastest juggler in the world, this fast-paced show will have you thoroughly entertained from beginning to end. If you're looking for the classic family-friendly variety show in Vegas, this is it. In fact, we included this show in our list of the Top 10 Shows in Las Vegas.
---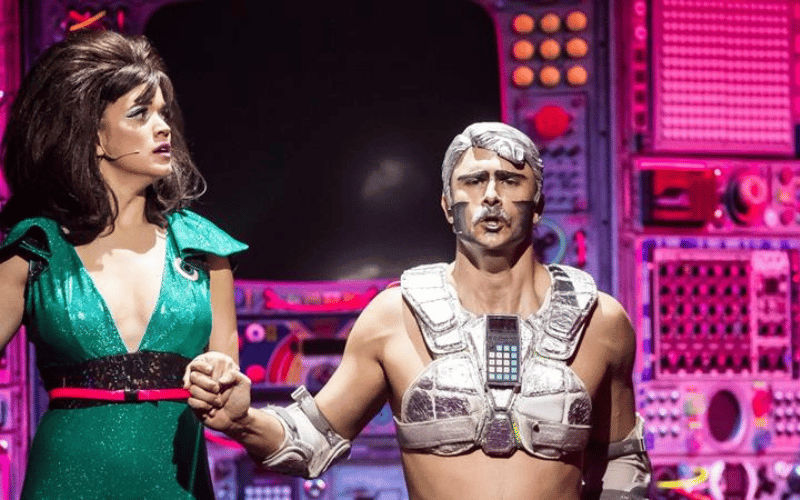 In a sentence: All aboard for an interdimensional flight with a weird and wacky crew. (18+)
Another winner from Spiegelworld, the warped minds who created Absinthe and Atomic Saloon Show, this show has all the delightful weirdness of its sister shows with a completely unique concept of its own. You're invited on an interdimensional flight to Uranus aboard the OPM 73 for an experience that pays homage to B-rated science fiction movies from the 60s and 70s.
Be prepared to laugh your butt off, because the crew members of this long-distance flight are more than a little unusual, and the in-flight entertainment is truly off the wall. Las Vegas Journal describes OPM as featuring "wild musical numbers, raunchy comedy and unique side acts". It's the ultimate adults-only night out, performing at The Cosmopolitan.
---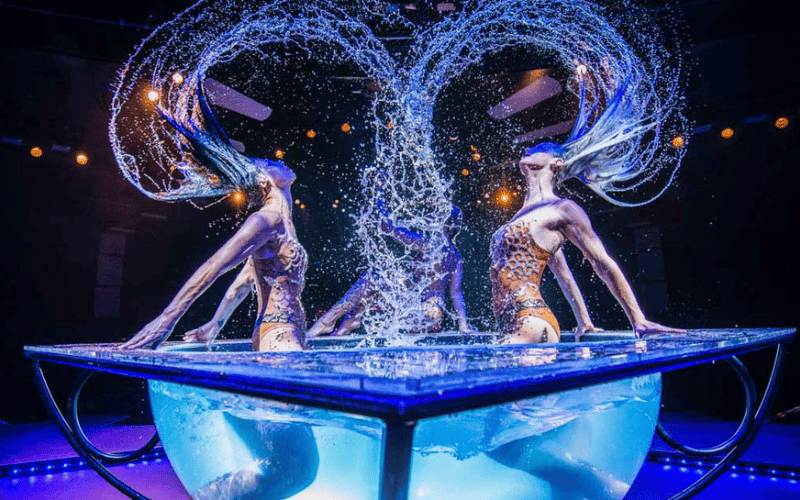 In a sentence: An exciting family-friendly variety show featuring a fabulous water stage.
This extravagant variety show is aptly named, because it goes all out to give audience members of all ages an exciting night of entertainment. WOW – The Vegas Spectacular performs in a specially-designed immersive theater at the Rio which gets you right up close to the action. The show takes place in and around a water stage, so be prepared to get splashed a bit if you're in the front row!
Aerialists, acrobats, stunt performers and dancers will wow you with their amazing feats. You'll get to see a remarkable rollerskating duo, an apple being shot off the top of a woman's head, and beautiful girls high-diving into a bowl of water. Pair that with the exciting sets, fabulous costumes, and emotive lighting and you've got a variety show that's so over-the-top exciting that it could only exist in Vegas.
---
In a sentence: A truly Vegas-style variety show featuring classic showgirls and circus acts.
This fabulous variety show at Horseshoe Las Vegas celebrates Las Vegas' reputation as the Entertainment Capital of the World, showcasing everything that makes this city shine in one show. The world-class performers on stage include dancers, acrobats, skaters, comedians and more, making Extravaganza – The Vegas Spectacular everything you could possibly want in a Las Vegas show.
The production value of this exciting show is over-the-top, featuring dazzling costumes and an elaborate set with a gigantic LED screen as the backdrop. You'll get to see real Vegas showgirls, as well as holograms of Elvis and Sinatra.
---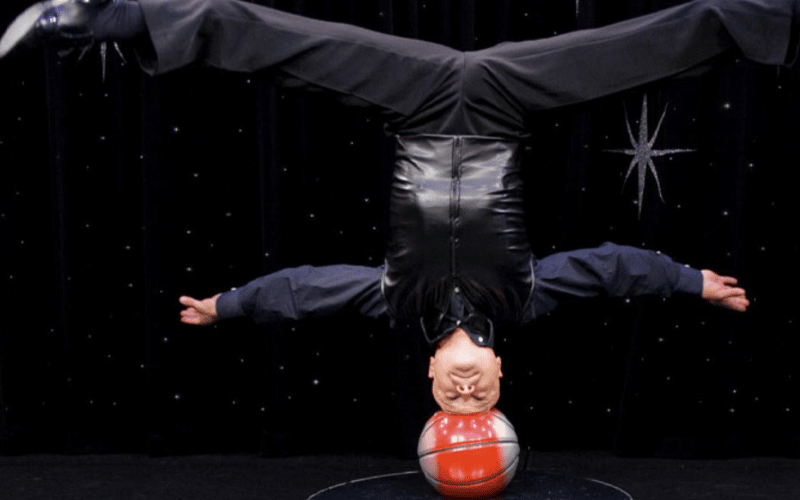 In a sentence: A fun, family friendly variety show with circus acts and comedy.
The Big Little Variety Show packs a whole lot of exciting entertainment into a small, intimate venue at Alexis Park. No two shows are the same, because each night a new lineup of world-class circus performers takes the stage to entertain the whole family. This delightful show combines edge-of-your-seat circus acts with hilarious comedy.
With family-friendly humor and physical comedy, this is a show that's especially good for families with kids. What's more, the afternoon showing means you'll have time to enjoy your night out in Vegas after the show.
See all Las Vegas shows HERE!
Featured Variety Shows