Top 10 BBQ Restaurants in Las Vegas
Here are the best of the best BBQ Restaurants located in Las Vegas.
In the midst of all the fine elegant dining in Las Vegas there exists a loyal following for Barbecue. As a result Las Vegas Direct has put a special panel together to find and review the Top 10 Barbecue Restaurants. In creating this list we noticed there are many different spellings for Barbecue. These include BBQ, Bar-B-Q, Barbie and Barbeque, but like somebody said, "It's all good."
The panel was made up of a food critic, local residents, ourselves and a few tourists who practically swore they were barbecue experts.
Located just off the Strip
3185 S Highland Dr. Las Vegas, Nevada
Open: Mon-Thurs 10am-8:30pm
Fri-Sat 10am-1:30am
Reservations are not accepted.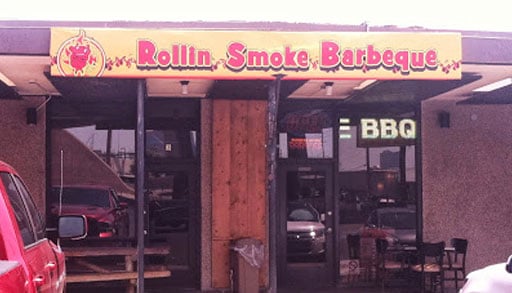 Rollin Smoke Barbeque is "off the chain" good. The food was just amazing! It is a small family-run business that you might otherwise pass by without even noticing. We had a Meat Trio consisting of brisket, pork and ribs with waffle fries and Mac n Cheese. The meats were tender, juicy and full of smoked goodness flavor. The house BBQ sauce adds even more flavor than we thought possible.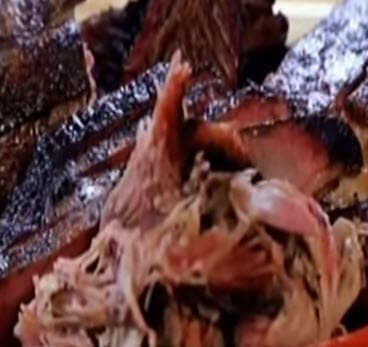 The waffle fries were very crispy. You will want to order extra. You can order an All You Can Eat plate of beef ribs if you can handle it and the price is reasonable too. Sides include traditional corn bread, fried onion straws, greens, and even corn nuggets. Yum is all I can say. Pulled pork, hot links, beef ribs, pork ribs, and rib tips are all smoked to perfection and simply delectable.
The chicken and brisket were good too with a a perfectly matched sauce that was not too sweet or overly spicy. They also have a fantastic smoked meatloaf which is very unique and super tasty. If you can possibly have room for dessert, go for the cobbler. The only downside was that the place itself isn't much to look at when it comes to decor, but they keep it very clean. The location is a bit off the beaten path, but that is a small price to pay for such delicious food.
Locations:
3730 Thom Blvd, Las Vegas, NV 89130
Grill Hours: Mon-Sat 11am – 6pm. Closed on Sundays.
Phone: (702) 645-1200
AND
11357 N. Decatur Blvd, Las Vegas, NV 89131
Grill Hours: Wed-Thurs 11am-9pm, Fri 11am-5pm. Sat/Sun 8am-5pm.
Phone: 702-863-1528
Featured on "Diners Dives and Drive-ins," The Road Kill Grill was first opened over 70 years ago as a slaughterhouse by John Mull. While they are no longer slaughtering meats, wild game from permit-holding hunters is still accepted and processed for a fee. You will find some amazing BBQ at this hidden gem. The place has not change much and they serve diners in their own backyard.
Most of their meats take 16-hours or longer to prepare and they use a special blend of seasonings mixed with salt, sugar, and spices. One of their secrets is the use of a unique variety of peppers that are roasted and ground up a day before use for freshness and peak flavor. They vacuum tumble the meats for 16 hours in the rub for super tender meats. The meat next is boiled in the marinate and finally grilled to perfection. The meat comes out full of flavor and is very juicy, so no extra sauce is needed.
Located Behind the Mandalay Bay Hotel
5611 South Valley View Blvd, Las Vegas, NV 89118
Hours: Mon-Sun 11:30am-8:30pm
Phone:(702) 541-5546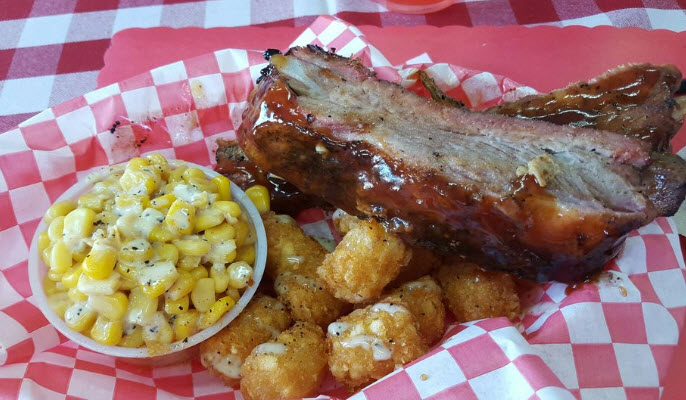 Jessie Rae's features award winning slow smoked ribs, chicken, pulled pork, hot links, brisket and more. They have many different types of BBQ and call it Las Vegas barbecue to reflect it. Sauces include Alabama white sauce, Carolina Vinegar sauce (called Pig Sweat),  one made from the hottest reaper peppers (fallen Angel) , and their award winning God Sauce. You can also mix things up to make your own fused sauces.
You must try their amazing waffle french fries that have different kinds of smoked meats and sauces.
3570 Las Vegas Blvd. Las Vegas, Nevada
Lunch: Mon-Fri 11am – 2:30pm
Dinner: Daily 5pm – 11pm
Brunch: Sat and Sun 10:30am – 3pm
Reservations: A good idea, (702) 650-5965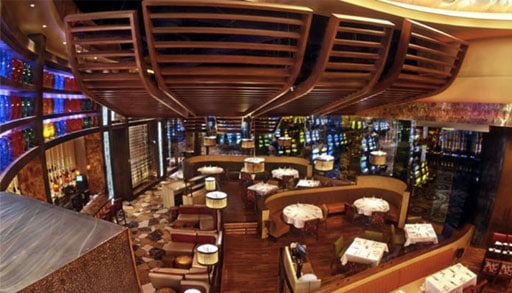 Many people think that for a barbecue restaurant to be good it must have rickety tables and sawdust on the floor. This is certainly not true for the Mesa Grill which is located in the middle of Caesars Palace.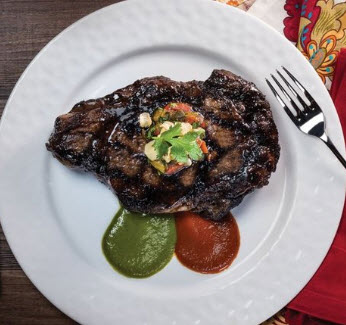 The Mesa Grill is unique for two reasons. First, it combines typical American barbecue with the flavors and spices of Southwest cuisine. Secondly, it is run by the television celebrity chef Bobby Flay, who puts a gourmet twist to almost every item on the menu.
Typical menu items are New Mexico spiced rubbed pork, spicy chicken, coffee rubbed fillet mignon, Black Angus steak and their special Mesa burger.
Along with the meat servings there is a variety of seafood and side dishes all with a Southwest cuisine flavor. In addition there are two items in the appetizer menu not to be missed. They are Yucatan Chicken Tacos and Roasted Corn Soup. A real winner on the dessert menu is Deep Dish Banana Pie with peanut brittle.
Located 8 Miles from the Strip.
2250 E Warm Springs Rd, Las Vegas , Nevada
Open: Mon-Fri 11am-10pm Lunch and Dinner
Sat & Sun 8am-10pm Breakfast, Lunch and dinner
Reservations accepted, (702) 260-6909
Other Locations: 1401 S Rainbow Blvd. Las Vegas , NV & 4379 Las Vegas Blvd. Las Vegas , NV
If you think the Memphis Barbecue is the creation of some good old southern boys using an old family recipe, forget it. But, their food being so tasty, it doesn't really matter where they are from. The real story is the word Memphis comes from Memphis Championships an award they won.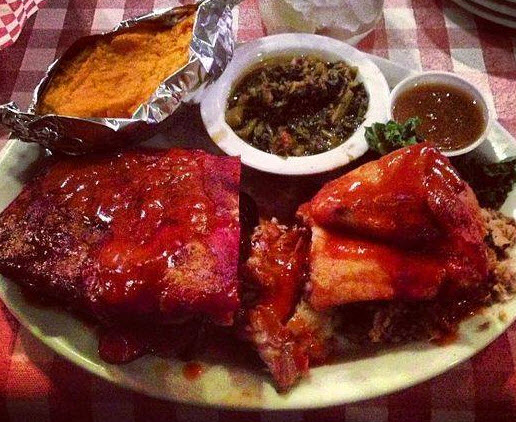 There are three Memphis Barbecue restaurants in Las Vegas . The menus are the same for each of them. The one we are reviewing is on Warm Springs Rd. , it is closest to the Strip.
Being near the Strip the restaurant attracts a goodly number of celebrities; Celine Dion, Deacon Jones, The Pointers, Penn and Teller to name just a few. Keep in mind that all though it is strictly a barbecue restaurant the decor is above average and there is a full bar. Price wise, they are moderate.
The menu favorite is Baby Back Ribs. These may be ordered in combination with other meats or ribs such as St Louis Ribs or even Beef Ribs. There is a very wide choice of other barbecue or smoked dishes such as chicken, pork shoulder, hot links, brisket, southern catfish, grilled salmon, shrimp, pork steak, smoked turkey, rib-eye and N.Y. strip steak.
There is a hamburger and sandwich menu made of grilled and smoked items that is worth looking at.. If you enjoy meat and potatoes, how about this? On their sides menu is a meaty baked potato stuffed with an assortment of meats.
Various other side dishes are offered on their menu ranging from coleslaw to French fries. There are salads for those with vegetarian tendencies. The dessert menu is not too inspired.
Located 11 miles from the Strip
1951 N Rainbow Blvd. Las Vegas, NV 89108
Open: Mon-Thu 11am-10pm
Reservations are accepted.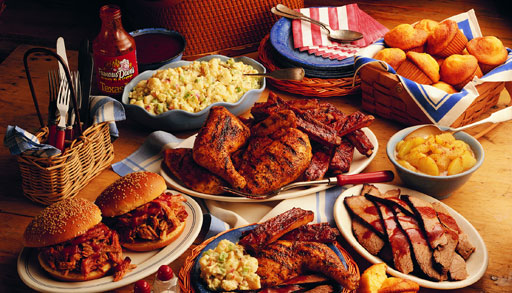 This is a great BBQ joint. Even though it is a "chain," you won't find much better BBQ anywhere else in town. They start out bringing you homemade chips to try all the sauces with before your plates arrived. It is a fabulous idea so you can taste all the great sauces using the chips instead of with your fingers.
They have what are possibly the best ribs we have ever eaten, and trust us, we have eaten plenty of ribs! Each rib is super tender and falls of the bone – and with the sauces provided, we all were simply in heaven. We made full use of the big paper towels at each table. The portions are huge too, so you might be taking some ribs home with you to enjoy later.
The fries are simply awesome. Even the beans were extremely good. Corn on the cob and a corn muffin come with dinners, which was also very tasty. We tried the jalapeno Mac and Cheese (not sure how we had the room for it) and liked it a lot. The BBQ chicken is an excellent choice for variety and very juicy. Sausage is served with a very flavorful mustard relish and was a big hit too. Dessert was a bit limited, but we really did not have any room left for it. Head on over to Famous Dave's and you won't be disappointed!
Located at The Red Rock Casino Resort
11011 West Charleston Blvd, Las Vegas, NV  89135
Open 11am-10pm Mon-Thur & Sun
11am-11pm Fri & Sat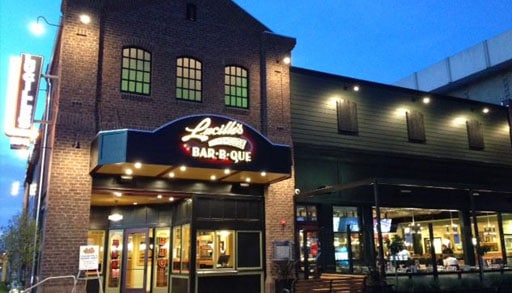 It isn't too often that our panel will review a restaurant that is outside of Las Vegas . Since Lucille's Smokehouse is only a fifteen minute drive and so many good things have been said about the place we decided to go there. Lucille's is located in Henderson , NV which actually has a few interesting places to visit, if you are in to such things as a chocolate factory.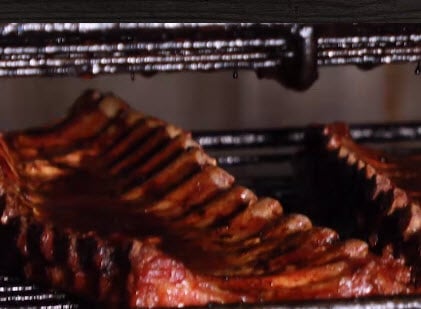 Lucille's Smokehouse had its origins in a small lunch shack just outside of Greenville , Texas . Lucille's grandmother owned the place and developed (you guessed it) a secret sauce. Lucille was sworn never to give the recipe to another soul. Somehow the oath must have been broken because there is now a chain of Lucille's Smokehouses.
The restaurant has a western look on the outside. Inside it is clean and all that you would expect of a barbecue restaurant.
Before getting into the menu, you should know there is a full bar located in their Flying Pig Lounge. The lounge has live musical entertainment almost every weekend from 7pm to closing.
The menu itself offers Baby Back Ribs, St Louis Ribs, Beef Ribs, Beef Brisket, Tri tip and ½ Smoked Chicken. Other items include Pork Chops, Pan Blackened Catfish, New York and Sirloin Steak, Jambalaya, Smoked Chicken Pasta, Smoked Salmon, Fried Chicken, New Orleans Gumbo and Mardi Gras Chicken.
On the appetizer menu you will find Fried Pickles, Fried Green Tomatoes, Fried Okra, Sweet Potato Fries, Onion Straws, Spinach and Cheese Dip, Shrimp and Wings. Make sure and sample the homemade Biscuits with Apple Butter.
Even though we did not try each and every item on the menu we thoroughly enjoyed both the Baby Back and St Louis Ribs. They were tender, tasty and delicious. The Sweet Potato Fries and the Coleslaw went well with the meal. Nobody was too enthused about their coffee.
There is a really first rate Corn Chowder on the soup and salad menu along with an assortment of salads made with either Chicken, Tri tip, brisket, Sirloin or Smoked Salmon.
Lucille's Smokehouse has a Sandwich Menu. Almost all of their barbecued and smoked meats are available for sandwiches. Additionally they serve a very decent looking ham or cheese burger. The restaurant also has a diverse sides menu. It has various forms of potatoes, mashed with garlic, fried, baked, potato salad, as well as grits, beans, braised vegetables along with macaroni and cheese.
If you are into desserts (who isn't?) here are your choices: Chocolate Cake, Ice Cream Pie, Banana Pudding, Red Velvet Cake, Fruit Cobbler and Bread Pudding.
Located 6 miles from the Strip.
3655 S Durango #18 Las Vegas, Nevada
Hours: Mon-Thur 11am-10pm
Sat, Sun 9am-11pm
Dress is casual
Reservations accepted: (702) 451-7427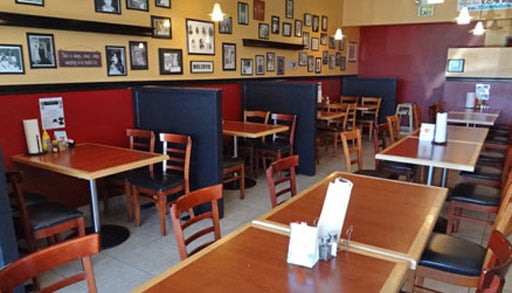 I said to the panel, "Tonight we are going to a restaurant that claims to serve the best ribs in Nevada ." One of the panel members looked up at me and said, "They all say that."
I said, "Well maybe it's true, they were picked by the staff of Las Vegas Review Journal." She just rolled her eyes and gave me a sarcastic smile.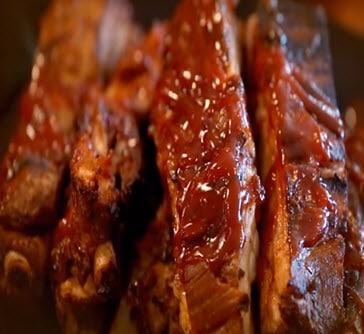 TC's Rib Crib is about a 12 minute drive from the heart of the Las Vegas Strip. It is small, clean, very friendly and prides itself on a pleasant down home atmosphere. To give you an idea of just how down home it is, they serve Kool-Aid as one of their beverages.
After dinner we all agreed that everything we ordered was excellent and just maybe we were tasting the best ribs in Las Vegas . They serve spare ribs, beef ribs and baby back ribs. The baby back ribs are the most popular. Other barbecue meats on the menu include: pulled pork, pulled chicken, beef brisket, rib tips, links and various sized portions of barbecued chicken.
Friday is catfish day along with all their other menu items. There is a sandwich menu featuring their barbecued meats, a children's menu, and a lunch time very moderately priced menu.
While we are on the subject of menus, the Rib Crib also has a breakfast menu on Sat and Sun. The menu has omelets, waffles, potatoes, bacon sausage, catfish and assorted barbecued meats. It requires a hearty appetite to really appreciate it.
Their down home feeling extends to the dessert menu which features: banana pudding, glazed donut bread pudding, peach cobbler and vanilla ice-cream. They also serve a sweet ice-tea that is so sweet, one reviewer said, "It will give you diabetes on the spot.
When you go to T C's Rib Crib you get a $20 meal served on plastic plates, so it damn well better be good. It is.
They accept reservations and they deliver.
Located in the Fremont Hotel & Casino
200 E Fremont Street
Fremont Hotel
Las Vegas , Nevada
702 385-3232
Hours: Sun-Thur 4:30pm-11pm
Fri-Sat 4:30-midnight
When selecting the top 10 barbecue restaurants in Las Vegas it is easy to forget Tony Roma's because having been around so long we just take it for granted and look for new places.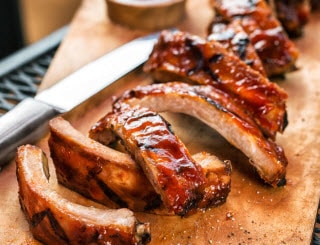 As we found out, it has been around so long because it is a very good place to eat. The original Tony Roma's started in Miami , Florida in 1972. It did so well with its ribs that locations grew through out the United States . At this time they have nearly 200 restaurants in 32 different countries. This includes one in Tokyo , Japan that has been there since 1978.
Their secret of success seems to be; discover what people like to eat and serve it to them in a pleasant clean atmosphere.
There is full bar service at the restaurant which includes some very fancy margaritas.
On the starter menu there is one item you should consider ordering, potato soup. It is served with bacon, cheddar cheese and chives and is excellent.
Tony's has numerous menus including steak, seafood, chicken, pasta sandwich, salad, lunch and dessert. But the barbecue menu is what Tony Roma's is all about.
Barbecue Menu
The barbecue menu features ribs and combination dinners. Most popular are the baby backed ribs which are served with your choice of sauces. They also serve St Louis ribs which are a bit more marbled and much meatier than baby backs. You can order beef ribs or beef short ribs. The short ribs are topped with a wine glaze.
They have a combination plate of ½ rack of baby back ribs and filet medallions. There is also a combination of ½ rack of St Louis ribs and your choice of chicken, shrimp or salmon.
Another interesting combination is a St Louis rib sampler served with four different sauces.
There is of course a sides menu: rice pilaf, coleslaw, fried potatoes, and potatoes mashed or baked. Fresh or fire roasted vegetables are available as well corn on the cob, macaroni and cheese, last but not least, creamed spinach.
Some very smart person at Tony Roma's figured out they should make the desserts a small size so the patrons would not feel too guilty ordering them. Unfortunately, they also give you the option of ordering any three at the same time. For those of you health minded enough not to take advantage of this option here are the choices: red velvet cake, key lime tart, raspberry brownie royale, golden apple tart, strawberry cheese cake and chocolate chunk cookie sandwich. There is no need to tell you the three I picked.
At the end of our meal all the panel members agreed the food was good, the service was good and we would all be willing to come back to Tony Roma's.
Several Locations Available, see below.
4360 Blue Diamond Rd #107
Hours: Mon-Thur 11am-9:30pm
Fri-Sat 11am-10pm
702 889-4375
7435 Durango #104
Hours: Mon-Thur11am-9:30pm
Fri-Sat 11am-10pm
702 889-8880
7435 S Eastern Ave #107
Hours: Mon-Thur 11am-9:30pm
Fri-Sat 11am-10pm
702 676-2098
7945 S. Rainbow Blvd Ste A
Las Vegas, NV 89139
702-888-3789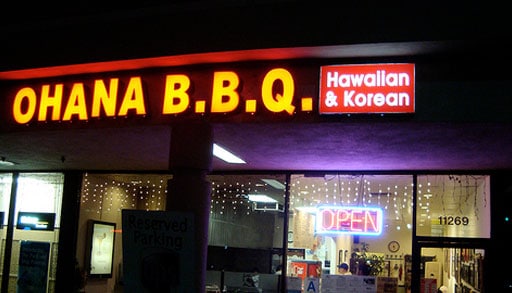 We usually think of barbecue as coming from the southern parts of the United States , such as Texas or Louisiana . So when somebody mentioned they heard interesting things about an Hawaiian barbecue, we decided to check them out. As you can see, they made our Top 10 List.
Oharas came to the mainland from Hawaii in 1999. The restaurant opened seemed to blossom in California . They then branched out through the country including Alaska . As of today they have approximately 200 restaurants. One of our panel members said, "They must be doing something right."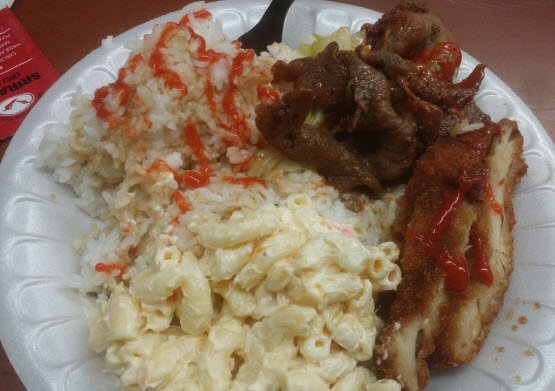 The Menu
The appetizers or starters on the menu have an Asian flair. They serve a saimin or noodle soup made with your choice of chicken, beef, fried shrimp or spam (spam is not a misprint).
You can order musubi which is another name for sushi type rice rolls made with either Portuguese sausage, chicken or spam.
The side order menu contains some unusual items: malasadas which are an unsweetened donut like food, cryoza dumplings are similar to wonton served in Chinese restaurants, kim chi is a garlic pickled cabbage, manapau a pork filled roll, French and gravy fries, macaroni salad and shrimp garlic noodles.
When it comes to the main menu items there is an assortment of combinations plates. They offer a seafood platter consisting of breaded shrimp and mahi mahi with a choice of Hawaiian barbecue beef, chicken or short ribs.
There is a seafood platter without any meat. One of the more popular items is a mixed barbecue combination plate consisting of Hawaiian barbecued beef, chicken and short ribs.
Ohana's also has a lunch menu which includes hamburgers and sandwiches of barbecued salmon or mahi mahi, along with pork dishes and Portuguese sausages.
It should be mentioned that their menu prices are quite moderate. Even though Oharas is not a fine gourmet restaurant, the food and service were good and we enjoyed ourselves.
Related Guides:
Top 10 Steakhouses, Top 10 Buffets,Top 10 Dining, Las Vegas Restaurants, Tipping Guide, Top 10 Vegas Hotels, Dress Code, Top 10 Shopping, Vegas Promos, Top 10 Vegas Shows, Top 10 Clubs