Circa Hotel and Casino is Doing It Better – Here's How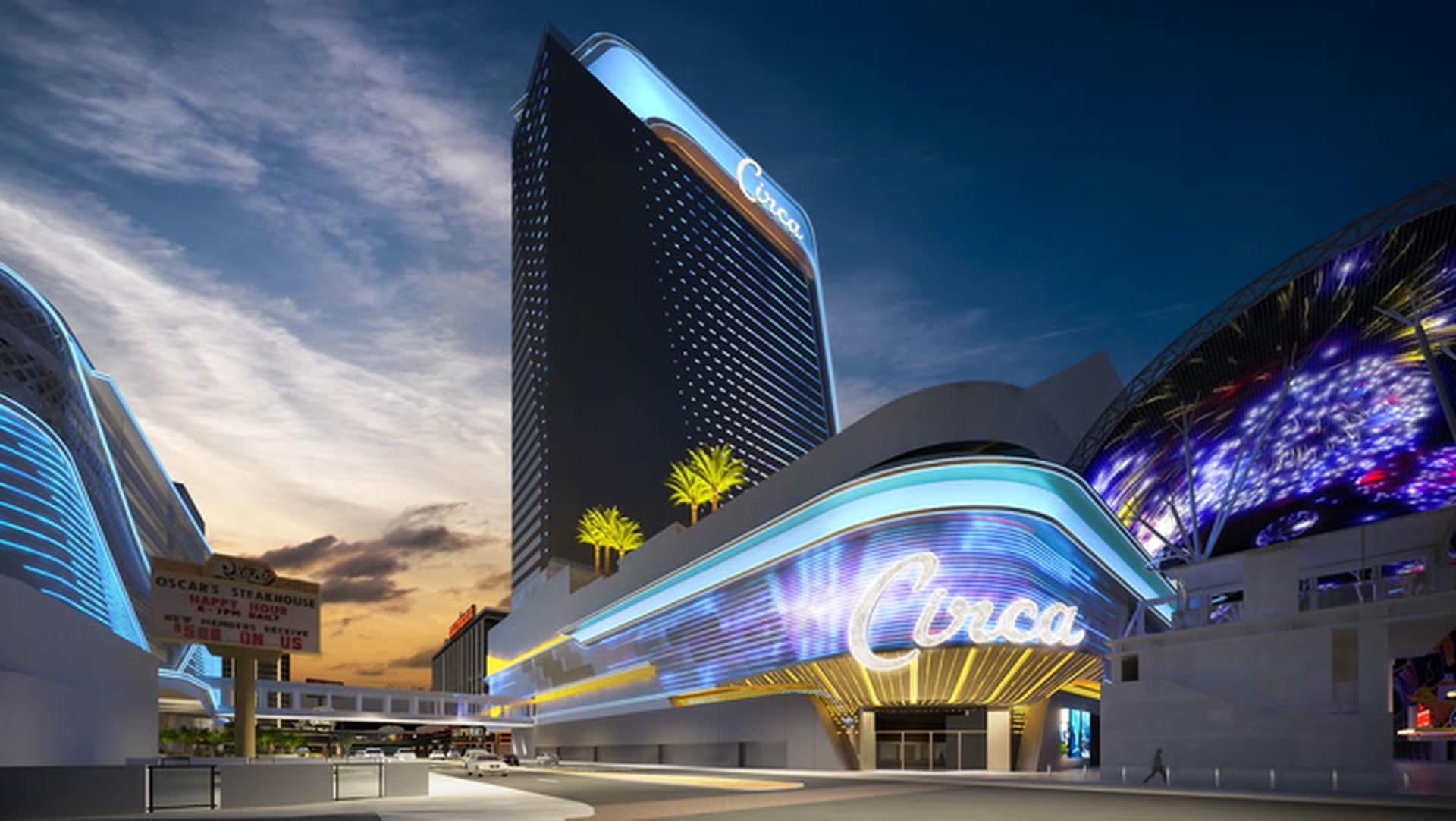 We may receive a commission if you make a purchase.
Located in Downtown Las Vegas, Circa Hotel and Casino offers the extravagance and glamour of classic Las Vegas with a very modern twist. And they are taking it to the next level. But what exactly is so cool about this new Las Vegas hotel? Well, where do we begin! Read on to find out the unique and amazing features of Circa Hotel, and why it's the ultimate destination for your fabulous visit to Vegas.
A Little Introduction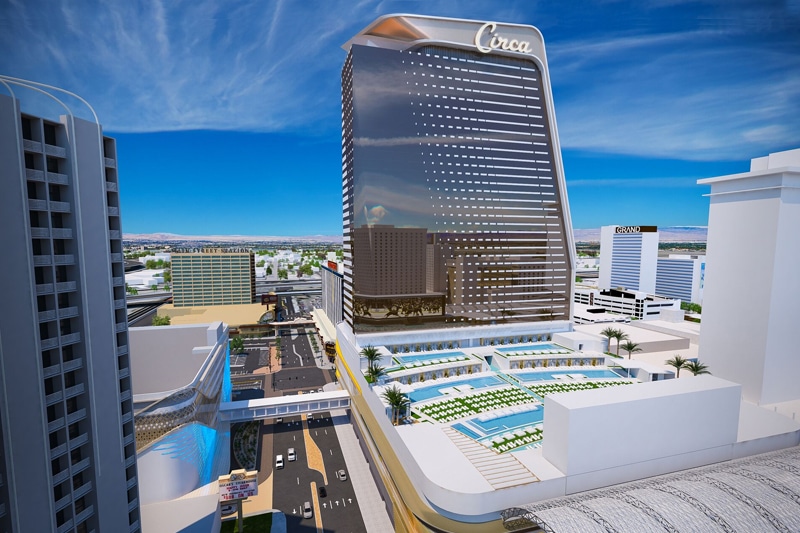 Circa is the tallest hotel in Downtown Las Vegas at almost 500 feet high, covering an entire city block and 1.2 million square feet. It's located on the Fremont Experience: Vegas' glitzy pedestrian boulevard bright with neon signs that brings you back to the original, old-school glory of the city. There are 777 rooms in the hotel, a lucky number indeed. Circa is also Las Vegas' very first adults-only casino and hotel, welcoming only guests over the age of 21. This factor makes for a whole different vibe throughout the property, allowing for over-the-top experiences in a vibrant, lavish environment. As Circa puts it, "We're leading the charge to a new golden age of Las Vegas".
The Rooftop Pool Amphitheater
One of the mind-blowing features of Vegas' newest hotel is "Stadium Swim", a giant pool area that has 6 pools over 3 levels overlooking a 40 foot tall high-definition screen. This gigantic amphitheater has a 4,000 person capacity and is said to be one of "the best pools in history". Guests can enjoy well-known DJs and special guests, or watch a sports game on the big screen as they enjoy the pools that range in temperature. (On cold days, the pools are heated to 104 degrees.)
There are so many things to love about this awesome amenity, like 2 swim-up bars where you can order a drink without leaving the water, 2 rejuvenating spas and selfie walls to take the perfect insta pics in front of. There are 30 luxurious cabanas to reserve, with 65 inch TVs, private security and a dedicated server, and super cabanas that can accommodate up to 25 guests.
The Biggest Sportsbook in the World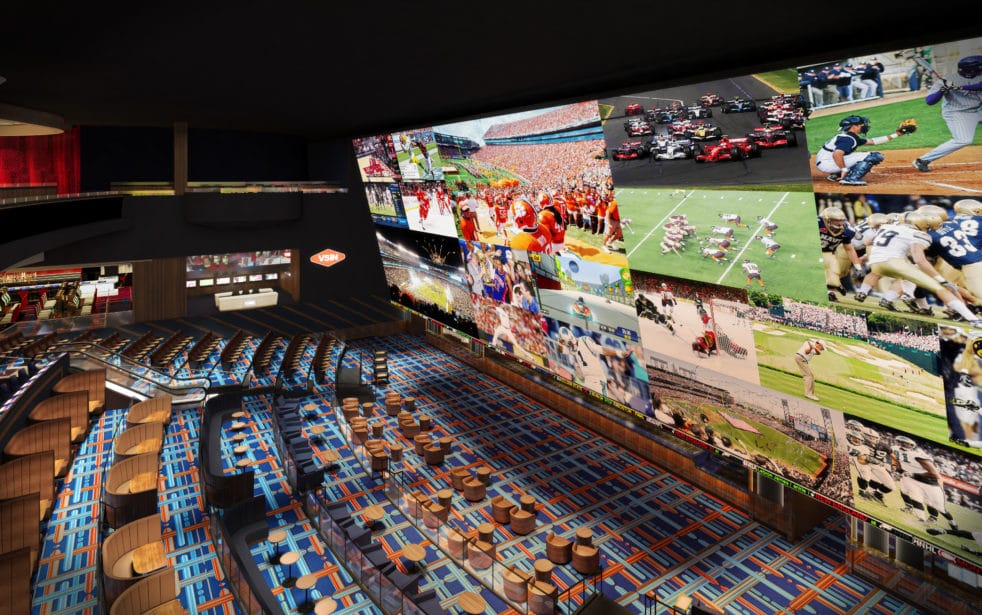 Circa calls it "a sportsbook so big we built a casino around it". They're referring to their 3 level, 1,000 person capacity sportsbook, with its gigantic 78 million pixel viewing screen. Circa even has its own on-site sports broadcasting studio, which shows how serious they are about making this the largest and most amazing sportsbook in the world.
You can choose your style when it comes to seating options. Even the regular seats are luxury stadium-style seats, or you might want to choose one of the Legends Club Seats that comfortably recline with cup holders. If you want to go all-in with a group of friends, we recommend reserving a table, where you'll have an exclusive booth and a luxury viewing experience. You'll enjoy bottle service with a VIP server, as well as delicious game-day food options from Saginaw's Deli and Victory Burger.
The Spectacularly Stylish Rooms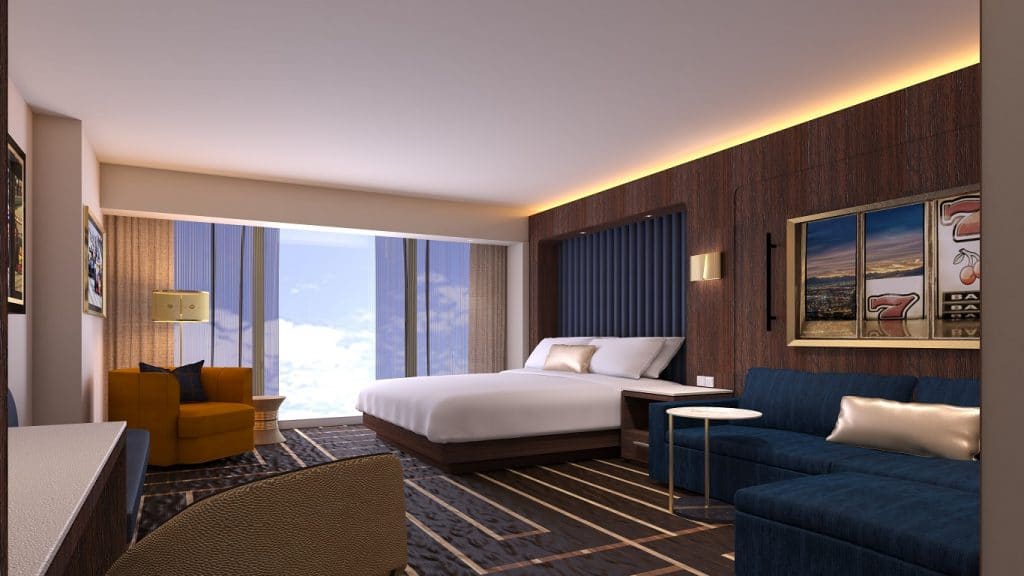 The rooms at Circa are gorgeously designed, with mid-century modern inspired décor that harks back to old Vegas style. Everything in the rooms glitters and glows in extravagant glamour, while still achieving a cozy feel with neutral color tones, comfy furniture and sitting areas that invite conversation.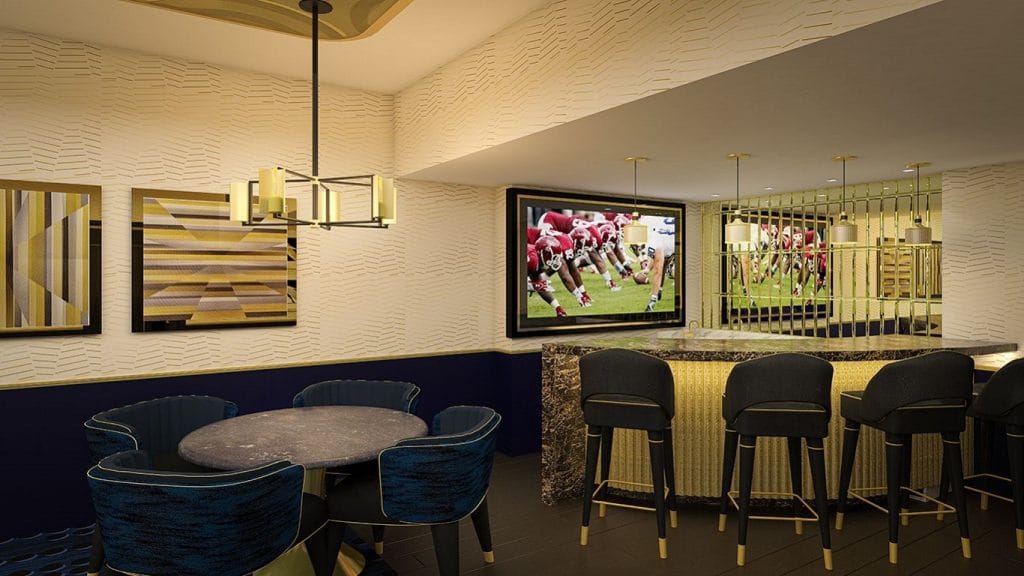 In the Circa Suite, the hotel's standard suite offering, you'll be impressed by the retro Vegas inspired bar area, complete with hip bar stools and a mirrored wall. This, as well as the dining table with 4 chairs, creates the perfect environment for hanging out with friends.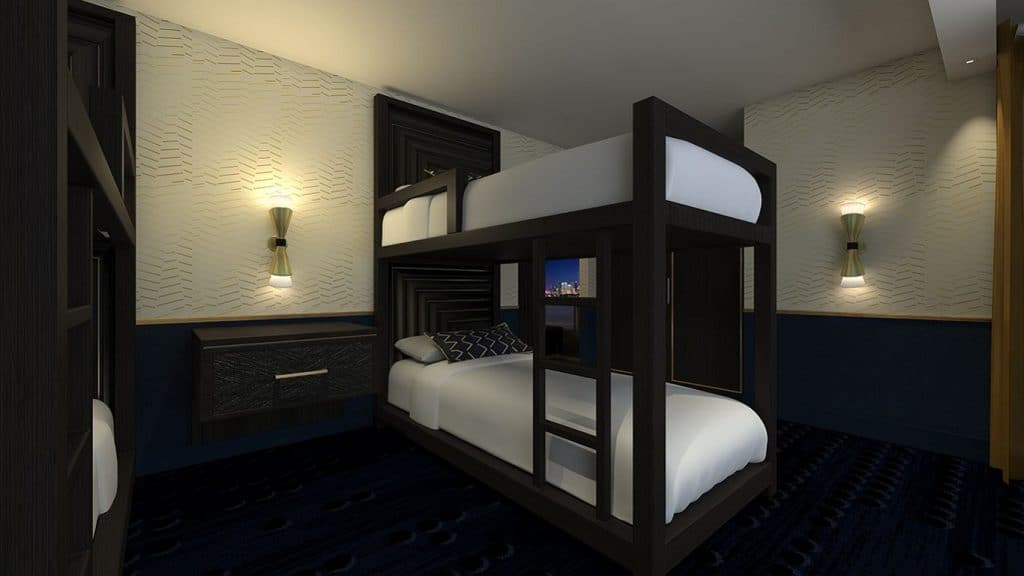 If you're travelling with your whole crew, the Bunk Pad room is absolutely perfect, with 4 twin sized beds in the form of attractively designed bunk beds. You'll find a bathroom vanity that's nice and long, great for getting ready for your ultimate girl's night out. And you'll have the hip Vegas inspired bar area in this suite too.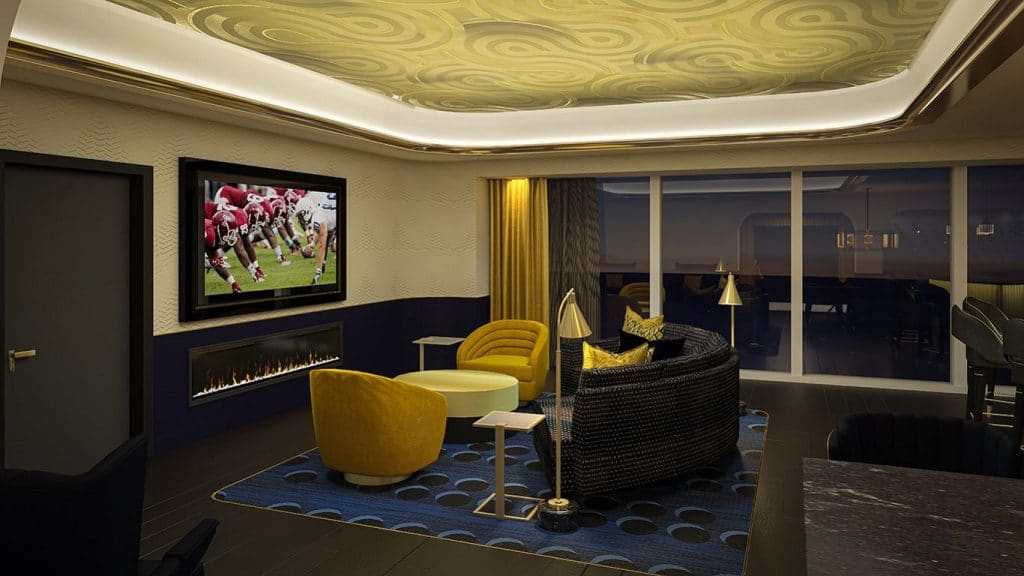 For their premier suite, Circa offers the Founders Suite – an 1830 square-foot luxurious space that's perfect for group gatherings. These suites feature 2 bedrooms, a king bed in each, a living room with a bar, a large dining table and extra banquet seating. If you want to relax and watch a movie with your besties, there's a cool sitting area where you can do that in comfort, complete with a gorgeous glass-enclosed electric fireplace.
The Delicious Dining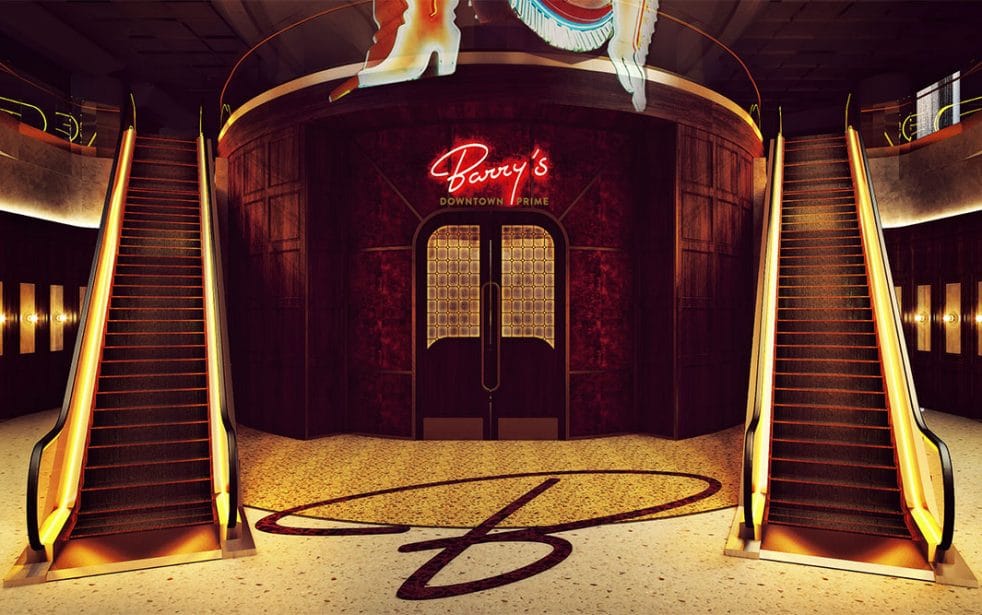 Hungry? Circa has 5 fantastic dining options to choose from. Savor a fine steak at Barry's Downtown Prime, and enjoy their tableside presentations and superb cocktail menu. If you fancy a sandwich, head to Saginaw's Delicatessen for a super-sized sandwich from the creator of Zingerman's Deli –known for some of the best sandwiches in the world. If burgers and wings are more your style, Victory Burger serves up great game-day favorites in a vibrant sports bar atmosphere. 8 East offers delectable Pan-Asian dishes by Chef Dan Coughlin. And we really love Project BBQ: a permanent food truck with a cute artificial back yard to sit in while you enjoy freshly smoked barbeque creations.
The Pumping Nightlife
Along with Circa's addition of the longest outdoor bar on the Fremont Experience, they have an elegant and stylish lounge called Legacy Club. Here you can enjoy a cocktail on the roof while getting a panoramic view of a Las Vegas sunset (one of the most incredible sunsets in the world), or looking over the bright lights of the city at night. You'll love the fire pit on the outdoor terrace, and the gold bar top gives the club a feel of timeless glamour.
The Fabulous Casino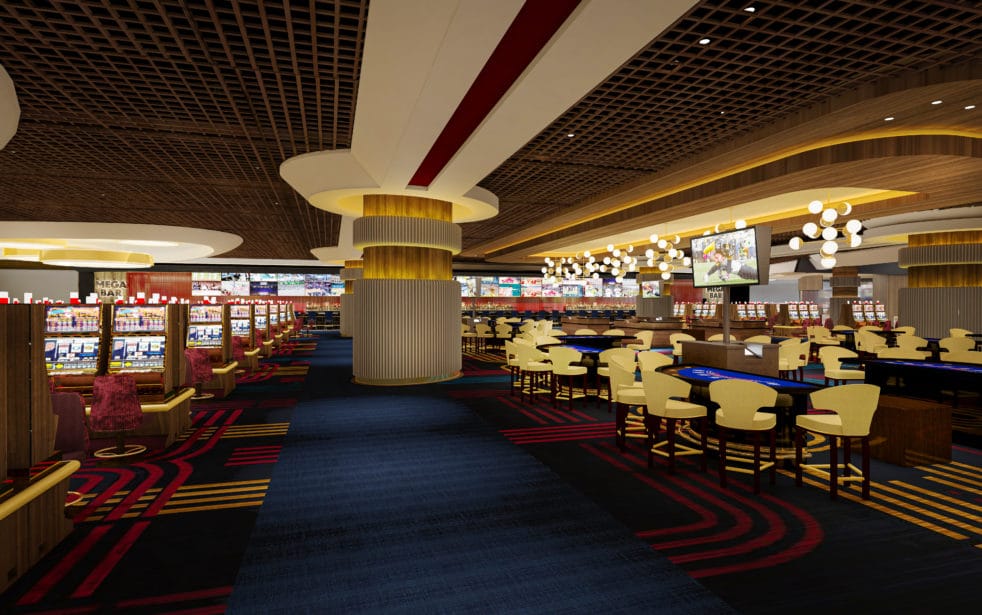 Let's not forget that Circa is a casino hotel. The adults only status of the casino gives it a vibe of excitement and energy, in a gorgeously designed atmosphere that brings you back to the golden age of Las Vegas casinos. Circa has created the 2 level, full service casino with the intention of making guests feel that anything is possible, and feel bright anticipation of a fabulous future.
The Extravagant Parking Garage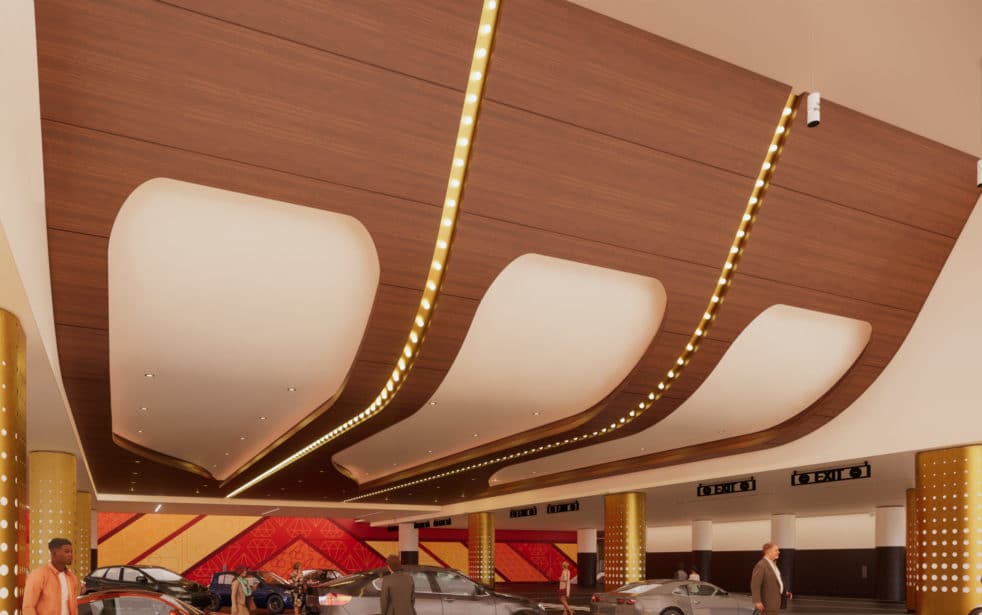 I hear you saying, "Garage? What's so special about a garage?" Well, the 9 story parking garage at Circa, named Garage Mahal, is anything but ordinary. The awesomely retro-hip design invites you into a parking structure that focuses on most people's preferred method of transport: ride sharing. Guests will love the video walls that display artwork from featured artists.
Circa Hotel and Casino is now open and taking reservations!