The Best Steakhouses in Las Vegas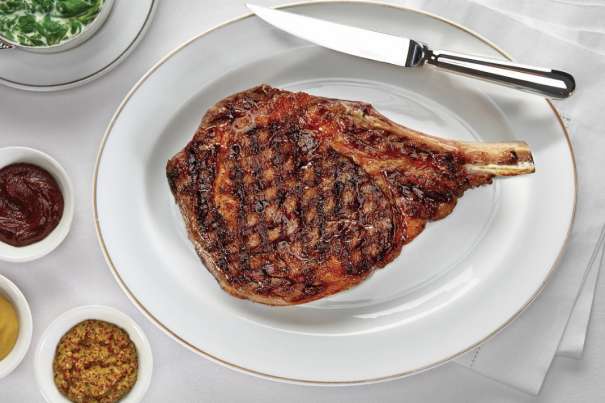 We may receive a commission if you make a purchase.
Here are the best of the best top steakhouses located in Las Vegas.
Las Vegas is home to some of the best restaurants in the entire world. When you plan to spend a night out with friends, or perhaps a romantic evening with that special person, a great steakhouse is often the ideal choice.
Located inside the Wynn Hotel
3131 Las Vegas Blvd. Las Vegas 89109
The SW Steakhouse bares the initials of the founder of Wynn Resorts, Steven Wynn. This explains why everything about it is first class. Two things make a restaurant great, food and decor. The SW does well in both departments. The food is excellent while the decor is elegant and romantic.
Just a quick word about their food. Unlike some pricey restaurants the dishes served are what you would call American Basic and not covered over with a lot of strange sauces. There are some reviewers who feel that SW is too big and seats to many patrons. But even they agree it is an excellent restaurant. Just outside the SW and visible from inside, is the Lake of Dreams. It has a fountain show that is breath taking to watch and adds to the pleasure of the evening.
There are many steakhouse lovers who just as soon start and end dinner with a steak. However to avoid the possibility of a disapproving look from your more health minded dining companion SW has an excellent starter menu with salads ranging from baby iceberg lettuce to a glorious Caesar salad. For those of you who are not lettuce fanciers, among the many starter selections you will find crab-cakes and grilled hearts of palm.
Here are some of the wonderful offerings on the beef menu. Bone in Ribeye 20oz, New York Strip16oz, Bone in New York18oz, Porterhouse for two 40oz. The main course menu also features such dishes as Scallops, seared Tuna, Salmon Fillets, Chicken, Lamb Chops and Short Ribs.
Numerous side dishes to go with steak are available including crab-legs and lobster. There is a limited desert menu consisting of chocolate soufflé with cherries and whip cream.
Located inside Circus Circus Hotel
2880 Las Vegas Blvd. Las Vegas 89109
Las Vegas is a glitzy city of chrome, glass and shinny new hotels. The venerable old Circus Circus can be found in the middle of all this .Hidden away inside the Circus is a wonderful old steakhouse that for almost two decades has won awards from such prestigious organizations as The Las Vegas Review and Zagat.
Entering the Steakhouse, it is actually named "The Steakhouse", you get the feeling of walking into an old Baronial mansion. The walls are of dark cherry wood paneling and the paintings of hunting scenes. In stark contrast are the white table clothes. There is a glass case where the meat is dry aged. After aging and when served, the beef is grilled over a combination charcoal and mesquite to impart a special smoky flavor.
Before discussing the menu it should be pointed out that the prices are quite affordable. This doesn't mean affordable such as at McDonalds Hamburgers, but affordable by Las Vegas steakhouse standards.
The appetizer menu has some interesting and varied selections. They range from fresh sautéed mushrooms to Black Bean Soup. Sea food lovers will not be disappointed as oysters, crab legs and shrimp are on the menu. My favorite was the French Onion Soup.
The salad menu does not offer many choices, but then again it's a steakhouse not a health bar. Caesar Salad, a house salad, a wedge of lettuce and a beefsteak tomato make up this menu.
Their award winning main menu features Top Sirloin, New York Strip, Porterhouse, Bone in Rib Eye, Filet Mignon and a petite filet mignon, Prime Rib bone in cut and a petite cut. All beef served has been dry aged for at least 21 days. The menu also features lamb chops, chicken, salmon, halibut, lobster tails, crab and shrimp.
Those of you who enjoy a good dessert menu will not be disappointed. The variety of treats include cheese cake, chocolate muse and even cream bouleu.
Located inside the MGM Grand Hotel
3999 Las Vegas Blvd. Las Vegas 89109
MGM has succeeded in creating an elegant looking steakhouse that has homey comfortable touches that make eating there a very pleasant experience. On the other hand, if you're looking for a cheap meal this is not the place to be. By Las Vegas standards they are priced about right for what you get.
All the menus, and this includes the steak, soup & salad and side dish are just plain award winning excellent. I can't tell you too much about the dessert menu because I have always been to full to even think about ordering from it. Although, I did have a spoon of somebody's chocolate soufflé and it tasted quite good. The restaurant is directed by the well known chef, Tom Colicchio who wrote the book, Think Like A Chef.
There is an interesting item on the main course menu, Angus Flat Iron Steak. It is a special cut of beef recently developed at a Florida University. The steak actually resembles a flat iron, the kind used for ironing. It is flat and triangular. It tastes outstanding, and is a meat lovers dream.
Other items on the main menu include; prime Filet Mignon, dry aged Porterhouse Steak for two, dry aged T Bone Steak, Prime Rib-eye for two, dry aged New York Strip Steak, Skirt and Hanger Steak, braised Short-ribs, Salmon, Free Range Chicken, Scallops and 2 1/2lb Lobster.
Craftsteak has a special chef's beef tasting menu that varies from time to time. It is well worth trying. Both the soup and salad menu and the side dish menu use the freshest and best tasting ingredients available, often from small family farms.
Even though Craftsteak is primarily a steakhouse they are also known for three signature dishes, Braised Short Ribs, Lobster Bisque and uniquely prepared grilled Kobe beef.
Located inside the Palazzo Resort Hotel
3325 Las Vegas Blvd. Las Vegas 89109
Either by accident or excellent planning the Palazzo Hotel managed to have possibly the two best steakhouses in the United States. Carnevino is one, and Cut is the other. Since we have already dined and reviewed the first one, let's talk about Cut.
The steakhouse is a creation of Wolfgang Puck. He has taken his chic Beverly Hills steakhouse concept and moved it to Las Vegas. Judging from the critical acclaim of the New York Times, Los Angeles Times, Wall Street Journal, Wine Spectator and Bon Appetite Magazine he has certainly succeeded.
The physical layout of the restaurant is such that it presents an elegant chic departure from a standard steakhouse of just a table, chairs and menu. Cut can seat 160 patrons and an additional 60 in the well stocked bar-lounge.
Within the bounds of this steak lovers paradise you will find an interesting variety of beef. There is true Kobe beef from Japan, hormone free corn fed sirloin from Nebraska and 35 day dry aged beef from Illinois.
A 20 oz bone in rib eye as well as a 20 oz bone in New York Sirloin are available in different varieties of beef such as Kobe or Nebraska. Some of their other steaks are also available in different cuts. Porterhouse and filet mignon are of course on the menu. Cut also lists Pork Chops, Lamb Chops, Slow roasted Kobe beef short ribs, Salmon and Lobster as menu items.
The steaks are prepared by grilling over hardwood and charcoal and then finished in a 1200 degree broiler.
There is an extensive starter menu with some very exotic salads. I must admit that I miss plain old lettuce and tomatoes. Cut has an excellent collection of side dishes to go with their steaks. For those of us who enjoy French Fries and Onion Rings Mr. Puck still has them on the menu.
Cut has a dessert menu second too none. Some of the items are Baked Alaska, Banana Cream Pie, Honey Crisp Apple, Pumpkin Donuts and my waitresses' favorite, Warm Chocolate Soufflé.
Located inside the Venetian Hotel
3555 Las Vegas Blvd. Las Vegas 89109

The name Delmonico carries with it a century old tradition from New Orleans. Chef Emeril Lagasse keeps the tradition alive and well in this classic American steakhouse. He has added Creole dishes to enhance the steakhouse menu.
Inside the restaurant you get the impression of it being a comfortable place to eat. By Las Vegas standards its decor is on the plain side. But, the food more than makes up for it.
To give you an idea of Delmanico, let's look at some of the menu items. On the Appetizer menu two favorites are New Orleans barbecued shrimp and potato chips. The potato chips are not the ordinary variety but thin sliced potato pieces made with parmesan cheese and truffles.
On the soup and salad menu there is a delicious New Orleans gumbo with chicken and sausage also an excellent lobster bisque. There is a good selection of salads including a Caesar salad for two.
Before getting to the steakhouse menu, Delmonicos' has other well prepared excellent dinner selections. They range from lamb chops, shrimp and salmon dishes to great tasting chicken. There is even a chateaubriand for two carved at your table.
The steakhouse menu is all that it should be and more. It features Bone in Ribeye Steaks, Bone in New York Strip Steaks and Filet Mignon. All aged and cooked to perfection. Various side dishes are available including lobster and the crowd favorite, twice baked potatoes with cheddar and bacon.
There is an extensive dessert menu for a steakhouse but the overwhelming favorite including my own choice is banana cream pie with caramel sauce and whipped cream.
Located inside the New York, New York Hotel
3790 Las Vegas Blvd. Las Vegas 89109

Picture New York City in the nineteen twenties when alcohol was illegal. The Speak-Easy came into existence. They were bars and nightclubs hidden from the police where they served homemade whiskey and beer. This was the beginnings of Gallagher's.
The restaurant may not be the most elegant in Las Vegas , but their food makes up for it in Aces and Spades. They dry age their own beef. You can actually look into their aging rooms. Thick succulent steaks and chops cooking over mesquite grills have given Gallagher's its well deserved reputation. Somebody said, "Gallagher's is a meat and potatoes restaurant with a Park Avenue flare". A look at their menu and you will see how correct that remark really is.
New York Sirloin Steak, Porterhouse Steak, Cowboy Rib eye Steak and Prime Rib. The Prime Rib has both a king size and a queen size portions. Lamb, pork and veal chops are also featured on the menu. If your not a beef eater you can order an extremely tasty pan roasted chicken breast.
Gallagher's has a somewhat limited but nevertheless good seafood menu offering, Salmon, Main Lobster and Alaskan Crab-legs.
The appetizer menu offers some excellent choices. My advice is, go for the Crab-Cakes. On the soup and salad menu their clam chowder is a real winner. When it comes to side dishes, Gallagher's potatoes win hands down. The steak fries are good and the crusty smashed potatoes even better. Don't forget and leave room for one of their large desserts.
Located a mile off the Strip
33925 Paradise Rd Las Vegas, NV 89169

Del Frisco's Double Eagle Steak House started out in Dallas more than 20 years ago. They dry age their own beef and serve thick succulent steaks and chops cooked to perfection. First of all, service is top notch and stacked with employees that go out of their way to make you feel like you and your date are the only ones in the restaurant. Plates will be whisked away when you are done and you won't even notice it. An entry we really liked was the 8 oz hand cut Filet Mignon with your choice of crab cakes, shrimp, or scallops. Go for the crab cakes, which are drenched in lobster sauce and very decadent (some of the best we have ever tasted). The porterhouse steaks and bone-in ribeye are also excellent options. They also have great sides, like Lobster Mac 'n Cheese which was amazing, and potatoes au gratin. You will also find wonderful Caesars and chopped salads. Don't forget to leave room for one of their large desserts, like super-moist lemon cake. When it comes to wine selection, you will find a very expansive list. Just ask the sommelier for advice if you become overwhelmed by it.
Related: Top 10 BBQ, Top 10 Buffets, Top 10 Dining, Las Vegas Restaurants, Tipping Guide, Dress Code, Top 10 Vegas Hotels,  Top 10 Vegas Shows, Top 10 Clubs, Top 10 Shopping, Vegas Promos, Top 10 Spas