1 Via Bellagio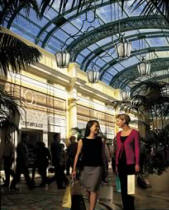 Bellagio
3600 S. Las Vegas Blvd. Las Vegas, NV 89109 (888) 987-6667
10am-midnight daily
store directory

Winding alongside Lake Bellagio is an elite destination comprised of what is quite possibly the best shopping in world. Shop the elegant Via Bellagio and discover an impressive collection of illustrious designer boutiques. Bellagio offers exquisite fashion and jewelry collections from Gucci, Hermes, Giorgio Armani, Prada, Chanel, Tiffany & Co., Moschino and Fred Leighton.
2 Grand Canal Shops at The Venetian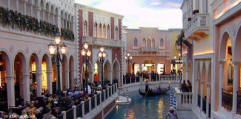 Venetian
3355 Las Vegas Blvd. South
(inside The Venetian resort) 702-414-4500
Sunday - Thursday 10am - 11pm
Friday - Saturday 10am - midnight
store directory
A highly-themed indoor mall designed to resemble a Venice street scene complete with a canal that runs up the center of the shopping area. Includes recreations of the Grand Canal and St. Mark's Square, plus live performers. Cobblestone walkways line The Grand Canal Shoppes, 500,000 square feet of unique retail space within the Venetian. Over 80 boutiques and restaurants including Ann Taylor, Banana Republic, bebe, Bernard Passman Gallery, Brookstone, Cache, Davidoff, Godiva Chocolates, Kenneth Cole, Il Prato, Movado, Rockport, Sephora, and more.
3
The Forum Shops at Caesars Palace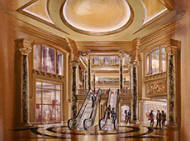 Caesars Palace
3570 Las Vegas Blvd. South (inside Caesars Palace)
702-893-4800
Sunday - Thursday 10am - 11pm
Friday - Saturday 10am - midnight
store directory
Upscale indoor mall designed to look like an Italian street scene with fountain shows and over 100 stores, restaurants, and specialty shops including Abercrombie & Fitch, Ann Taylor, Banana Republic, Bernini, Brookstone, Chinois, Cheesecake Factory, Christian Dior, Diesel, The Disney Store, DKNY, El Portal, Emporio Armani, Este Lauder, FAO Schwartz, Fendi, The Gap, Gianni Versace, Gucci, Guess, Hugo Boss, Kenneth Cole, Louis Vuitton, Nike Town, Planet Hollywood, Polo/Ralph Lauren, Spago, Stage Deli, Structure, Versace Jeans Couture, Victoria's Secret, Virgin Megastore, and The Warner Brother's Store. The Roman decor offers shoppers a unique background in which to relax and a valet parking entrance provides easy access to the shops.
4 Fashion Show Mall

Fashion Show
3200 Las Vegas Blvd. South
702-369-0704
Monday - Thursday 10am - 9pm
Saturday 10am - 8pm, Sunday 11am - 6pm
store directory
The Fashion Show mall at Las Vegas recently completed a dramatic $362 million expansion and remodeling that transformed it into an unrivaled fashion venue with nearly 2 million square feet. The new Fashion Show offers the world's most exceptional lineup of anchor stores, with Neiman-Marcus, Saks Fifth Avenue, Bloomingdale's Home, Macy's, Dillard's, Robinsons-May and Nordstrom all under one roof. In fall 2003, the Fashion Show's Strip-fronting façade will sport a completely redesigned look, highlighted by a 72,000-square-foot outdoor plaza covered with a 128-foot-high multimedia "cloud."
Las Vegas Outlet Center, with 130 stores located on the southern end of the Strip. Las Vegas Outlet Center offers exceptional bargains on a wide variety of famous brand name merchandise priced 20 to 70 percent below retail. Stores include Reebok, VF Factory Outlet, Levi's, Liz Claiborne, Waterford Wedgwood, Danskin, Nine West and Greg Norman. The Las Vegas Outlet Center features Off 5th-Saks Fifth Avenue Outlet. The Las Vegas Outlet Center is a short cab ride from the Strip and is served by a Citizens Area Transit (CAT) bus.
Desert Passage, at 475,000 square feet, is the world-class retail and restaurant complex surrounding the Aladdin Resort & Casino. The mall offers more than 130 retailers, including Tommy Bahama, Z Gallerie, Steve Madden, Aveda, Royal Seblangor and numerous restaurants, such as Sevilla, Commander's Palace, Prana and Lombardi's.
In addition to several shops inside the hotel itself, Aladdin guests will also find a one-of-a-kind experience at Desert Passage, an entertainment and shopping adventure unlike any you could imagine. This wondrous place also features: A one-of-a-kind environment of imagination and discovery that's sure to delight the senses and Multiple entrances--through the India and Morocco Gates--directly off the Las Vegas.
7 Le Boulevard at Paris Las Vegas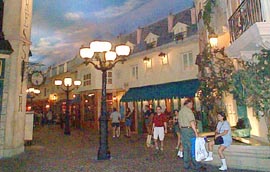 Paris Las Vegas
3645 Las Vegas Blvd. South
702-739-4111
Hours vary by store. In general
stores are open 10am - 11pm
store directory
Le Boulevard at Paris Las Vegas, the elegant gallery shop offers French and French-inspired artwork that is beautifully tranquil to buyers and browsers alike.
The blue skies and wispy clouds of downtown Paris seem to follow you throughout this shopping promenade. Full of French stores, mimes, les gendarmes at your service, it is small compared to other hotel shopping areas, but it is very realistic. Bakeries, French restaurants and galleries dot the corridors offering 31,000 square feet of shopping and dining. You will find many of Parisian-type bars and restaurants, as well as "Le Buffet."
8 Fashion Outlets of Las Vegas (Primm)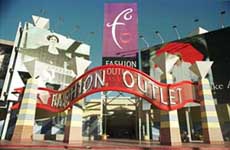 Fashion Outlets of Las Vegas
32100 Las Vegas Blvd. South
702-874-1400
Open daily 10am - 9pm Closed Thanksgiving and Christmas days.
store directory
Fashion Outlets of Las Vegas shopping center in Primm, Nev., provides one of the most relaxing shopping experiences around and features more than 100 brand names such as Neiman Marcus Last Call Clearance Center, Burberry, Escada, St. John, Kenneth Cole, Banana Republic, Williams-Sonoma Marketplace, Polo Ralph Lauren, Bally, Coach, Gap, Tahari, Versace and Tommy Hilfiger. Fashion Outlets of Las Vegas shopping center is located about 40 miles south of Las Vegas in Primm, Nevada. Fashion Outlets is divided into two themed courts -- the South Beach Court and the Urban Court; both are decorated with bright, bold colors and have large signs over the stores, making it easy to spot your favorites.
Shoppers can board a shuttle in Las Vegas. The shuttle leaves several times daily, and it's great for those who don't feel up to the drive and aren't on a strict schedule.
Crystals is a magnificent gathering place that welcomes guests on a journey through couture, cuisine and entertainment as they enjoy the interactive atmosphere set within an abstract 21st century park. The unprecedented collection of renowned retailers, including Louis Vuitton, Tiffany & Co, Roberto Cavalli and TOM FORD, paired with one-of-kind galleries from artists such as Dale Chihuly and signature restaurants from Wolfgang Puck and celebrity restaurateur Eva Longoria Parker redefine the traditional shopping experience.
10 Wynn Esplanade
Wynn Las Vegas
3131 Las Vegas Blvd. South
(inside The Wynn Las Vegas Hotel) 702-770-7000
Sunday - Thursday 10am - 11pm
Friday - Saturday 10am - midnight
store directory
Wynn Las Vegas is one of the Strip's most luxurious hotels and it offers With 76,290 square feet of retail space and 31 stores to match.
The Wynn Esplanade offers a more of the boutique variety with an upscale flair.
The Wynn Esplanade offers World-famous women's clothing designer Oscar de la Renta boutique fashion store, the first Jean Paul Gaultier designer store in the nation and other big-name stores include Dior, Cartier, Chanel and Manolo Blahniks at the designer's shoe salon. La Flirt which offers a selection of beauty products by cosmetic giants such as Bobbi Brown and Stila.
One of Wynn Las Vegas' most extraordinary stores is the Penske/Wynn Ferrari-Maserati showroom. If you hit the big jackpot in the casino, you can drive one of these sleek autos right out of the resort.

back to top