Top Las Vegas Pool Clubs back to top

Las Vegas pool clubs are the latest hot trend to hit Vegas. Just like it sounds, these are clubs with a cover charge. They have DJs, music, and drinks, but unlike regular clubs, it is during the day and by the pool.

Rehab - Hard Rock


Click Here for Guaranteed Lowest Vegas Hotel Rates!

Just when you think about sobering up, Rehab makes you want to party all over again. In addition to three acres of paradise, you'll get to enjoy swim-up blackjack tables and rock out to the sounds of DJ Vice and DJ Irie. Don't miss the Ms. Rehab 2010 model search every Sunday.

Ambience: One huge, tropical pool party.
Hours: Open every Sunday, through September. Hours are 11 a.m. until sunset. Doors open at 10:30 a.m.
Cover price: $40 for men, $20 for women. Prices vary during holidays and special events.
Get wet: One main pool where the party takes place, with a second pool connected to it.
Cabanas: Each of the 50 cabanas comes complete with 42-inch HD plasma TVs and poolside spa service from the hotel's Reliquary spa.
Other spots to relax: Day beds and chaise lounges.
Eat and drink: Sip on Rock Star lemonades.
Other features: While not associated with Rehab, Hard Rock hotel also offers Sky Bar and HRH Beach Club. Skybar hosts Relax Mondays feature a live DJ spinning a variety of remixes, jungle and house music from noon to 6 p.m. Admission is complimentary for hotel guests and local ladies and $20 to the public. HRH Beach Club is open daily from 10 a.m. - 6 p.m. and features 17 day beds and 24 luxury cabanas.
Bare - Mirage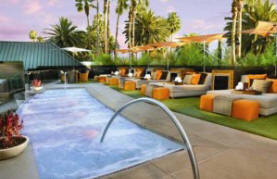 The name is in the title. Ladies can take advantage of the European-style bathing area, secluded by towering palm trees. DJ-spun music keeps the party going. The private VIP area features an infinity pool and overlooks the resort's dolphin habitat.

Ambience: Contemporary paradise.
Get wet: Two luxury dipping pools.
Hours: Open daily, 11 a.m. - 7 p.m.
Cover price: Always free for women; $20 for men Friday - Sunday, $40
Cabanas: Guests opting to reserve a cabana or daybed can enjoy chilled Evian misting bottles, frozen fruit skewers, fruit smoothies served in shot glasses and chilled cucumbers for the eyes.
Eat and drink: Specialty cocktails are available.

Liquid - Aria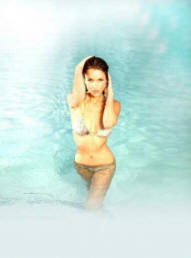 Liquid at
Click Here for Guaranteed Lowest Vegas Hotel Rates!

Liquid is more than just a place to get wet. Enjoy music from a DJ with a state-of-the-art sound system. And with all the palm trees, hand-crafted wicker furniture and plenty of places to mingle, it's the type of daytime party you'd wish would never end.

Ambience: Tahitian paradise with a modern feel.
Get wet: A 1,200-square-foot main pool and two luxury dipping pools in the upper VIP areas.
Hours: Thursday - Sunday, 11 a.m. - 6 p.m.
Cover price: Varies.
Cabanas: Each of the eight cabanas comes equipped with a 40-inch flat screen television and a mini-fridge. The cabanas can be split up into 16 smaller cabanas. You can also reserve one of the 35 daybeds that line the main pool.
Other spots to relax: Poolside chaise lounges.
Eat and drink: The poolside restaurant offers king crab, jalape tacos, papaya salad and Liquid-ritas.
Wet Republic at MGM Grand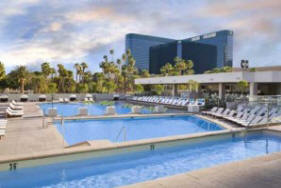 At Wet Republic, you really can't miss a beat. In fact, there are eight, state-of-the-art speakers in the pool so you can get your groove on during your swim. A hot spot with celebrities, you might just run into your favorite. Enjoy Daylife Sundays, where you'll get to hear some of the world's best DJs. On select Sundays, Wet Republic hosts Juicy Vegas with resident DJ Robbie Rivera. Guests can experience day life by lounging by or in the pool with a cocktail or unwinding in the privacy of their own exclusive VIP bungalow. Wet Republic features two spectacular saltwater pools, eight individual pools and spas, hip party cabanas, spacious daybeds and oversized deluxe chaise lounges. They can also mix, mingle and dance in the 2,500-square-foot lounge as world-renowned DJs rock the turntables with the hottest beats. A 4,100-square-foot sundeck located between the lounge and the saltwater pools transforms the area into a stage to spotlight celebrity guests and hot entertainers.

Ambience: Nightlife vibe in the middle of the day, better known as "daylife."
Get wet: Two large saltwater pools, as well as six jetted spas.
Hours: Open daily, 11 a.m. - 6 p.m.
Cover price: Varies.
Cabanas: Yes, as well as bungalows. The VIP bungalows boast a panoramic view of the entire pool scene. Each comes with a kingsized bed and teakwood furniture, private dipping pools, massage services, a giant flat-screen TV, a Wii console, movie library and a ceiling fan. The cabanas feature the same amenities as bungalows, but with L-shaped oversized couches and ottomans. Spacious day beds are available.
Other spots to relax: There are 80 adjustable, oversized deluxe chaise lounges, as well as 18 water lounges located within the pool's six-inch deep wet deck.
Eat and drink: The menu includes Kobe sliders, snow cones with vodka and ice and a grand dessert which includes the works: Nutella, marshmallow cream, cookie dough, fudge brownie chunks, candied nuts and whipped cream. There are also custom cocktails, including watermelon mojitos.

Palms Pool - Palms Hotel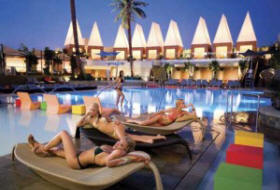 Click Here for Guaranteed Lowest Vegas Hotel Rates!

The two-acre Palms Pool & Bungalows fits up to 3,000 guests, creating the ultimate pool party. Enjoy live concerts, live DJs and three bars. The popular daytime parties, Ditch Fridays and Sundance Sundays feature live DJs and musical performances sure to keep the party pumping.

Ambience: Sleek, sophisticated and modern.
Get wet: One 64,000-square-foot pool
Hours: 9 a.m. - 6 p.m. Monday - Thursday, 9 a.m. - 7 p.m. Friday - Sunday. The pool reopens at 8 p.m. Fridays and Saturdays.
Cover price: Ladies are always free. Admission is $25 for men during Ditch Fridays and $20 during Sundance Sundays.
Cabanas: There are 27 cabanas. Each include teak and stone tables with a built-in ice chest, a state-of- the-art sound system, 32-inch plasma TV, phone, fan and designer lounge furniture. There are also three, two-story poolside bungalows. Each comes with its own terrace, hot tub, a 42-inch plasma TV, stereo and a king-size day bed with views of the stage.
Other spots to relax: Lounge chairs, but they fill up early.
Eat and drink: Chicken Cobb salad, burgers, Ahi Tuna wraps and boneless chicken bites. Cocktails include contemporary flavored martinis, mojitos, margaritas, as well as signature drinks and bottle service. Make sure to check out the Waterfall Bar, hidden behind a cascading, 12-foot waterfall.
Azure - Palazzo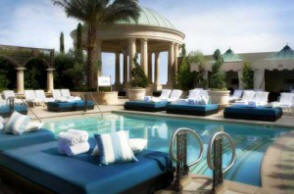 Click Here for Guaranteed Lowest Vegas Hotel Rates!

For a taste of elegance, Azure is the pool club to beat. In addition to butlers and butlerettes, complimentary frozen grapes, chilled towels, sunscreen application and Evian misting, you can splurge with a Champagne on the Rocks massage from skilled therapists at the property's Canyon Ranch SpaClub. With similiarities to the French Riviera, it offers DJ entertainment, fashion shows and a hookah lounge with blends prepared by an onsite hookah master using all-natural tobacco and charcoals found only in places like Egypt or Lebanon. Thirty fruit flavors are available either individually or combined for a flavorful impact for the most avid smoker, and the master's unique presentation incorporates history and etiquette.

Guests can also treat themselves to some of Wolfgang Puck's most tantalizing creations, such as salt and pepper calamari; popcorn shrimp with sweet and spicy chili sauce; and prime rib panini with white cheddar, horseradish cream, housemade steak sauce with french fries, all served with specialty cocktails, wine, bottles of premium liquors or magnums of premium champagnes such as Dom Perignon, Perrier Jouet Fleur and Veuve Clicquot.

Ambience: Inspired by the French Riviera with seasonal floral
Hours: Friday - Sunday, 11 a.m. - 6 p.m.
Cover price: $20
Get wet: Three pools within pool club.
Cabanas: Cabanas and daybeds are both available for reservation.
Other spots to relax: Poolside chaise lounge chairs.
Eat and drink: Enjoy a menu by famed chef Wolfgang Puck with crisp calamari, grilled zucchini and oven-roasted tomato, smoked salmon pizza with black caviar and Maine lobster salad, to name a few. Bottle service and Sunday brunch are also available.
Tao Beach - Venetian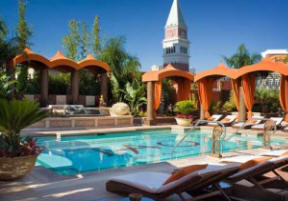 Click Here for Guaranteed Lowest Vegas Hotel Rates!

This season, why not party in the middle of paradise at Tao Beach Every Saturday night, Tao Beach transforms into a nightclub complete with torches and light shows above the pool. For fans of electronica, house and dance music, the pool club hosts Beatport Beach Party every Sunday featuring guest DJs.

Ambience: Balinese-inspired.
Hours: Friday - Saturday, 10 a.m. - sunset, Sundays, 10 a.m. - 8 p.m.
Cover price: Varies.
Get wet: Two pools
Cabanas: Yes, 12 cabanas featuring air-conditioning, flat-screen TVs with gaming consoles, DVDs, wireless internet and a minibar.
Cabanas also offer services like sunglass cleaning and body misting to cool you off.
Other spots to relax: Lounge chairs and day beds available poolside.
Eat and drink: Refreshing treats include lemon and ginger edamame and veggie spring rolls. If you have a heartier appetite, chicken skewers, burgers and other comfort food items are available. Make sure to pair your meal with a strawberry mojito.

back to top

Daydream - M Resort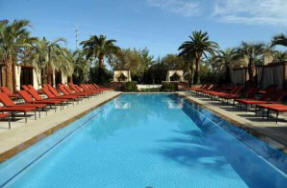 Click Here for Guaranteed Lowest Vegas Hotel Rates!

Turn your daydreams into reality while keeping your drink cold the whole time at this lush pool club with a railing around the bar made from ice. For the ladies who want to party long after the sun sets, Daydream offers Ladies Night every Friday.

Ambience: Clean and sophisticated.
Hours: Friday through Monday: 11 a.m. - 7 p.m.; Saturday evenings, 9 p.m. - 3 a.m.
Cover price: Friday and Monday, complimentary for locals and hotel guests. Male hotel guests pay $10 after noon. Saturday and Sunday, women complimentary before noon, $10 after; Men $10 before noon, $20 after.
Get wet: One rectangular-shaped pool.
Cabanas: Yes, 10. Each comes equipped with TVs, iPod docking stations and wireless internet.
Other spots to relax: Day beds and lounge chairs.
Eat and drink: Paninis, nachos, Sweet Tea vodka lemonade, frozen mudslide, frozen pink lemonade and watermelon Mojito. DayDream mixologists prepare custom libations from an exciting cocktail menu.

Venus Pool - Caesars Palace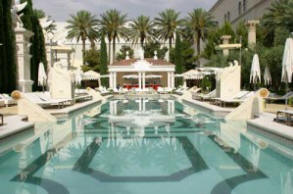 Click Here for Guaranteed Lowest Vegas Hotel Rates!

Part of the Garden of the Gods pool area, Venus pool is specifically tailored for the more mature scene. Topless bathing, mojitos and suntan lotion application services prep you for an evening of fun. Friday and Saturday, enjoy live music from the pool's resident DJ. Amenities include frozen grapes, orange slices, iced towels, Evian spritzers and a mojito cart.

Ambience: Sophisticated, Roman-inspired.
Hours: Monday and Tuesday, 11 a.m. - 6 p.m.; Wednesday - Sunday, 10 a.m. - 6 p.m.
Cover price: Ladies: $20, Men: $30.
Get wet: Pool is available in center of the club.
Cabanas: Each plus-size VIP cabana comes with a couch, flatscreen TV and a personal bar.
Other spots to relax: Day beds, lounge chairs and two party couches.
Eat and drink: Options include Ahi Tuna poke, open-faced Greek salad pita, chicken mozzarella panini and pressed Cuban sandwich and roasted plantains. Cocktails include vodka-infused snow cones and spiked lemonades.

back to top

Voodoo Beach - Rio Las Vegas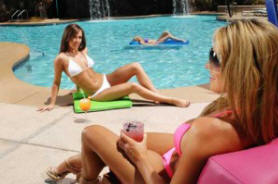 Click Here for Guaranteed Lowest Vegas Hotel Rates!

Voodoo Beach will cast a spell on you with its cascading waterfalls, a real sand beach and monthly poolside concerts. Ideal for bathing by animals alike, enjoy live DJ music Fridays, Saturdays and holidays. See world-class flair bartenders serve up rum drinks, or relax and enjoy a poolside massage.

Ambience: Tropical.
Hours: Open daily, 9 a.m. - 5 p.m.
Cover price: Varies.
Get wet: Five pools flanked by a real sand beach, as well as cascading waterfalls and spas.
Cabanas: There are 11 cabanas, plus one party-size cabana that can hold up to 20 guests. Bottle service and food service are available.
Other spots to relax: Daybeds, lounge chairs, hammocks and sofa chairs, all available on a firstcome, first-serve basis. Misting chairs are available for rent for $20 a day.
Eat and drink: Watch the talented flair bartenders as they create you refreshing rum cocktails. There's also a variety of frozen libations, mojitos and beer to choose from. Pair your drink with fruit skewers, salad or if you're not watching your calories, loaded nachos or chicken tenders.

back to top
Go Pool - Flamingo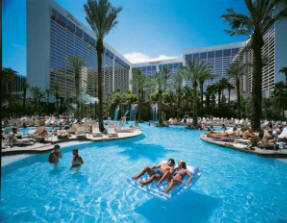 Ladies: If you're ready to let all your inhibitions go, then enjoy the peace and tranquility at Go Pool.
Go topless and don't worry about covering those annoying tan lines. Relapse Mondays features deep house music spun by live DJs, as well as drink specials.

Ambience: An oasis in the middle of the desert.
Hours: Open daily, 9 a.m. - 7 p.m.
Cover price: Varies.
Get wet: Go Pool offers its own private pool.
Cabanas: Cabanas and day beds are both available.
Eat and drink: Available at the pool's bar.

Beach Club - Encore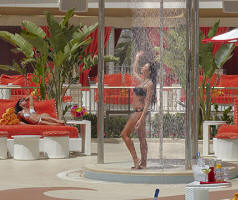 Click Here for Guaranteed Lowest Vegas Rates!

Joining the slew of Vegas pool clubs is the newest addition at Encore. Guests can lounge on oversized lily pads in the shallow water, or dance under shower poles. When the sun goes down, the area transforms into Surrender, Encore's newest nightclub.

Ambience: European-inspired.
Hours: Friday - Sunday, 11 a.m. - 7 p.m., Monday - Thursday, noon - 7 p.m.
Cover price: Varies.
Get wet: Three tiered pools, surrounded by 40-foot palm trees.
Cabanas: Yes, 26. Each comes with a refrigerator and a flatscreen television. There are also eight, two-story bungalows that feature hot tubs, showers and temperature controls.
Other spots to relax: Chaise lounges, couches and day beds.
Marquee Dayclub - Cosmopolitan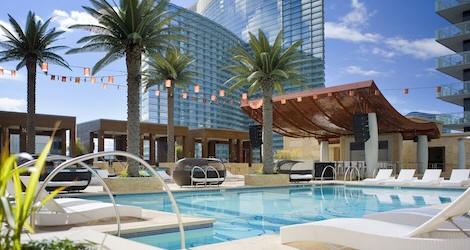 Click Here for Guaranteed Lowest Vegas Hotel Rates!

The Marquee Dayclub pool is a Las Vegas Strip pool that features three-story Bungalow Lofts, complete with cabana, living quarters, grand Las Vegas pool cabanas with infinity pools, bottle service and a party deck on top. You must be 21 or over to get in. Guests can party all night at the Marquee nightclub and rest up at this cool pool club. You can also chill out at their Boulevard Pool, which is the largest pool at Cosmopolitan with a great view of the Strip.

Hours: Thur/Fri/Sat 12 p.m. - 8 p.m.
Cover price: Varies.
Bottle Service: Yes.
Cabanas: 20+ Daybeds and 5 Bungalows.
Bagatelle Beach Club - Tropicana


Click Here for Guaranteed Lowest Vegas Hotel Rates!

Bagatelle is a Mediterranean-themed club featuring sandy beaches complete with sand volleyball, and bocce courts. You will also find a large concert venue, beach club, and a restaurant with two pools that can fit up to 4,000 party goers. Their 1,500 sq ft stage houses state-of-the-art sound equipment as well as a 25-by-9-ft HD LED screen. A lineup of DJs and live music acts is scheduled for the summer featuring some of country's most well know artists.

Hours: Fri/Sat/Sun 11 am - 6 p.m.
Cover price: Varies.
Bottle Service: Yes.
Cabanas: 18 cabanas

back to top