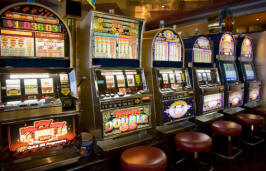 Online Slot Machines
Since there are so many people who play slots online I will talk about this type of play first, and then go on to the actual casinos. Surprisingly, the online and the actual slots have one very important feature in common. They both use a computer chip known as a random number generator. This device determines the outcome of your bet. Whether you click a mouse to start a spin or pull down an arm, whatever the random number was at the time governs the result. This number changes more than a thousand times a second.




Slot Machine Strategy
So when I tell you that slots are luck and not skill, you now know the reason. However, there are some things that can be done by way of money management to affect your play. You can increase your probability of winning larger amounts by selecting $5, $10, $25 slots, or winning more often by playing cheaper slots with low to medium pay outs.

Many online casinos give you a bonus of money when you deposit funds into your account to play. The amounts vary, but 10% per deposit is not unusual. If you just want to sit back and play in a relaxed manner many of the casinos have a nickel bet on their slots.

The online slots are designed to pay off at rates between 85% to 97%. Keep in mind this does not mean that you can only lose the amount of money the machine is designed to hold back. It simply means that over a very long period of time with infrequent jackpots the unit pays off at this rate (you will lose 15% to 3% in the long-run). As stated, it is widely believed that the highest paying slots are the ones that require the largest amounts to play, and the worst paying ones are the nickel and dime ones.

Another approach to a better pay off is when you have the option of choosing 1 to 5 coins, always select the maximum. When you have the option of lines, play the maximum number (these give you multiple ways to win). Also if the online casino offers bonus points or has a players club, it is usually best to take advantage of the offer.




Slot Bonuses
As mentioned, you will eventually lose at slots by about 15% to 3% if you play long enough. However, like all gambling, you can definitely hit winning streaks and if you are lucky, walk away with some extra cash. One thing slot machine makers do to entice players and make the game more entertaining involves slot bonuses. Casinos often have an exciting bonus round with flashing lights and high-tech animations designed by some of the best game designers in the world. It actually makes playing what would normally be a fairly dull game very exciting. Unfortunately, there is no "free lunch" and the extra money you get actually comes out of your core winnings, meaning the casinos just pay you less during ordinary play to get the bonus money. In any case, it is a lot of fun and you could hit a big win during a bonus round that can really add up.


Going To A Real Casino
Playing the slots at a real live casino gives us certain opportunities that we do not have online. But always keep in mind that a computer chip is generating random numbers that determine the out come of the bet. The bells, whistles and spinning wheels are just for show. It's luck and not skill that makes the wheels go around. The outcome is exactly the same if you pull on the mechanical slot handle, or press the spin button.

It's a funny thing, but no matter what I would say about the odds or the payoffs, people just love playing the slot machines. That is why the casino devotes so much room to them. The very same payouts apply to the casino slots as the online ones - 85% to 97%. Just as with the online slot machines, there is no guarantee of these payouts in the short term. It is also true that the higher amount slots pay off better than the lower amount machines.

How to Pick the Best Slot Machines
Obviously, it is better to play on a looser payout slot. Here are two suggestions on how to locate them. Play where the locals play. The idea being that they know where the looser slots are to be found. If you can't find a local, check with the hotel staff as to where they, or their friends and relatives play.

Some casinos have a raised area loaded with slot machines. Often these units pay well because when they do, it puts on a show for the casino patrons. Casinos have been known to put looser slots in well traveled areas to attract people to play.

Progressive Slots
Another attractive aspect about slots is that when you bet $5 at 21 and you get a blackjack you win $7.50, but your $5 bet on the slots can win you thousands. Many of the slots have a progressive payout, which means as the play on the machine increases the jackpot raises. Sometimes they link a few slots together to raise the jackpot. Betting the maximum number of coins on a spin will enhance your chance of winning. Usually the choice is between 1 and 5 coins. The odds are very low, but you can literally win millions if you hit the jackpot on some progressive payout slot machined.


Slot Machine Tips
1 ALWAYS INSERT YOUR SLOT CLUB CARD
Using your card can increase the payback of the machine you are playing by as much as one percent. It just takes a few minutes to join a slot club and there is no down side. It also qualifies you to get rated, which translates to free comps at hotels, like free shows, dining, and even hotel rooms. Do this before you risk any money in the casino.

2.) PLAY ONLY WHAT YOUR BANKROLL CAN HANDLE
You will need to have an estimate of the cost per hour a machine will take. This depends on the type of machine, payout rate, and how you bet. The following examples are based on an average of 8 spins per minute and a 90% payout rate.
- Nickel Machine 2 coins:$5/hour 3 coins:$7/hour 5 coins:$12 hour
- Quarter Machine 2 coins:$24/hour 3 coins:$36/hr 5 coins:$60/hour
- Dollar Machine 2 coins:$96/hour 3 coins:$144/hr 5 coins:$240/hour

You then need to decide on the number of hours you will play over the course of your entire stay. If you start with a bankroll of $600 and plan to play an average of five hours a day for three days, then that comes to 15 playing hours. When you divide $600 by 15 it comes to $40 per hour. In order to stay within this budget you should not playing anything over a 3 coin quarter machine (e.g., $36/hour).

3.) BE CERTAIN YOU GET WHAT YOU PAY FOR
Slot machines are like any machine and get wear and tear. They can also malfunction. One of the best ways to protect yourself against a malfunction is to observe the glass payout schedule and the paylines as you insert each coin to be sure the correct sections light, up, showing that they are properly activated. If you hit a winning combination that does not pay because only two of your three coins registered, you are out of luck. If one of your coins does not register, be sure to contact an attendant or press the change button and wait for someone to arrive. Don't spin the reels until the problem is fixed.

4.) ONLY PLAY ONE MACHINE AT A TIME
Casino managers know that some people like to play two side-by-side slots at the same time, so they always put a loose machines with the tight one on both sides:
(loose machine)<->(tight machine)<->(loose machine)
At best, you will win from a loose machine only to lose your winnings to a tight on, or you will lose to two tight machines. Every casino has far fewer loose machines than tight one and they never place them together.

5.) NEVER PLAY NEXT TO SOMEONE WHO IS WINNING
If the winner's slow is loose, the machines on either side will be tight. You might consider waiting for the winner to leave and then playing the same potentially loose machine.

6.) STAY WITH A HOT MACHINE
Don't leave a machine that just paid a big jackpot. It may be a hot machine that could continue to pay out nicely. Don't abandon the machine unless it has not paid anything for 5 or 6 consecutive spins.

7.) OBSERVE OTHER PLAYERS WHO ARE WINNING
Watch players who are hitting jackpots and winning regularly and keep and eye and ear out for sudden big winners. Many times, big winners cash in and leave their machine while it is still hot. If you see that happen and you are on a cold machine, move over to the hot machine and give it a try. Many slot players think a machine will turn cold after a big payout, so they leave. The truth is that it is more likely to still be in a hot cycle.

8.) ABANDON A COLD MACHINE
If after six spins the machine has paid very little, abandon it. Don't throw good money after bad. If the machine next to it is available, move over and try the new machine that may be loose. Remember, tight and loose machines are usually next to each other.

9.) NEVER LEAVE A MACHINE THAT OWES YOU MONEY
Sometimes when you hit a big jackpot, an attendant has to make the payoff, or you may run into a situation where the machine runs out of coins. Stay with the machine no matter how long it takes to get the attendant to arrive. Occasionally a machine malfunctions and you can't redeem your credits, or the bill acceptor gets hung and eats your dollars without give you credits. Stay with the machine. If you leave the machine to get an attendant you will have trouble claiming what is rightfully yours.

10.) REMEMBER TO PRESS THE CASH OUT BUTTON
Most slot machines accumulate credits as you play, and you must press the CASH OUT button in order to convert the credits into actual coins. Even if you have just won a hand-paid jackpot, before leaving the machine be sure to press the CASH OUT button and be sure the credit meter reads zero. If it doesn't , call an attendant because the machine may need a hopper fill, or the coin mechanism may be jammed. On cash ticket machines, always check the ticket slot. If you are distracted when you leave your machine and forget to cash out or retrieve the ticket, someone else will get to enjoy your winnings.

REMEMBER THE MOST IMPORTANT RULE: QUIT WHEN YOU ARE AHEAD AND NEVER QUIT DURING A WINNING STREAK.


Related Guides: Blackjack/21 Guide | Craps/Dice Guide | Roulette Guide | Free Online Slots