Las Vegas Buffet Tips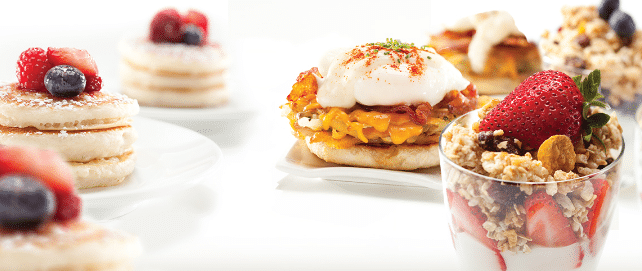 We may receive a commission if you make a purchase.
Las Vegas Direct Buffet Survival Guide – Advice and tips for getting the most out of your Las Vegas buffet dining experience.
Waiting in Line: Buffet lines can be long. At very popular ones, like Bacchanal at Caesars Palace, the wait can be several hours. Going early/late is a way to reduce your wait. Las Vegas tends to be a late-night crowd, so going early for brunch can often make a big difference. You can also try getting a line-pass to get in front of the line. They are not always available, but if the hotel has them, passes can usually be purchased at participating hotels, or are given out as comps to special guests. Players Card members often have their own line that is faster, so signing up for them can help. Finally, tipping the hostess has been known to get people in early.
Saving Money: If you go towards the end of the lunch schedule you can sometimes stay for dinner too and will just pay lunch prices for the more expensive dinner buffets (depends on hotel policy). The same is true for breakfast that changes to lunch. In general, going on weekdays, with the exception of Friday, will get you the lowest buffet prices. In addition, you can find great deals (50 percent off or more) if you go to a breakfast buffet instead of dinner or lunch. Of course, the selection will be more limited, but many people enjoy breakfast buffets even more than dinner. Package deals that include free buffets are often available and offered by travel sites, such as Las Vegas Direct when you book a room.
Buffet Passes
Caesars Entertainment offers 24 hr passes good at 6 different buffets – Harrah's, Flamingo, Paris Las Vegas, Rio, Caesars, and Planet Hollywood. An upgrade fee applies to Bacchanal Buffet at Caesars Palace and Carnival World Seafood Buffet at Rio Las Vegas. You still need to wait in line for each buffet, but you can also buy an express line pass where available to skip the wait. Customers will get a wristband to allow access. Alcoholic drinks are excluded. You can get the 24 hr buffet pass for your dinner meal at your favorite hotel offering it (we like Caesars Palace, Planet Hollywood, and Rio) and have an early dinner the next night at another buffet which gives you 2 dinner full buffets per pass in a 24 hour period. It is a very good value when you consider the cost to pay for each buffet separately.
Buffet Etiquette: Don't eat in line. Don't ever touch food with your hands while in the buffet line. Always take a new fresh plate when going back for more. You should let others cut in front if you are taking a long time. Always tip the hard working servers. Finally, you can't take any food out of the restaurant.
Tipping: The buffet staff work hard clearing your plates and keeping your drinks filled, so be sure to leave a tip. $2-$4 per person is acceptable, but leave more if the service is exceptional. Breakfast and lunch buffets tend to be cheaper, so the tipping can be in the $1-$3 range for them. If you forgot to bring tipping cash with you, you can also tip the waiters at the register where you purchase your buffet meal.
Free Buffets / Comps: Getting a free buffet at a hotel is one of the easier comps you can get. You can often just watch a timeshare presentation to get one. Another way is to fill out a player's card application and present it whenever you gamble, or insert them into slot machines. Some hotels offer a free buffet just for joining their slot club. After a few hours of playing you can see if you qualify for a meal comp by asking the pit boss. You can sometimes get free buffet passes by booking a room at at participating hotels. See our buffet of buffets pass section for details.
While not entirely free, some buffets, like those offered at Stations Casinos (Red Rock, Green Valley, Aliante Station, Boulder Station, Palace Station, Santa Fe, Sunset Station) offer a breakfast buffet at a very reduced price if you signup for their free Boarding Pass Players Club.
As we mentioned earlier, Las Vegas Direct often has free buffet deals when you book a room with them. Just do a hotel search to see what is available.
General Advice: You can always ask to see the buffet first before you pay and avoid a possible poor dining experience. Don't fill up on the first thing you see. Start out by taking very small samples of many different items. This is a great chance to experience many types of food. Once you sampled enough dishes, you can pile up on the ones you like best. Ask other people eating with you about what they like best for help. Be sure to save room for dessert too, since that is often the best part!
If your goal is to fill up as much as possible to get your money's worth, go easy on drinks, especially sodas, since they can fill you up fast before you even get started. The same goes with drinking too much soup. On the flip side, here are some Vegas buffet dieting tips if you need them!
It may go without saying it, but you should wear comfy loose fitting "buffet pants," such as ones with elastic bands. You can bring along some larger size pants and wear an adjustable belt with them. Be prepared to loosen up your belt once you get going. Tight fitting clothes and buffets just don't mix.
If you took an item you don't like, it is okay to just leave it on your plate, but don't be excessively wasteful or you can be charged extra. Finally, this is your chance to be a culinary chef and mix and match food items you may have only dreamed about having together. It can be a lot of fun.
Related Guides: Best Las Vegas Buffets, Buffet of Buffet Pass