Top 10 Buffet List | All Buffets | Buffet Forum | Vegas Promos | Las Vegas Direct

Check out our FREE Buffet Deals in our Vegas Promos and Coupons forum and Just Booked Deals promo page. Sign up for Las Vegas Deal Alerts sent to your e-mail with the latest free buffet hotel promotions. Follow us on Twitter and Facebook for daily Vegas promos and freebies.

Las Vegas Direct Buffet Survival Guide - advice and tips for getting the most out of your Las Vegas buffet experience.



Waiting in Line: Buffet lines can be long. Going early/late is a way to reduce your wait. Las Vegas tends to be a late-night crowd, so going early for brunch can often make a big difference. You can also try to get a line-pass to get in front as a comp if you gamble enough, or are a valued hotel guest. Finally, tipping the hostess has been known to get people in early.

Saving Money: If you go towards the end of the lunch schedule you can sometimes stay for dinner too and will just pay lunch prices for the more expensive dinner buffets (depends on hotel policy). Going midweek will get you the lowest buffet prices. In addition, you can find great deals (50 percent off or more) if you go to a breakfast buffet instead of dinner or lunch - of course, the selection will be more limited. Package deals that include free buffets are often available and offered by travel sites, such as Las Vegas Direct when you book a room.

Buffet Etiquette: Don't eat in line. Don't ever touch food with your hands while in the buffet line. Always take a new fresh plate when going back for more. You should let others cut in front if you are taking a long time. Always tip the hard working servers. You can't take any food out of the restaurant.

Tipping: The buffet staff work hard clearing your plates and keeping your drinks filled, so be sure to leave a tip. $1-$3 per person is acceptable, but leave more if the service is exceptional.

Misc. Advice: You can always ask to see the buffet first before you pay and avoid a possible poor dining experience. Don't fill up on the first thing you see. Start out by taking very small samples of many different items. This is a great chance to experience many types of food. Once you sampled enough dishes, you can pile up on the ones you like best. Be sure to save room for dessert too, since that is often the best part! If your goal is to fill up as much as possible to get your money's worth, go easy on drinks, especially sodas, since they can fill you up fast before you even get started. The same goes with drinking too much soup. On the flip side, here are some buffet dieting tips if you need them!

If you took an item you don't like, it is okay to just leave it on your plate, but don't be excessively wasteful or you can be charged extra. Finally, this is your chance to be a culinary chef and mix and match food items you may have only dreamed about having together. It can be a lot of fun.

24 hr Buffet Passes: Certain hotels now offer buffet passes which allow you to eat at their hotel, or a group of hotels, whenever you want for a 24 hour period. The following buffet passes are available:

Caesars Entertainment offers two 24 hr passes good at 7 different buffets - Harrah's, Flamingo, Paris Las Vegas, Rio Hotel, Caesars, and Planet Hollywood. The cost is $54.95 + tax (less if you are a Total Rewards member and Free if you book a participating hotel). An upgrade fee applies to Bacchanal Buffet at Caesars Palace and Village Seafood Buffet at Rio Las Vegas. You still need to wait in line for each buffet, but you can also buy an express line pass where available to skip the wait. Customers will get a wristband to allow access. Alcoholic drinks are excluded. Insider Tip - Get the 24 hr buffet pass for your dinner meal and at your favorite hotel offering it (we like Caesars Palace, Planet Hollywood, and Rio). You can have an early dinner the next night at another buffet which gives you 2 dinner full buffets per pass in a 24 hour period.

Get 2 FREE BUFFET PASSES by booking a 2+ night stay at participating hotels.

MGM Resorts has an all-day buffet pass at specific hotels - Excalibur $35, and Luxor $35 ($20 for kids 5-11). The Luxor buffet pass also includes access to Excalibur's buffet. These passes are all VIP, so you don't need to wait in line. Stratosphere offers a budget buffet pass that goes for $19.

Free Buffets / Comps: Getting a free buffet at a hotel is one of the easier comps you can get. You can often just watch a timeshare presentation to get one. Another way is to fill out a player's card application and present it whenever you gamble, or insert them into slot machines. Some hotels offer a free buffet just for joining their slot club. After a few hours of playing you can see if you qualify for a meal comp by asking the pit boss. It is worth mentioning again that you can get 2 FREE BUFFET PASSES by booking a 2+ night stay at participating hotels. It is a really great deal.

While not free, some buffets, like those offered at Stations Casinos (Red Rock, Green Valley, Aliante Station, Boulder Station, Palace Station, Santa Fe, Sunset Station, and Texas Station) offer a breakfast buffet for only $5.99 and dinner for $7.99 if you signup for their free Boarding Pass Players Club.

As we mentioned earlier, Las Vegas Direct often has free buffet deals when you book a room with them. Just do a hotel search to see what is available. Their forum and promos section also list updated free buffet offers. You can also take advantage of their cash-back rebate program and get up to $100 to spend on your Vegas trip for buffets, dining, etc. when you book a hotel for 3 or more nights.

LAS VEGAS DIRECT SPECIAL OFFERS!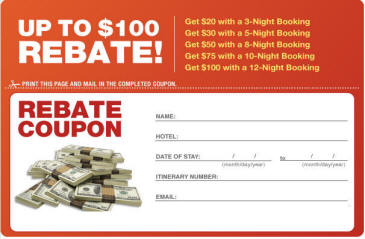 Featured Promotion - Get up to $100 in CASH BACK when you book a Las Vegas hotel with us!

Get $20 with a 3-nt stay!
Get $30 with a 5-nt stay!
Get $50 with a 8-nt stay!
Get $75 with a 10-nt stay!
Get $100 with a 12-nt stay!
Offer valid for reservations booked online January 1, 2017 through Dec 31, 2017 for travel dates: January 1, 2017 through January 31, 2018. Applies to reservations that state cash back rebate. Book a room for 3+ nights to see what hotels qualify!

Book a Qualifying Hotel and Get 2 FREE Buffet of Buffet 24 hour Passes that includes
Harrah's, Flamingo, Paris, Caesars, Planet Hollywood and Rio! view details...

Discount Vegas Packages. SAVE $100's when you Combine Air and Hotel!
Call Us at 1-888-ME-VEGAS and Ask About Our Unpublished
Secret Vegas Rates. Average Savings is Over 60%!

We now present our Top Ten Vegas Buffet picks. In addition, further down you will also find a summary of all the major Las Vegas buffets and what they have to offer. Please note that the prices listed are subject to change. If you see any mistakes that need updating, or have something to add, please send us a message.


1 Sterling Brunch at Bally's
Bally's
Bally's offers its Sterling Brunch on Saturdays and Sundays from 9:30 am to 2:30 pm. Brunch $90 (reduced price for children). Reservations are highly recommended.




Every Sunday Bally's Steakhouse transforms into a memorable site for Sunday brunch. From the typical breakfast fare of waffles and omelets made to order to offerings of ostrich tenderloin and Maine lobster, you will not go hungry at this buffet-style brunch or thirsty for that matter. Unlimited Perrier Jouët and Mumm champagne is served at brunch, with or without the orange juice, or you can choose Bloody Marys. You will find plenty of Maine lobsters, lobster tails (you can sprinkle some caviar on them with butter sauce for a real treat), roasted crab legs, truffles, tons of oysters, giant gulf shrimp cocktails, caviar, truffles, beef tenderloin, rack of lamb, filet mignon, prime rib, sushi and much more. Other highlights include wonderful smoked Nova lox with bagels and their french charcuterie with cheeses and cured meats. Great selection of dessert items too, like banana bread pudding French toast, chocolate truffles & peanut butter, cakes, and assorted pastries.

You can also order things directly from your server, such as lobster bisque soup, lobster eggs Benedict and other specialties.

This is paradise. The waiters even come dressed in tuxedos with white gloves. And at around $90 a person, you should be able to be both idle and indulgent. However, if you're a dedicated buffet fan, this is probably a better spree than one of the many new high-priced restaurants. It works out to less money in the long run, and you will get, for your purposes, more bang for your buck. A truly memorable experience.

It's a fancy deal--linen and silver-bedecked tables, waiters to assist you if you choose--and while the variety of food isn't as massive as at regular buffets, the quality is much higher in terms of both content and execution. We're talking unlimited champagne, broiled lobster, whole main lobsters, caviar, sushi, and rotating dishes of the day (items such as monkfish with pomegranate essence, tenderloin wrapped in porcini mushroom mousse, and even ostrich). No French toast that's been sitting out for days here! Perfect for a wedding breakfast or business brunch or just a big treat; stay a long time and eat as much as you can.


back to top

---

2 Bacchanal Buffet
Caesars Palace
Price: $31-$57
Breakfast 8:00am - 11:00am
Weekend Brunch 7:30am - 3:00pm
Lunch 11:00am - 3:00pm
Dinner 3:00pm - 10:00pm
Fri/Sat Dinner
express line pass available for extra.



Bacchanal is an an over-the-top ($17 million dollars to build) feast created by a team of master chefs, offering the most variety on the Las Vegas Strip. It takes the traditional Vegas buffet experience to the next level. The Buffet features more than 500 items from classic favorites such as made-to-order omelets, fresh seafood and roasted meats like prime rib to cutting edge, regional comfort food like breakfast pizzas, red velvet pancakes, wood fired Neapolitan pizzas and Chinese dim sum, even roasted South Carolina shrimp and grits. A unique aspect of this buffet is that the majority of cooking is done in front of guests by interactive chefs.

Mexican - featuring freshly made enchiladas, tortillas and Sopapillas
Italian - Pastas, baked lasagna, antipasto display
Chinese - Made-to-order assorted soups, wok-fried dishes and dim sum
Japanese - Fresh sushi, sashimi, cooked fish
American - BBQ house-smoked meats from a wood-burning smoker and wood-burning grill; numerous carving stations including prime rib, brisket, rotisserie chicken and more
Seafood - Fresh East and West Coast oysters, king crab, snow crab, stone crab, mussels and prawns
Pizza - Varieties of pizzas served fresh from a wood-burning oven
Deli - Soups, cheeses, 7 charcuterie selections including house specialties and individual, prepared and make-your-own salads
Dessert - Chocolate, vanilla and pistachio soufflés baked to order, selection of gelato, sorbets and crème brûlée

They serve food in small plates, which keeps things more fresh and intimate, unlike the food troughs of your more traditional buffet. You will find ridiculously good sliders. Be sure to sample the very fresh king crab and snow crab legs (upon request, they will steam a plate for you). They even have pre-cracked standalone crab claws, which is a rarity. Excellent prime rib, beef brisket, and dim sum which included Chinese roast duck and dumplings that squirt savory soup when bite into them. The lobster and corn chowder is a winner as is their Mexican pork carnitas. Great lamb chops. Awesome Ramen and Pho. More highlights for us included ceviche, lamb shank and crab fritters.

Simple dishes done amazingly well were also a highlight for us and included eggs Benedict (ham and seafood style) that were cooked to perfection and delicious bacon. Be sure to save lots of room for dessert if you can! You will find a gelato and crepe station. Dessert highlights include green tea and red bean cookies, macaroons, mousse cakes, creme brulee, cheesecake, and tiramisu.

Insider Tip: With 500+ items you won't be able to sample them all, so if you can do it, consider going for a late lunch and staying until dinner items become available.

back to top

---

3 Bellagio Buffet
Bellagio
Breakfast 7:00am - 11:00am $17.99 (bargain)
Lunch 11:00am - 4:00pm $21.99
Dinner 4:00pm - 10:00pm $32.99
Sat & Sun Champagne Brunch 7:00am - 4:00pm $38.99. Friday and Saturday Gourmet Dinner 4:00pm to 10:00pm $38.99. Children ages 3 and under are complimentary.




The array of foods is fabulous, with one ethnic cuisine after another (Japanese, Chinese that includes unexpected buffet fare like dim sum, build-it-yourself Mexican and more). There are elaborate pastas and semi-traditional Italian-style pizza from a wood-fired oven. The cold fish appetizers at each end of the line are not to be missed--scallops, smoked salmon, crab claws, shrimp, oysters, and assorted condiments. Other specialties include breast of duck and game hens. There is no carving station, but you can get the meat pre-carved.

Be sure to try prime rib with horseradish sauce. The Lyonnaise potatoes are wonderful.

The salad bar is more ordinary, though prepared salads have some fine surprises, such as the eggplant-tofu salad and an exceptional Chinese chicken salad. Desserts, unfortunately, look better than they actually are. The Bellagio offers a "gourmet buffet" every Friday and Saturday night that includes Kobe beef, Beef Wellington, lamb chops, venison and buffalo. Especially good soup and bread. The lamb and king crab legs (sliced open length-wise for your convenience) are a definite must, as is the shrimp cocktail (not the tiny shrimp, but the jumbo-sized ones). Breakfast/brunch is very good too with seafood omelets, lox and bagels, and perfectly cooked Eggs Benedict in a rich hollandaise sauce.

back to top


---

4 The Buffet at Wynn Las Vegas

Wynn Las Vegas
Breakfast 8:00am - 11:00am $23.99
Lunch 11:00am - 3:30pm $26.99
Dinner 3:30pm - 10:00pm nightly $42.99
Friday and Saturday Gourmet Dinner 3:30pm - 10:00pm fri/sat $49.99
Saturday and Sunday Champagne Brunch 8:00am - 3:30pm $34.99
Unlimited Adult Drinks are available for a flat $18 charge.



One of our top buffet picks. Just as Mr. Wynn expects nothing but the best from his namesake hotel, you can see and taste the quality that this buffet delivers. Wynn recently updated their buffet offering to include over 120 new items. You will find more individually plated items and extensive ethnic foods. The atmosphere is artistic and scenic, with colorful fresh flowers to match the hotel, and the service is 5-star. Seating is spread out to give a more cozy warm feel to the buffet.

Let's start with the crab legs. Amazing is the best way to describe them and worth the price of admission. They have the crab station setup so chefs are constantly replacing them on the the other side with fresh ones, so you don't need to worry about ever getting picked over crab. But there is so much more! They have excellent prime rib. The Chinese dumplings were very good for a buffet. Great sushi and salad, including a delicious Caesar salad. You will find many kinds of homemade pasta, including pumpkin ravioli and gnocchi in brown butter sauce, and wonderful lobster ravioli that has nice size chunks of lobster meat in them. Be sure to sample the awesome Peking duck buns, beer-battered fish and chips, and their "Sinatra" meatballs. Wonderful curry dishes, such as chicken curry and chick peas are also worth trying. Other dishes of special note include scallops and coconut milk ceviche, lamb chops (perfectly done), jerk chicken, and excellent soups made with real stock, gazpacho, amazing pizzas, good Mexican food. Even their breakfast is a real special treat with apple wood smoked bacon, chicken and apple sausages, hash browns cooked to perfection, cheese blintzes, and smoked salmon. On weekends the buffet goes "gourmet" and will feature more exotic items, like an entire roasted pig and more.

We also liked the Thai beef, Korean kimchee, beef brisket, and crepes made to order. A very crispy fried chicken made with matzo meal is excellent. Notable for a Vegas buffet were the multiple vegan options that even meat-eaters thoroughly enjoyed.

If you like drinking, their $18 flat fee upgrade will give you unlimited adult beverages, which for Vegas is a really good deal.

You have to control yourself and make room for dessert. While not the star of the show, they were very good and included wonderful creme brulee, hot brownies, assorted tarts (pumpkin was our favorite), a crepe and waffle station, cookies, cakes, tiramisu, and an excellent selection of ice cream. Coffee is offered before dessert, which is a nice touch. A unique new item is their "ice cream roulette wheel" that holds a huge assortment of flavors all controlled by a motor to help the server get them to you. If you like nuts on our ice cream you will be out of luck, since the entire buffet is nut-free. It is great for those with allergies, which Wynn takes very seriously and is a focus for the hotel. However, be sure to ask first if this is a concern, since things can change.





back to top

---

5 Le Village Buffet
Paris Las Vegas
Breakfast 8:00am - 10:30am M-F $21.99
Lunch 11:00am - 3:30pm M-F $24.99
Dinner 4:00pm - 10:30pm $34.95
Weekend Brunch 8:30am - 3:30pm $36.95.



When you walk into The Le Village buffet you will be surrounded by a French theme with cobblestone roads and detailed Parisian tavern facades. The place just oozes Paris. We enjoyed their King crab legs. Ask your server if you want them steamed. One nice touch was that the crab legs come pre-sliced so you can just dig right in and enjoy them without all the fuss of opening the shells. Warm butter is plentiful to go with them. Wonderful prime rib and fantastic dessert selections. That alone is worth the price of admission, but there is plenty more. Be sure to try the truffle Mac and Cheese. Great bread selections. If you come for brunch, the egg dishes are very good, such as their eggs Benedict and omelet station.

---

6 Cosmopolitan The Wicked Spoon Buffet
Cosmopolitan
Brunch: 8:00am - 2:00pm $34
Dinner: 5:00pm - 9:00pm $38




Everything about Cosmopolitan is different, including their buffet. The atmosphere is modern, chic, and sophisticated. Food is served in individual small portions on plates, but you can take as many as you like and create your own 10 course meal. While they did not have crab legs or shrimp cocktails, but you will find many nicely prepared dishes such as, sweet potato fries, gyros, great lamb ribs, dim sum (try the pork belly steamed buns), Korean beef, very tasty mini chicken pot pies, Steak with chimichurri sauce (very tender), excellent short ribs tossed with pasta, Kalbi beef, fried shrimp balls, risotto, sushi, huevos rancheros, and French toast stuffed with cinnamon apples and walnuts. Desert includes chocolate covered strawberries, apple dipped in chocolate, crepes, gelato, and fudge.


back to top


---

7 The Buffet at Aria
ARIA Las Vegas
Breakfast - Mon - Fri: 7:00 am - 11:00 am $18.99
Lunch: 11:00 am - 4:00 pm $22.99
Weekend Brunch: Sat & Sun 7:00 am - 4:00 pm $29.99. Dinner: Sun - Thurs 4:00 pm - 10:00 pm $33.99. Gourmet Dinner: Fri & Sat 4:00 pm - 10:00 pm $39.99


Aria features steamed fresh crab legs (cold are also available, but we liked the hot ones best), jumbo shrimp cocktails, rack of lamb, mussels in garlic wine sauce, very tender prime rib, made-to-order pastas and omelets, sushi, pizza, and prime meats grilled and carved (including NY Strip) to your specifications, oysters on the half shell (gourmet nights). Delicious kabobs, BBQ, freshly-baked naan (garlic naan was delicious) and other savory dishes are prepared in the only Tandoor Oven in a Las Vegas buffet. Their soups are all made from scratch and excellent. You can also find rice congee and add preserved eggs and bbq pork to it. They have a wonderful dessert selection with gourmet pastries, cookies, flan, dulce leche, creme brulee and ice cream. Instead of regular soft serve ice cream, they have a large assortment of creamy Italian gelato. They also have a nice selection of cheesecakes, shortcakes, cream puffs and extra fancy "shooters" such as red velvet, carrot cake, coconut tapioca, oreo pudding, tiramisu and more. Many of their desserts are presented in a way that you would only expect to find when ordering from a fine dining restaurant.

back to top

---

8 Village Seafood Buffet

Rio Suites Hotel
Monday - Friday 4:00pm - 10:00pm
Saturday and Sunday 3:30pm - 10:00pm
$44.99 per person



Seafood fans flock to the Rio's nautical-theme buffet, complete with American, Mexican, Italian, and Chinese serving stations. At the American station you can load up on seafood salads, snow-crab legs, oysters on the half shell, peel-and-eat shrimp, seafood gumbo, grilled salmon, broiled swordfish, oysters Rockefeller, poached roughy, steamed clams, and lobster tails. Then come the ethnic ocean entrees, such as seafood fajitas, cioppino, seafood cannelloni, squid chow fun, and kung pao scallops. Awesome lobster, crab and sushi.
Definitely worth the price if for only the sushi or the lobster. They had lobster tails prepared three different ways, and I probably ate the $35 charge in lobster tails alone. Menu included salmon, swordfish, oreo dory, crab legs, and stuffed crabs to name a few of the selections. The peeled shrimp were delicious. For meat lovers, they also offer prime rib, BBQ beef ribs, and chicken dishes. To top it all off, the Village Buffet has one of Las Vegas' best selections of high-quality desserts.

back to top


---

9 Rio's Carnival World Buffet

Rio Hotel
Breakfast 8:00am-11:00am $20.99
Lunch 11:00am - 3:30pm $22.99
Dinner 3:30pm - 10:00pm nightly $29.99. Champagne Brunch Saturday and Sunday 8:00am - 3:30pm $30.99. Children four to eight years of age receive $5 off lunch and $9 off dinner. Children three years of age or younger eat free.




This buffet has often been voted by locals as the best in town. The buffet looks like an upscale food court, with stir-fries, Mexican taco fixings and accompaniments, Chinese fare, a Japanese sushi bar and teppanyaki grill, a Brazilian mixed grill, Italian pasta and antipasto, and fish-and-chips. All this is in addition to the usual offerings of most Las Vegas buffets. An array of oven-fresh cakes, pies, and pastries (including sugar-free and low-fat desserts) is arranged in a palm-fringed circular display area, and there's also a make-your-own sundae bar. This buffet has, by far, the most choices of any buffet in Vegas. The prime rib was good, the Amazon Grille was quite unique and nice.


back to top

---

10 Mirage Buffet, Cravings
Mirage Las Vegas
Breakfast: 8:00am - 11:00am $16.99 (kids 5-10 reduced price)
Lunch: 11:00am - 3:00pm $22.99 (kids 5-10 reduced)
Dinner: 3:00pm - 10:00pm $29.99 (kids 5-10 reduced)
Saturdays & Sundays Unlimited Champagne Brunch:
8:00am - 3:00pm $31.99 (kids 5-10 reduced).




Nothing says Vegas excess like endless mounds of shrimp and prime rib. Until recently, The Mirage's buffet was one of the higher priced in town, but also one of the most reliable in terms of food quality. It's been eclipsed in the former category, but still holds true in the latter. Like most local buffets, flavors tend toward the middle-of-the-road--but at least here the road is a broader one. The ubiquitous carving station is complimented by a fajita station, an Asian station, and a pasta station. The pasta station features made-to-order sauces, starting with either a cream or tomato base. Note the standout salad bar, which features surprises like hummus, baba ghanou, and couscous, plus a variety of veggie-intensive dishes. And there's gefilte fish, which is not something commonly seen on a Vegas buffet. Put your plate-loading emphasis on the salad bar, with some selections from the aforementioned special stations. The already peeled shrimp was very fresh. They also have a great salad bar. Desserts are better than the foam-rubber average, including bread pudding, chewy peanut-butter cookies, and an unexpectedly intense chocolate mousse.






back to top


Aria Las Vegas
The Buffet at Aria: Breakfast - Mon - Fri: 7:00 am - 11:00 am $18.99 Lunch: 11:00 am - 4:00 pm $22.99
Weekend Brunch: Sat & Sun 7:00 am - 4:00 pm $29.99
Dinner: Sun - Thurs 4:00 pm - 10:00 pm $33.99
Gourmet Dinner: Fri & Sat 4:00 pm - 10:00 pm $39.99
Features limitless mountains of fresh crab legs, made-to-order pastas and omelets, sushi, pizza, and prime meats grilled and carved to your specifications. Delicious kabobs, freshly-baked naan and other savory dishes are prepared in the only Tandoor Oven in a Las Vegas buffet. Excellent dessert selections offer gourmet pastries and ice cream.

Bellagio
The Buffet at Bellagio: breakfast, 7 am to 11 am Mon-Fri., $17.99; lunch, 11 am to 4:00 pm $21.99; dinner, 4 to 10 pm $32.99; Sat/Sun Brunch 7 am to 4 pm $38.99, Fri/Sat gourmet dinner 4 pm to 10 pm $38.99 One of the best buffets in Vegas. Guests may choose from the best of Italian, Japanese, Chinese, seafood and American cuisines, offered daily.

Caesars Palace
Bacchanal Buffet: breakfast 7 am – 11 am, $25.99; weekend brunch 8 am – 3 pm $41.99; lunch 11 am – 3 pm, $32.99; dinner 3 pm – 10 pm, $45.99; Fri/Sat dinner $50.99.

The Bacchanal is an an over-the-top feast created by a team of master chefs, offering the most variety on the Las Vegas Strip. Bacchanal Buffet features more than 500 items from classic favorites such as made-to-order omelets, fresh seafood and roasted meats like prime rib to cutting edge, regional comfort food like breakfast pizzas, red velvet pancakes, wood fired Neapolitan pizzas and Chinese dim sum, even roasted South Carolina shrimp and grits.

A unique aspect of this buffet is that the majority of cooking is done in front of guests by interactive chefs.



They serve food in small plates, which keeps things more fresh and intimate, unlike the food troughs of your more traditional buffet. You will find ridiculously good sliders. Be sure to sample the very fresh king crab and snow crab legs (upon request, they will steam a plate for you). They even have pre-cracked standalone crab claws, which is a rarity. Excellent prime rib, beef brisket, and dim sum

which included Chinese roast duck and dumplings that squirt savory soup when bite into them.

The lobster and corn chowder is a winner as it their Mexican pork carnitas. Great lamb chops. Awesome Ramen and Pho. Be sure to save lots of room for dessert if you can! You will find a gelato and crepe station. Dessert highlights include macaroons, mousse cakes, creme brulee, cheesecake, and tiramisu.

Circus Circus
Circus Circus Buffet: breakfast, 7 to 11:00 am, $11.49 (kids 4-12 $7.99); lunch, 11:00 am to 2:00 pm, $13.49 (kids $9.99); Dinner 4:30 pm to 10:00 pm, $14.49 (kids $10.99). Offers All-Day buffet pass for $25.99 flat rate. Buffet favorites including salad bar, carving station, fried shrimp and desserts.

Cosmopolitan
The Wicked Spoon: Brunch: 8:00am - 2:00pm / $34. Dinner: 5:00pm - 9:00pm / $35. Everything about Cosmopolitan is different, including their buffet. The atmosphere is modern, chic, and sophisticated. Food is served in individual small portions on plates, but you can take as many as you like and create your own 10 course meal. While they did not have crab legs or shrimp cocktails, but you will find many nicely prepared dishes such as, sweet potato fries, gyros, great lamb ribs, dim sum (try the pork belly steamed buns), Korean beef, very tasty mini chicken pot pies, Steak with chimichurri sauce (very tender), excellent short ribs tossed with pasta, Kalbi beef, fried shrimp balls, risotto, sushi, huevos rancheros, and French toast stuffed with cinnamon apples and walnuts. Desert includes chocolate covered strawberries, apple dipped in chocolate, crepes, gelato, and fudge.

Excalibur
RoundTable Buffet: breakfast, 7:00 to 11 am, $14.99; lunch, 11 am to 3 pm, $15.99; dinner, 3 to 10 pm, $19.99. Kids 5-11 get $4 off. Free for children younger than 5. $24.99 All-Day buffet pass. Offers a carving station and basic buffet fixings such as prime rib, fried shrimp and chicken. Good breakfast selection. Excalibur strikes the perfect balance of cheap prices, forgettable decor, and adequate food. It's what you want in a cheap Vegas buffet. But they don't always have mashed potatoes or macaroni salad, which are essential for an archetypal buffet. The plates are large, so you don't have to make as many trips to the buffet tables. Buffet is a low cost buffet and still gives you the shrimp and prime rib that the more expensive ones do.

Flamingo
Paradise Garden Buffet: 7am-11am Breakfast, Monday-Friday $14.99
11am-4pm Lunch, Monday-Friday $16.99
4pm-10pm Dinner, Daily $24.99
7am-4pm Brunch, Saturday and Sunday $24.99 (first Bloody Mary is included)
Salad and fresh fruit bar along with mounds of shrimp on ice, Snow Crab Legs at dinner and Assorted International salads. Sushi. Carving station serves Herb Crusted Prime Rib of Beef and Slow-Roasted Breast of Turkey. Roasted Leg of Spring Lamb is available, along with Miso Glazed Duck, Sautéed Clams and Mussels, Double Breaded Southern Fried Chicken, our Chef's Catch of the day. Over 60 breakfast items: Omelets, Honey-Glazed Ham, Smoked Norwegian Salmon, Roasted Breakfast Sausage, Smokehouse Bacon, Buttermilk Biscuits, made-to-order Malted Waffles, Country-Fried Potatoes and Freshly baked Breakfast Pastries.

Four Seasons
Verandah Restaurant: Breakfast Buffet from 8 am to 1 pm Sat.-Sun., $36; Offers indoor and outdoor seating. Beautiful view and environment you would expect from the Four Seasons. Smaller selection, but very high quality items, such as omelets with crab and lobster meat, fruits, lox and bagels. The donut station is a must.

Harrah's
Flavors, The Buffet: breakfast, 7 to 11 am; lunch, 11 am to 3 pm, and dinner, 3 to 10 pm. $17.99 to $29.99. Flavors features continuous live cooking stations, freshly prepared seafood, all-you-can-eat crab legs and fresh cut Prime Rib, plus an array of delectable side dishes, traditional comfort foods and a variety of pastries prepared to perfection. Flavors, The Buffet represents cuisines from around the world, including Churrasco, or Authentic Brazilian BBQ, pizzas and Italian casseroles prepared in a wood burning oven, fire-roasted rotisserie chicken, piping hot steamed crab legs and tasty Asian selections such as hand rolled-sushi, Maki Rolls and homemade wonton soup as well as traditional Southwestern dishes. Flavors is one of the most diverse buffets on the Las Vegas Strip. For dessert, Flavors features a gelato station with homemade sorbet, gelato and ice cream.

Above-average food combined with an extremely friendly staff makes this one of the better buffet choices. Excellent crab, prime rib and shrimp. The Chinese dishes were very good. The breakfast buffet was great. Omelets, bacon, biscuits and gravy and everything else.

Luxor
MORE, The Buffet at Luxor: breakfast, 7 to 11 am, $16; lunch, 11 am to 3 pm, $17; dinner, 4 to 10 pm, $22. Children younger than 4 are free. All You Can Eat All Day Weekend Brunch Pass $35 ($25 kids 5-11) is valid for Excalibur and Luxor's buffet. 30-foot salad bar, homemade pizza station, two carving stations, omelet station, and specialties from around the world.

Las Vegas Hilton (LVH)
The Buffet: breakfast, 7 to 11 am, $13.99; lunch, 11 am to 2:30 pm, $14.99; dinner, 5 to 10 pm, $19.99. Brunch 7 am to 2:30 pm, $18.99. Breakfast features include eggs and omelets made-to-order, sirloin steak, smokehouse bacon, country sausage, corned beef hash and blintzes along with a breakfast bar filled with items such as smoked salmon with all the trimmings. Lunch has a large variety of dishes which include carved prime rib of beef and roasted breast of turkey, steak, chicken, seafood and pasta entrees. Dinner specialties include prime rib, carved turkey, steaks and chops, pasta dishes cooked to order, a variety of Chinese wok entrees, fresh seafood, peeled shrimp, sushi. Deluxe cakes, pastries and more. Complimentary beer and wine are served daily, as well as a variety of non-alcoholic beverages. Their champagne brunch is above average – serving select breakfast, lunch and dinner buffet items with Champagne and Mimosas.

M Resort
Studio B Buffet: breakfast, 8 to 10:30 am, $10.99, children 5-8, $7.99; lunch, 10:30 am to 2:30 pm, $15.99, children 5-8, $11.99; dinner, 4 to 9 pm, $23.99 (children 17.99), Fri-Sun Seafood Dinner 2:30 pm - 9 pm (4 pm - 9 pm on Fri) $39.99, children, $26.99. Weekend Brunch 9 am to 2:30 pm, $39.99, children $26.99. Children younger than 5 eat free. Studio B is a locals' favorite: It is about 20 minutes south of the Strip in Henderson, but worth the drive. The Las Vegas Review Journal voted them as being a best buffet. The all-you-can-drink wine and beer and espresso drinks with shots of liqueur included in the price are a unique feature. Featured dishes include chimichurri shrimp, green curry chicken, BBQ ribs, and generous slabs of prime rib, crab legs, and New York strip. With over 200 menu items, there is something for everyone. Be sure to save room for their excellent cheesecake, creme brulee, gelato or mousse. For what you get, it is an excellent value.

MGM Grand
MGM Grand Buffet: breakfast, 7 to 11 am, $16.20, children 4-12, $11.71; lunch, 11 am to 2:30 pm, $18.99, children 4-12, $12.77; dinner, 4:30 to 9:30 pm, $25.90, Fri/Sat $28.68 children 4-12, $19.15. Weekend Brunch 7 am to 2:30 pm, $23.50, children $13.83. Children younger than 4 eat free. Buffet items include crab legs, oven-roasted turkey and prime rib, sea bass in yellow curry sauce, diablo seafood stew, pasta, pizza, and an extensive dessert bar.

Mandalay Bay
Bay Side Buffet: Breakfast: Daily, 7 am - 11 am ($15.99); Champagne brunch: Sunday, 7 am - 2:30 pm ($23.99); Lunch: Daily, 11 am - 2:30 pm ($19.99); Dinner: Daily, 4:45 pm - 9:45 pm ($26.99). Gospel Brunch $40. Prime rib, crab, pizza, salad bar, carving station, hot seafood, ethnic food, pasta station, desserts. Combined with sweeping views of the 11-acre tropical lagoon, this extraordinary buffet features live action stations and delightful culinary cuisine. Bay Side Buffet offers one of the most attractive buffet areas in Las Vegas. It is completely isolated from the casino activity, and though it can seat 500 customers, its mostly small, partitioned seating areas create a real feeling of intimacy. The effect is made even more luxuriant with lots of natural and artificial foliage in a garden-like setting. This is topped off with a special dining area at the south end of the buffet, which features richly polished wood floors and a lovely view overlooking the resort's tropical water garden. Items include Dungeness crab legs; chilled peel & eat shrimp; cocktail sauce; opillio crab legs; Dover lox; smoked trout; sliced tomatoes; assorted cheeses; assorted cold cuts; fresh cut fruit (mostly melons). Mexican serving station. Carving station. Asian station. Italian serving station. The dessert area is separated from the primary serving area and features a modest variety of soft-serve ice creams with toppings, pies, cakes, tarts and cobblers. Lots of sugar-free desserts, including chocolate cream pie, carrot cake, German chocolate cake, and lemon meringue pie.

Mirage
Cravings: Breakfast: 8:00am - 11:00am $16.99, Lunch: 11:00am - 3:00pm $22.99, Dinner: 3:00pm - 10:00pm $29.99, Saturdays & Sundays Brunch: 8:00am - 3:00pm $31.99 with unlimited champagne. Kids 5-10 get a discount. One of the better buffets under $35 - Features crab legs with drawn butter, prime rib, meat carving station, pizza, pasta, sushi, Mexican food, Chinese dishes, grilled orange roughy, mussels and cioppino, Mediterranean, American, and Italian items, gelato desserts.

Monte Carlo
The Buffet: breakfast, 7 to 11:30 am Mon.-Fri., $14.95, kids $10.95; lunch, 11:30 am to 3:00 pm Mon.-Fri., $15.95, kids $11.95; dinner, 4 to 10 pm, $19.95, kids $15.95. Features a large salad bar, fresh-made pasta bar, grill stations or carving stations serving excellent prime rib, crab legs (weekends), Asian, pizza, Mexican, seafood, sushi, and roast beef wrapped in bacon. Lunch buffet has a build your own Philly sandwich station.

Palms
Bistro Buffet: breakfast, 8 to 10:00 am, $7.99; lunch, 11 am to 3 pm, $11.99; dinner, 4 to 9 pm, $18.99. champagne brunch $18.99; seafood night $24.99. Great warm crab legs, Lebanese-style chicken, tabbouleh, hummus and babaghanoush, slow-roasted prime rib, made-to-order English Trifle. Free beer, wine, and sodas. Dessert highlights are bread pudding and cheesecake.

Paris
Le Village Buffet: breakfast, 7 am to 11:00 am Mon.-Sat., $21.99; lunch, 11:00 am to 3:30 pm $24.99; dinner, 3:30 to 10 p.m, $34.95; Sat/Sun brunch 11am-3:30pm $36.96. Kids 4 - 10 get discount. Offers dishes from the five provinces of France. Crab legs, prime rib, duck, roast beef, steamed fish, ratatouille, different cheeses, pate, smoked salmon and bagel. Great dessert selection - creme brulee, flan, various cakes, banana foster, ice cream, cookies.

Planet Hollywood
Spice Market Buffet: breakfast, 8 am-10:30 am Mon.-Fri., $13.99; lunch, 11 am to 2:30 pm Mon.-Fri., $16.99; dinner, 4 to 9:30 pm, $24.99. Champagne brunch $20.99 ($23.99 with unlimited champagne). Discounted prices for children 5-9 and free for children 4 and under. Mexican, Italian, Asian, Middle Eastern and American. Seafood station. Lamb, Hummus, baklava. Dessert selection includes cotton candy.

Riviera
Garden Fresh Buffet: breakfast, 6 to 11 am, 7 to 10 am Sat/Sun, $8.99; lunch, 11 am to 2 pm, $11.99; dinner, 4 to 10 pm, $12.99; champagne brunch 10 am to 2 pm Sat/Sun, $11.99; One of the most affordable buffets in Las Vegas. Four themed stations include Mexican, Italian, Chinese and American. Beef ribs, mac 'n cheese, grilled Italian seasoned chicken, chicken patty with tomato sauce, Mexican rice, roast beef, fried chicken, bacon, sausage, egg station. Dessert selections include sugar free items.

Stratosphere
The Courtyard Buffet: brunch, M-Th 7 am to 2 pm, M-Fri 7 - 4 pm $14.99; champagne brunch, 7 am to 4 pm Sat-Sun, $19.99; dinner, 4 to 10 pm, $19.99; Seafood buffet, Fri and Sun, $19.99. Global cuisine, including Pan-Asian, Southwestern, American comfort foods, regional European flavors, carving station, deli display, omelet bar, freshly baked pastries, prime rib, brisket of beef, roast chicken, roast turkey. Seafood nights include shrimp, oysters, and crab legs. An All Day pass is available for about $20.

The Quad
Emperor's Buffet: brunch 7 am-2 pm, $12.99; dinner, 4 pm-9 pm, $18.99. Economical buffet featuring a good breakfast selection, fried chicken, prime rib and crab.

Wynn Las Vegas
The Buffet: Breakfast 8:00am - 11:00am M-F $23.99, Lunch 11:00am - 3:30pm M-F $26.99, Dinner 3:30pm - 10:30pm $42.99, Weekend Brunch 8:00am - 3:30pm $34.99. Sat/Sun Gourmet Dinner 3:30pm - 10:30pm $49.99. Easily one of the best buffets in Vegas. Everything is great, but some featured items include king crab legs and crab claws, prime ribs, lamb chops, curry dishes, cerviche, sushi, smoked salmon, prawns, gnocchi, freshly made soups, applewood smoked bacon, chicken and apple sausage,short ribs.

back to top



Arizona Charlie's
Frisco Market Buffet: breakfast, 7 to 10:30 am, $5.99; lunch, 11 am to 3:30 pm, $9.99; dinner, 4 to 9 pm, $11.99. Prime rib all-you-can-eat nightly.

Boulder Station
The Feast Gourmet Buffet: breakfast, 7 to 11 am Mon.-Fri., $7.99; lunch, 11 am to 4 pm Mon.-Thurs. (to 2:30 pm Fri.), $10.49; dinner, 4 to 10 pm , $12.99. Seafood dinner, $19.99; Prime Rib & Shrimp, $15.99; Champagne brunch $12.99

The Cannery
Cannery Row: lunch, 11 am-3 pm Mon.- Sat., $8.99; dinner, 4-9:30 pm daily, $12.95; Seafood night, $18.99. Champagne brunch $10.99

Fiesta Henderson
Festival Buffet: Lunch $7.99, Champagne & Crab Leg Brunch $15.99, All You Can Eat Steak Night $13.99, Prime Rib & Shrimp Night $13.99 Dinner

Fiesta Rancho
Festival Buffet: Lunch $7.99, Champagne Brunch $11.99, Steak & Shrimp Dinner $14.99, Dinner $9.99

Fremont
Paradise Buffet: Breakfast $7.99, Lunch $8.99, Champagne Brunch $11.99, Steak Night $14.99, Seafood Fantasy Dinner $18.99, Prime Rib Dinner $14.99

Gold Coast
Ports O' Call Buffet: Breakfast $6.95, Lunch $8.45, Brunch $12.95, Seafood Dinner $17.95, Steak Night $14.99, Dinner $12.95

Golden Nugget
The Buffet: breakfast, 7 to 10:30 am $9.99; lunch, 10:30 am to 3:30 pm, $10.99; dinner, 3:30 pm to 10 pm, $17.99. Fri-Sun, Seafood & More Dinner (3:30 p.m. – 10:00 p.m.) $20.99. Sat/Sun Champagne Brunch (8:00 a.m. – 3:30 p.m.) $17.99. Items include BBQ beef, shrimp cocktail, fried shrimp, hush puppies, Chinese food, prime rib, crab salad. Crab legs and oysters available at seafood buffet.

Green Valley Ranch
Feast Buffet: breakfast, 8 to 11:00 am Mon.-Sat., $7.99; lunch, 11:00 am to 2:30 pm Mon.-Sat., $9.99; dinner, 3:30 pm to 10 pm Daily, $16.99; Sunday Brunch, 8 am - 3:30 pm . $16.99. The Feast at Green Valley has specialties from around the globe. Featuring six live-action cooking stations and serving Italian, American, Mongolian, Chinese and International specialties prepared right before your eyes. A wide selection of low-carb menu items is also available. Of particular note are their prime rib and salmon served on Sundays, sea bass, sweet and sour fried fish, Mongolian grill, tasty fried chicken, milkshakes made to order, and a wonderful coffee gelato and bread pudding dessert. Excellent pizza, brisket and chicken fried steak. Although you won't find things like crab legs, at only $7.99 for lunch, it is a very good value.

Main Street Station
The Garden Court Buffet: breakfast, 7 to 10:30 am Mon.-Fri., $6.99; lunch, 11 am to 3 pm Mon.-Fri., $7.99; dinner, 4 to 10 pm, $10.99, except Tues. T-Bone, Thurs. Shrimp and Steak, $13.99; seafood dinner buffet, Fri., $17.99. Sat/Sun champagne brunch 7a to 3 pm, $10.99. Voted as one of best buffet in Downtown Las Vegas. Choices including Mexican food, Southwestern fare, Asian delights, pizza and rotisserie chicken. The Garden Court Buffet features specialty nights including T-Bone Tuesdays, Steak and Scampi Thursdays, Seafood night on Fridays and Prime Rib on Saturdays. Other items of note include country fried steak and excellent prime rib brisket, very moist chicken, and a Hawaiian section which has Kailua pork and oxtail stew

Orleans
French Market Buffet: breakfast, 8 to 10 am Mon - Fri, $8.99; lunch, 11 am to 3 pm Mon - Fri, $9.99; dinner, 4 pm to 9 pm Mon - Fri, $16.99 ($24.99 on Fri) featuring Prime Rib and Shrimp Scampi.

Sat
Breakfast: 8:00am-10:00am Featuring Champagne $9.99
Lunch: 11:00am-3:00pm Featuring Champagne $10.99
Dinner: 4:00pm-9:00pm Featuring Grilled Steak & Shrimp Scampi $20.99

Sun
Brunch: 8:00am-3:00pm Featuring Champagne $13.99
Dinner: 4:00pm-9:00pm Featuring Prime Rib & Shrimp Scampi $16.99

All Day Long Wristband $25.00 ($28.00 on Fri-Sun) Enjoy a Breakfast, Lunch and Dinner Buffet for one price. $3 Off regular price for children 4-7 years of age. Children under 3 years of age are free. Great BBQ, crawfish, beef ribs, shrimp fried rice, tacos. BBQ, American, Mongolian, Chinese, Mexican, Italian.

Palace Station
The Feast Gourmet Buffet: breakfast, 7 to 11 am, Mon-Sat, $7.99; lunch, 11 am to 4 pm Mon-Sat, $9.99; dinner, 4 to 10 pm daily, $13.99. Sunday brunch 7 am to 4 pm, $13.99. All-Day Buffet All-Access Pass:
$19.99 adult/ $16.99 child. Children under 4 eat free. Features a made-to-order pasta, steak, and hamburger station. Good fried chicken and roast beef. Breakfast includes bacon, sausage, eggs, and pancakes.

Rampart Casino at The Resort at Summerlin::
Rampart Buffet: lunch, 11 am to 3 pm Mon.-Sat., $7.95; dinner, 4 to 10 pm $10.95. Hawaiian night, Tues. $12.95.

Red Rock Casino
Feast Buffet, Breakfast: Monday - Friday: 8am - 11:30am, $8.99 per person. Saturday & Sunday: 8am - 10pm $18.99 per person.
Lunch: Monday - Sunday: 11:30am - 3pm
$10.99 per person
Dinner: Monday - Thursday: 3pm - 10pm
$17.99 per person
Friday - Sunday: 3pm - 10pm
$18.99 per person

Rio Suites
Carnival World Buffet: breakfast, 7 to 11 am Mon.-Fri., $20.99; lunch, 11 am to 3:30 pm Mon.-Fri., $22.99; dinner, 3:30 to 10 pm (to 10:30 pm Fri.-Sat.), $29.99; children 4-8 receive a discount. Village Seafood Buffet: dinner, 4 pm to 10 pm Mon.-Fri., (3:30 pm-10 pm Sat. and Sun.), $44.99/person.

Sam's Town
Firelight Buffet: lunch, 11 am to 4 pm Mon.-Fri., $6.99; dinner, 4 to 9 pm daily. $10.99, Sat.-Mon. and Wed. steak and filet, $12.99; Tues. Italian, $9.99; Thurs. Fri. seafood, $16.99.

Silverton
Seasons Buffet: lunch, 11:30 am to 3:30 pm Mon.-Fri., $6.99; dinner, 4 pm to 8 pm Sun.-Thurs. (to 9 pm Fri. and Sat.), $8.99; 9 am to 3:30 pm, Sat. and Sun. Champagne Brunch, $8.99.

Suncoast
St. Tropez International Buffet: breakfast, 7 to 10 am, $4.95; lunch, 11 am to 3 pm, $7.95; dinner, 4 to 10 pm, $10.95. Steakout Tues., $11.95. Seafood Fri., $15.95.

Sunset Station
The Feast Around the World Buffet: breakfast, 8 to 11 am Mon.-Fri., $5.99; lunch, 11 am to 3:30 pm Mon.-Thurs., (to 2:30 pm Fri.) $6.99; dinner, 3:30 to 10 pm Sun.-Thurs., $8.99; Steak dinner, Fri.-Sat., $12.99.

Terrible's
Terrible's Buffet with over 200 items to choose from: breakfast, 7 to 10 am daily, $5.99; lunch, 11 am to 3 pm, $8.99; dinner, 4 to 9 pm, $10.99; Sat/Sun. brunch, 7 am-3 pm; $10.99. Tuscany night, Mon.; Frisco night, Tues.; Mexican Fiesta, Wed.; All American Thurs, Pacific Rim Friday, Texas Roast Sat, Prime Rib and Shrimp, Sun. $2 off with Players Card.

Texas Station
Feast Around The World - Buffet offers a large variety of items for all tastes. Latin station has a made to order fajita station and specialty chilies and salsa bar. BBQ featuring hickory smoked pulled pork, with all the fixins. Breakfast Mon-Sat, 8:00am - 11:00am, $8.99 (children 4-10 $4.99); Lunch Mon - Sat, 11:00am -4:00pm $10.99 (children 4-10 $7.99); Dinner 4pm - 9pm, $14.99 (children 4-10 $8.99); Sunday Brunch 8am - 4pm $14.99 (children 4-10 $8.99); Children 3 & under Free.

The D
Courtyard Grill & Buffet: All-you-can-eat nightly dinner buffet, served from 4 p.m. until 9 p.m.

back to top


Buffalo Bills
Miss Ashley's Buffet: breakfast, 8 to 11 am, $5.95; lunch, 11 am to 3 pm, $6.95; and dinner, 5 to 8 pm (to 10 pm Fri. and Sat.), $7.95.

Casablanca Buffet
950 W. Mesquite Blvd., Mesquite
702-346-7529
Friday Seafood Dinner: 2:00pm to 9:00pm – $16.99
Saturday Mimosa Morning: 7:00am to 12:00pm – $8.99
Saturday Maine Lobster and Prime Rib: 2:00pm to 9:00pm – $17.99
Sunday Mimosa Morning: 7:00am to 2:00pm – $8.99

Eureka Casino Buffet
275 Mesa Blvd
Mesquite, NV 89027
1.800.346.4611
American, Mexican, BBQ, Italian, Mediterranean, Greek, Southern, Cajun, Asian and Seafood Cuisines and much, more. The buffet is accompanied by an elaborate dessert station with homemade donuts, crepes, and confections.
Thursday: 4pm - 7pm
Friday & Saturday: 4pm - 8pm
Sunday: 9am - 2pm

Flamingo (Laughlin)
Paradise Garden Buffet: breakfast, 7 to 10:30 am daily, $5.99; lunch, 11 am to 3 pm daily, $6.99; dinner, 4 to 10 pm daily, $8.99. Seafood, Fri., $11.99; All night buffet, 11 pm to 6 am Thurs., $11.99.

Gold Strike
1 Main St., Jean
702-477-5000
Bonanza Buffet: lunch, 11 am to 4 pm Mon.-Fri., $6.99; dinner, 4 to 9 pm Mon.-Thurs., 1 to 9 pm Sat. and Sun., $7.99; except Fri.; crab leg dinner buffet, 4 to 9 pm Fri., $9.99.


Primm Valley
Interstate 15 South at Primm
1-800-386-7867
The Green's Buffet: breakfast, 7 to 10 am Mon.-Fri., $4.95, 8-11 am Sat. and 8-9 am Sun., $6.25; lunch, 11 am to 5 pm Mon.-Sat., $6.95; dinner, 5 to 8 pm Mon. -Sat., $8.95; Sun., $9.95.

Railroad Pass
2800 S. Boulder Highway, Boulder City
702-294-5000
Box Car Buffet: lunch, 11 am to 2 pm daily, $4.99; dinner, 3 to 9 pm Sun.-Thurs., $6.99. 3 to 10 pm Fri. and Sat., $7.99. Seafood, Fri. and shrimp and steak, Sat.

River Palms
2700 S. Casino Drive, Laughlin
702-298-2535
No Ka Oi Buffet: breakfast, 7 to 10:30 am Mon.-Sat., $5.99; lunch, 11 am to 2 pm Mon.-Sat., $6.99; dinner, 3 to 9 pm daily, $7.99; late night, 11 pm to 5 am, $3.99.

Saddle West
Pahrump
702-477-7502
Silver Spur: breakfast, 6 to 10 am daily, $4.99; lunch, 11 am to 2 pm Mon.-Fri., $5.99; dinner, 4 to 8 pm Sun.-Thurs., $6.99; Fri. seafood, $8.99; and Sat. prime rib, 4 to 10 pm, $7.99.

Virgin River
100 N. Pioneer Blvd., Mesquite
702-346-7777
Victoria's Buffet: breakfast, 7 to 11 am, Mon.- Fri., $5.49; Saturday and Sunday, $5.99; lunch, 11 am to 2 pm, Mon.- Fri., $6.49 Saturday and Sunday, $6.99; dinner, 4 to 9 pm, (4 to 10 pm Fri. and Sat.); Mon., Wed., Thurs. and Sun., $8.99. New York steak, Tues., $11.49; seafood, Fri., $11.49; prime rib, Sat., $11.49.

Whiskey Pete's
Interstate 15 South at Primm
1-800-386-7867
Wagon Wheel Buffet: breakfast, 8 to 11 am daily, $5.95; lunch, 11 am to 5 pm daily, $6.25; and dinner, 5 to 6 pm daily, $6.95.

---




back to top
Share this page:

If you have questions or want to book by phone, call us at 1-888-ME-VEGAS / 1-702-425-7580. State Seller of Travel License: 2116448
© Copyright 1998-2017 Las Vegas Direct® All Rights Reserved