Las Vegas Weather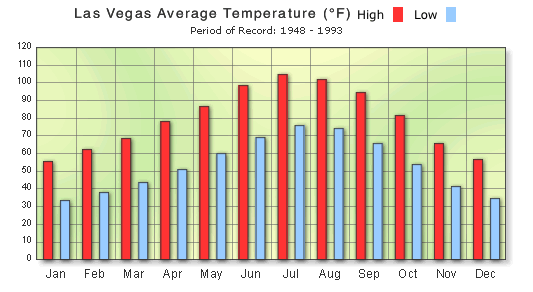 We may receive a commission if you make a purchase.
Las Vegas 7-Day Weather Forecast
Despite all the lights and glamour, Las Vegas is really a desert and the weather reflects it. As the average monthly weather chart below shows, temperatures can vary by extreme ranges. You will find lows in the 30's (°F) and highs well above 100 (°F) with record highs being near 120 (°F)! You might even find some snow flakes during the winter, but it does not happen very often and almost always melts right away.
In our Las Vegas Dress Guide, we suggest wearing layers to deal with this type of wild weather. The best weather is is April through June with average temperatures in the mid 80's. You will also find nice weather in September and October. It is the best time to visit for good weather. June, July and August are the hottest times and a good time to hang around the pools to cool down. Be sure to bring a warm jacket for the fall and winter times, since it can get very chilly at night.
With less than 5 inches of rain a year, you don't need to worry about getting wet. Summer is when you will generally get some occasional rain.
Average Monthly Weather Chart for Las Vegas
Month
Average
Low
Average
High
Rain
Inches
Humidity
Percent

Jan

39°F

58°F

.48

43

Feb

41°F

61°F

.48

28

Mar
49°F
71°F
.42
22
Apr
55°F
77°F
.21
20
May
66°F
91°F
.28
18

June

74°F

100°F

.12

21

July

81°F

105°F

.35

24

Aug

78°F

102°F

.49

26

Sept
71°F
95°F
.28
27
Oct
59°F
82°F
.21
29

Nov

46°F

66°F

.43

31

Dec

39°F

57°F

.38

44
Below is a more detailed description of Las Vegas weather during each month of the year. These are based on average weather observations. It will hopefully let you plan your trip better . Las Vegas pools are generally closed during colder months (October – March), but you should check with the hotel to be certain, since it really depends on the weather. A few hotels have indoor heated pools that are open all year.
Vegas Weather for January
January is one of the coldest months of the year. Las Vegas weather conditions range from an average low of 34F to an average maximum of 57F. This of course is not like a winter in North Dakota but if you are from a warm climate it is definitely chilly. Luckily, there is less than one half inch of rain for the entire month. It practically never snows but does get a little windy from time to time. Even with the chill in the air, there are still many nice sunny days. Be prepared to dress warm at night if you are going to spend time outdoors. More for larger parties.
Vegas Weather for February
February has the distinction of being the wettest month of the year. Fortunately this does not mean severe weather, because there is less than one half inch of rain for the entire month. But it does get cold and sometimes windy. The average high temperature for the month is 63F. and the low is about 37F. The closer you get to March the warmer it gets. Should you decide to see snow instead of the various entertainments of Vegas visit either the north or south regions of Nevada.
Vegas Weather for March
The best way to describe March weather is, beautiful. It gets up to almost 70F in the daytime. At night the average temperature drops down to 44F. It is great walking around weather. Always keep in mind that in Vegas the weather cools down very quickly. The shorts and light shirt you started out with may not be warm enough for late afternoon and certainly not for the evening. You might check the Las Vegas Dress section for some ideas on dress. The humidity is very dry and the rainfall for the entire month is less that one half inch.
Vegas Weather for April
If you like beautiful weather, you will love April. Even though there is a song about April Showers bringing May flowers, there is hardly any rain here. The average temperatures run from a low of 50F to a little over 77F. It is great weather for outside activities such as golf, swimming or just plain walking. Keep in mind that it cools down in the evening. If you are going to be outside at night, check with the hotel staff to see if a jacket is needed.
Vegas Weather for May
The temperatures in May run on average from 60F to 88F. Even though it gets a little warm, you will not get that hot muggy feeling. The weather is a dry heat and the perspiration evaporates quickly. Aside from all the indoor attractions Vegas offer, being outdoors can also be a wonderful diversion. There is hiking, swimming, golf and visiting close-by attractions. There is almost no rain in May. Bring sun glasses, shorts and lots of suntan lotion.
Vegas Weather for June
June is hot, but not in the morning or the evening. The temperatures run from 70F to 100F. If you are going to spend time outdoors it is best in the early morning hours or in the evening when the sun goes down. Rain during June is almost unheard of. Needless to say, shorts and light weight clothes are the uniforms of the day. The month of June is named after the roman goddess Juno. She is considered to be the goddess of marriage. Historians tell us that is how the custom of June weddings came about.
Vegas Weather for July
The average temperatures for the month of July run from a low of 81F to a high of 105F. Plan on spending most of your time indoors or by the pool, since the heat can be intense. Unlike other months in Vegas, it can also get humid. Once in a while there are thunderstorms. Even though it sometimes becomes humid there is only about one third of an inch of rain for the entire month. Keep in mind that it may not cool down until quite late in the evening. If you are the type of person who enjoys walking regardless of the weather, there are plenty of "trails" in the shopping and hotel malls. Be sure to bring lots of sunscreen and don't forget to stay well hydrated by drinking enough water. Having a water bottle with you while walking outside is suggested.
Vegas Weather for August
When you realize that Vegas is a city located in the Mojave Desert the August weather is what you would expect. It has slightly less severe temperatures than July. There is an average low of 72F and a high of 102F. The humidity is up a bit so there is not that dry heat people like to brag about. August gets almost a half inch of rain. There can be thunder showers. If you are going to be outdoors and the weather is sunny, which it usually is, bring shorts, light weight clothes and plenty of sunscreen.
Vegas Weather for September
September starts out hot with temperature in the mid-nineties. But from the middle of the month on, the weather is simply beautiful. If the indoor attractions of Vegas were not so spectacular visitors would probably be tempted to stay outdoors during most of their stay. The temperatures range from a low of 65F to a high of 94F. As you can imagine, the cool weather is from the middle to the end of the month. And if this isn't enough to make you happy, keep in mind that it hardly rains. There is only about a quarter inch of rain for the entire month.
Vegas Weather for October
Vegas can get chilly at night during the month of October. The thermometer drops to a low of 54F. During the day temperatures can reach a high into the low eighties. Even though the weather can be chilly it is still nice enough for swimming, golfing, hiking and almost anything else you want to do outdoors. In the evening remember to dress for the low temperature. When it comes to rain, October is one of the driest months with about two tenths of an inch of rain.
Vegas Weather for November
Fortunately, Vegas has many wonderful indoor attractions, because November is definitely not an outdoor month. Forget about shorts and bathing suits. Both the days and nights can get chilly. November has an average low temperature of 46F and an average high of 66F. There are a few days of partial rain. Even though it can get chilly the sun does shine a good portion of the time. Compared to the frigid climate of the east coast and northern parts of the country the weather is pleasant.
Vegas Weather for December
It gets cold in Vegas during the month of December. The average low temperature is 39F with the average high being 57F. There is about one third of an inch of rain for the month. Needless to say mixed in with this chilly weather are nice sunny days. Keep in mind that even the sunny days can be cold. Long pants, jackets and sweaters are the uniforms of the day. If you are outdoors and feeling chilly, here is something to be grateful about. There is no snow or ice to slip on.