Tropicana Resort and Casino
the hotel and its features
Newly Renovated Legendary Strip Hotel with Seven-acre tropical pool and a South Beach theme
Las Vegas traditions, like comedy clubs and a great nightlife still reign; but newer touches include a renovated South Beach themed pool.
Romantic newly renovated suites.
A five-acre garden includes a pool voted as the best pool in Las Vegas.
There is nowhere else in Las Vegas where you can experience this level of luxury at such affordable rates.
What to expect: The look and feel of the new Tropicana is vibrant and exciting, filled with the casual and sultry rhythm of a hot South Beach night.
Location: On The Strip, Las Vegas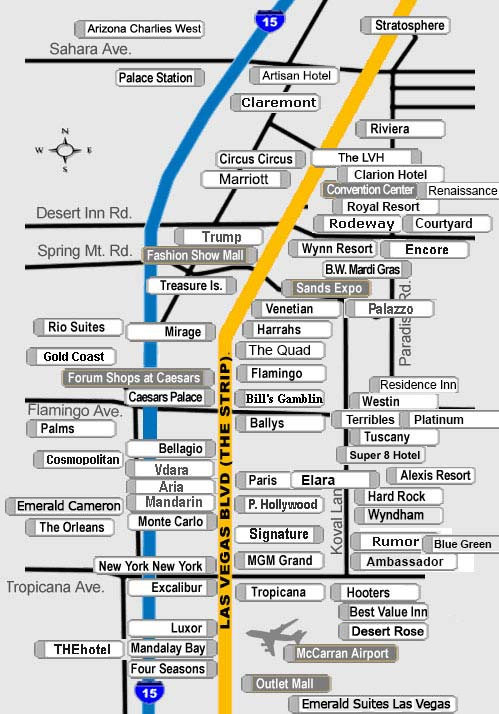 Tropicana Pool
Set on almost two acres, the Tropicana Pool will allow you to experience a bright, tropical setting that embodies the vibrancy of their resort's South Beach-inspired theme – right in the heart of the Strip! Their award-winning pool features an expansive deck with lush landscaping, waterfalls and private lounge spots for you to relax on a luxurious recliner, while several connected lagoons provide the ideal place to refresh. Exclusive cabanas are also available for rental.
Their newly transformed casino has elevated the premium gaming experience to new levels of excitement and sophistication – 24 hours a day, seven days a week. The atmosphere is one of casual elegance, the energy is beyond compare.
Whether you like to spin the wheel, play the hand or roll the dice, their vibrant new casino brings thrills to the table with a wide selection of your best-loved games. Choose from Craps, Blackjack, Caribbean Stud Poker, Roulette, Mini Baccarat and more.
You can choose from a wide variety of slots such as Wolf Run, Ghostbusters, Hangover, Dark Knight, Sex and the City – just to name a few. And with more than 800 to choose from, there's no doubt you'll find your lucky slot.
Bacio Pasta & Vino
Bacio Pasta & Vino offers a wide variety of fine Italian cuisine at affordable prices. Guests can create their own pizza or calzone; choose a hearty pasta dish such as Lobster Bucatini, slow-cooked beef Rigatoni or classic Spaghetti with meatballs; or for a lighter fare, enjoy one of Bacio's many soups, salads or starters. Compliment any entrée selection with one of Bacio's more than 30 varieties of vino. The intimate Italian bistro setting features a stylish décor accented by large murals, wall-mounted wine racks, custom tables and more. Bacio Pasta & Vino is located on Palm Way walkway that connects the casino to the conference center. On the weekends, enjoy Bacio's Brunch Buffet.
Biscayne Steak, Sea & Wine
Their newest restaurant reinterprets the classic steakhouse with innovative island flair. At Biscayne, you'll find premium cuts of steak and top-grade fish, prepared and presented with a fresh new twist. You'll also discover their one-of-a-kind Wine Wall, featuring more than 500 bottles of world-class wines. This unique gathering spot promises an extensive selection of wines, with everything from Amarone to Zinfandel.
Beach Café
Beach Café is brought to life by its natural, vibrant setting. Enjoy delectable cuisine inside the bright and open dining room or outside among the waterfalls and lush greenery of the Tropicana pool – the ideal dining experience, day or night. Regardless of how long you are staying, even the briefest of visits to Beach Café is essential.
South Beach Food Court
South Beach Food Court is a round-the-clock emporium of quick-food choices, serving pizza, burgers, deli items and Mexican. Located right off the casino floor, the South Beach Food Court features seating for up to 90 people and will satisfy your every indulgence.
Roseanne Barr
Comedy superstar, award-winning actress, best-selling author, recent presidential candidate and the original domestic goddess Roseanne Barr will be performing at the World Famous Laugh Factory starting January 14, 2013! Roseanne is thrilled to be back in Las Vegas and performing in the Laugh Factory's 320-seat showroom. Bold and brash, witty and insightful, Roseanne is truly a must-see show when visiting Vegas.
Laugh Factory Las Vegas
From the Sunset Strip to the Las Vegas Strip, the world-famous Hollywood Laugh Factory brings it's amazing brand of comedy to Laugh Factory Las Vegas nightly at the new Tropicana Las Vegas! The Laugh Factory has been recognized as the #1 Comedy Club in the Country, bringing the hottest comedians in the business center stage for a supreme comedy experience that shouldn't be missed.
Mob Attraction Las Vegas
Mob Attraction Las Vegas is a one-of-a-kind entertainment experience that will immerse you in an exciting, interactive journey through the world of organized crime. With premium special effects and authentic mob artifacts, you will go face-to-face with the mob, interacting with 3D holograms of famous mob movie icons, live character actors while making decisions that will determine if you become a part of the "Family" or sleep with the fishes.
Chill'm
Tropicana Las Vegas' newest bar! Located in the heart of the casino, Chill'm offers an assortment of signature frozen cocktails, beer, wine, and spirits in addition to selling specialty souvenir glasses. Discounted refills will make your night!
Lucky's Sports Bar
With huge TV screens at every turn, Lucky's Sports Bar is the top spot for race and sports fans who want to take advantage of the bar's high-energy atmosphere.
Tropicana Lounge
Tropicana Las Vegas redefines the ultimate bar experience with the Tropicana Lounge. Located outside the Tropicana Theater, the Lounge offers 4,000 square feet of live entertainment. Sip on signature cocktails or enjoy a luxe evening of VIP bottle service while the dazzling musical performances of Skye5 and Ashley Red provide the perfect backdrop for you to dance the night away.
At the 10,000-square-foot Glow, each spa experience promises an intimate journey of self-discovery. Much like a resort itself, Glow mirrors the feel of a luxury boutique hotel on the beach. Featuring nine serene treatment rooms and a full-service salon and fitness center, the spa is designed in a variety of wood and sand tones, textured fabrics and stone elements. Glow's menu includes more than 50 treatments that will bring out your inner glow.
room suites and their featuresBack to Top
Club Deluxe Room
Each South Beach-inspired Club Deluxe Room is appointed with custom-designed furnishings, plantation shutters, an oversized workspace desk and ultra-plush Euro-Top Serta Perfect Sleeper mattresses. These breezy, residential-style rooms overlook their exclusive beach club, the Tropicana pool and the always-stunning Las Vegas Strip.
Paradise Deluxe Room
Each breezy, residential-style Paradise Deluxe Room is appointed with custom-designed furnishings, plantation shutters, a sleek chaise lounge and ultra-plush Euro-Top Serta Perfect Sleeper mattresses. Enjoy the spirit of serenity in these South Beach-inspired rooms.
Deluxe City View Room
Their all-new, best-in-class Deluxe City View Rooms have the kind of view that will take your breath away. But don't worry - with up to 450 square feet of space, you will have plenty of breathing space to get it back again. Relax as the white plantation shutters usher in the natural light and the room's sunset palette of warm shades soothe your senses.
Club Deluxe Plus Room
Located in the Club Tower, their best-in-class Club Deluxe Rooms are 100 square feet larger than the Deluxe Rooms and designed to evoke the casual luxury of a South Beach getaway. From custom-designed furnishings to plantation shutters and a Euro-Top Serta Perfect Sleeper mattress, their accommodations are the quintessence of relaxed, tropical glamour.
Paradise Suite
With breathtaking views of the Las Vegas Strip and a desirable corner location, their spacious Paradise Suites feature a living room with wet bar and refrigerator, a private bedroom with a king-size bed, and an adjoining bathroom.
Club Suite
Enter into a peaceful sanctuary decorated with taste and pure elegance. The Club Suite's spacious two-room floor plan features a living room with dry bar and refrigerator, commanding views of the Strip, a private bedroom with a king-size bed and an adjoining bathroom – everything you need to be enveloped in luxury!
Club Spa Suite
The steam room, sauna and proximity to their award-winning pool make their Club Spa Suites the ultimate tropical escape. The spacious two-room floor plan features a living room, private bedroom with a king-size bed, oversized Whirlpool tub and an exquisite his-and-hers bathroom vanity.
Penthouse Loft
Appointed with the perfect blend of lighting, color and texture, their luxurious Penthouse Lofts are as relaxing as they are impressive. These chic apartment-style quarters offer a wet bar, a private bedroom with a king-size bed, and a deluxe bathroom with a Jacuzzi. After staying there, you won't want to stay anywhere else in Las Vegas!
Copyright (C) 2013 Las Vegas Direct. All rights reserved