The D Las Vegas
the hotel and its features
Small Hotel with a BIG Casino
Small by Vegas standards, "The D" as it is now called faces Fremont Street with its nightly sound-and-light shows
Fitzgeralds offers a 42,000-square-foot casino, live music, magic, and comedy, three restaurants, plus a McDonald's and a Krispy Kreme outlet.
With a great lineup of free entertainment, plus the video jukebox lounge, two floors of gaming, several dining choices and one of the best vantages for the Fremont Street Experience show, Fitzgeralds is your lucky place.
What to expect: All-you-can-eat buffets, a steakhouse, and around-the-clock gaming keep faith with downtown Las Vegas traditions. A good-size pool next to the street and adjacent 10-person spa furnishes 21st century pleasures. Small by Las Vegas standards, "The Fitz" contains just 638 rooms, but the casino measures a relatively generous 42,000 square feet.
Amenity Highlights: Three restaurants (a steakhouse, buffet, 24-hour cafe, McDonald's, and a Krispy Kreme) offer dining options.
Insider tip: Little noticed even by regulars, the hotel includes the only second-floor public balcony on Fremont Street, a 50-foot span providing clear views of Fremont Street Experience sound-and-light shows.
Location: Downtown, Las Vegas - 4 Miles North of the Strip
Take a break from casino fun and relax poolside. A relaxing Jacuzzi session or a dip in the D pool will get you refreshed and ready for more high energy table games and slots!
The Casino supplies 42,000 square feet of slots, video poker, video keno, blackjack, craps, roulette, pai gow, Caribbean poker, 24-hour keno, and a small race-and-sports book.
Club Fitz offers free membership cards that reward slots, video poker, video keno, and table games play with cash and/or comps redeemable for food and gifts. Members also receive express passes to Shamrock Café and Molly's Buffet and 25-percent discount and gift-shop Fitzgeralds logo items.
The Scintas
Vegas' favorite musical family brings you unforgettable music, great celebrity impressions and laugh-out-loud excitement. Treat yourself to an evening of pure talent.
Marriage Can Be Murder
The award-winning comedy show is an interactive, murder mystery, dinner show experience, where the actors are planted among the unsuspecting guests. Be part of the mystery, be part of the fun! You'll be thoroughly entertained during your three course meal while you try to figure out "who dun-it?" Marriage Can Be Murder, the longest running dinner show in Vegas, is now at the D Casino Hotel.
Laughternoon
LAS VEGAS' BEST BARGAIN! Comedy-magician Adam London loves ducks; he's obsessed with them! This afternoon comedy magic show is hilarious and highly engaging. London's tricks have a mix of whimsy and wit with clever slight of hand magic. Having perfected his craft in comedy clubs around the world, including the world famous Magic Castle in Los Angeles, Laughternoon Starring Adam London is now daily at 4 pm inside the newly renovated showroom at the D las vegas. Hailed as "Hysterically Funny!" by Today in Las Vegas, London is sure to leave you laughing the afternoon away. Most recently, London has been seen on an episode of Fox's Raising Hope. Now showing at the D Casino Hotel.
Raack & Roll
From the producers of the hit show X Burlesque comes Raack n Roll, a sexy topless revue. Women dressed as everything from naughty nurses to tantalizing teachers are ready to "RAAck" your world in the new adult topless revue at "The D". Raack N Roll turns up the heat with sultry showgirls dancing to the greatest rock songs of all time by artists including: Alice in Chains, Tool, Korn, AC/DC, Shinedown, Papa Roach, The Beatles, Led Zeppelin, Alice Cooper, Metallica and more. The show also features comedy impressionist Robert Nash. Mixing plenty of sex appeal with a side of comedy, RAAck n Roll isn't your typical topless show. Now showing at the D Casino Hotel.
fremont street experienceBack to Top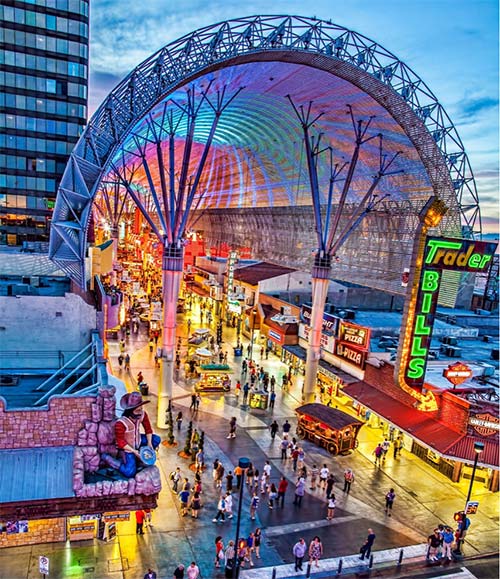 Under a vault of two million light bulbs, a four-block pedestrians-only stretch of downtown Las Vegas called Fremont Street Experience presents periodic sound-and-light shows from dusk to midnight. Other day-and-night entertainment on the street includes live music, classic-car displays, and holiday festivals. Like nine other downtown hotel casinos, Four Queens opens directly onto Fremont Street, creating a lively flow of pedestrian traffic.
Longbar
The LONGBAR creates an exclusive ambiance unlike anything you have ever seen. Over one thousand square feet for friends, fun, and your favorite games at the new LONGBAR. Huge television screens surround the bar so you don't miss a minute of the hottest sports action. And of course, enjoy your favorite cocktails. At the LONGBAR, being bad feels so good.
Vue Bar
Head upstairs at the D Casino Hotel for a cold drink and great slots. Vue Bar has everything you need for an all-around good time with good people and great bartenders.
The D Bar
Enjoy frozen drinks and specialty cocktails served by lovely dancing servers or be entertained by their talented flair bartenders!
Andiamo Steakhouse
Joe Vicari's Andiamo Italian Steakhouse on the second floor of The D Las Vegas Hotel and Casino is proud to debut their homemade Italian breads and award-winning sauces to handmade pasta, Joe Vicari's philosophy, originating from the late Master Chef Aldo Ottaviani, is to buy the freshest ingredients and prepare them from scratch every day. The restaurant is proud to partner with the nation's top butchers to offer the finest products including Pat LaFrieda and Stockyard Premium beef, all natural Strauss® Lamb and Veal and premium free range chicken.
American Coney Island
American Coney Island has been a favorite with Detroiters and visitors for nearly a century. Known for its high quality, specially-seasoned Dearborn Sausage brand hotdog in a natural casing and the Keros family secret special recipe Coney Island Chili Sauce developed decades ago. Add to that a topping of fine mustard and sweet chopped onions that is the final touch to the distinctive overall taste and flavor of American Coney Island. Served in a warm steamed bun, it's a tantalizing treat that's still hard to beat after all these years! For the first time outside of Michigan, American Coney Island welcomes you to their new home at the D Las Vegas. Located under the outside escalator next to the D Bar, find out why everyone loves American Coney Island! Open 24 hours.
D Grill
D Grill serves an array of satisfying meals for early birds, night owls and everyone in between. Located on the second floor adjacent to the Vintage Casino, the D Grill offers convenient dining inside a fresh, contemporary venue. Each meal at the D Grill is prepared completely from scratch using only fresh, never frozen ingredients. With a diverse menu offering more than 75 breakfast, lunch, dinner and dessert items, there is something to please every appetite. Open 24 hours.
McDonalds
McDonald's loves to see you smile. Located at the casino front entrance, this is the perfect spot to take a quick and delicious break from the all of the gaming action. Enjoy the convenience and value anytime of the day or night.
room suites and their featuresBack to Top
Double Queen Room
Their Double Rooms offer an experience of relaxation and comfort for their guests who deserve the very best. Each room features two comfortable Serta Mattresses from the Concierge Series with upgraded bedding and linens. Sit back, relax and behold the incredible 32-inch HD TV, while pampering yourself with an array of Bath and Body Works products. When you need a break from the action, enjoy all these amenities and more.
King Room
Designed with optimum comfort in mind, the Deluxe King has everything you need. Stress floats away while laying down on the King Size Serta Mattresses with upgraded bedding and linens. Catch the game or watch your favorite shows on the incredible 32-inch HD TV. With the array of Bath and Body Works products it won't be hard to pamper yourself during the stay. This is living like royalty.
Corner King Premier Room
Sit back, relax and live life like a king. This is your own private sanctuary, featuring everything you would expect in a world-class room. With all the relaxing amenities including the King Size Serta Mattress and 32-inch HD TV, the Corner King room goes one step further. Offering an additional full-size sleeper, a cocktail table, refrigerator and a spectacular view of the Las Vegas Mountains, this room redefines luxury.
The D Suite
Experience the very best with the D Suite. This two-room luxury paradise features new contemporary furnishings and custom designs. Enjoy the latest amenities including a full wet-bar, two refrigerators, three flat screen TV's, an iHome® clock radio and so much more. Offering a beautiful separate bedroom with a plush king-sized bed, along with a spectacular view of the Las Vegas Mountains. Now that's SUITE living.
Copyright (C) 2013 Las Vegas Direct. All rights reserved